Son Sangwoo uses hanji (Korean paper) and resin to make a piece of furniture with mist inside. The hanji sheets floating inside the simple volumes of his furniture appear as if the artist has frozen the mist on the spot as if by magic. In fact, they are the outcome of an extremely difficult process that requires repeating the same action every day.
Interview Son Sangwoo × Choi Eunhwa
Choi Eunhwa (Choi): You use mist as a theme in your work. What's your interpretation of mist?
Son Sangwoo (Son): Mist is translucent, buoyant, unsettled and ambiguous. It's often used in literature, films or paintings to describe a mysterious situation or relationship as well as to introduce a dreamy atmosphere. It also reminds one of oriental images, such as a Taoist hermit, a cloud or dream. Apart from that, I thought mist probably could be a good medium through which to represent the relationships that exist between people. I thought the process of how two people come to know each other and get closer, little by little, is similar to the situation in which you can't see a thing very well because of a thick fog but then the sight becomes clearer as the fog slowly disappears. When I designed the tea table, I also imagined scenery in which two people are sitting across a small table and enjoying a cup of tea.
Choi: Does that mean you try to describe relationships between people with your furniture? Or do you want to use it as a tool to interpret the meaning of a relationship itself?
Son: It's both. I suffuse the image of mist directly throughout my work, with the hope that their users can anticipate the feel of a moment when the mist disappears.
Choi: Which element did you place greatest importance during the process of translating the ambiguous form of mist into physical objects?
Son: I wanted to figure out how to represent the image of mist more effectively and, at the same time, meet the functional and structural requirements of furniture—but then an idea of combining resin and hanji came to me. In a sense, it's like fossilizing mist. I took a hint from Japanese gardens which confine natural elements within the space and keep them in neat order. Bench (mist series), which was the very first work themed by mist, was influenced by the architectural structure of the hanok. I was fascinated by the cold and weighty mass and the aura of the Madaeru Pavilion at the Byeongsan Seowon Confucian Academy, characterised by an orderly combination of girders, pillars and foundation stones. Before then, I used to make wooden furniture with organic shapes, but after the visit, I started working on a different kind of project.
Choi: Particularly, the tea table and kiri coffee table vary in height, and they are minutely classified as 120, 150, 200, 220 and 320mm.
Son: As I use only simple shapes like a square and circle, sizes and proportions are very important. A 10mm difference in the position of a single line can bring about a completely different result. Therefore, I do a mock-up to find the most beautiful proportions. When others see an ordinary quadrangle, I try this and that with that quadrangle by myself. When I can't get the feel of a size, I refer to standard sizes of furniture, but then I try to adjust their numerical values bit by bit within a reasonable range to find an optimal form.
Choi: Which part do you care about most when working with resin?
Son: All I have to do is to put resin, hardeners and hanji sheets together into a mold and wait for them to harden. However, the completion of the hardening process doesn't mean that the work is completed. I need to go through a post-process. When resin is poured into a mold, its upper side comes up with the most uneven surface and a poor finish. Therefore, including this side, all the six sides of the resin cube should be ground until their surface becomes smooth. When it has just been taken out of the mold, all the surfaces do not align horizontally or vertically.
Choi: Does the size of a work affect the way you work?
Son: There are limits to the amount of resin that can harden, so, in principle, you can pour only 10mm a day. However, the way of working changes depending on the size of a work. As for the bench (mist series), I put 10mm of resin and hanji sheets into a ㄱ-shaped mold in layers every day to obtain a ㄱ-shaped form. As for the kiri coffee table, I begin the work by making a large board with a certain thickness. Then I trim the board to fit the size of other members and glue them together. The small volume of a tea table requires a resin with a thickness of only 20 to 30mm, but still I set a time frame generously for each hardening process.
Choi: Your work is unique in your combination of resin and hanji. How do you work with hanji? And what kind of hanji do you use?
Son: Once I tried to mix a whole sheet of hanji with resin, but soon I realized using hand-torn shreds is more effective to portray the image of floating mist. When I want to add more colour to my work, I dye white hanji or use coloured sheets. These two methods create different effects; the former can produce a solid and vivid outcome while the outcome of the latter looks soft and permeant. These days I often use white hanji. I can buy them at a general art supply store. Sometimes I use washi (Japanese paper) as well. Recently, more companies are manufacturing hanji, so I have a lot more options now​
Choi: The very first work that you made along the theme of mist was a bench. After that, you made stools and tables, and then came to present a vase as your new work last year. It seems your objects are becoming smaller.
Son: When I worked with the bench, the working environment was large enough to accommodate a large scale project, and I keep working on these larger projects. However, my overall approach to work has changed. In the early days, my focus was mainly on defining my own identity, but now the theme of 'mist' and the work method that mixes resin and hanji seem to have come to the centre of my practice. I want to show my work to more people. Considering the work process and its costs, I concluded that it would be more effective to make a number of small objects than to release a single large one. Now, I make a variety of works from small objects to big furniture.
Choi: You had a solo exhibition 'fog & square' at GalleryMEME last year, and it showed a set of works that were made by mixing resin with zelkova, paulownia and stainless steel.
Son: The less I use resin, the less my hands get busy. (laugh) Moreover, I should use different materials together to ensure better structural stability. No matter how strong resin has been hardened, it still can break like glass. For my last solo exhibition, I used a variety of materials with the form of objects fixed. I wanted to broaden the spectrum of my work by creating a collection for which I applied different materials and colours to a standardized form.
Choi: What do you want to do with your work in the future?
Son: While continuing to work with resin and hanji, I will try to use new materials arms or new expressions. I'll have an exhibition at the Korea Craft and Design Foundation this May and I'll do collaborative works with a painter this July.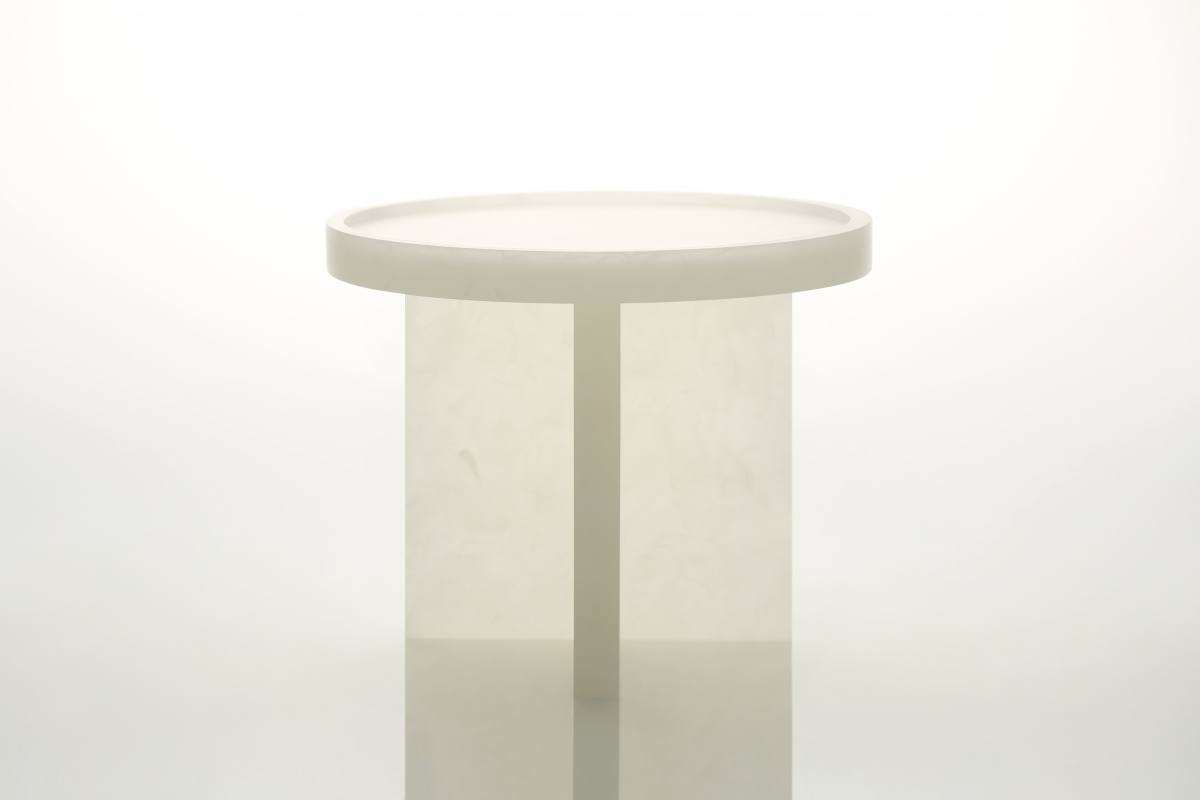 Son Sangwoo, kiri tray table, Korean paper, resin, 280×280×220mm, 2018 (©Son Sangwoo)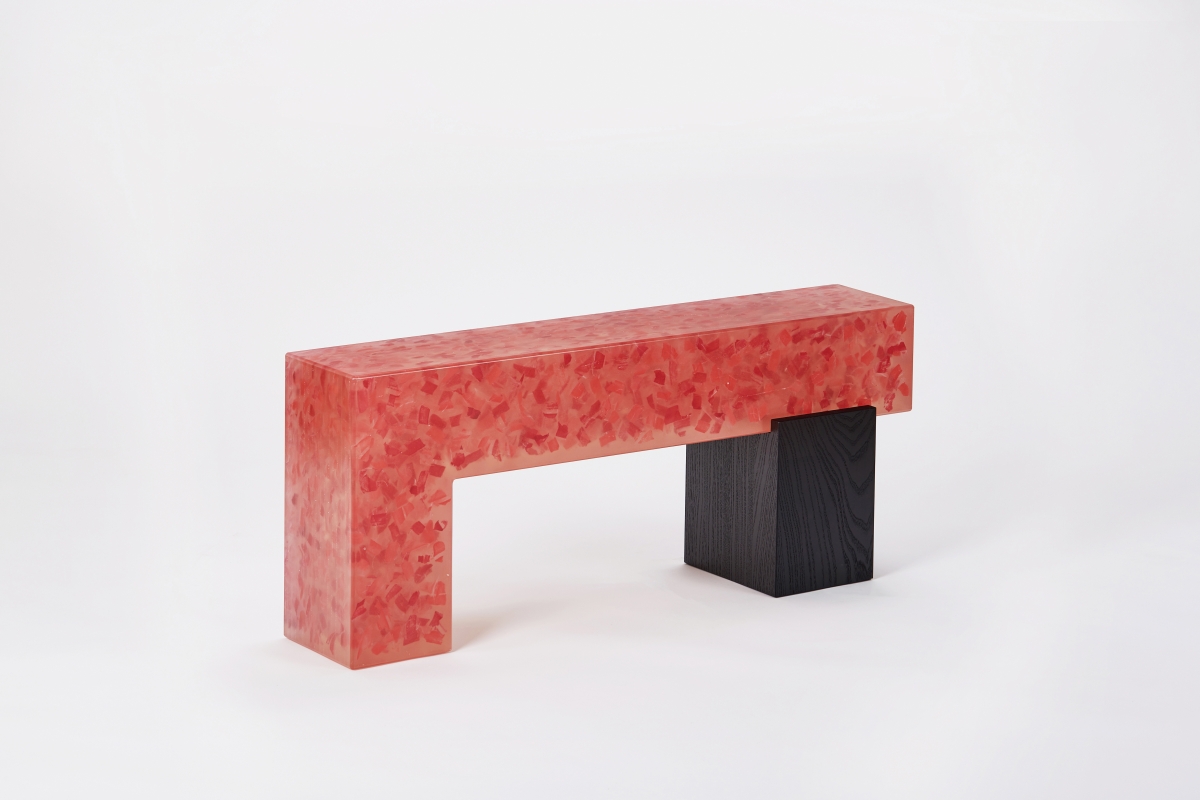 Son Sangwoo, mist series : bench-r08, Korean paper, resin, ash, 1000×300×400mm, 2017 (©Yoon Daehoon)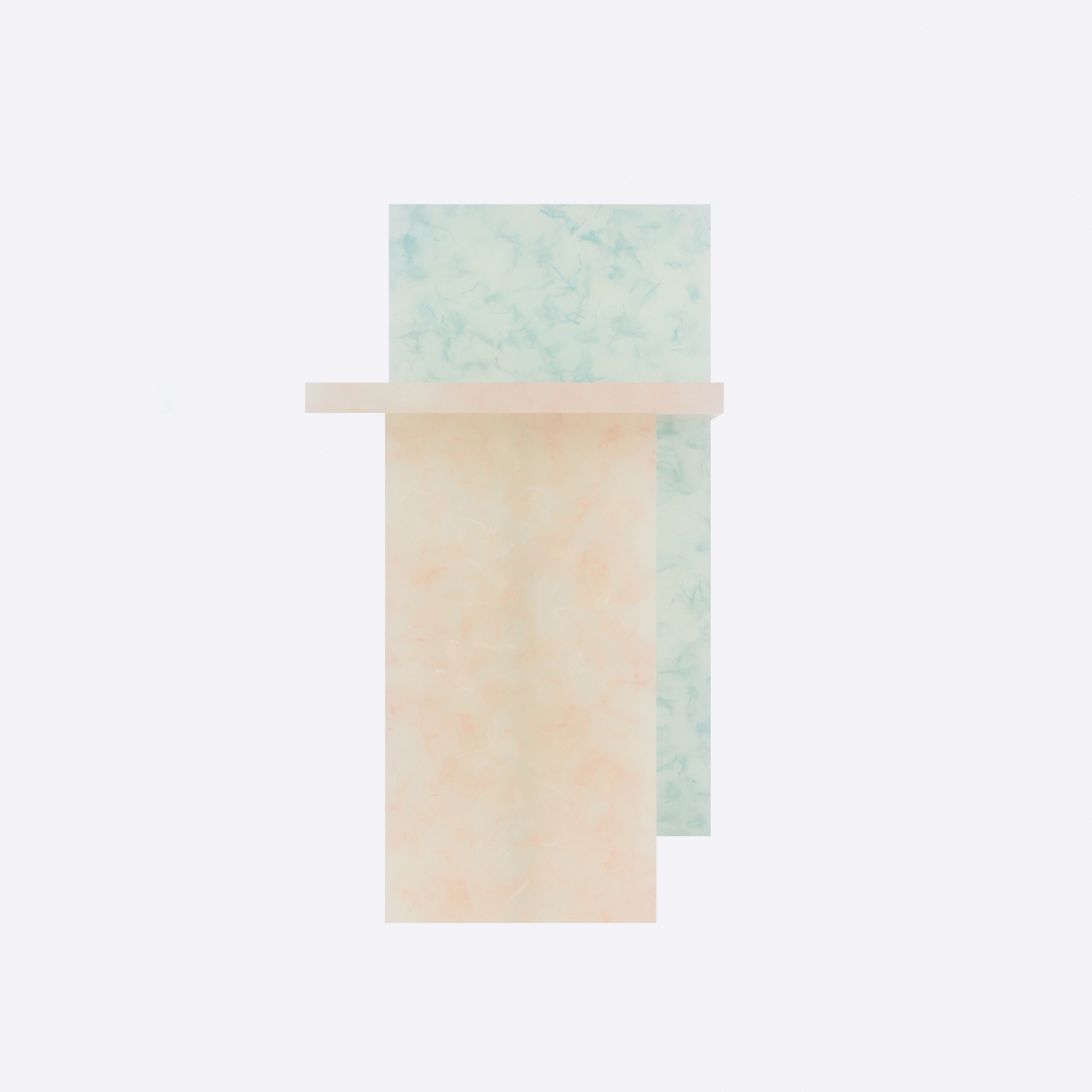 Son Sangwoo, kiri chair, Korean paper, resin, 320×320×600mm, 2019 (©Son Sangwoo)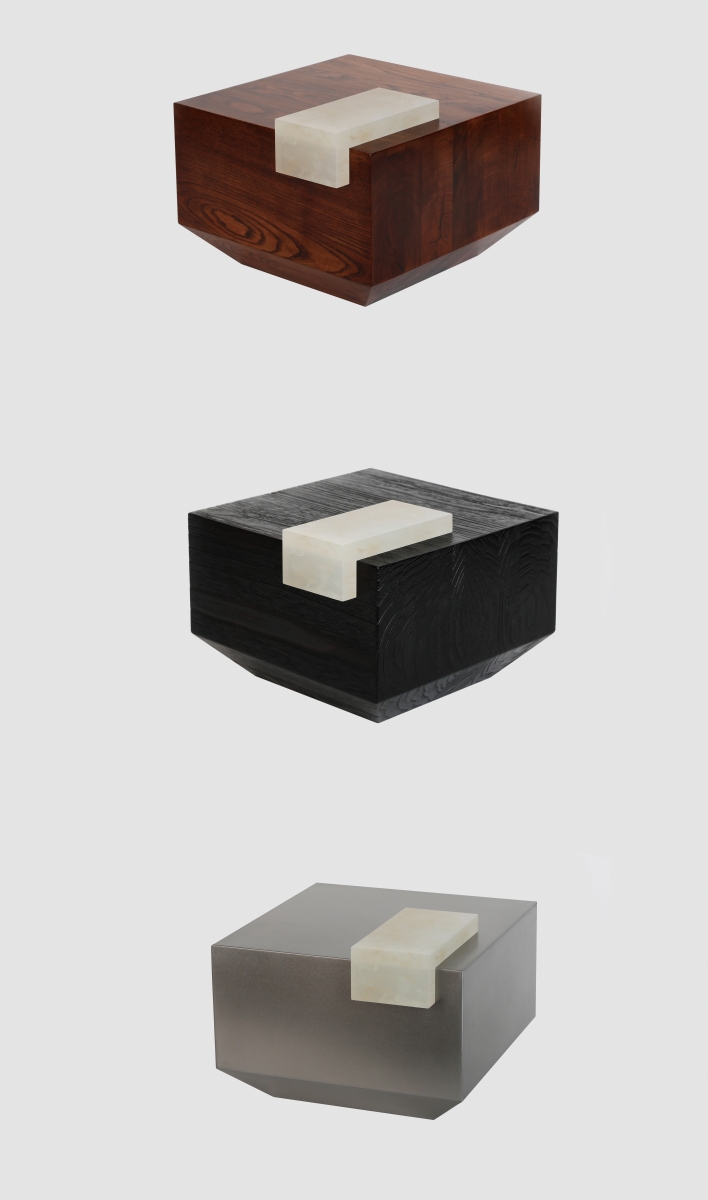 Son Sangwoo, tea table, Mixed media, 300×320×220mm, 2019 (©Jeong Giwoon)
---
Son Sangwoo majored in furniture design at the Department of Craft Design at Kyungsung University, and then he graduated from the Department of Woodworking and Furniture Design in General Graduate School at Hongik University. For the kiri series in which he portrayed an image of mist, he was selected as Marunuma Art Park Artist-in-Residence in 2018 and held solo and group exhibitions at Azabujuban Gallery in Tokyo and at GalleryMEME in Seoul and etc.
www.sonsangwoo.com