Oneseo has discovered special features of various industrial materials. When he makes furniture with aluminum profiles used in industrial sites he highlights a beauty of form, previously overlooked in favour of function, by intentionally exposing this section. He lends the impression of lightness to concrete, typically regarded as one of the heaviest materials, and transforms packing boxes into stools using only a pair of scissors. He pays attention to disposable plastic bags, creating products of completely new forms as in molecular cooking. After winning the 'Creators' Ground' competition this year, he has participated in a number of group exhibitions, such as 'Juxtaposition' and 'Euljiro Lightway', and will present new work at the Seoul Design Festival and the home · table deco fair in December.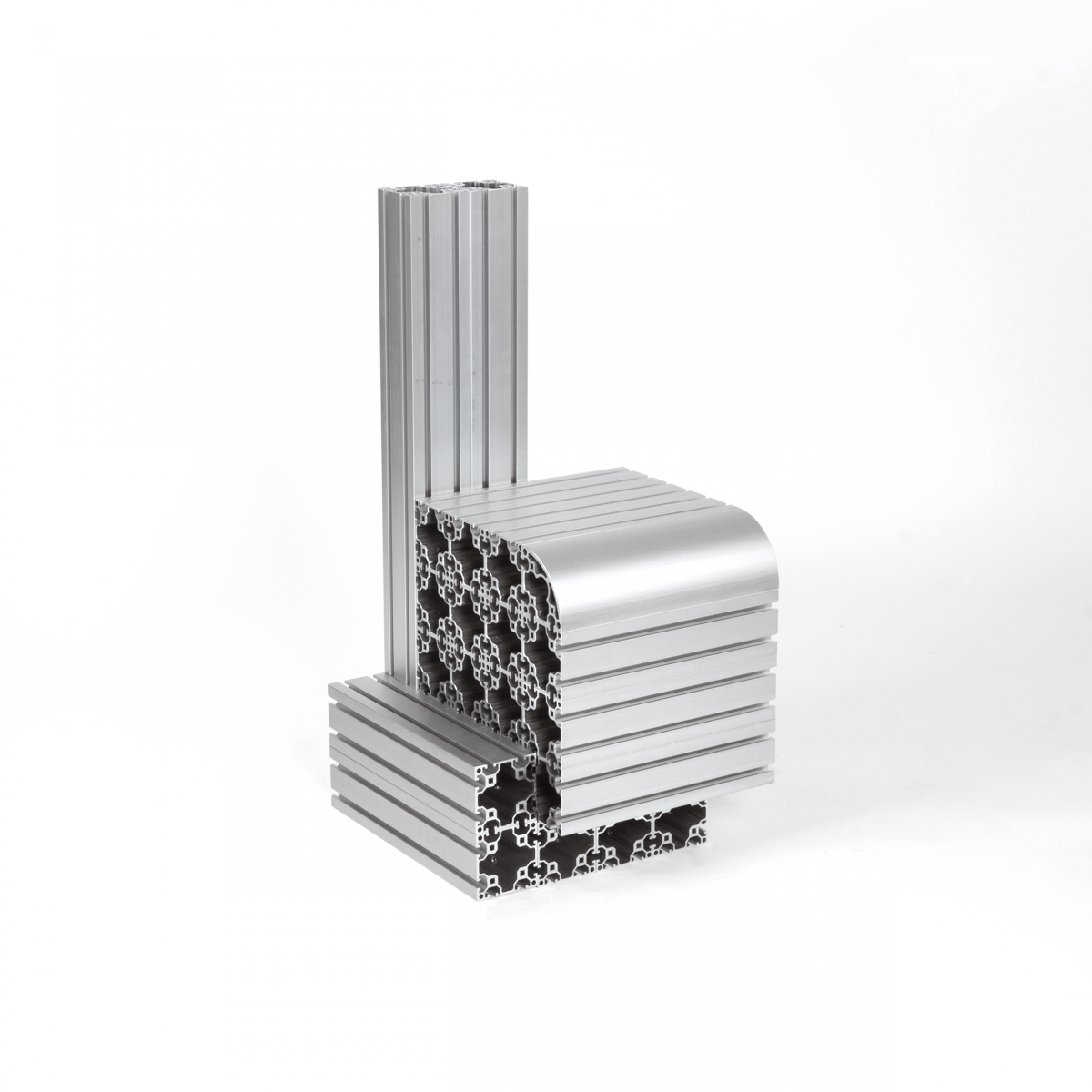 oneseo, PF80_STOOL (Pattern of Industry), Anodized aluminum, 350×360×760mm, 2019 (©oneseo)​​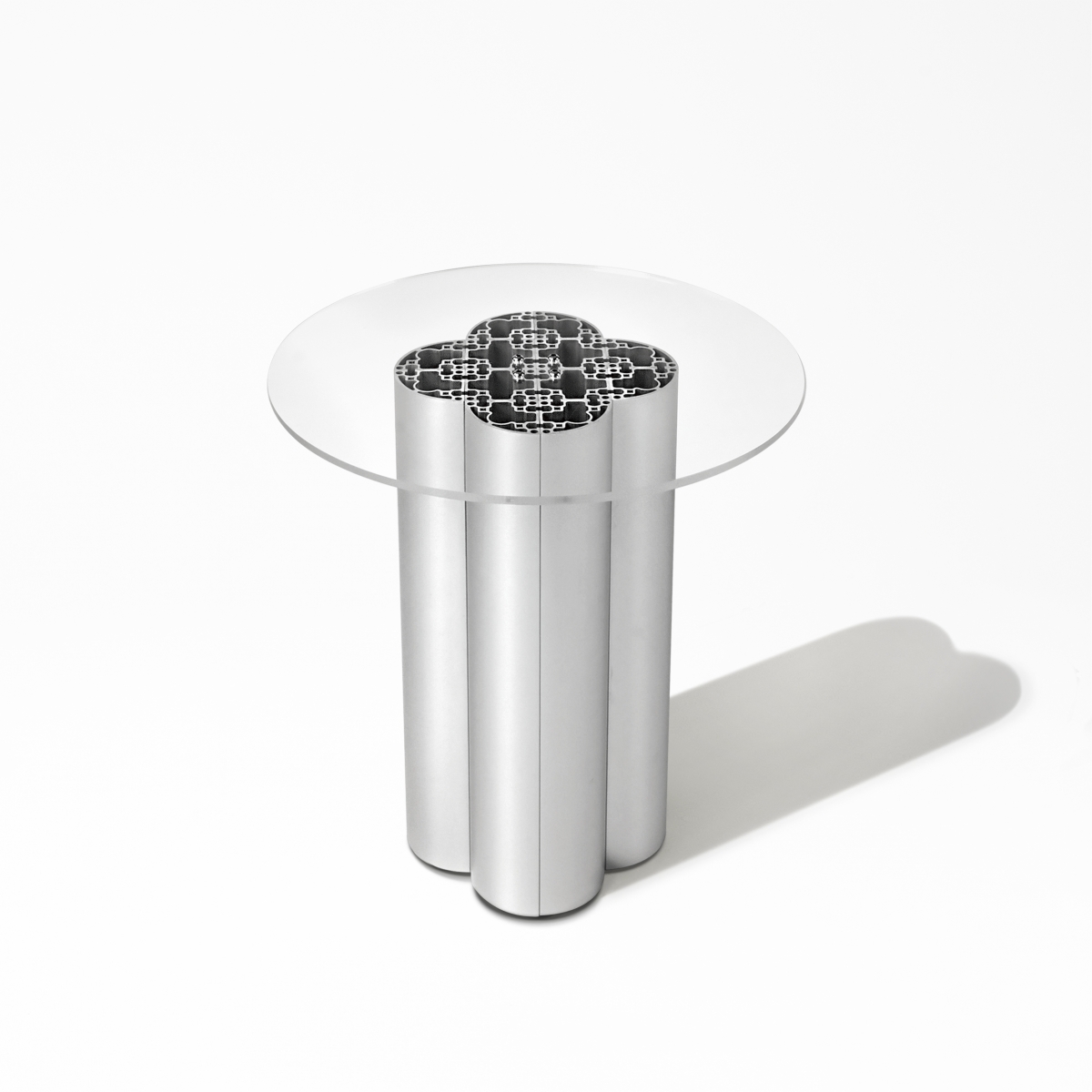 oneseo, PF60_SIDE TABLE (Pattern of Industry), Anodized aluminum, arcylic, Ø450×500mm, 2019 (©oneseo)​​

Interview oneseo × Choi Eunhwa
Choi Eunhwa (Choi): You are currently taking a leave of absence after finishing your third year at the Department of Industrial Design, Hanyang University, yet you continue to pursue furniture design. What prompted you to make this decision?
oneseo: In most projects at the university, we set up a virtual client, generate ideas, complete computer modeling, and finish the project by sharing it with friends and professors. I feel I invent something by myself as the client is not real, and the result is rarely produced in real life. I wasn't sure whether this design process would work after graduation.
Choi: Are you fully engaged in what you want to do now?
oneseo: I worked as an intern at two design companies and started producing Pattern of Industry. I am developing the series into stools, benches, tables, vases and lighting.
Choi: Pattern of Industry is made of aluminum profiles.
oneseo: They are industrial materials used for making ladders, window frames, display stands, and worktables in factory. I found them in Euljiro; their cross-section caught my attention. Their shape is based on their function. They have grooves suitable for various functions and screw holes at regular intervals, with holes inside to reduce weight. The shape of the inevitable result seemed beautiful. When combined, the patterns of the members also remind me of dancheong. To focus my attention on their beauty, heretofore ignored by their function, I researched their specifications and applications across several fields and on the Internet and selected some of them for my works through digital mock-ups. Now I am using members derived from five standards.
Choi: The series shows that now you deal with materials differently from your early work.
oneseo: When I first started the series, my goal was to express the patterns effectively, so I piled up the materials with a certain density in mind. When I finished, however, I realised it wasn't efficient. I didn't have to fill the volume. In the following work, I made a bench with legs and seat plates to decrease the use of materials, and to limit the price and weight. I made the legs for the table with aluminum profiles to prevent sharp sections from overreaching and covered them with transparent acrylic tops, which reveals the pattern and improves usability. More recently I have been more committed to exploring the function rather than the form of the aluminum profiles. For example, I put a lightbulb in a groove to make a light and transform an empty space into a vase.
Choi: What inspired you to create your early work, Cave?
oneseo: Concrete furniture seems attractive due to its mass, but I expected it would be more economical if, for example, I cut some part away by devising a hole at its centre. However, free-form concrete is usually made by breaking solid concrete after forming, in formworks such as carving. I think this is waste of material and unnatural. While discussing this issue with a concrete studio 'MIICON', I came to know clay type concrete. Instead of pouring concrete into formworks, this allowed me to deal with concrete-like clay work by hand, so I don't have to make free-form mould or break concrete as post-processing. I can get the shape I want during the manufacturing process, and this provides an unexpected advantage in that it has the feature of handicraft though it is industrial material. Cave is handmade, and so each shaping of the cave is slightly different.
Choi: You also made Boxtool, a stool made of polypropylene (PP) boxes.
oneseo: When I visited Uganda as part of my voluntary service, I proposed a project. They discard the packing boxes of supplies for the voluntary service, and so I decided to prepare a manual that would teach people how to transform one PP box into a stool. Some volunteers, who had arrived at the same time, were not designers or familiar with the design process and craft, and so I made the instructions in the manual as easy and intuitive as possible. It also required the minimum of tools to make: cut a box with scissors and fit members each other, and that's it. It is true that I devised the method, but I referred to and borrowed many references to find the proper structure and form. I produced 12 stools on site.
Choi: I can't miss mentioning Trace, a tray made of melted plastic. What kind of plastic do you use?
oneseo: I use PP and high-density polyethylene (HDPE). They are eco-friendly plastic used for bottle caps and detergent containers. I typically walk around a while to pick up the materials. I tried to mix several pieces but the result wasn't successful, and when I melted bottle caps without noticing the drink left inside, it spoiled the colour immediately. Then I alighted upon plastic bags. They are mass-produced, and of a wide range of colours, but easily discarded, polluting our environment.
Choi: I never considered plastic bags as artistic material. What about the process of heating and compressing?
oneseo: I tried heating using a fan and an oven, but they produced an acrid smell and a lot of smoke. After a process of trial and error, I finally decided to use an iron. I can melt a plastic bag, torn off and covered with paper foil, by pressing it with an iron. The first press gives a sense of thickness and the second press forms the shape of a tray. It's a very cumbersome task, but I can get results that can only be achieved through this process that are totally different from plastic injection molding. The shape and colour varies slightly each time, but if I can maintain temperature and pressure constant, then I think I can consistently produce results of a certain quality.
Choi: It is remarkable that you have used industrial materials throughout your work.
oneseo: Natural materials like stone and wood are nice, but they are expensive and have been already covered by many craftsmen and designers. I think industrial materials stand in opposition to them. They are inexpensive because they are mass-produced, and present a new, fitting impression as they are hardly used in furniture.
Choi: Your works are of various textures, but what is the core of your works?
oneseo: It is important that materials, the manufacturing process, and the resulting products are always intimate.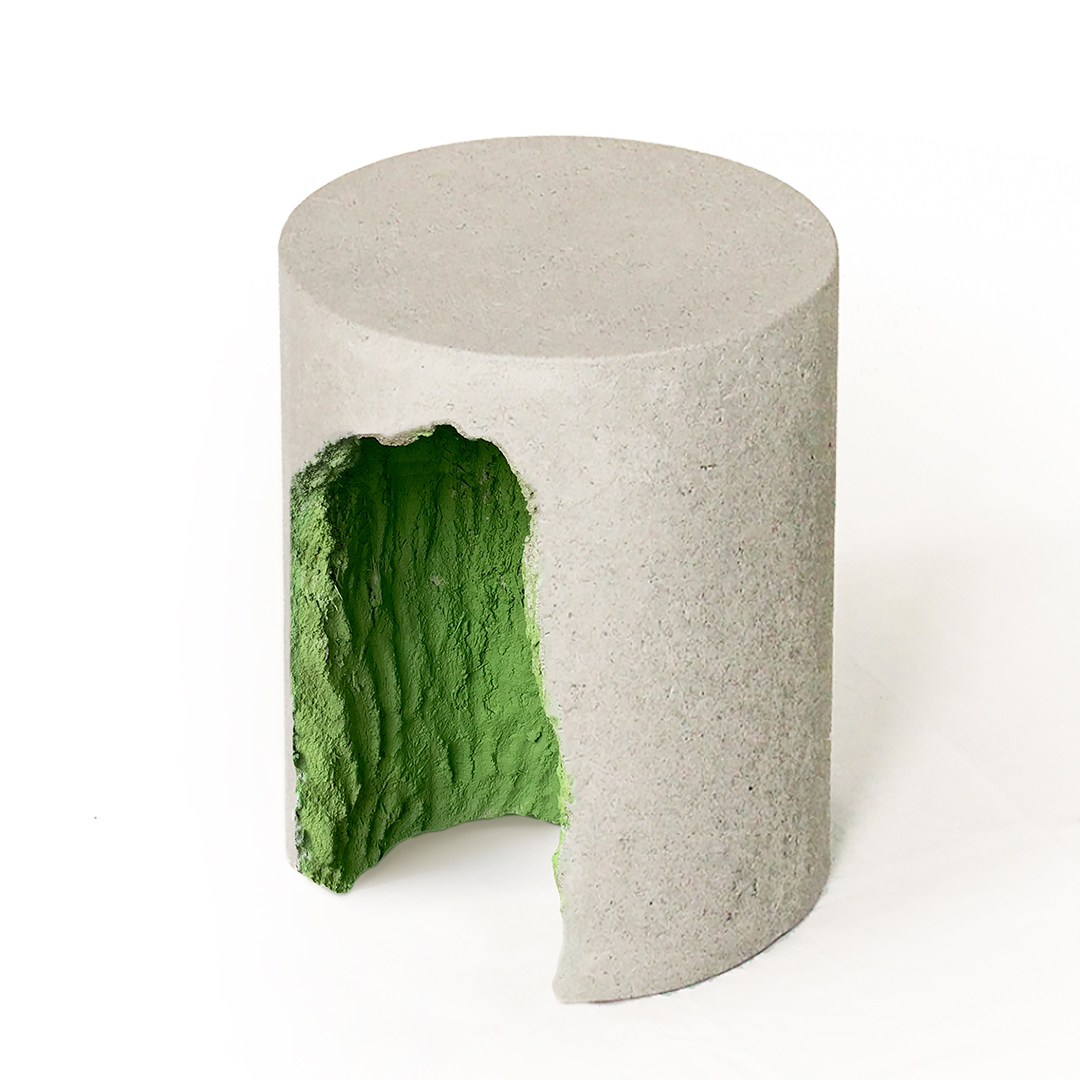 oneseo, Cave, Concrete, Ø300×420mm, 2018 (©oneseo)​​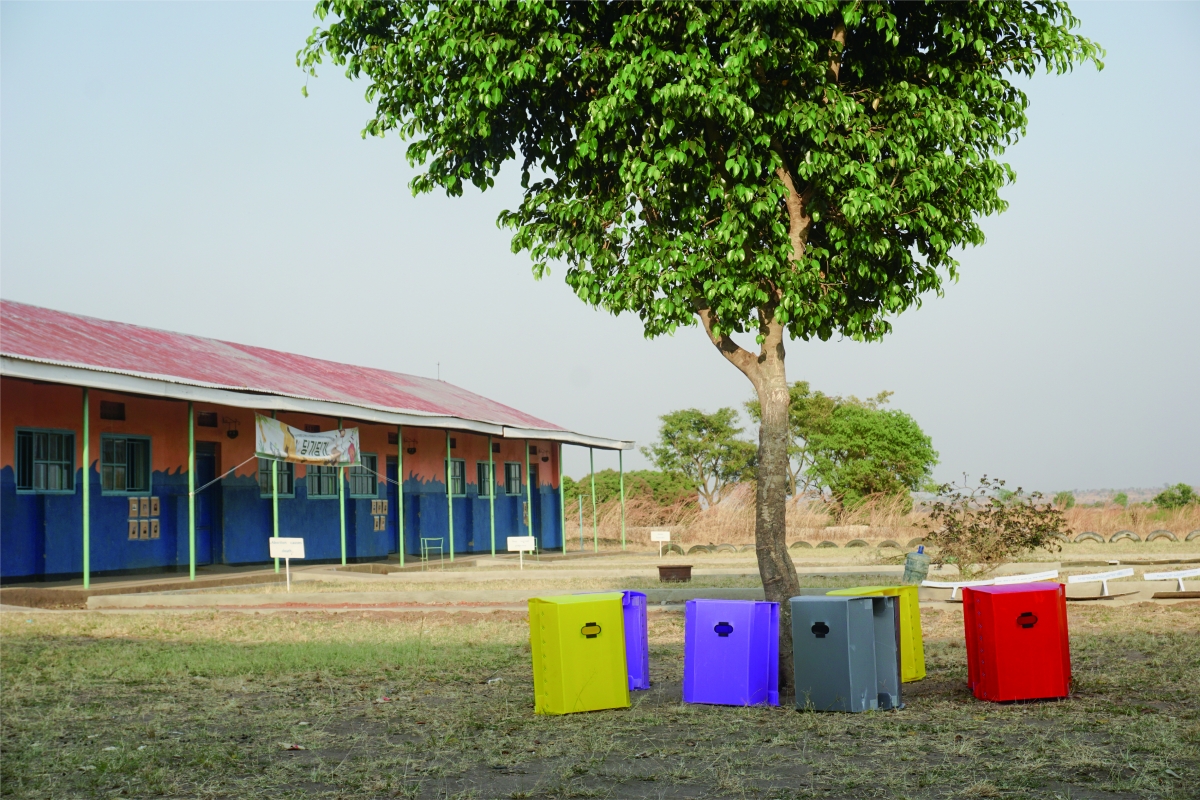 oneseo, Boxtool, PP, 350×350×400mm, 2018 (©oneseo)​​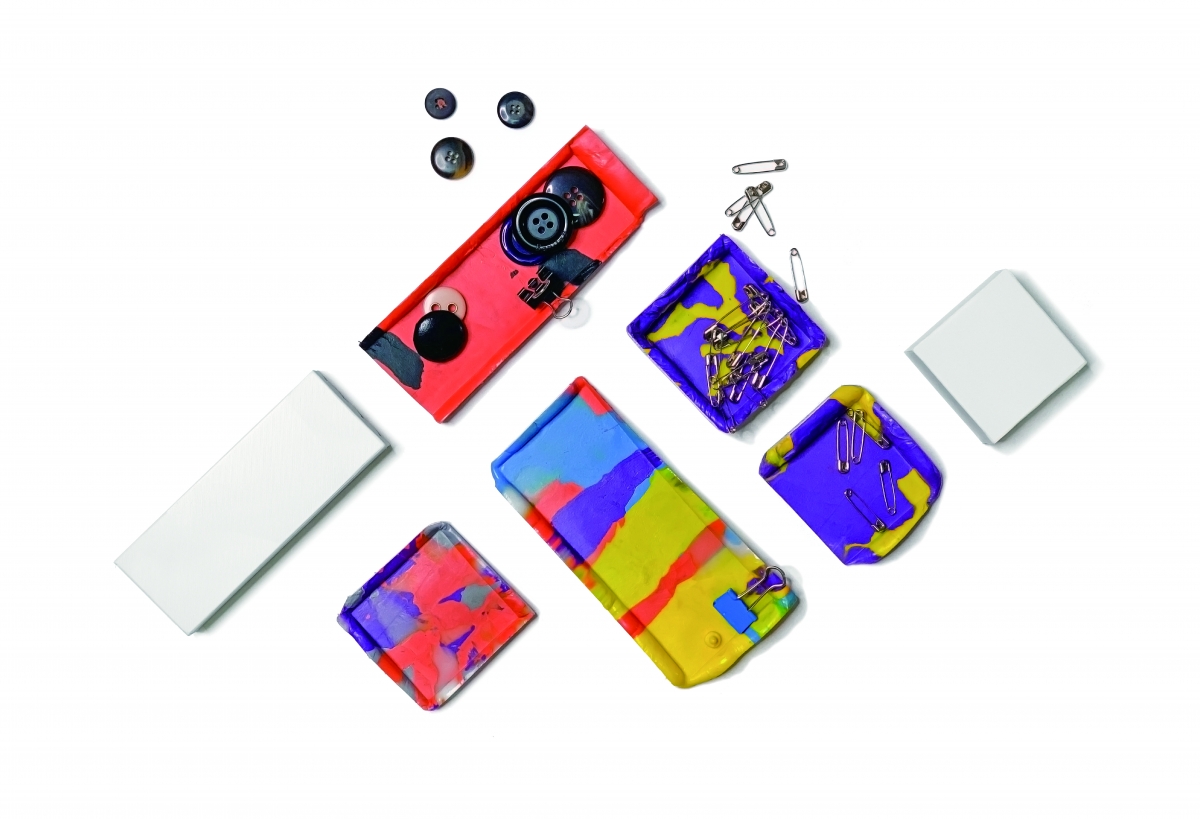 oneseo, Trace, PP, HDPE, Various size, 2018 (©oneseo)​​
---
oneseo is studying industrial design at Hanyang University. He has participated in numerous exhibitions across Korea through his furniture series Pattern of Industry, which uses the cross-sectional patterns of industrial materials and aluminum profiles, and is now widening the scope of his works through innovative new approaches and projects.
www.oneseochoi.com