Inspired by his mother's knitting, Lee Kwangho began to braid wires, hoses, and PVC tubes. His lighting and chair works have drawn significant media attention and from design industry professionals at home and abroad. He has collaborated with famous brands such as FENDI, DIOR, Swarovski and Onitsuka Tiger, and adorned numerous spaces including Amorepacific Headquarters O'Sullok and Namhae South Cape. Although his knitted furniture successfully marks out a designer in full possession of his identity, he dares to take one step forward. The artist deals with various materials such as red copper, straw and styrofoam, fiercely expanding his territory by crossing boundaries from small objects to human-scale pavilion. He had released a chair piece using 3D printing technology instead of hand-knitting for collaborative exhibition, 'Second Language', with the hip-hop artist XXX at ONE AND J. Gallery in last Feb. and he showcased his 'the ebb and flow' themed piece at Milan Design Week in Apr. Crafting his unique artistic universe for more than a decade, he never stops growing while exploring new materials and methodologies. Here we are joined by Lee Kwangho.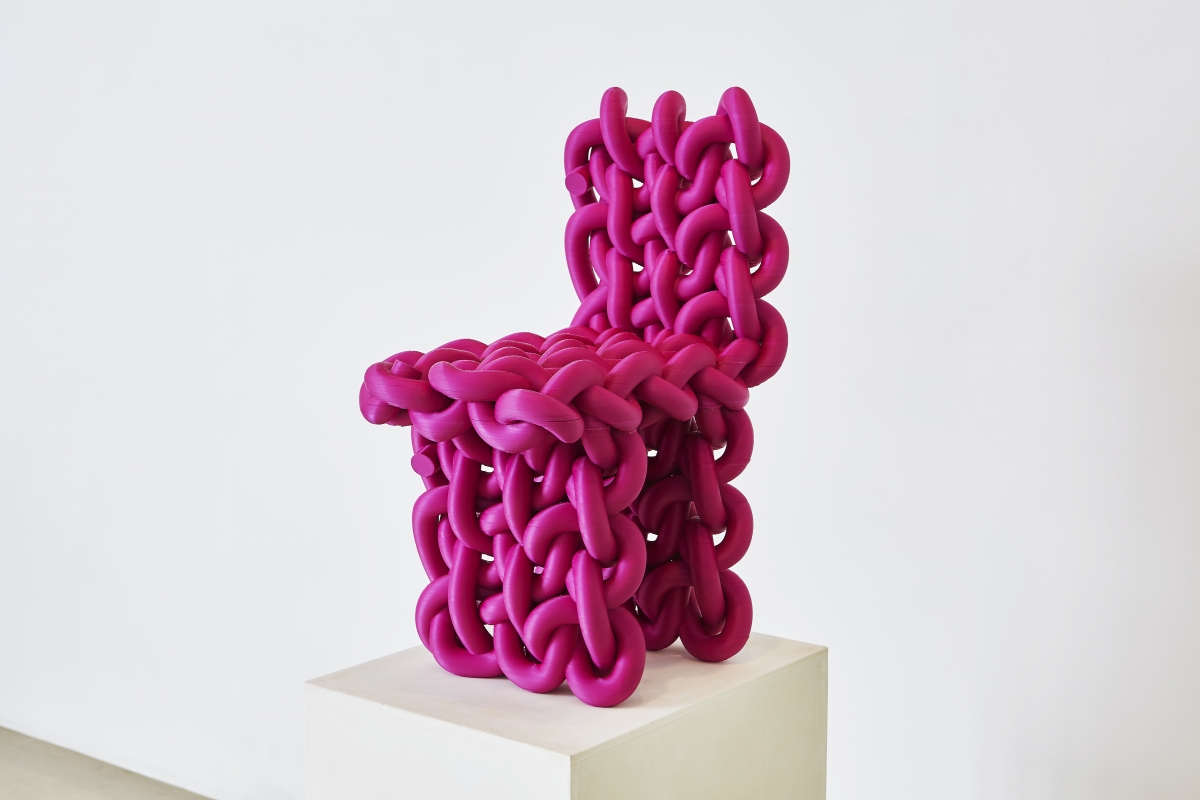 Lee Kwangho, OFFICE JOB, 3D printing in violet silk, 495×330×685mm, 2019
Interview Lee Kwangho × Choi Eunhwa
Choi Eunhwa (Choi): The 'Knot Series' of knitted lightings and the 'Obsession Series' chairs are impressive. What has made you so interested in line?
Lee Kwangho (Lee): Ever since I was a kid, I've loved to make things with my hands. I was not particularly interested in the line element, I was just picking up a line from a variety of means and materials from the very beginning and this habit has survived until now. It is better to pay attention not only to the methods of knitting but also to the varied artistry, such as the combination of different materials, various forms, and their proportions.
Choi: You use numerous materials such as PVC, nylon, leather, wire, and hose. Do you have a different approach to each material? It must not be easy working with bare hands if the material is too thin or too thick.
Lee: It varies a little. It certainly depends on the material's properties and size. If the material is too thin or sharp, hands can hurt, if thick and heavy, the work itself can be tough. Each material has its own demands.
Choi: Lines are tied up to make knots which create faces that make the volume and it goes on as a cycle. I wonder what your concerns are when envisioning a form. Wouldn't the form and dimensions change in the making against the original plan?
Lee: I imagine how the form will eventually be, but I am not usually that uptight about the exact dimensions and shape. The design transforms naturally as it is being made, resulting in a different design to that illustrated in the initial plans.
Choi: Mundane materials such as styrofoam, red copper, marble and wood are obtaining new manifestations in your works. How do you decide on each technique to deal with each material?
Lee: I do not think my technique is original because each material is already being treated in every possible way. However, even if the material is handled in a similar way, I try to find the most effective way, considering where it will be placed, what it will be used for, and how it will look. I personally enjoy this phase of working since it creates a freshness based on the synergies of the material, the technique, the forms, and its proportions altogether.
Choi: Which materials have piqued your interest most recently?
Lee: There are many materials that I have not dealt with yet. Rather than paying attention to a particular material, my thoughts are on a variety of materials. I am also interested in the techniques.
Choi: Your work covers a wide range of scales, from lighting to furniture, pavilion and space design. Are there any differences in your approach depending on the scale? Also, what scale do you feel most comfortable with?
Lee: It is the number of people in the making that should be adjusted, not the approach itself. Discussion with colleagues is crucial, especially when the scale has multiplied, and the direction and outcome of the work will be varied accordingly. A scale does not determine the number of difficulties. As I mentioned earlier, it is the number of people that matters.
Choi: Your 'Obsession Series' , it occurs to me, is like a modern-day Arts and Craft movement. However, all of the works featured in the last exhibition, 'Second Language', were made with a 3D printer. Given that a lot of people find your work charming for how much of the work involves laborious work by hand, don't you think this new methodology might lose touch in this regard?
Lee: I thought I could have more possibilities by exploiting state-of-the-art technology. By using a 3D printer, I could broaden the bandwidth of my thinking and enrich the contents of my work. I will continue hand-knitting for sure. And interestingly enough, I have gained more confidence in hand work by exploiting 3D printing technology, and I am certain the new methodology will induce a stark contrast between hand and digital work in the future.
Choi: How did you collaborate with your 3D printing engineer? What were your special requests?
Lee: I fully respected the expert's opinion. Except for few things that I wanted to be included in the outcome, I tried to accommodate his ideas and he did the same as much as possible. I believe a collaboration based on mutual trust has made the outcome as we expected.
Choi: It differs in detail for each knot when you are manually producing the artwork, however, it may be manufactured uniformly by digital programming. What principles or concepts have you established when rendering your work in 3D?
Lee: I've been working with hands, and I've been trying not to lose the feeling of handcraft even when using digital technology. As it was the first time I have worked with brand new technology, I set myself the goal of 'Try something that only can be rendered with the very technology'. As a result, I ended up making a thick knot which cannot be made with one's own hands.
Choi: Would you like to share one of the memorable episodes when working with a 3D printer?
Lee: I like the thrill and tension of working in a new way. When making chairs with a 3D printer, we had to trust the machine fully as soon as it had started plotting, and it felt peculiar to treat the machine as if it was a person.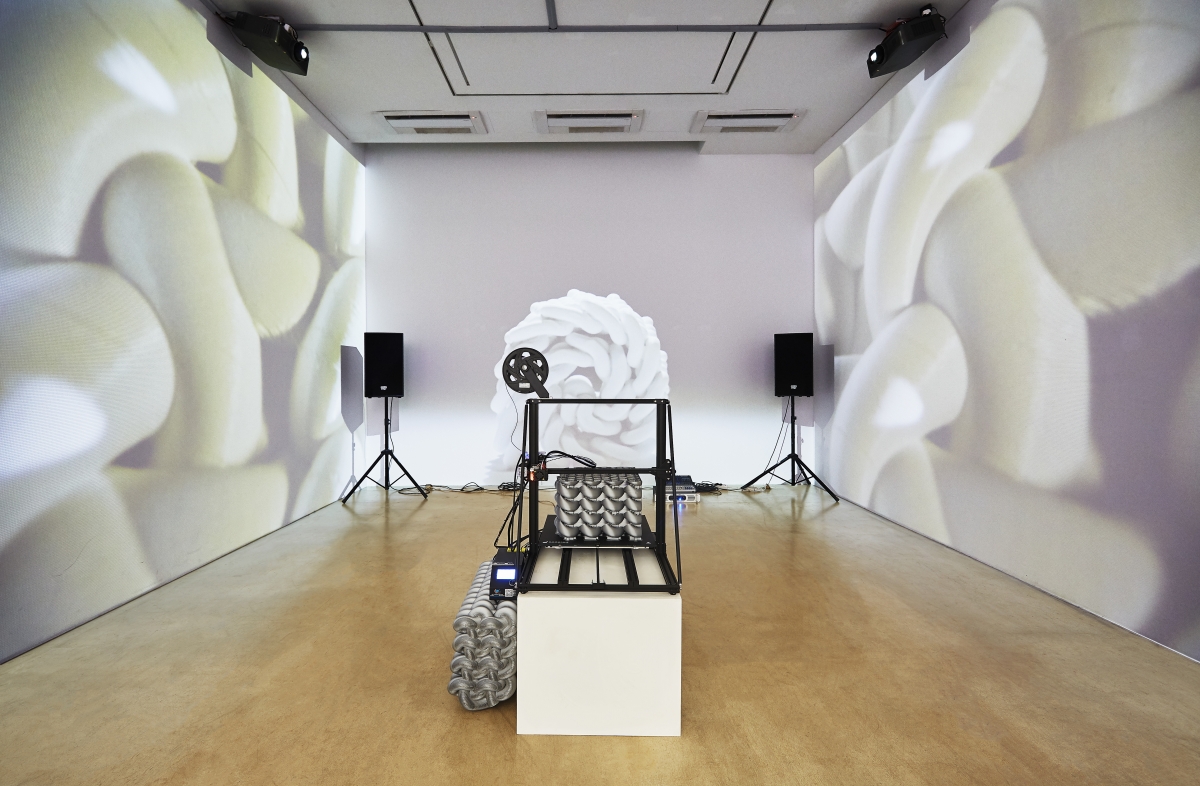 Installation view of SCALE MODEL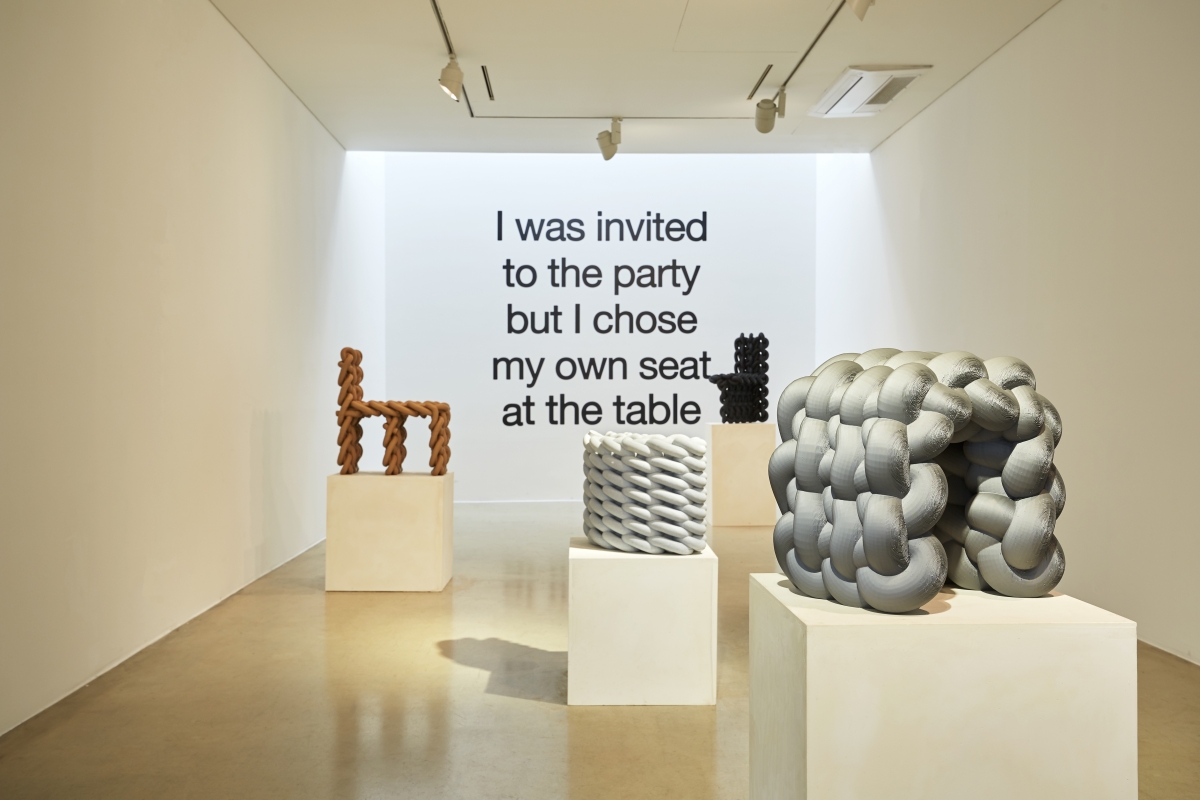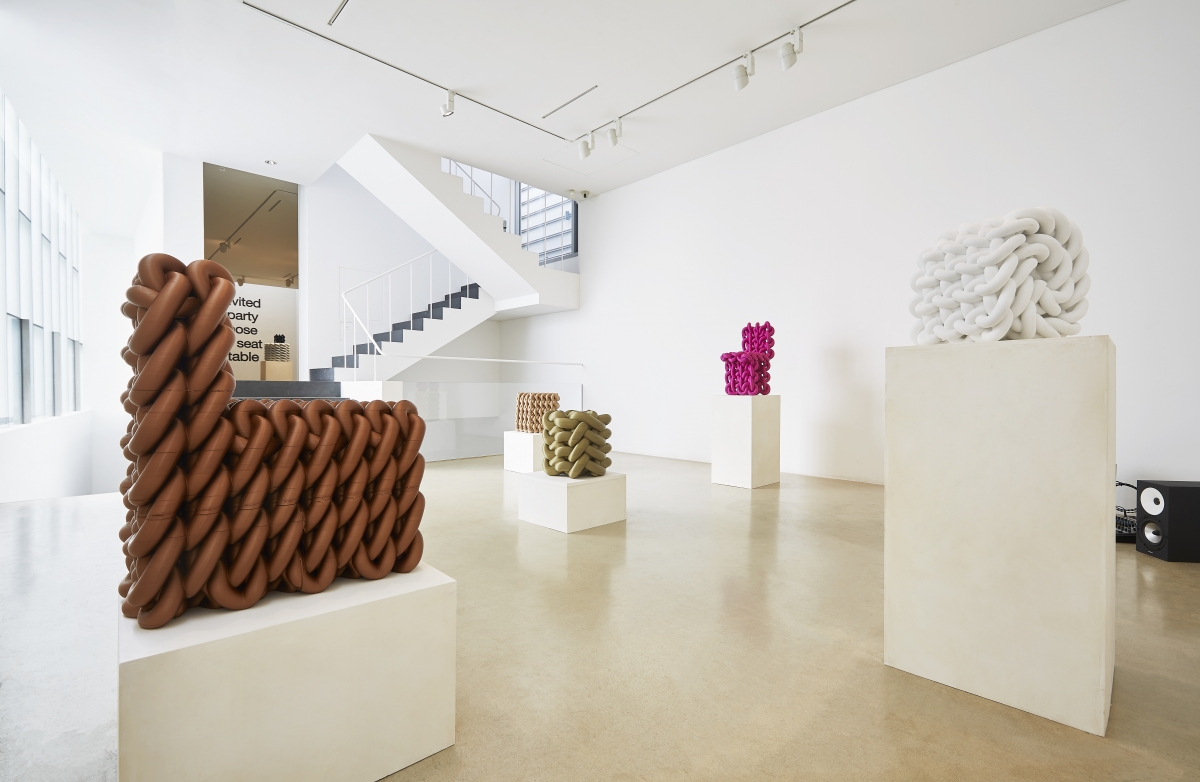 ​
---
Lee Kwangho studied Metal Art and Design at Hongik University. As his light and furniture series, made by knitting PVC tubes and wires, were introduced to the foreign media, he gained the spotlight from these overseas outlets before Korea. Beginning with the Commissaires Gallery in Canada, he has held solo and group exhibitions in US, Belgium, Japan, and other countries, and his works are collected by the Musée des Beaux-Arts and the San Francisco Museum of Modern Art. Since klo (kwangho lee office) was founded in 2007, he has made numerous creations such as light, furniture, space, and many interdisciplinary projects.
www.kwangholee.com