SOVICO Professional, which is located in the Yangju Hongjuk Industrial Complex in Gyeonggi-do, is a manufacturing plant that produces audio equipment. As a clear masterplan was not available, the surrounding context and the standards to be observed remain vague. The core motivation behind the building's programme, composed of offices, manufacturing, and distribution, was a functional traffic flow. All flows had to be effective, never crossing between or over one another. In this tightly planned space, a gap into a space that invites light proved desirable. The lobby, where ordinary daily interactions take place, distinguishes these traffic flow lines, while also performing as an exhibition space to showcase new products. Following the blue tiles from the factory entrance to the interior, one encounters a circular light formed by the entrance canopy. The change of light brings to mind the time of day. When it rains, one is able to observe the rainwater falling into the gutter below. This was decided upon as a means of adding an emotional aspect to the factory. In contrast to the hectic atmosphere of the hall created by the distribution lines, a quiet inner court divided by walls has been installed in the office building. The Euroform exposed concrete structure of the office building creates a diverse atmosphere of varying heights. This not only secures the structure to where it touches the ground, but also acts as a way of connecting the office building, manufacturing building, and the distribution building. The idea was to generate various qualities of light and shadow every hour, which would be experienced and remembered differently at each point of intersection between ordinary life and functional space.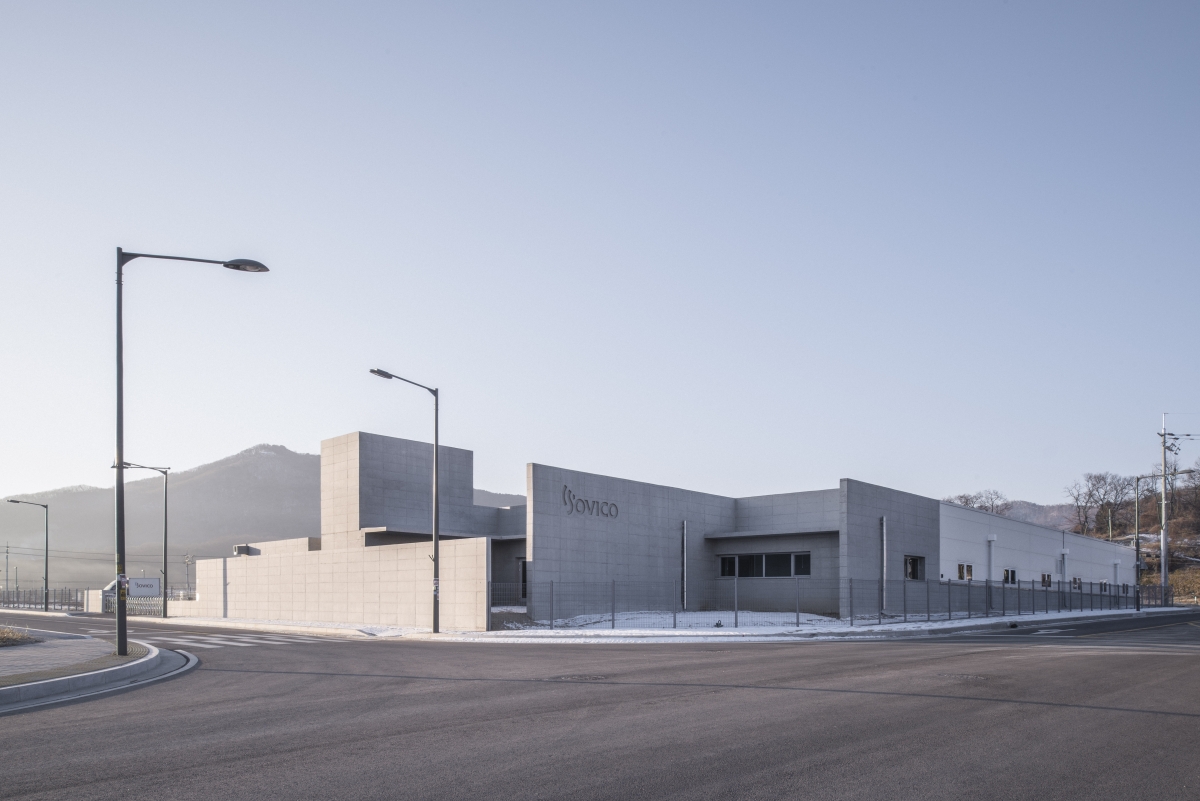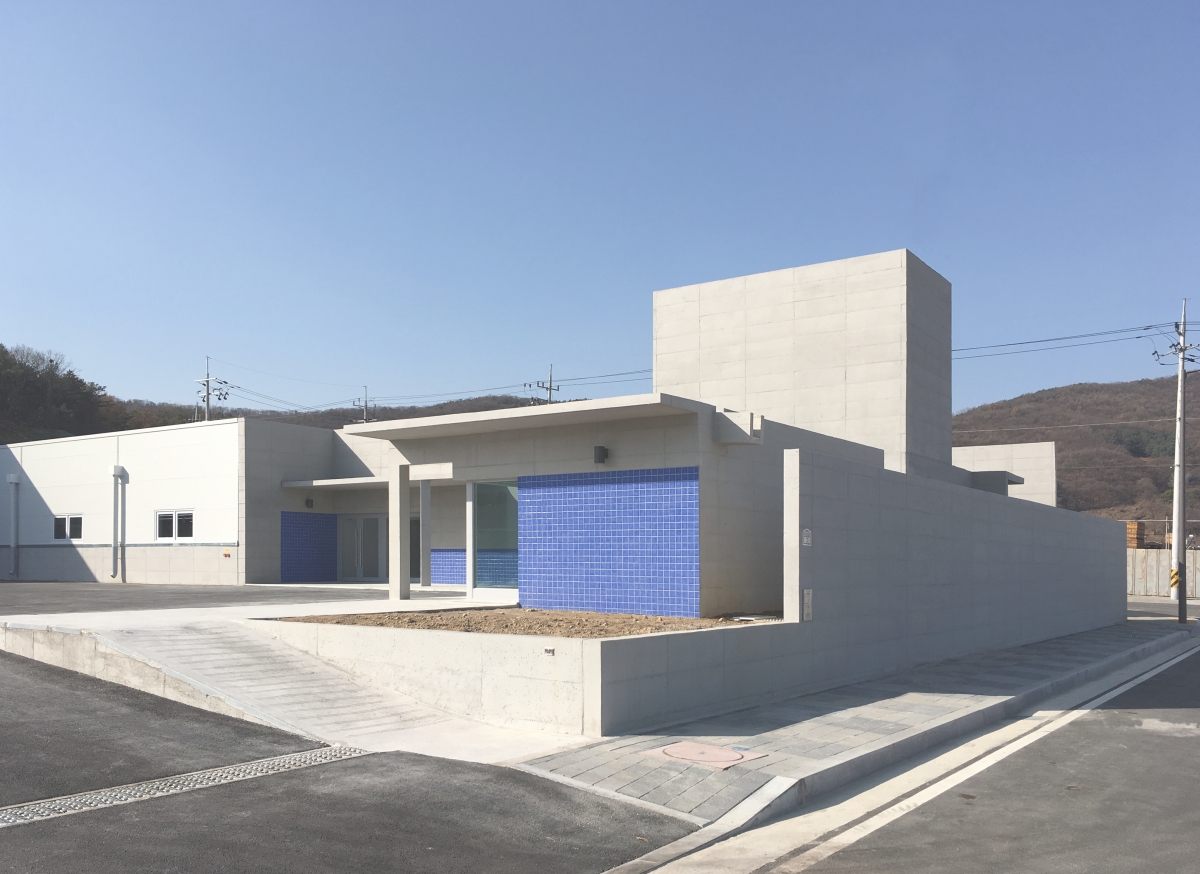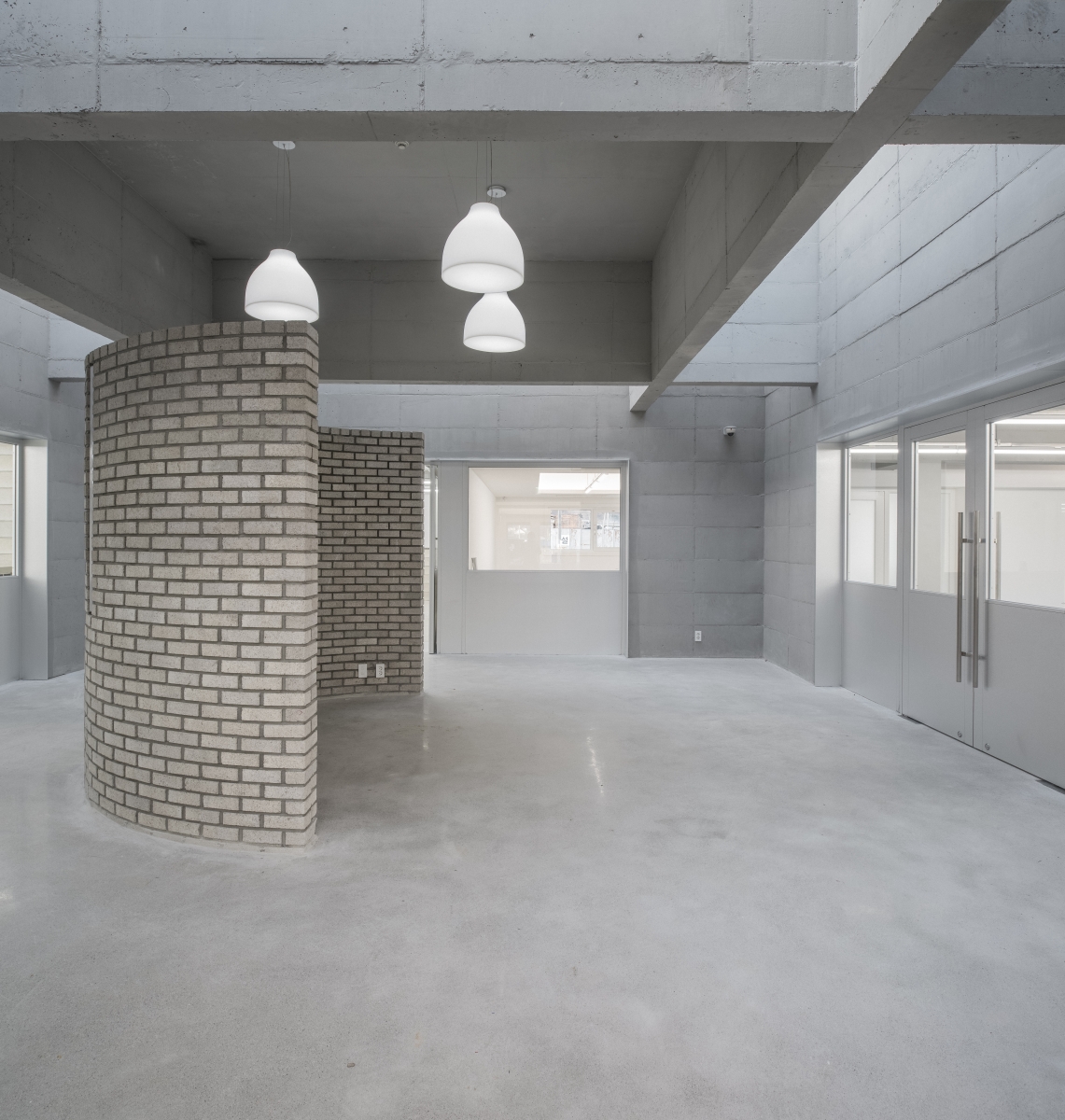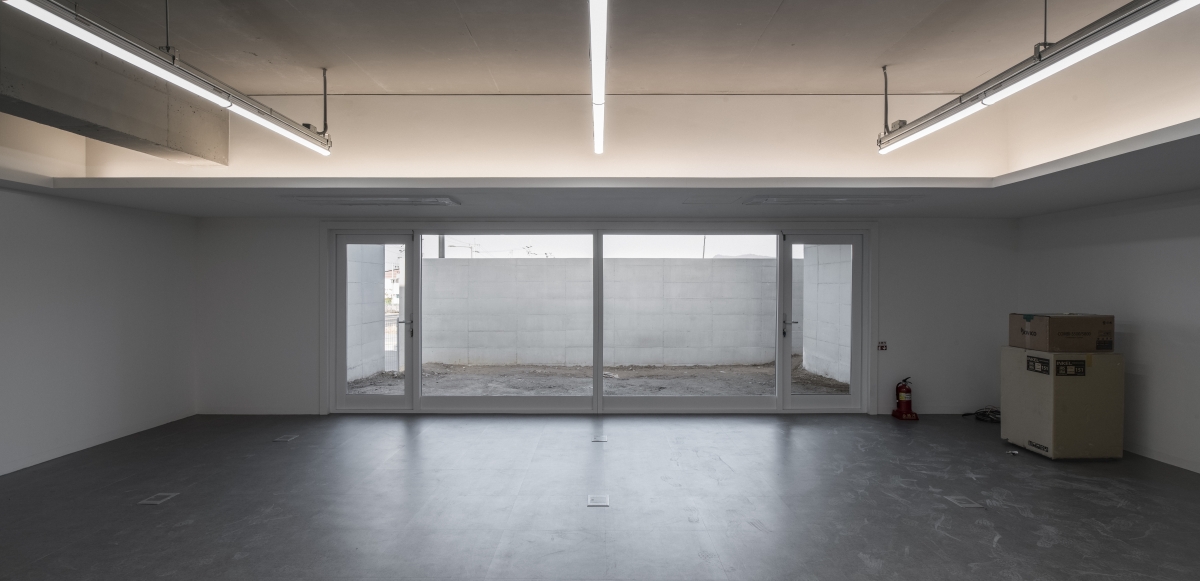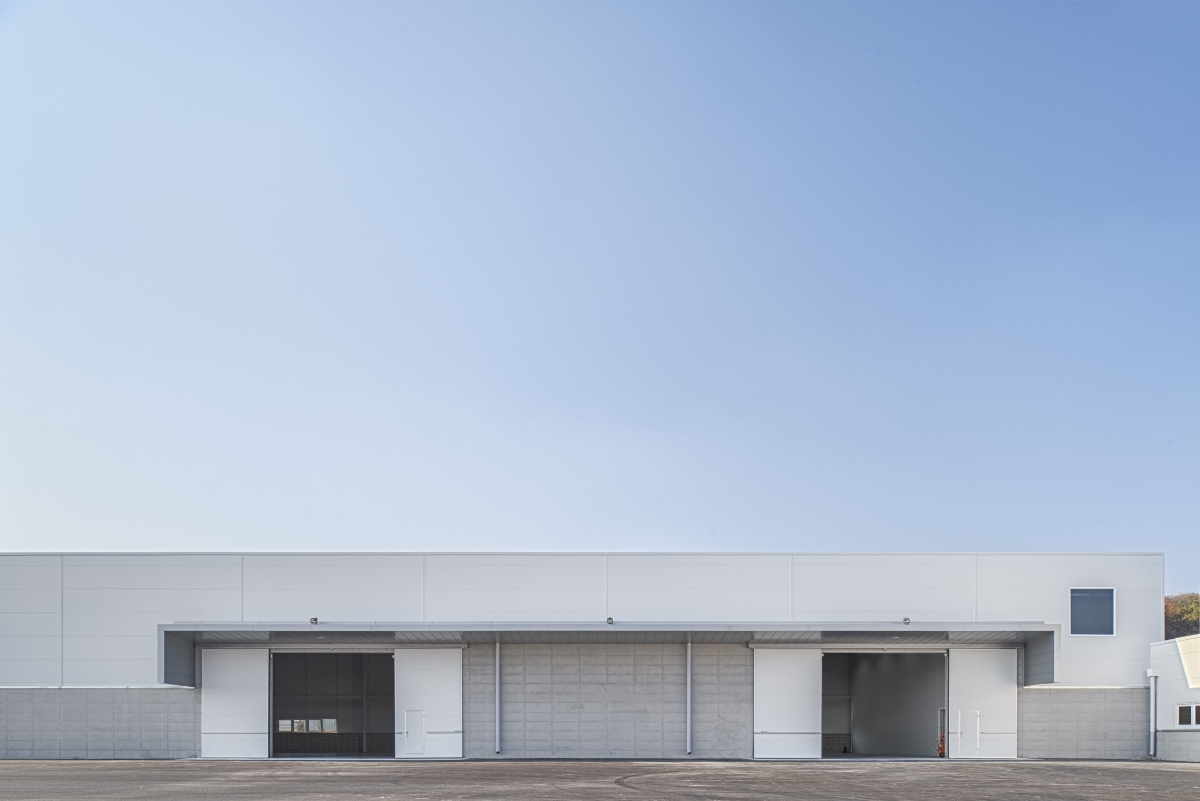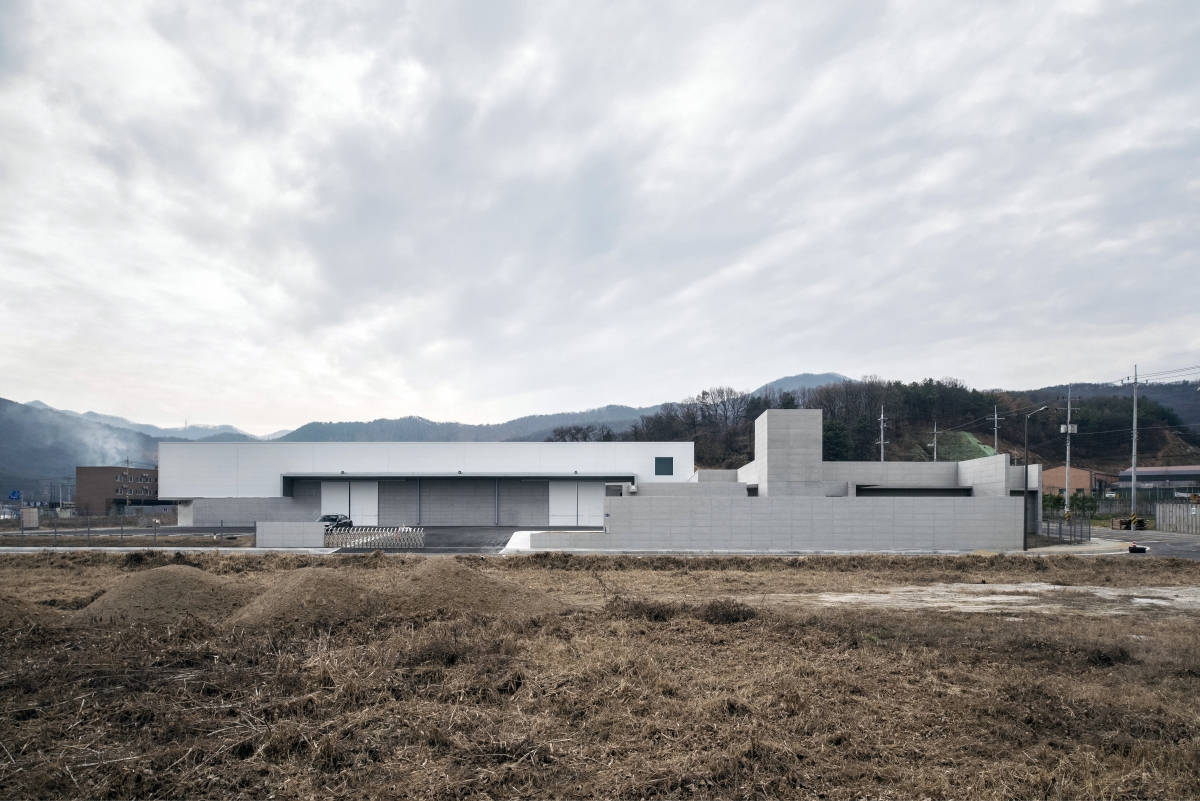 Architect
su:mvie architects (Kim Soo-young)
Design team
Lee Tjiyoung, Park Yoojung, Choi Yiseob, Oh Seungy
Location
39-33, Gwonyul-ro 1203 beon-gil, Baekseok-eup, Yan
Gross floor area
2,229.53m2
Building to land ratio
45%
Structure
reinforced concrete, steel
Exterior finishing
Euroform exposed concrete, insulated panel system
Interior finishing
Euroform exposed concrete
Structural engineer
Harmony Structural Engineering
Mechanical engineer
Bowoo Engineering
Electrical engineer
Sungji Enc.
Construction
Dasan Construction & Engineering Co., Ltd
Design period
Dec. 2015 – Apr. 2016
Construction period
May – Nov. 2016
---
Kim Soo-young, born in Seoul in 1971, graduated Hongik University School of Architecture and Kyonggi University Graduate School of Architecture. He established su:mvie architects in 2010 and teaches in the design studio at Korea National University of Arts. He was awarded the Korean Young Architect Award in 2014, and was awarded the Rising Architect Award and the Korean Architecture Award with FINELINK in 2015. He also won the Kim Swoo Geun Preview Award in 2016 with Yeongju Swimming pool, and has been a Seoul Public Architect since 2015.