Stay: A Guide to Residential Living and Life
The Michelin Guide defines 3-star restaurants as offering the following: 'Exceptional cuisine, worth a special journey'. In other words, a top-rated restaurant is a place that deserves to be the ultimate aim of a journey. Can this also apply to architecture? In fact, architecture has always been subject to this; people make their way to a rural town in France to witness the inspirational colours that light up the interior of an old monastery. Recently we see a greater instance of those who will travel to experience to exceptional homes. For these people, travel is not only about looking around a house but the experience of staying over for one or two nights in this house itself. As the number of travelers has increased in Korea over the past 10 years, people have begun to call these, 'stays'. It is a noun created from the verb 'stay', which makes one wonder if the name was intended to emphasise the 'staying' potential of such facilities in contrast to the usual hotel accommodations.
What kind of architecture is a stay? Samdal Oreum, which I visited at Koh Youngsung's suggestion, is a work of stay architecture built within a small town on Jeju Island. I first asked Koh for his secret; how was he able to accomplish multiple projects within only 2 – 3 years? He immediately replied, 'The form is important. Samdal Oreum borrows its formal motifs from the unique topography of Oreum (small volcanic cone) in Jeju', while pointing to the round and gently protruding roof. Hearing this, I felt that what he meant by form that anyone would be able to recognise intuitively. As I entered the interior, a round donut-like space with a hollow middle appeared. Curved pool passes beneath the windows and envelops the space, and there were rattan chairs and a inflatable tube on the deck facing the pool. As for interior design, Koh chose to expose the wooden structure supporting the roof as a unique characteristic. There were also some difficult procedures implemented to express the dynamic form of Oreum in the inner structure as well: for example, the wooden ridge beam resting on the concrete wall used as central support had a metal pipe structure added to it.
What was the rationale for this structural difficulty? To this question, Koh answered, 'I just wanted to realise the natural form of Oreum, which I observed from the aerial photograph, as much as possible'. There are many architectural elements here that architects and stay business entrepreneurs should pay attention; specifically the large open windows, the ceiling with an exposed structure, and hot tub with a garden view. Moreover, as Koh emphasised, the form that symbolically reflects the regional character to allow the traveler to get the sense of 'being at Jeju' is one of the main points of this design. Formative architects didn't shy away from taking bold steps in terms of structure to match a unique form and interior design. Wood is a good material to realise houses on vertical and horizontal lines. To realise the round plane and the curved roof, however, there was a need to complement the linear form of the wooden material, and thus architects decided to combine the concrete wall and metal material for creating curved lines with a wooden structure. There were things that had to be compromised as well: for example, the extra wooden pillar obstructs the airflow as well as the view, and the grey metal pipe, which doesn't match the warmth of a wooden structure, had to be added.
In spite of all of these, this stay provides an opportunity to experience things that are hard to find in a urban environment. In order to fully realise all of these special qualities as well as the unique property of a stay – that is, the feeling (albeit short) of a home – a stay must be able to provide a sense of familiarity and the comfort of being in a home. A home for the family, at the same time not a home, and the golden ratio between elements of familiarity and unfamiliarity; these are the recipe components of stay.
From the consumer's perspective, there is a huge advantage in using stay. People who currently don't have the ability to own a private house or a home designed by an architect can live in a well-designed house for a day or two. They may even come to discover their ideal kind of residence as they travel around experiencing various stays. In contrast to a model house manual for apartments, stays can help one to develop a acute and personal observational skill when it comes to looking for houses. Alain de Botton runs 'Living Architecture'—a British version of stay accommodation for sharing the experience in an architect-designed house.
Likewise, stays thoughtfully-crafted by a fine architect allow people to receive inspiration in regards to living through that experience. It helps one to rediscover the meaning of a family dinner, and introduces one to a pleasant view that one may enjoy from bed as one falls asleep. However, for stays to function as a guide to residence and life, I think it needs to go beyond the design of forms and items. If you think about it, the true merits of residential life, which we all want to experience even for just a short moment, are things like this: the movement of sunlight through the window and the comfort at contact with a high-quality wooden floor beneath one's bare feet. The elements that stimulate our five senses are qualities of any fine house, but they are also things that have been long forgotten from our economic houses. The memory of space left behind after visiting Samdal Oreum was of a warm setting for life. The wooden roof frame laid on the pipe added a cosy aspect to the loft bedroom, and the eaves that point downwards from the terrace frame a field in the distance. If this house, where people make a special journey with a brief stay, can also function as a guide to life, then shouldn't it also deserve 3 stars?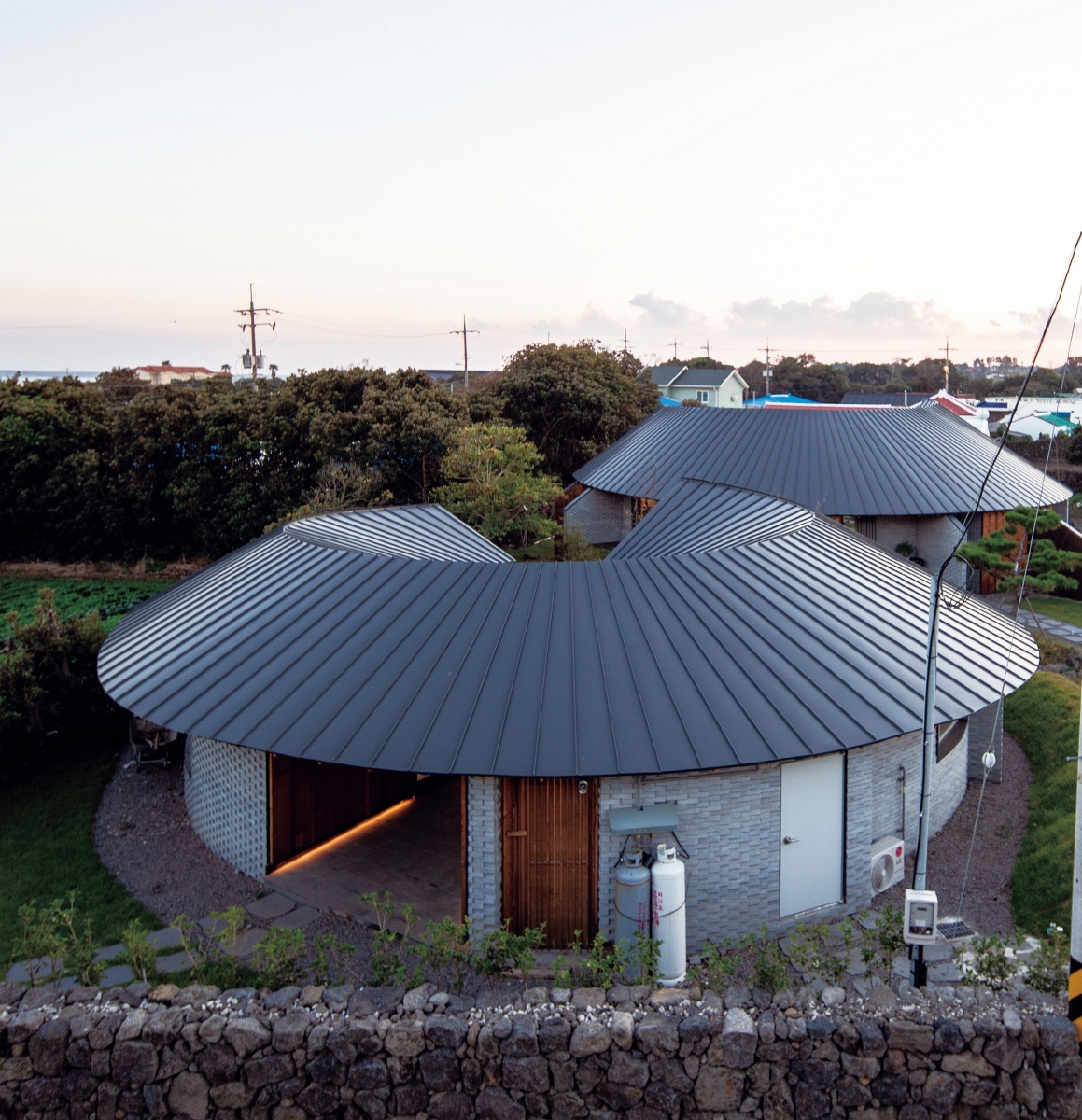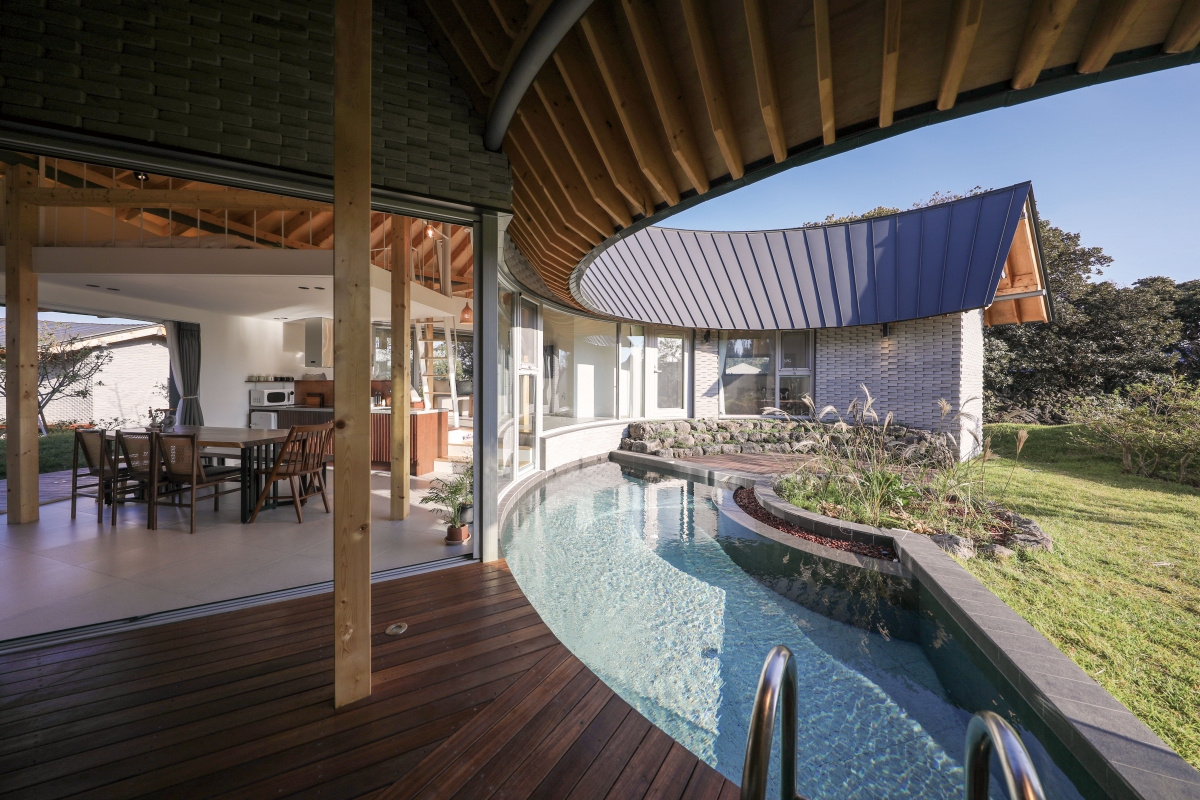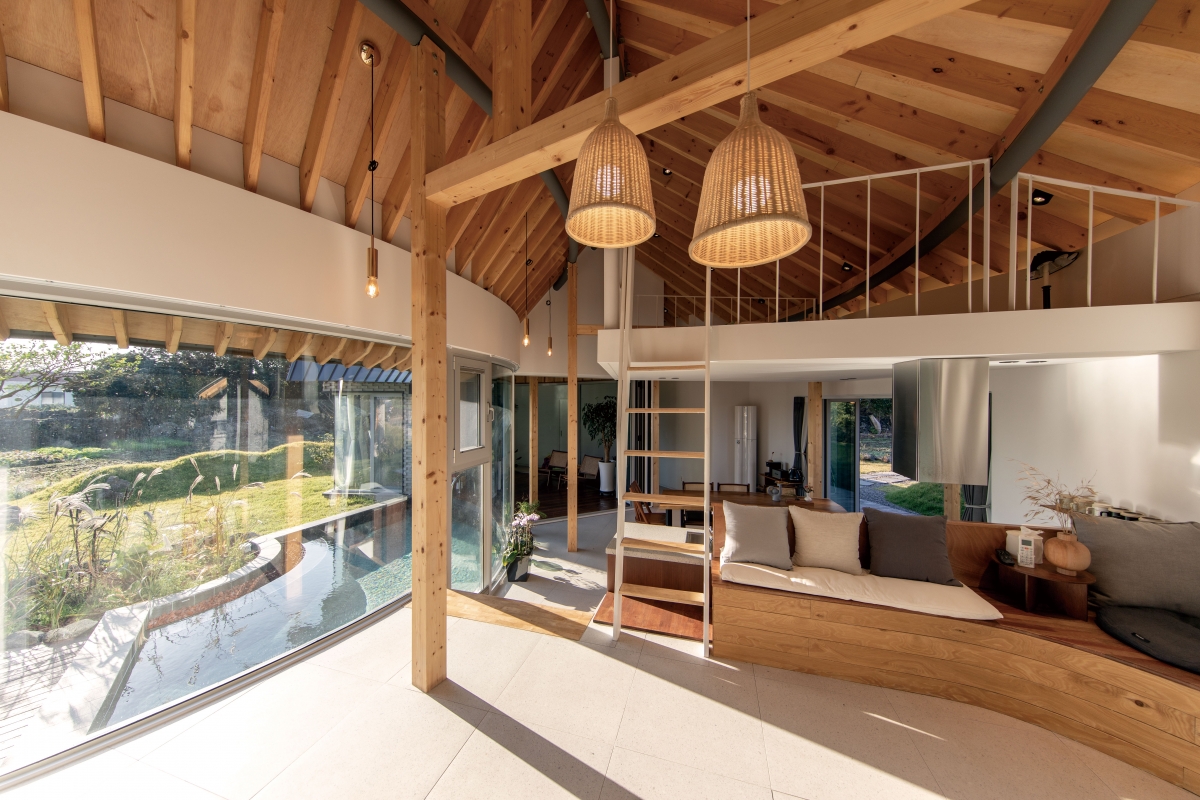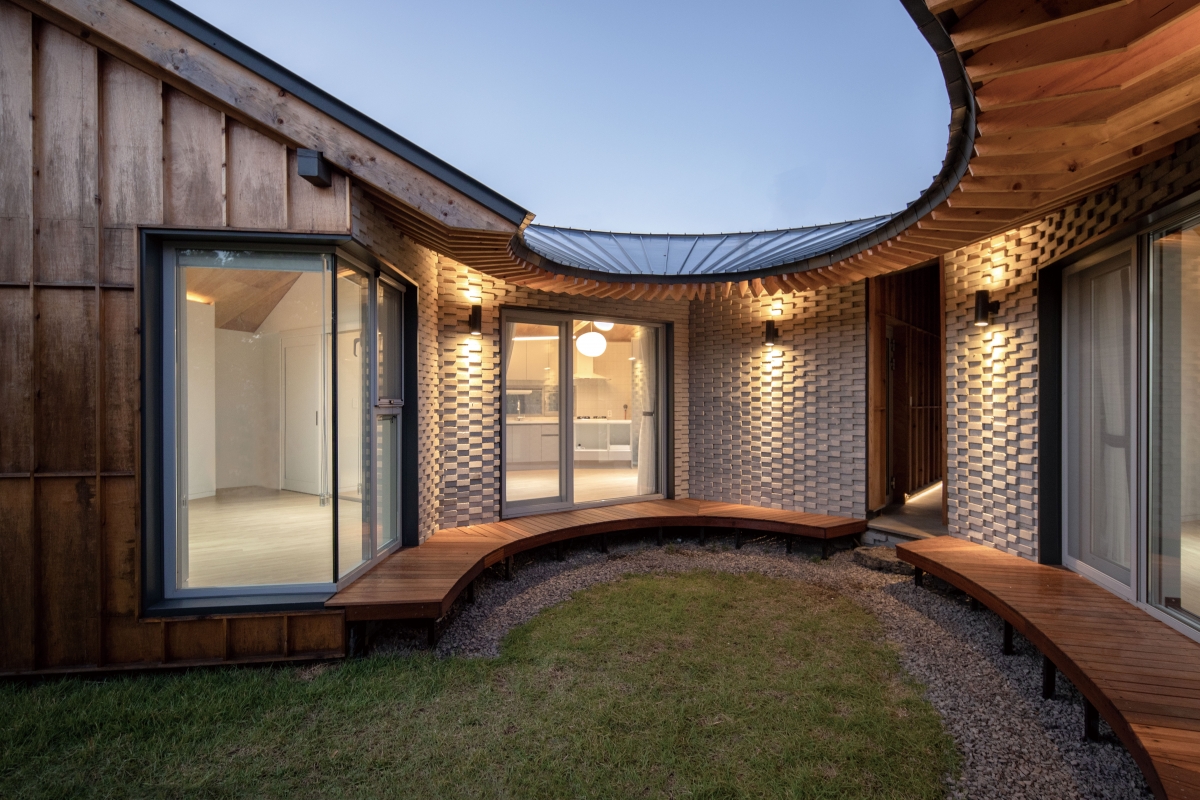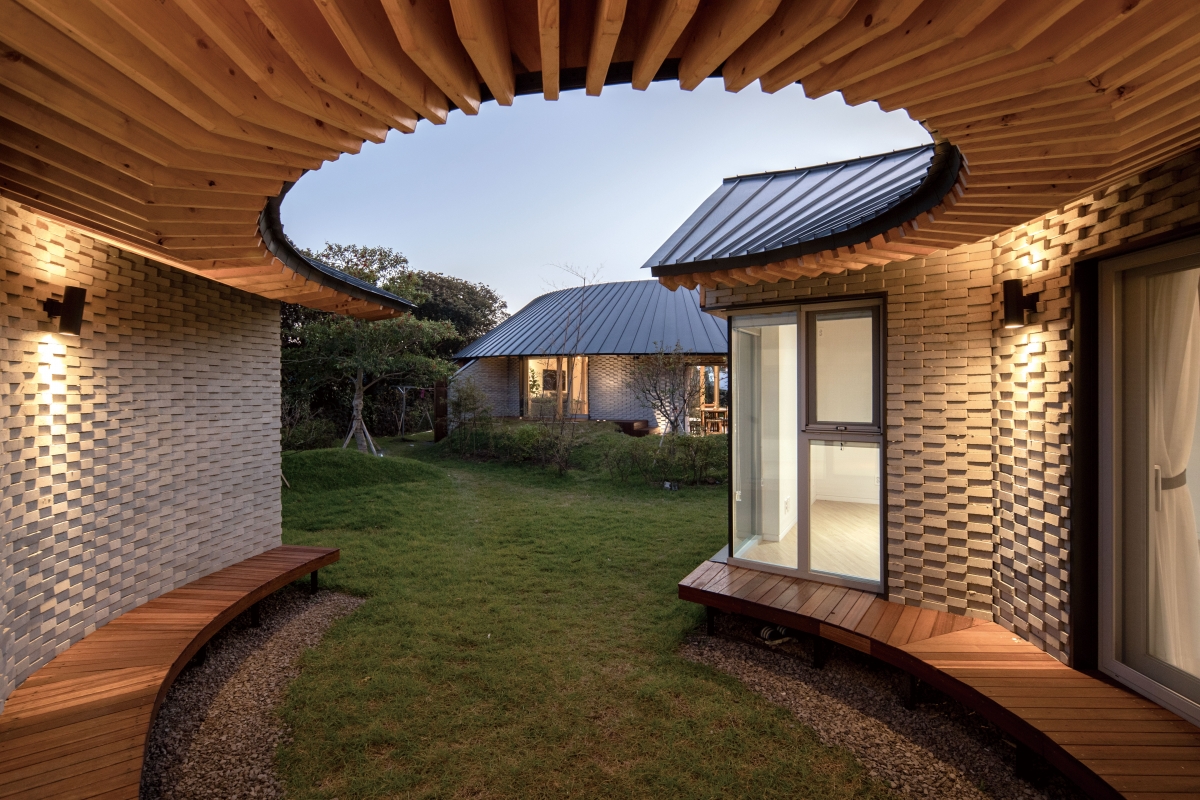 Architect
Formative architects (Koh Youngsung, Lee Sungbeom)
Location
Seongsan-eup, Seogwipo-si, Jeju-do, Korea
Building to land ratio
21.84%
Structure
wooden structure, steel structure, RC
Exterior finishing
redcedar siding, hot rolled steel sheet
Interior finishing
terrazzo tile, wooden floor, water paint, plywood
Structural engineer
Teo Structure
Mechanical and electrical engineer
Formative architects
Design period
June – Nov. 2018
Construction period
Dec. 2018 – Sep. 2019
---
Koh Youngsung, Lee Sungbeom
Koh Youngsung graduated Graduate School of Architecture, Hanyang University, worked for Solto architecture, and then established the design lab. EXA. In 2013, after changing the office name to Formative architects, and many emotional, experimental projects has developed. He aims at architectural projects that pay attention to the sincerity of essence rather than the surfaces of a space.

Lee Sungbeom graduated Graduate School of Architecture, Hanyang University and worked for SPACE GROUP. He searches for the worth of architecture in life based on publicness and seeks various architectural values that break away from the image or a superficial idea of architecture through diverse interpretations of the essence of architecture.