SPACE October 2022 (No. 659)
ʻI am an Architect' was planned to meet young architects who seek their own architecture in a variety of materials and methods. What do they like, explore, and worry about? SPACE is going to discover individual characteristics of them rather than group them into a single category. The relay interview continues when the architect who participated in the conversation calls another architect in the next turn.
​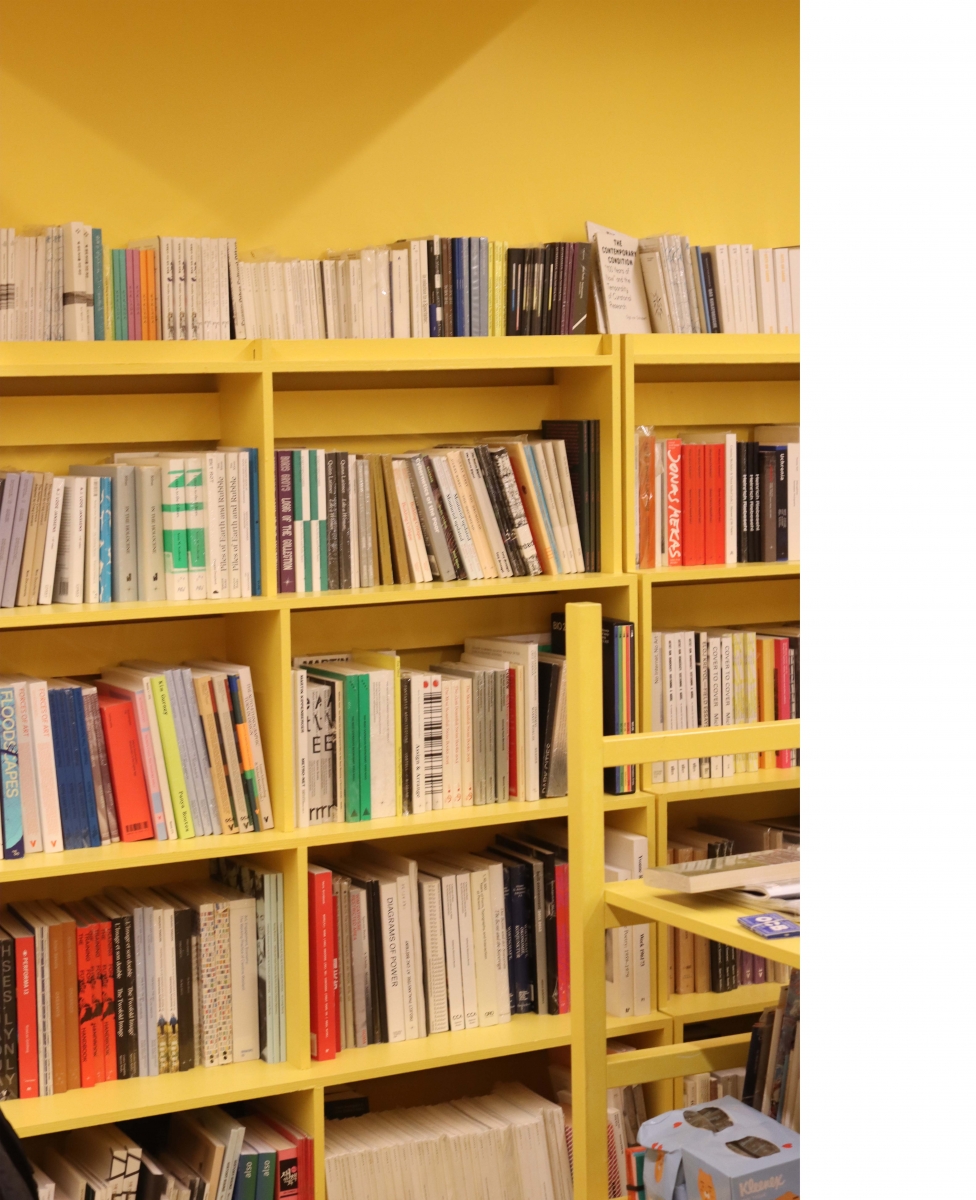 View of The Book Society
interview Na Jongwon co-principal, of × Park Jiyoun
​
Moving Between London and Seoul
Park Jiyoun (Park): Weren't you supposed to be in the UK by now, according to your original plan?
Na Jongwon (Na): That's right. I couldn't get a plane ticket because the airports in the UK were in chaos. I was supposed to go in August, but I couldn't. I now have a plan to go in October. I think I'll have to come back after only a short time, however, because of the project I'm working on in Korea.
Park: Are you working on a project in the UK now?
Na: Yes, I am working on two housing projects near London. 'Of' is based in London and Seoul, and I co-chair with James Mak as a principal. We work together but we also work separately. We try to use the name 'of' even when working alone. Officially, it is a company affiliated with a headquarters and takes the form ʻof' a branch.
Park: It can't be easy to schedule meetings due to the differing time zones.
Na: The afternoon in Korea is the morning in the UK. We try to set our timings around that time and try to hold a meeting every Monday. I used to work at 6a Architects (hereinafter 6a), which is based in London, before I opened an office, and I worked from home for nearly two years due to the Coronavirus Disease-19 pandemic. As a result, I am quite familiar with design meetings via zoom, and it does not bother me much at all.
Park: You now intend to stay in Korea after winning the International Design Competition for Yeonsu-gu Youth Center (2022 ‒ ), is that right?
Na: That is correct. I never thought I would stay and work in Korea, but I was lucky to have that opportunity. That said, we still think our base is in the U.K., as that is where we started off.
Park: Do you also have a workspace in Korea?
Na: When working on the Yeonsu-gu Youth Center, we cooperated with SAVE GROUP in terms of client meetings and such. They gave us a seat in the corner of their office. This allows us not only to arrange impromptu meetings but also to have a workspace of our own. Thanks to SAVE GROUP, we can focus on our design.
Park: James is now in the UK. It is assumed that you might need to take the leading role in the project as the Yeonsugu Youth Center is based in Korea.
Na: Since James cannot speak Korean, it was inevitable, but at the same time, since I made the proposals in the first place, and this naturally puts me in the leading role. For us, either one of us can make a proposal to the other about the design intentions and directives as per the project requirements, and then we both jump on the most intriguing agendas.
Park: I heard that you and James met at AA school.
Na: We took Pier Vittorio Aureli and Maria Giudici classes together. James was great; he established a non-profit organisation and built a couple of schools in Cambodia, and he even ran the schools by himself. Not to mention that he was very good at design! We worked on the competition entry together for Shinkenchiku in Japan, winning second place. We found out that we could be great partners.
Pursuing Problems
Park: Lim Kyungyong, the director of The Book Society (2022) permitted us to use the venue for an interview during their office hours.
Na: The Book Society has been one of my favorite bookstores, and I knew Lim is publishing and exhibition planning with its own name, Mediabus. So I reached out to him to ask to cooperate as an exhibition director of International Design Competition for the 416 Memorial Park (2021, hereinafter 416 Memorial Park). This is how we become acquainted. It was a personal project, not an 'of' project, and it gained second prize.
Park: The Book Society is quite an impactful space as from its walls to its furniture it is covered in yellow.
Na: As The Book Society moved, I was in charge of spatial planning and Shin Shin was in charge of graphic design. We were in a new building, so we couldn't change the exterior. It is an elegant building designed by Samuso Hyojadong, and I considered how best to represent the unique identity of The Book Society through its structure. Shin Shin was working on an exhibition project about colour around that time, so while we were talking about colour, Shin Shin suggested that we paint the entire space in the same colour. It began with a simple idea.
Park: It is curious to see a ping-pong table used as a table!
Na: Most of the furniture was in the previous The Book Society building. There are also early works here by designers who are currently active, such as COM and Kiljong Sangga. The Book Society serves as an archive. All of them have their own particular resonances, so I brought all the furniture, and there was also meaning behind adding a new layer with the yellow. In addition, we create a trace by adding new furniture such as the Post Standards' shelf and designer Joh Hyunseok's sink. Of course, it's yellow.
Park: Why yellow?
Na: After the meeting, I took the subway back to the office, but I kept seeing the yellow inside the subway station. It was very subjective, but I was reminded of Tongui-dong, Ogin-dong, Seochon, and Seoul through the yellow of the unique subway station. So, I took a snapshot and shared it. Shin Shin also shared a photo of a book with a yellow cover at the same time. So, I chose yellow! (laugh) Originally, The Book Society logo was purple, but yellow is also the complementary colour of purple.
Park: What did you talk about as part of the 416 Memorial Park on which you collaborated with director Lim?
Na: From the first meeting, Lim said that he would like discussion of the tragic accident of Sewol Ferry to be a little more futureoriented than emotional and sensational. It matched the direction of my first project.
Park: It reminds me of your statement at the start of your presentation: 'It warns us of the simplicity of the feeling of 'easy and shallow' compassion'.
Na: I had personally been thinking about what to do for the memorial service. It seems that I doubted the stereotyped type of the memorial hall. Especially spaces informed by emotion and an excess of metaphors and symbols were questionable. I thought these factors would rather render the victims an anonymous group, not as individuals with their own individual losses. I didn't want 416 Memorial Park to get stuck in abstract concepts such as empathy and memory. I wanted to create a daily space for everyone and let citizens, including the children of Danwon High School, so that they could enter the space naturally and spend their day.
Park: It is impressive that dynamic sports such as basketball, badminton, and running occur in the square in front of the memorial hall.
Na: First of all, it was most important to create a space to which many people would be drawn, and I hoped that it would not end up as a simple visit, but permeate into the run of their daily lives. We hoped that living close to the victims every day would be our way of mourning. As I proceeded with the project, I began to think from the perspective of the students. As a result, I naturally became interested in students and educational facilities. In a way, Yeonsu-gu Youth Center is also an extension of 416 Memorial Park.
Park: The presentation for the Yeonsu-gu Youth Center design competition began with a statement by Jacques Ranciere, which goes 'the important thing is not to bring up the greatest artist, it is to foster the freedom to speak out loud 'I am the greatest artist!' from each individual'.
Na: Instead of following the life that others said was right, I wanted them to grow into independent people who enjoyed themselves and sought their own way of thinking.
Park: I think the design intention is well revealed in the atrium.
Na: It is a flexible space in which small meetings, conversations, reading, and performances can take place. I wanted to leave room for programmes that would use the space. This space is different from an empty space. We saw that the vitality and dynamism of the atrium as a catalyst for the active participation and exchange of young generations.
Park: If the design is divided roughly into strategy and planning, you seem to place more emphasis on the strategic.
Na: That is true. If the strategy and the design intention are clear, we can start again when reaching an impasse, because we have clear valuation criteria. Before thinking about architecture such as materials, forms, and tectonics, we ask what the story is essentially contained in this project. In a way, architecture becomes a tool for telling stories.
Park: I heard that Pier Vittorio Aureli also instructs in the strategy and essential aspects of the project.
Na: For the two years I learnt from Pier Vittorio Aureli, I feel like I studied architecture rather than design. I think architecture is, in a way, a process of solving problems. I think the core of the process is recognising the problem. The moment you recognise the problem, it 's like more than half of the project has gone. Pier Vittorio Aureli focuses on the process before solving problems and presenting alternatives. As a scholar, I recognise and track problems with a clear perspective on phenomena.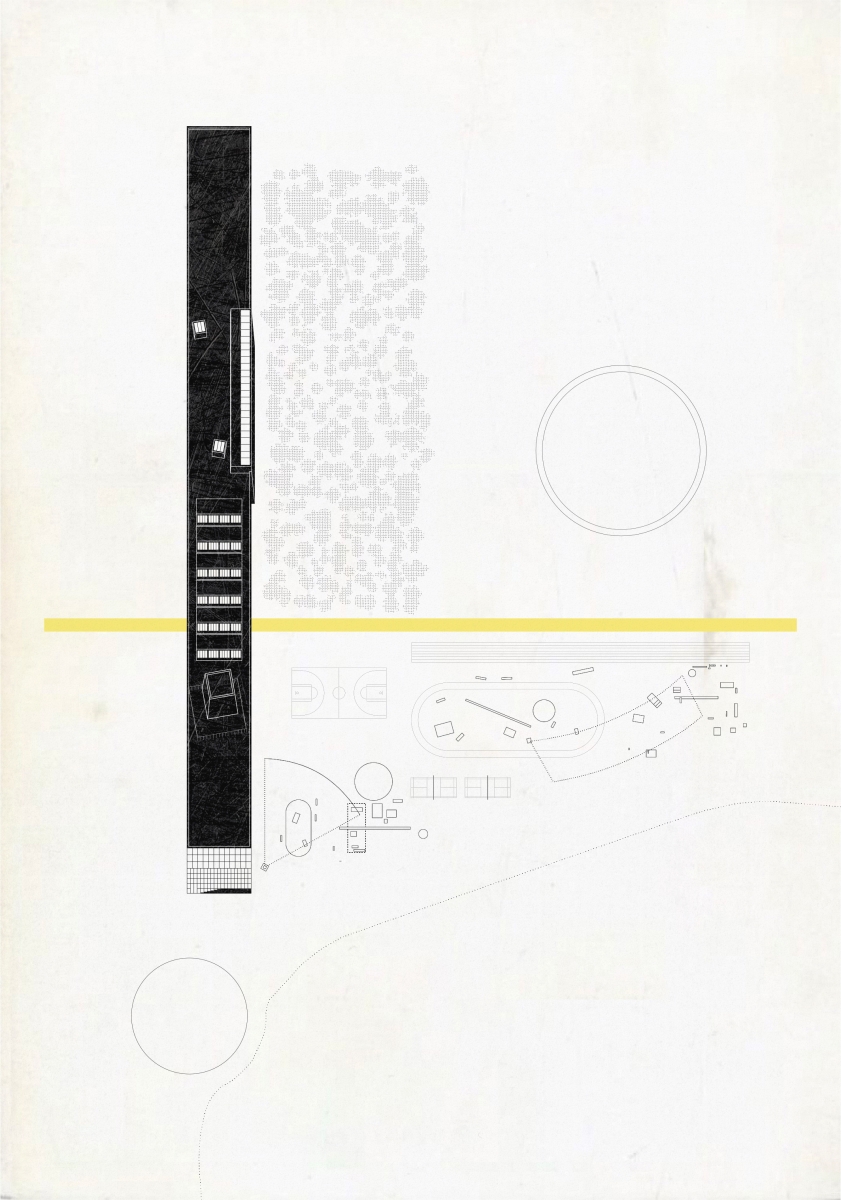 Axonometric of International Design Competition for the 416 Memorial Park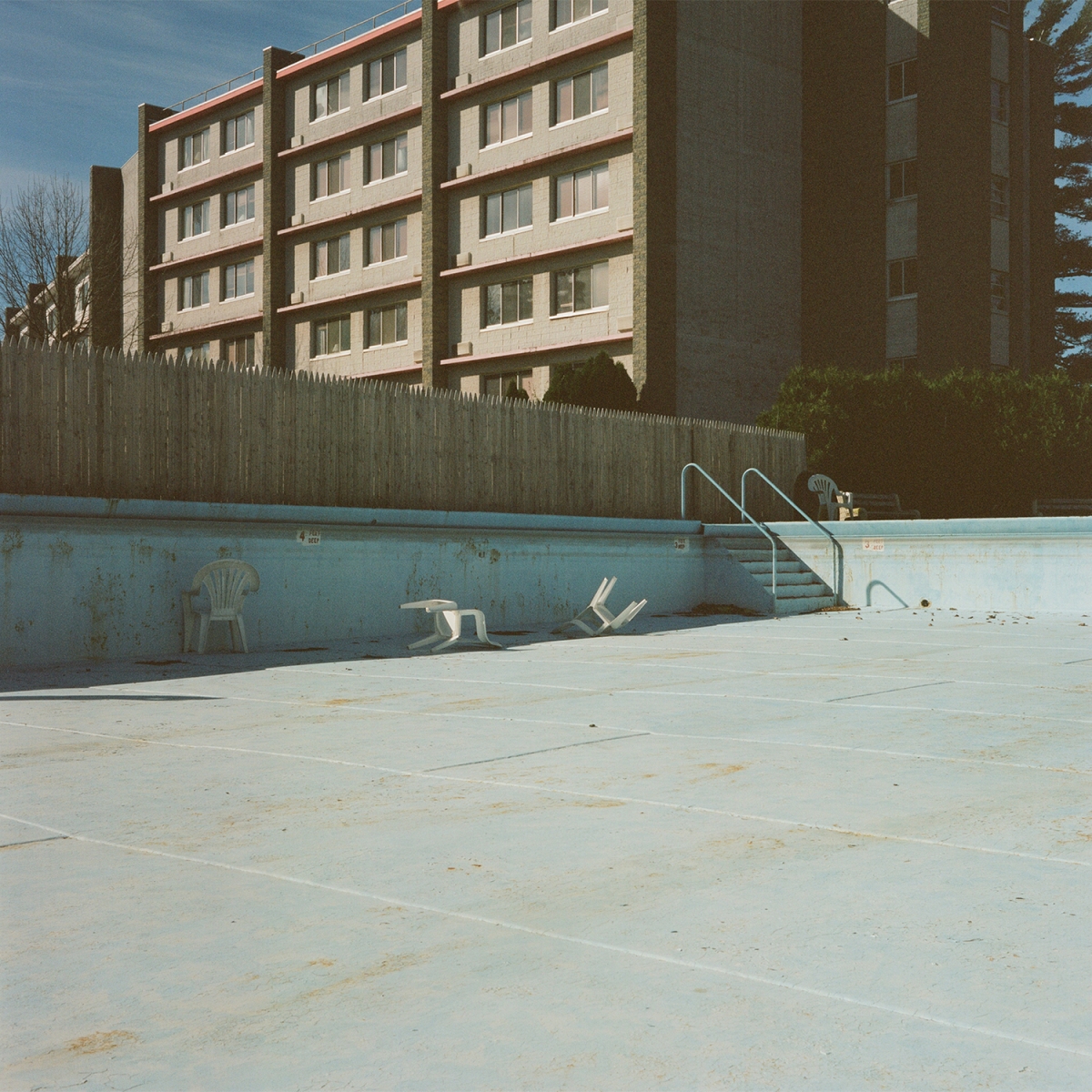 Na Jongwon 's photographic work, Kutsher's Hotel & Country Club (2013) / ©Na Jongwon​
Leaving a Trace
Park: There are many photos posted on your website. I got the impression that the building, land, and objects have been left as traces in your photographs.
Na: I like images that reveal the traces of someone 's actions, rather than the images of the moment in which a certain action is being performed. It encourages you to think more. It may seem crude and messy at times, but I like the imaginative space provided by photos with such traces.
Park: Speaking of, it reminds me of your drawings, where no chairs are perfectly tucked inside a desk. (laugh)
Na: Little often does a chair perfectly fit into the desk by 90 degrees. Chairs sometimes were put unorganised, and it appears more realistic. As in photography, the realm of imagination can be extended by leaving traces of actions in the drawings. Of course, I regard them as graphic elements, as well.
Park: Aside from this, as there are some parts expressed in an obscure and abstract manner such as furniture and lighting, I am sure you have already received many questions about your drawings.
Na: I cannot deny that it certain elements were intentional, but I don 't really mind if the figure does not represent anything. Supplemental elements such as furniture and lighting can be variable depending upon the users, so this indication is just one of the possibilities. I do produce more accurate and concise drawings for final output and construction drawings.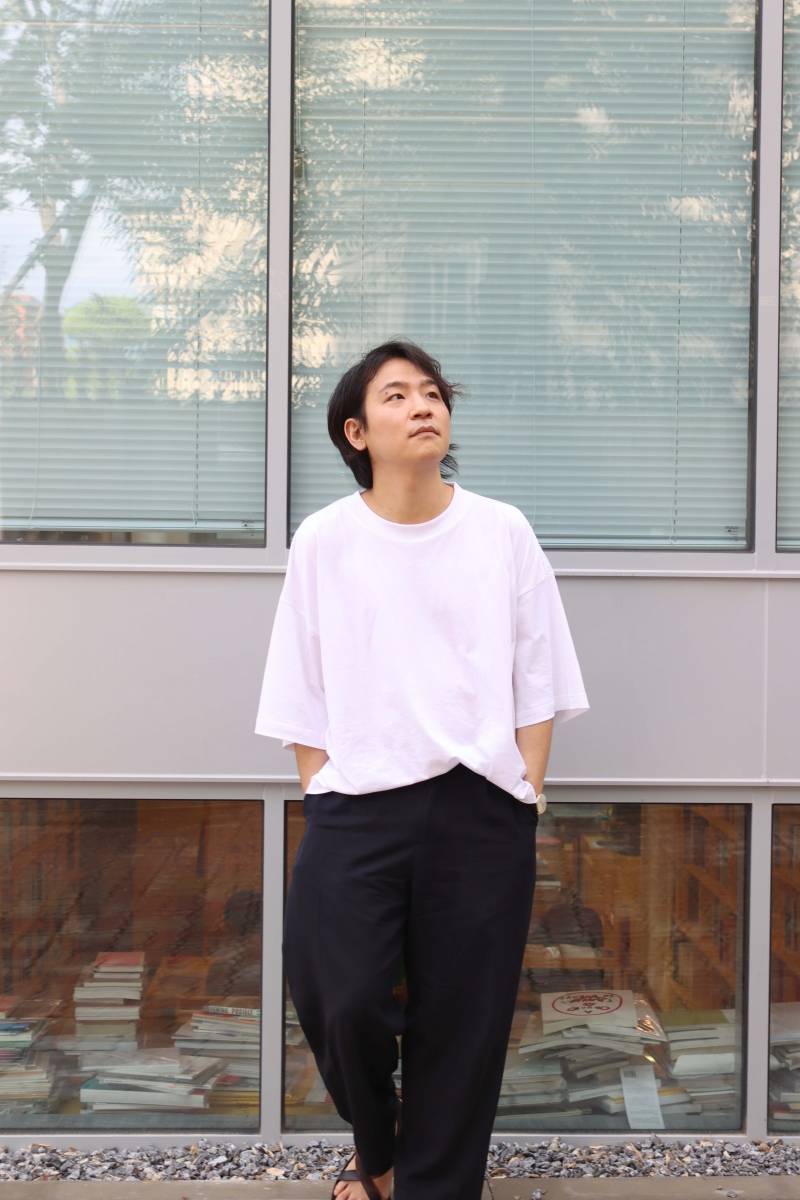 Na Jongwon, our interviewee, want to be shared some stories from Bang giae, Eom taegyu (co-principals, cmm architects) in December 2022 issue.​
---
Na Jongwon is a co-principal of 'of', based in Seoul and London. He dropped out of Yonsei University's Department of Architectural Engineering and entered AA School, where he completed his diploma course. After graduation, he worked for 6a architects in London for several years, opening 'of' with James Mak in 2021. He works in collaboration with experts in various fields, including art, design, publishing, and academic research. He is currently the director of the AA Visiting School Seoul Winter Workshop.