SPACE August 2022 (No. 657) ​
ʻI am an Architect' was planned to meet young architects who seek their own architecture in a variety of materials and methods. What do they like, explore, and worry about? SPACE is going to discover individual characteristics of them rather than group them into a single category. The relay interview continues when the architect who participated in the conversation calls another architect in the next turn.
​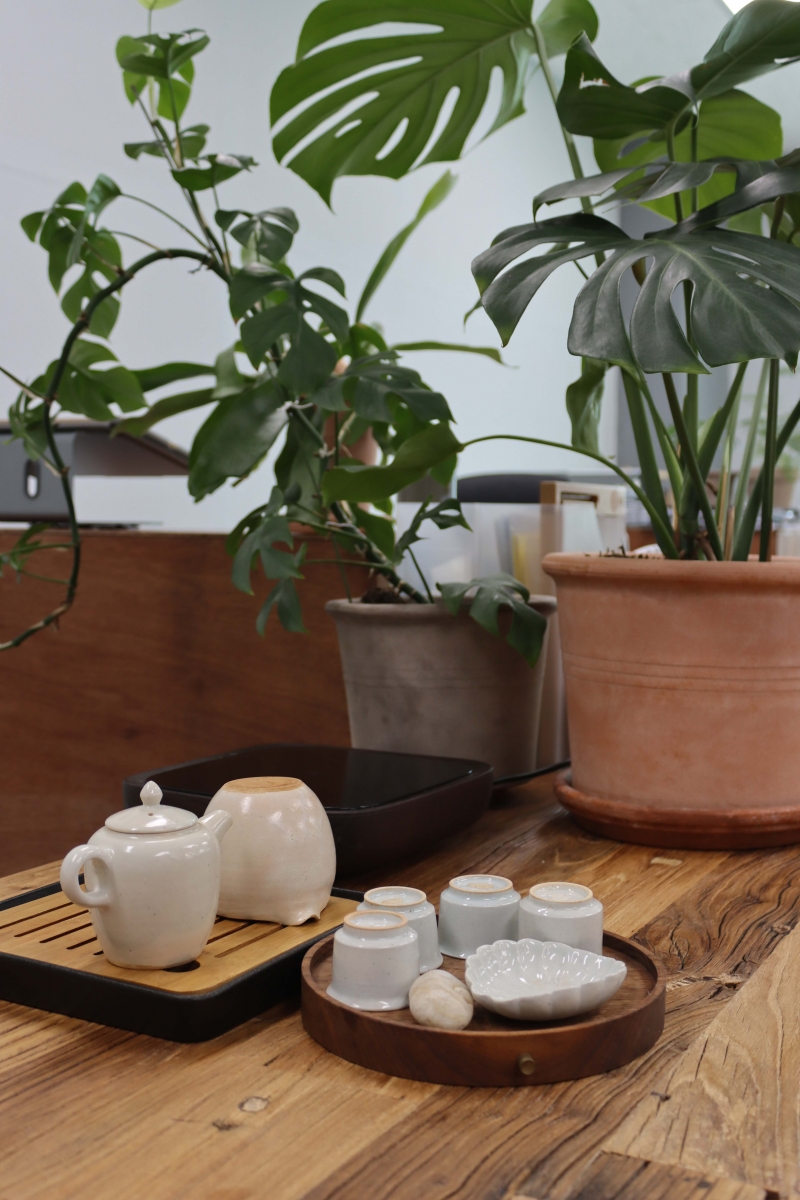 interview Kim Saesbyeol, Yun Sungyoung co-principals, AEA_atelier espace architectes × Park Jiyoun
​
Seoul ‒ Paris ‒ Jinju
Park Jiyoon (Park): This relay interview has travelled through Daegu to arrive all the way in Jinju. Both of you settled in Jinju after working at Bae Byung-kil Architecture & Urban Design Associates in Seoul and studying at the L'École nationale supérieure d'architecture de Paris-La Villette (hereinafter La Villette). In all this shared time, when did you actually first meet? (laugh)
Yun Sungyoung (Yun): While I was at principal Bae's firm, principal Kim Saesbyeol arrived as one year my junior. We started dating secretly, keeping it from principal Bae. (laugh) There was a moment when we felt we ought to leave the firm, and that was when both of us were thinking about going abroad to study. We got married after studying abroad and upon our return to Korea.
Park: Did you come to a shared decision about which school to go to?
Kim Saesbyeol (Kim): At the time we were considering either La Villette or École Nationale d'Architecture de ParisBelleville (hereinafter Belleville), but we were both accepted at La Villette. Principal Yun entered first, and then I joined after spending one year at CREAPOLE.
Park: I understand you studied industrial design at CREAPOLE. Was this down to a desire to explore fields other than architecture?
Kim: I studied industrial design because I was curious about it, but, from my point of view, I came to feel it possessed less depth compared to architecture. So, I moved back to architecture, and we ended up going to the same school.
Park: What do you mean by 'depth'?
Kim: I was quite young when we went to study abroad, and so the question of whether I would 'gain a sense of responsibility and a desire to practice architecture my whole life' was on my mind. That's why I wanted to enter the field of industrial design, to test my resolve, but once I started studying it, I noticed it had a different depth to architecture. I think I was already too immersed in architecture, and I found architecture more interesting.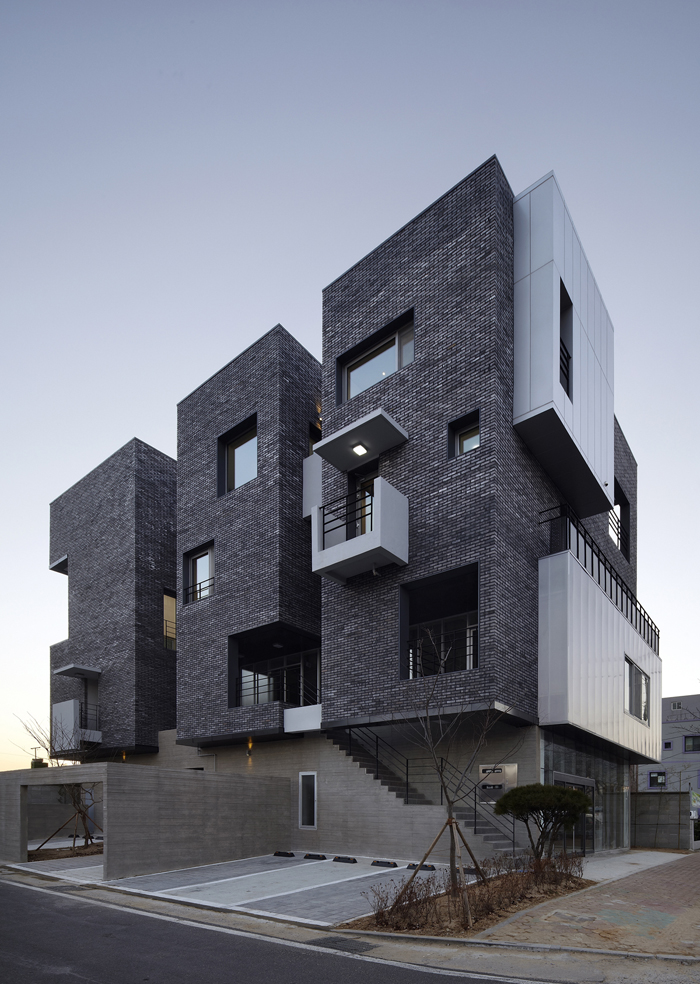 H1115-7​ ©Kim Yongkwan​
(Local) Architects
Park: From the moment you left to study abroad, did you plan to open a firm upon returning to Korea?
Kim: I originally wanted to do a Ph.D and principal Yun wanted to work in the field in France, but we were a commissioned to work on a project in Korea. It was the house of a friend's father. At the time, we were able to complete it while taking flights back and forth. Around that time, we started to be commissioned for many projects, so we came back to Korea.
Park: You guys were riding the waves.
Yun: Yes, we kind of regret it now! (laugh)
Park: I can imagine why, but can you explain what you mean? (laugh)
Kim: I think it would have been good to start out on firmer ground. We engaged with a lot of trial and error, because we started out not knowing anything and just trying things out.
Park: Do you think you would have been able to embark upon this endeavour if you had known it would be so difficult?
Kim: Yes, I think it would have been better to have known at the outset! (laugh) It was quite difficult to deal with aspects of projects other than the architectural. We both had experience in architectural practice in Korea, but once we were independent, it became apparent that we would need a lot of help from many people. It felt quite disorienting.
Park: Perhaps it was also useful that you had settled into the region.
Kim: As our first project was in the region, most of the projects were commissioned in and around here. It was a difficult area because the region had yet to take ownership of an established architectural culture. Clients would almost always ask us for sketches, and some thought that they could treat us however they liked since we were young, and these were all things that we faced head on. I think this disconnect is perhaps why architects working in Seoul are so scared of returning to their hometowns to open a firm. We're often asked about it.
Park: A lot of people cite the client's perception of architecture and an environment that is not conducive to improving the quality of construction as reasons for the difficulties of practising architecture in the countryside. Do you respond positively when individuals ask you about your experiences of working away from the capital?
Kim: We offer them an accurate picture of the reality, and then we encourage them that they should still submit themselves to the challenge. (laugh)
Park: Are there any communities in which you can work with other regional architects?
Yun: We thought about creating a community, but psychologically the city of Jinju is not somewhere you can fall upon by crossing a bridge, it takes at least two or three times. That is the difference between Seoul and with other metropolitan cities, and again the difference between a metropolis and the countryside, so its not easy.
Park: You suggested that you might work in other areas, those outside of your present field?
Kim: When we first returned to Korea, we had no plans to root ourselves in any one place. We thought that it would be nice to relocate somewhere else for work in around ten years' time. Even now, we go with the flow. If there is the chance that we could go somewhere bigger, we might just take it—we do think that we were quite innocent when we first started out. We never thought that the local might stop us from leaving. (laugh) Yun: It's more a question of wanting to create more points of interaction which can be shared with other architects, rather than being a question of this city being good or bad. But, as this is difficult to realise, we do think that it would be nice to quench our appetite and communicate with others in a bigger city. And all this before we get any older, when our brains are still relatively agile. (laugh)
Park: During interviews with architects in Seoul, the focus point is often the architect, but with architects practicing in the countryside, we end up focusing on the countryside. This is somewhat regrettable. Are there any questions that are often put to you because you are regional architects?
Kim: What is the locality that AEA_atelier espace architects wish to pursue? (laugh) This is also a favourite question posed by the jury for the Korea Young Architects Awards when talking to regional architects. Yun: It is also a question that is difficult to answer. We are still forming our thoughts, and just because we are based in the countryside, we are obliged to talk about locality. Kim: We have been increasing the proportion of public architecture projects. It is true that designing public architecture makes one think more about the regional society. We are probably at a place where we have to think about it, and in the process of finding out what to do.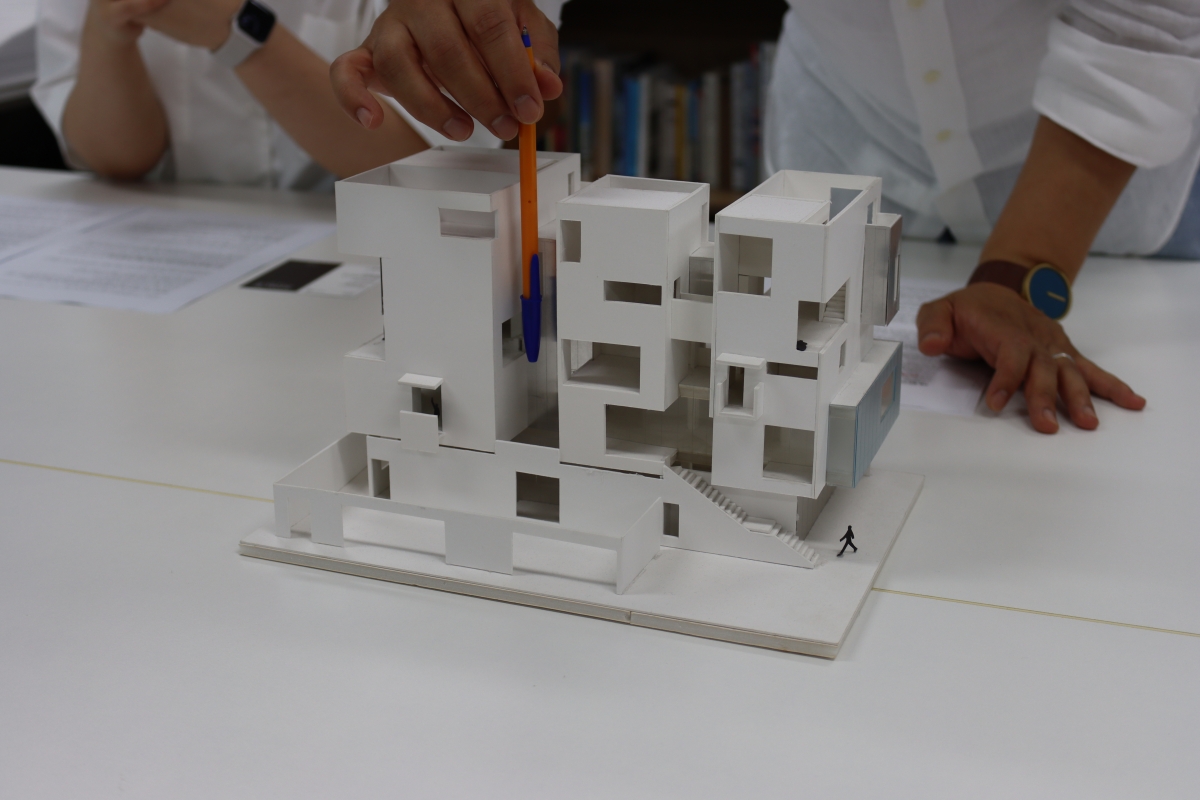 Model of H1115-7
​​​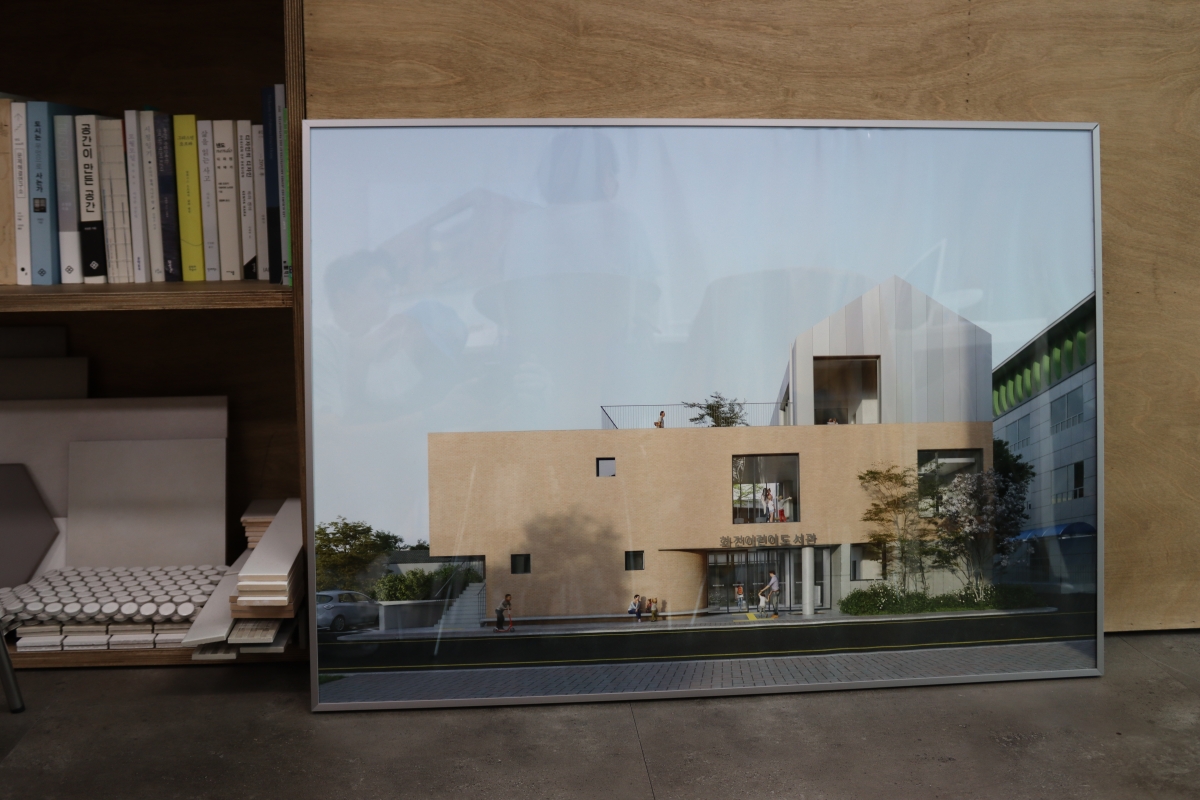 Rendering image of A358-2
Turning Towards the Public
Park: In terms of public architecture, you mean the library extension project 'A358-2' (2022) in Namhae?
Yun: Yes. When we first went independent, we focused a lot on the 'thickness of space', as mentioned before. We thought that such space would make the relationship between the users and their surroundings more bountiful. Our style of expression has become ever more simple as we take on more public projects. even though the central ideas remain the same.
Park: The volume has been simplified compared to that of the early commercial residence, 'H1115-7 ' (2015).
Yun: H1115-7 was situated on a site facing the Namhae sea. The space at the rear was an environment from which the sea could not be seen. So, we opened up the volume of the space and inserted a window, to create thickness of space. So that it would also be possible to sea the Namhae sea from the master bedroom. When we are working on individual projects, we only talk to the client about parts that we have interpreted and expressed, and with the explanation, the client is led to feel the value of the space. This means that there could be some limits to interpretation and expression.
Park: There are actually quite a few architects who avoid public projects, particularly as it is often difficult to achieve a desired result due to the interventions of public institutions.
Kim: We were lucky, as there is a well established culture of public architecture in the Namhae region. In Namhae, public architects consult on the project from the planning stage, and good communication is maintained between the public architect, commissioner and architect after the nomination, helping to realise the guiding aims of the architect. We even have other regions coming to Namhae to learn about the public architecture system here. Of course, there are tricky aspects to this, as with any project, but the public officials are relatively respectful towards the aims of the architect. A Couple 's Consensus
Park: Perhaps you have often had to respond to this question too, as a couple. I 'm curious about the extent to which one might distinguish between your work and working approach?
Yun: In fact, we think about things together, fight together, bear all the burden together.
Park: Do unpleasant emotions developed during the working day reach into your everyday lives?
Kim: Everyday life is also an extension of work. We have so much to decide. We need to talk about things when they come up, because, if not, we 'll end up forgetting them. So, the work continues long after working hours, and, so, the fights also linger. (laugh) Yun: Our fights can get very fierce. We didn 't seem to have such divergent opinions ten years ago, or at the beginning, but it must be because each of us is growing in our own way.
Park: That 's fascinating. Shouldn 't the two of you be in greater agreement?
Kim: We read different books, and listen to different music.
Yun: I sometimes read the books principal Kim has read after she 's finished. When I see what she has underlined, I think 'why on earth? '. (laugh) While all of this might sound quite funny, I think it is great to carry on fighting as we have different opinions about architecture. The results that emerge as a consequence of this have always been great.
Park: This process of coming to a consensus must be possible because you are married architects. (laugh)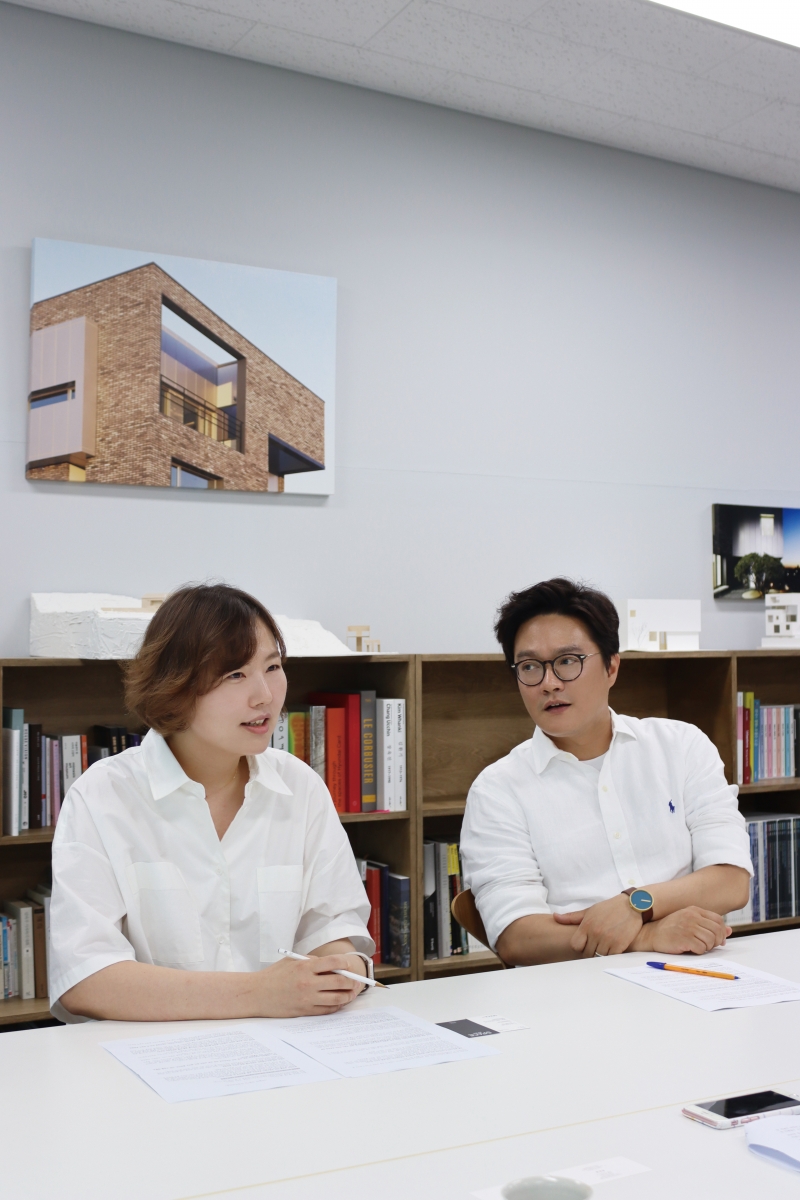 Yun Sungyoung(left) and Kim Saesbyeol​(right)​
Kim Saesbyeol and Yun Sungyoung, our interviewees, want to be shared some stories from Lee Tjiyoung (principal, Dorie Architects) in September 2022 issue.
---
Kim Saesbyeol, Yun Sungyoung
Kim Saesbyeol and Yun Sungyoung worked at Bae Byung-kil Architecture & Urban Design Associates and graduated with masters degrees from L'École nationale supérieure d'architecture de Paris-La Villette, and have since founded and worked at AEA_atelier espace architectes. Their work aims to distill ideas by seeking simplicity from a generation of complex entangled elements, and to create unfamiliar and fascinating points from that which is familiar. They work on a diverse range of projects, including residential, cultural, educational, commercial, leisure facilities, among others.