The rural revitalization policy is usually realised by following a series of stages, including the securement of economic infrastructure and formation of community—those executed in Uiseong of Gyeongsangbuk-do, or Uiseong Gowoonmaeul was established via the introduction of three programmes: residence, tourism, and community.
The site, where two valleys come to meet each other, is characterised by an elongated terrain in the south-facing slope. The site was planned across three areas: production (for resident), leisure (for visitor), and community (where the residents, the visitors, and the local villagers mingle). Each area was organised around respectively different densities while retaining mutual relationships with one another. First, the production area consisted of a temporary residential housing with a common kitchen garden. The temporary residential housing, placed at the north close to the original village, was designed to meet the basic necessities: a view towards the south, daylight exposure, and air circulation. These 17-pyeong sized houses face each other's walls along the town road, allowing the front yards of these houses to become private kitchen gardens. The common kitchen garden was expanded to act as a buffer zone to protect the privacy of these residents while also functioning as a place to provide hands-on farming experiences for visitors.
Second, the auto camping place, a feature of the leisure facilities, is atypically situated across a wide area located at the low-rise southern part of the site. The visitors can use the basic facilities here: automobiles, tents, and bungalows. Lastly, the community programs are located separately in four single-floor buildings at the central area of the site. The Welcome Center is composed of elements such as a tourist information facility, agricultural produce exhibition display, and town café. The multipurpose hall is a recreational space for concerts, gatherings, and indoor sports. The workroom is used for carpentry and food workrooms, and where it is adjacent to the barbecue yard it can be turned into a common dining hall. The grass yard and the barbecue yard that each building touches upon were designed with different floor materials to encourage distinct kinds of functions and activities. Also, the roofing was designed to add an element of interest via formative repetitions that identify each programme from one another.​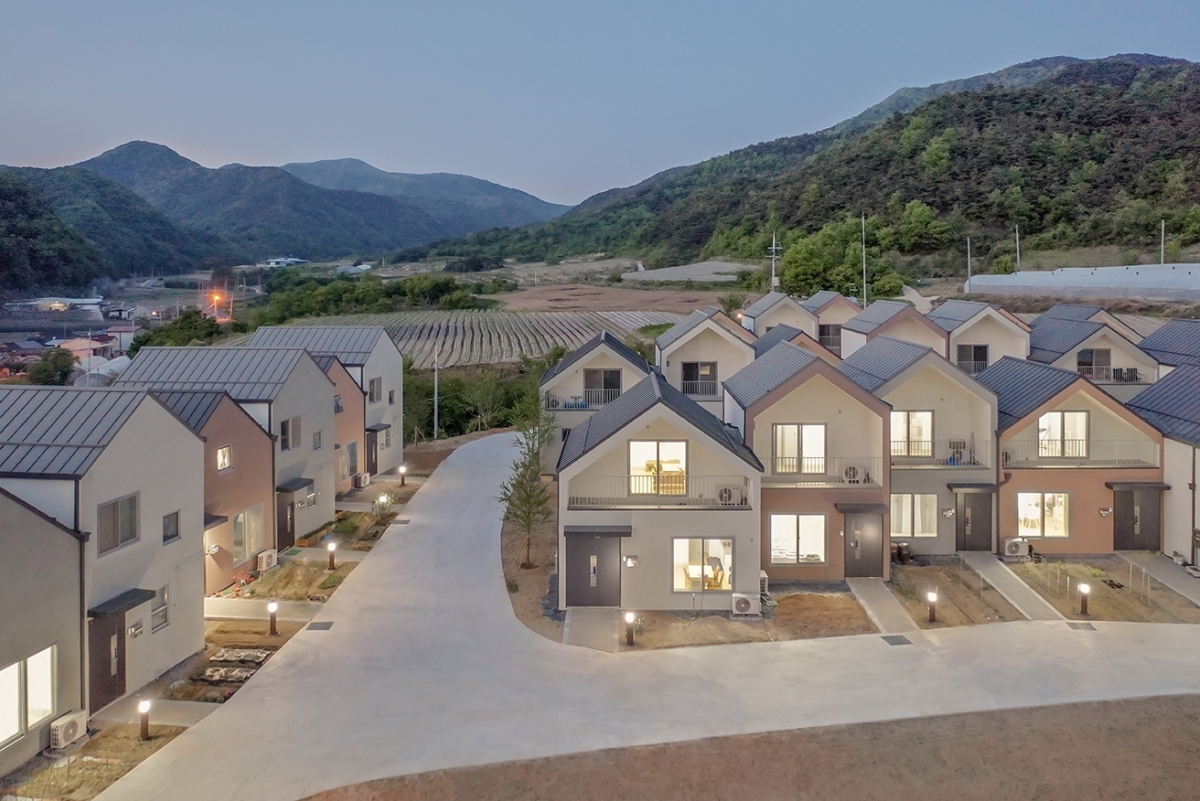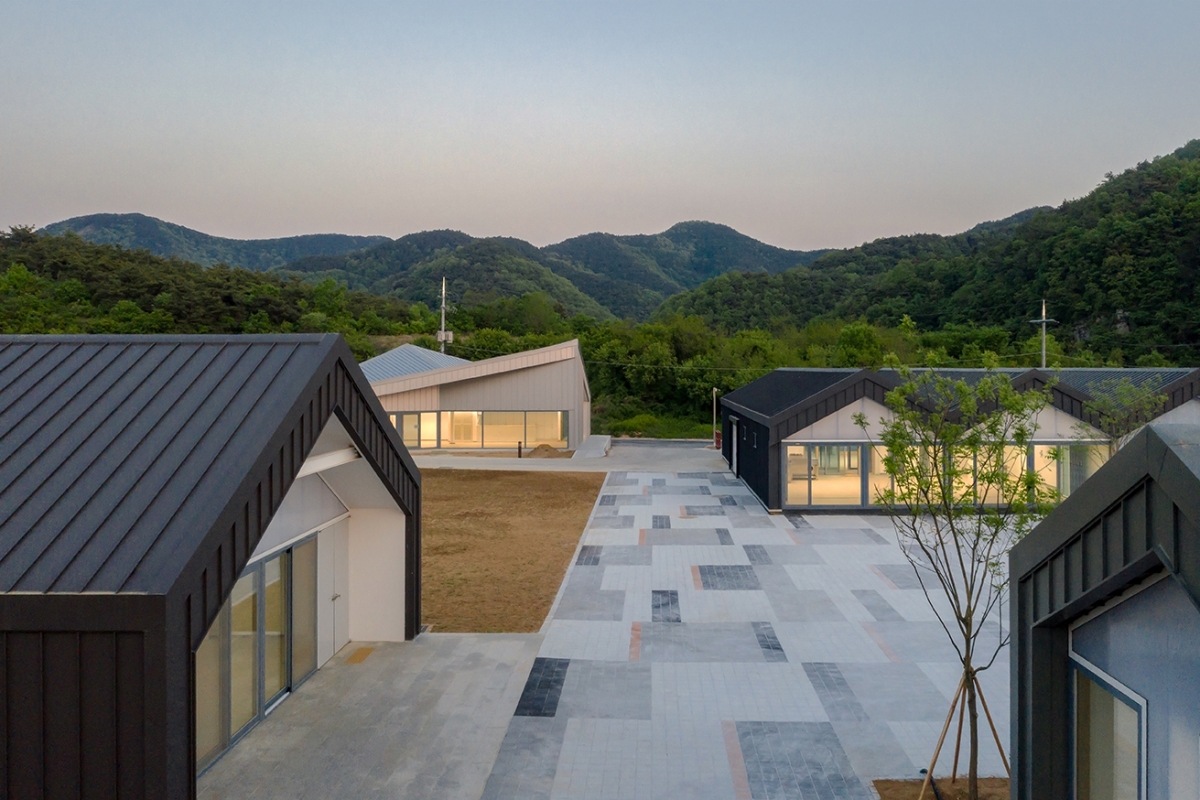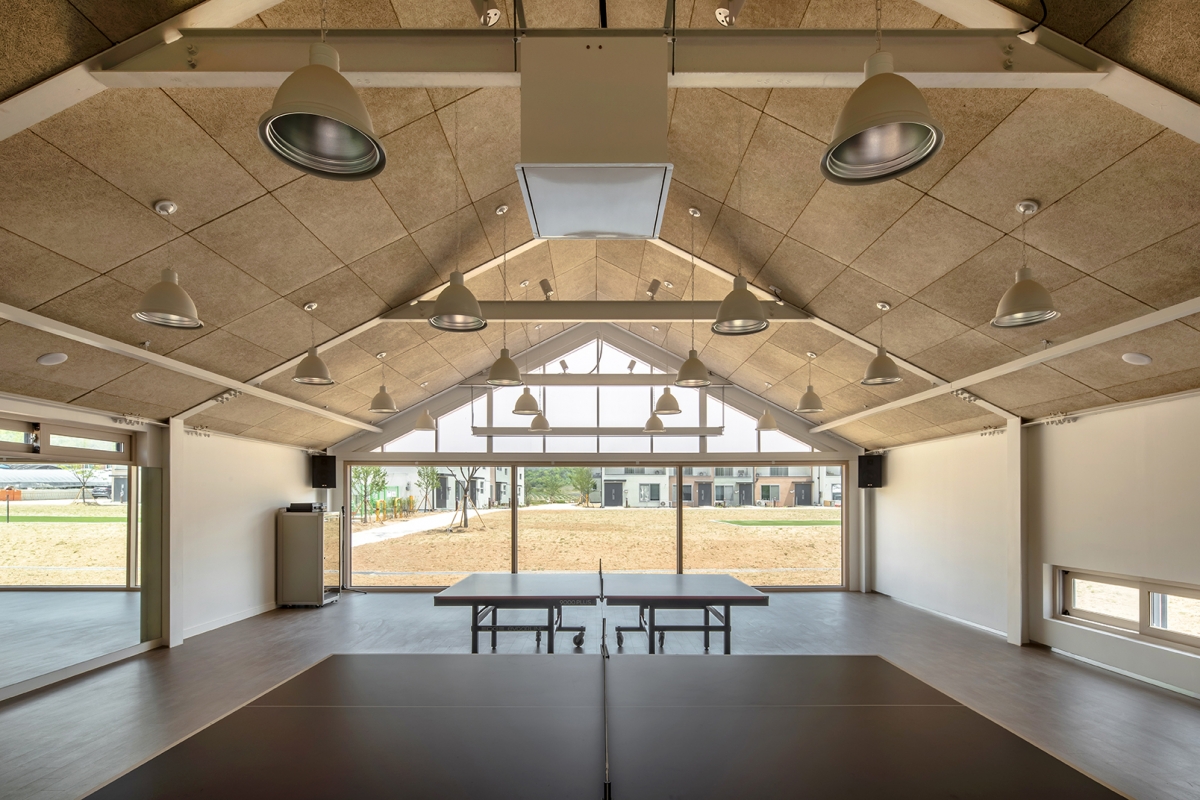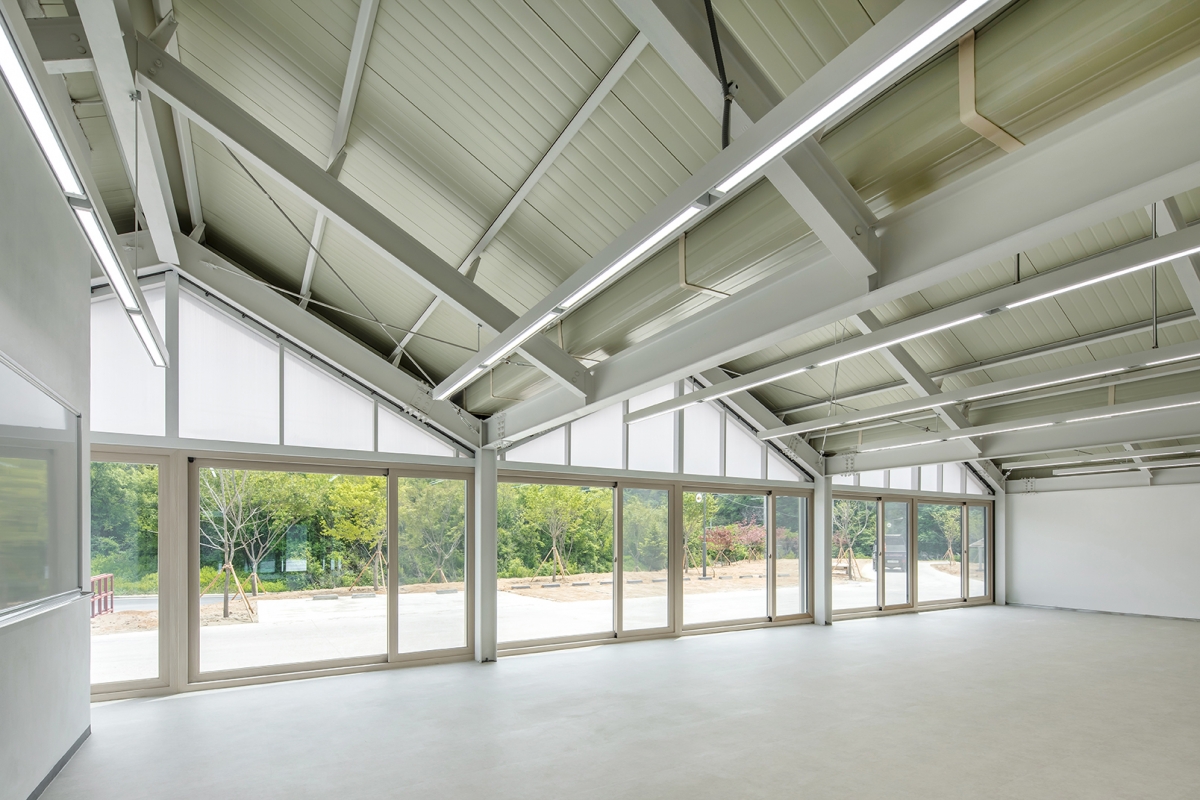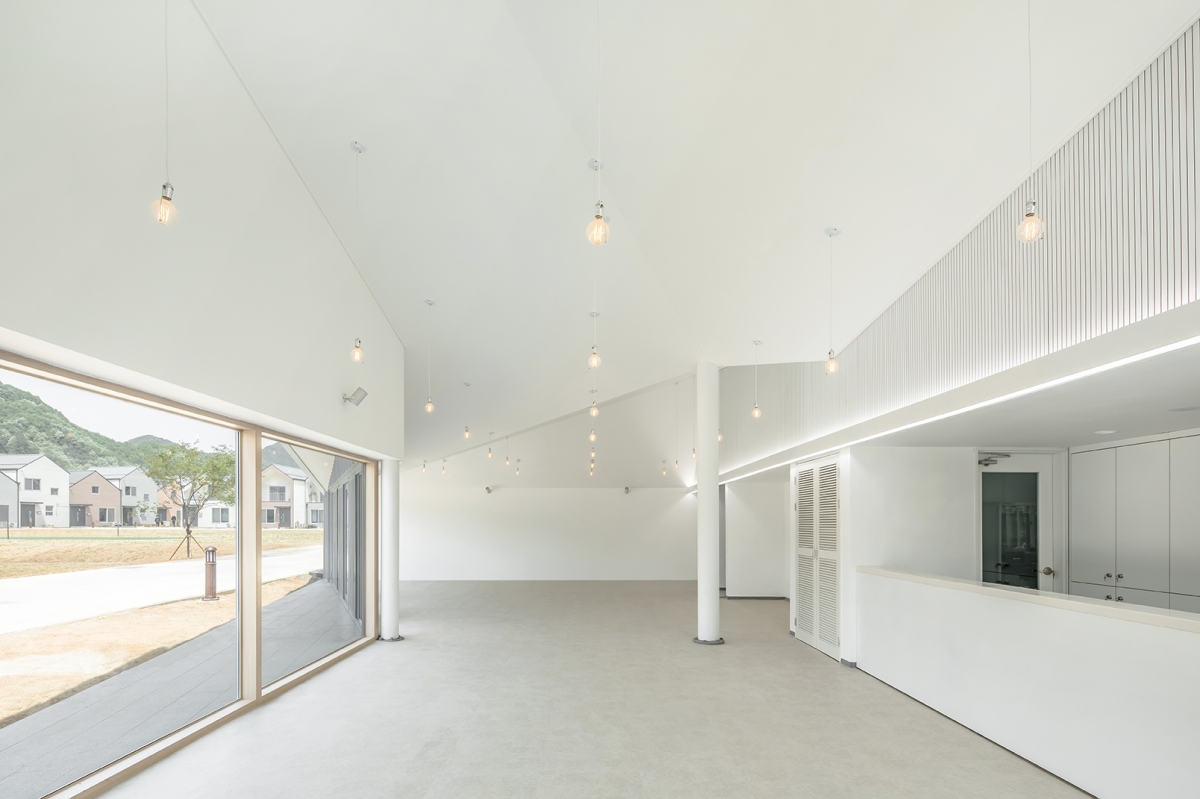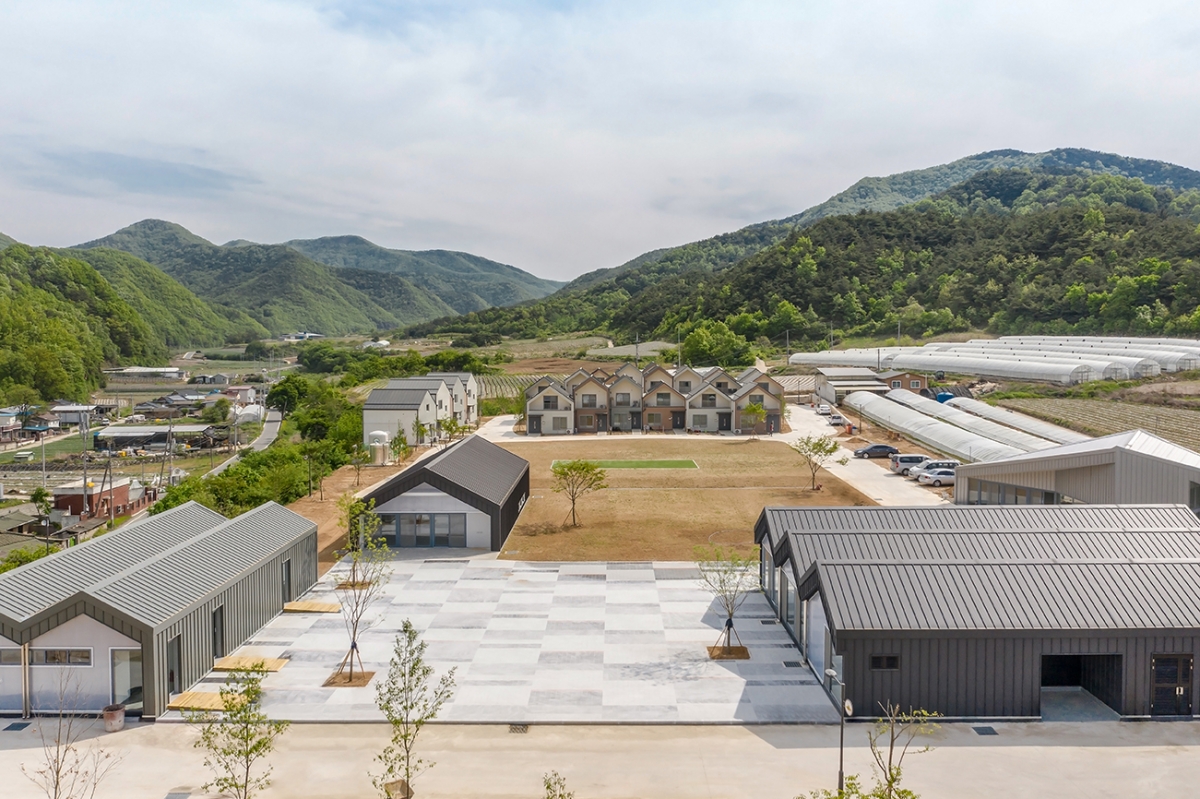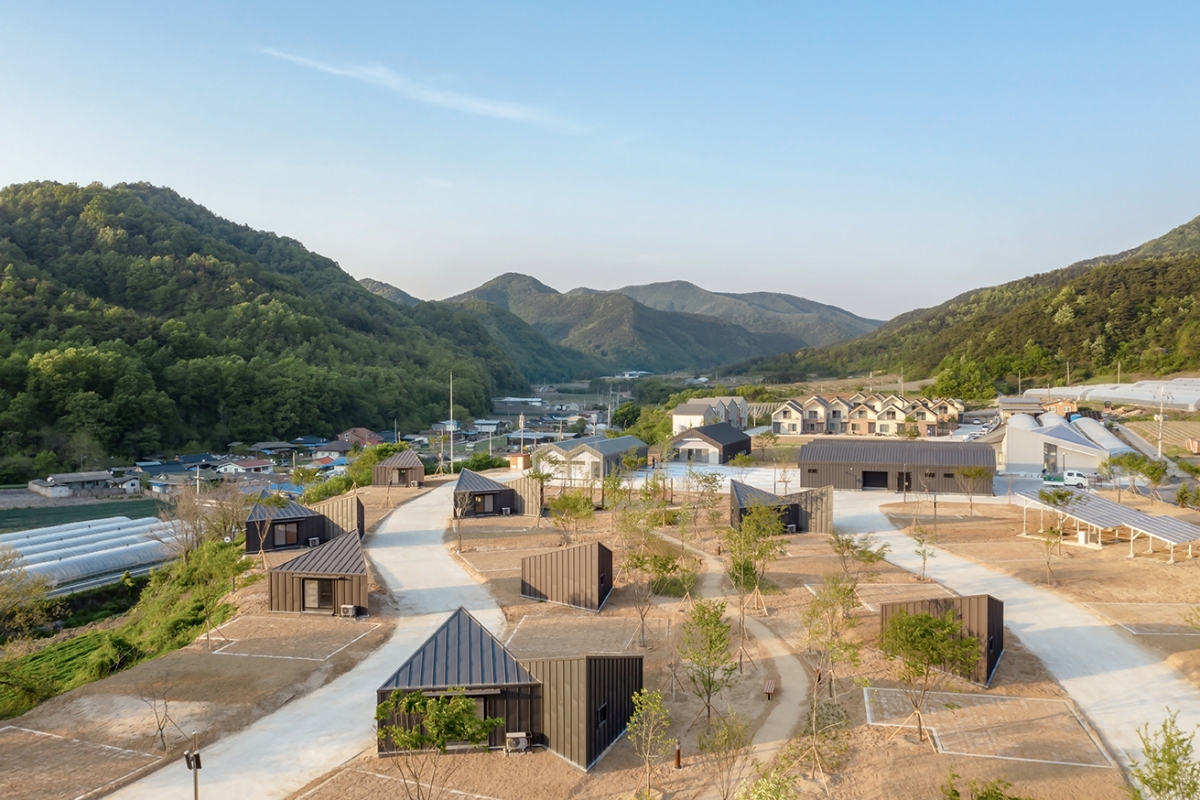 Architect
EMA Architects & Associates (Lee Eunkyung)
Design team
Kim Sukhyun, Eo Hyelyung, Her Jonghyun, Kim Haerim
Location
Danchon-myeon, Uiseong-gun, Gyeongsangbuk-do, Kore
Programme
multiplex housing, neighborhood facility
Site area
complex1 – 7,210m2 / complex2 – 16,576
Building area
complex1 – 967m2 / complex2 – 1,278m2
Gross floor area
complex1 – 1,401m2 / complex2 – 1,275m
Building scope
complex1 – 2F / complex2 – 1F
Parking
complex1 – 26 / complex2 – 13
Building to land ratio
complex1 – 13.41% / complex2 – 7.5%
Floor area ratio
complex1 – 19.43% / complex2 – 7.48%
Exterior finishing
complex1 – stucco, aluminium / complex2 R
Interior finishing
porcelain tile, ceramic tile, laminated paper, woo
Structural engineer
Mirae SDG
Electrical engineer
Daegyeong Electric Planning Office
Construction
Gonggan Construction
Design period
July 2017 – Mar. 2018
Construction period
2018 – 2019
Mechanical engineer
Chunglim E&G
---
Lee Eunkyung received her B.S. and Master degree in architecture from Seoul National University and gained her professional experience at Kiohun Architects & Associates. She also received her Master in architecture and urban design from the Berlage Institute. After practicing at Xaveer de Geyter Architects and Riken Yamamoto & FIELDSHOP, she founded EMA Architects & Associates in 2011.