SPACE December 2022 (No. 661)​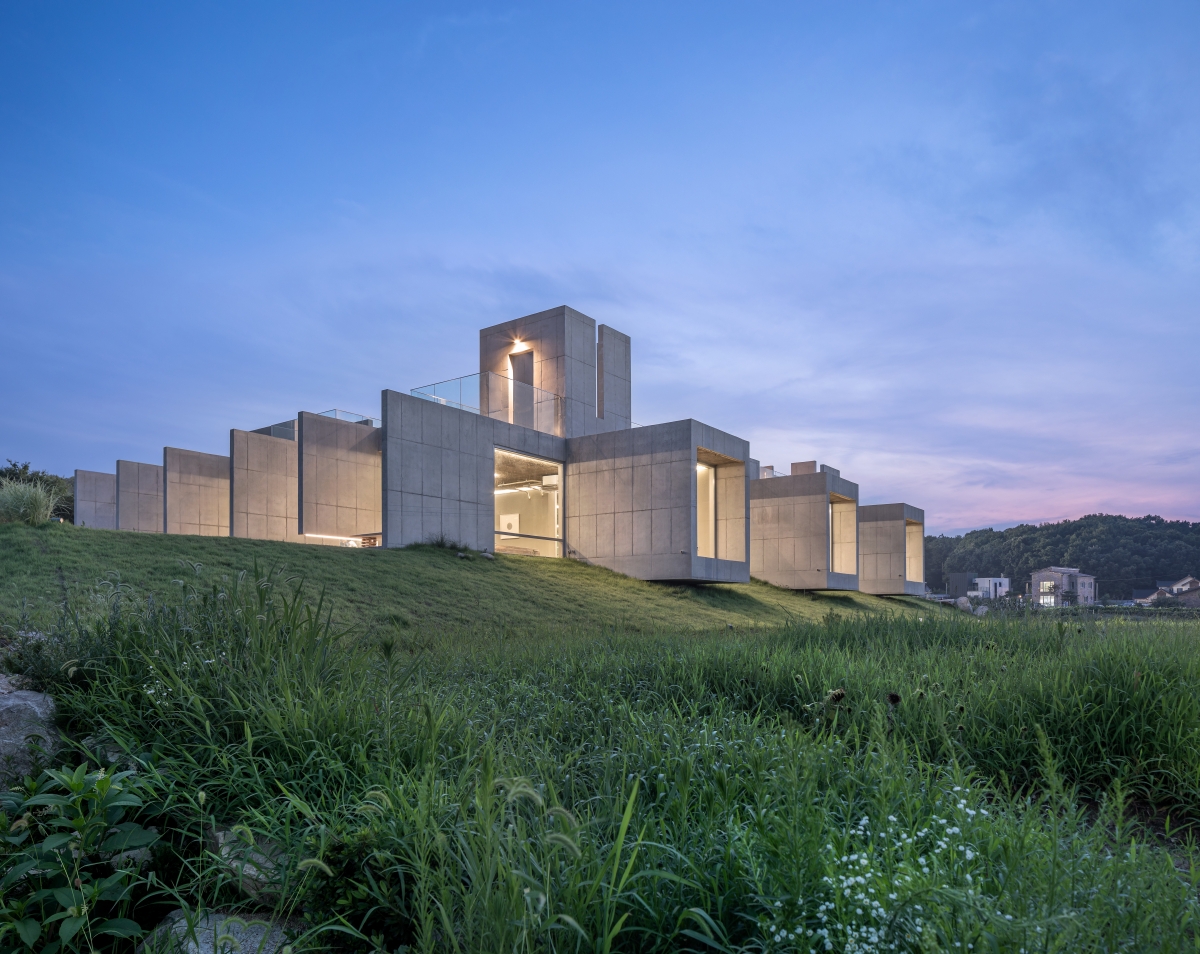 ​
This land possesses many memories. In Icheon, famous for rice farming, Hobeopmyeon is renowned as the first rice planting and harvesting site in Korea. This place has the highest instance of flowers in Korea. Still, in contrast to the increased number of rice paddies and popularity of flower farming, the community is ageing because there is no longer an influx of young people. This area is lined with rice fields along the river and the low mountains shape the surrounding landscape. The site was used as a reservoir for paddy farming, and at one point it was used as a fishing ground. The client wanted to build an architectural space that could revitalise the region by creating a local culture that would open up new communication where life has been lost.
The Horizontal Order and the Vertical Order
The architectural space restores local memories of rice paddies (traditional and mechanical farming methods) and presents a horizontal order to several overlapping areas organised with walls 3.2m apart, like the irrigation channels in rice paddies. The interior space and exterior space have been overlapped in the woven space of the walls. The natural flow, moving from the low mountain in the south, passes through the intersection of rice paddies, rivers, and streams on the other side and then continues into the rice paddies and mountains at several points. The architectural space that restores this repetitive natural flow is realised as a space of overlap by providing a filled vertical order with 3.2m modules of rice paddies.
Cross Culture Created by Cross Spaces
Crossing spaces are interwoven at the points where the horizontal and vertical orders meet. The internal intersection space, formed on the first floor and the rooftop, creates a horizontal and vertical overlap, creating various possibilities. The intersection space has the possibility of expanding various programmes. This is not a generalised physical space (nonspace) but a differentiated and experimental abstract space (Nonspace). In other words, it aims to become a platform for a regional complex cultural space created by the private sector beyond a general commercial area. The interior and exterior spaces will be used in various ways, such as occasional exhibitions, fashion shows, meditation, and pop-up stores.
Rice Straw Exposed Concrete
Inside, an exposed concrete technique using rice straw has been experimented with to create an atmosphere that enters the rice straw space. Rice-sheaf consisting of rice straw was laid on a slab, and concrete was poured over. It was predicated that the rice straw would be embedded in the concrete, so after a long time had elapsed, the slab was demoulded and the rice sheaf was removed, with the rice straw attached to the concrete left as was. Over time, the appearance of rice straw combined with concrete will change, and the atmosphere of the space will continue to change along with it. (written by Jung Woongsik / edited by Park Jiyoun)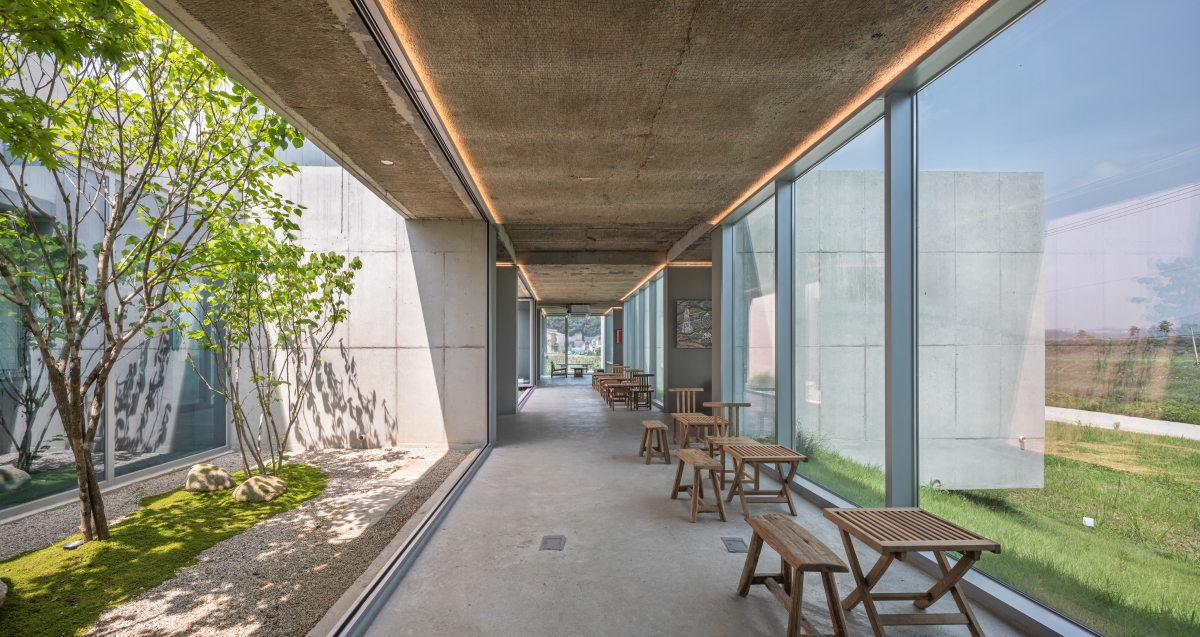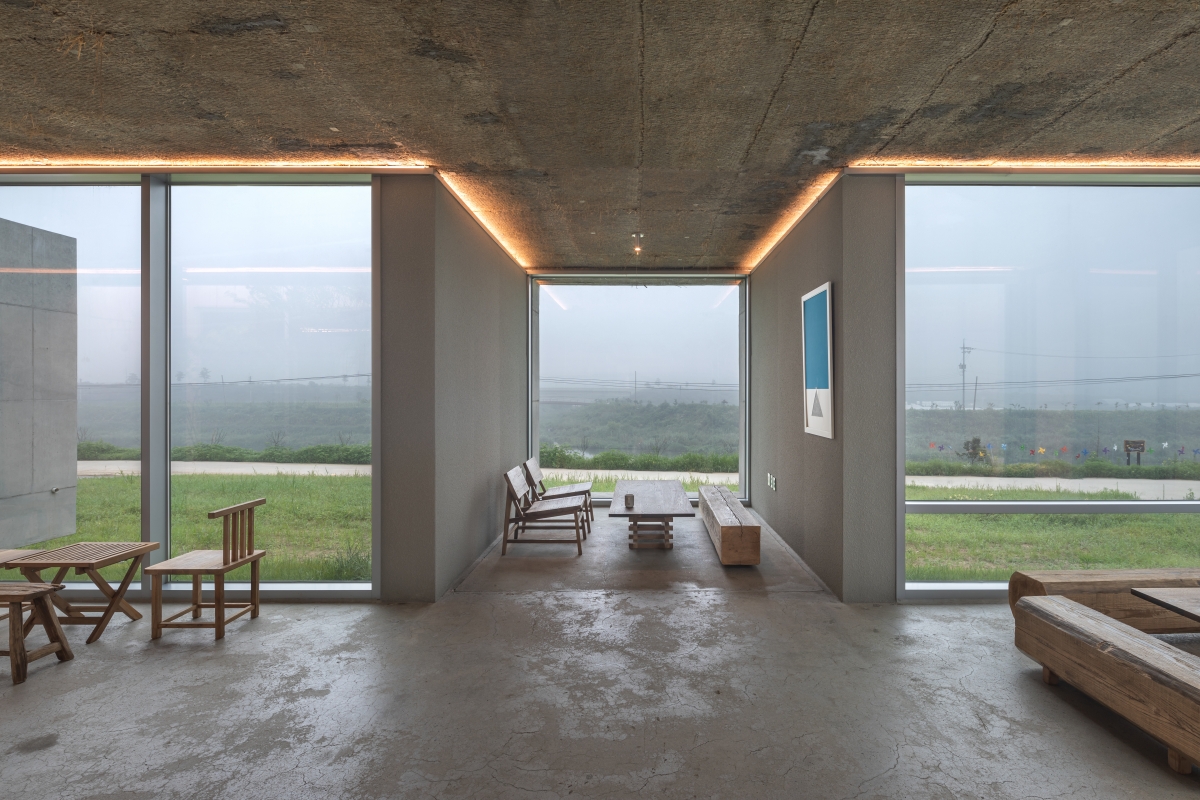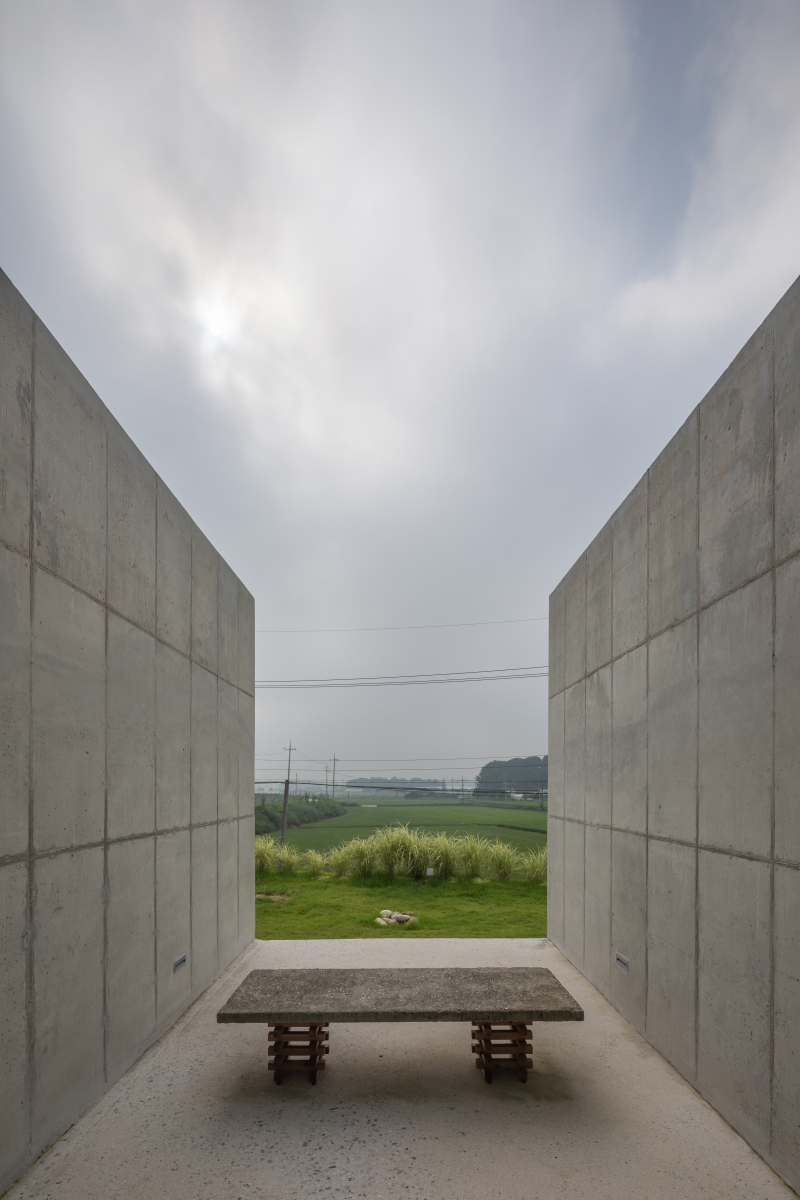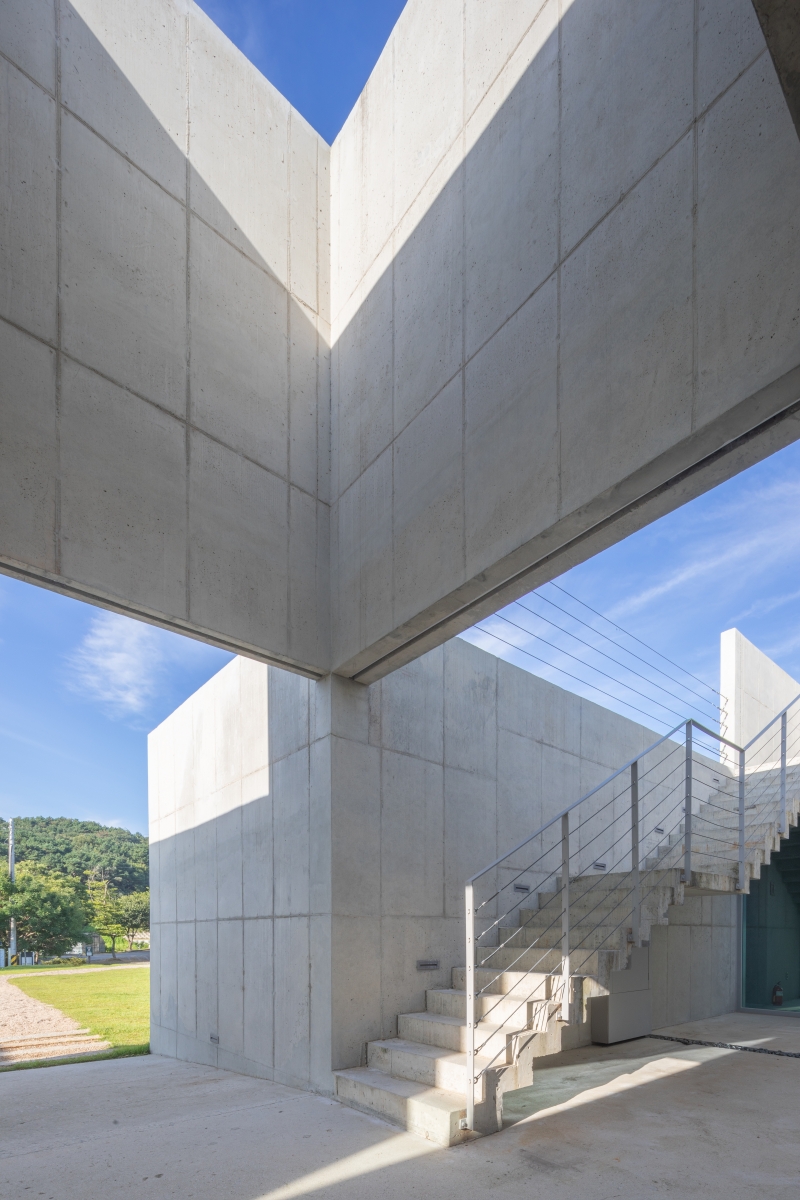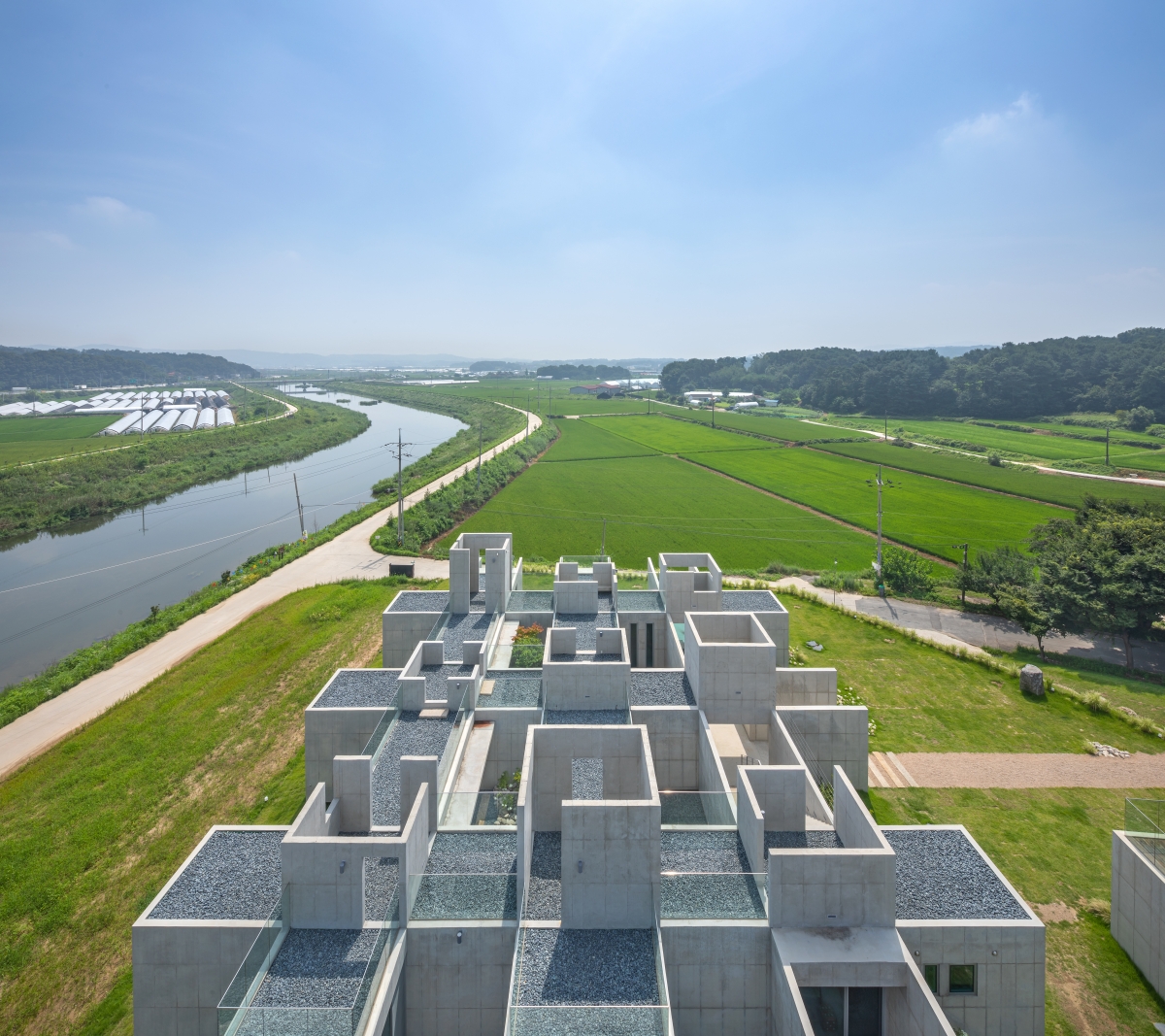 ​
Architect
On architects Inc. (Jung Woongsik)
Location
Hobeop-myeon, Icheon-si, Gyeonggi-do, Korea
Programme
neighbourhood living facility (café and cult
Building to land ratio
17.62%
Exterior finishing
euroform exposed concrete
Interior finishing
rice straw exposed concrete, stucco
Structural engineer
General structure engineering Inc.
Mechanical and electrical engineer
Keumgang DNS Inc.
Construction
Chaeheon Construction Inc.
Design period
June 2019 – June 2020
Construction period
June 2020 – Dec. 2021
Landscape design
On architects Inc.
---
Jung Woongsik graduated from Ulsan University and is currently serving as a principal architect of On architects Inc. and an adjunct professor at the College of Architecture and Design, Ulsan University. He has been working as a public architect in Ulsan and Busan. He proposes various architectural models by exploring the values and possibilities of local architecture and suggests alternatives in order to strengthen relationships between people and regions. He has won the Korean Architecture Award (2015), the Korean Rising Architect Award (2016), the Korea Architects Association and Culture Prize (2019), and the Korea Young Architect Award (2020).