Seoul Seojin School encountered countless difficulties before they could open their doors last March. This was due to multiple tensions existing between those involved in founding the new school: the parents of special needs children, the Ministry of Education, and the local residents. As architects wrestling with these tensions, we defined the special needs school as an educational space of societal necessity, rather than thinking of it as something special. This special-needs school operates 28 classes for students with developmental disabilities, in which students can complete elementary, middle and high school curriculums or engage in specialised professional training. Due to the varied nature of developmental disabilities and physical conditions, we wanted to create a school that would cater to the needs of all, embracing the requirements of this diverse student body.
Faced with the construction of a new project, we also took the partial use and extension of the relocated empty Gongjin Elementary School grounds into account. Conceiving of a new design of an existing building posed many limitations. It was impossible to overlook many elements, from not being able to modify the existing entrance for cars into the school, as well as floor heights of the spaces indoors, the overall capacity of the building, and the timing of construction. One of the main problems was the need to adjust the floor height of the new area to that of the existing building. We planned part of the corridor ceiling in a vault-shape and void formation to further increase the openness of the public space. Despite the allocation of a budget for an ordinary school with special needs requirements, we hoped to create a good design within these stipulations. The ㅁ- formation of Seoul Seojin School is the product of such considerations. Composed of the existing elementary school building, the extended teacher's annex and the newly constructed educational facilities, these buildings create a flowing circulation around this central courtyard. The courtyard which is made up of an ㅁ-shape is closed off from the outside gaze creating a sense of coziness. In here, many structures and a book café can be found. The structures installed in the courtyard serve as benches, drinking water stalls, pergolas, each designed to be sensitive to the different physical needs of the students. The book café has been designed as a place where students, parents and teachers can rest and take simple meals together. The school houses other outdoor activity spaces as well as the newly established courtyard. These are the gardens and playground adjoining the existing building. These two spaces are horizontally connected through a book café, while the small garden of the old elementary school building is being used as a small vegetable patch for the village educational community. The size of the playground was reduced with the increase in school facilities, yet it has been transformed into a more pleasant outdoor space as the newly constructed building now insulates the space from the noise on the main road. Also, located next to the newly constructed auditorium and gymnasium, there also exists the added benefit of being able to carry out associated physical or extracurricular activities within this area.
​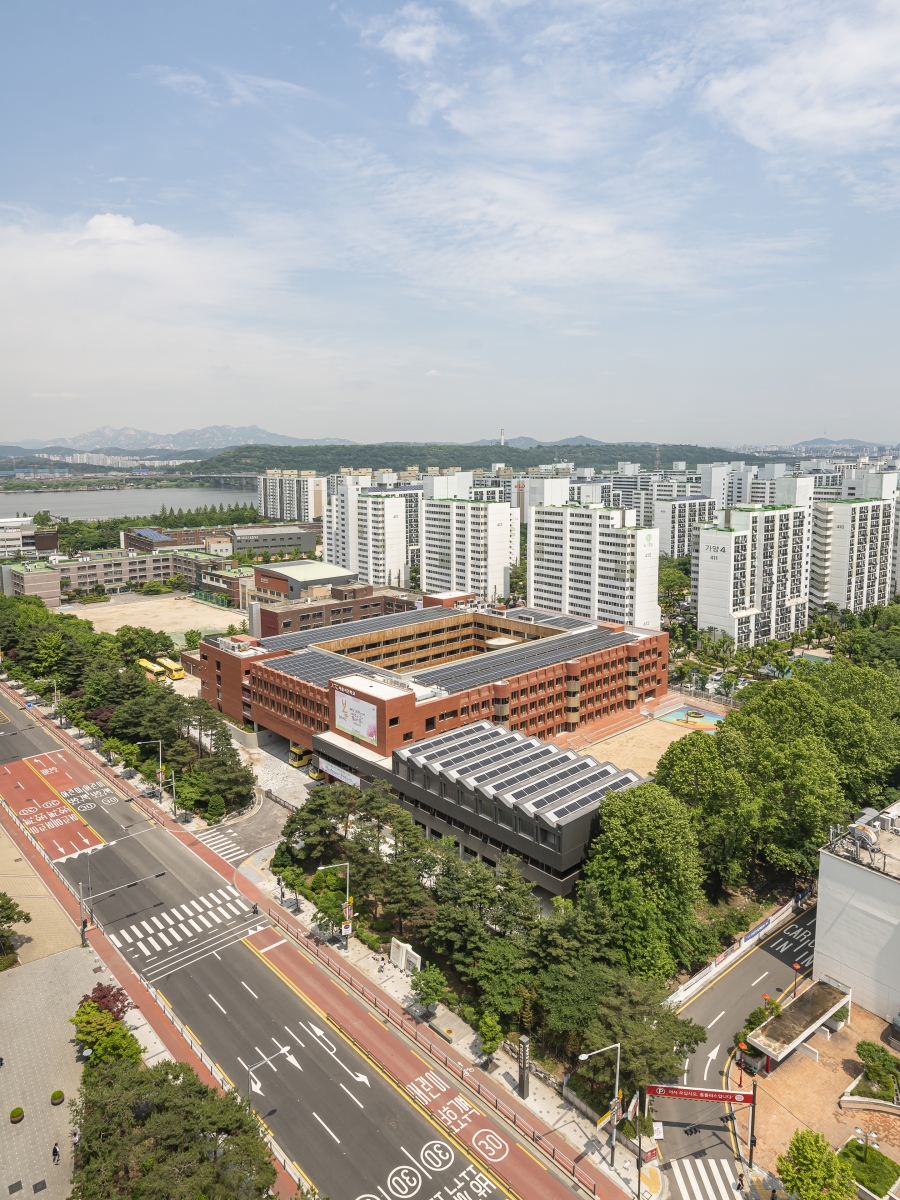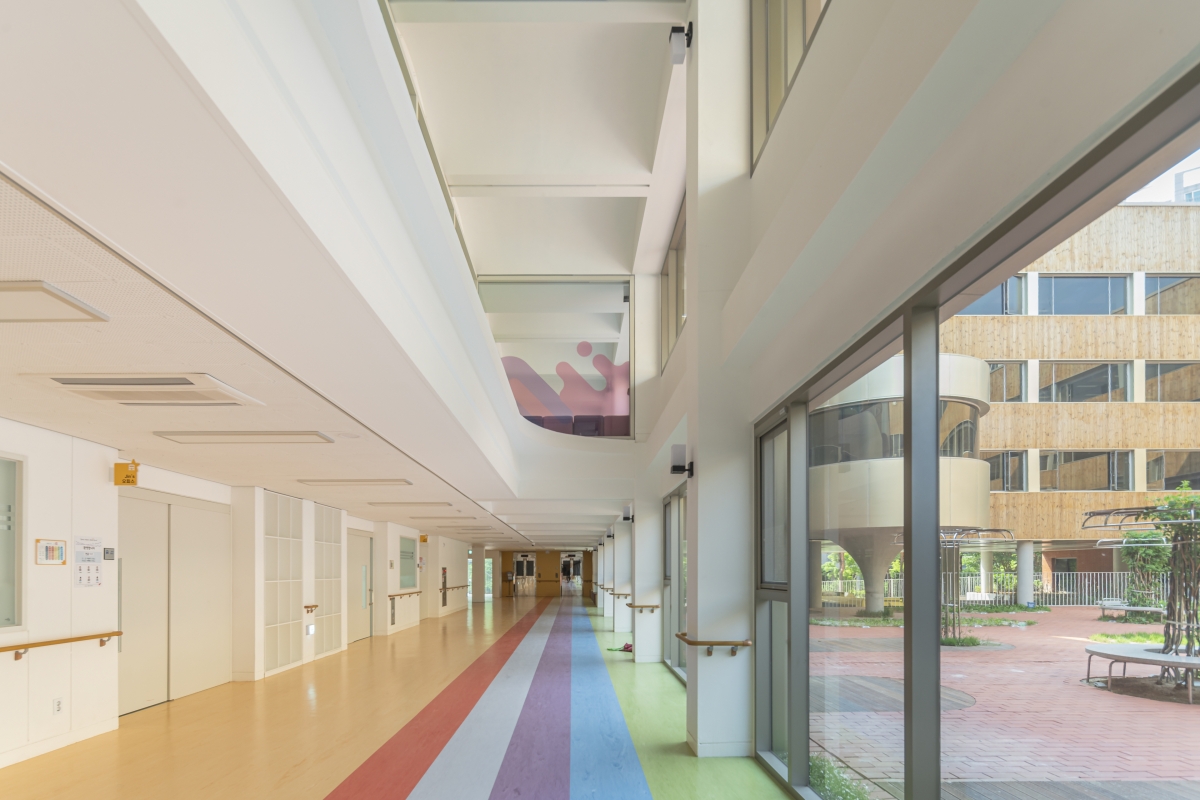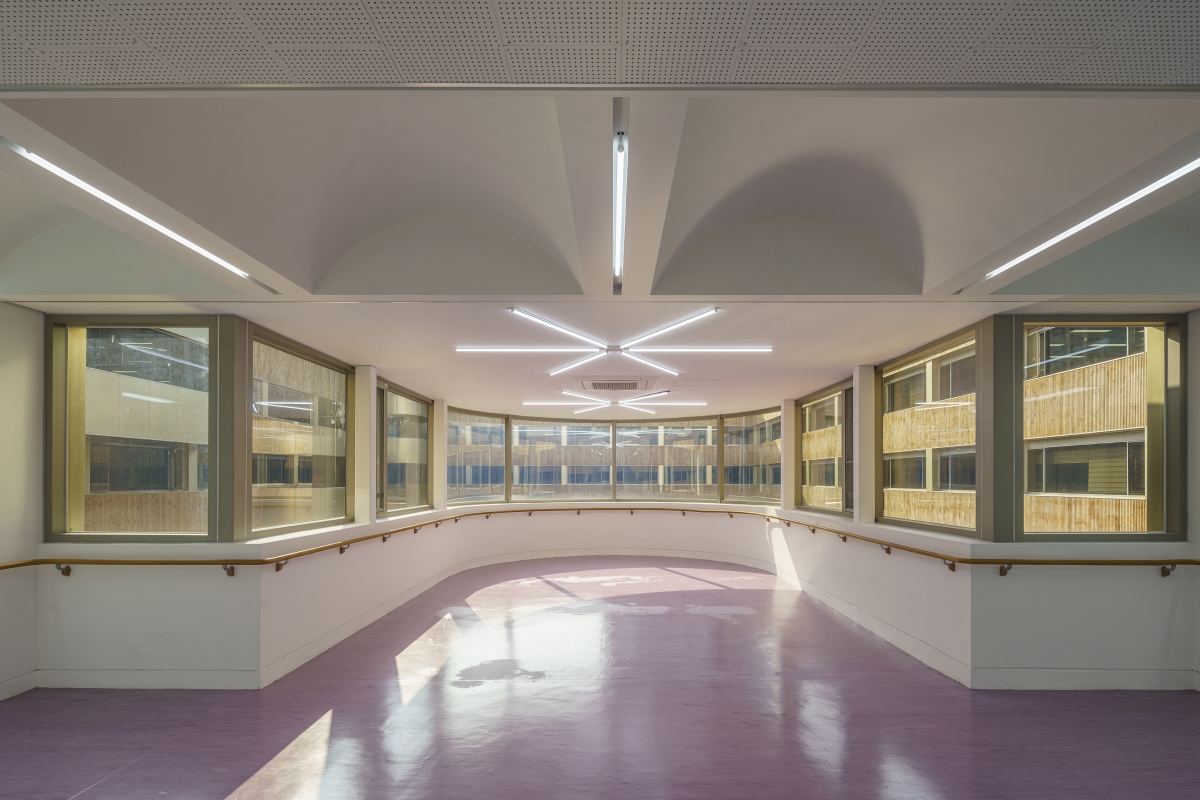 The customary approach in school projects is to place facilities of similar programmes close to each other to facilitate maintenance and accessibility. While this may be efficient, it was not appropriate for Seoul Seojin School, where students with developmental disabilities will be gathering. We placed the classrooms and special activity rooms used by each year group on the same floor to lessen the inconvenience of lengthy journeys throughout the space. The professional career training students who have finished their high school curriculum were housed on the first floor, with the intention that they would help run the school and garner indirect social experience. The educational spaces of the elementary and middle school students and the classrooms for high school students were placed respectively on the second, third and fourth floors. The classroom was designed to provide a storage room for teaching aid and a quiet room to help students with developmental disabilities calm their mind and body when they act in unexpected or unpredictable ways. The space, one for each of the two classrooms, is designed to look like a semicircular balcony protruding from the exterior of the building. The floorplan of Seoul Seojin School reveals that the width of the corridor is around twice as wide as that of standard corridors. This was to accommodate the needs of special needs students who tend to have a larger field of movement, and a space called a POD has been established between the corridor and courtyard. POD is an event space, with two inserted on each floor, and we conceived of these spaces as an extended realm between the classrooms as well as a space that would accommodate various student activities.
Seoul Seojin School finally opened its doors to students six years after announcing its establishment. While all public sector projects have their anecdotes, many hurdles had to be overcome in this particular educational facility, from conception to construction, some of which are still unresolved. Now, it is up to how the nascent Seoul Seojin School to establish itself, finds its identity, and this will determine whether the dissent of local residents might gradually recede, as their perceptions of those with physical and mental disabilities are positively impacted by the presence of the school. We hope that Seoul Seojin School will grow to become a school that thrives in line with the local community according to our initial vision.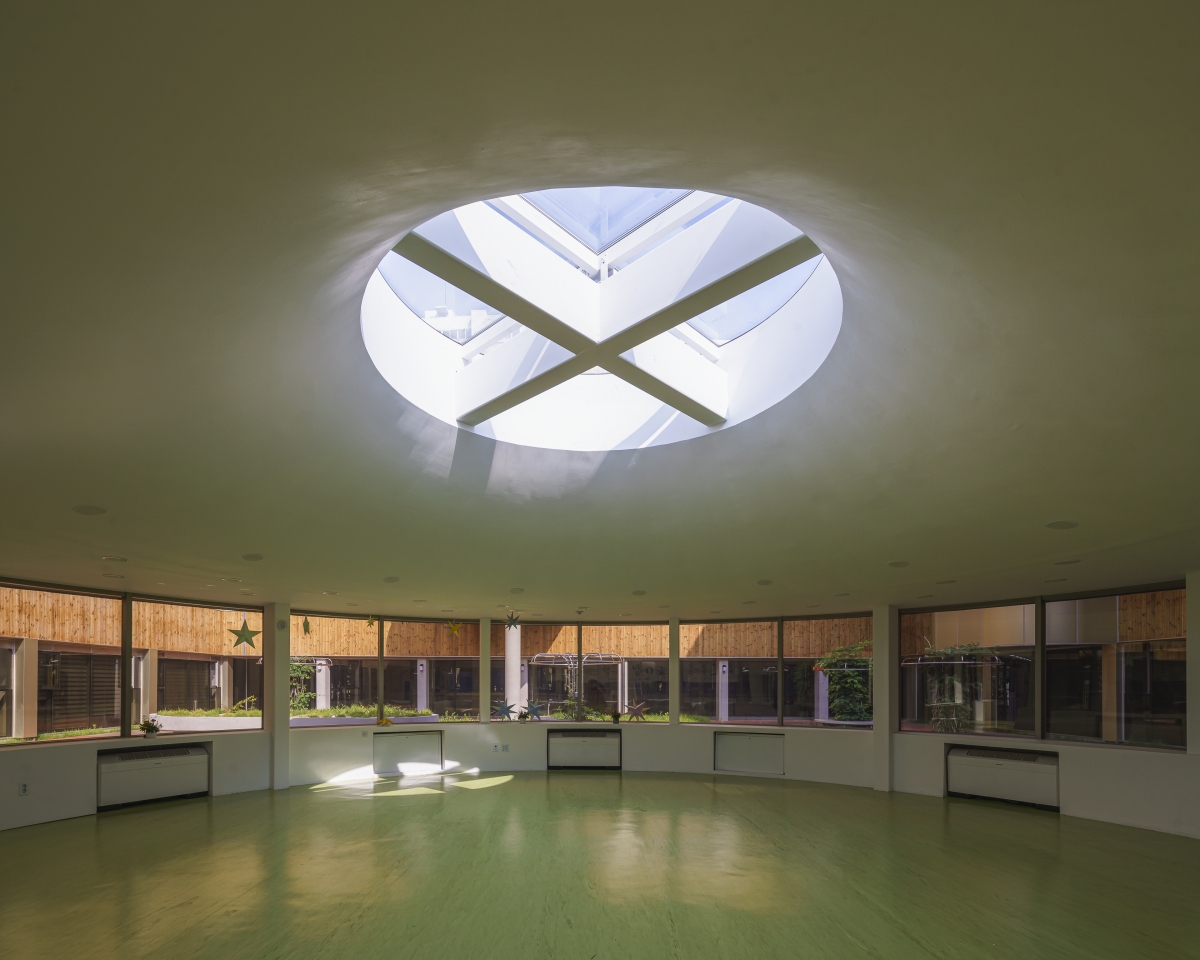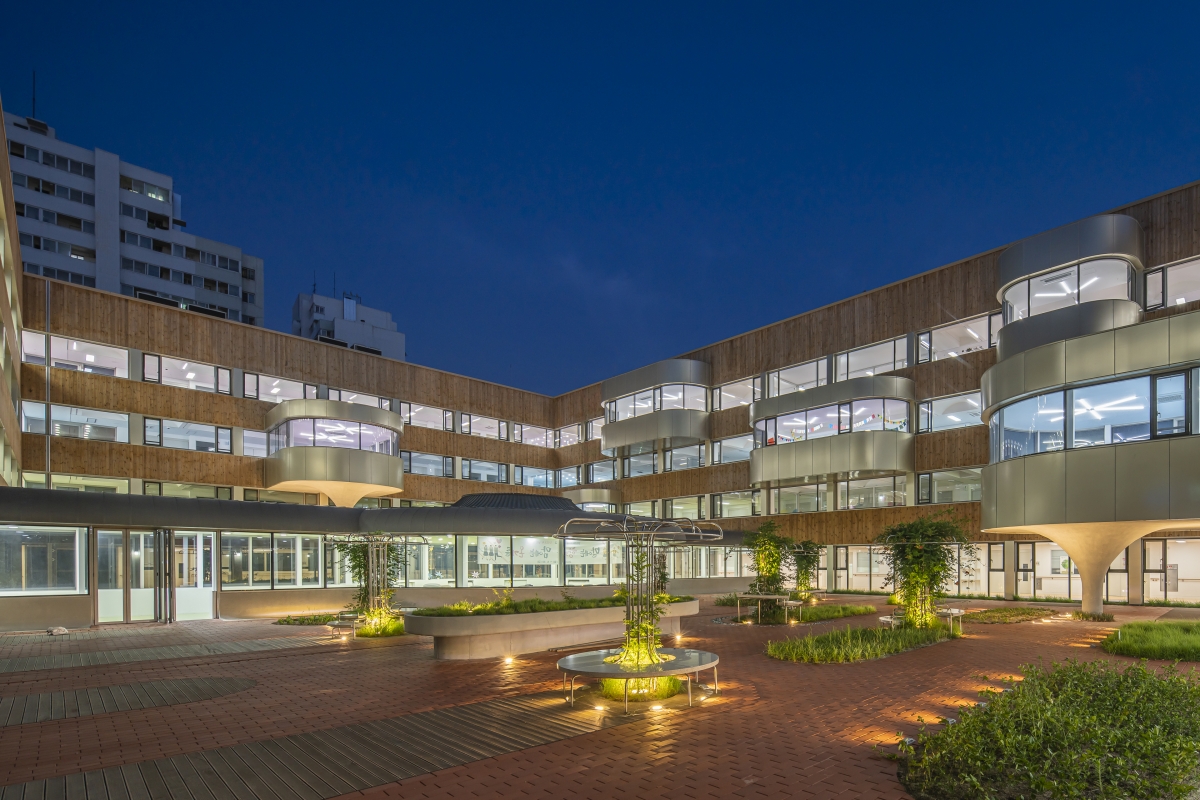 Architect
CoRe Architects (U Zongxoo, Kim Vin)
Design team
Kim Hyunsoo, Ahn Chiwan, Lee Dongmin, Kim Yoonhwan
Location
22, Yangcheon-ro 55-gil, Gangseo-gu, Seoul, Korea
Programme
special-education school
Gross floor area
15,188.61㎡
Building to land ratio
38.24%
Structure
RC, steel structure
Exterior finishing
brick, aluminum system panel, anodized aluminum pa
Interior finishing
marmoleum, water paint
Structural engineer
Kim&Lee Structural Consultant
Mechanical and electrical engineer
Hana Consulting Engineers Co., Ltd
Construction
Daedeulbo Co., Ltd
Design period
Oct. 2017 – Mar. 2018
Construction period
Aug. 2018 – Dec. 2019
Landscape design
Gram Design
---
U Zongxoo is a co-principal of CoRe Architects and is a public architect of Seoul. He graduated from KyungHee University Graduate School of Architecture and Landscape and trained as an architect at Mass Studies.
Kim Vin is a co-principal of CoRe Architects. He graduated from Yonsei University Department of Architectural Engineering and has accumulated experience as a architect at Mass studies and studio_K_works.

CoRe Architects was founded by a number of young architects, including U Zongxoo and Kim Vin. This group of young architects, each who respect individual taste, aspires to come together to share their knowledge and to contemplate architecture. CoRe Architects has been awarded Kim Swoo Geun Preview Award, Seoul Architecture Award, Korea Architecture Award, and their representative projects include the remodeling of Hanok in Sinseol-dong, Peace Culture Bunker, and the 2018 Seoul Plaza Ice Rink, among others etc.