Interview Sakaushi Taku (principal, O.F.D.A.) × Choi Eunhwa
Choi Eunhwa (Choi): How did you begin the FUJIHIMURO project?
Sakaushi Taku (Sakaushi): The project is a part of a wider town planning project that has been ongoing for about five years. My lab, the Sakaushi laboratory of Tokyo University of Science, has been working with Fujiyoshida City for about five years to create a greater sense of flow of people in the city by reusing empty houses. We converted an icehouse ('himuro' in Japanese) into a gallery and also renovated a neighbouring vacant house into a shortterm residential house. The two buildings are physically separate.
Choi: I would like to focus on the gallery. What is the main idea or concept behind the gallery? And what role did you expect the tunnel to play in the gallery?
Sakaushi: The icehouse was divided into five chambers using concrete walls, four of which were connected by small doors. I wanted to visualise the flow of circulation in order to connect four chambers. I think it is the construction of a recent concept, which I refer to as flow and stagnation, that I have been thinking recently. The fibre-reinforced plastic (FRP) tunnel visualises human movement. As the tunnel connects all of the exhibition spaces, it is necessary to pass through whenever one moves in the area. The tunnel visualises the movement from one exhibition space to the next. At the same time, the space, as you pass through, feels as if you are going through the water flowing beneath Mountain Fuji.
Choi: Because there was a problem when searching for a manufacturing company, you decided to make it yourself. Have you ever considered any other way or alternatives?
Sakaushi: I've never thought of an alternative. I aimed to achieve this in collaboration with a structural engineer and​ a 3D programmer. The tunnel is composed
of several catenary curves and has a very complex shape. Changing the dimensions of a part greatly affects the overall shape. Therefore, I asked a programmer to create a 3D modeling program with complex equations. We also studied form with structural designers to analyse whether the shape was physically feasible.​​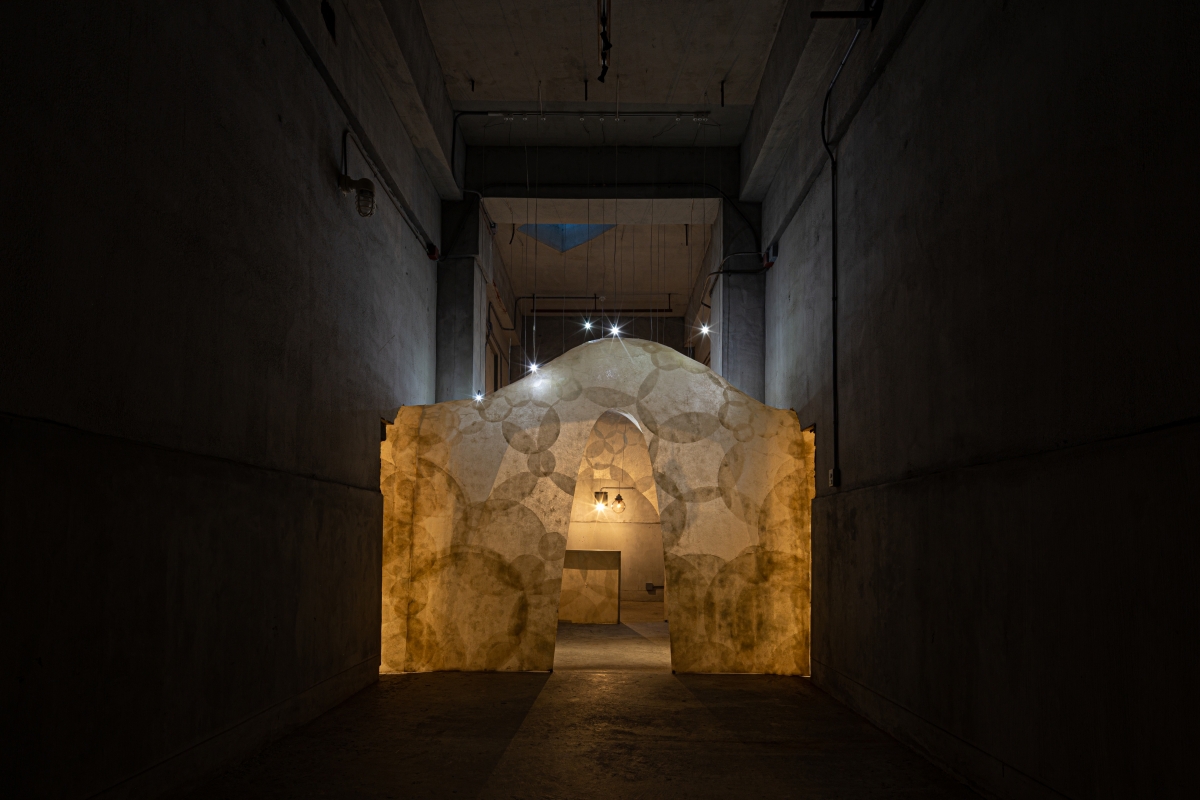 ​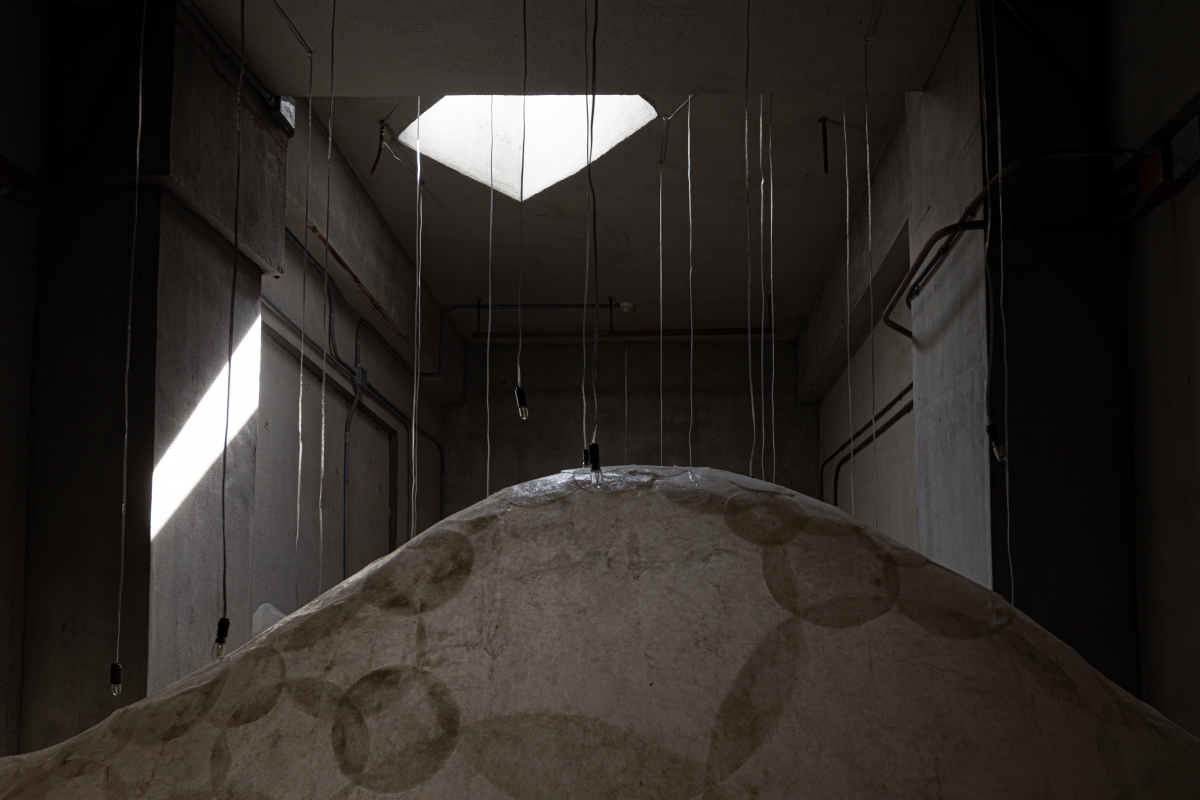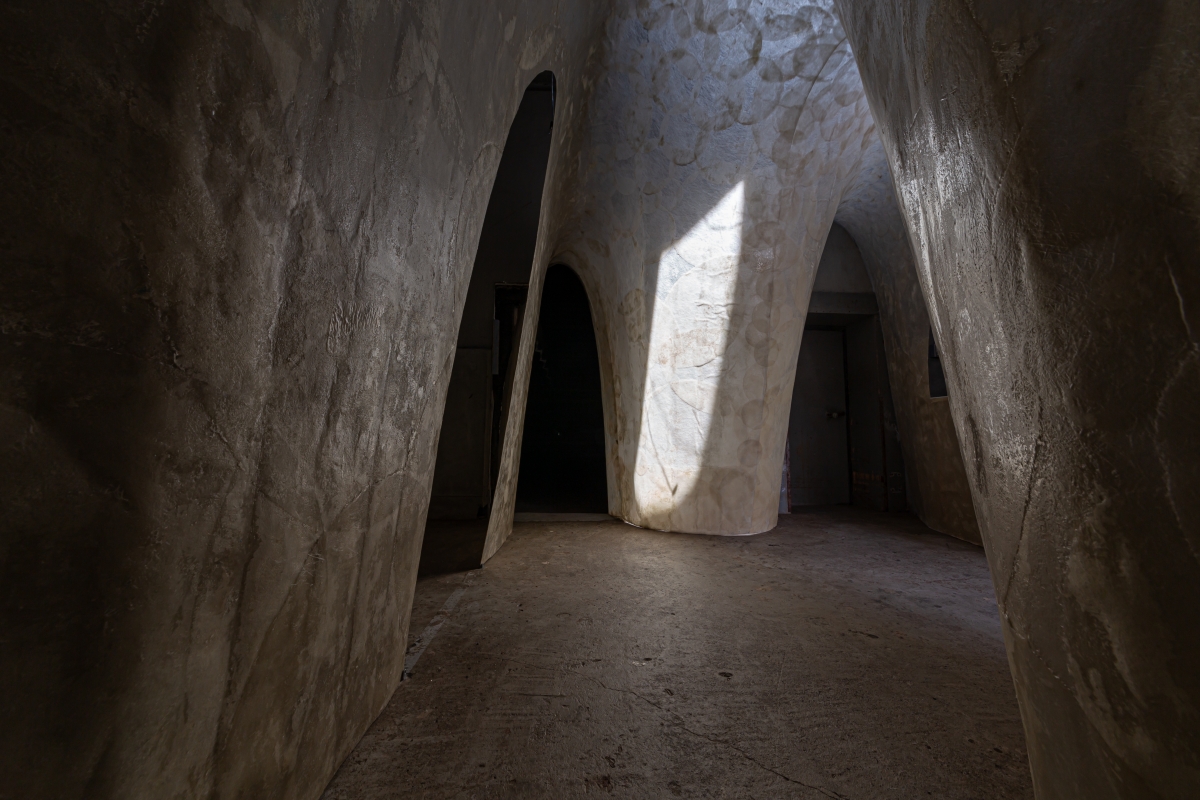 Choi: The tunnel is made using FRP sheets and resin. What did you consider when selecting the materials?
Sakaushi: I did some studies in order to select the most suitable materials. Fujiyoshida is a very famous area for textile production. At first, we were studying whether a film-like structure could be made using cloth produced in this area. However, due to the problems of strength and workability, it was decided that a resin-based material such as FRP would be suitable for realising this tunnel shape. It is the most feasible in the course and it is available creating the imaged space.
Choi: I would like to ask about the construction process in detail.
Sakaushi: A mould was made of veneer and styrofoam, a coat for exfoliation was applied thereon, a glass fiber sheet was placed, and a plastic resin was applied. It took about three months to produce with the labour of three staff members.
​Choi: What is the biggest difficulty you encountered in the construction process?
Sakaushi: When I made a prototype, the thickness of FRP calculated by a structural calculation did not stand up due to subtle construction errors. I was relieved when the tunnel became independent after repeated adjustments at the site. A glass mat that forms the bone of FRP was overlaid. In addition, each mat was divided into small circles and coated with resin so that the mat could form a complex curved surface. This created a visual suggestion that the tunnel was made of water droplets.
Choi: Have you ever built a project yourself, before, except for in this case?
Sakaushi: No, never. However, fortunately, I had a long relationship with the client who was very supportive of my inexperience. This FRP tunnel is similar to the process of building a yacht hull. With reference to the process, I worked on the idea that I should make it myself.
Choi: Three layers – the concrete structure of existing icehouse, newly added wooden elements, and the FRP tunnel – coexist. How did you decide upon the details for each layer?
Sakaushi: The inside of the icehouse was insulated with styrofoam of about 20cm thick inside the concrete wall, and inside the styrofoam 6mm veneer and cedar
duckboard were attached. It was judged that duckboard would be appropriate as constituting the interior as it was, and we repaired the point at which the duckboard had been destroyed and lost.
Choi: As it has already been six months since completion, how has maintenance progressed?
Sakaushi: I have heard that it has been used without any problems arising, both in various events and exhibitions.​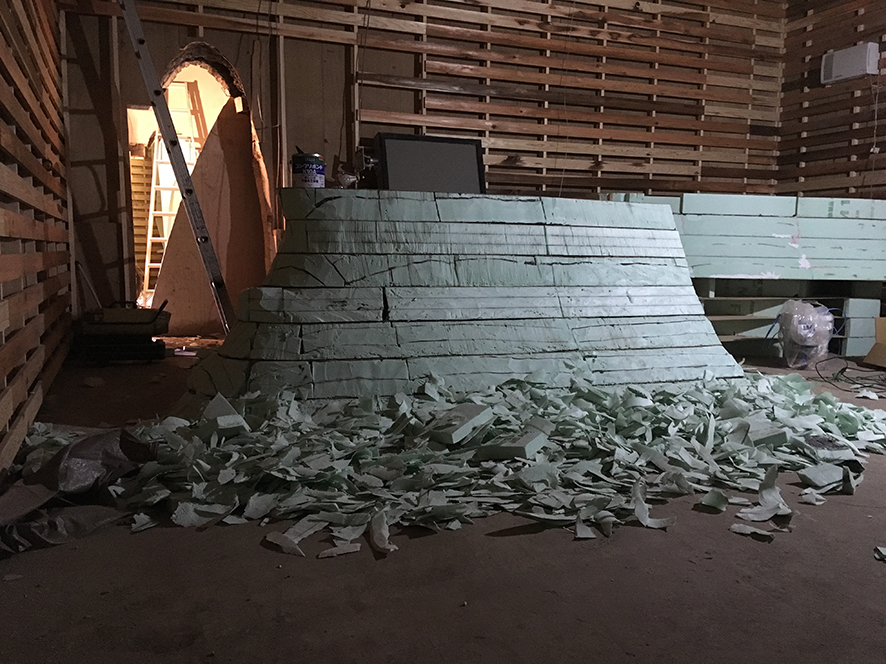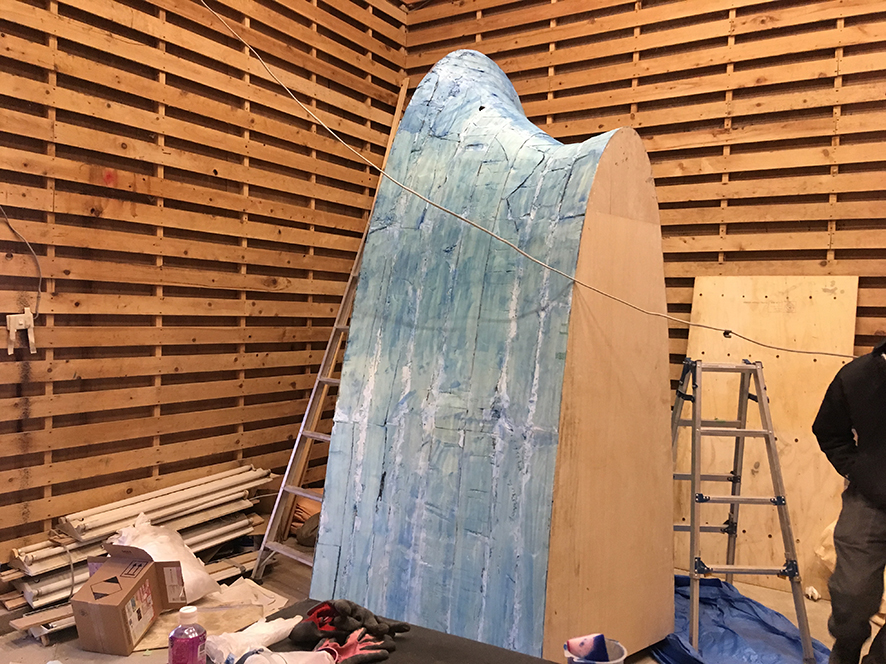 ---
Sakaushi Taku, born in 1959 in Tokyo, graduated from the Tokyo Institute of Technology Faculty of Architecture in 1983. He continued studying at the University of California, Los Angeles (UCLA) Graduate School of Architecture and City Planning as a
Ministry of Education paid student in 1985, and achieved his masters degree from the Tokyo Institute of Technology graduate
school. He established O.F.D.A. associates in 1998, and taught at Shinshu University from 2005 to 2011. He is presently Professor of Tokyo University of Science.