Seoul Architecture Festival (hereinafter SAF) was held between 9-22 September at Oil Tank Culture Park in celebration of its 11th anniversary since its founding in 2009. This year's theme was 'open space', focusing on the creation or possibility of creating an open space in Seoul's urban context. With this themed exhibition at the center, the exhibition was organised alongside other exhibitions such as 'Architectural Imaginations of Han River', 'Architect of the Year', 'Winner of Seoul Architecture Award', 'SAF Architecture Summer School', 'Architecture Storytelling Design Competition', 'Seoul, Architectural Stroll', and the 'UAUS Seoul Market 21'. Other than these, as public, participatory programmes, there was the 'Architecture Culture Tour', 'Docent Tour', and the 'Architecture Design Job Festival'. This fall, we will explore how these various exhibitions and events have settled down in the Oil Tank Cultural Park and how other spots in Seoul have engaged with 'open space' as their governing theme.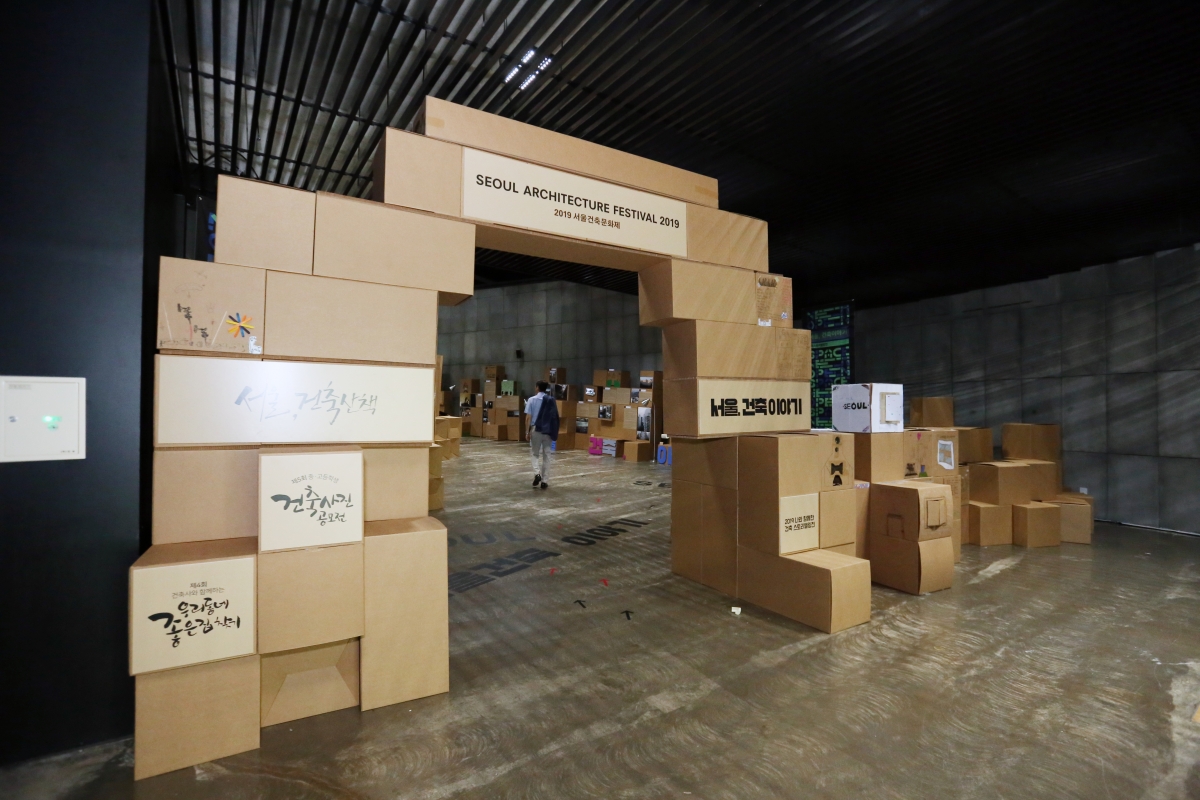 Entrance view of Seoul Architecture Festival 2019, Image courtesy of SAF​
​
In the introductory video to the themed exhibition, Chun Euiyoung (professor, Kyonggi University), who is the main director of this architectural culture festival, asserted: 'upon looking back over past 400 years, the fundamental force behind spatial evolution has had a direct correlation with the growth of open space', explaining that he has 'prepared this exhibition and event with a focus on open spaces such as Dangin-ri Power Plant, Mapo Oil Tank Cultural Park, and Gyeongui Line Forest Park, all of which have been returned to the public'. As it was mentioned, the Oil Tank Cultural Park — the location of this architectural culture festival — is also an example of a closed-up space (i.e., the Mapo oil tank storage facility) that has been transformed into a public cultural space, and in that sense it is significant as an illustration of how the location shares a similar context with the exhibition's theme.
Starting with the lobby of Oil Tank Cultural Park T6 (community center), the exhibition is connected by a line of lamps that lead all the way to the second floor. The first works that greet visitors are prize-winning works from the 'Architecture Storytelling Design Competition', the 4th 'Small, but Good' Competition (hereinafter 'Small, but Good'), which was held under the name 'Seoul, Architectural Stroll', and the 5th 'Architectural Photo Competition for Middle and High School Students'. As a cultural festival that is open to the public, it seems that the idea is to attract guests by using private memories and stories embedded in Seoul. Following these, one is also led to view exhibitions such as 'Architectural Imaginations of Han River', 'SAF Architecture Summer School', and the 'Winner of Seoul Architecture Award', in that order, and one can finally see the exhibition of the 'Architect of the Year' for 2018 (Min Hyunsik) as well as the 'Seoul Market 21' of UAUS (Union of Architecture University Students) at the end.
Each of these exhibitions, set out in this order, deal with the theme of 'open space' in different ways. If the 'Architectural Storytelling Design Competition', 'Small, but Good', and the 'Architectural Photo Competition' exhibitions were about drawing in middle or high school students and the general public to develop interest in Seoul architecture, and participate directly in the exhibition itself, there is also, on the other hand, exhibitions that showcase professional architects. 'SAF Architecture Summer School' had carried out a design idea competition regarding a new open space in Seoul and organized five studio teams out of 31 selected university students to develop their ideas with help from their respective mentors. Under the slogan 'River: Opening a New Dream', 'Architectural Imaginations through Han River' displayed — via an archival format — the various projects of architects that have worked with the Han River as an open space, along with the original projects of contemporary artists and architects that have used rivers all around the world as their theme. Here, works of dRMM, MVRDV, Davide Macullo Architects, and Gabriel Lester were showcased.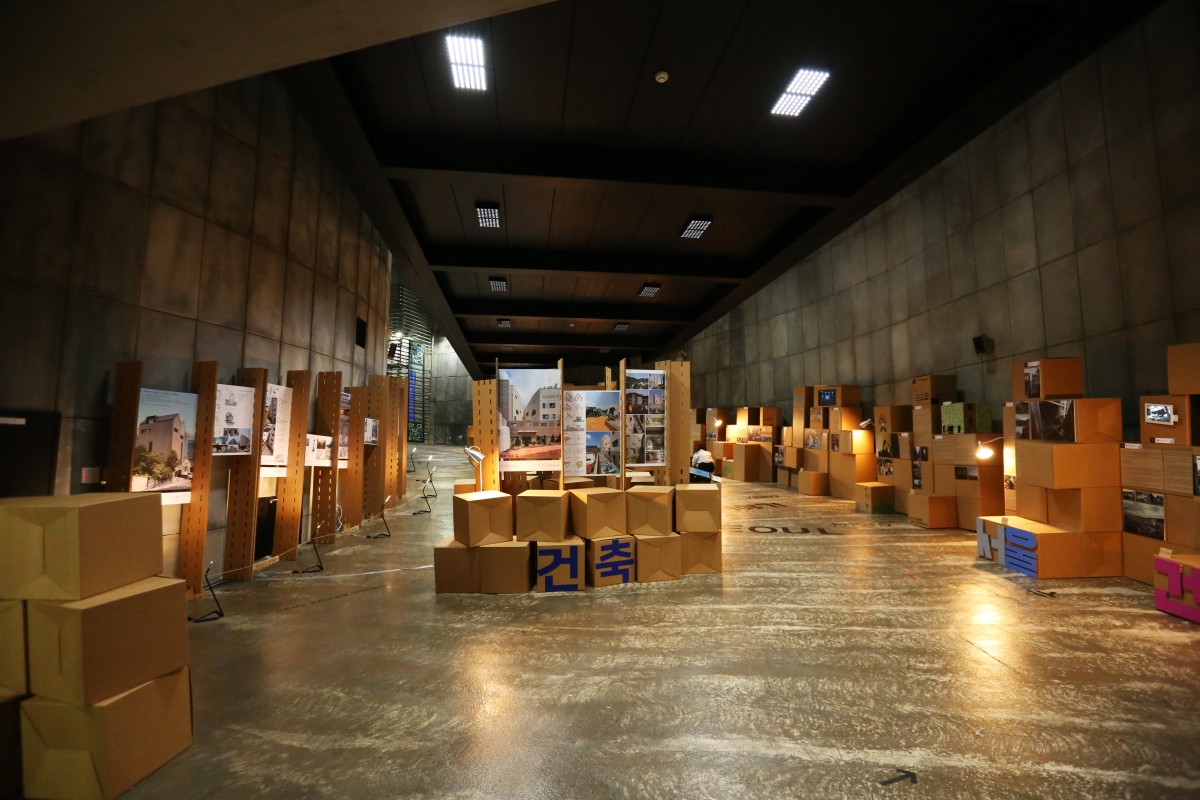 Exhibition of Architecture Storytelling Contest​, Image courtesy of SAF​
Baek Heesung (principal, KEAB) who proposed 'An Open Space that Enshrines Memories' for the themed exhibition, defined the open space as 'a space that can be recognised as a public space', and suggested, through his works, the possibility of using not only the boundaries between buildings and its outer spaces but also the public spaces, such as a staircase hall, as open spaces. To illustrate this, he introduced the way a staircase corridor room in a commercial building in Busan Gijang Market could be widened for use as a gallery that exhibits the long history of Busan Gijang Market. Kim Chanjoong (principal, The_System Lab), who has showcased his work 'The New Open Space: Slow Core', claimed that 'concepts like open space and community are only used to be dealt with superficially, but this has now become a practically important topic as modern urban cities have become more densely populated', adding by way of explanation that 'while special designated spaces and shared spaces can be found in any building, we are particularly tried to approach shared spaces like elevators, halls, and staircases as an open space concept'. On the other hand, Jang Yoongyoo (principal, Unsangdong architects) described the open space as 'a space of unbounded communication of the heart'. In his work 'A Thousand City Plateaus', he revealed an example of a continuous and unbounded space where a child is reading a book with an elderly person, and thereby directs his audience to discover the value of communication. Moreover, Cho Byoungsoo (co-principal, BCHO Partners) notes that 'the openness must not only be about an opening of a structure itself, but a socio-cultural opening — a genuine opening where people can feel such an opening', and Yoon Jayoon (partner architect, BCHO Partners) expressed her thoughts that 'a genuine open space is a space that protects individuality despite being publicly open'.
If Baek Heesung and Kim Chanjoong tried to physically and functionally realise the concept of an open space via shared space, Yoon-gyoo Jang wanted to show the psychological importance of an open space. Also, Lee Eunseok (principal, KOMA) displayed the physical manifestation of an open space by using a raised mass, and Cho Byeongsoo expanded the potential of an open space to a socio-cultural context. Other than these, one can also observe how world-famous architects such as Steven Hall, MVRDV, and Valentino Sibadon had tried to engage with the open space by looking at their exhibited works. Then the question is: in what way did these various approaches and interpretations regarding open space reach out to the audience? Did the exhibition use an appropriate medium of expression, and has it managed to communicate well with its audience?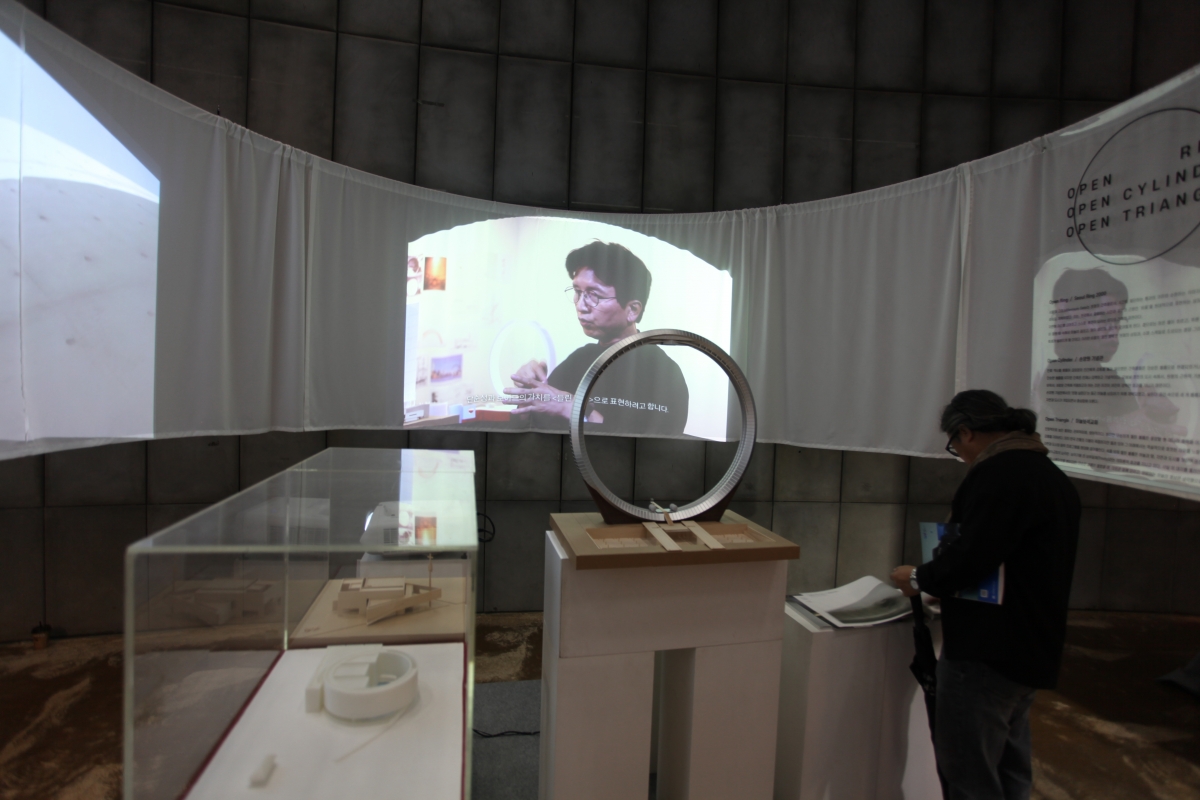 Lee Eunseok, Lifted Architecture, Open Value​ ©Chun Euiyoung​
With regards to the format of this exhibition, the main director Chun Euiyoung stated: 'I think that changing the exhibition into a digital format, so that it is presentable on YouTube or SNS — compared to how it was used in this year's Seoul Architecture Festival — is also a kind of an open format. It relates to my interests to turn this Architecture Festival event into a certain open platform structure'. From today's architecture exhibition, the medium of exhibition and its method of presentation are continuing to evolve in pace with the 4th industrial revolution. Consequently, there was the intention to transform the Architecture Festival into a mass-media focused, participatory platform structure. In fact, the panels and models that used to fill up the past exhibition halls have been minimised, and videos took up a large portion of the exhibition. In the case of the themed exhibition, large images are played in a corner, and the small monitors below them function as replacements of panels and models. Because of this, the guests can enjoy a much more comfortable and wider corridor space as they view the works. As traditional exhibition mediums such as floor plans, photos, panels, and models, that used to fill up the exhibition hall, were reduced, it seemed that this also led to a healthy cut of unnecessary information and a significant amount of post-exhibition waste. Also, it is notable that the sharing of videos over YouTube and SNS has led to expanded outreach by allowing people to view the exhibition from anywhere in the world. However, as much as there was a greater use of video, there were also higher expectations (and hence, dissatisfactions) placed on the quality and handling of such media. This was because most of the videos presented in this festival were architect interview videos or presentation videos that showcase still images and diagrams. These videos, while replacing the role of panels and models, do not fully use the information delivery method and the effects that are unique to videos. If there was one notable example, however, it would be the video from the 'SAF Architecture Summer School', which captured the process and not the final result of the students' designs through a storytelling narrative. Nonetheless, it seems that — whether it is about attracting the audience's attention, or asking the audience to engage with a problem, or questioning the audience — there is still a long way to go for videos to function as the main medium for the entire exhibition. Also, for the general public who may not be as familiar with the architectural jargon as the professional architects are, a more meticulous and considerate method of expression — that cannot be achieved with a mere transition into the video format — would be needed.
If the exhibition was responsible for the role of questioning and sharing the conversation regarding 'open space', amidst all other ongoing auxiliary events, and if the Architecture Festival was about bringing the citizens of Seoul together and not only architectural professionals, then this would also call for a clear strategy towards how to deliver such a message. When this condition is satisfied, the audience's depth of experience and level of understanding will also be enriched. As we slowly walk up the steps of Oil Tank Cultural Park T6 from its lobby on its second floor, shouldn't we also think deeply about what impression the general public audience would have regarding the words 'open space' as they leave the hall?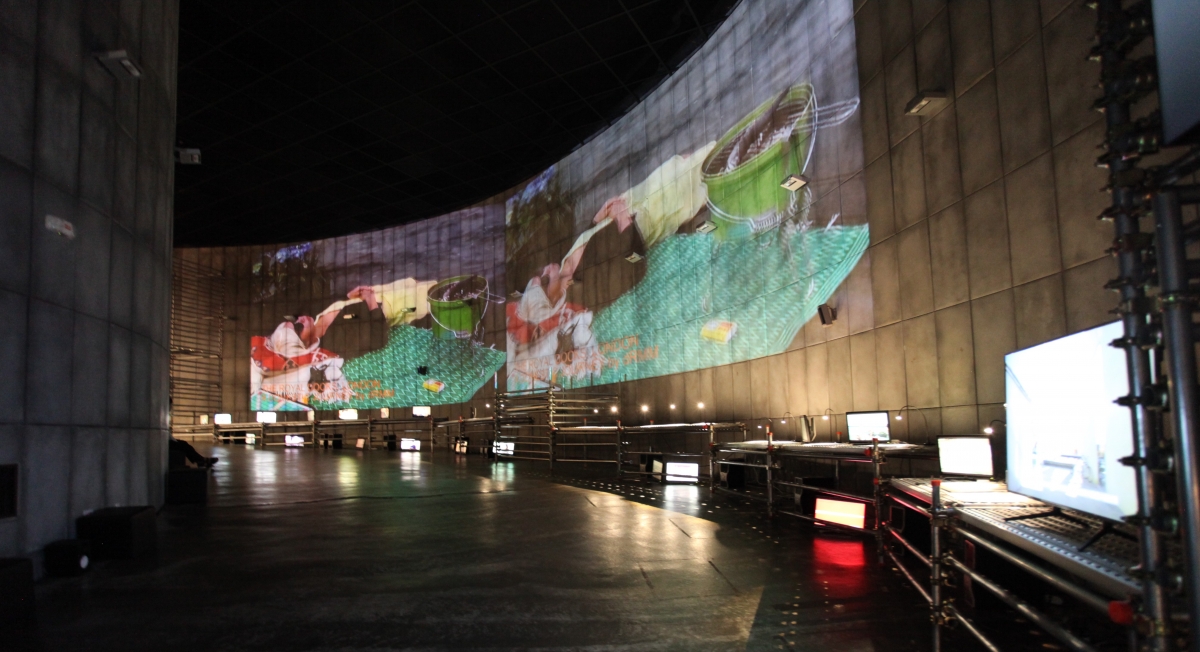 ©Chun Euiyoung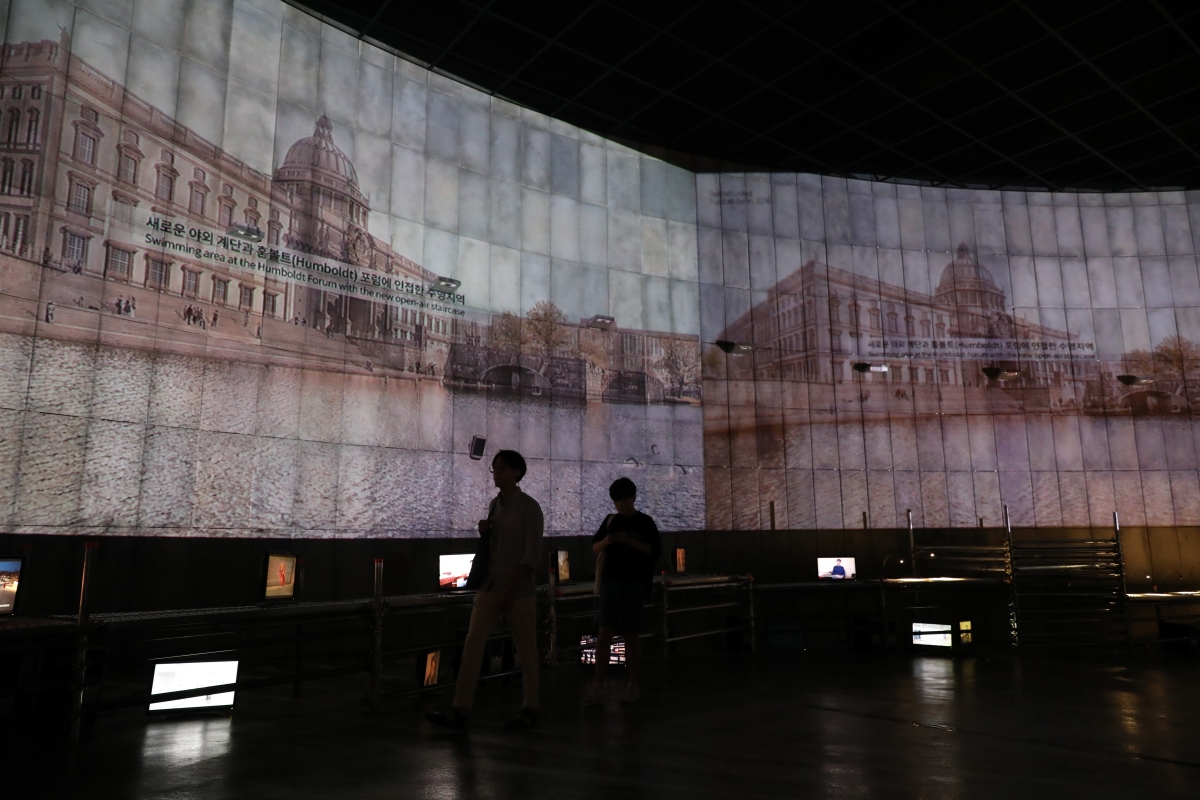 Image courtesy of SAF
---