In February, the fashion brand Celine opened flagship stores in Madison Avenue and Soho in New York. It is the first store that is the showcase project of Hedi Slimane, who has been scouted as Celine's new creative director, in an act of renewal of the brand. The Celine store in New York, which was designed by Slimane himself, is said to be in harmony with his signature aesthetics and art projects. The overall atmosphere is somewhat similar to the one in which Slimane worked when the artistic director of Saint Laurent, but it is worth noting that stone floors and timber have been added to the interior, and numerous art projects have been introduced into the store.
The first store, Madison Avenue in New York City, moved from 870 Madison Ave. to 650 on the same avenue, and its scale now extends to 500㎡. Women's wear and accessories, as well as the newly launched men's wear line by Hedi Slimane, are displayed together. A greyish Italian basalt called Basaltina was used on the floor of the store, and striped granite was used mainly on the walls. Furniture for display is mainly made of stainless steel and smoothly processed concrete. Aside from this, installation work by Mexican artist Jose Davila and British contemporary sculptor James Bamforth will offer finish to a store as a truly unique space.
Jose Davila used 20th-century architectural utopian thinking and architecturally important buildings as references when approaching meaningful conflicts between form and function. He reflects upon the works of artists and architects throughout history in his works, expressing emotions such as humour, depression and loss through primary forms and materials. He has drawn on Homage To The Square by Josef Albers and Donald Judd's Stacks, as well as removing signatures on the back of Jumping To The Void by Yves Klein and the Living Sculpture by Piero Manzoni to present a conceptual art that argues what makes art important is content, not form. At Celine's flagship store, visitors can meet APORAA IV, a work using mirrors.
James Bamforth has worked in various ways to force materials to reach their physical limits, capturing the moment at which a material changes at the last point or threshold of their endurance, thereby revealing its ultimate form or outcome. For example, the material is exposed to enormous heat and pressure by using industrial technology or mechanical devices to reveal the expressive elements of the material. 'I want to express the possibility of resuscitation in the midst of destruction and deterioration through my work', said Bamforth. 'I want to reveal the invisible potential and deliver a positive world view to the audience rather than a fatalism' Large steel blocks with slag on their sides, SURFACE RESPONSE, can be seen in the Madison Avenue store in New York.
Other art projects can also be found at the 340 ㎡ Soho store in New York, which opened later. The participants included Charles Harlan, who is working with materials such as iron pipes, stones and wheelchairs, widely used in industry based on Brooklyn, Lucas Monterastelli. He has developed works by concentrating on the propaganda functions of architecture and sculpture. Virginia Overton also contributes works, using recycled materials to create expressionist sculptures.
Art projects have been arranged to find balance and harmonise between the interior design and fashion of the store. The New York flagship is the first model for a new architectural concept to be implemented at major Celine stores around the world and will be equally applicable at the Tokyo and Paris stores to be opened. It was a surprise introduction in the changed identity and the brand renewal of Celine, which has been motivated by Hedi Slimane who took up the post as creative director in 2018.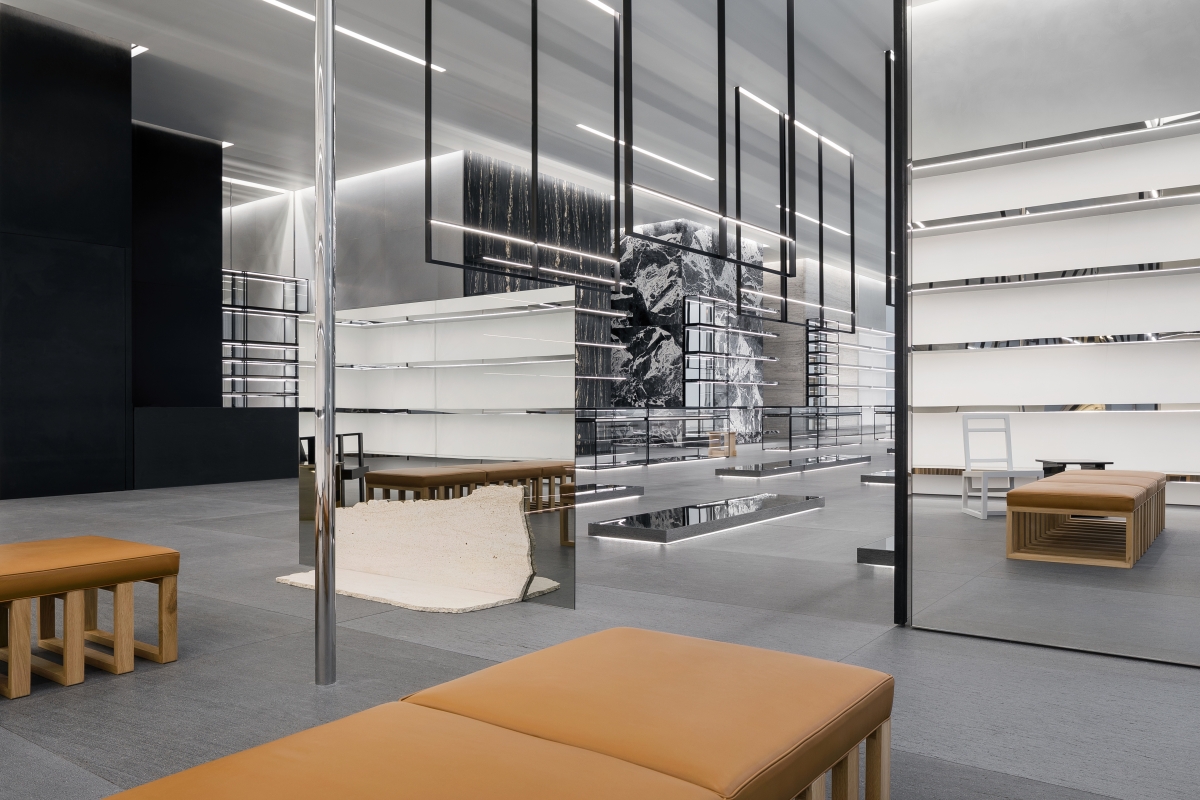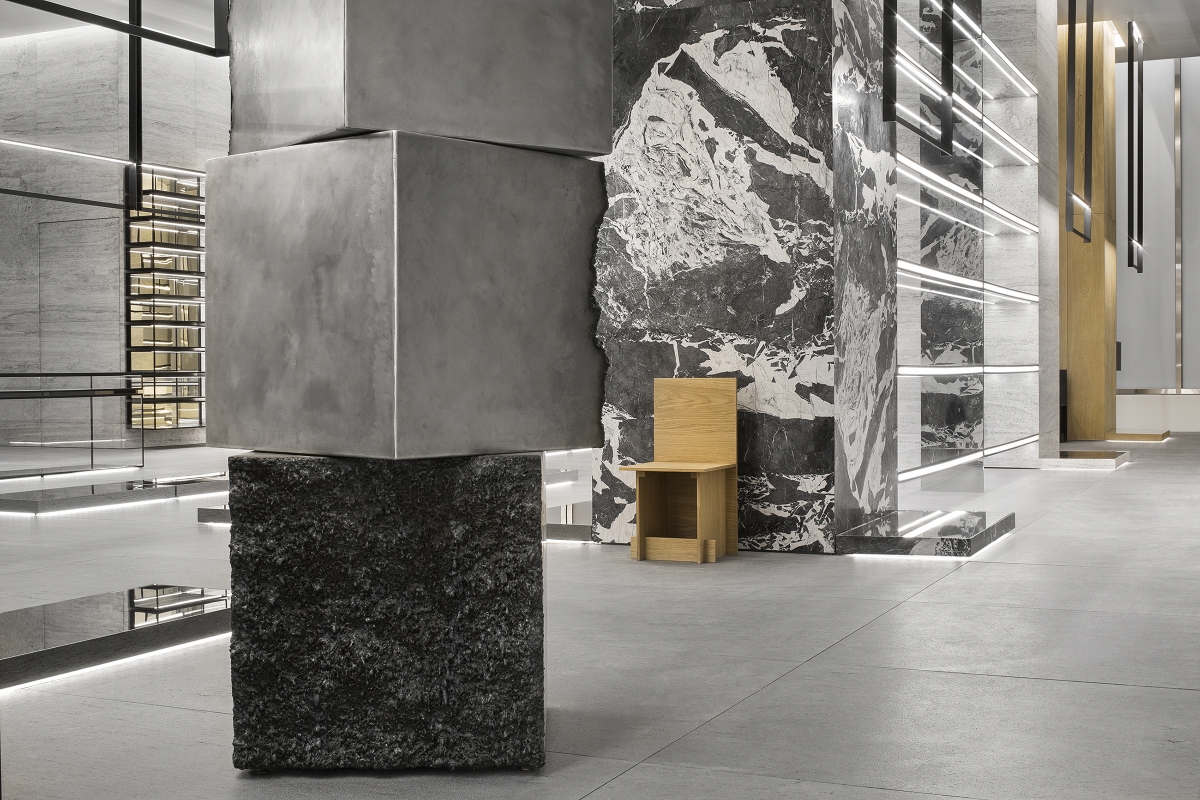 James Balmdorth, Surface Response (stack), Stainless steel, mild steel, slag, 2019​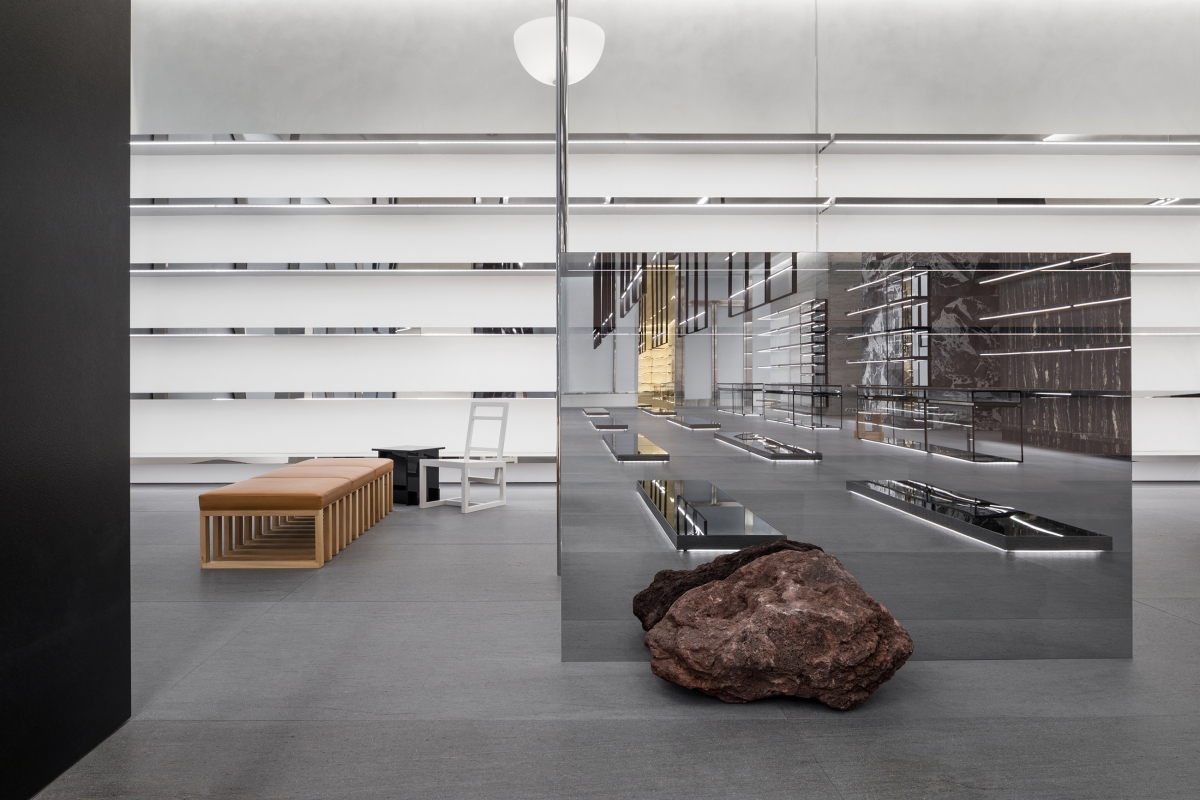 Jose Dávila, Aporía IV, One way mirror, sandstone and volcanic rock, 2017​
---