Regional Revitalisation
Faced with a declining and aging population, small cities are losing their inhabitants and are under threat of disappearing. The old established regions are going disregarded, while the suburban farmlands are turning into residential complexes—an absurd sprawl that has consumed a large amount of resources for site development, infrastructure establishment such as water and drainage systems, and also resulted in socio-economic costs including environmental degradation. Furthermore, the new urban inhabitants remain disconnected from their newly inhabited regions and also possess a marginal bonding power, failing to form relationships or communal understanding with one another. In order to bring vitality to shrinking rural towns, a population move can be considered an alternative solution, organised under a collective residential plan that can encourage communities to settle and build a life together. For those who leave his or her urban life, local migration is also a way of becoming a part of a new society.
There are certain projects contemplating migration—Osiri gareum Cooperative Housing (hereinafter Osiri gareum) and Nunmoe gareum Cooperative Housing (hereinafter Nunmoe gareum), in which would-be immigrants join a residential cooperative union and move into a rural area. Osiri gareum, constructed within an existing town, employed established infrastructure and also opened a part of its space to the local, being able to raise the residential density; Nunmoe gareum, built on abandoned land which was for a foundering townhouse project, also raised the residential density but via mixed households. Uiseong Gowoonmaeul is a public project that aims at promoting population influx with an integrative program—temporary residence for newcomers, recreational gardens to attract visitors, and community facilities the local people also use. These facilities are planned to be maintained by the tenants, and it is anticipated that they will bring about revitalisation in the region.
A regional revitalisation plan could discover its potential through a certain process: an alternative model comes to form a residential-based community and takes root in the regional community. Four years after the move of Osiri gareum, a new vitality was brought about in the surroundings: the corner shop turned into a supermarket, and a restaurant and a guesthouse have also appeared. The tenants, who could have maintained the social relationship within the cooperative union, also managed to settle down into the regional society, after a struggle to escape from their closed community and to engage with the region.
Residential Community
Vincent Scully, an American art historian once said, in reference to Philip Johnson's Glass House, that the individual human being 'seemed to eliminate everything between human and nature...[and] be completely extricated from the entire humans' community'. Likewise his words, when one ponders the idea of moving into a rural community and pictures every day experience, his or her house exist solemnly in the natural landscape, free from bothering the community. In reality, rather than being peaceful, such a life is actually closer to the loneliness one fears at the cost of security, occupying oneself with the issues of self-protection, and finally finding myself obsessed with CCTV.
Unlike those conventionally-developed settlements – newly constructed townhouse or cities – Osiri gareum, Nunmoe gareum, and Uiseong Gowoonmaeul are all community based: each resident decided to migrate and to become each other's neighbour, forming a residential community in there. The 28 households of Nunmoe gareum are composed of a variety of members: from a retired old couple in their 70s to a young couple with a newly-born child—meaning that they are all differ from one another in terms of age, occupation, worldview, and cultural preferences. In Osiri gareum, however, the 16 households share a common theme: either retired or old enough to retire. The 25 households in Uiseong Gowoonmaeul are diverse in their age-group, occupation, and place of origin; but they bonded over the same desire to build a town community.
One might raise the question: 'Is a residential community possible?' which could be translated into a question—whether it is possible for someone in this contemporary age to share one's daily lives. A community can be organised and also sustained when its members share each other's interests and aims. Furthermore, within such a residential community, the matter of how to secure public spaces becomes an acute problem. To someone accustomed to living as an anonymous person in a metropolis, a home is conceived as a private space—and therefore whoever crosses into that realm is an offender of one's privacy. We live in a society where this has now become the norm.
A neighbour who wants to park one's car in front of one's house disagrees with another neighbour who desires a car-free road for children to play on. A neighbour who wants to invest in a common facility to share its benefits faces opposition from a neighbour who seeks the minimization of costs. A neighbour who seeks the installation of solar panels gets into a conflict with a neighbour who is uncomfortable with the light reflected from it—all conflicts arise from the discussion and decision on things outside one's home. For those who have been living in an urban setting, the task of discussing a communal space is a something unfamiliar; in a residential community, however, the residents converse about how to use the communal space, resolving and finding common grounds in terms of contradicting values.
At the recently completed project Nunmoe gareum, its tenants have moved into and a community is now starting to create. The adults welcome having their neighbours' kids come into their houses freely. This is a positive aspect of a mixed household residence. Osiri gareum is the future of Nunmoe gareum: the collective move to a local rural residence, its supportive community activities that have been continued by active participation of the members, decision-making by popular votes, and exercise of leadership. As time passed, the community became more united, and the trees and gardens along the road became lusher—social relationships, like physical environment, all require time to grow.
Collective Form
According to the planning type, the aforementioned three projects are all townhouses. A commonly-used formula, the housing sector develops by converting the cheap farmland into a building site, planning the building position in consideration to road access, dividing the land equally, and sticking with an uniformly-looking two-floor houses. In order to facilitate real estate sales, the developed land is subdivided into minimum communal areas and maximum individual lots. The detached houses of newly-developed cities are also organised in this manner, and consequently, the architecture of the land becomes further individualised.
Regardless of whether it is a shared house or a townhouse, the task of organising physical space in a collective residence is something that intervenes in the regulation of personal area, communication within community, and method of interaction with the regional community. There are mutual relationships between individual and residential communities, the individual and the region, and the residential community and the wider region. A residential community must be loosely open towards the region (which is not a gated community), experience a shared time, and become a part of the region. To achieve this purpose, strategic elements would be an open space organisation, the adjustment to building density, and the preparation of common facilities. A plan for a 'district' as a self-contained community should be avoided.
Osiri gareum was organized with the 'road' on a flat land. In the basic style of town houses with simple living spaces and storerooms, the houses were placed in no specific order along the road while designating each other's yard space. They were also oriented towards being open to the yard where the hall meets the road in a vertical way. A communal kitchen was placed where the quiet town street meets the road, and a small library was placed at the point where the road coincides with a heavily-used street to have it open to the region.
Nunmoe gareum, on the sloped site significantly inclined towards the north, was organised by using terraced step—a horizontal outdoor place of dwelling. The houses frame each other's yard, by their irregular positioning in terms of height and their front and back sides. The right-angled order, as a stacked landscape, is a function introduced to reveal the residence density. A community house was placed on the highest section that reaches the main road so that it may allow the members to come about and engage with one another freely, and to have the town view and the seascape accessible to all.In consideration for the relationship with the original residential area, the complex programme was divided into three areas of different depths for Uiseong Gowoonmaeul.
The community area, which is also the central area, acts as a loose organisation of exterior spaces between the single floor buildings. On the other hand, the residential area acts as a high-density space that is adjacent to its neighbours, while the recreational area is organised as an exterior space that is open to the road that follows the natural landscape without a specific direction. Various people of different personalities among the movers, visitors, and local inhabitants live together in Uiseong Gowoonmaeul. A relationship within the complex community is formed as their regular and irregular paths take independent routes and come across one another.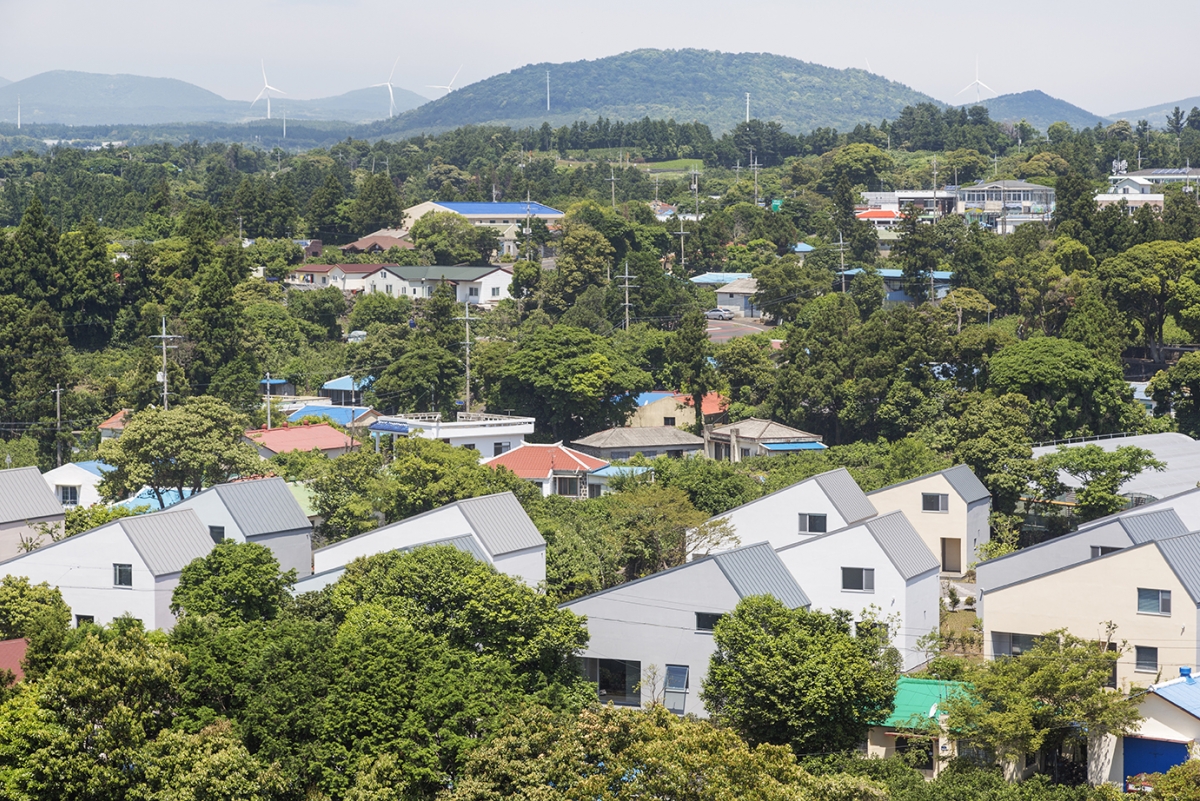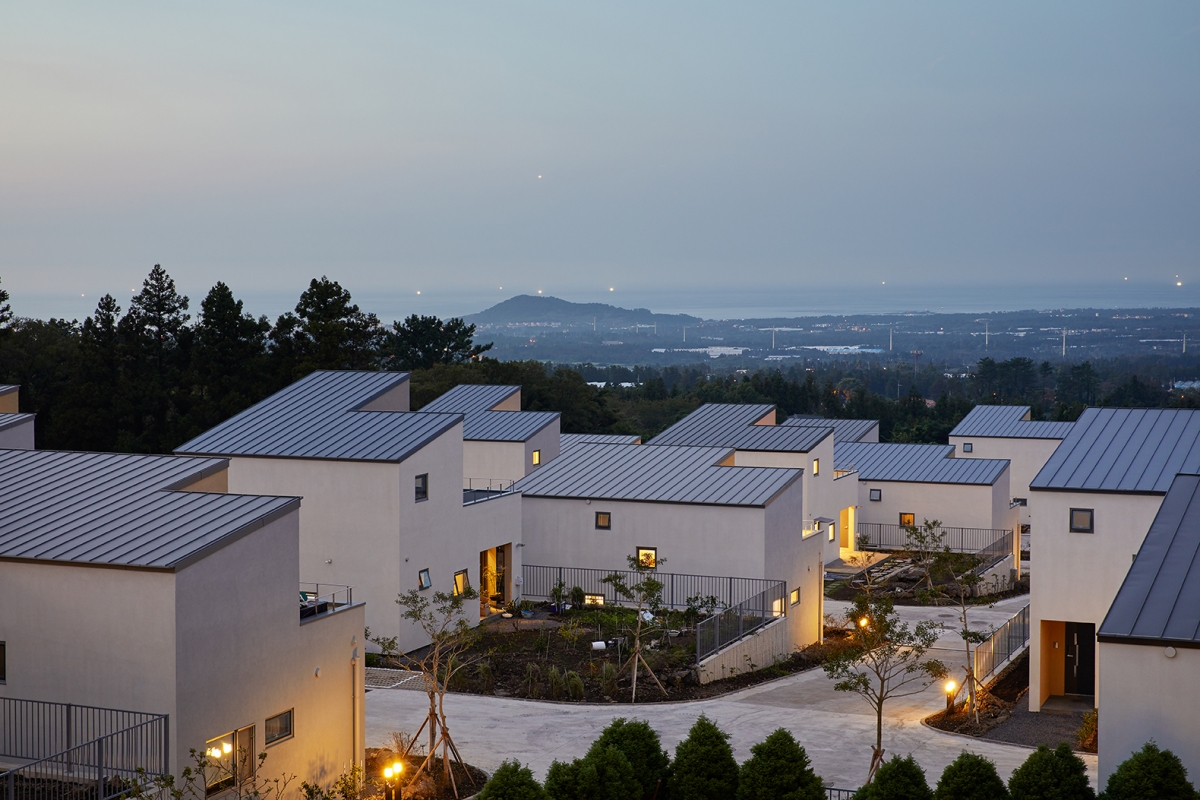 (top) Osiri gareum​ Cooperative Housing
(bottom) Nunmoe gareum​ Cooperative Housing​
Varieties of Life
Apartments, which currently represent over 60% of residential properties in Korea, are now becoming perceived as a kind of housing that ensure a certain level of quality in terms of living environment. This trend has gone on developing for over 40 years, and there are now a number of generations that have only experienced living in an apartment since birth. An apartment is a living space that is also measured by its planes. It is often deemed that the bigger the given standard plane area and the service area of its balconies – things that can be readily translated into a monetary value – the better the commercial worth. Residing experience is limited, and in most cases, the focus is placed on the interior space past the main entrance.
For some time, I have been carrying out communal housing projects based on cooperative planning participation from private and public residencies: three Cooperative Public Housing projects (in Gayang-dong, Malli-dong, and Namgajwa-dong), Osiri gareum, and Nunmoe gareum. As I came across over a hundred households throughout this process, I discovered that an individual's life begins from the floor plane of an apartment. Used to having a conservative prejudice against houses, people are more familiar to the environment of an individualised shared residence built upon commercialized values.
Rather than being a mere design method, as an alternative towards various houses, residents' participation in house design must be a kind of a process that shares values as a residential community comes about to share a space together. It is a process where one comes to build a set of principles together with one's neighbours, considering aspects such as the direction of one's house windows, the sharing and use of the outdoor space and garden, the sharing and use of the corridors and streets where people come across one another, and the sharing and use of community facilities.
The participation of residents in house design and affordable housing has a conflicted relationship. The greater the demand of the residents, the higher the cost—and thus the finite budget eventually boils down to the problem of how it should be distributed. The house interiors of the three projects – Nunmoe gareum, Osiri gareum, and Uiseong Gowoonmaeul – not only reflect each individual's living preferences, but the simplified exteriors also reveal the collective character of the community. The outdoor spaces are left incomplete for the residents to personalize them themselves. Each lifestyle in the hundred households has its own unique character. To meet the specific needs of all these life varieties, a hundred different houses would be required. However, this would be possible if it was a house that leaves a margin for the inhabitant to fill – a margin in not only its interior and exterior but also in its community spaces – and over time, the house would have evolved into a place in which all can happily reside.​
---
Lee Eunkyung received her B.S. and Master degree in architecture from Seoul National University and gained her professional experience at Kiohun Architects & Associates. She also received her Master in architecture and urban design from the Berlage Institute. After practicing at Xaveer de Geyter Architects and Riken Yamamoto & FIELDSHOP, she founded EMA Architects & Associates in 2011.