An Introduction to Public Architecture
With the Hansook Cheong Memorial as the starting point, now 20 years ago, I have designed various buildings – in Paju Book City and Heryi in the early 2000s, and the Ssamziegil in 2004 – that have mostly been commissioned by a private client. As such, the SSU Student Union in 2009 was my first public work. After this project, I designed various campus buildings throughout the following ten years, and certain insights emerged: those with regard to public architecture and alternatives to campus architecture, which I have thought of collecting and putting down in an orderly fashion if the opportunity were to arise. About ten years ago, Toyo Ito advised me to begin looking for a chance to get a public commission. I did not exactly understand the meaning behind those words back then; I tried to uncover it through these projects – UOS Centennial Memorial Hall and Maison de la Corée – which I will introduce in this article.
My works, located on the campuses of Yonsei University, Soongsil University, and University of Seoul, are all different in size and programme, but they are within a campus. This condition made me initiate the design process with reflections on 'what kind of a place is an university?' and 'what kind of a place can it be?'. Ever since my admission in 1980, I have stayed at the same university for almost 40 years, as a student, a lecturer, and now a professor. Except for a few facilities like lecture rooms, libraries, and restaurants, I don't think I have ever stepped into other facilities. To me, the university is remembered only as a road and space between buildings, and as a collection of memories of people that I've met there. The series of benches and trees that line the Baekyangro road was to me the university, and the friends, senior students, and professors that I met in the corridors were to me my school life.
The University as a Meeting Place: An Endlessly Branching Road, Transparent and Deep Spaces
Those glittering memories drove me to carry out the SSU Student Union project by considering new alternatives for campus architecture, and with the aim to design 'an university as a meeting place'. I hoped the student union building, shared by students and staff, would be a place where all constituent members of the campus would come across and meet one another. Its design, as such, was developed in an unconventional way: instead of​ arranging programmes after shaping the building, roads and corridors were planned in the initial design phase to connect the various places of the campus with the building. Three dining halls, lecture halls, and other specified programmes were placed, connected via both interior and exterior traffic lines, forming a spatial composition like a small city. The student union building, which has 25 entrances, was composed of various traffic lines of choice. Here, the architecture not only stands as a physical space but also serves a place for spontaneous meetings. With the addition of depth and transparency in the space, people can notice each other, perceive other members of the campus, and become individuals that comprise a vibrant university life.
This line of thought evolved in the Maison de la Corée, a 2018-built dormitory that holds up to 250 occupants with ancillary facilities (a lecture hall, dining hall, and community facilities), which is located within the campus of Cité Internationale Universitaire de Paris (CIUP). After examining other dormitories in the CIPU and other universities, it was clear that once one enters his/her own room, the individual was always bound to be isolated, losing chances to interact with other students, regardless of how well-equipped the dormitory may be. Considering the spirit of CIPU – creating relationships between nationalities and students – this was quite regrettable.
To resolve this issue, traffic lines and spaces were placed more prudently, allowing individuals to sense each other without disturbing their privacy. We introduced depth to the cross-sections of the transparent lobby, communal kitchen, and external spaces, and brought in a line of sight to the interior to allow students to identify each other. Once the students of different time schedules come to see each other more often, get to know each other naturally, and come to realise that they are living in the same space, relationships will organically develop. We found the 'raison d'etre' of an university following these notions was to be a 'meeting place'.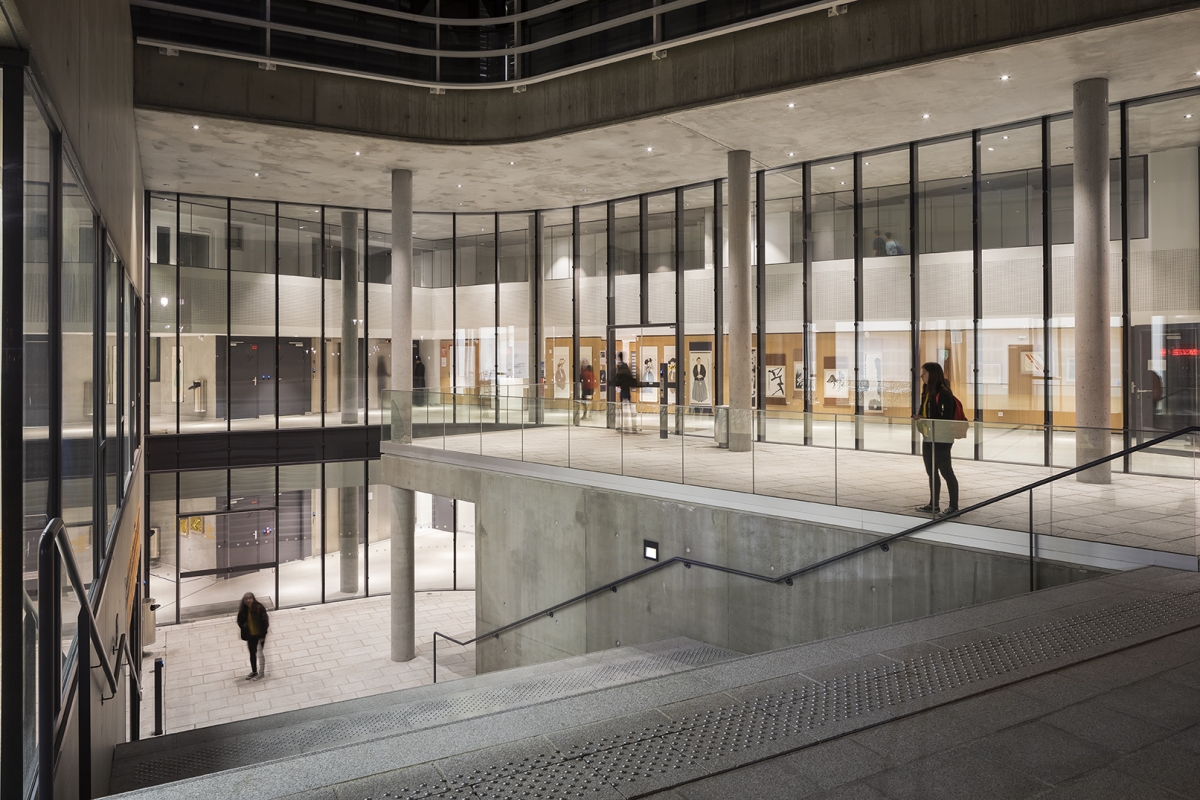 Maison de la Corée​ ©Hervé Abbadie​
The Relationship Between Regional and Campus Architecture: Possibility for an Open Architecture
This idea of a 'meeting place' was then expanded to a campus space as we were designing Yonsei International Campus Veritas Hall and UOS Centennial Memorial Hall. Most campus buildings tend to have only one or two entrances, forming a weak connection with the campus while severing ties with the outside. The SSU Student Union has an ambiguous boundary line, whose interior space extends out to the surrounding buildings, meaning that the building becomes an integral part of the campus. This idea was then developed in the Yonsei International Campus Veritas Hall: the building has multiple entrances and no pillars on its boundary at the ground floor, giving the impression that the inner space became widely spread out towards the adjoining central plaza. At one side on the second floor, a wide staircase was placed to let the building naturally assimilate with the surrounding landscape as it reaches out to the external space.
UOS Centennial Memorial Hall is a recently built project which developed from the question 'what kind of a role should a university building play in wider regional society?' A university campus is mainly composed of and owned by members of the university, and it is also a public facility. When viewed from an aerial photograph, a university campus is a large urban space and also an open green space in the wider regional context. This large urban space is occupied mostly during the semesters, but empties out during holidays or the weekends. Considering how there are not many public open spaces in the vicinity of University of Seoul, this campus full of green space can also function as an important urban space for the region. In this sense, we contemplated what campus architecture can do for the wider regional society and what kind of an attitude it should adopt as an open space—and thereby we made the suggestion for the campus to function partially as an open space and as an urban solution. This alternative solution suggests that the campus should not be segregated upon completion but that it should also function as an open urban space. Instead of sticking out, this kind of open architecture should be able to integrate well with its surrounding buildings while upholding an open attitude in the interior/exterior relationship from all angles. Also, we think that it should also have a spatial composition that allows citizens to freely come and use the space after classes or during the weekends.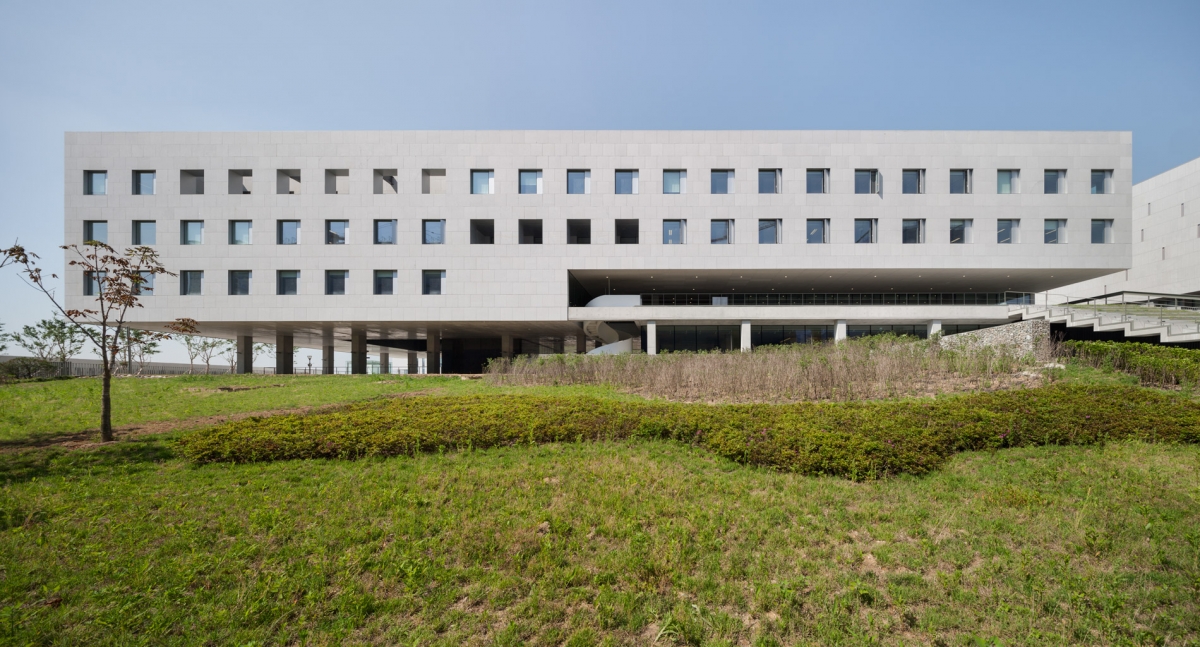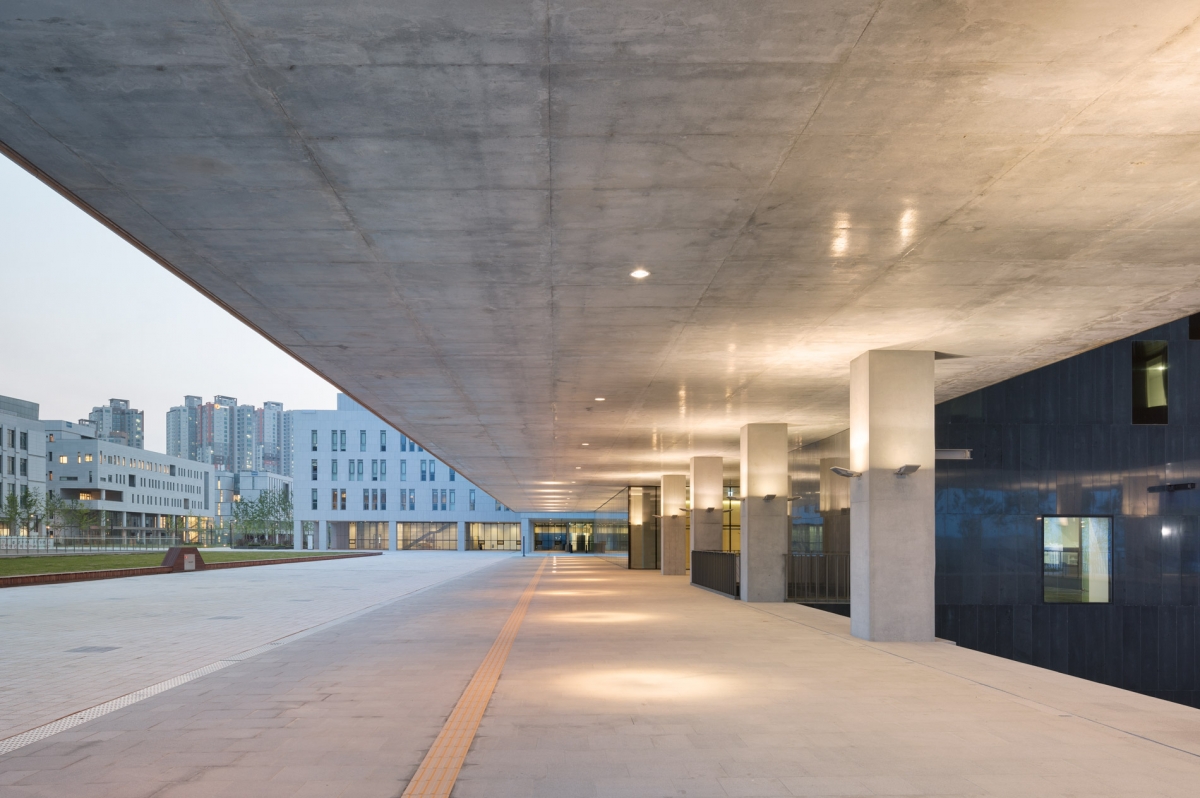 Yonsei International Campus Veritas Hall​
Green Space as a Part of the University
The design for Yonsei University Educational Foundation was carried out according to slightly different conditions. This was a campus building, and as it is more of an office, which demands a different perspective with regards to openness. First, we made sure that the new building would settle down smoothly in order to preserve the natural environment and the adjacent old schoolhouse. Unlike a city surrounded by buildings, the design for this office building, which was closely tied to the old buildings in the forest, demanded a specific procedure to resolve the programme while respecting the building's memories and understanding the meticulous details of the land as one respects the trees. Instead of a building that is closed off to other constituent members of the university, who may be passing by, we suggested a space that is mutually open to the interior and the exterior – perhaps not extending all the way into the building's interior – in terms of line of sight. This is also closely related to the procedure of installing the programme while respecting the trees and the roads on the land, which we had followed in the Woods Kindergarten of KIST.
Architecture within a Campus: Architecture that Endures
Campus architecture cannot be completely free from capitalist influences that always demand something 'new', but at times it finds itself a momentary freedom. Therefore, instead of going after novelties and trends, campus architecture has to develop the ability to endure and cater to rapid changes in the education sector. Therefore, in a campus architecture, the architect must not seek to reveal oneself but carry out a flexible plan that not only focuses on understanding the history and surroundings of the campus but also accepts such changes. With this understanding of campus architecture as a public good that endures throughout time, we designed Maison de la Corée, UOS Centennial Memorial Hall, and Yonsei University Educational Foundation while picturing in our minds how they would gradually assimilate into their respective campuses 50 years into the future.​
---
Choi Moongyu obtained B. Arch and Master of Engineering from Yonsei University, and Master of Architecture from Columbia University. Having Worked in Toyo Ito Architects, Hanul Architects and Group See, he founded Ga.A Architects in 1999. Currently he is a professor of architectural
engineering at Yonsei University. He has been invited to the 11th & 9th Venice Biennale, the 7th Sao Paulo International Biennial of Architecture, and the Shenzhen and HongKong Bi-City Biennale of Urbanism and Architecture. He has been awarded 50th Progressive Architecture Award USA, AIA-NY Award USA, Architectural Record's Design Vanguard, Korean Institute of Architects Special Award, Korean Institute of Registered Architects Award, Korean Institute of Architects. Major works include Hansook Cheong Memorial, Ssamziegil, SSU Student Union, Yonsei International Campus Veritas Hall, and H Music Library.