The Strange Side to a First-Generation Contemporary Architect in Korea
Kim Chung-up, known as a first-generation architect of contemporary Korea along with Kim Swoo Geun, is familiar to us, but the numerous contextual connections hidden behind the mythical image of his life and the superficial rhetoric used in reference to his architecture has not yet been properly highlighted. While approximately 90 theses and 500 academic papers have been published in Korea dealing with Kim Swoo Geun, according to the record of Korea Education and Research Information Service (KERIS), only about 30 of these theses and 35 academic papers cover Kim Chung-up. Kim Chung-up's Architectural Theory: World of Poetic Echo and The House Must Sing, written by Jung Inha (professor, Hanyang University) are the only books on his architectural theory. Nevertheless, it is fortunate that materials about his architecture, which were privately managed and donated to Anyang City Hall by bereaved family members, are now available to the public in the Kimchungup Architecture Museum, which opened in 2014. A little of spirit was made accessible to the public in​ the exhibition 'Kim Chung-up Meets Le Corbusier: and Gim Ikhyun differentiate this exhibition March. Focusing on his early architectural works and defining his architectural view through the frame of Le Corbusier, however, the exhibition failed to offer insight into his whole life, identity, and architectural development. The 'Kim Chung-up Dialogue' at MMCA is a large-scale exhibition designed to illuminate various aspects of the architect, specifically through his heritage, and to provide a foundation for the research of Korean architects.
The aim behind the exhibition can be read at the entrance to the exhibition hall. At the entrance of the exhibition, photos of his architecture spanning the thin black columns make a matrix. The front sides show the black and white photographs taken by the Kim Chung-up Architecture Research Institute at the completion of the buildings, and the back sides show colour photographs of the same building taken more recently. The mirror in the background reflects them and extends their visual image. Note that this matrix is arranged in reverse order, from the late works to the early ones, so that that visitors cannot gain information about the works immediately. This seems to be an intentional unkindness, to overthrow the existing image of Kim Chung-up's work and to make us look at him in a new way. It focuses on directing visually rather than communicating information more simply, only really making us realise that we don't really understand his works and we haven't noticed that a lot of his buildings lie around us when we walk around the maze-like matrix. As such, the exhibition begins with the defamiliarization of Kim Chung-up.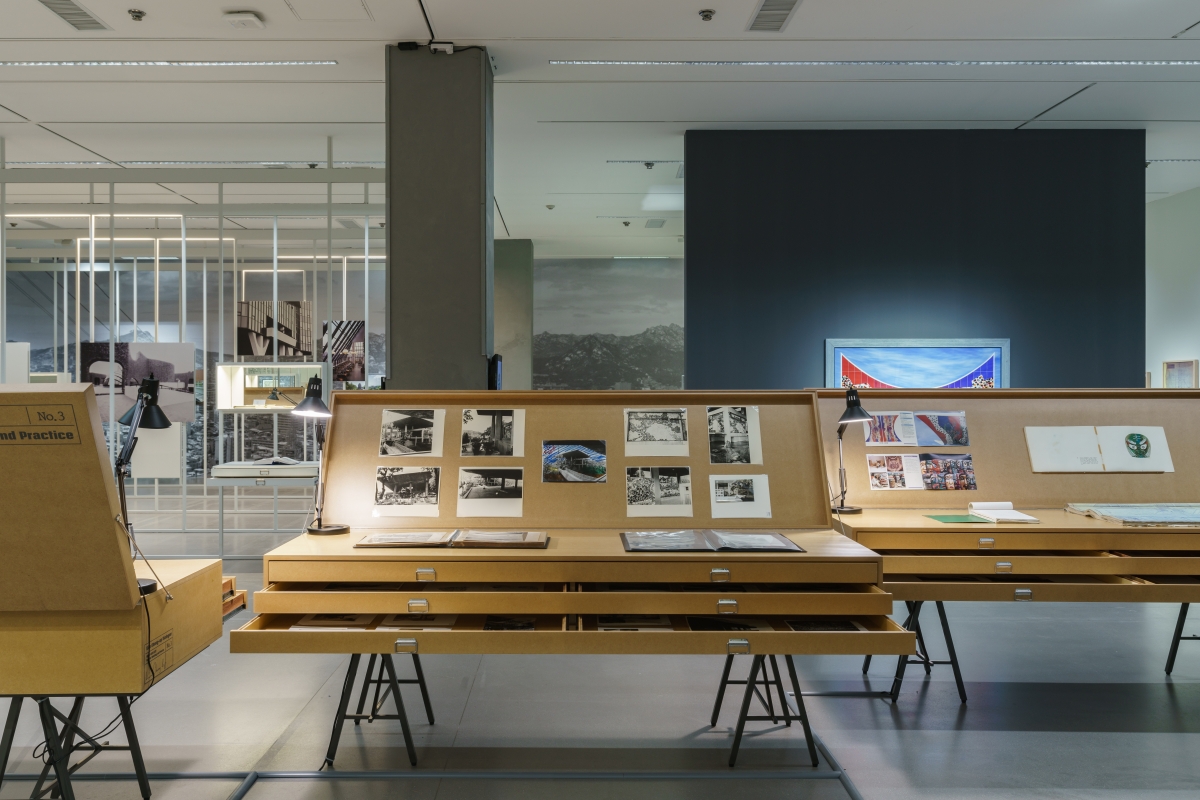 Kim Chung-up's Rediscovered Elements See the Light of Day
Walking through the matrix, over 3,000 works and materials, including photographs and videos made for the exhibition, from the collections of MMCA and the Kimchungup Architecture Museum are displayed around the centre of the exhibition hall. Dusty materials scattered see the light of day at last. In addition, photographs of Kim Chung-up's architecture taken by Kim Taedong and Gim Ikhyun differentiate this exhibition ​from the conventional archive exhibition. Based look at his works walking around the images and organises the world of his works under four themes: 'Globalism and Localism', 'Artistic Thinking and Practice', 'City and Desire', and 'Memory and Regeneration'.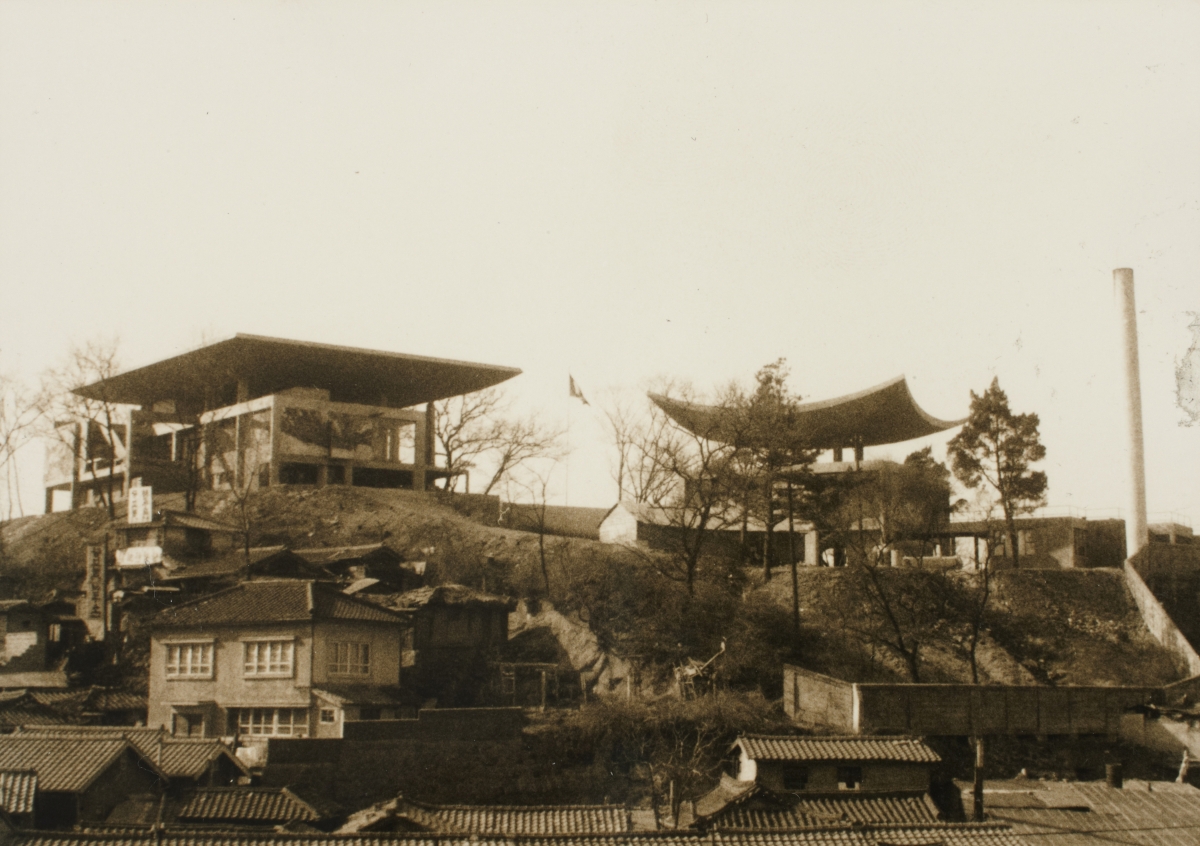 Photo of French Embassy in Korea, designed in 1960, Kimchungup Architecture Museum Collection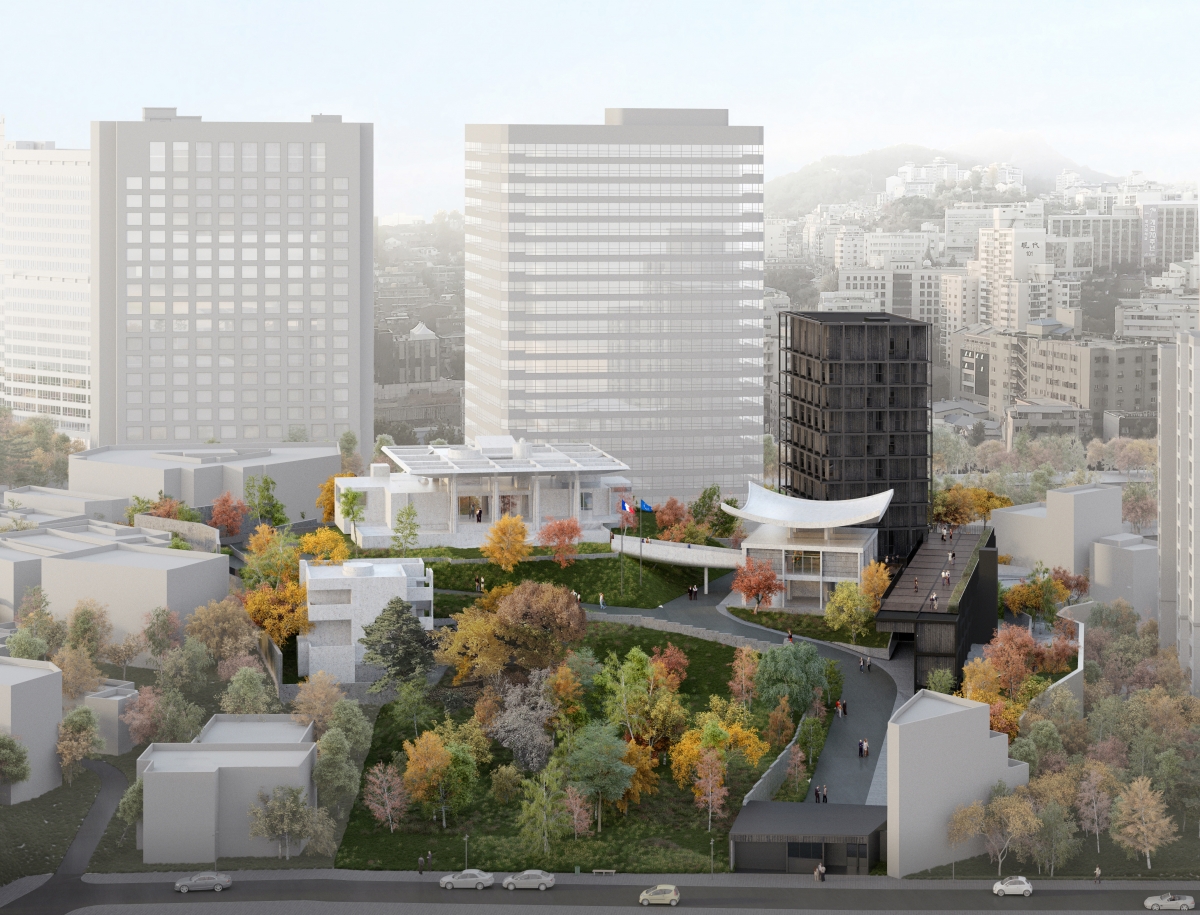 Rendered image of the new building and renovation of French Embassy in Korea, designed by SATHY + Mass Studies, 2017​​
The first section, 'Globalism and Localism' explores two values that coexist in his oeuvre. This discloses his training in the École des Beaux-Arts style under Nakamura Junpei in Yokohama Technical High School, and how it helped him seize an opportunity to later work at Le Corbusier's atelier. It also introduces the architectural works designed in the name of the Kim Chung-up Architecture Research Institute founded in 1956 after he returned from Paris, such as the Administrative Building (currently a college of humanities) of Pusan National University, Administrative Building of Sogang University, and the library at Kunkuk University. On the other hand, it shows us that he had a special interest in regionality, considering his activities as a member of the Cultural Properties Protection Committee, and research on the foyer of Seokguram Grotto reading the books related to traditional architecture of Korea, while using the language of modernist architecture in the West.
The second section 'Artistic Thinking and Practice' gives a glimpse of his nature as an architect who collaborates with artists and this activities as an artist. Like Philip Johnson and Alvaro Alto, his interactions with artists such as artists Kim Whanki and Lee Jungseob, poet Oh Sang-sun, Kim Chung-up have sponsored their exhibitions and works. These traces allow us to guess the cultural standards of that time. Kim Chung-up said 'These "living motifs" are now regarded important especially in the West. Thus, not only a meaningful architectural project but also a building thought to be a masterpiece can achieve a lot in the collaboration with artists and sculptors'. Collaborative works, such as the Embassy of France in Korea with artist Youn Myeung-ro, or the Olympic World Peace Gate at the Olympic Park with graphic artist Baik Kumnam and artist Lee Seung-taek, make us guess at a person who endeavored to explore art through architecture. It is fun to look up the names of the writers from the staff list of his atelier who are now famous. The exhibition displays the resume of artist Park Seo-Bo, who worked as an interiors member of staff at that time. Kim Hyoungmi (curator, MMCA), curator of the exhibition explained 'The Kim Chung-up Architecture Research Institute can be known as an incubator for artists, as many of today's major artists built their careers there'. Besides his collaboration with artists, his efforts given to thinking and practice as an artist is greatly highlighted in 'Kim Chung-up's Architecture' in 1957, the first exhibition of Korean architect of its kind and the movie Architect Kim Chung-up featuring the French Embassy in Korea, Samil Building, and Tokyu Hotel filmed in 1971 in collaboration with a French director. In the newly edited film Kim Chung-up Dialogue, made for this exhibition, he says in an interview with the broadcaster, 'I'm happy when I'm making something. I try hard to do it. But when it's done, you can't imagine how dispirited I feel. For that reason, an author is bound to feel ashamed forever. The life of architects relies on tomorrow'. Always referring to himself as an artist, he maintains his position as an artist.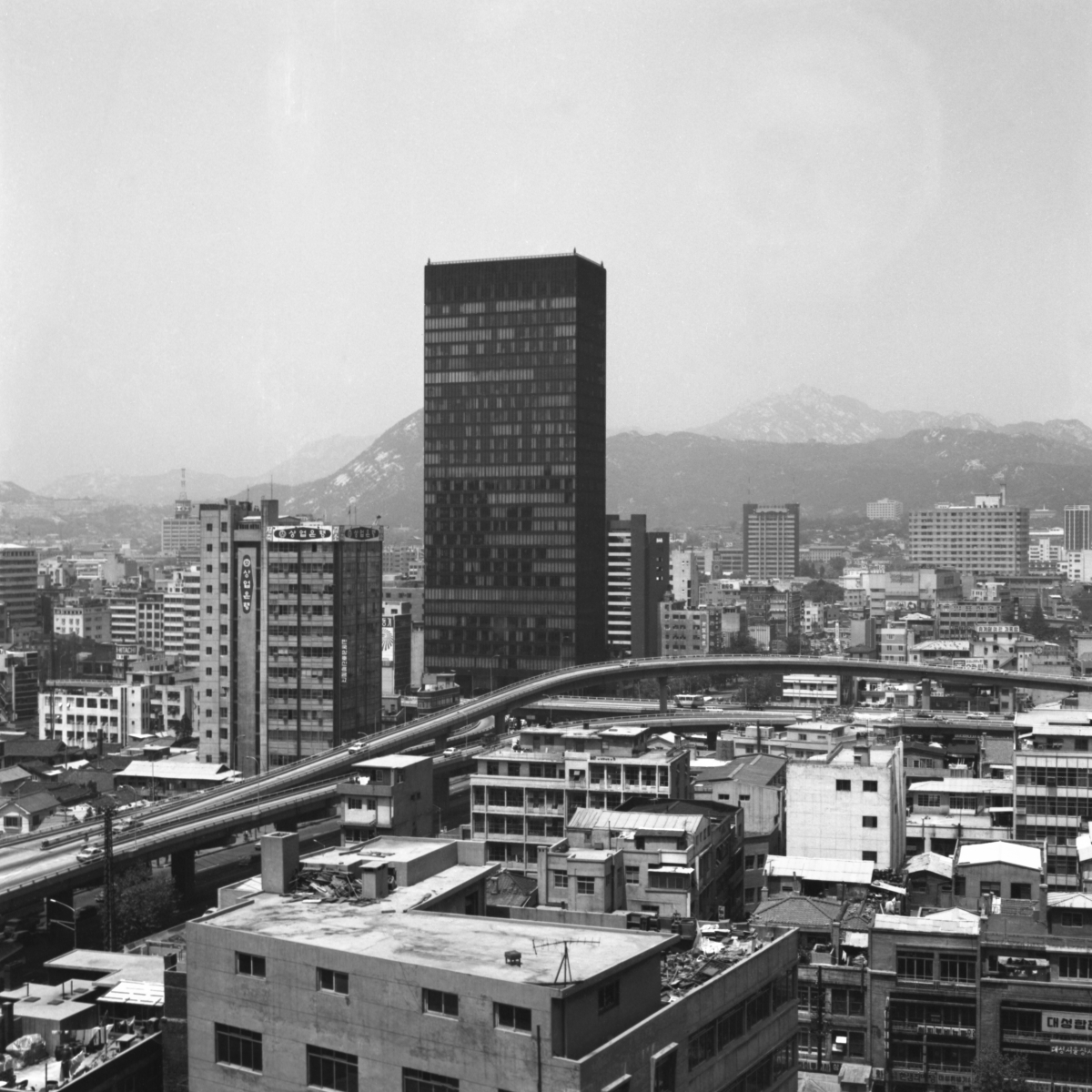 Photo of Samil Building, designed in 1969, photographed by Kim Hanyong, 1970s

On the other hand, 'City and Desire' reveals a departure in his work, which has been considered in terms of a formative aesthetics. Among his late works, Samil Building, Tokyu Hotel, Headquarters of Industrial Bank of Korea and Korea Rehabilitation Agency (now Anguk Building) there is a new focus on the urban conditions for social and technological development. This section also introduces designs for new facilities required in urban areas, such as obstetrics, a gynecology clinic and a shopping centre, as well as private houses. His notes on the city are on display too.
The last section, 'Memory and Regeneration' introduces works about memory and regeneration concerning his architecture, which are mostly over fifty-years old now. This includes the administrative building of Jeju University, which he himself mentioned with the hope of maintaining for a long time though it was demolished in 1996, and the YuYu Pharmac, Inc. in Anyang which is now novated as the Kimchungup Architecture Museum and Anyang Museum. In the case of the French embassy in Korea, which was extended and remodeled several times after it was built in 1962, the original design can be compared to the joint proposal of SATHY in France and the Mass Studies in Korea, which won a design competition in late 2016.
The exhibition is divided into four sections by themes to guide the exploration of various aspects of Kim Chung-up, but this doesn't force viewers to follow fixed sequence or provide clear classification of his works. For example, the French Embassy of Korea belongs to not only Globalism and Localism section as it realized Korean modernism but also Memory and Regeneration as it presents the issue of regeneration to us now, which corresponds to Chung Dahyoung's explanation; "We added various devices in order to enable visitors to look at his works walking around the images and​to think of his buildings in different contexts."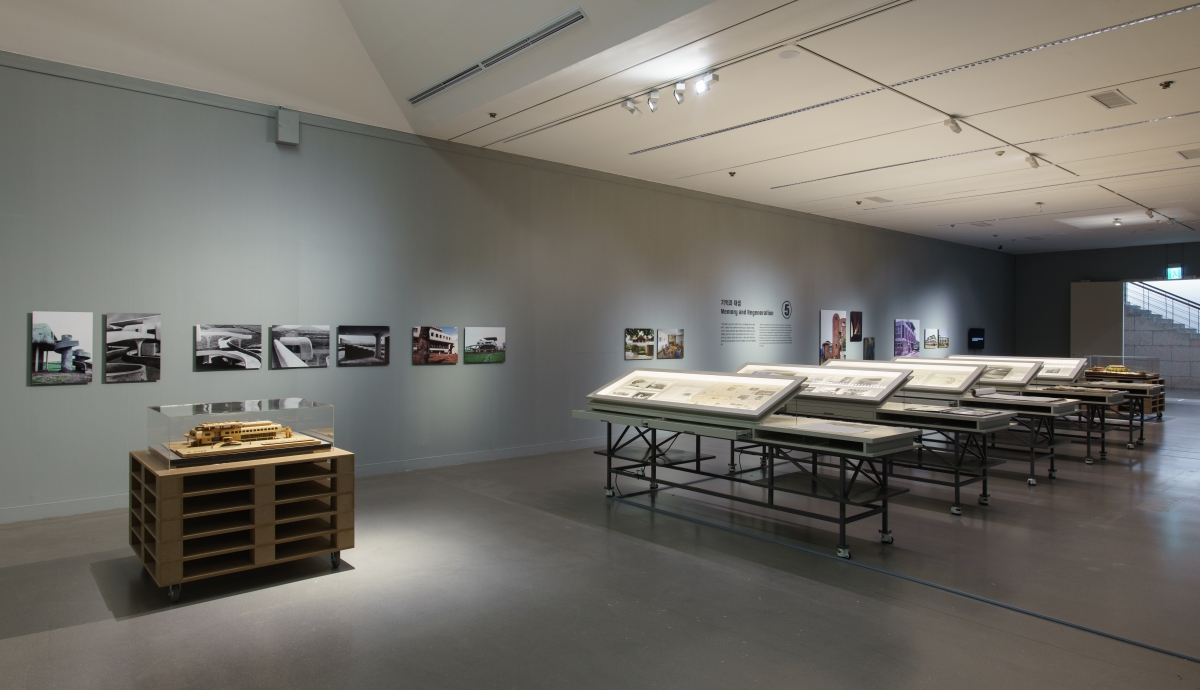 Potential as a Field of Kim Chung-up
In the chapter 'Archive' of her book Privacy and Publicity: Modern Architecture as Mass Media, Beatriz Colomina compares Adolf Loos, who destroyed all his traces, to Le Corbusier, who kept every trace of his works, pointing out 'All investigations of Loos have been marked by his removal of traces. All of the writing is in, on, and around the gaps', while on Le Corbusier,
'The immensity of the materials available makes research an endless process, and new traces, a way to look at them, and even the way that regards them as the traces for the first time always create a new interpretation that can replace old one'. Alhough this cannot be compared to the quantity and quality of the materials managed by the Le Corbusier Foundation, Chung Dahyoung (curator, MMCA) said that 'this exhibition and the role of Kimchungup Architecture Museum will change the historical status of Kim Chungup in ten years' time', hoping to make this exhibition a new foundation for research. Field trips visiting Kim Chung-up's major architectural works and curator talks are programmed and a separate companion book will be published by Youlhwadang Publishers in October, which will make a pair with The Lights and Shadows of an Architect, the only anthology published in his lifetime. A joint academic symposium with the Korean Society of Architectural History has been planned for November. It is hoped that the research field of Kim Chung-up, which is encompassed in this exhibition, will invite and call attention to the architect in a different way.
There is no doubt that a series of architectural exhibitions based on the archives of architects have expanded the horizons of historical research so far. Now, we may look forward to seeing architectural exhibitions designed with more detailed contexts based on accurate study.
​
---