SPACE September 2023 (No. 670)
The Seoul MARU Public Intervention (hereinafter Seoul MARU) is becoming a major pavilion competition in Korean architecture. This year, in its third edition, 42 proposals were submitted—more than double the number from the previous year when only 19 were accepted. What's causing this increase in participation? In this report, we explore what makes this project stand out compared to other pavilion projects. We'll also take a look at the five finalists that were presented at the final screening on the 10th of July, including the winner, ʻSikbang Maru'.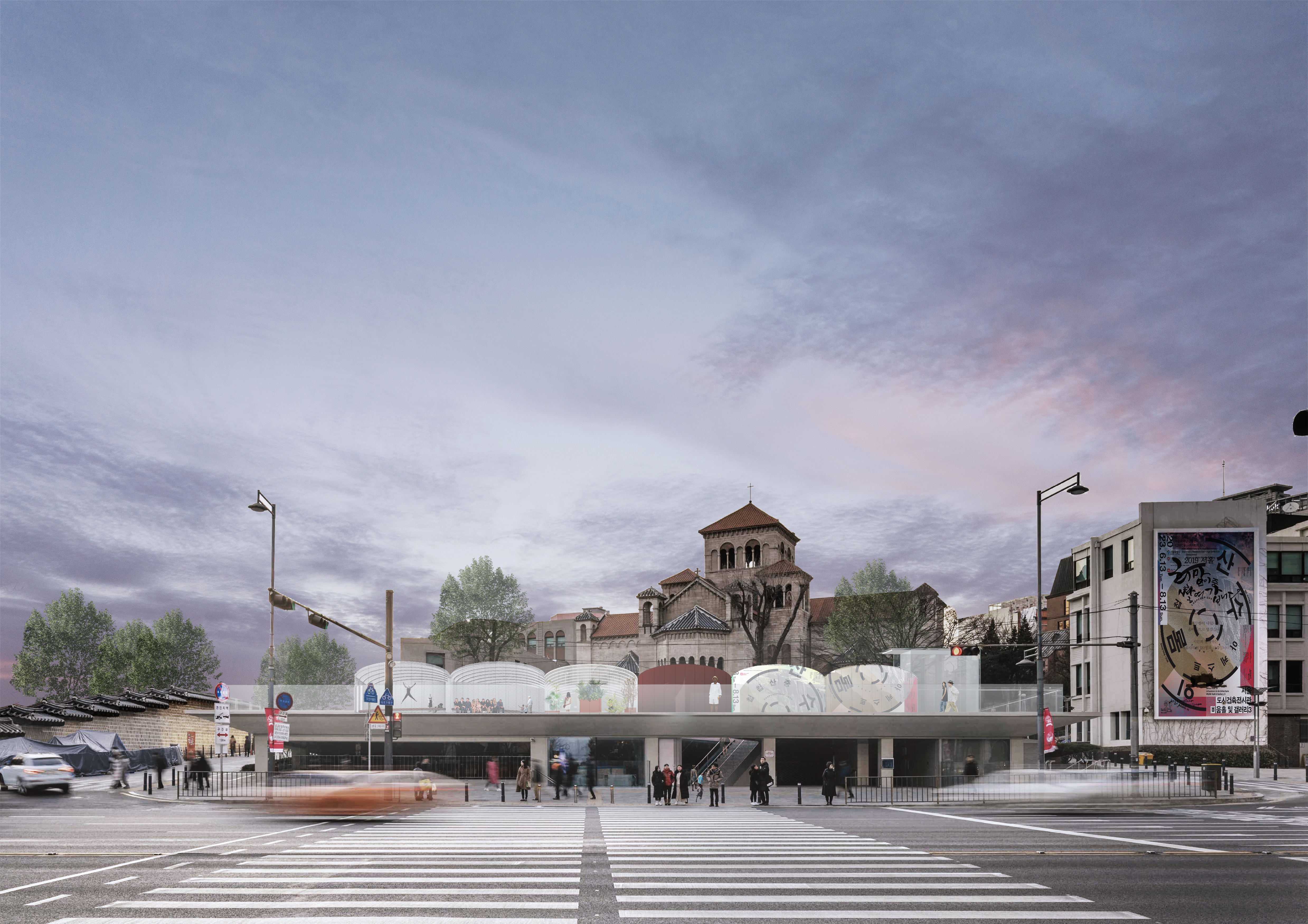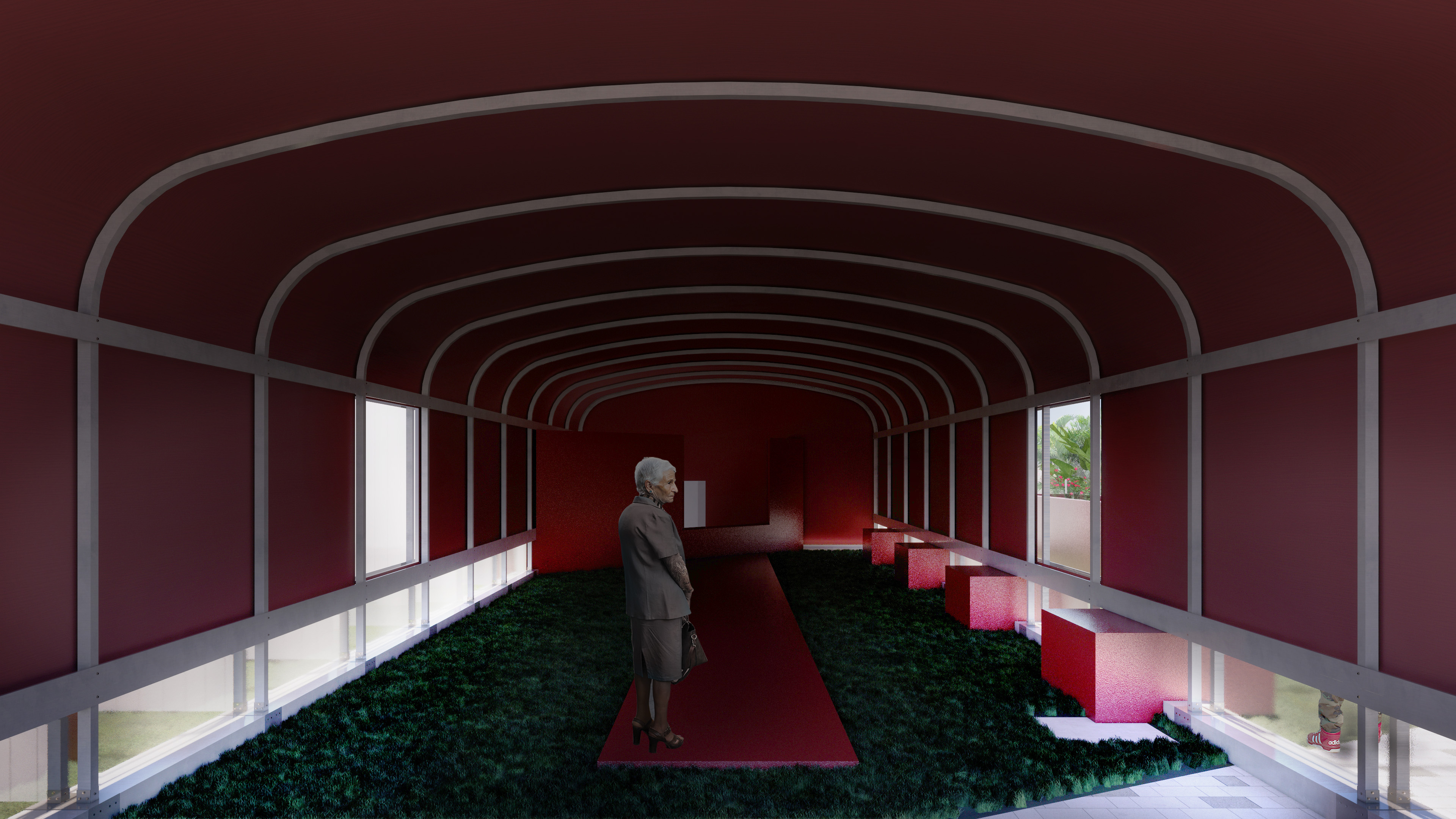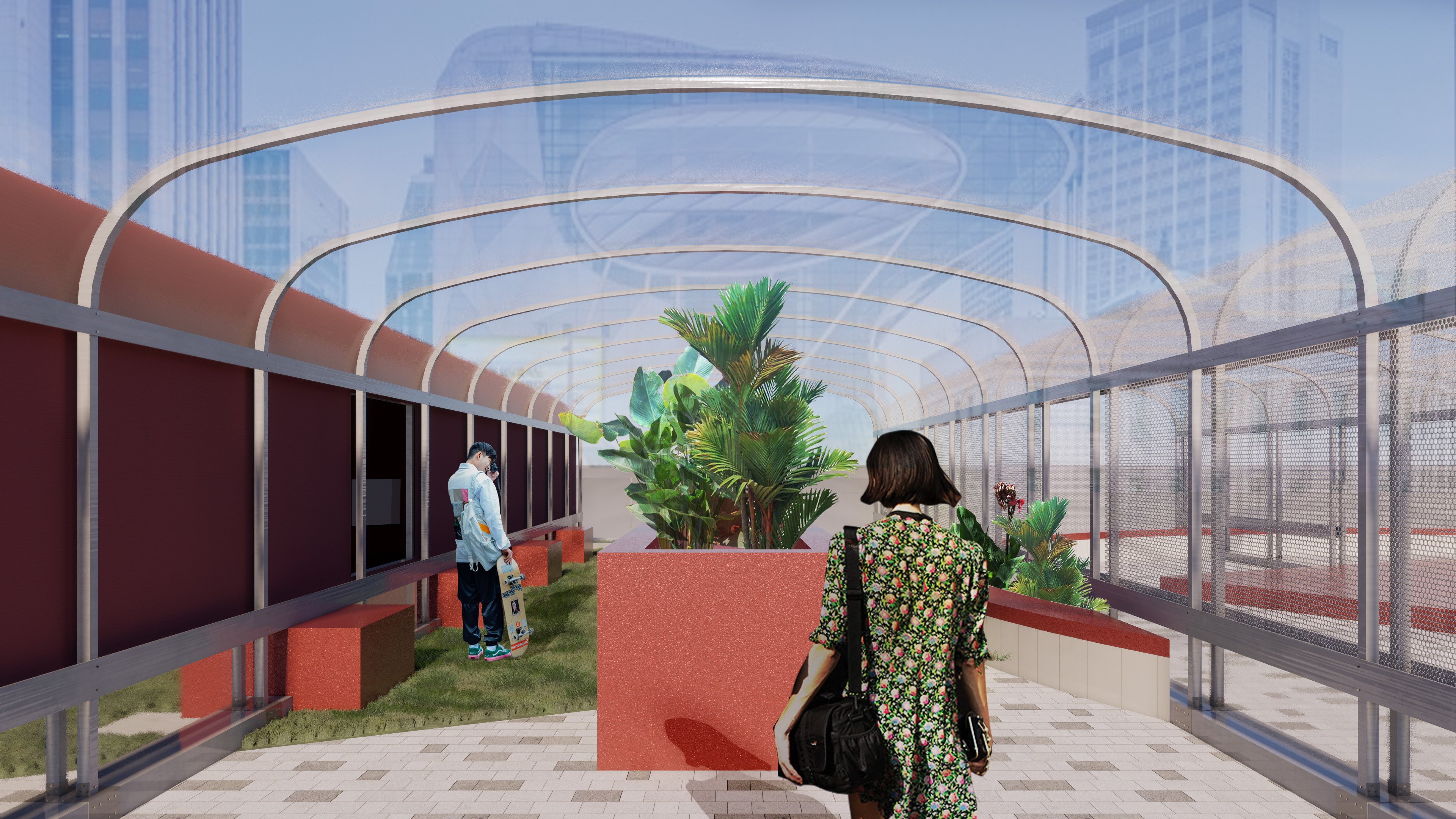 Rendering images of Sikbang Maru / Images courtesy of one-aftr​
Seoul MARU: Focusing on Urban and Architectural Innovation
The Seoul MARU 2021 began with the slogan 'Not a venue, not a pavilion'. Essentially, Seoul MARU asks one not to prescribe a specific venue or pavilion, but instead sought fresh ideas, a new urban perspective, and an innovative architectural interpretation that defied convention. This intention is also evident in the winning entry of 2021, the Seoul Urban Pinball Machine (hereinafter Pinball Machine) by Studio Heech (principal, Park Heechan). Studio Heech proposed a pinball game using the ramps of the site, transforming a small handheld game into a body-engaging urban-scale installation. This stands in contrast to other well-known pavilions both in Korea and abroad, such as the Serpentine Pavilion and the Young Architects Program (YAP) at the Museum of Modern and Contemporary Art, Korea (MMCA), which mainly serve the purpose of securing and providing shade. The winning entry in 2022, Seoul Daecheong by SGHS (co-principals, Kang Hyunseok, Kim Gunho, Lee Jongchul), differs from Pinball Machine in that it doesn't feature a shading structure. Interestingly, the 2021 competition guidelines initially required some provision of shade, similar to YAP, but this was later waived due to the unique approach of Pinball Machine, which offered a new way for citizens to experience the installation. By loosening unnecessary constraints, the architects opened up a realm for their creative ideas to flourish.
Another distinctive aspect of Seoul MARU is the site and the jury selections. Pavilion projects are typically situated within museums, with juries comprised of a blend of art and architecture experts. In contrast, the Seoul MARU takes place at the Seoul Hall of Urbanism & Architecture (Seoul HOUR), which spotlights cities and architecture. All jurors at the project's inception were architects. While Lee Jihoi (curator, MMCA) later joined the team, her diverse architectural background shines through, as she co-curated 'Before/After MASS STUDIES Does Architecture'. Cho Minsuk (jury, Seoul MARU 2021 – 2023, principal, MASS STUDIES) shared a thought during the 2021 jury panel: '(The YAP) was evaluated by individuals from both the architectural and art domains, resulting in a distinct separation of perspectives.' Therefore, the architectural inclinations of Seoul MARU's jury might indicate an intention to assess projects solely through an architectural lens. Additionally, the site, the Seoul HOUR, may have underpinned this inclination. In 2023, the Seoul MARU fully opened to the public. Just like YAP, which invited architects under 45 to submit their portfolios, the Seoul MARU followed a similar path. The reason it's a nomination competition is because of concerns about the completeness of the project, but this method has its limitations. Some architects were nominated multiple times in the limited four editions of YAP, and there was overlap between YAP and the Seoul MARU. Architects who had been nominated once were called again because their portfolios showcased their skills. However, this had a downside: having a strong portfolio increased the chances of participating in the pavilion project. In the case of Seoul MARU, during 2021, discussions were instigated about changing the competition method, and they tried an approach of mixing nomination and open call in 2022. This assessed the quality of proposals through an open competition. By 2023, the Seoul MARU was held exclusively through an open call. Notably, 'all' architects working in Korea were eligible, removing age and office establishment year restrictions. This highlighted an emphasis on generating urban and architectural ideas rather than solely discovering and supporting emerging architects. Then what ideas do the proposals this year have?
Five Concepts Highlighting the Architect's Role, Perspectives, and Approaches to the Subject
The Seoul MARU is at 'Seoul MARU', situated atop the Seoul HOUR's sloping rooftop. This location is encircled by cultural landmarks such as Deoksugung Palace, Gyeonghuigung Palace, Sungnyemun Gate, as well as Seoul Anglican Church, Seoul Metropolitan Council, Seoul City Hall, and Chungdong Church. Facing Sejongdaero Street, a bustling avenue stretching from Gwanghwamun Gate intersection to Seoul Station intersection, it stands as a pivotal site for public engagement in Seoul. With a budget of 120 million KRW, encompassing design and labour expenses, the crafting of a practical proposal within this budget is crucial.
Firstly, the proposal titled ʻNon_Place' posed the fundamental question of whether public spaces truly belong to everyone. Created by SUPA Song Schweitzer (co-principals, Ryul Song, Christian Schweitzer), Non_ Place encapsulates three core themes including a mobile bathing service catering to the homeless, waste paper purchase for elderly scavengers, and a civic participation plaza envisioned through 'protest wall' and 'no access' installations. Its essence lies in crafting a space within 'Seoul MARU' linked to Gwanghwamun Square that not only showcases the protest culture but establishes a public arena in which seniors and homeless individuals can engage with confidence. The proposal ingeniously addresses budget constraints and waste management through the rental of mobile bathing service trucks, movable marquee tents and mobile safety enclosures— all strategically positioned. SUPA Song Schweitzer raises a crucial question: Is architecture increasingly becoming insular, self-indulgent, and exclusive? And they redefine architecture as not solely architectural design but as social design, underscoring its role in shaping a more socially conscious environment.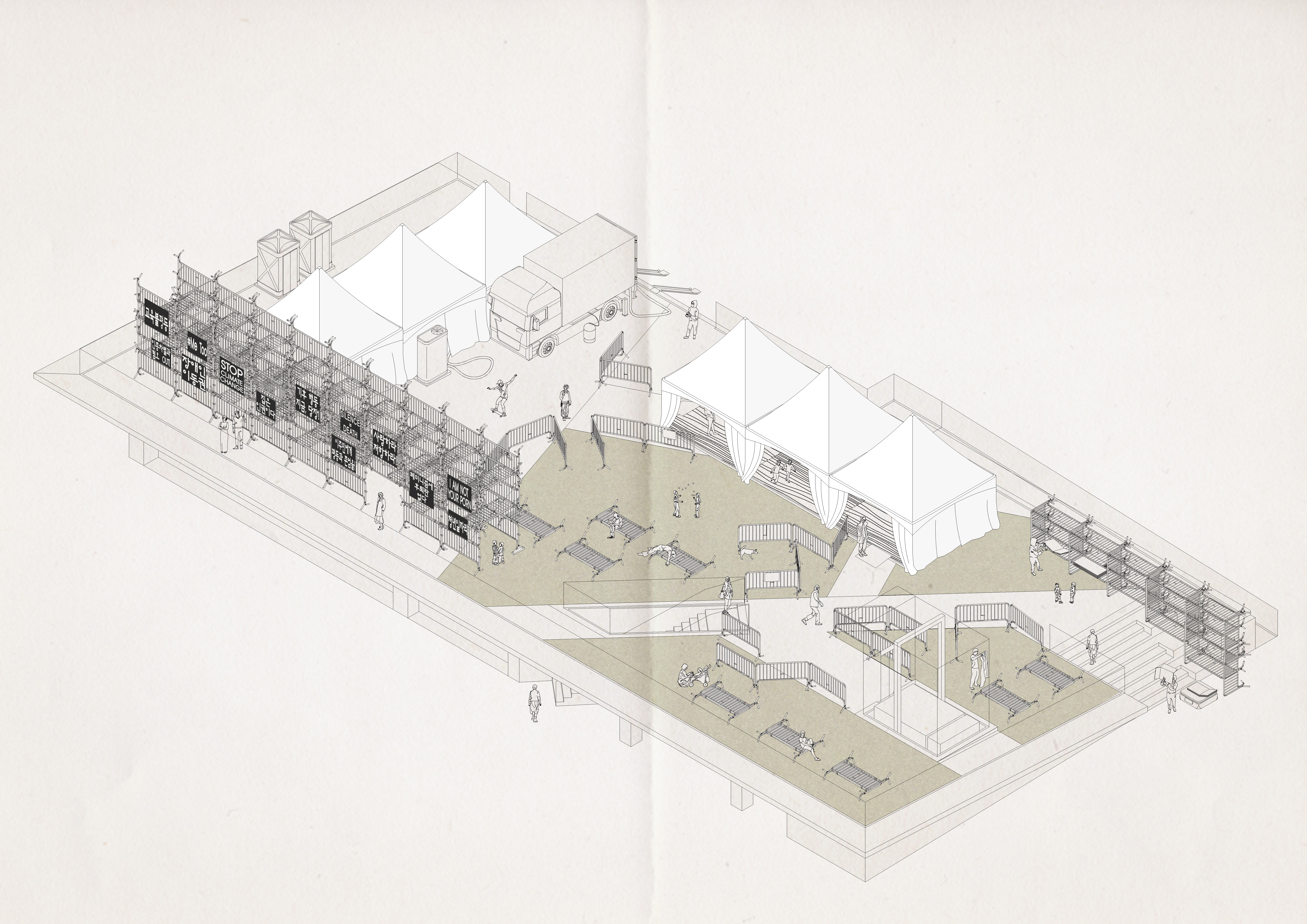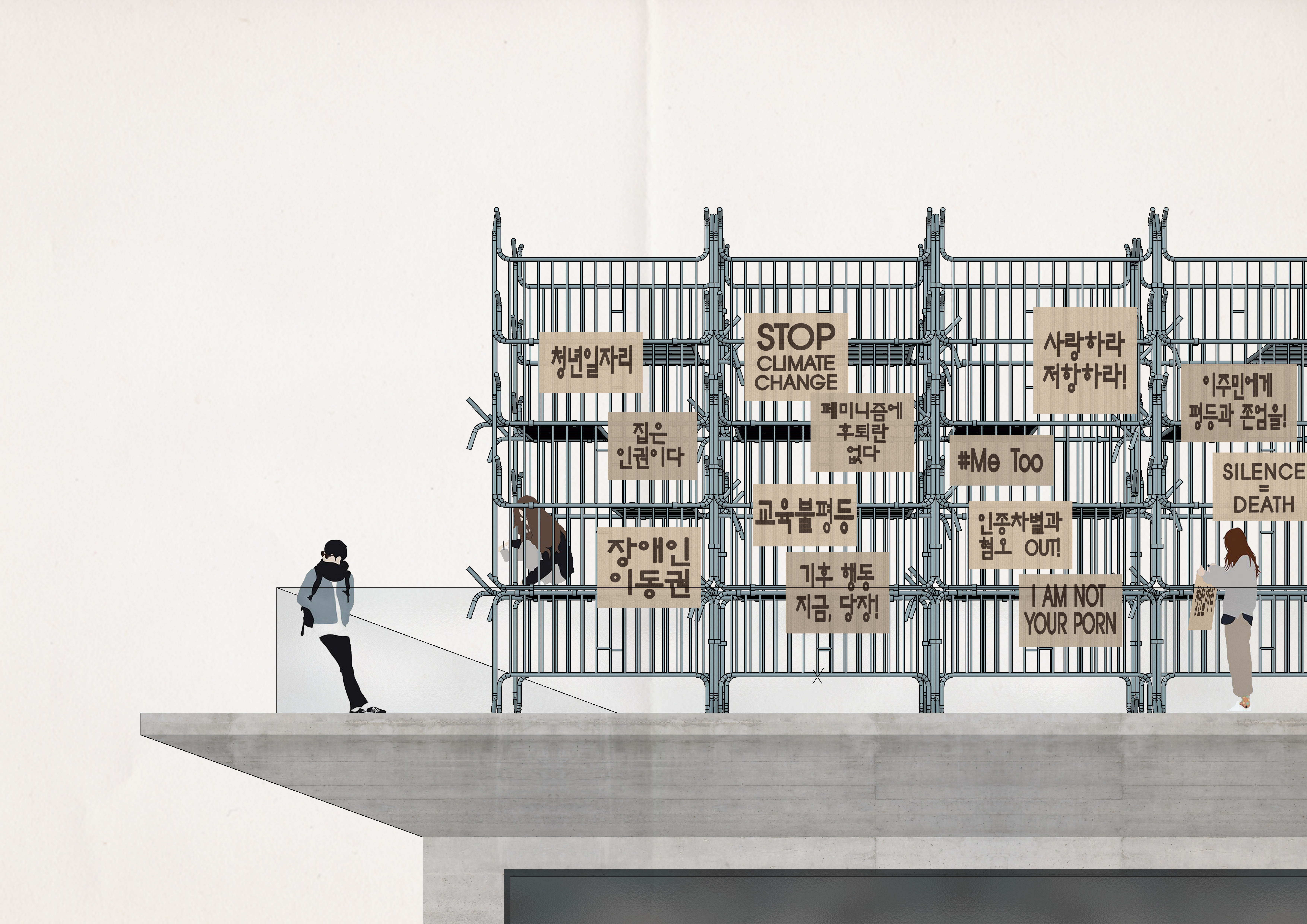 Rendering images of Non_Place / ​Images courtesy of SUPA Song Schweitzer
ʻ(Really)Green Roof' and ʻWallflower' stood out for their interpretation of the site. (Really)Green Roof by HYPERSPANDREL (principal, Chon Jaewoo) embarks on a fresh perspective regarding rooftops, viewing them as an elevated expanse removed from the ground's utility. In Korea, green waterproof paint adorns rooftops, serving as spaces to dry chili peppers and hang laundry. HYPERSPANDREL ingeniously transforms this green waterproof paint into a distinctive feature of the 'K-roof' design. They propose new urban behaviours rooted in this rooftop's identity as an urban workshop. Based on this strategy, invited artists, creators, and citizens converge to craft original works within a 30×15m green outdoor chroma key area. This approach reframes citizens, specifically 'selfiers' as active urban participants who generate the city's fabric, shifting them from mere observers to engaged creators. Wallflower by Studio studio (principal, Do Gwanghun), stemmed from the concept of revealing what endures when enveloping surroundings. The core notion rests on the premise that the site inherently boasts a substantial public context, inherently endowing any pavilion with a publicfacing intention. Wallflower adopts a pragmatic approach, enclosing its sides and upper section with slats while leaving its centre open to the sky. This design employs standardised rectangular slats to accommodate a modest budget. Positioned in a circular arrangement on the inclined terrain, the plates generate a natural gaps in the sides, ultimately shaping the artwork's identity. The circular structure, inclined posture, and the openings that offer glimpses of the cityscape are often described as having a poetic quality.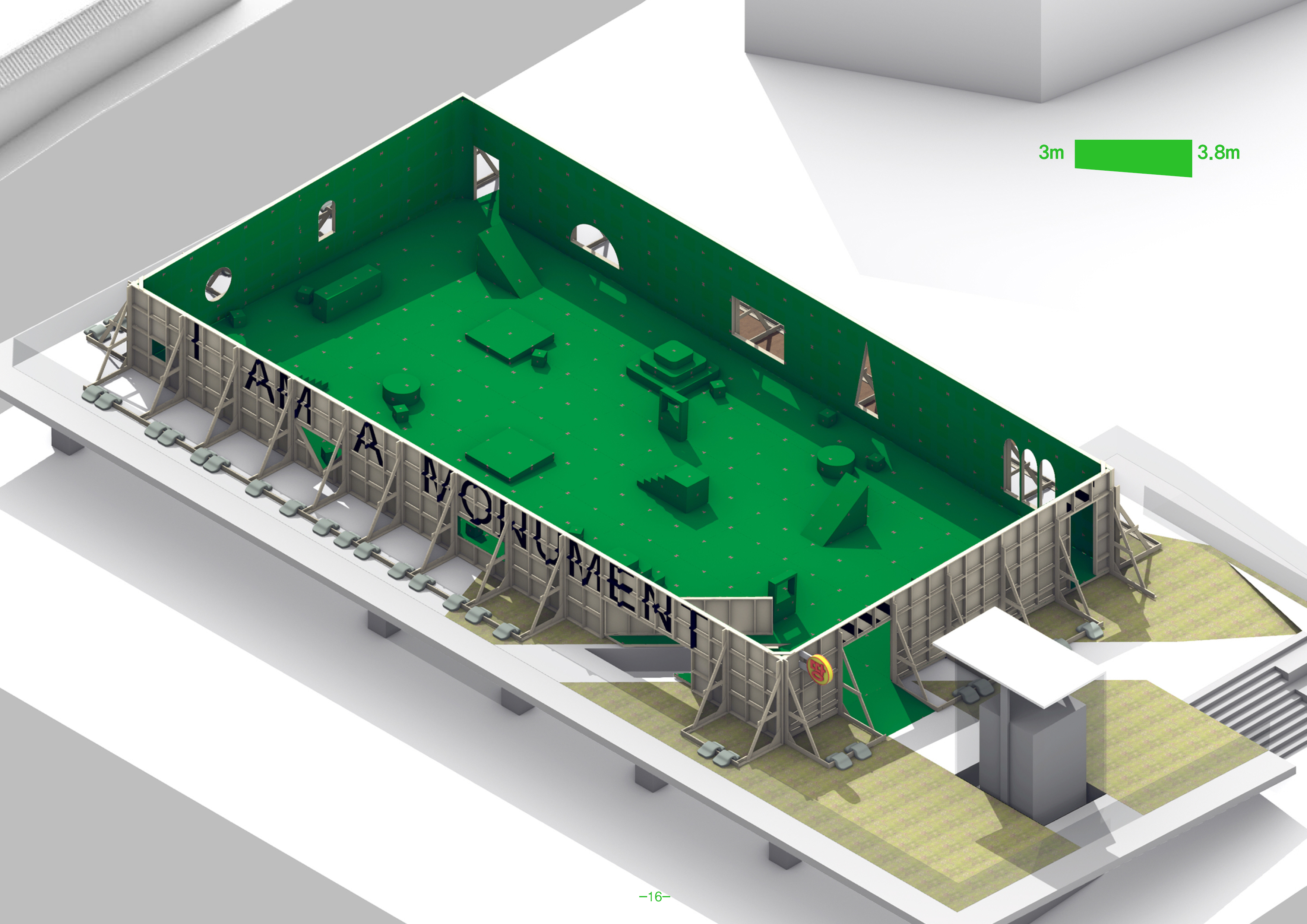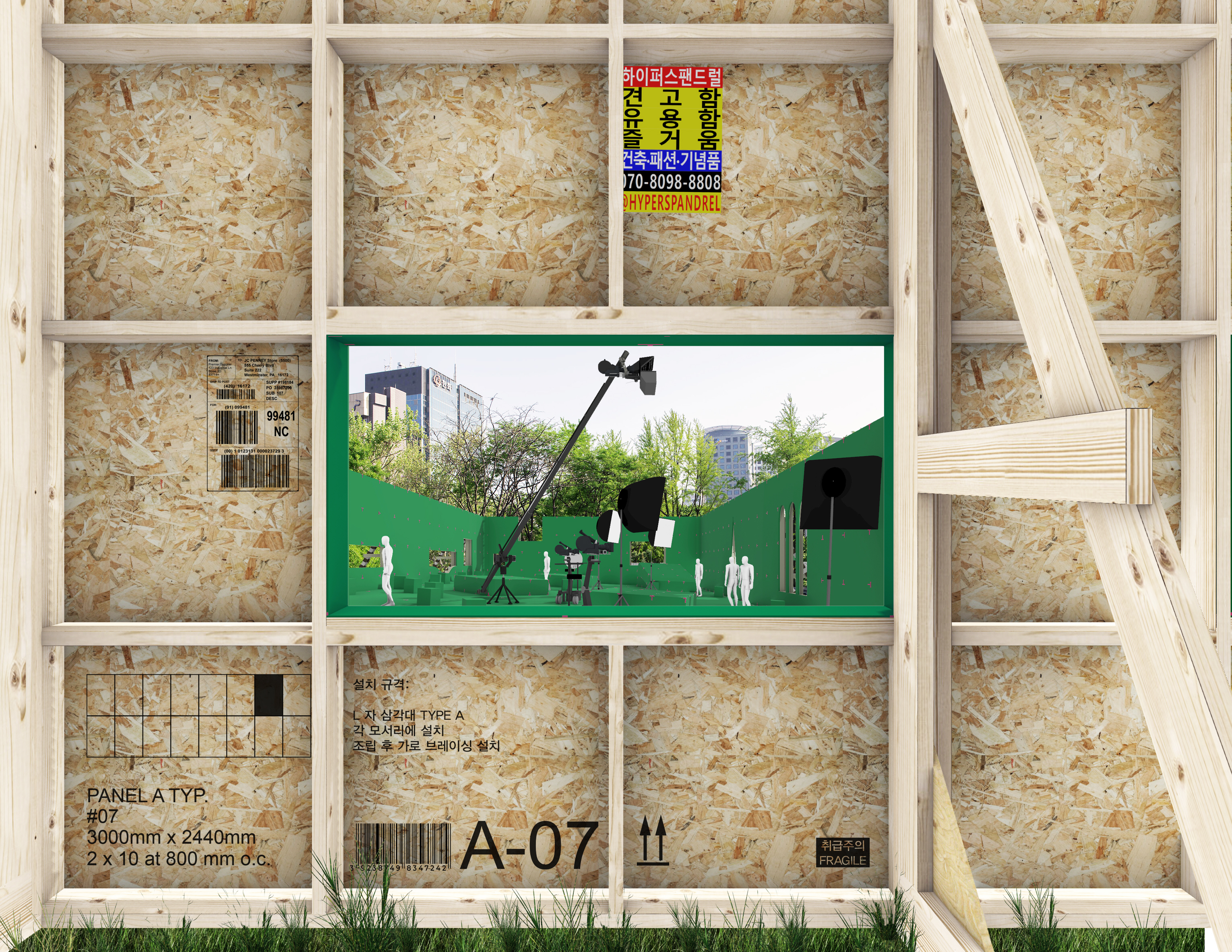 Rendering images of (Really)Green Roof / Images courtesy of HYPERSPANDREL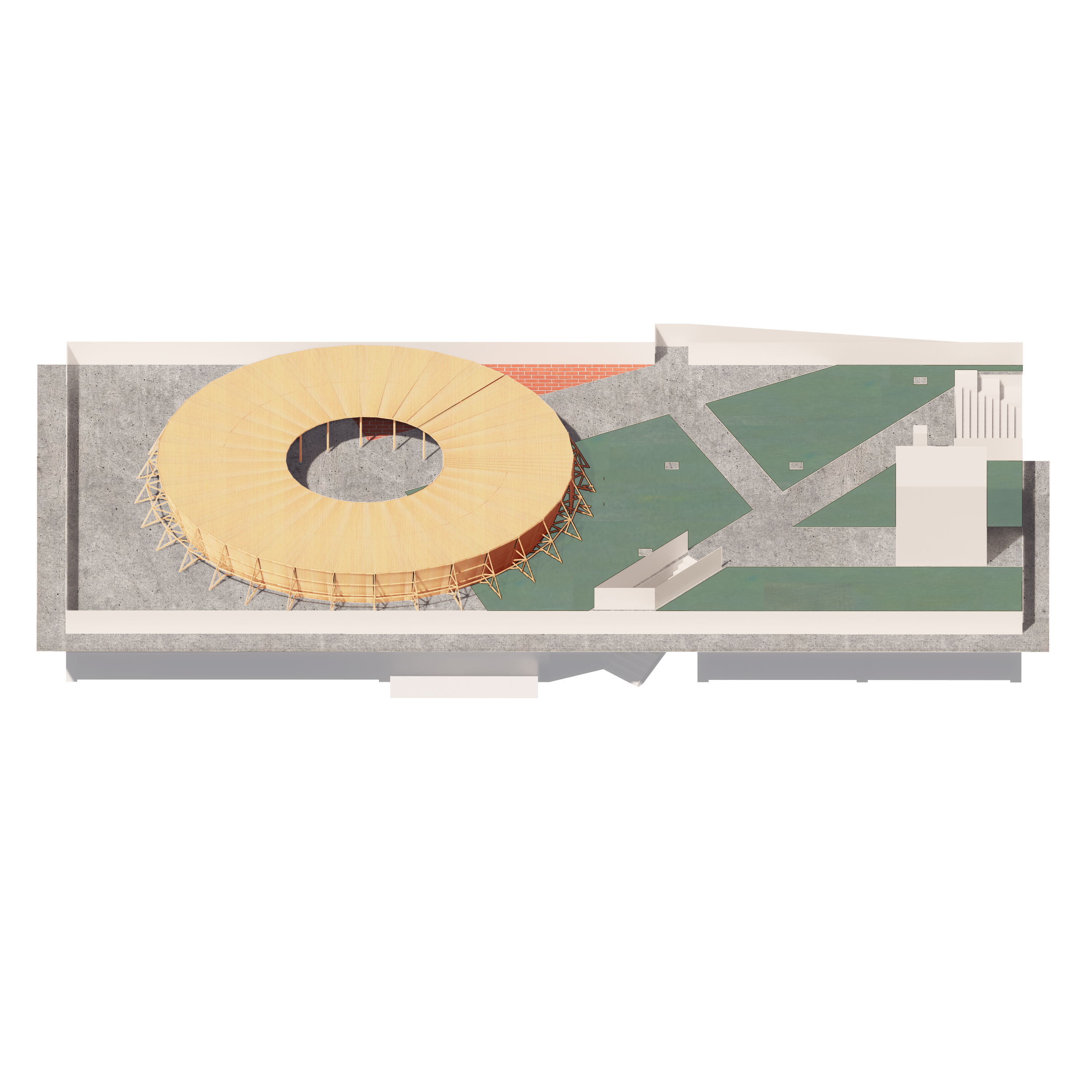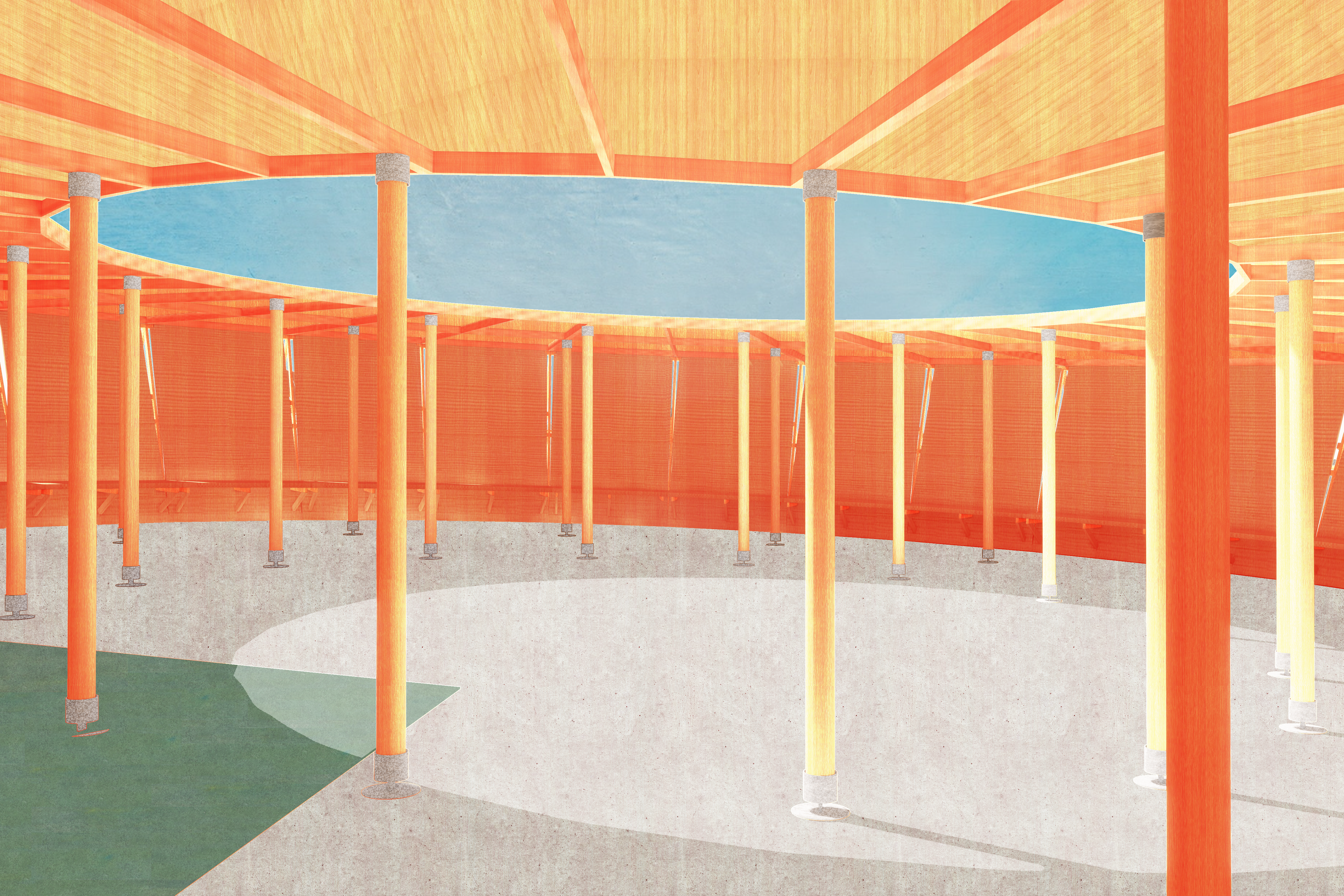 Rendering images of Wallflower / Images courtesy of Studio studio​
Both ʻOur Place in Breeze' and Sikbang Maru pay attention to natural environment. Our Place in Breeze by architectural/practice (principal, Heo Sungbum) was designed to enable one to feel the breeze and follows the principles of convection. The idea is to create an empty space in the south and provide shade under cassia trees in the north, allowing hot air to rise in the south and cooler air to sink in the north, with an earthen wall in between that acts as an opening to let the cool breeze pass through. Cassia trees were sourced through collaboration with a botanical garden. Additionally, after the installation period concluded, other plants and flowers were made available to citizens for taking, provided they brought their own containers. This approach effectively minimised waste. From the direction of Seoul City Hall, Our Place in Breeze was not well recognised because it blends in with the surrounding city and natural environment. It intended to connect with the original landscape of the Seoul HOUR. Sikbang Maru by one-aftr (co-principals, Ryu Ahn, Joon Ma) uses the greenhouse as its design motif. Architecture has traditionally served as an environment in which people, animals, and plants live while responding to their natural environment, and the greenhouse is one such example. Each bay measures 5×12m and has nine arch frames, and is covered with materials of different permeabilities, transparencies, and porosities to create an appropriate environment across the four zones: hall, greenhouse, meditation room, and lobby. The largest hall is made up of three bays, with a fabric mesh-like white shade to let the wind in while modulating the light. Events that can accommodate large numbers of people, such as street concerts and performances, can be held here. In addition, the greenhouse will be covered with coated vinyl, the meditation room with a tarp, and the lobby with parasol lights to create an environment suitable for each programme.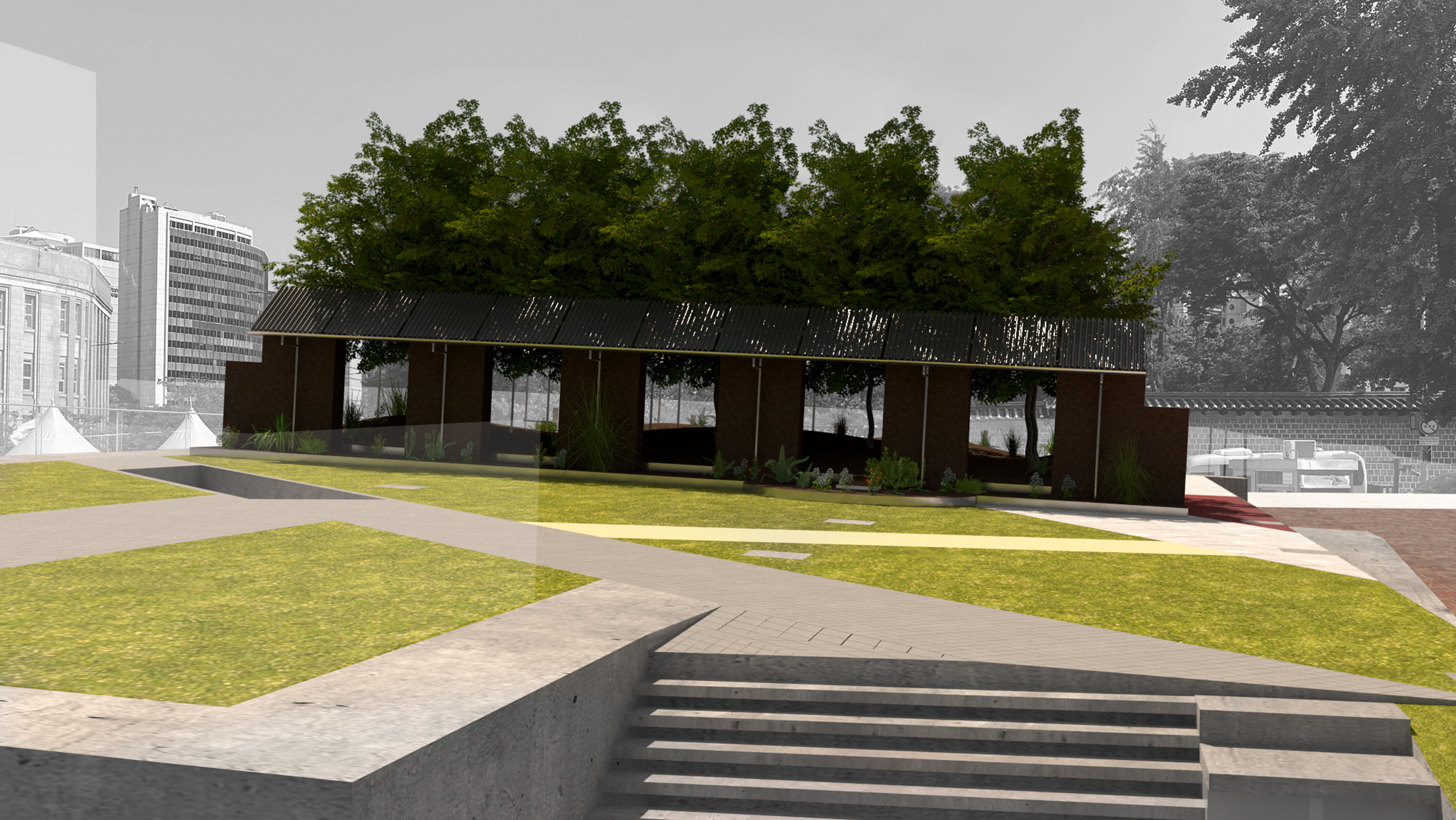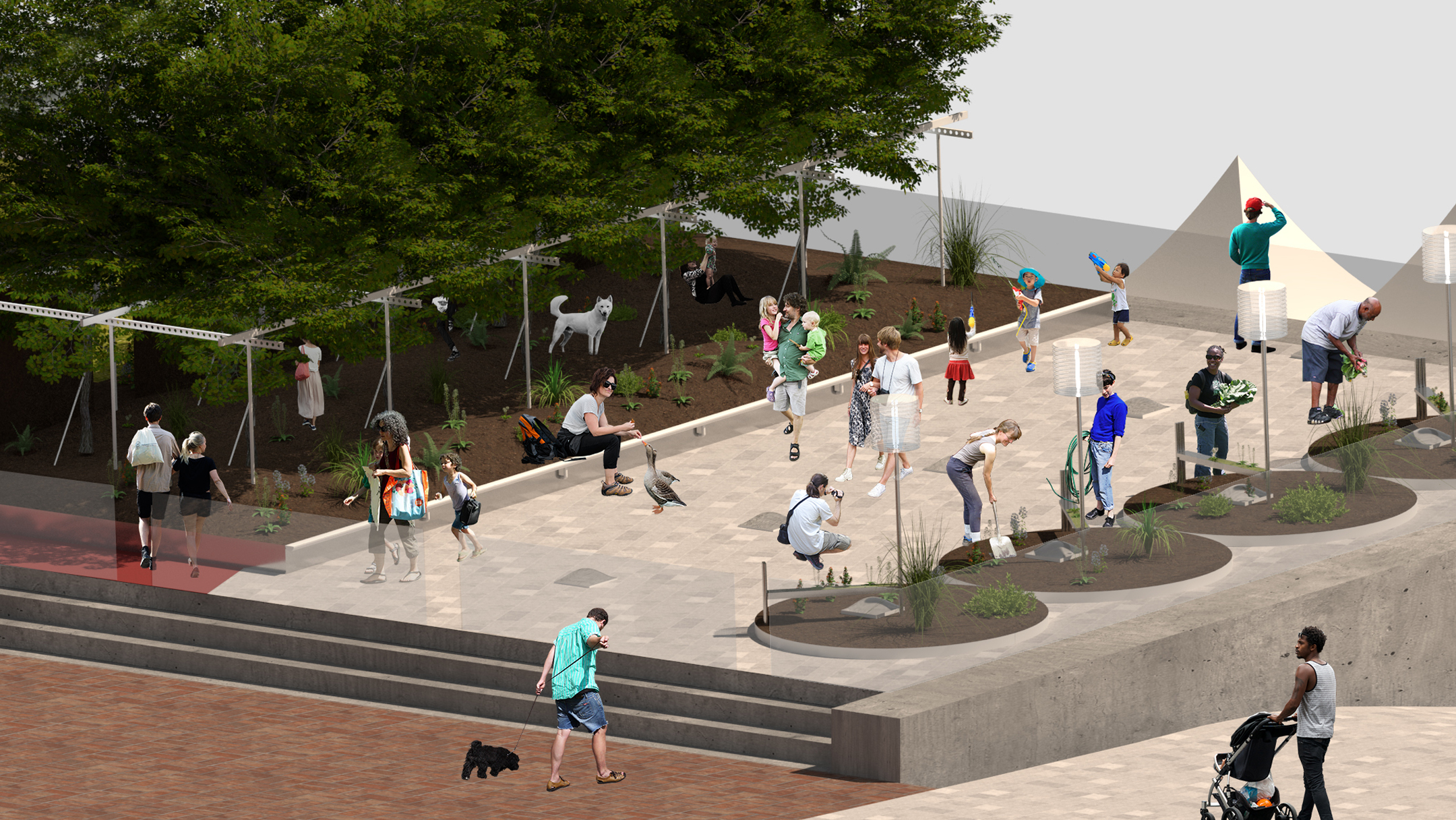 Rendering images of Our Place in Breeze / Images courtesy of architectural/practice​
In architecture, as in other fields, sustainability has long been a key topic of discussion due to the pressing nature of the climate crisis, and waste has been a focus of discussion, especially when it comes to pavilions, which are temporary structures that are removed after a certain period of time. In response, Pinball Machine was designed to be easily dismantled and reinstalled, everythingfrom its steel frame to its UHPC top, and was actually reinstalled on the slopes of a ridge in Songchoo Structure Park. Seoul Daecheong has not yet been reused, but was planned as 126 detachable units, each with a height of 75cm, similar to a desk. As such, it can be used as a desk or a seat, or each unit can be recombined to suit the characteristics of a different space. Sikbang Maru, the winner of the 2023 competition, is also a modular structure, which means that it can be used as a greenhouse for farmers or in other spaces such as schools, as long as the covering material is replaced after the installation period. The Seoul MARU continues to broaden our discussions of urban and architectural ideas as each winning entry points to the problem of pavilion projects generating waste and actively sought out its own solutions.
You can see more information on the SPACE No. 670 (September 2023).​ ​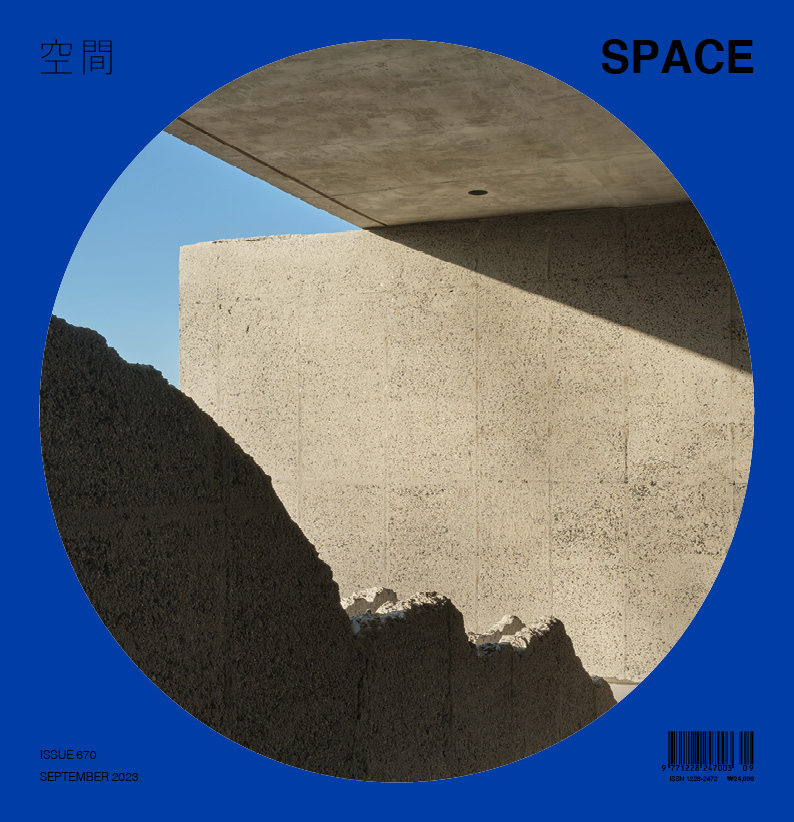 ---