SPACE
May 2023 (No. 666)
Phenomenon 1. Becoming the Purpose of the Visit
Phenomenon 2. Connecting Residents and Communities
Phenomenon 3. Weaving an Experience
In an era in which we find the word 'experience' attached to everything from our economy, consumption, design, and marketing, the cafés of today are asked to provide something more innovative, more unique, more detailed, and more beautiful than the usual experience of drinking coffee. This is particularly true if we are referring to a city context in which we see myriad cafés daily crowded with people, many of whom can only afford the limited time in their busy schedules to nip to a café instead of escaping the city altogether. In light of this, what is the role of the architect? As a collaborator with Blue Bottle Coffee which is currently expanding its services with branches in various international cities, Nagasaka Jo (principal, Schemata Architects) is responsible for devising the spatial experience of the brand. Likewise, THE FIRST PENGUIN, Fabrikr, COM, and nendo are design studios that are sculpting unique café experiences within the city not only via architectural features but also through various tools such as planning, branding, furniture, and art. In Phenomenon 3, reaching beyond the architect's framework, we will listen to the stories behind these cafés and come to understand their own special means of survival in the city.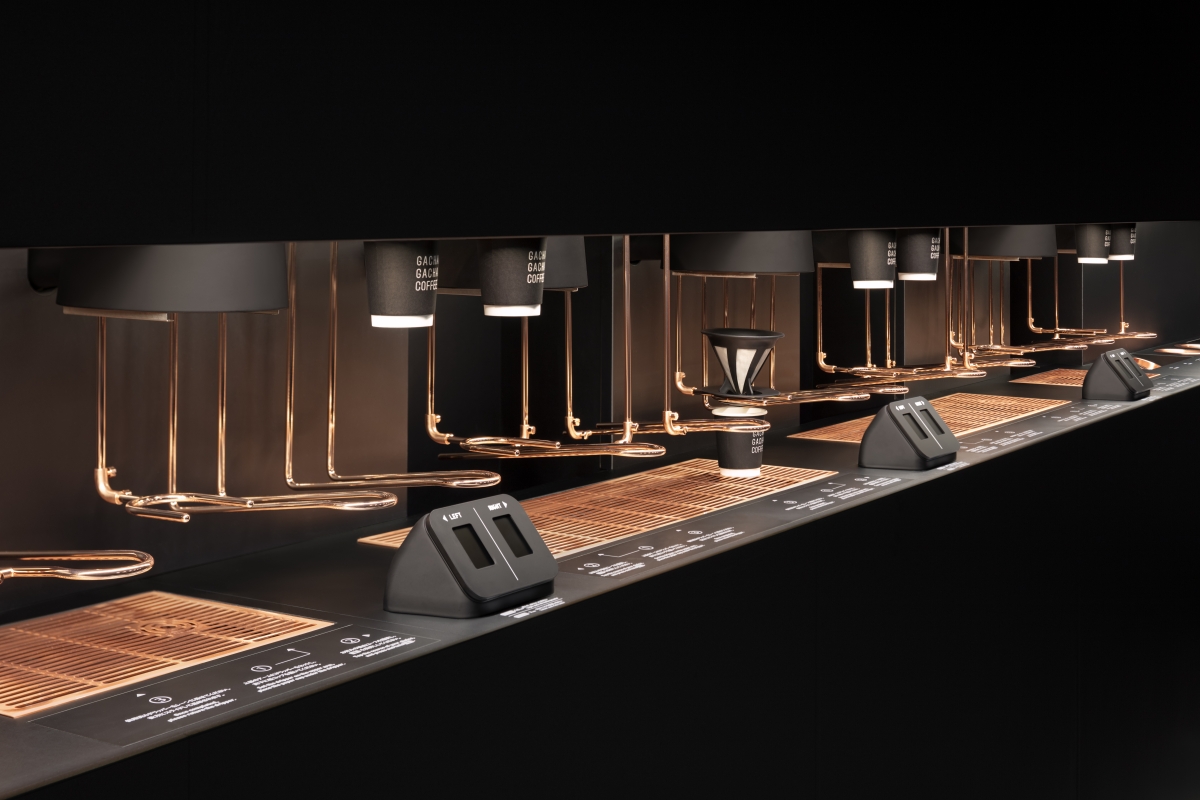 ​
Conditions, Powering the New: nendo

interview nendo × Youn Yaelim
​
Youn Yaelim (Youn): Gacha Gacha Coffee (2019) was a temporary pop-up café that opened in 2019 and received a lot of attention. With its automated technology, Gacha Gacha Coffee gives full rein in terms of bean selection, grinding, and drip method to the customer. Compared to other cafés, it has a unique operation method.
nendo: In Japan, the rise of specialty coffee chains and the third-wave coffee roasters as well as the spread of convenience store coffee is diversifying the coffee choices and how they are enjoyed more than ever before, making coffee an indispensable part of our lives. In the midst of this trend, many coffee shop chains and cafés are facing serious labor shortage caused by a declining birth rate. On top of the current condition of not being able to secure man power, employees are expected to have a deep understanding of coffee and possess customer service skills, in addition to having to conduct basic operations such as operating the cash register, cooking, serving and cleaning. Despite all of this, in many cases, the training time and the cost invested in personnel is not sufficient, resulting in the decline of service quality, and eventually leading to customer dissatisfaction. To provide a comfortable and peaceful time for both the customers and the employees, we decided to focuse on the time that it takes for a coffee to get brewed and handed over to the customer.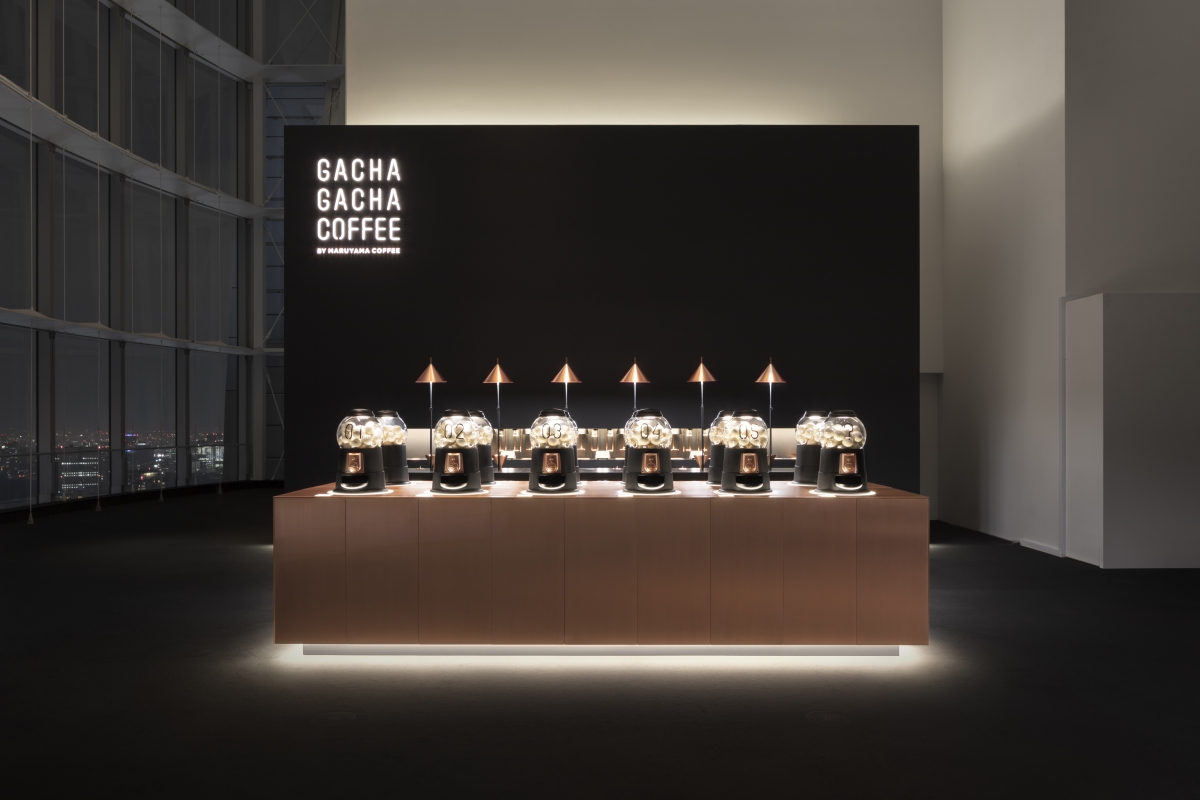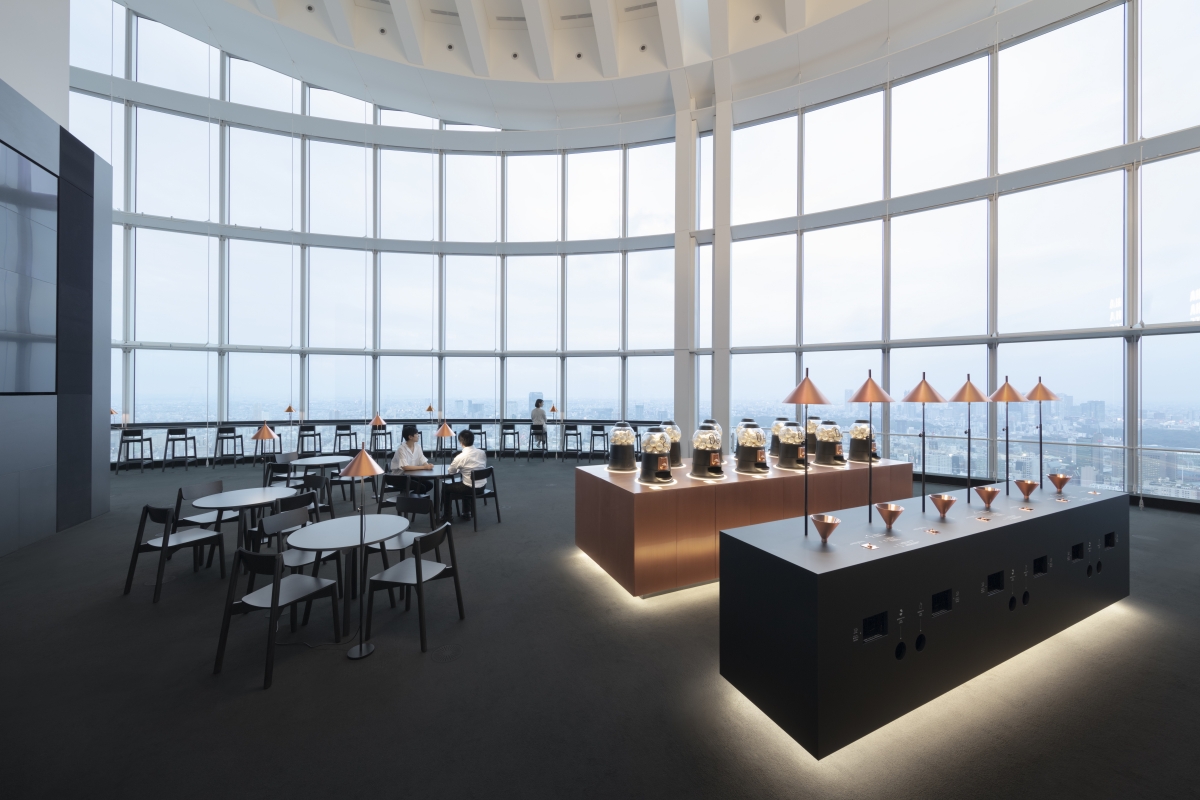 Gacha Gacha Coffee​
Youn: How do they each Gacha Gacha Coffee's space, technology, and people each receive the customers?
nendo: At Gacha Gacha Coffee, customers serve themselves using automated technology. Instead of taking orders and making coffee, the staff focuses on communicating with the customer. Although it was possible to create an unmanned store that takes full use of technology in order to solve this problem, the café was designed as a self- service type that embodies analogue elements to create a pleasant surprise and offer customers a new experience. We just made sure that the space layout and signage are clearly arranged to prevent any inconvenience in usage. Many customers have experienced a new way to enjoy coffee that cannot be found in other cafes, which includes not only tasting various types of coffee beans but also enjoying the aroma of freshly ground beans and even making their own coffee. The excitement of purchasing through a 'gacha machine' remains unchanged even as an adult, and it seemed like they were able to enjoy the aroma and taste of coffee while recalling their childhood memories.
Youn: What do you think are some ways to provide a unique and differentiated experience for visitors to a café using architectural elements?
nendo: As they occupy the same café space, people are forced into indirect contact with one another. It means café has to adjust the distance and line of sight with an approach regarding space and psychology. Talking about % ARABICA Kuwait (2019), it was important to consider the avoidance of direct eye contact between men and women due to its location in an Islamic cultural region. Taking into consideration the 4m ceiling height and the location of the property on a corner with a wide window opening, the space was designed as a layered platform gradually rising from the seating area near the entrance to the counter at the top. This structure allows for a clear line of sight from any seat in the shop as well as a full view from the exterior to the occurring inside. Although an open field of view was an important element of the design, in order to respect Islamic custom which advise women to avoid men's attention, the bench was designed with a curve to reduce unwanted eye contact. With this configuration, a line of people waiting for their coffee will not disturb the people sitting at their tables, while at the same time the staff at the counter have an overall view of the whole store.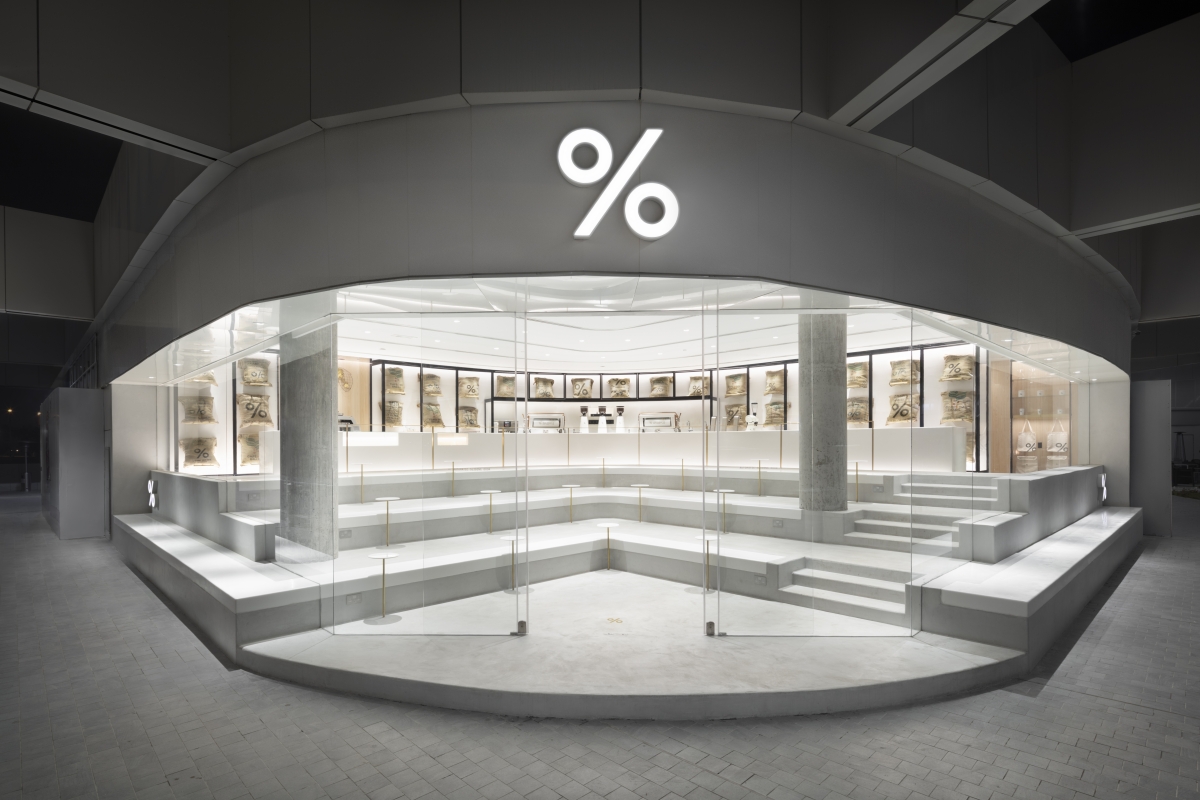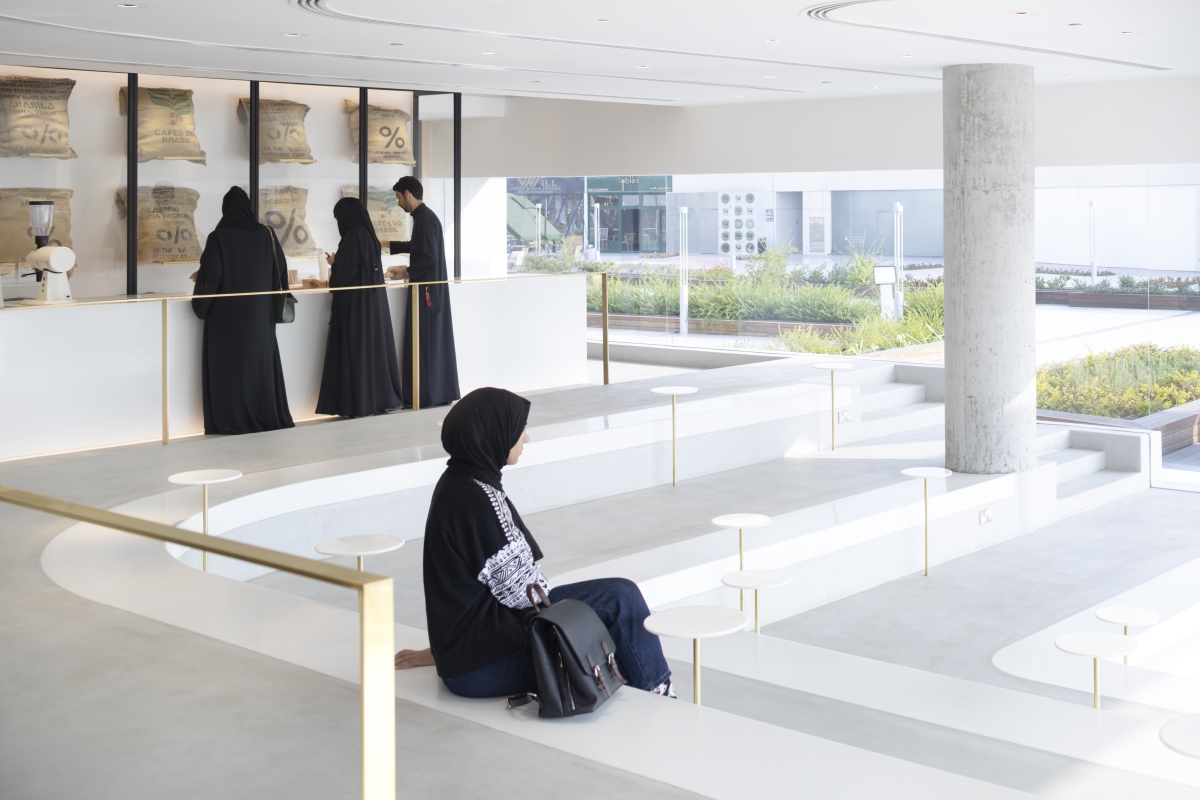 % ARABICA Kuwait​
You can see more information on the SPACE No. 666 (May 2023).
​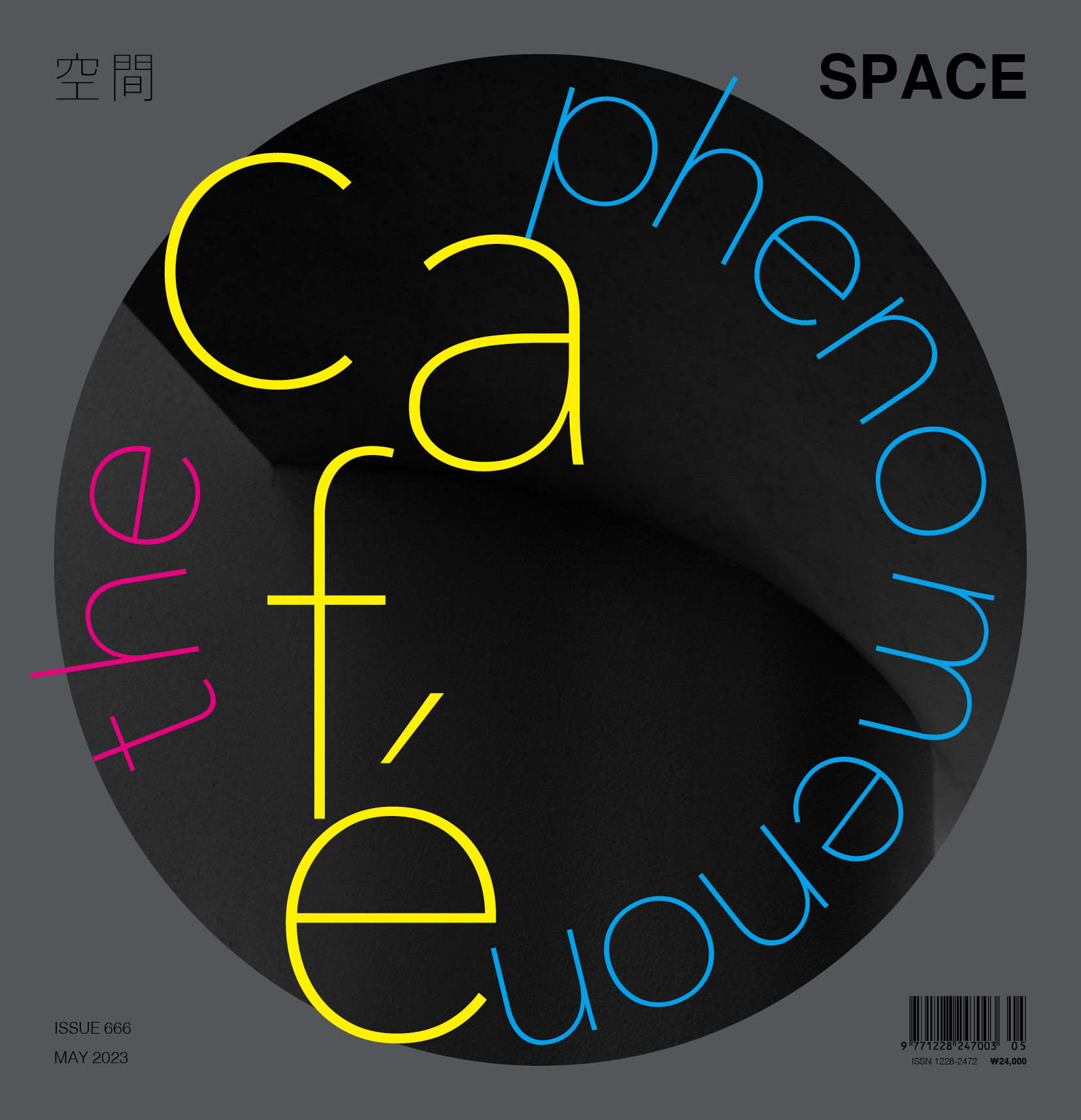 ---
nendo was established by architect and designer Sato Oki in 2002. Based in Tokyo and Milan, nendo's work spans architecture, interiors, products and graphic design, and has won numerous international design award. Works by nendo can be found in the collections of museums around the world, including the Museum of Modern Art in New York, Centre Georges Pompidou in Paris and the V&A in UK. nendo is currently working on the design of the new TGV high-speed train for the 2024 Olympic Games in Paris, and is also responsible for the overall production and design of the Japanese Pavilion at the Osaka-Kansai Expo to be held in 2025.