SPACE May 2023 (No. 666)
Phenomenon 1. Becoming the Purpose of the Visit
Phenomenon 2. Connecting Residents and Communities
Phenomenon 3. Weaving an Experience
In an era in which we find the word 'experience' attached to everything from our economy, consumption, design, and marketing, the cafés of today are asked to provide something more innovative, more unique, more detailed, and more beautiful than the usual experience of drinking coffee. This is particularly true if we are referring to a city context in which we see myriad cafés daily crowded with people, many of whom can only afford the limited time in their busy schedules to nip to a café instead of escaping the city altogether. In light of this, what is the role of the architect? As a collaborator with Blue Bottle Coffee which is currently expanding its services with branches in various international cities, Nagasaka Jo (principal, Schemata Architects) is responsible for devising the spatial experience of the brand. Likewise, THE FIRST PENGUIN, Fabrikr, COM, and nendo are design studios that are sculpting unique café experiences within the city not only via architectural features but also through various tools such as planning, branding, furniture, and art. In Phenomenon 3, reaching beyond the architect's framework, we will listen to the stories behind these cafés and come to understand their own special means of survival in the city.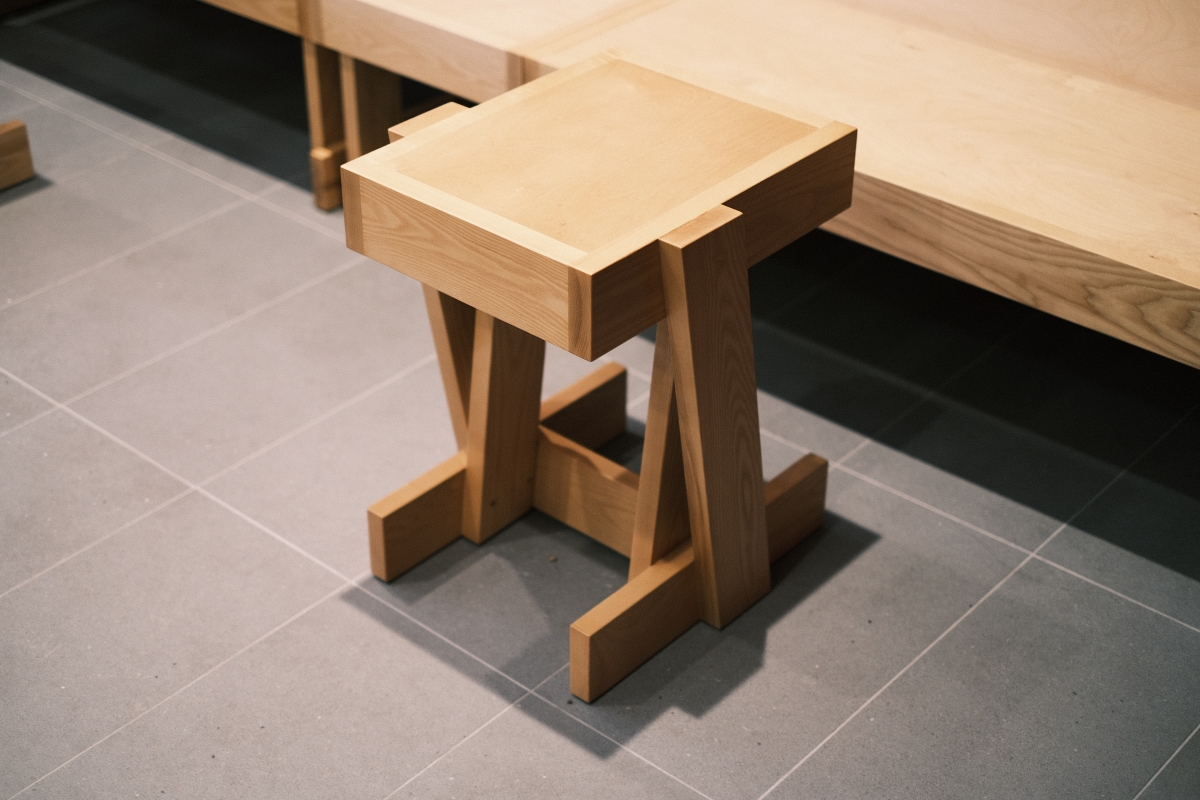 Felt Coffee Cheonggyecheon​_ⓒCOM
Furniture, Tracing Where Space Begins and Ends: COM
Interview Kim Sejoong, Han Joowon co-principals, COM × Youn Yaelim ​

Youn Yaelim (Youn): Let us focus on COM's café space and its furniture. When designing these elements in tandem, what were your concerns and your approach?
Kim Sejoong, Han Joowon (COM): The most important thing for a café is efficient circulation for coffee making and consumption. While coffee making spaces are often overlooked, it is in fact an aspect that demands a great deal of deliberation. One might even say that choosing the location and length of the coffee bar is the starting point of all café design, not only because it takes up the most space but also because it acts as a reliable focal point. We learn more about a manager's expectations as we discuss about the bar composition, menu, equipment, and circulation, and all of these can be important clues for a design. In the case of Felt Coffee Cheonggyecheon (2021) for example, we began by placing the coffee bar at the centre. We emptied out the remaining space as much as possible to create a hall-like space for waiting customers. Considering its location in the Gwanghwamun's office district, this design was conceived to cater to the office workers ordering multiple takeout coffees. The seats were designed like benches around the perimeter. We originally wanted to follow Felt Coffee's flagship store design, which is only equipped with benches, but in the final design we added side tables and one-seaters. As for the one-seaters and benches, we added a detail so that the outwardly and inwardly protruding parts could fit one another so that they would create a single long chair when placed next to one another. Instead of introducing more complex technology, we wanted to create furniture that was simple to understand.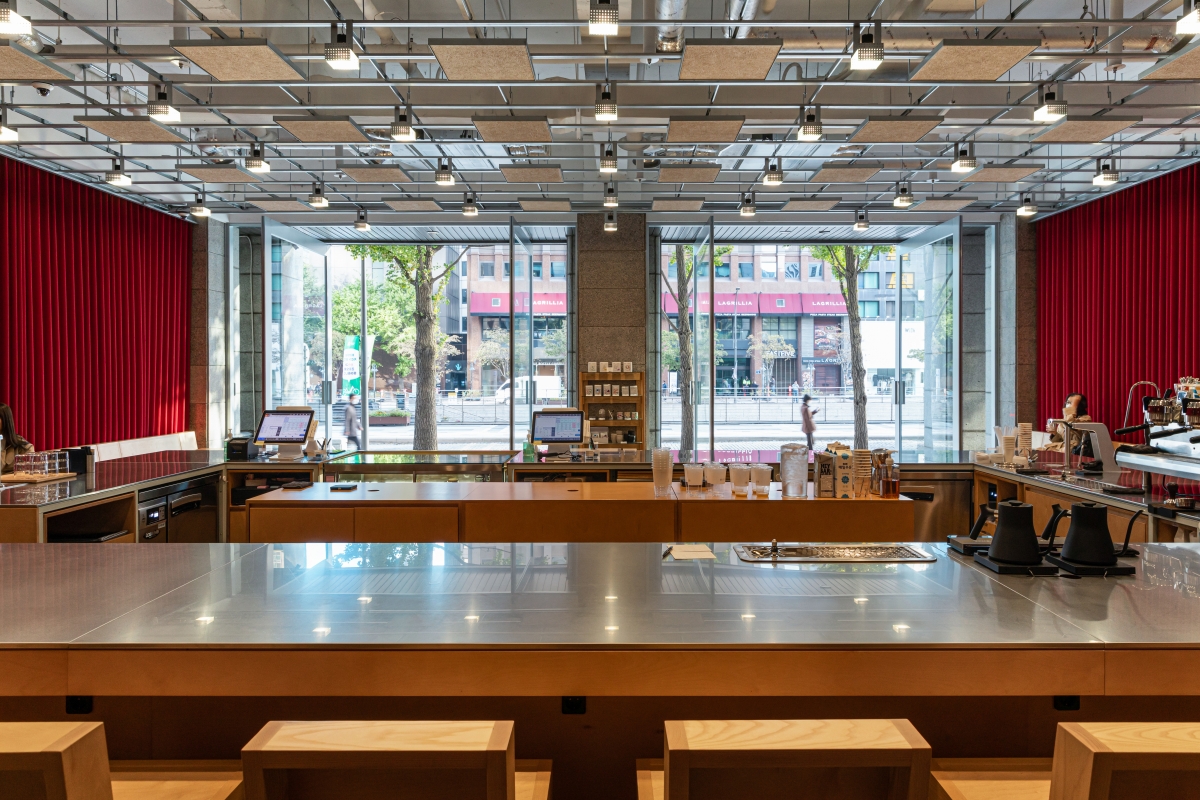 Felt Coffee Cheonggyecheon​
Youn: The cafés of Daytona Records (2022) and HYBE (2021) have different conditions from other standalone cafés.
COM: Because cafés built within an office or shop offer a supportive role to their parent building, the focus is not geared to the café experience but to its original purpose. As for Daytona Records, the café is on the first floor while the record shop is on the second floor. The café interior looks uncomfortable: the coffee bar is pushed into the least intrusive space while the chairs are supportless boxes—the typical example of 'uncomfortable café chairs'. This is because this place is not only meant to be a café but a place for DJ sets and holding other events. As such, we minimised the coffee bar area and designed the furniture to be used more flexibly. The square chairs not only act as a DJ table when stacked but can also be flipped around to become a storage box for LPs.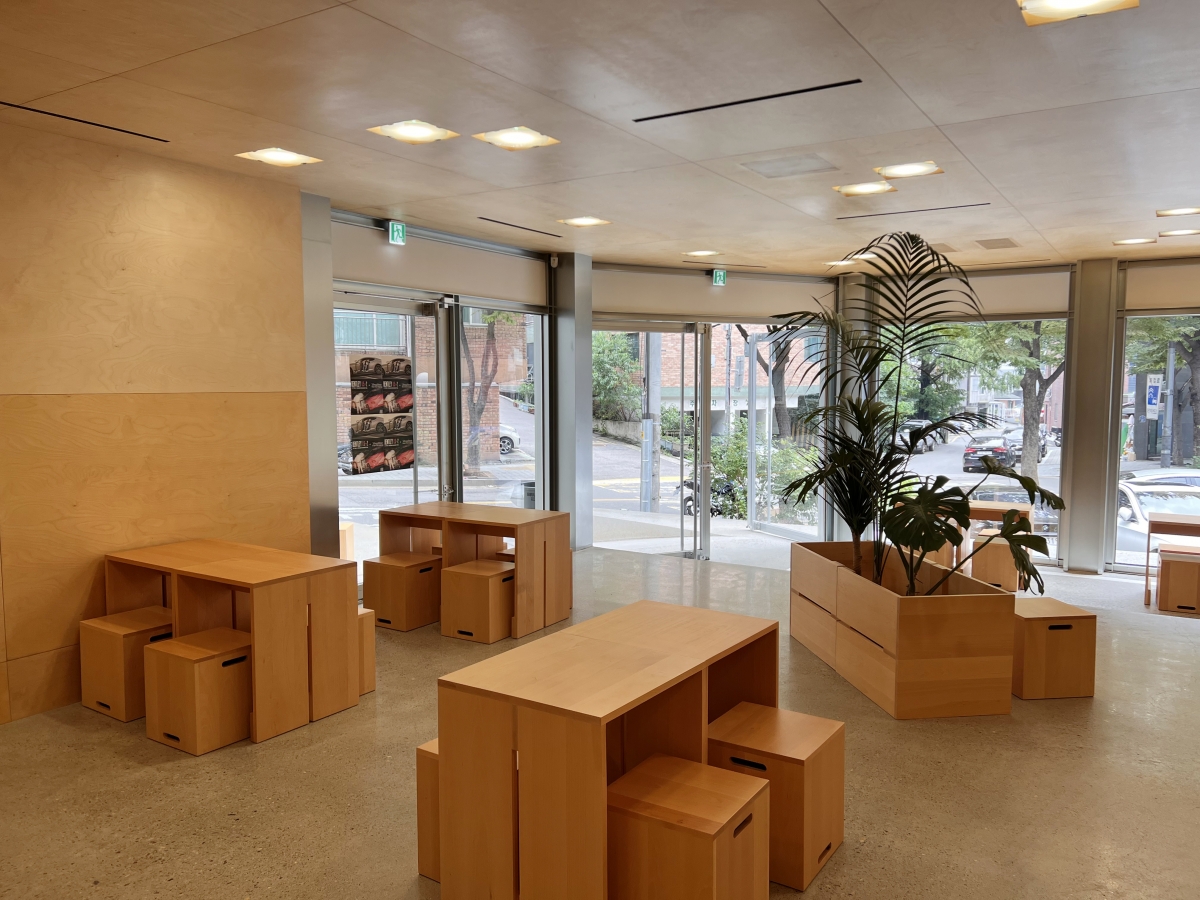 Daytona Records​_ⓒCOM
Youn: Of the various elements that compose a space, furniture comes into especially close contact with its users. The furniture's shape, material, tactility, and height thus determine the user's actions and configure the space's personality. What role do you expect the furniture to adopt in café spaces?
COM: It is always difficult when it comes to choosing the finishing material for walls, floors, and ceilings. The more popular options that promise ensured quality and aesthetics tend to be overused and thus lack uniqueness. Compared to them, however, things are relatively much more flexible with furniture. Not only is finishing material the final step in the list of tasks, but as we can gather immediate feedback from each tiny alterations in measurements and shape, it is possible to make meticulous adjustments all the way until the final product. This is why we focus on furniture design as part of creating a spatial impression. Also, because café furniture – unlike furniture for work or residential use – emphasises aesthetics over utility or comfort, they tend to be more forgiving. It is good enough if it makes one think, 'it is actually more comfortable than I had thought.' To put it differently, if it is less comfortable than it appears, it disappoints its user and is thus considered a failure. Regardless, we try to keep our baseline by adding some inclusion – however slight – of adequate back support when we are working on hard wooden chairs! (laugh) Also, we contemplate the finishing and sense of grip on relatively overlooked areas such as the seat boards and the underside of a table's ends. While furniture as an individual unity is important, what is more important is to modify the furniture's surroundings as well. Experiences can drastically differ according to spatial conditions such as the space between seats as well as the furniture's proximity to doors, windows, corridors, and stairs—and so we place special emphasis on positioning.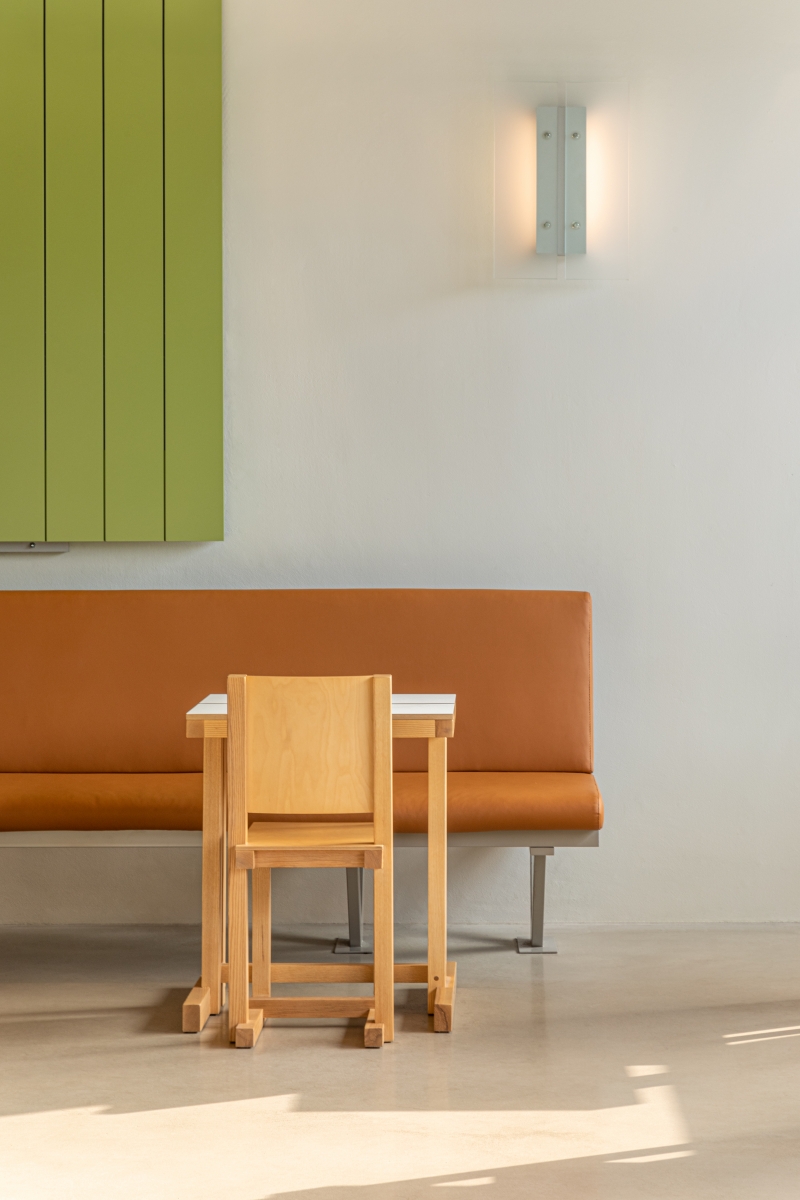 ​BONANZA Coffee Gunja (2022)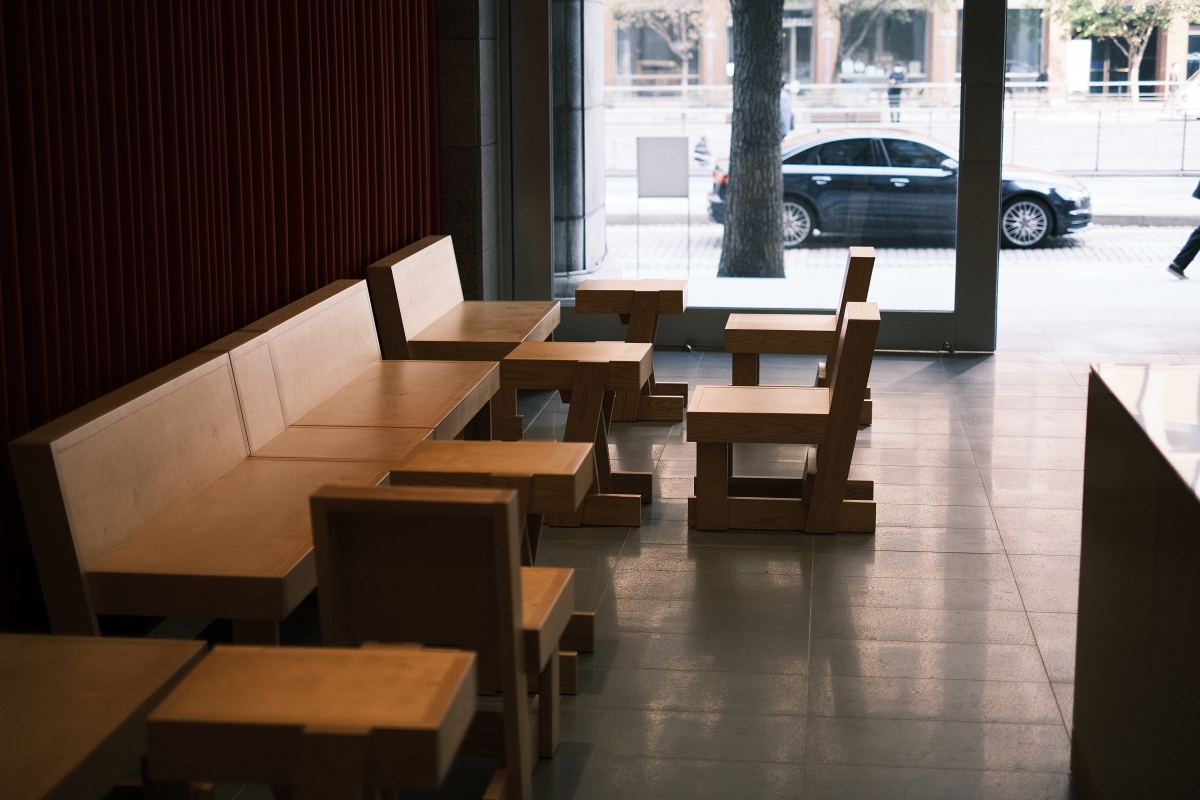 Felt Coffee Cheonggyecheon​
You can see more information on the SPACE No. 666 (May 2023).
​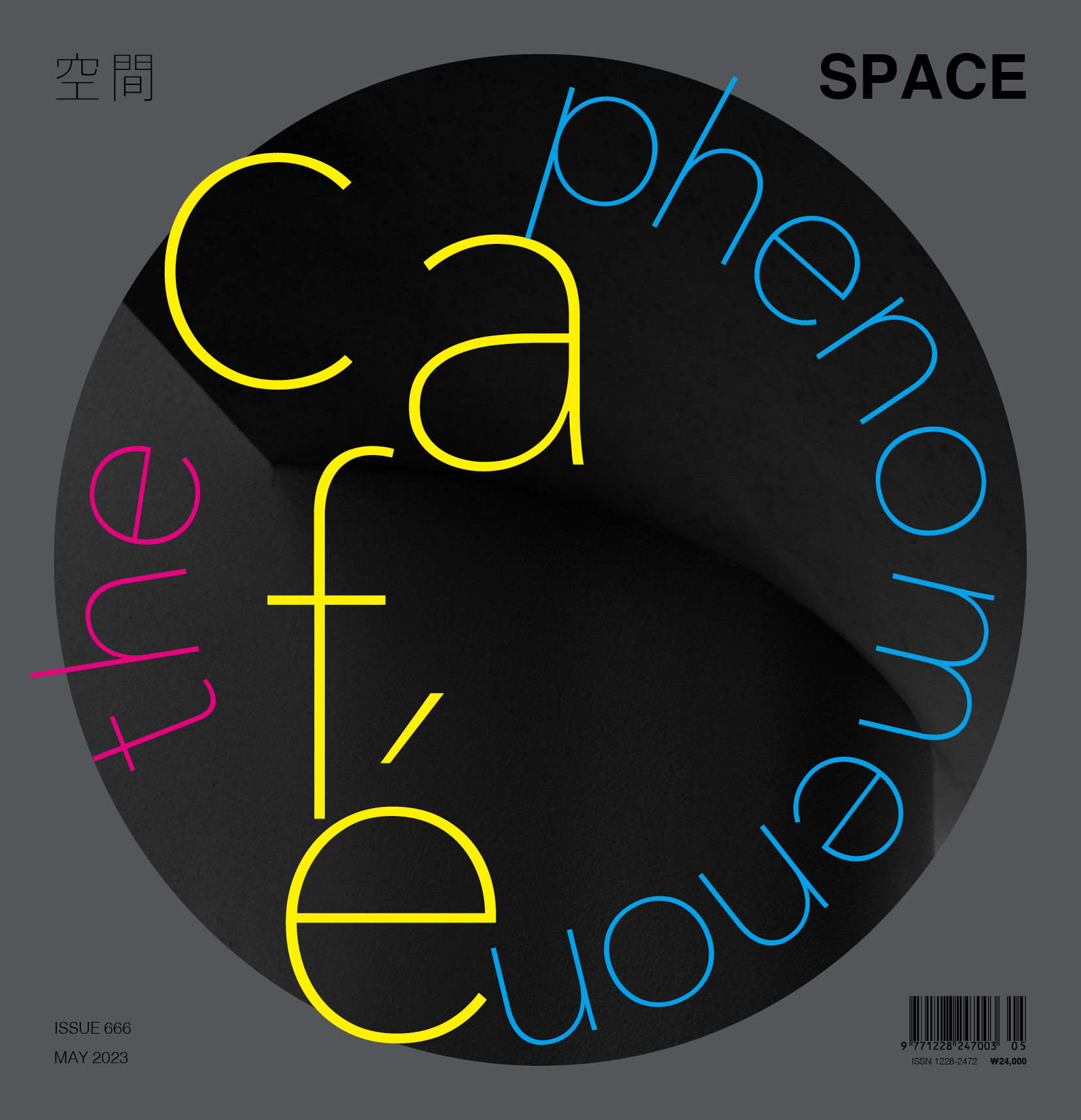 ---
COM is a design studio founded in 2015 by Kim Sejoong, who specialises in spatial design, and Han Joowon, who specialises in stage art. They design a wide range of spaces and furniture, ranging from commercial spaces for the general public to offices in which multiple collaborators work together. They are interested in simultaneously dealing with the functional aspects of their work and sensory apprehension. Their projects include TUNE Seongsu Store (2023), MANGROVE Dongdaemun (2022), Felt Coffee Cheonggyecheon (2021), HYBE (2021), JTBC PLAY (2020, furniture design), and Khakis (2020, furniture design). They have participated in exhibitions such as the group exhibitions 'Young Korean Artists 2023: Annotating the Museum' (2023) and 'New Wave II' (2018), as well as the solo exhibition 'The Last Resort' (2021). COM is pronounced 'c-o-m'.