SPACE May 2023 (No. 666)
Phenomenon 1. Becoming the Purpose of the Visit
Phenomenon 2. Connecting Residents and Communities
Phenomenon 3. Weaving an Experience
In an era in which we find the word 'experience' attached to everything from our economy, consumption, design, and marketing, the cafés of today are asked to provide something more innovative, more unique, more detailed, and more beautiful than the usual experience of drinking coffee. This is particularly true if we are referring to a city context in which we see myriad cafés daily crowded with people, many of whom can only afford the limited time in their busy schedules to nip to a café instead of escaping the city altogether. In light of this, what is the role of the architect? As a collaborator with Blue Bottle Coffee which is currently expanding its services with branches in various international cities, Nagasaka Jo (principal, Schemata Architects) is responsible for devising the spatial experience of the brand. Likewise, THE FIRST PENGUIN, Fabrikr, COM, and nendo are design studios that are sculpting unique café experiences within the city not only via architectural features but also through various tools such as planning, branding, furniture, and art. In Phenomenon 3, reaching beyond the architect's framework, we will listen to the stories behind these cafés and come to understand their own special means of survival in the city.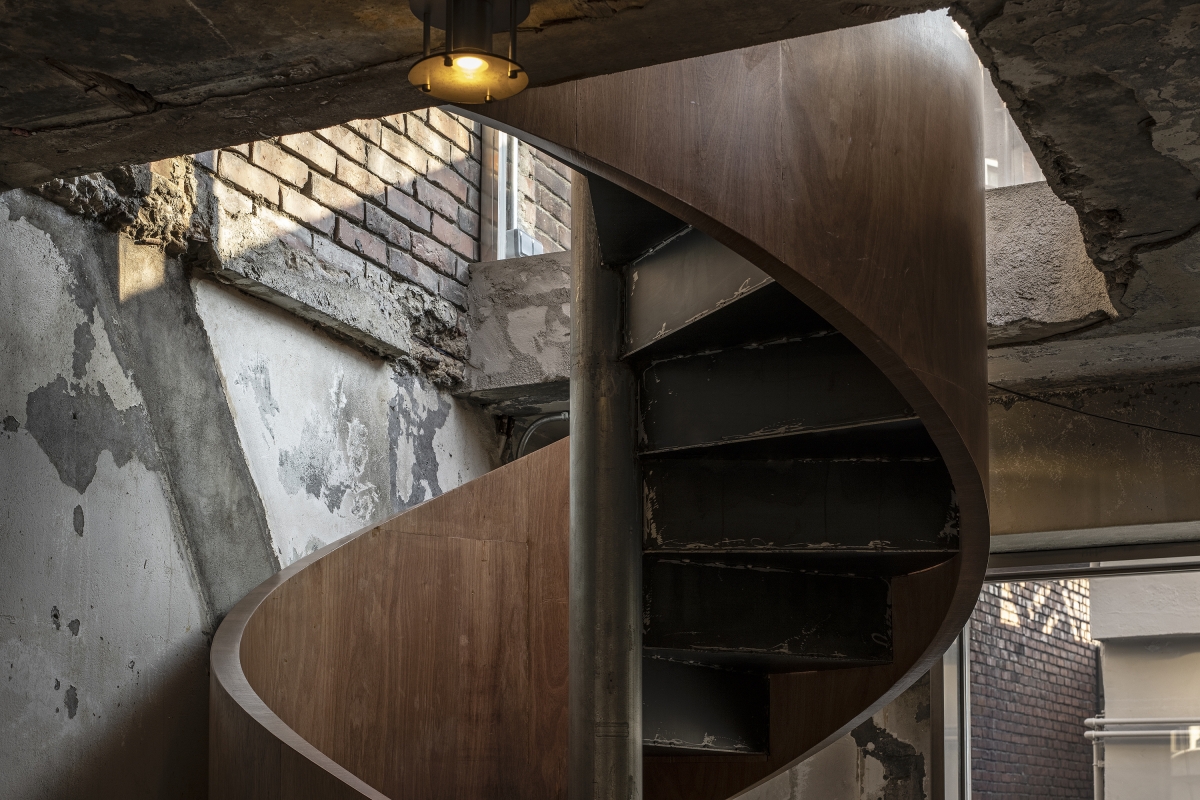 Upstanding Coffee
The Client, Manifesting One's Personality in a Space: THE FIRST PENGUIN​
Interview Choi Jaeyoung principal, THE FIRST PENGUIN × Youn Yaelim ​
Youn Yaelim (Youn): As a café situated in an urban context, Pin Coffee (2022) and Upstanding Coffee (2021) appears to be different to EYST 1779 (2022) in Gyeongju and Withjis Jinjungsung Jongjeom (2021) in Jeju in terms of its given conditions and surrounding situations. They also must have differed in terms of scale, purpose, and the role that they had to fulfil.
Choi Jaeyoung (Choi): For cafés on the city outskirts, in their spaciousness and beautiful natural surrounding landscapes which are key to attracting customers, the architectural goal is quite simple: to create an impressive and memorable scene for the visitors. As such, the architecture of such cafés actively emphasises the surrounding context. However, cafés that have become part of the urban centre possess different characteristics because these spaces are not made for special, non-mundane, one-time visits. The small urban café space focuses instead on the mutually-beneficial relationship between the customer and the space or the customer and the brand. Instead of striving towards a powerful and impressive exterior and architectural form, urban cafés focus on the interior to enunciate a language of familiarity and comfort. With that as its basis, we can then add special services, contents, and elements of experiential design and brand to expand the contact area between customer and space/brand.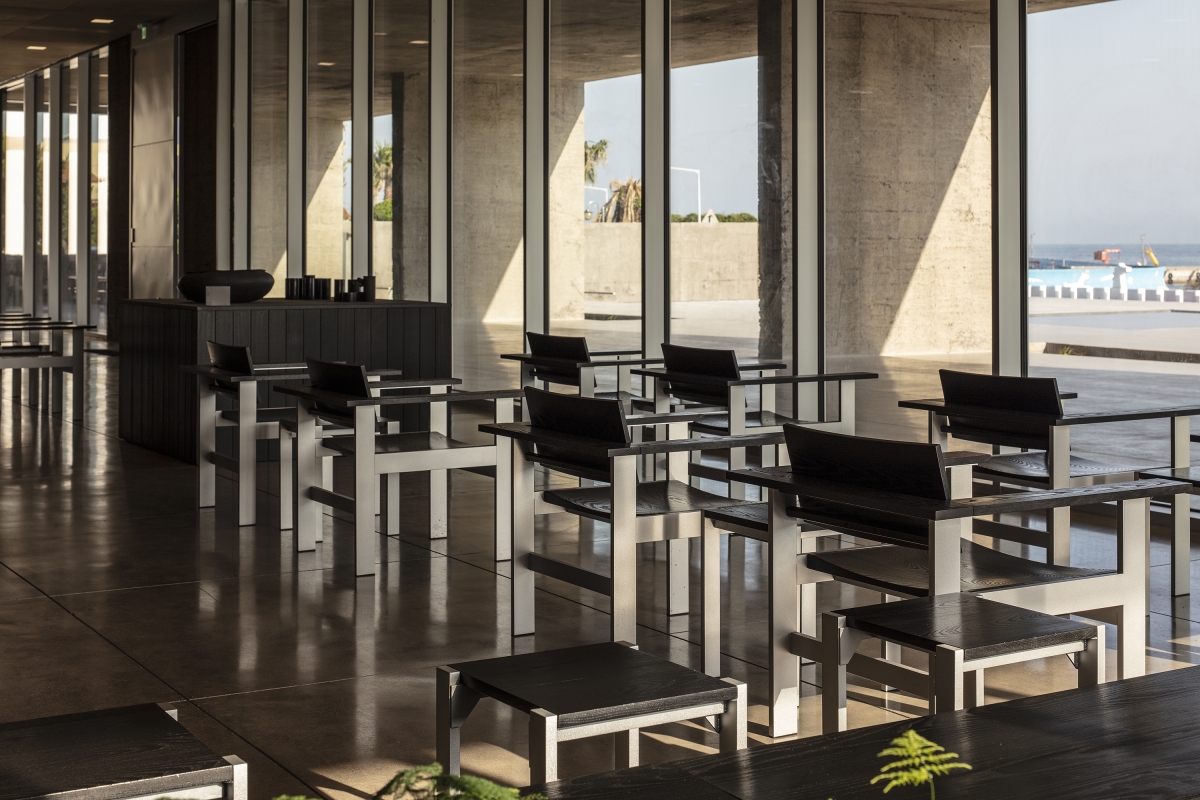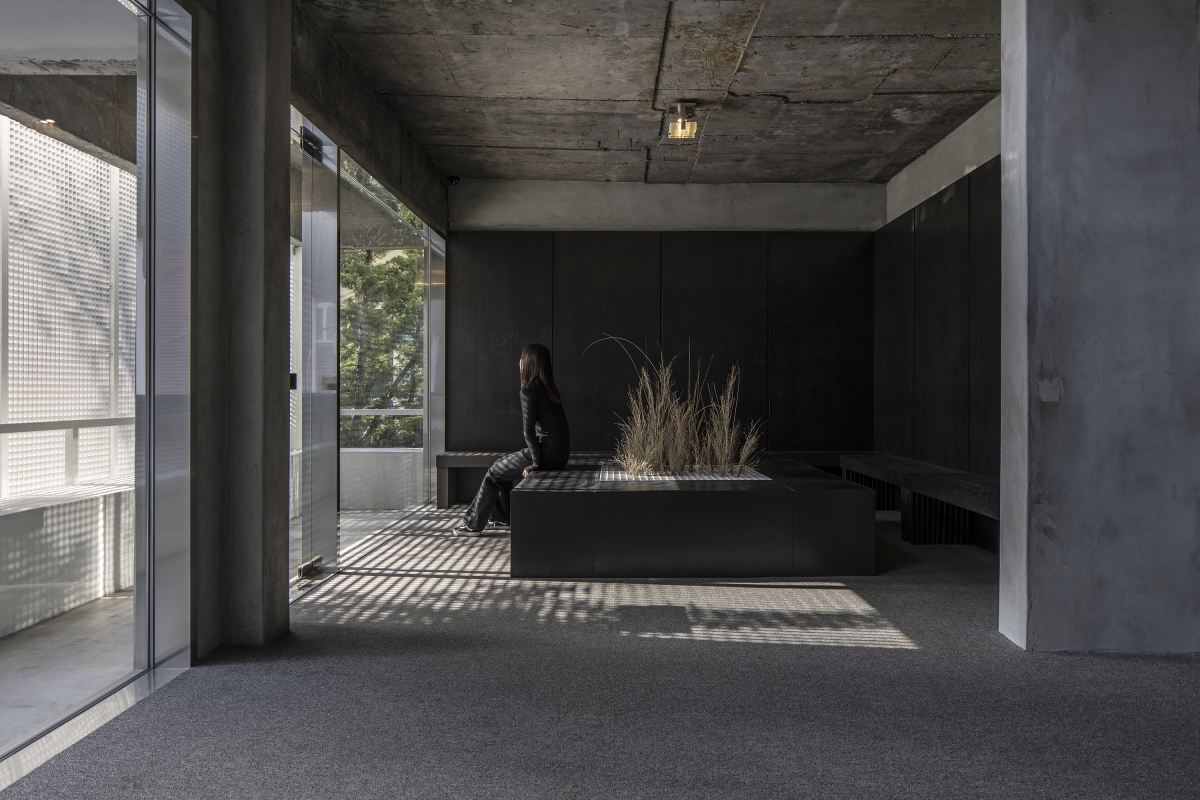 (top) Withjis Jinjungsung Jongjeom, (bottom) Pin Coffee​​
Youn: You once said that the most important thing for THE FIRST PENGUIN is about directing experiences in space. I would like to know more about how THE FIRST PENGUIN directs a user's experience.
Choi: User experiential design can be largely divided into elements of focus on the space and and focus on the brand. Spatial elements can be further divided into physical elements such as form, structure, and colour, and non-physical elements such as light and shadow, temperature, and sound. Brand elements also can be divided into physical elements such as graphic and spatial elements as well as non-physical elements such as contents, management strategy, and philosophy. We seek to create an integrated experience that unites all these spatial and brand elements not as individuals but as an alchemical union. For example, Upstanding Coffee, located at Haebangchon Shinheung Market, is open in its front and back as a road extension, and a spiral staircase cuts it through vertically via the slabs that were boldly opened despite the narrow floor area. This design reflects the client's amicable personality, one who finds it easy to talk to strangers. The intention was to make the space and brand resonate with the client's personality. In other words, the open space of Upstanding Coffee is an attitude and strategy that seek to connect and communicate with the numerous visitors coming to the Shinheung Market. This is also the reason why the staff tirelessly climb the steep stairs, back and forth, to serve the customers and why the coffee making space shares the same space with the customers. By manifesting the client's personality in its space, both spatial elements of structure and form as well as brand elements of management, strategy, and philosophy are integrated as one.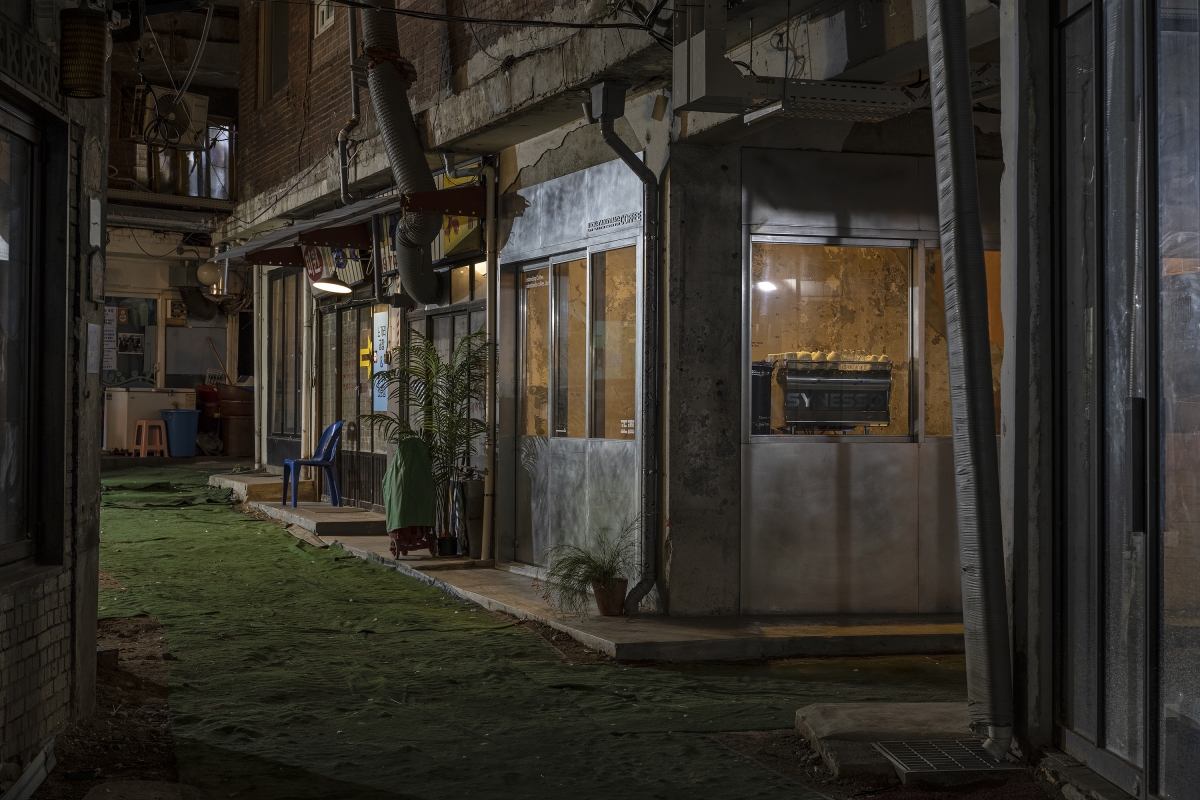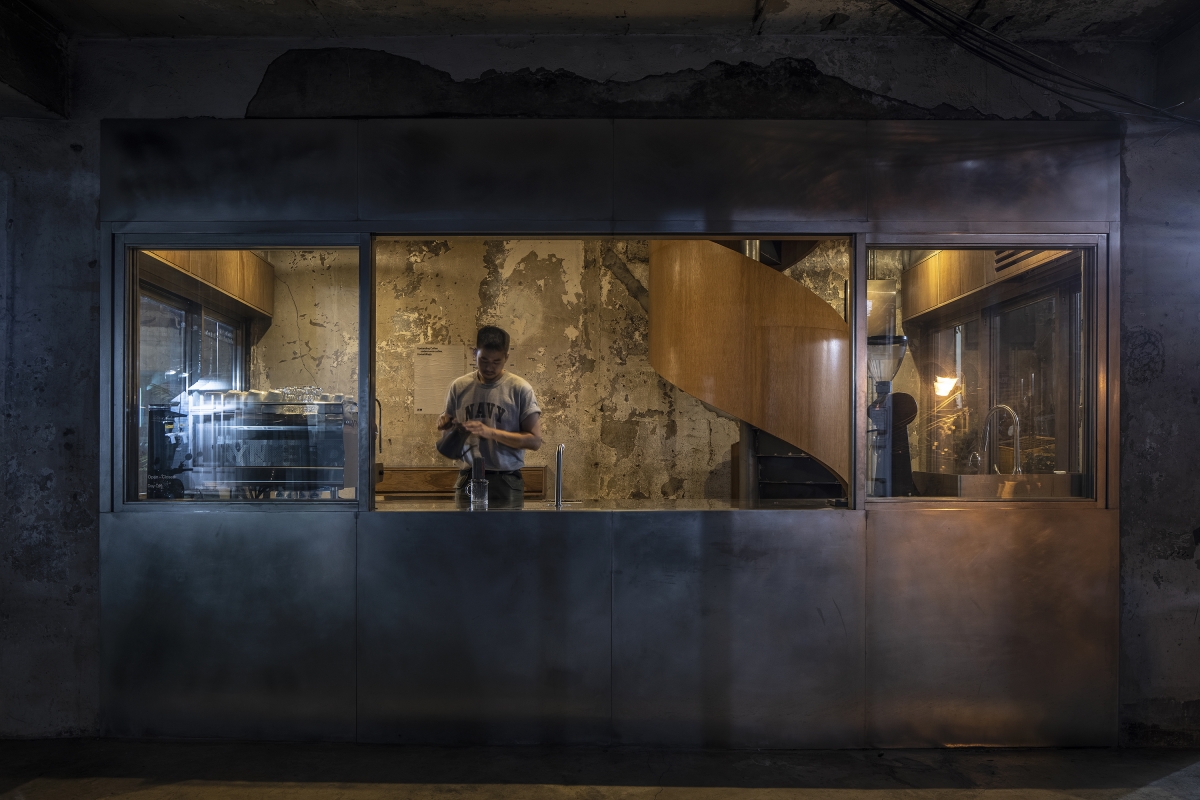 Upstanding Coffee
Youn: While emphasising the client's personality, were you also thinking of the café's publicity?
Choi: The café is already public. Think for example how valuable it is that your favorite local café is in your life radius. I wonder whether helping our local cafés to stay in business so that they can be of public value to a greater number of people – and thereby contributing to a healthy survival and growth of cafés in general – is itself already an act of promotion or publicity. In that sense, my greatest priority is their sustainability. While ten years ago clients used to make outlandish requests that showcase one's own uniqueness, more recently clients prefer a space that they can use as a stage to narrate their personal stories in an informal way. Following this trend, instead of going for something new and extraordinary, we are currently working on creating spaces that not only represent the client's unique palette but are also sustainable in terms of their function and aesthetics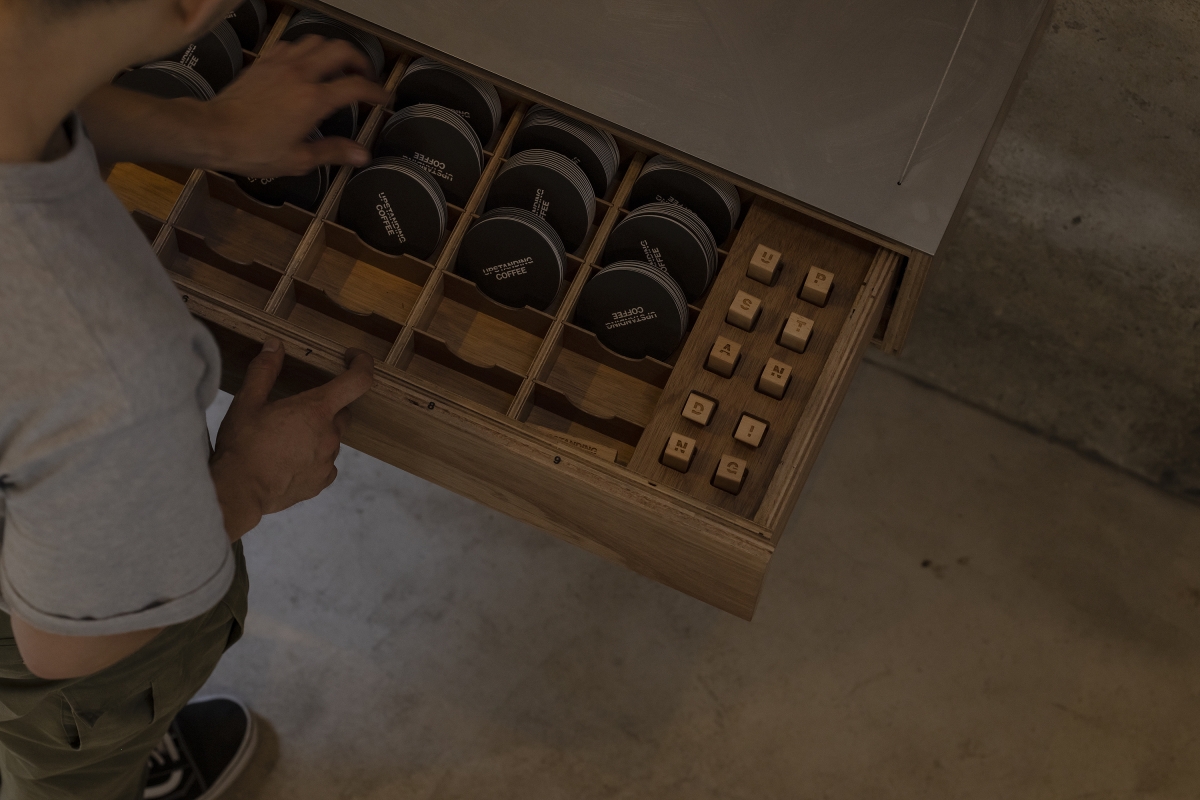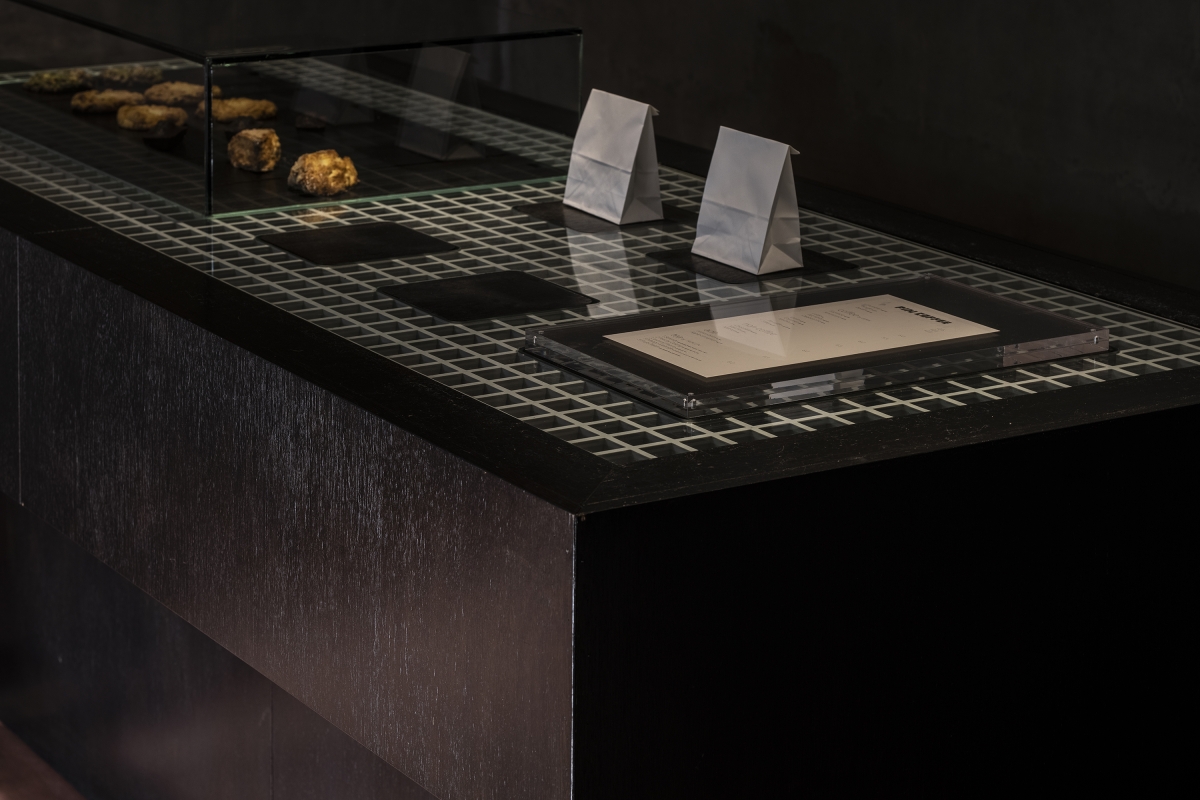 (top) Upstanding Coffee, (bottom) Pin Coffee
You can see more information on the SPACE No. 666 (May 2023).
​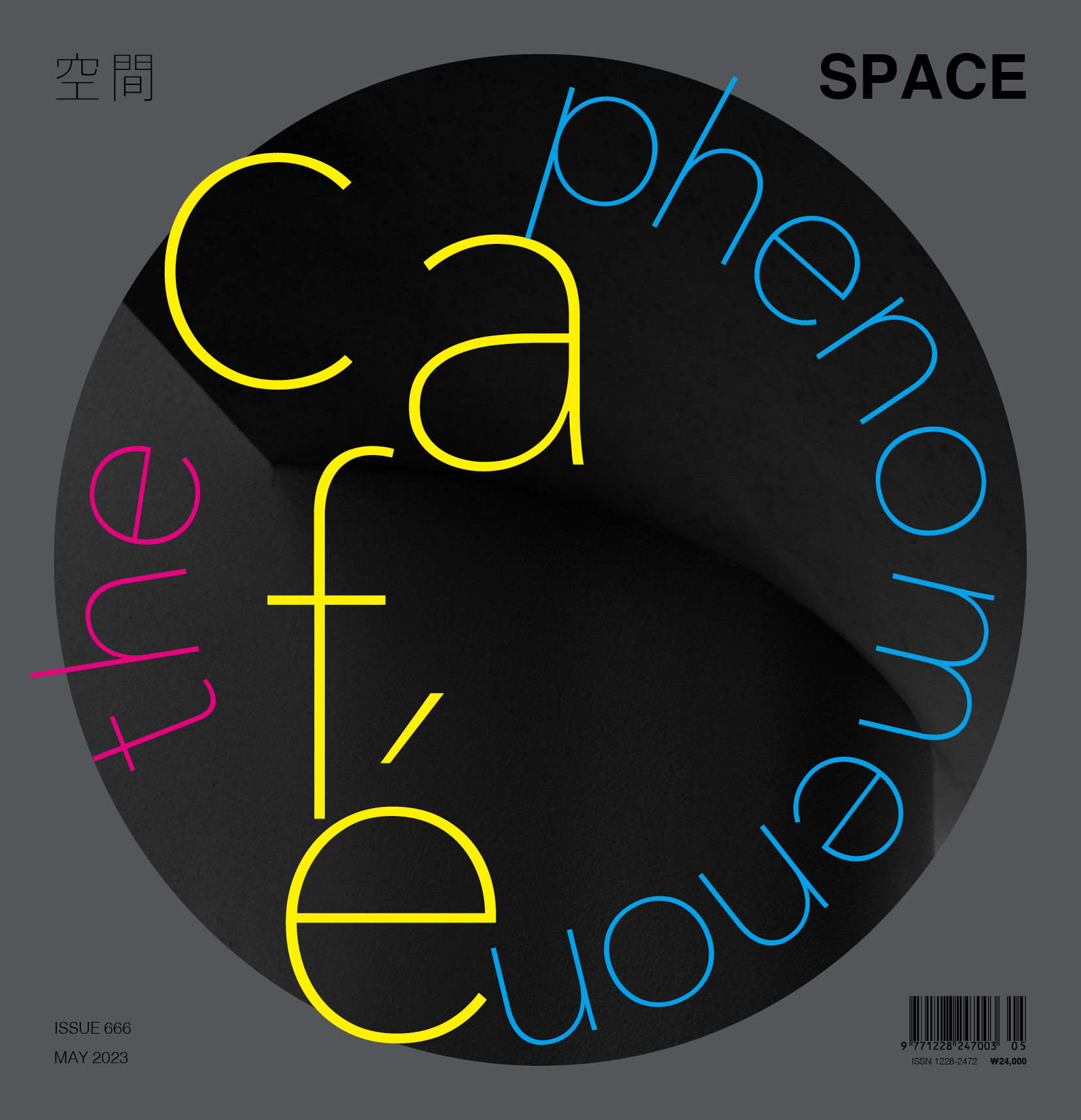 ---
THE FIRST PENGUIN integrates concepts of space and branding in its design. It is designed for an integrated spatial user experience that combines physical and non-physical elements taken from the spaces and the brand. It is a creative studio that conducts architectural and spatial design from the perspective of the brand, without being tied to the orthodoxies of graphic design, furniture, lighting, exhibition, or other fields and genres. Since 2012, it has been founded and led by Choi Jaeyoung.