thumbnail​ ⓒSpace Popular​​
SPACE April 2023 (No. 665)​
On Virtual Space, Architecture, and Publicity: 'Space Popular: Search History'
The National Museum of 21st Century in Rome (MAXXI), has committed itself to the exhibition series 'Alcantara – MAXXI project/Studio Visit' (hereinafter Studio Visit) for the contemporary reinterpretation of the work of modern architects held in the MAXXI archive. The exhibition series, inaugurated in 2018, invites contemporary designers to forge new dialogues with 20th-century architecture. Its 5th exhibition in the series, 'Space Popular: Search History', was on show from the 7th of December 2022 to the 15th of January 2023. Space Popular used the urban design concepts of the Italian architect Aldo Rossi to reconceive their own experience of working with virtual reality in this exhibition. Here, we hear from the two principals of Space Popular, about what they are developing at the intersection of physical and virtual reality and what is the responsibility of the architect who builds virtual world.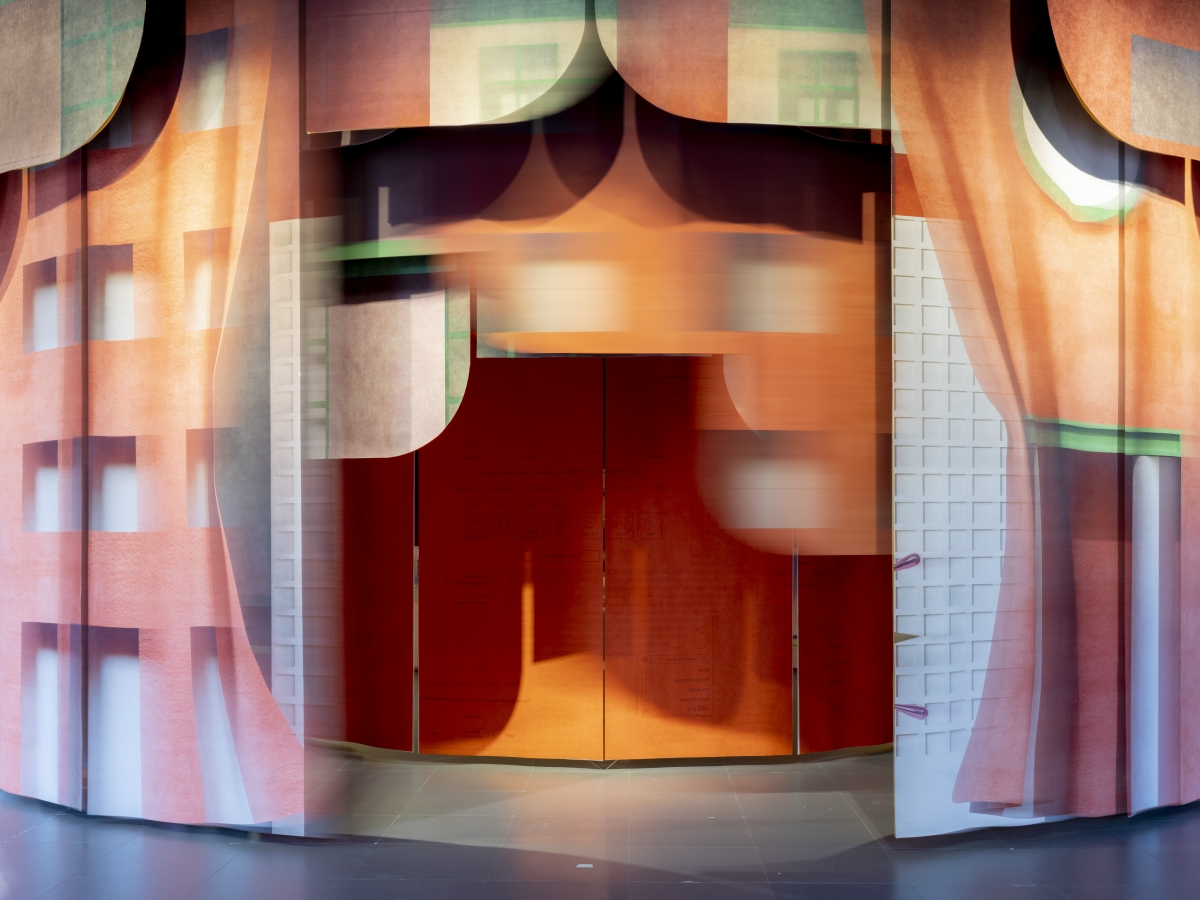 ​
Interview Lara Lesmes, Fredrik Hellberg co-principals, Space Popular × Youn Yaelim
Youn Yaelim (Youn): The designer invited to Studio Visit selects an architect from the MAXXI architecture collection to reinterpret and present anew. Your journey from the selection of Aldo Rossi and to your planning and design process is intriguing.
Lara Lesmes, Fredrik Hellberg (Lesmes, Hellberg): For quite some time, we have been engaged in a research project on the issues facing the virtual city. Aldo Rossi's work captured our attention due to his unique understanding of the city. In preparation for the exhibition 'Space Popular: Search History' (hereinafter 'Search History'), we focused on Rossi's early writings on the city, particularly those that describe how we experience the city and how we should approach building cities. Rossi's writings emphasize exploring the way we experience cities rather than charting their physical reality. We were intrigued by Rossi's theories of the history of the city and how they can be applied to the way we experience the city today using technologies such as satellite maps and handheld devices that enable us to know precisely where we are, which was impossible for city dwellers in the past. Today, when in the virtual spaces, the way we move through spaces is continuously mapped and recorded, creating a spatial search history, which connects with Rossi's writings in a unique way.
Youn: That's probably why 'Search History' was designed as an exhibition in which you would be able to achieve fully experiences of its spaces by drawing on the senses of sight, hearing, and touch. I would like to find myself in the shoes of the audience.
Lesmes, Hellberg: The installation consists of two immersive media environments, Environment A and Environment B, with a portal serving as a guide between them. Environment A, which is the origin, features a cityscape composed of façades that open up like curtains to invite us through a threshold that acts as a buffer zone. The depth of this buffer zone is determined by the information necessary to navigate the new environment. The installation's outer and inner sides create a circular corridor that represents the data. The structure is organised around 10 different rings, each of which is represented by a layer in the soundscape, specifically created by the Spanish music duo San Jeronimo. The soundscape is a combination of actual city sounds recorded during trips to Rome, synthetic sounds, and noises meant to convey the cacophony of the virtual city. Additionally, an exhibition wall displays original Rossi's drawings from the MAXXI archive alongside our previous works from past exhibitions and research projects.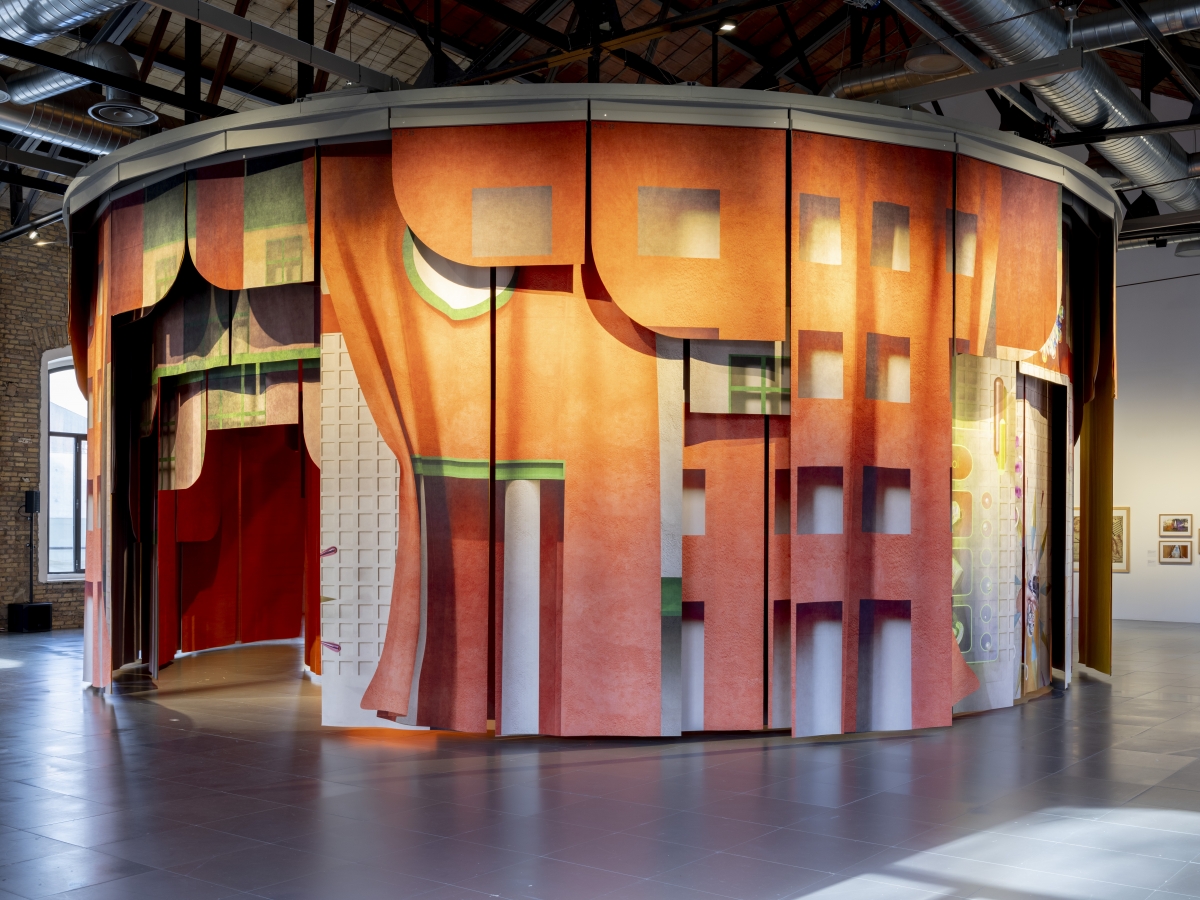 Youn: You explained that the sensory impressions prompted by this artwork are similar to the experience of traveling within virtual space.
Lesmes, Hellberg: In this exhibition, our aim is to provide visitors with an immersive experience of virtual environments. We have emphasized the significance of touch in order to enhance the sense of immersion within the digital realm. The structures we have created, which resemble building façades, are made of permeable textiles, acting as a type of portal. We have concluded that textiles are the most appropriate medium to represent the idea of a portal, as they allow one to cross from one environment to another. The circular structure comprises various overlapping elements of a city, representing a space where visitors can experience different scales and purposes of virtual environments. The use of Alcantara, due to its flexibility and various fabrication methods (such as printing, embroidery, CNC cutting and laser cutting), has been ideal for exploring the creation of spatial experiences that touch on the concept of virtual space. We have used a high-quality photo-realistic printing technique on the material, which hangs from the structure, inviting visitors to touch and interact with it. The result is a hyper-real appearance that may seem unreal to visitors, but when approached and touched, behaves in a way that simulates a real-life experience.
Youn: What are your reasons for drawing experiences of virtual space into our lived reality?
Lesmes, Hellberg: In designing virtual environments, it is crucial to acknowledge that the human body always exists in physical space and is inevitably affected by its surroundings, even when fully immersed in a digital space through immersive technologies. It is imperative to bear this in mind when designing any virtual environment. We believe that in the middle of the twenty-first century, wearable technologies will replace smartphones, laptops, and computer screens, making the body an integral part of virtual environments. Therefore, we must prepare for this imminent reality by being more mindful of the physical body's significance in digital design. To address this issue, we created the 'Search History' in a way that does not incorporate VR devices or screens but instead underscores the role of the body in virtual experiences.
Youn: Virtual reality is fast becoming accepted as virtual 'space' as technology develops. How has your perception of virtual space developed before 'Search History'?
Lesmes, Hellberg: We initiated projects concerning virtual space that are not purely digital, an aspect deemed crucial in contemporary virtual space. We perceive every way of opening up space from nowhere as a virtual creation, whether a painting, a church fresco, a tapestry, or even a book, as a virtual space within the digital realm. Such spaces do not have to be digital, as long as they are produced virtually. This view has significantly evolved in the last decade, which coincided with the period following Space Popular's first official virtual space project, 'The Cloud of Resilience' (2013). This project proposed a browser-based web platform for a global database on mortality rates. It functioned as a space for holding funerals, mourning the dead, and other related activities. Since then, we have been involved in several speculative projects that envision the future of the virtual city. Examples include the projects 'Value in the Virtual' (2018) and 'Freestyle' (2020), which served as the basis for an exhibition that explored the potential impact of stylingin immersive media. Subsequent to the pandemic, we commenced constructing actual virtual spaces that allowed visitors to inhabit them, such as the project for
'Arquia/Próxima' (covered in SPACE No. 645), an architectural festival and conference, held in a virtual space.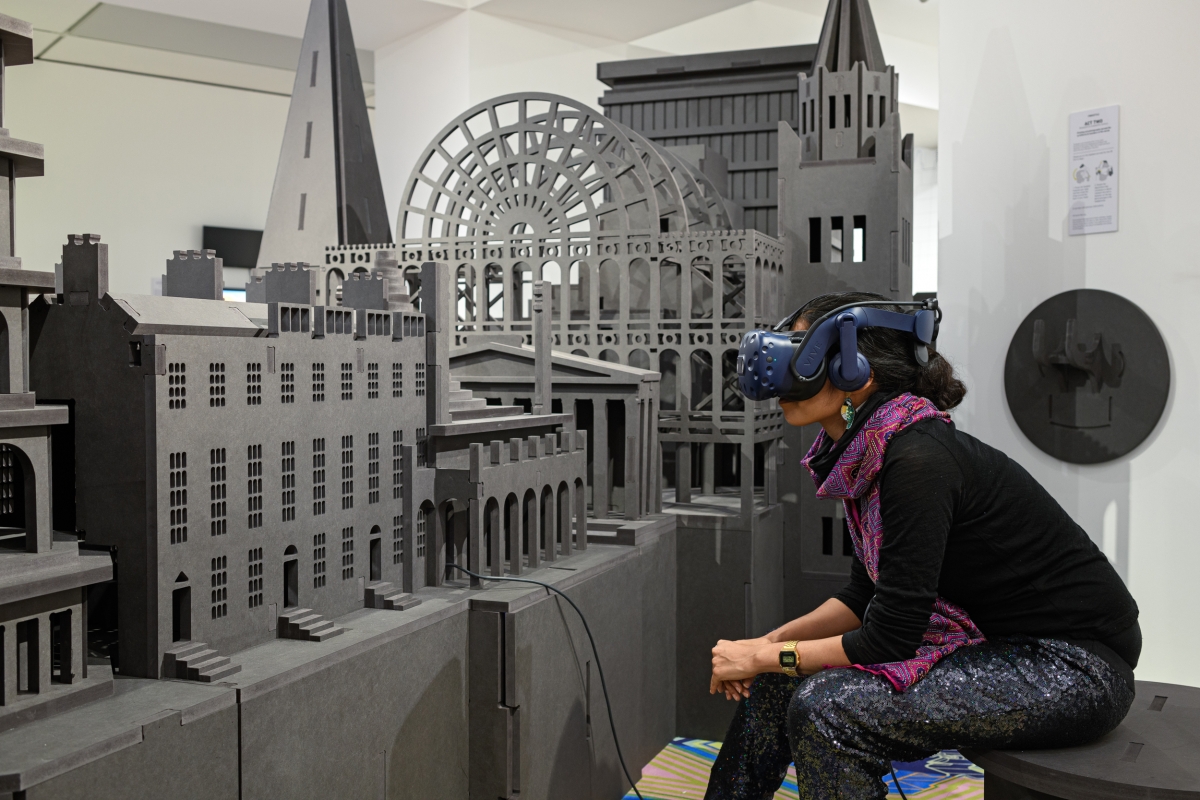 Exhibition view of 'Freestyle'(2020) / ⓒFrancis Ware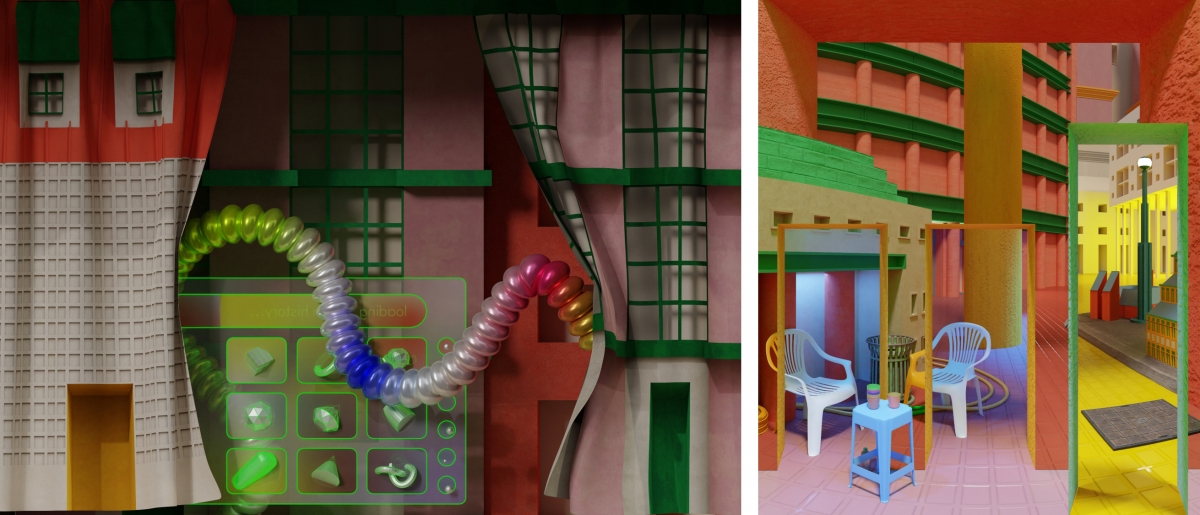 Images of 'Search History' virtual space / ⓒSpace Popular​

Youn: What role do you think an architect may play in virtual space? Designing virtual space will be distinctly different from architecture in reality and the qualities required of an architect will also be different.
Lesmes, Hellberg: It is positive that there is now wider access to spatial design tools, enabling more individuals to design and construct virtual spaces. However, the cultural and historical significance of architecture can prove beneficial in developing efficient systems and promoting civic values. Architecture, in fact, is not only a private affair, but a public one as well. The best architecture is often created with the citizens of a community and their needs in mind. It is our belief that these principles can and should be applied to the design of virtual spaces as well.
Youn: The post-pandemic period, technological advances have motivated the expansion of metaverse platforms. Committed to exploring virtual space from the early 2010's, what are your views of present society?
Lesmes, Hellberg: The advent of immersive media has allowed us to experience three-dimensional virtual environments. However, we deliberately refrain from using the term 'metaverse' as we believe it is an attempt to isolate it from other virtual spaces and commoditize it. This has led to discussions about the future of virtual space on a societal level, which we believe is problematic and raises many issues we do not wish to bring into virtual city. Instead, within the immersive internet, we find a small but hopeful and positive community engaging in cultural and community activities, meeting through avatars in spaces where meaningful exchanges are taking place and communities are being built that are not possible in the physical world. While most internet platforms are owned by for-profit corporations, we believe it is important to view online activity as a civic infrastructure, rather than merely as private entities. Architects with their visionary thinking and background are well-suited to build the virtual city based on civic principles. This is what we deem most important.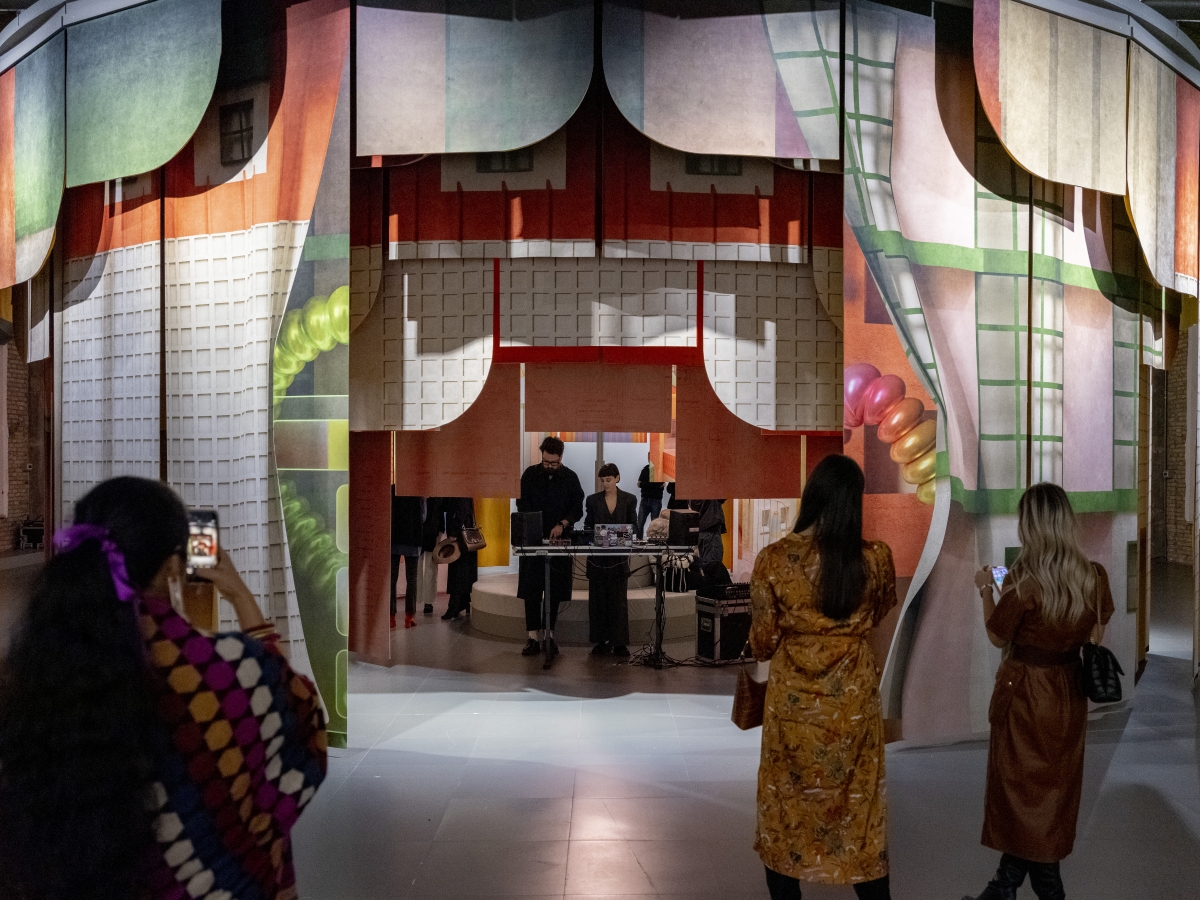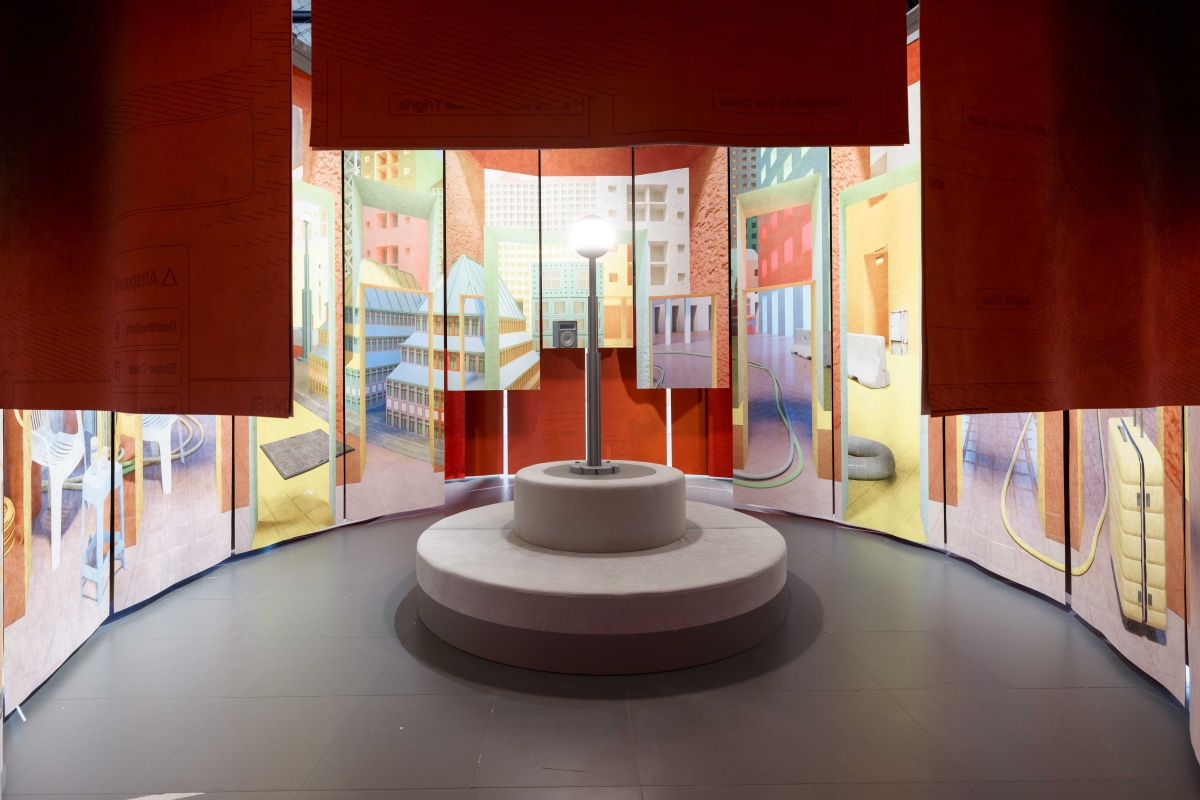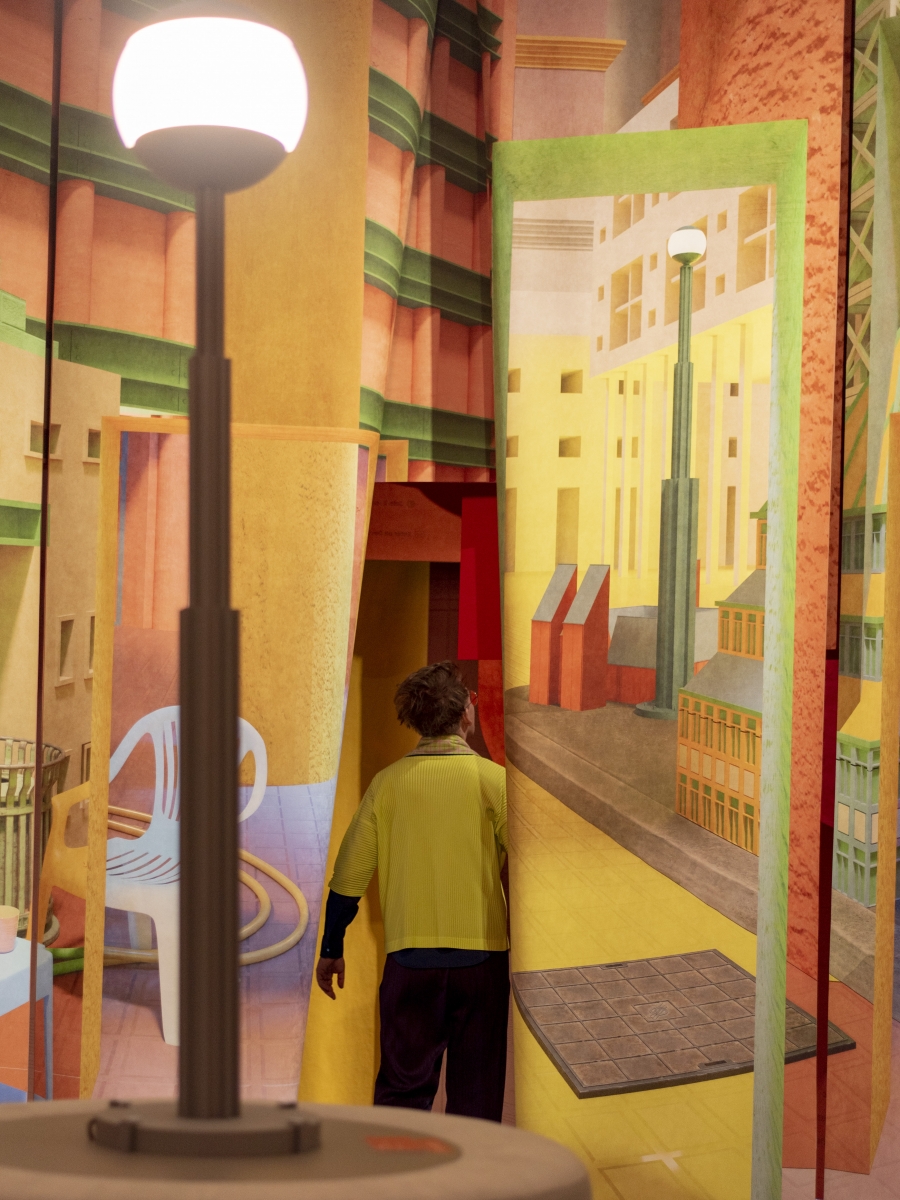 You can see more information on the SPACE No. April (2023).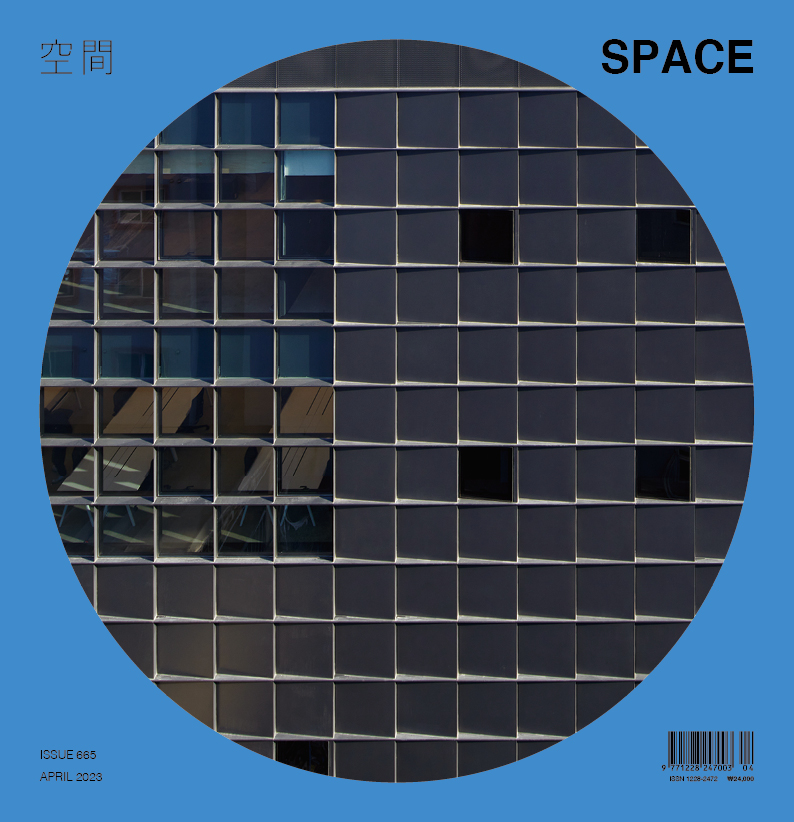 ---
Lara Lesmes, Fredrik Hellberg
Lara Lesmes and Fredrik Hellberg are directors of Space Popular, both alumni of the AA School in London. They founded their practice in Bangkok (2013) and have been based in London and Spain since 2016. Space Popular creates spaces, objects, and events in both physical and virtual space, concentrating on how the two realms can be blended. The studio has completed buildings, exhibitions, public artworks, furniture collections, and interior design across Asia and Europe, as well as virtual architecture for the immersive internet.