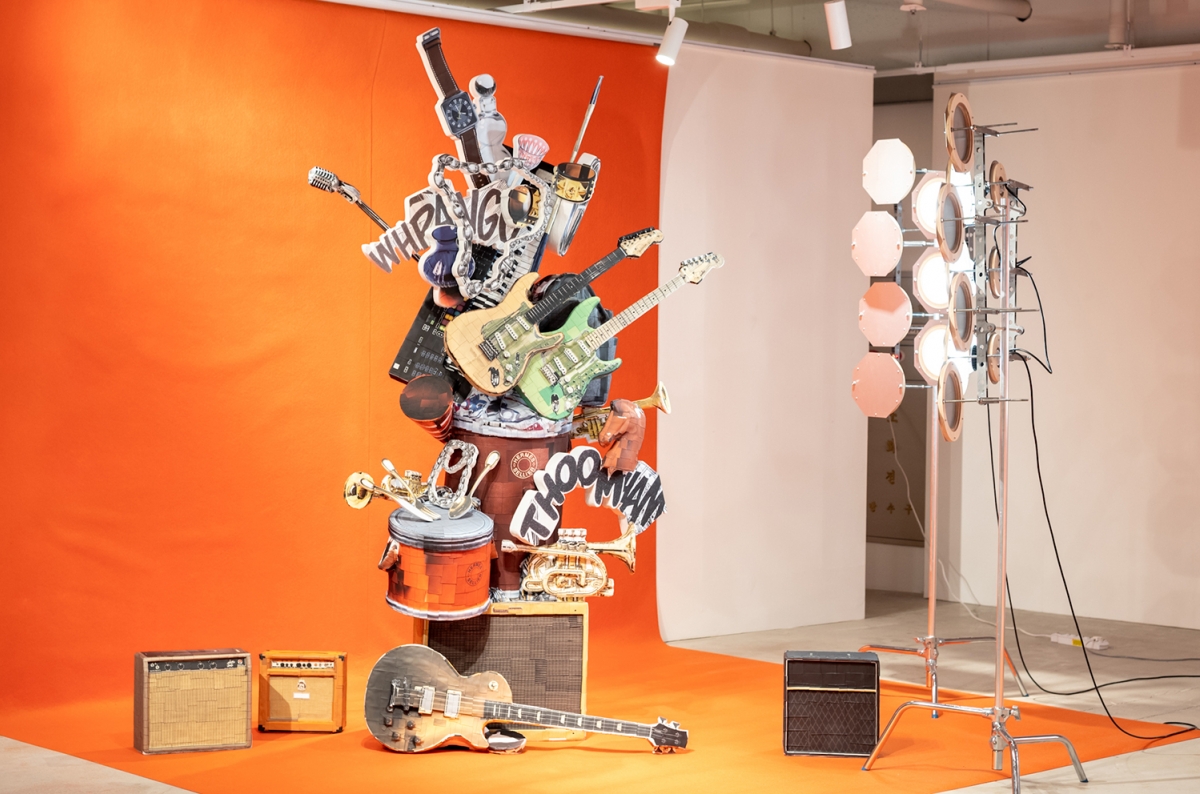 Exhibition views of 'OUR SET: OUR LABOUR × OSANG GWON'
OUR LABOUR has grown steadily over the past decade and is expanding its business into the art world. Their work, such as the first exhibition, 'Human, 7 questions' at the reopened Leeum Museum of Art, objects within HYBE INSIGHT, and 'OUR SET: OUR LABOUR × OSANG GWON' recently presented at Suwon Museum of Art, demonstrate how OUR LABOUR have participated in exhibitions of various identities and range of expertise such as creative groups, space designers, artist, and planner. OUR LABOUR can do anything related to the exhibition format. We met with director Lee Chunghyung, who leads OUR LABOUR, and listened to their story.
interview Lee Chunghyung director, OUR LABOUR × Han Garam
Han Garam (Han): It has been 10 years since the creation of OUR LABOUR. Please give me a brief introduction to your activities.
Lee Chunghyung (Lee)
: The name OUR LABOUR began to be used in 2015, as it worked under the name 'LABOUR' before that point. At that time people often misheard 'LABOUR' as 'Naver' and members increased. So we decided to add 'OUR'. Until now, OUR LABOUR tried to create its own stable structure and system in the art world. Our system is the result of constant coordination between a profitable business model that can maintain OUR LABOUR and the art world which can prevent it from losing its sense of modern art on show. Although these two areas are now naturally drawn together, it was sometimes difficult to pull them together into one frame and moment in time. I am so grateful to our team members and for the way we have grown up together by sharing a range of roles throughout the life of our activities.​
Han: It started with three residents in Samseon-dong, and I heard that it currently consists of about 10 members. Could you take me through the story of OUR LABOUR's formation and how the management system and division of roles have evolved since its earliest moments?Lee
: At first, those who shared studios in Samseon-dong helped each other when they were under pressure to meet deadlines. So we became a group who could work away at our projects separately. This step was our first season in OUR LABOUR. Season 2 has been around for five years, as a time when friends and juniors gather together, while more diverse voices are now enjoying Season 3. OUR LABOUR consists of people who major in fine art, design, and art theory. They are divided into four parts, such as a planning operations team, the design team, the production team, and the field team, but the boundaries between teams are flexible. Even when there were fewer people than there are now, one person was in charge of two or three positions. Even now, however, an individual is searching for his or her role in various ways, not just in a specific area.​
Han: First of all, I would like to talk about exhibition design, which is the main work of OUR LABOUR. In your opinion, what is your most impressive work out of more than 50 projects? Lee
: Since there are several people related to contemporary art in OUR LABOUR, there are many exhibitions of modern art or exhibition design that employ the grammar of modern art based on their own conceptual understanding. The exhibition space has become an art museum and gallery, a factory and a department store. The Leeum Museum of Art exhibition 'Human, 7 questions', which was held from last year to early this year, was an exhibition that allowed OUR LABOUR to grow one step further. The exhibition drew public attention as it was about four years since the museum had closed for about two years, reopening with a special exhibition. In addition, more than 130 works by 51 domestic and foreign artists were introduced, and the number itself was already burdensome. It was not an easy task to show the overall concept of space by reflecting the requirements of many artists. Consequently, we designed it as if it was a city designed around the form of a cube, and we wanted the audience to feel as if they were witness to a divided city.
Han: More recently, Suwon Museum of Art (SUMA) has had on display the 'OUR SET: OUR LABOUR × OSANG GWON' exhibition with Gwon Osang.Lee
: 'OUR SET: OUR LABOUR × OSANG GWON' is a duo exhibition organised by SUMA. This exhibition contains traces of the two artists' efforts to find ways of collaborating equally and to helping each other. OUR LABOUR was in charge of directing the space, and tried to find a point that would depart from the space of the traditional white cube. Each of the nine sections uses different devices to create a set-like scene. They were named 'Set 1' and 'Set 2' in that order, and among them, Set 1 shows
The Sculpture 3, 4
(2005 ‒ 2015) modeled after the supercars Enzo Ferrari and Bugatti Veyron in the guise of a motor show showcase. In Set 5, Gwon Osang's
A Trip To Another Joyful Place
(2020) is displayed. This work was installed in the show window of a department store and has a frontal aspect and flatness. In order to emphasise these characteristics, the work was produced as if it were placed on the studio background. Furthermore, he created lighting that would set the work in a more dramatica light. The lighting is designed along the line of the rock festival and spatial concept works, reminiscent of an astronomical telescope or a moon lander. Set 8 displays 99 minicars and was inspired by an automobile company's factory tower. A spiral tower structure was created and
Small Sculpture
(2017 ‒ 2021) were displayed as if they were parked. This set also paid attention to lighting. The vertical light attached to the wall has been used for inspecting painted surfaces in automobile factories. This light does not cast shadows, so it fits for viewers to appreciate the details of the work in detail.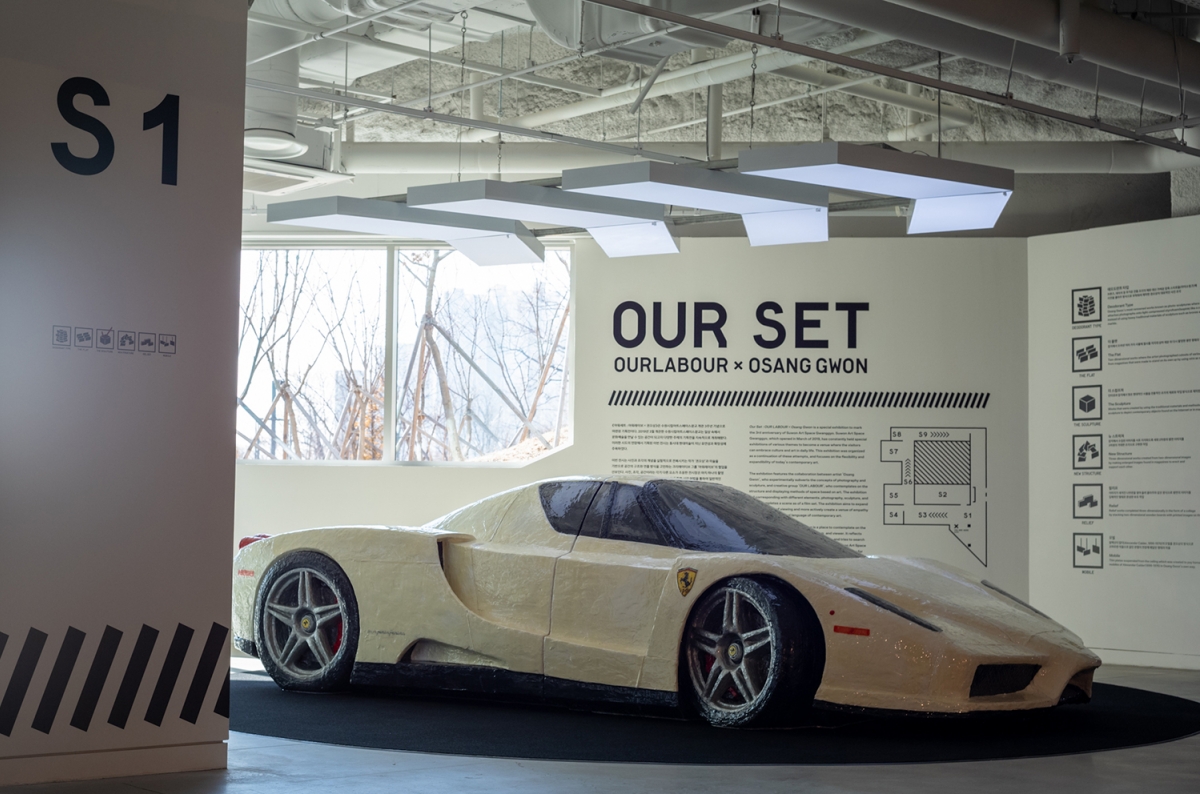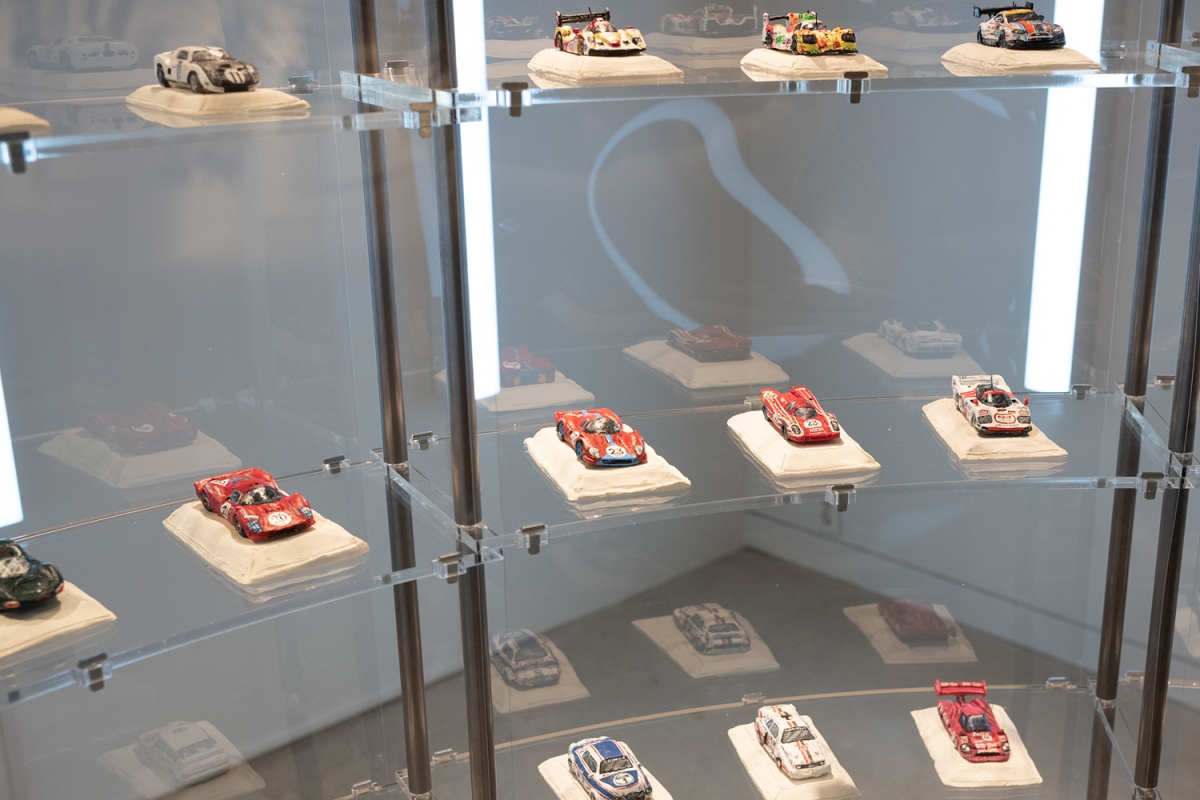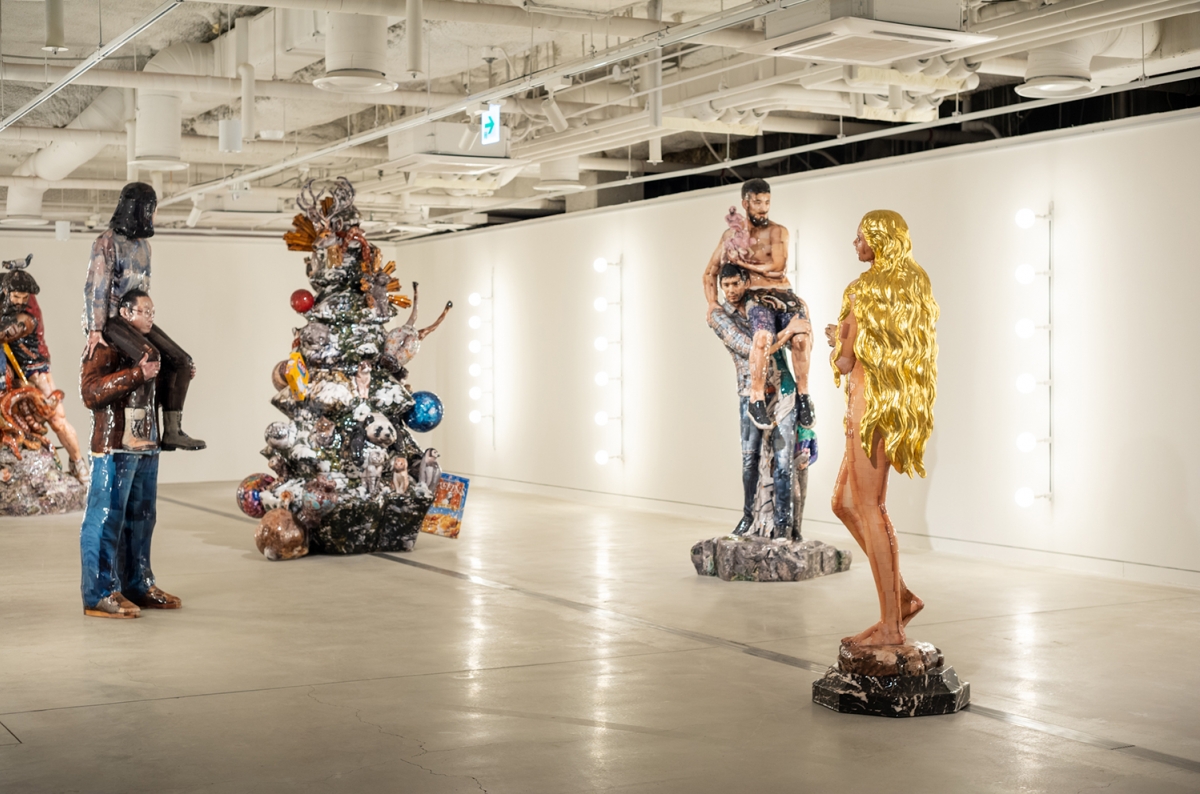 Exhibition views of 'OUR SET: OUR LABOUR × OSANG GWON'
Han: On the other hand, OUR LABOUR works on spatial design in commercial spaces. What are the differences to general exhibition design? Lee
: It is important to highlight the artist's work in an exhibition held in a commercial space, but the image of the person who plans the project should also be considered. 'Dutch Parade' is a pop-up store designed by OMA that was featured in the opening of the Galleria Gwangyo. Since this place was not designed as an exhibition hall, it tried to make the most of the characteristics of the existing space. LG display held 'OLED ART WAVE: Every Wave You Will Sense' exhibition at Peaches, D8NE. It was a place in which to underscore collaboration between 'brands and brands' and 'brands and artists' through exhibitions. Exhibition design plays a particularly important role in such events. This is because exhibition design plays an important role in creating the character, overall atmosphere, and impression of the exhibition.​
Han: Sometimes they deal with objects, not spaces. Looking at the works presented by HYBE INSIGHT and Sojeonseolim, the shapes and materials are different rather than uniform in style. I'm curious about the secret behind making such varied attempts. Lee
: We don't have a specific way of making or intend to cultivate a unique style. Our members are curious about new technologies and methods of production, and as the characteristics of our projects become more diverse, we have seen more cases in which our members have to find the most fitting materials and methods of production. These days our projects receive more robust funding, so there are more opportunities to use various materials and technologies. In addition, the design team and the production team operate in tandem, so there are some areas that develop in the gap between. For example, when a design team comes up with a proposal at a high level of production difficulty, the production team shares designs and materials with the design team to implement the image. In this way, the ping pong between the two produces a quirky yet decent result.​
Han: Earlier this year, OUR LABOUR's first planned exhibition 'Object Universe' was held at Ulsan Art Museum. How is OUR LABOUR as a planner?Lee
: In fact, OUR LABOUR has not used the term 'planning' to its fullest potential so far. As I was working with various exhibition entities, it was a burden to also be credited with planning. In addition, OUR LABOUR is well known for its spatial design, production, and installation, but we are not very popular in the field of planning. These days, while we are actively engaged in content design, we prefer to introduce ourselves with the line 'OUR LABOUR do planning'. To be more accurate, it is perhaps more appropriate to say that 'we do content planning'. We try to understand the purpose of the exhibition more clearly when planning. As our work is based on exhibition design, the image of the exhibition is set according to the nature of the space and content from the time the plan is proposed. ​
Han: On the lower floor of the office is the multipurpose space, THIS IS NOT A CHURCH (TINC).
Lee: When the 30-year-old church in Samseon-dong moved to another place, this space was purchased and used as an office and complex cultural space. TINC is now effectively a separate establishment run by two members of OUR LABOUR and another party, although OUR LABOUR has renovated the third floor, which was a chapel. TINC is mainly used for exhibitions, performances, and filming. The exhibition 'Temporary Landing' will be on show until May 1, with three artists exhibiting works that reveal the characteristics of sculpture and the floor plan at the same time.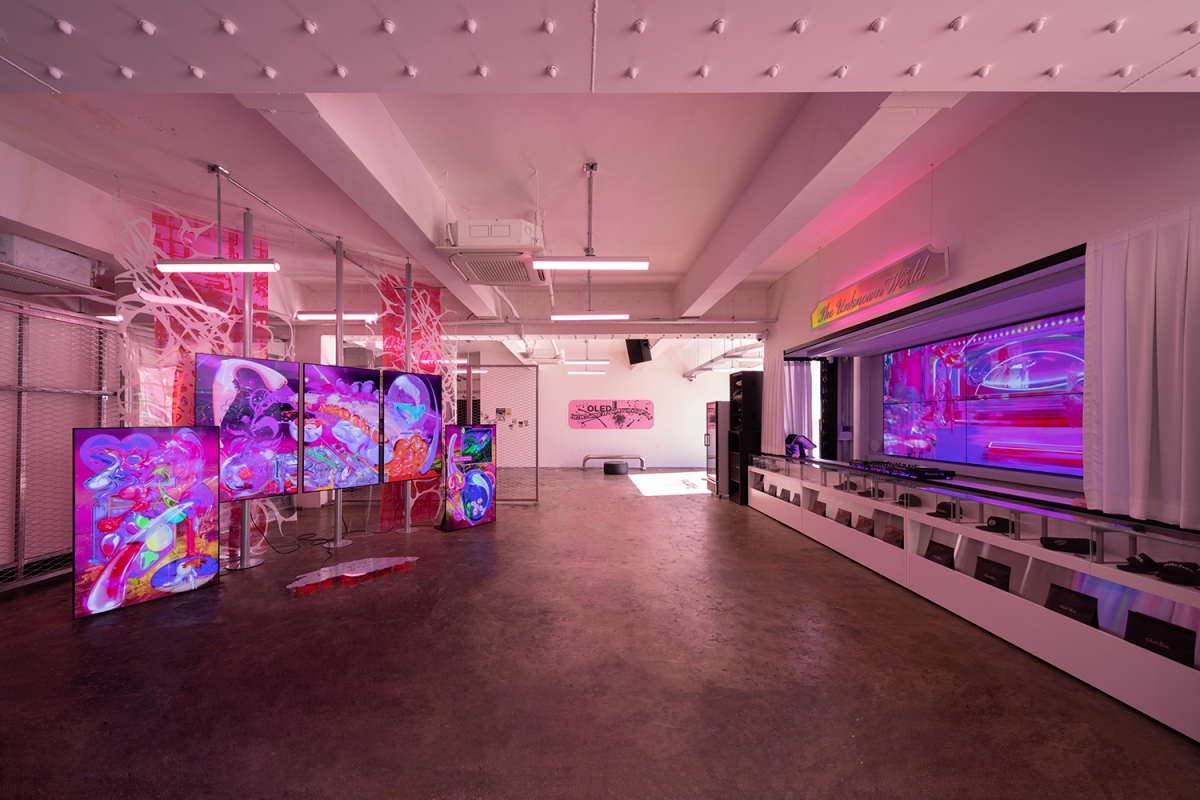 Exhibition view of 'OLED ART WAVE: Every Wave You Will Sense' / Image courtesy of LG Display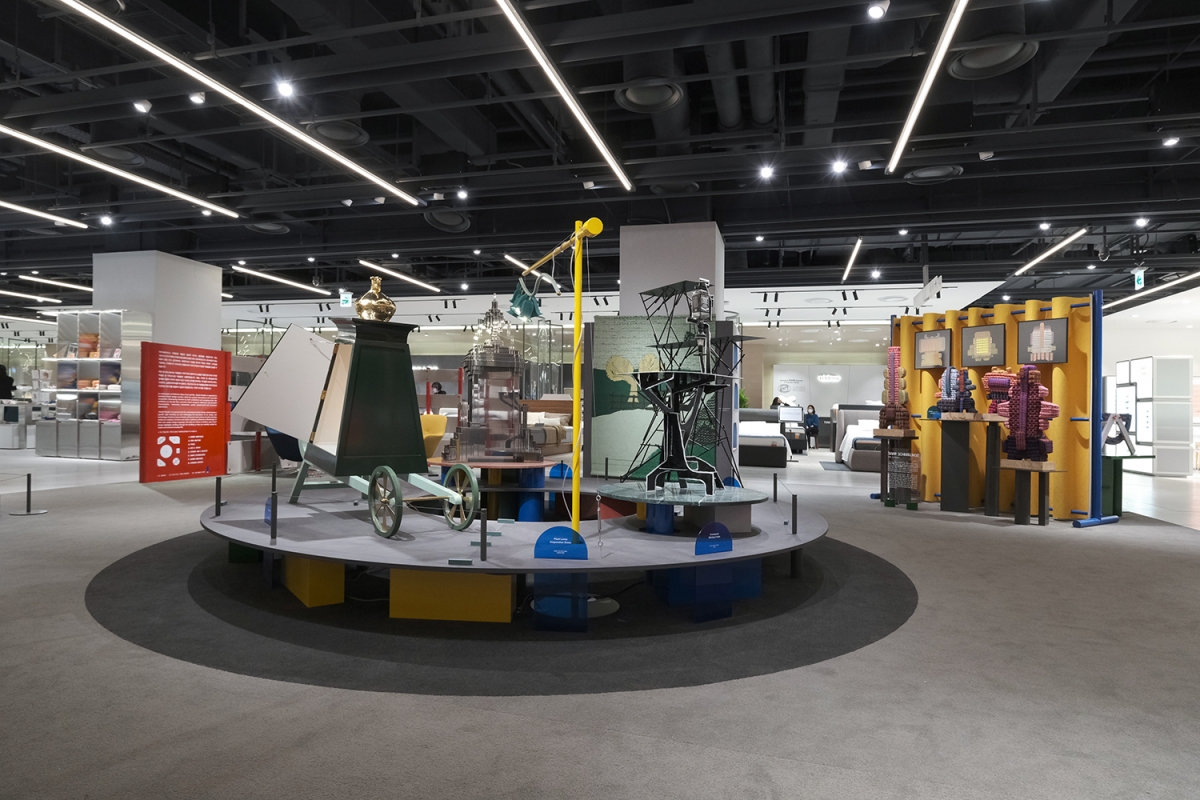 Exhibition view of 'Dutch Parade'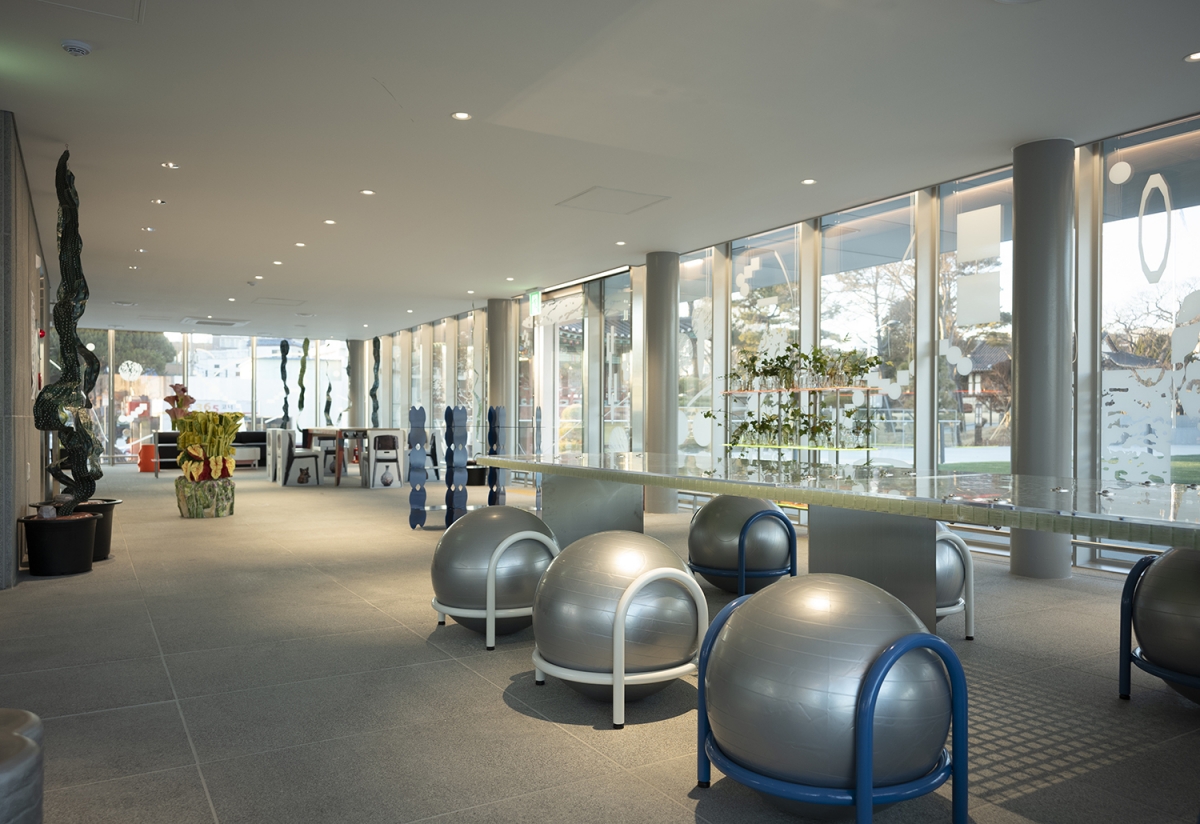 Exhibition view of 'Object Universe'
Han: It seems that there have been many changes in the field of spatial design during OUR LABOUR's career.
Lee: At the beginning of our activities, I heard a lot of questions such as 'Where and what size should the wall be?' As such, the request was simple, and it was important to set up a spatial division or a pedestal upon which the work would be placed. Over the next few years, spatial design began to be used as a tool through which to open up the nature of the exhibition, and various materials and manufacturing methods were considered. It is now a much more complex process. This is because the purpose of the exhibition has become more diverse. Contemporary art exhibitions reveal themes through the works on show, while pop-up stores with exhibition forms, and exhibitions with different purposes, such as campaigns, memorials, and performances, are all emerging. The diversification of the purpose of the exhibition also means that each client has different requirements. Accordingly, the way we respond has had to change with the climate, and we are now moving towards providing a total solution. The fact that OUR LABOUR can play a number of roles, such as in design, commissioning artists, or participating as artists, as well as producing content, serves as a great advantage to this contemporary cultural trend.
Han: Lastly, I would like to end our interview by asking about the future of OUR LABOUR.
Lee
: Interesting projects will emerge one after another in the future, so I'm excited! (laugh) We're preparing a project that will turn to and reveal our identity as a creative group, so you can look forward to that. We will not hesitate to create new solutions and approaches through various grammatical methods as we do now. I want to be a team that makes wise choices by separating what I can do and what I need to do in management. I don't know exactly where we are and what we look like right now, but I hope that our footsteps will set a good precedent for the future.​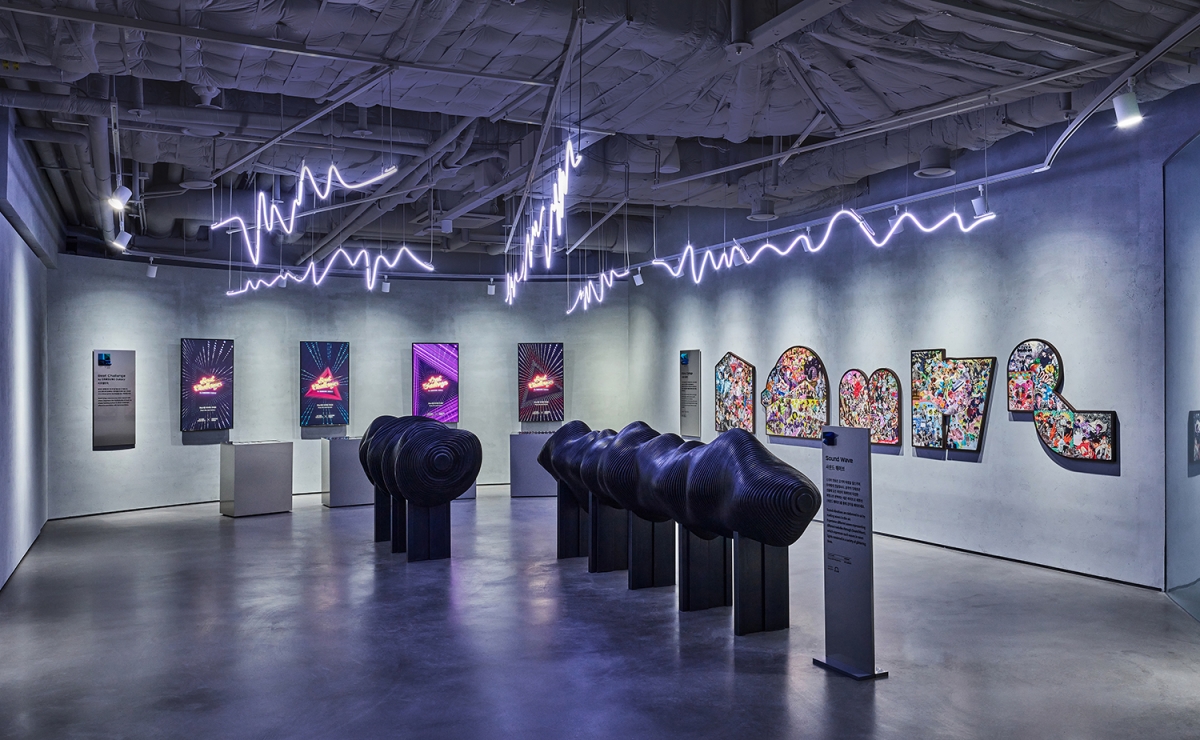 Installation view of Sound Pulse and Sound Wave within HYBE INSIGHT / Image courtesy of HYBE INSIGHT
---
Lee Chunghyung graduated from Hongik University's Graduate School of Pottery Glass and Sculpture, and addressed the environments and conditions of the exhibition while working as an installation artist and holding exhibitions for many years. He is currently engaged in various activities deriving from the exhibition of contemporary art. Also He is the director of OUR LABOUR and the operator of the multi-purpose space THIS IS NOT A CHURCH (TINC) located in Samseon-dong.