On May 21, a park named ʻLittle Island' opened that looked like several tulips planted in the Hudson River in New York. The park located on the former 55th pier, which has long been neglected, and consists of an outdoor rest area, ground, open-air theatre and viewpoints. Little Island opened its door when the vaccines for Coronavirus Disease-19 are well distributed. Since then, a lot of events have been held, making it a haven for New Yorkers. David Farnsworth, Signe Nielsen, and Thomas Heatherwick, who worked on the Little Island project, talked about the process of building an artificial island on the river as a concrete rescue unit.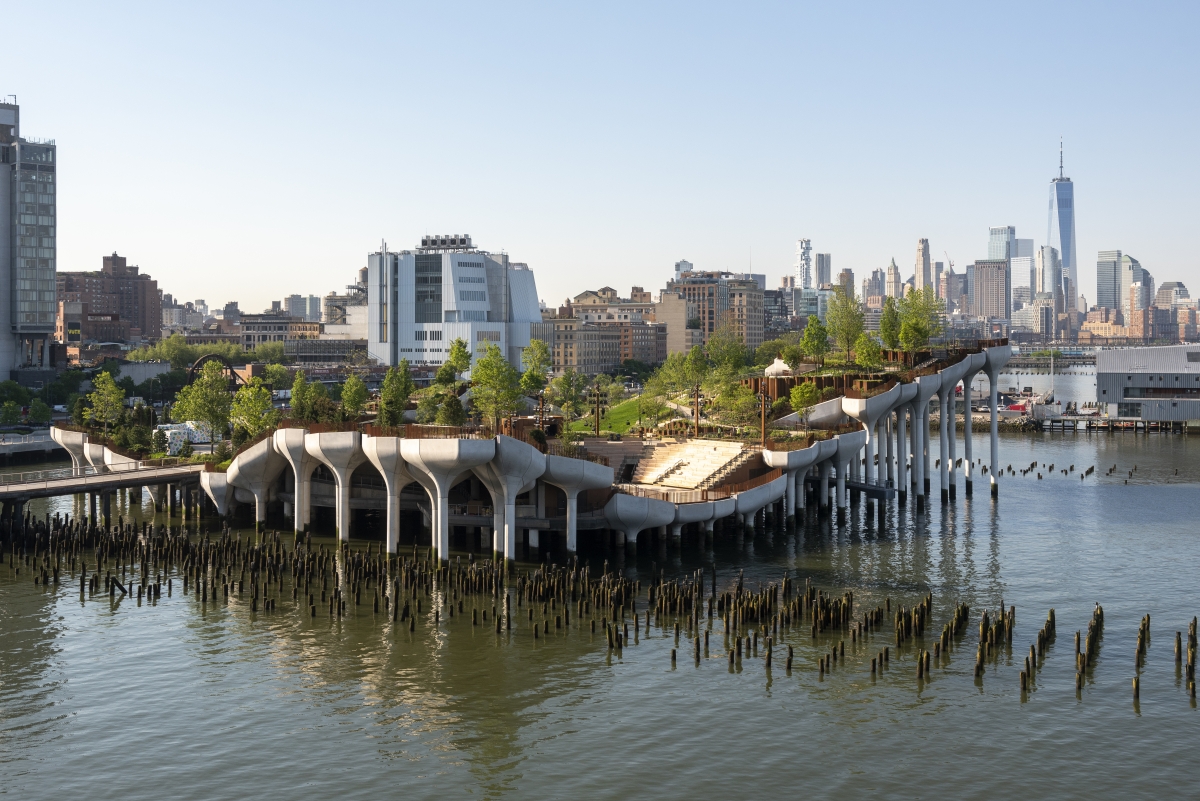 Kim Yeram (Kim): Little Island is a reactivation project focused on New York City's Pier 54 in the Hudson River. Can you give us the background to the client's decision to create a park instead of renovating the marina?
Thomas Heatherwick (Heatherwick): Frustratingly, the trend has been that national governments all around the world have lost confidence in creating good examples of city themselves. They have increasingly left this to private developers. We're trying to ensure our outcome is the best possible solution that it can be. Private funding is often assumed to be a bad thing, but there are many examples around the world where entrepreneurship and commercial success have helped to give something back to cities. In New York, especially, we can look to the Rockefeller dynasty and the Guggenheim family. In many ways the outcomes have been of a very high quality because the business model dictating these spaces was predicated on long-term planning rather than short-term politically strategic thinking.
Kim: Tulip-shaped units gather like a bouquet to form an artificial island. Why did you design the park to take this shape?
Heatherwick: When we began this project, we observed the other piers, and those in greater states of decay were particularly appealing to us. You could see the engineering that made them possible. To us it was a shame that the platforms over the river piles hid these structures, so, inspired by the old wooden river piles, we wondered if they could in fact become the hero in our new design. This followed the logic that if we could grow the piles into a pot form to hold nature. We allowed them to join together to form a new surface across the landscape.
Kim: After Hurricane Sandy flooded New York City in 2012, you decided to alter Little Island's structural design. How does it differ from the previous design?
David Farnsworth (Farnsworth): When work on Little Island began in 2013, its design was originally thought of as a leaf floating on water, which is quite different from the typical pier design, and presented significant challenges to the design, fabrication and eventual construction. Most typical piers are linear and connect directly to the esplanade along the shoreline. After Sandy, we realised we needed to really elevate the pier above new flood levels. The existing grades of the West Side Highway and esplanade were only at elevation 6ft above sea level. By making the pier an island well offshore of the esplanade, it enabled the use of gently sloping accessway ramps to raise the elevation of the main pier space to 15ft above sea level and ensure that the structure would be more resilient than the conventional piers.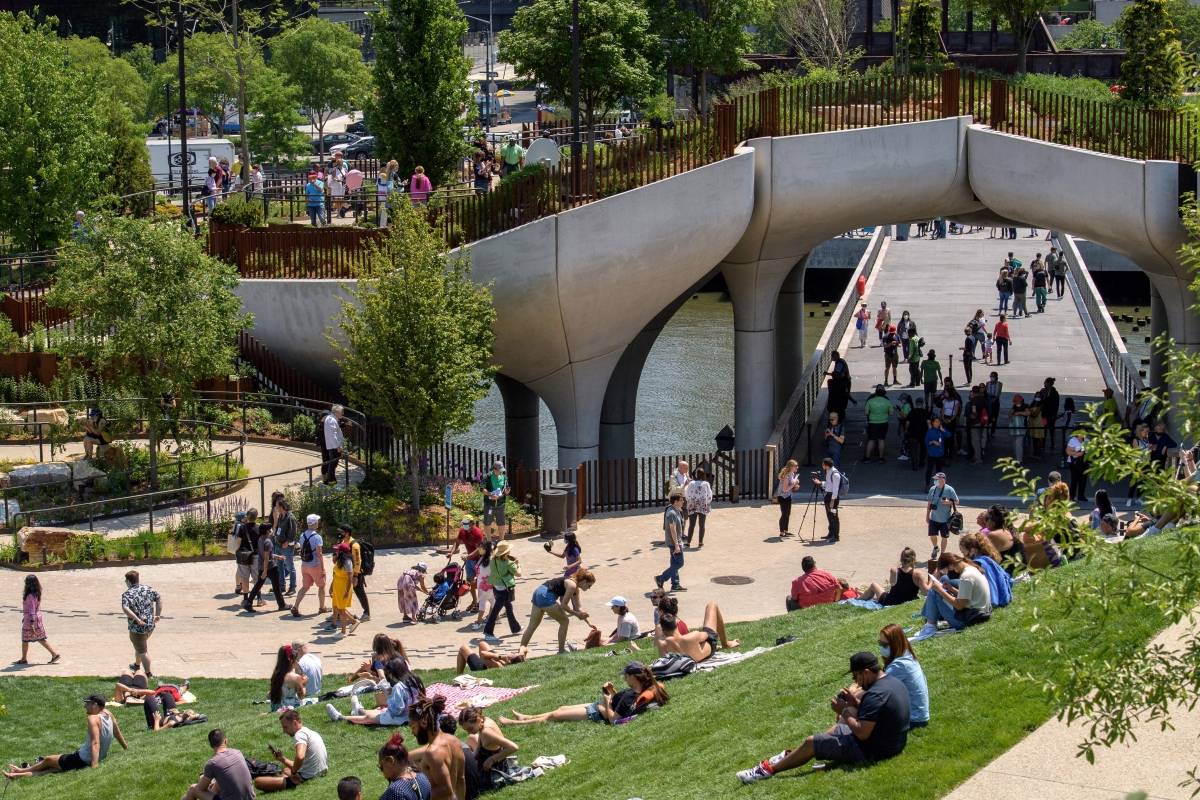 ⓒAngela Weiss_Getty Images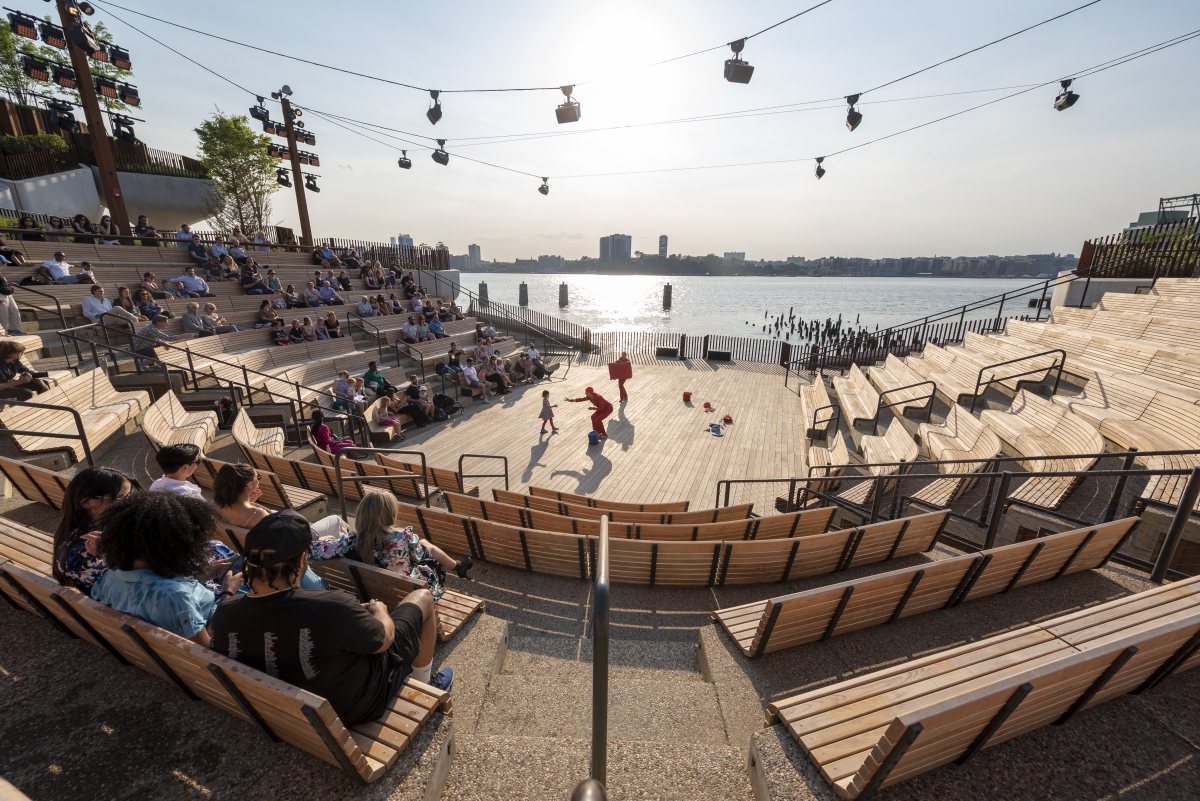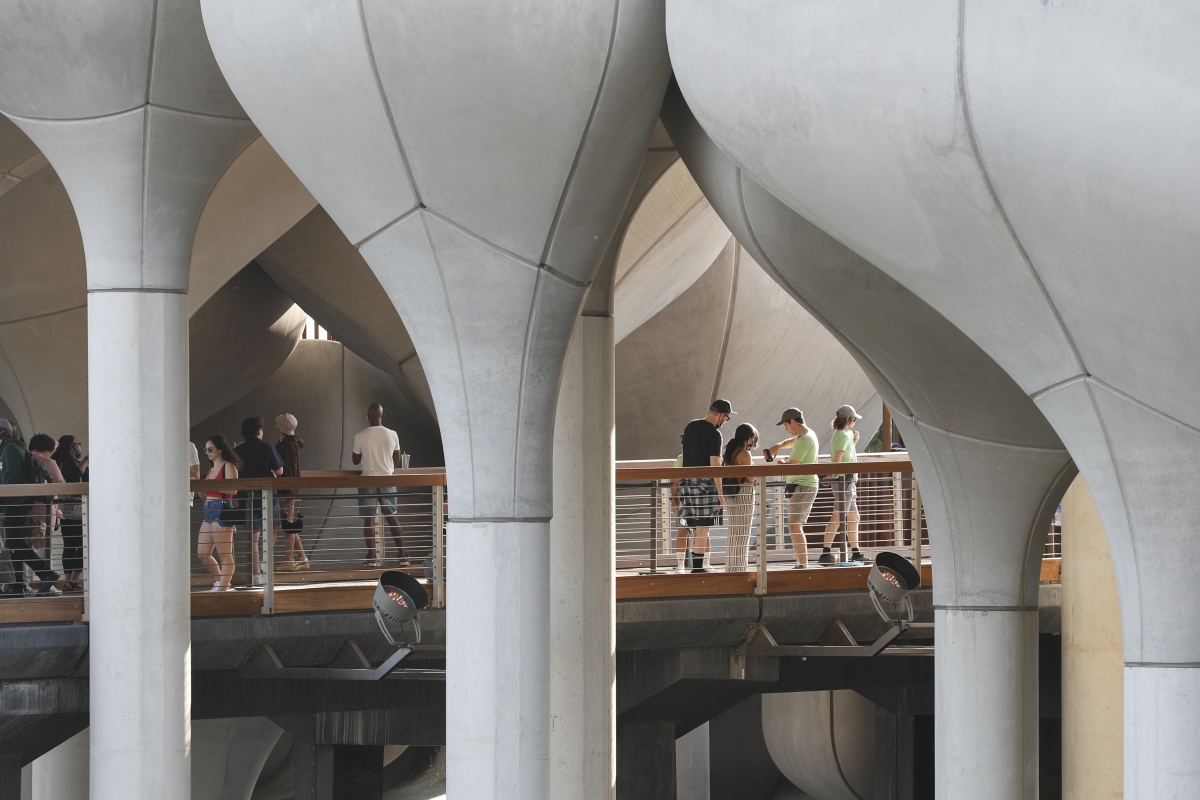 ⓒChina News Service_Getty Images
​
Kim: The unit is reminiscent of '1000 Trees' (2020) in Shanghai, China. What are the similarities and differences between the two cases – Little Island and the 1000 Trees – in terms of unit design and construction?
Heatherwick: In the case of 1000 Trees, we needed 1,000 columns to support the building and we also knew we wanted to incorporate lots of nature and plants and trees. So it made sense to use the structural columns for the tree holders. We strive to make each project adopt a different personality distinct from each.
Kim: 132 concrete structural units support the upper landform. How did you build and install these structural units on-site?
Farnsworth: We quickly determined that precast concrete was the best choice for the pots that form the park's base, due to the challenges of constructing cast-in-place concrete over a river and the significant expense of steel construction. Arup used advanced 3D modeling to communicate all geometric aspects of the pot geometry, rebar, and connections digitally to the precast concrete fabricator Fort Miller Concrete. We utilized a pattern of ʻCairo Pentagon' shapes that ensure that we could achieve repetition of form while still maintaining visual variety. Our design models were fed to robotic milling machines which milled foam formwork to create the unique 3D curved shapes of each pot petal and column head. We broke these pots into discrete pieces for efficiency in shipping and to ensure that we had a wide range of precasters to potentially perform the work. Weeks Marine assembled the pots at the Port of Coeymans in Albany, New York, before the completed units were transported down the Hudson River and placed onto precast piles driven into the water.​
Kim: Little Island consists of winding walkways, open yards, and a 687-seat amphitheatre. What was your focus when designing each area?
Signe Nielsen (Nielsen): My focus was to choreograph a series of experiences as people move through the park. At times their gaze is inward towards the park and at others outwards in the direction of the city's skyline or towards the river. The landscape is an ever-changing seasonal delight of colours, textures, fragrances, that respond to light and shadow, wind and topography. The lawns provide a variety of experiences for visitor, places for children to frolic, opportunities for family picnics, and overflow space to watch performances. The sloping topography of the lawns was carefully calibrated for comfort and to open up panoramic views. Heatherwick Studio and Standard Architects were responsible for the design of the amphitheater.
Kim: What criteria did you use to select various species of tree?
Nielsen: There are over 100 trees of 39 species. The trees were selected based on their hardiness to our climate and that can be found thriving in other parts of the Hudson River Park, encountering similar wind conditions and comparable salinity. The evergreen trees were chosen to screen the less desirable views and to provide shelter from the harsh winter wind. The deciduous trees are a combination of large canopy trees and flowering understory trees. There are also nearly 300 species of shrubs, grasses, perennials and ferns which contribute to the seasonal variation in colour, with spring full of pastel tones, and as the weather gets hotter in summer, so too do the colours of the flowers intensify. As autumn approaches the colours of the grasses contribute more muted hues of golden yellow, beige and mauve set against the more vibrant fall foliage of the trees and shrubs. The winter landscape is punctuated by evergreen trees and shrubs as well as by colourful berries and bark. Our changing climate has also been a deciding factor in plant selection, acknowledging that we will see a gradual rise in temperatures as well as in extreme temperatures.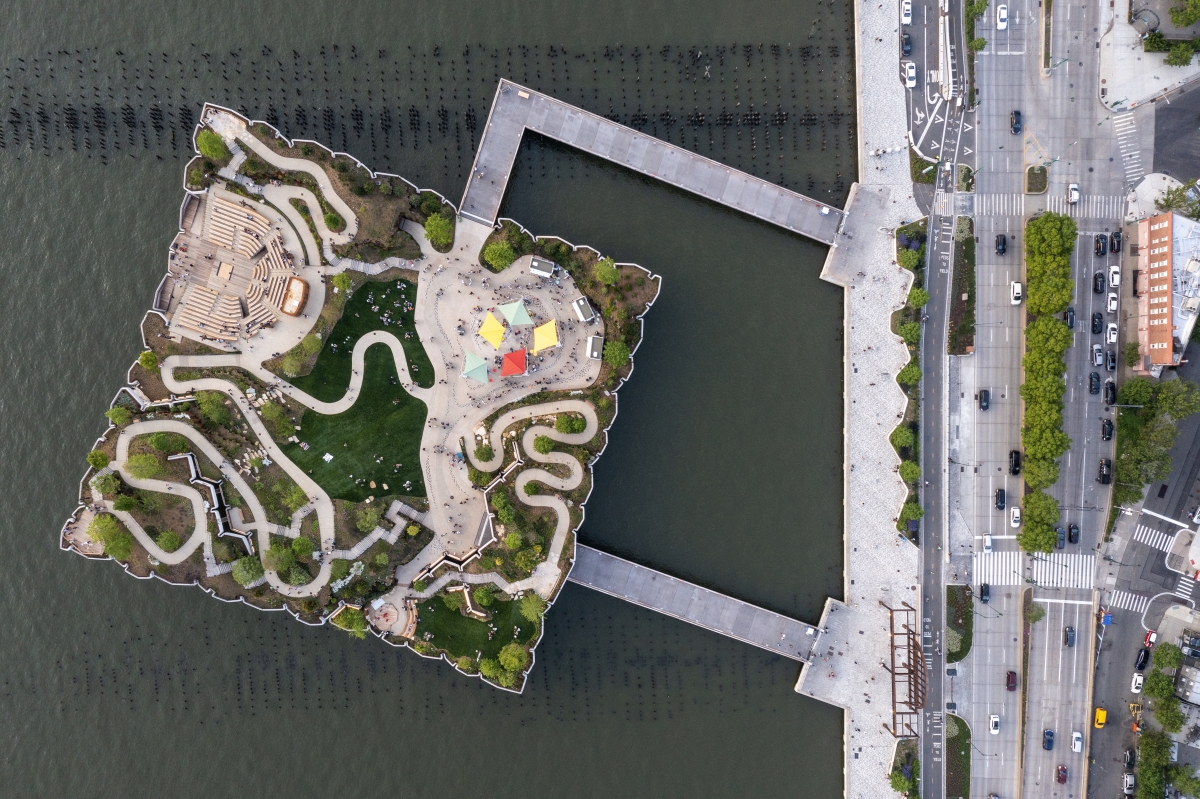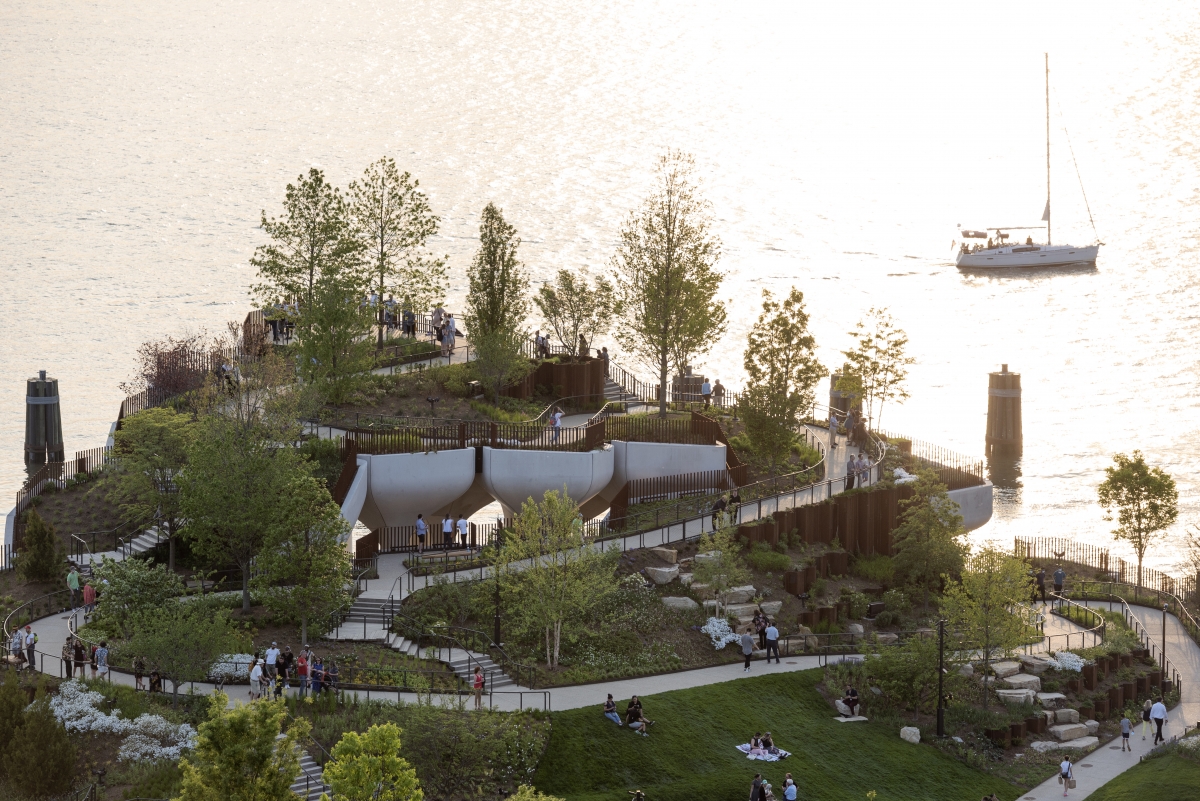 Kim: The posts from the old piers still remain. What did you decide to leave them, and what role do they play?
Nielsen: The juxtaposition of the historic piles and the contemporary concrete piles convey the notion that traces of history do not need to be eradicated to introduce new innovation and indeed, cohabitation of the same space suggests a marriage of maritime eras. These timber piles also provide a new habitat for fish and waterfowl, particularly in the intertidal zone (between high and low tide).
Kim: The park has come to be characterised through its as 'huge roof', and for introducing a stormwater management system. Can you explain the process through which rainwater falls here and flows into the river?
Nielsen: The rain that falls on the landscaped areas passes through the soil and gravel to a drainage mat and ultimately into drains. The water that falls on paved surfaces is collected in drains. Both systems collect water in pipes that penetrate the concrete slab that are located between the units. The water is free of pollutants as the park does not permit the use of chemicals of any kind, neither for landscape maintenance nor salt for de-icing.
Kim: A growing number of projects in recent years have focused on developing neglected areas along the Manhattan River. What kind of plans and approaches are necessary for the buildings created by this large flow, so as not to exist individually and to be effectively combined into one thriving area?
Heatherwick: The project was the consequence of a competition organised by the Hudson River Park Trust. They were curating all the different piers along the west side, to create a recreational space for New Yorkers and to regenerate a series of dead pieces of infrastructure. What's interesting is to think about how much cohesion you try to create or how much you deliberately allow diversity in to that mix. Too much cohesiveness can be incredibly inhuman.​
---
David Farnsworth is a principal of Arup's New York office and is project director on the Little Island project for Arup. His experience ranges from new mixed-use high-rise tower developments to signature bridge designs and includes various building, rail, airport and civil projects. He has designed iconic tall building structures including Marina Bay Sands, China Z15, China Resources HQ Shenzhen and Songdo Northeast Asia Trade Tower.
Signe Nielsen has been practicing as a landscape architect for nearly 4 decades. She is a founder of MNLA, a firm dedicated to fostering community access to quality open space and promoting environmentally responsible design. She is also a professor in the Urban Design and Graduate Architecture programs at Pratt Institute and is currently the president of NYC's Public Design Commission.
Thomas Heatherwick is a British designer whose prolific and varied work over two decades is characterised by its ingenuity, resulting in some of the most acclaimed designs of our time. Defying the conventional classification of design disciplines, He founded Heatherwick Studio in 1994 to bring the practices of design, architecture and urban planning together in a single workspace.