Archschool
Leader | Lim Geunhye, Kim Hyoungkook, Hong Sungchun
Member | Oh Eunmi, Kim Bohyun
Period of operation | 2012 – ongoing
Main programme | lesson, lecture
Operational aims | To run architectural education programs for increasing integrated thinking abilities.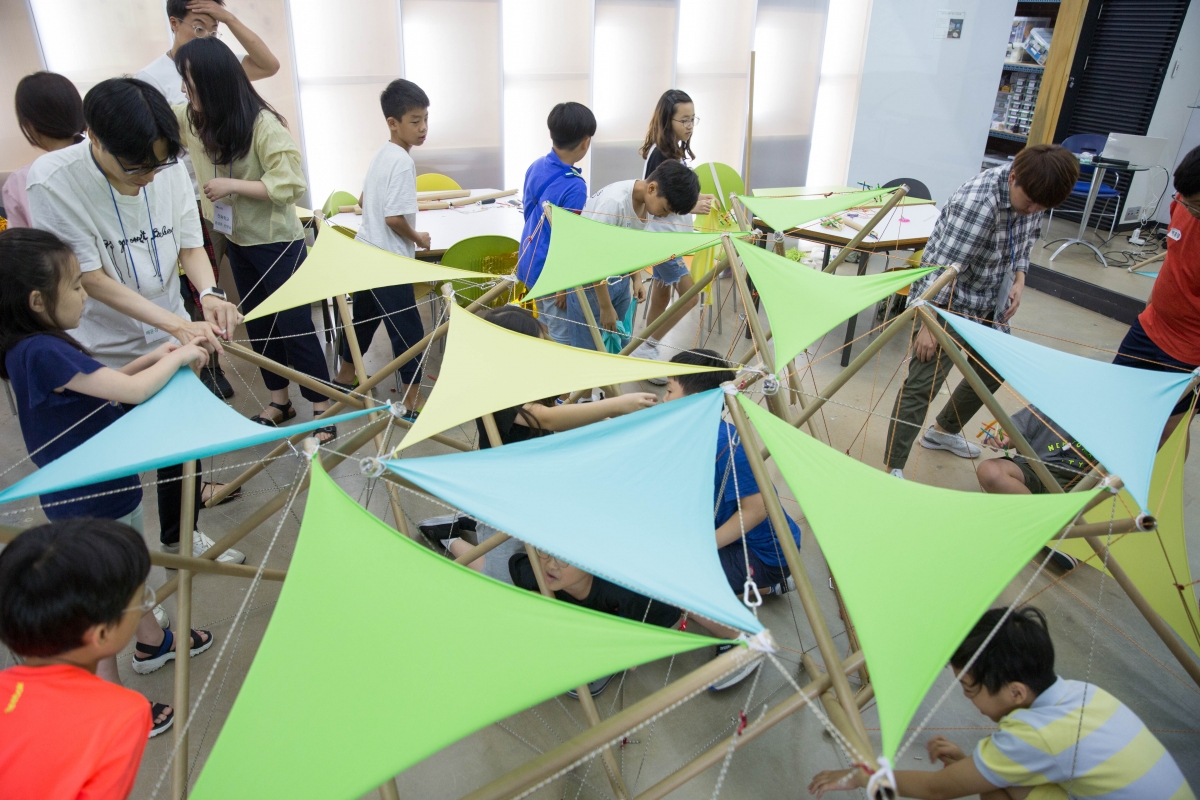 Oh Eunmi manager, Art Center Arko × Kim Yeram
Kim Yeram (Kim): How do the three institutions cooperate in the running of this educational platform?
Oh Eunmi (Oh): Since 2012, Archschool have overseen the organisation, operation and content development of this platform by dividing up these roles. Arts Council Korea provides business promotion, budget support, educational venues, and equipment based on the infrastructure required by various cultural and artistic fields. The Junglim Foundation is striving to educate and recruit intermediaries who can support leading instructors, to plan and develop architectural education programmes for children, youth, and the general public, and to promote architectural education and culture. Architecture K-12 is developing an 'Youth Archschool' with its many years of expertise and solid curriculum.
Kim: What does it mean socially for public institutions to operate an architecture-based educational platform?
Oh: Archschool is not a specialised educational programme for fostering architects, but an 'education through architecture' that integrates various areas. It focuses on project-based classes that ponder the surrounding environment and the local community, and develop skills in critical analysis and interdisciplinary thinking. Ultimately, we want to become an institution that cultivates a broader perspective, one that is collaborative, and an enhanced communication strategy by developing a better understanding of our architecture, cities, and environments.
Kim: How is the curriculum structured for each of Archschool's courses?
Oh: The curriculum in the architecture school is composed of various classes based on hands-on experience, in order to better understand the key concepts in architecture, such as structural design and the idea of space, and depending on their grade. There are five core syllabi: 'Archschool for Children' is intended for preschool children aged 6 ‒ 7 to promote a versatile perception of space, while 'Archschool for the Youth' is for elementary school students to encourage conversations with architects and to focus on building architecture and cities.
Kim: What are the criteria for selecting your educators?
Oh: The selection of educators is made by the Junglim Foundation, which has a rich pool of personnel from across the field of architecture. The trainee teachers at Archschool are also singled out in an interview process that considers essential knowledge and enthusiasm for architecture and communication skills with children. This year, we planned an empowerment training course for the trainee instructors, but it was cancelled due to the Coronavirus Disease-19 (COVID-19) pandemic.
Kim: Following the outbreak of COVID-19, Archschool for Child has been conducted as an online course. What has changed in the curriculum and in terms of the learning tools?
Oh: The programme for the first half of the year was cancelled due to COVID-19, and in the second half, every plan was necessarily replaced with non-face-to-face programmes. The existing curriculum was reorganised to pursue online teaching methods, and the materials used in classes were subdivided by the week and delivered in advance. The 'Archschool for Child' prepared in this vein ran once a week for a month in September for preschool children and parents.​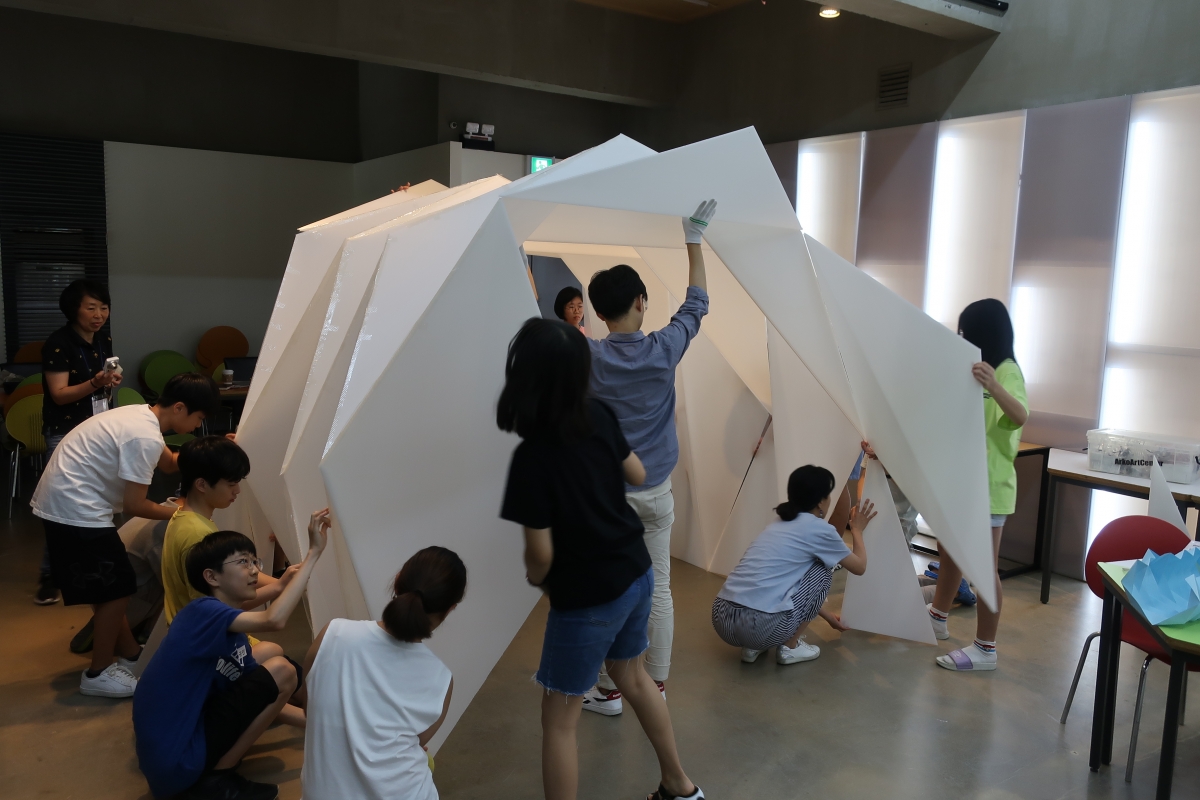 Views of Archschool's programmes / Images courtesy of Archschool
​
e-flux
Leader | Anton Vidokle
Period of operation | 1998 – ongoing
Main programme | journal, review
With the spread of Coronavirus Disease-19 this year, it has become impossible for educational platforms around the world to conduct an offline curriculum, and Archschool is facing the same unsettled situation. I needed a mentor with a lot of expertise and experience of online education in order to reconsider the ways we might teach in person. I judged that 'e-flux', which observes trends from various fields, seemed to be the most suitable. e-flux is an online archival platform that makes available specialist data produced from 1999 to the present. The website is organised into ten categories: Journal, Architecture, Discussion, Art Agenda Review, Art and Education, Video and Film, Books, Programmes, and Projects. The most unique aspect to this platform is that it has separate categories for 'Art & Education' and 'Architecture', in order to examine the advancements made by art education and architecture around the world. Within the 'Art & Education' category, there is a sub-category titled 'School Watch', which is impressive as it scrutinises at fine arts education, curation, and theory from a critical perspective.
The Archschool interrogates topics that are discussed on e-flux across the international field of architecture and education. We recognised that discussions concerning educational programmes could be conducted at home. 'Lincoln Center at Home', introduced in the education category, is a site designed to allow people to enjoy opera, music, musicals, and theatre at home. Its purpose is to enhance public access to culture and the arts by engaging high-quality educators and artists as lecturers. Archschool, which is practising architecture education by integrating several disciplines, looks to concerts and artistic performances for children. The revitalisation of online education is welcome, but some issues remain to be solved. When organising online programmes, the issue of image rights is among the most important. There also may be some reluctance to disclose ones personal environment over video to those other than users of similar access to the platform. So, the educator should receive agreement from participants after notifying the participants that the session will be recorded and that the related contents will be used at a later date. To what extent the content will be released more widely is one of our many considerations. Some of the online education programmes are operated through a payment structure. So the education platform has to decide upon the extent of an educational curriculum's openness to its users in advance. e-flux, which has introduced a variety of its own educational programmes, recently added a category entitled 'Art Agenda' to provide information about social issues that could be used by public education programmes. e-flux selects topics from their perspective, pointing out the areas to which educational platforms should pay close attention and due care.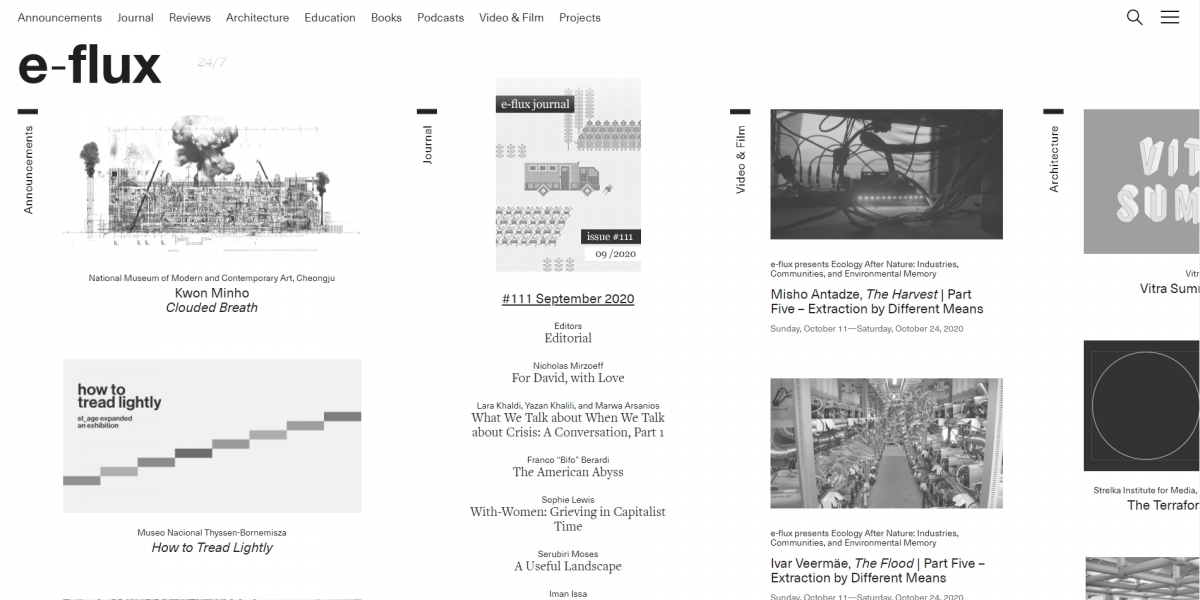 ---
Oh Eunmi has worked in Arts Council Korea since 2017. In 2020, she works at Art Center Arko as Museum Manager & Educator responsible for Archschool.