Babahoyo is a small city in Ecuador undergoing rapid urbanisation. The recent boom in development in the city centre has pushed residential areas further into the outskirts, dissolving the traditional sense of community and sending the conditions in its urban living environments into decline. Natura Futura Arquitectura hopes to restore some sense of a healthy residential environment here and a community based on the unique regional qualities to be found in this small town. SPACE here interviews this studio to hear more about their attempt to change this city through a series of modest but influential interventions.​
Babahoyo: An Urban Site
Ecuador is a country at the antipode of Korea, north of the equator in South America. Located on the Pacific coast, Guayaquil is a commercial and industrial metropolis that has long been at the head of Ecuador's economy. Many satellite cities have sprung up around Guayaquil, as the population of this area is more than just the inland capital Quito. Babahoyo is one of these cities.
Natura Futura Arquitectura (Natura) was established 2014 in Babahoyo, a small city with a population of 150,000. José Fernando Gómez, the founder who grew up in Babahoyo and studied architecture at the University of Guayaquil, explained his decision to dedicate his energies to this project: 'A small city like Babahoyo is a place in which you can directly experience the reality of cities in Ecuador. I wanted to maintain specific design decisions and sctions in order change the reality of such cities'.
What is happening in Babahoyo now? The city is suffering at a very great extent from the fall out of rapid urbanisation, its ramifications visible from city centre to the outskirts. There are two main reasons for this: first, politicians were imprudent in their decision to make the land on the outskirts of the city available for development in return for electoral votes; second, the influx of immigrants from rural areas. This resulted in the rapid expansion of Babahoyo's urban area in a horizontal way, leaving dense blocks in the city centre isolated and decelerating their progress. The spill of the population into the suburbs caused traditional communities to weaken, and Natura considered their main task to be the introduction of a new vitality to this increasingly helpless urban situation.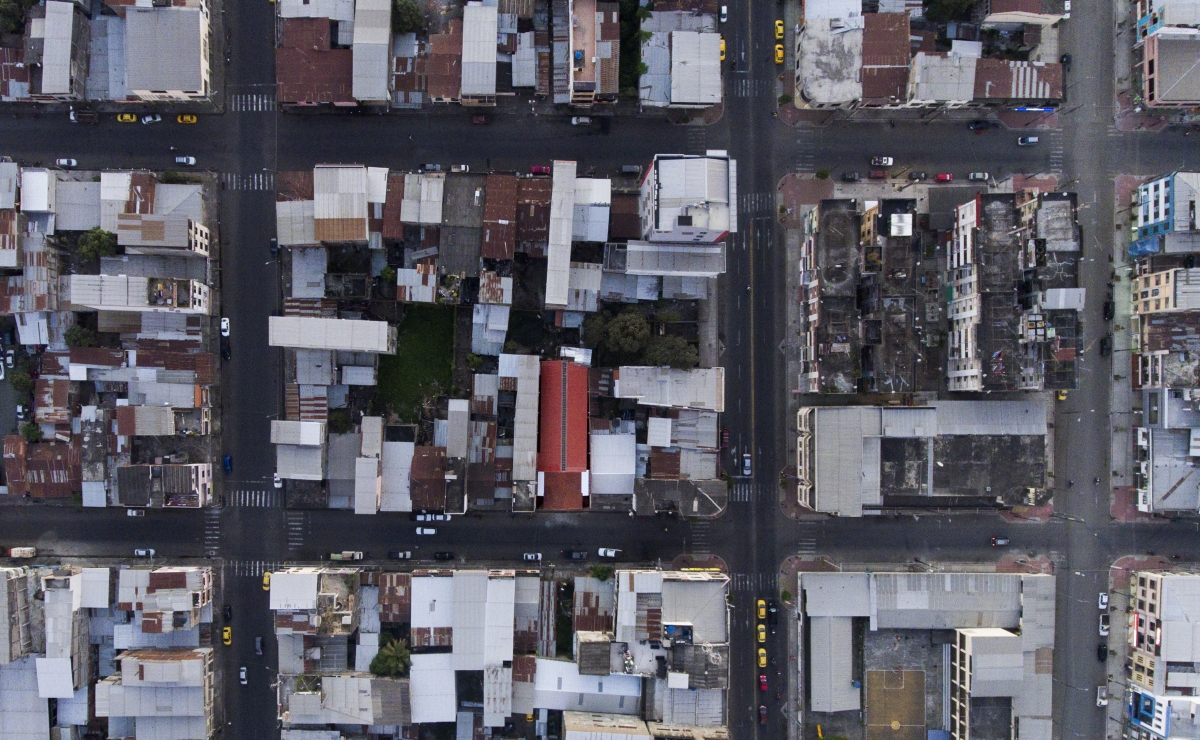 Babahoyo's Urban Fabric surrounding the The House that Lives. This reveals the irregular form adopted by this narrow lot.​
The main feature in Babahoyo's urban fabric is of irregularly divided plots within a large square block. Natura explained the reason for this: 'This phenomenon resulted from the fact that the residents of the city divided land into slender parcels to build their own homes when city policy had not yet been set in stone. Their houses occupied the area right up to the border line of each lot in order to increase their floor area, which left the city with a dense environment filled with adjacent buildings'. Eventually, such closely organised urban structures affected lighting and ventilation in an adverse way, and harmed the general living conditions in these neighbourhoods.
On the other hand, rapid urbanisation puts urban housing in a difficult situation, as simple housing functions are not enough for survival. Regarding the phenomenon of gradual diversifying of houses into multiple uses, Natura noted that the ambition to 'group different functions side by side has been always attempted in city contexts' but concluded that here 'each function had been disconnected and arranged in a disorderly fashion'. Natura added they have long been interested in 'exploring various means of introducing vitality to everyday life in the city through the synergy to be achieved when placing multiple functions in one place'. In fact, clients place a premium on additional income such as leasing and commercial facilities. Therefore they chose to focus on the possibility that housing with both public and private spaces might communicate with the local community and have benefits beyond profit generation.
Natura recently completed the House That Lives (La Casa que Habita) and The Provider (La Proveedora) in Babahoyo and Montalvo respectively. As the façade facing the street and the lower levels must be treated as important factors in defining a building's relationship with the city, they contemplated the surrounding environment such as the arcade on the first floor, floor height, and materials. In The Provider, they set the construction line behind the lower level to avoid interference with existing commercial activities, particularly as the building site faces a market. This created a front yard that enhances accessibility and the public facing nature of the market street as it naturally connects a hardware store and a wine merchants on the first and second floor.
Road view of House that Lives​
Permeable Wall Alive with Local Traditions
Arcades, balconies, terraces, and inner courts are traditional elements of Ecuadorian architecture, all of which are climate-friendly forms. In traditional residences, the buffer spaces used to have wooden retractable windows, awnings, and screens to block heat of the midday sun and allow ventilation. Natura reinterpreted these elements and added to them in their urban housing. House That Lives is an urban house with office and rental spaces according to the client's requirements (who operates a school programme). Most of the functional spaces are located on the second floor with a long wall dividing educational space from rental housing. Natura introduced side terraces to achieve adequate lighting and natural ventilation in each space and to encourage its use as community space for communication. Natura made clear to us that 'The typical social behavior of generating new friendships, contact with the other, is a key social and cultural practice that forges local communities in Ecuador'. A culture of inviting people over is particularly popular and shared spaces such as a terraces, dining rooms, and living rooms for social exchange within the home have been created in these houses. Natura's architectural style is more immediately evident in The Provider, which includes spaces for commercial activity, residence, recreation, and rental properties all within the scope of this a six-story building. The three-story tall inner court at the centre of the building is an element that provides a solution to the problem of adequate natural lighting and ventilation; Natura refer to it as 'the lung of the building'. The space is modern interpretation of a traditional patio, as a space for exchange and central to community activities.
Placing a terrace in front of the The Provider, Natura created a wall that would surround this space with a unique perforated brick façade in collaboration with local craftsmen. In the House That Lives, carpenters helped to install wooden sliding doors that can be opened to the façade of the second floor, a reinterpretation of wooden screens and windows in traditional Ecuadorian houses. The 'permeable wall' not only facilitates lighting and ventilation but reveals the working characteristics rooted in this area.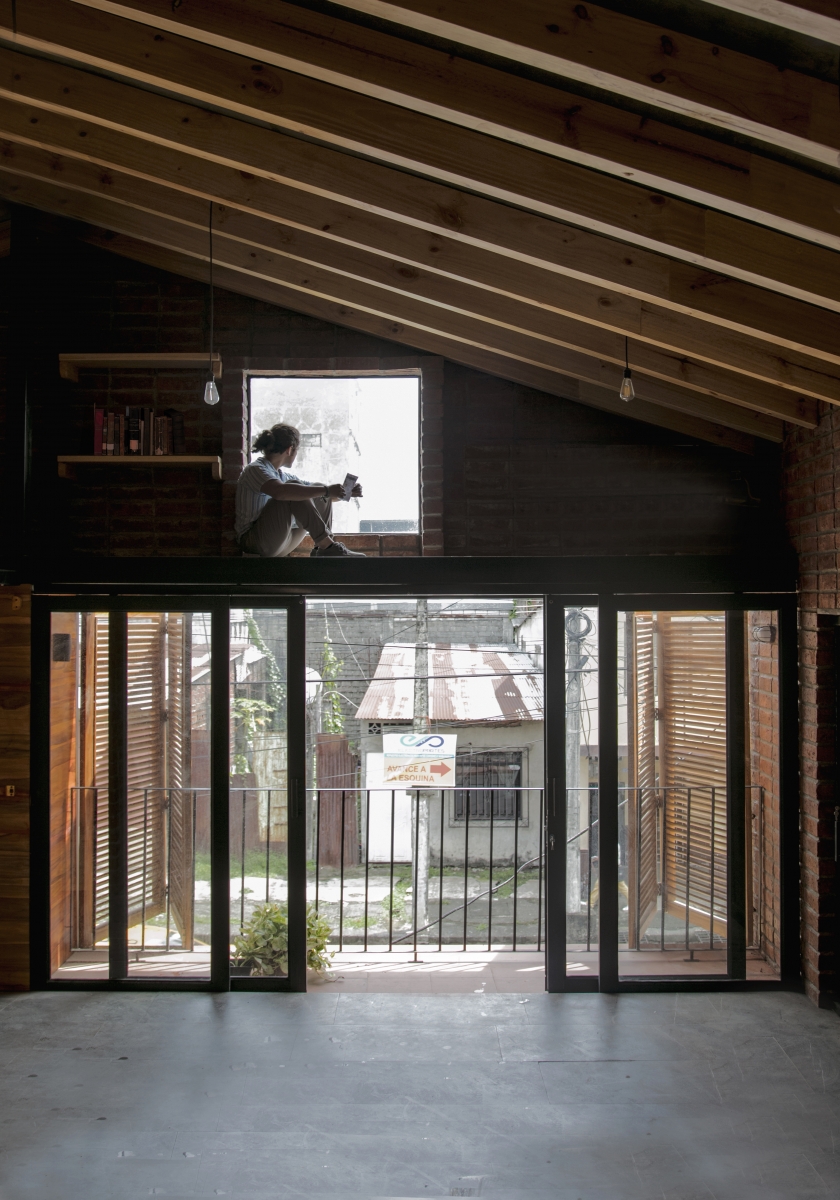 Lobby on the 2nd floor. When you open the wooden sliding door, you can see the street at a glance.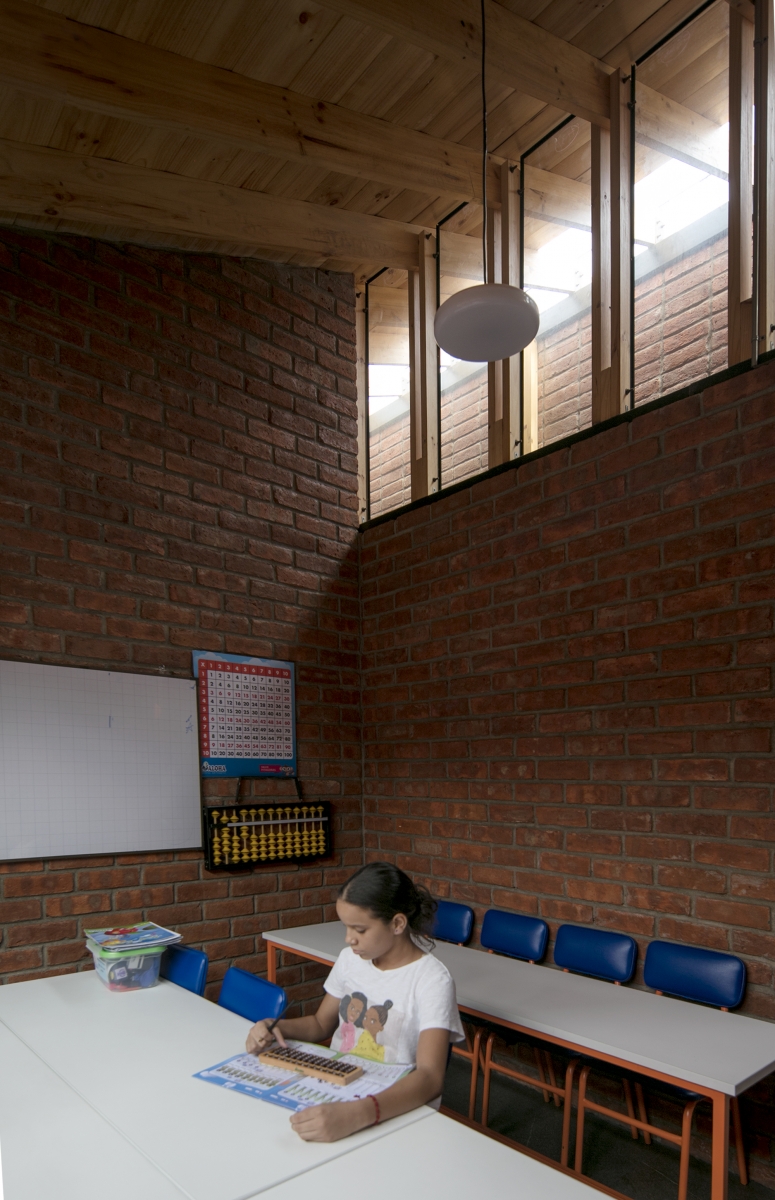 After-school's classroom on the second floor. Light comes in through the skylight.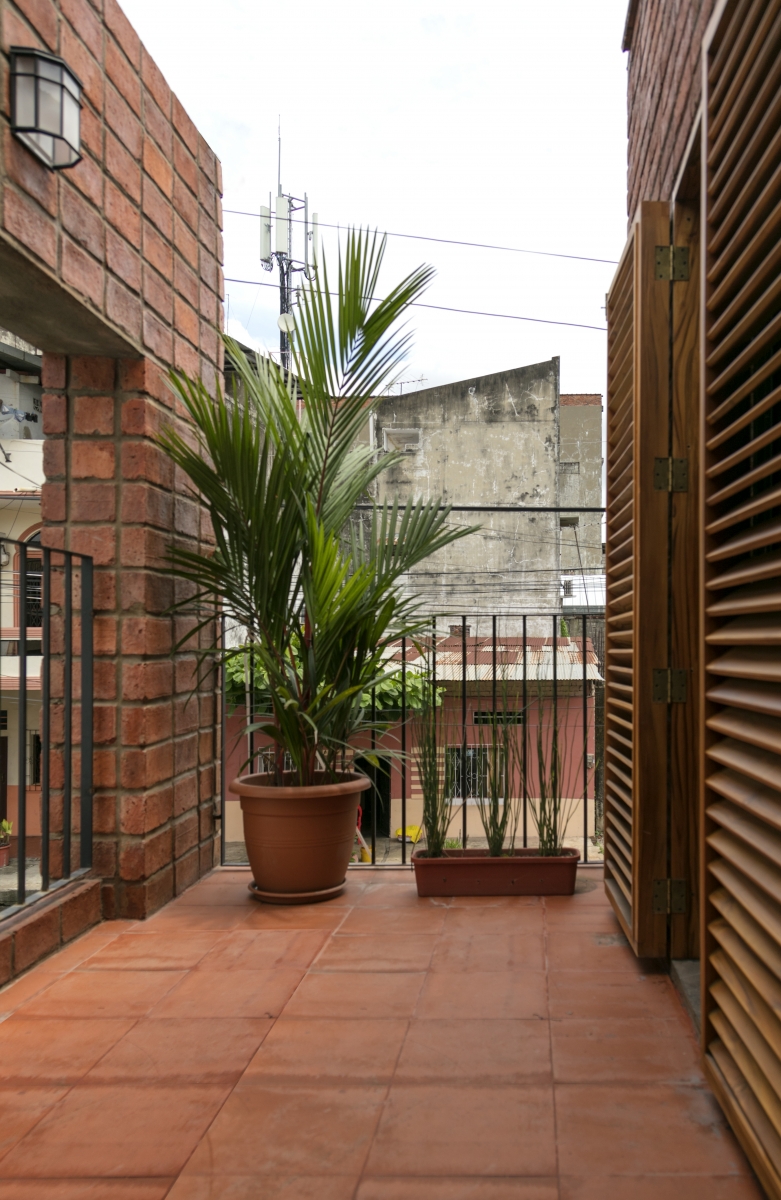 Outdoor terrace on the second floor​​
Recovery of the Urban Community and Sociability
Natura brought together local materials and human resources so that the process of house building itself would promote a healthy ecosystem with the potential of vitalising the local economy. 'In small cities in Ecuador, there are still craftsmen who are building houses with locally produced materials such as bricks, blocks, and wood' they explained, and 'of course, rapidly increasing prefabricated buildings are replacing them, but we wanted to enhance the value of their materials and technologies by encouraging them to actively participate in the construction process'. They intend to experiment with and develop various ways of using materials to solve functional issues to control privacy, security, ventilation, and daylight' and showed their plans to solve the problems faced by local communities and urban architecture through collaboration with local craftsman.
Their attitudes toward housing-related social issues remain the same in other public projects. House for Someone Like Me (Casa Para Alguien Como Yo, 2016) is the result of participating in a government-sponsored house-building programme for low-income families on housing welfare. They also proposed La Comuna (2020), planning to renovate in cooperation with local private foundations the workspace used by a low-income residents who operate recycling centres, devising a system capable of improving urban street environments and generating profits from the recycled waste. More recently, they participated in Little Shelters for Homeless Animals, a public pilot project to build shelters for homeless cats in Babahoyo and solve problems of stray animals in the urban context.
Natura Futura Arquitectura means 'Nature Future Architecture'. It can be translated as the will to design a sustainable future within the urban environment, one that respects traditions and nature. When asked about the social role played by architects, Natura answered 'A city is not a place for the few rich but for the many ordinary people. To focus on the essence of a local community is important'. Their challenge to explore survival methods for affordable and sustainable housing in cities that are becoming ever more densely populated is in its early stages. There is still a long way to go, but we look forward to witnessing their development and effort to establish a deep-rooted resonance with local communities.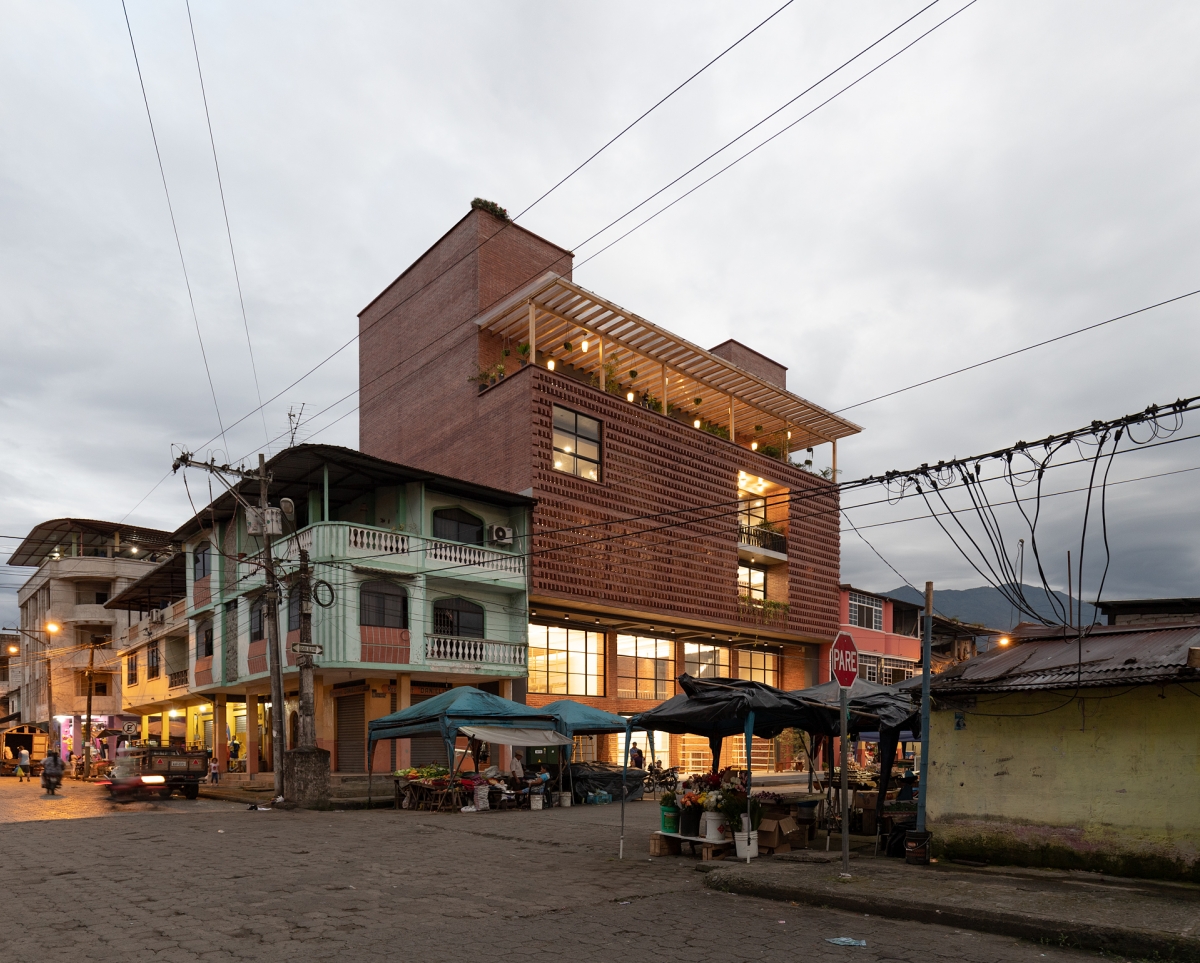 Exterior view of the The Povider ⓒJAG Studio​​​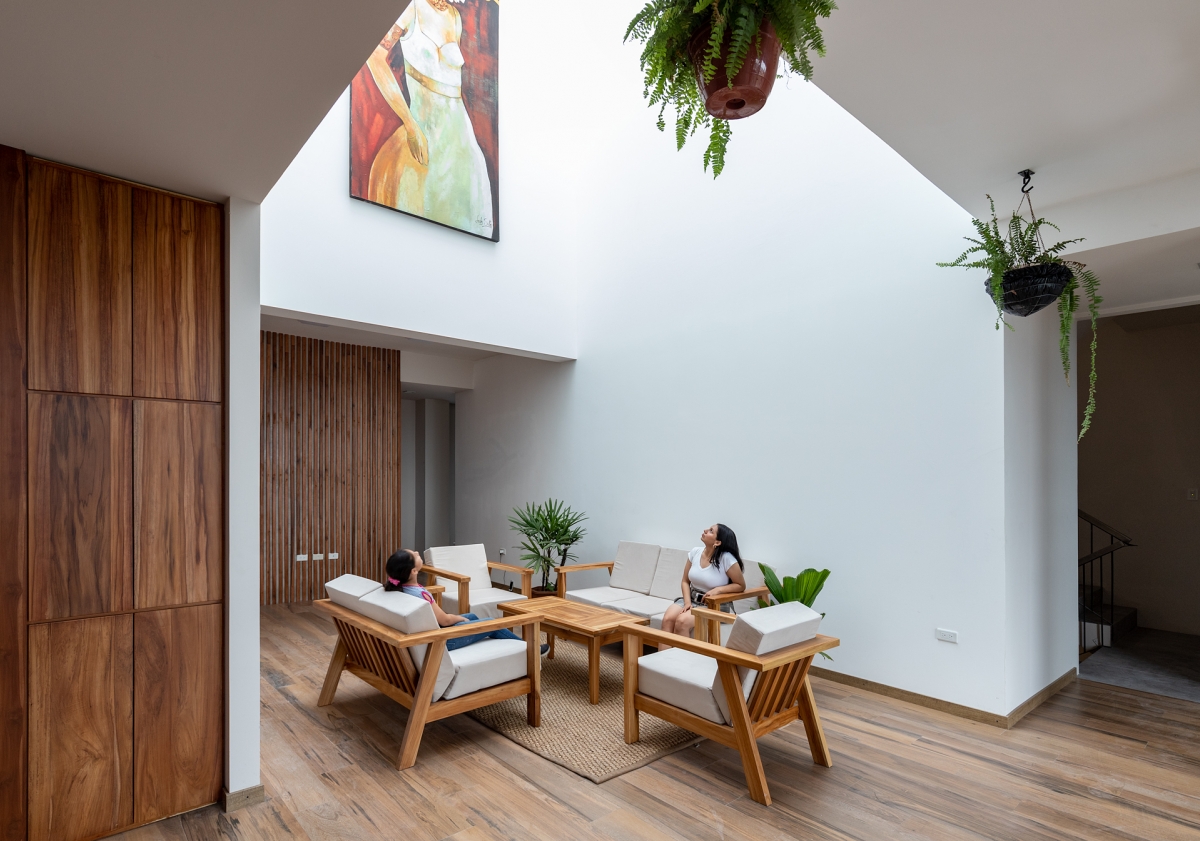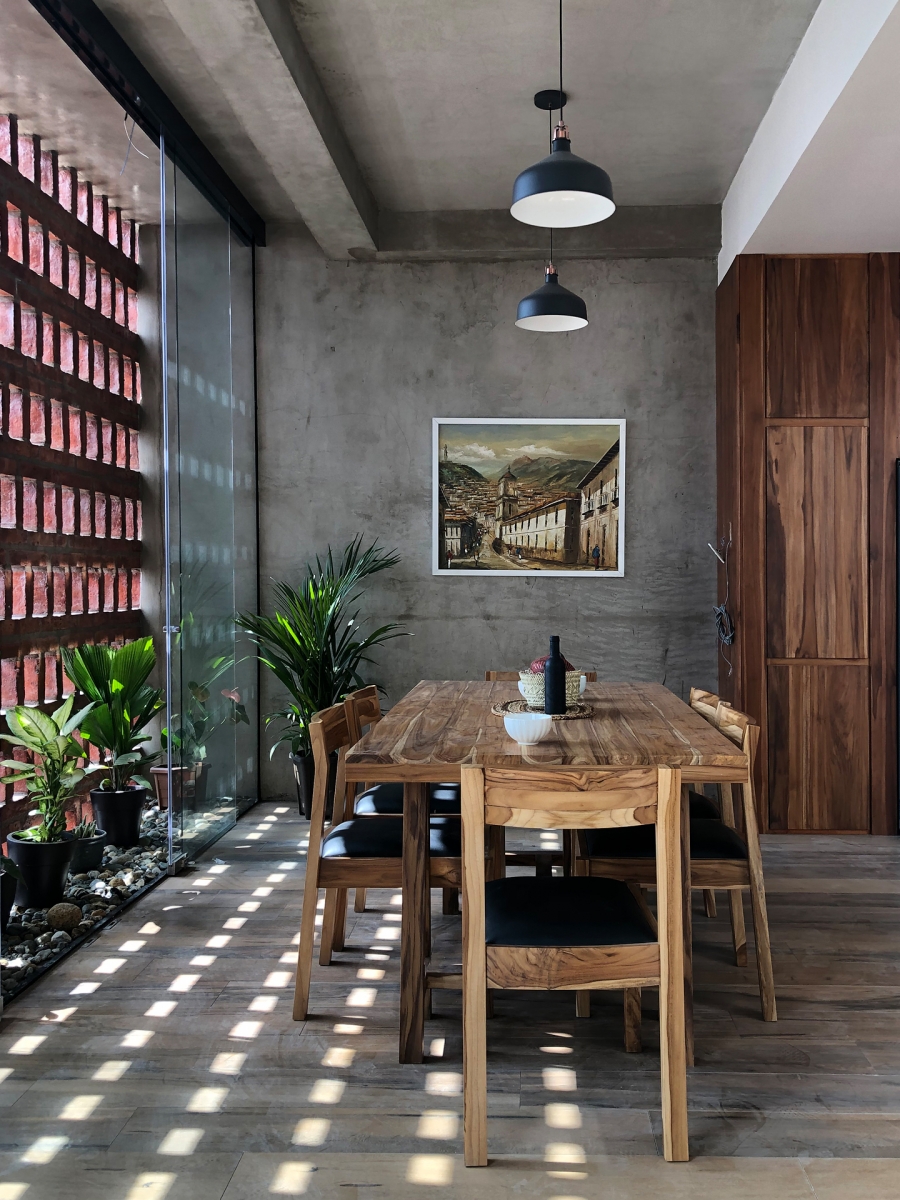 The court(shared living room) on the 4th floor of the building ⓒJAG Studio​​
Common spaces on the terrace, restaurant and rest room ​ⓒJAG Studio​​
---
José Fernando Gómez is the founder and CEO of Natura Futura Arquitectura. Born in Babahoyo, Ecuador, he graduated from the Faculty of Architecture and Urbanism at the University of Guayaquil and the masters programme in Advanced Architectural Design in Chihuahua, Mexico. He was honoured with an award at the Quito Pan-American Biennial and held an exhibition at the Architecture Festival in Bali, Indonesia and Valparaíso, Chile. He is presently working on a research proposal on urban decoders and satellite city identities.
Jhonatan Andres Andrade Diaz
Jhonatan Andres Andrade Diaz is a team architect at Natura Futura Arquitectura. Born in Guayaquil, Ecuador, he studied at LTH Lund's University, Sweden and graduated from the Faculty of Architecture of the University Santiago de Guayaquil (UCSG) in 2018 with awards for academic excellence. Now he is an Assistant Professor at the UCSG and has worked on collaborative research projects about the historical development of social housing, published in Spain and Argentina.