Interview _ Liu Heng (Principal, NODE Architecture & Urbanism) X Lee Sungje (Editor, SPACE)​
Lee Sungje (Lee): KU Landscape was a project carried out as part of the 2019 UABB (2019 Bi-City Biennale of Urbanism/Architecture). We would like to hear more about the background to the project.
Liu Heng (Liu): KU landscape is one part of the Bao'an sub-venue at 2019 UABB, and we received the invitation at the beginning of May 2019. The organiser and the curator did not specify on which part of the design to focus. They showed us the whole venue, and box culvert construction had been completed on the site at that time. The most important and appealing aspect was UABB's experimental nature, allows a kind of design freedom that seldom occurs in typical projects.
Lee: The site is located in Qiaotou Village in Bao'an District, Shenzhen. As is widely known, Shenzhen, which was designated as a Special Economic Zone in 1980, has undergone a period of rapid change. Please tell us about the changes to the village.
Liu: Several decades ago, Qiaotou Village was thought to be a 'land of fish and rice', which is to say a natural village very typical of the Pearl River Delta. Villagers largely made a living from agriculture. In the 1980s, however, the city departed from this legacy and a lot of electronic factories and urban villages were built, Qiaotou village became homogeneous with those larger urban settings nearby.
Lee: In your project statement, you noted that there used to be a canal in Qiaotou Village.
Liu: The site used to be part of the Aojing Canal, which flowed from the dam of Lixin Reservoir through Qiaotou Village and into the Pearl River estuary. The once open natural canal was covered due to prominent odour and years of industrial pollution. At the beginning of the design phase, we proposed the re-opening of the canal and the organiser was not taken with this idea because of the probable fumes.
Lee: This is a project aimed at revitalising the surrounding urban fabric and space. We would like to hear more about the project in detail.
Liu: The site is about 4,000m2, while KU Landscape itself is 210m long and 16m wide. The site occupies part of the sidewalk along Qiao'he Road, surrounded with urban village housing, abandoned factories and the community Park. Before the project, the box culvert construction had been completed and was awaiting marble pavement when became involved.
Lee: In your project statement, you noted that 'Based on a thorough field investigation, the following strategies were proposed'. I would like to hear more about the nature of this field investigation and what contingent strategies were proposed.
Liu: Firstly, we went to the archives to check historical data, hoping to find images of village life before rapid urbanisation. We also talked a lot to people who grew up here and to local officers. How did we record memories of the canal once walking over this terrain and how could we trace it back to its original identity? Through reflection on and a redesign of the existing site, we aimed to explore new possibilities from the perspective of landscape architecture and sociology.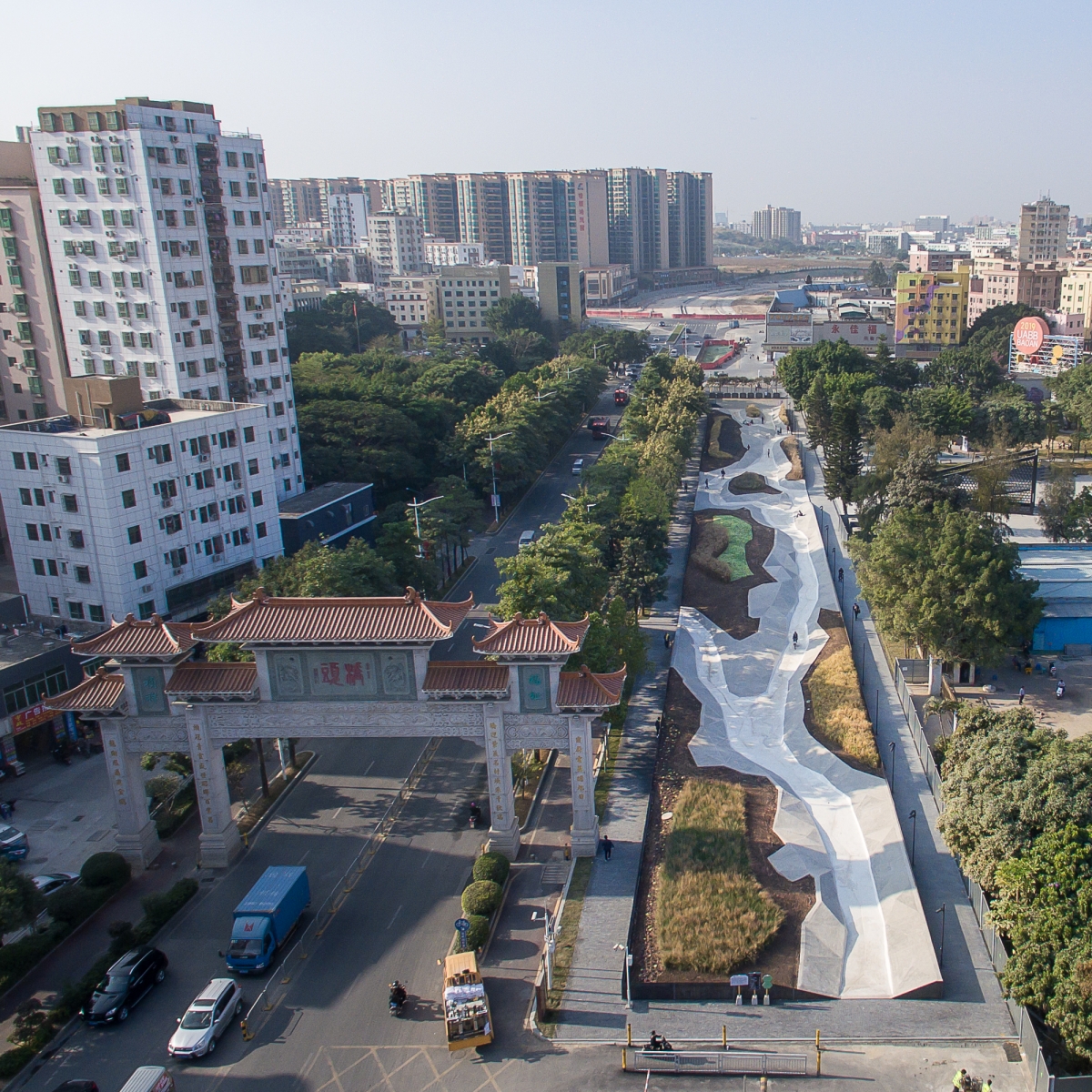 ​
Lee: Please give us a more detailed impression of your design concept, strategies, and construction process.
Liu: As I mentioned above, the Planning and Land Resources Committee denied our initial suggestions. After this, we proposed the introduction of a new artificial 'canal' on the original site. Before using paper folding, it took us about three weeks to try to find a different way of presenting the 'dry landscape' concept, and we were not very satisfied with those schemes.
Subsequently, our design team tried to work out a spatial image of the landscape through paper folding. We made about ten paper-folded models and chose the one with the greatest visual tension and that best fit with our concept.
We collaborated with a 3D-scanning office who provided us at first with one Rhino file of 20,000 points. Given the pressing schedule and construction difficulties, we reduced the control points to 500 horizontal points in Rhino, and nd we cut the model by the flat slab to form a wading area and triangular surface. Through negotiations with the construction contractor, we secured a 1.5m × 1m unit with a height to match that defined in the 3D scan.
Lee: Regarding construction, what were the difficulties you faced and how did you handle them?
Liu: At the very beginning, few people believed that this project could be completed, and no construction contractor was willing to take on this project. After many efforts, we were fortunate to find a company that specializes in themepark construction, they proposed several useful methods for handling control points. Through on-site settingout and adjustments, as well as rounds of discussions with the construction contractor on the implementation plan of the steel structure and finish materials, the project was eventually completed as scheduled. During the construction period, we also arranged for the on-site architects to work with our construction team and to communicate every day.
Lee: Generally, in a project like KU Landscape, which tries to revive a sense of memory, the architect usually contemplates the building materials and their singular properties. We would like to hear more about your choice of building materials and construction methods for this project.
Liu: We experimented with various materials that would best capture and represent the features that once coursed through this terrain, such as brushed cement which was finally selected as the finish material is actually technology in the process, and workers swept the texture out with a broom.
Lee: Landscape architecture also matters in this project.
Liu: The earth-covering surface was 'cut' open to grow 'analogous crops' such as miscanthus sinensis, muhlenbergia capillaris, dwarf pampasgrass, white and pink kales, bringing back the long-lost agricultural scene of decades ago and creating a rustic landscape within a bustling urban setting.
Lee: When you look at photographs of KU Landscape, it gives the impression of a big sculpture in the city. KU Landscape seems to have hardly been incorporated into its surroundings. We suppose that this is because building materials, the pavement along the road and the plants differ from those used in the surrounding sidewalks and local park. Is this as you intended?
Liu: In our opinion, this project is more than a landscape; it is an inspiring experiment that creates a landscape through an approach that involved no physical intervention. The abstract earthscape features show the architect's critical reflection on and re-creation of nature and a farming culture that disappeared so suddenly as the direct result of rapid urbanisation.
Lee: Qiaotou Village has been transformed beyond recognition. Maybe the immigrant population is greater than that of the natives that still remember the village and canal as they once were. In light of this, was your design strategy to revive the past image of this place the right one? What is the meaning behind a strategy to uncover the memories hidden deep within the city?
Liu: As far as we are concerned, this project was built for people who live here, and not only for those native to the area. Combined with the design introduction, this project allows people to understand and value the history of the site in a deeper way. The aim to preserve meant that the canal was not cleared. Aside from the concerns of the architect's regarding rapid urbanization, the project was conceived as part of a wider participatory process. We hope it will contribute as a real driver in policy changes throughout the city​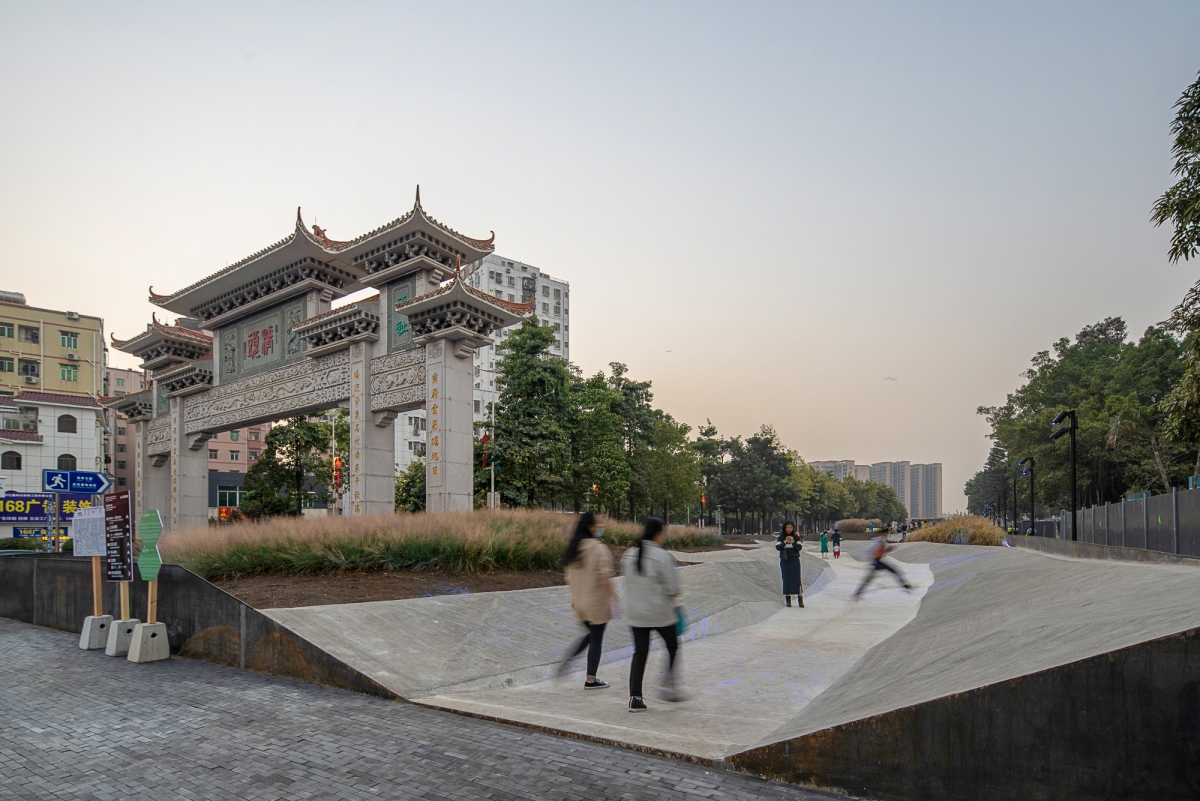 ---
Liu Heng is a Chinese architect born in Guangzhou. She received her MArch from UC Berkeley in 1994 and her doctorate in Design from Harvard Graduate School of Design in 2008. Her widely acclaimed built works include Liuxiandong Vanke Green Corridor North Plot A3 and B4, Shenzhen (2018); the Renovation of Dameisha Village, Shenzhen (2017); Futian Wedding Hall, Shenzhen (2017); the Renovation of Shekou Dacheng Flour Mill, Shenzhen (UABB, 2015); Guangzhou Times Museum, Guangzhou (2010); among others. Her design works have been awarded and published in many international and domestic magazines, and exhibited at various
architectural and art exhibitions internationally.