Hea Kyoung Jang, who majored in product and industrial design, founded Fict Studio in 2016, a name that stands for 'From Craft to Industry'. Her focus is primarily on the materials seldom used in domestic objects and furniture, exploring the surprising ways in which they can come together. Her works include Nacre series, which employ nacre and resin, the Fragment series, which mix marble fragments with resin, and the Loess series, which combine loess and straw with jesmonite. SPACE conducted an interview with Jang, to hear more about her inventive methods and materials.​
interview Hea Kyoung Jang principal, Fict Studio × Choi Eunhwa
Choi Eunhwa (Choi): Fict Studio's first project was the Nacre series defined by an intriguing blend nacre with resin. When I think of the nacre, the thing immediately springs to mind is the grandmother's vintage cabinet. Your work looks completely different. How did you come to be interested in the medium?
Hea Kyoung Jang (Jang): It was around the time that I was wondering what would constitute the truest image of Korean design. I thought about this question, and came up with a list of immediate experiences and things, which included charcoal, loess, and nacre. I was looking through samples and came across a nacre sheet. It looked different from the traditional nacre designs with which I was more familiar, and which were created in the shape of concrete forms, such as cranes and turtles. Seeing them unadorned and simple was refreshing, and highlighted the beauty of the material itself. Nacre is interesting in that when it is matched with a dark background, its blue and purple undertones shine through, whereas when it is set against a white background, it's the ivories and pinks that are highlighted. I explored the uses of the material and saw how many possibilities it held, and consequently felt it best to showcase it in as natural a form as possible, without shaping it into other forms and breaking it up into individual pieces.
Choi: You seem to give careful consideration to the materials surrounding the nacre. Please elaborate on your other materials and production methods employed in this project.
Jang: I chose to use coloured resin in the background, upon which I laid nacre pieces, and covered it with a layer of transparent resin. Resin work requires the use of moulds, and I wanted to make this process more efficient by incorporating the mould into the design of the product itself. In this way the whole thing would be completed when pouring it into a metal cast. I majored in product design and industrial design, and I'd say that what I learned about efficiency, marketability and production really carried over into this project.
Choi: You continued to experiment with resin in the Fragment series, developing an unusual approach in the way you highlight marble fragments. Where do you source your materials?
Jang: I was contacted by the Total Marble Company, which is a marble importer, who told me that reach up to two tons of marble waste every day. They either had to dispose of it, or sell it at very low prices to terrazzo tile factories. So, they suggested we could work out an alternative use for them. I said no at first, because I thought it made terrible environmental sense. For the marble producer, it might be breathing new life into what they were only going to throw away, but by using resin as I did, I thought I would be adding to a world already plugged with plastic waste. I realised I needed to take a different approach, so I decided to give this material a longer lifespan by turning it into art furniture.
Choi: No one rock fragment is the same. How do you harness these differences and idiosyncracies in your work?
Jang: Indeed, they are all different, with some shattered or rough around the edges, and others smoother and artificially cut. They also come in many varieties. When I have an order I look for stone to match the tone and manner of the work that has been commissioned, but other times I work from the stone itself. I try to bring out the stone's natural appearance and aspects as much as possible, but this means, as the stone fragments are all individual, my objects and furniture can't be standardised. Each new creation must vary in size according to the stone intended in their composition, and so I create new moulds accordingly.
Choi: Your work uses a lot of warm colour, such as yellows and reds. What are the reasons behind this?
Jang: It's because of the naturally occurring yellowing that happens with these materials. I prepare them to fit the yellow colouring that they will eventually take on. Additionally, resins are prone to distortion. If it's the case that the material is particularly prone to this, then I make the design modular, or increase the proportion of particles that mix along with the resin to make it less likely to be warped. In this way, I choose the final form of my work based on the materials' original needs and conditions. My work is trained on achieving the best aesthetic outcome for the material in that process.
Choi: The Fragment series were also shown as part of a digital exhibition. How does this process work, translating your physical workspace into a virtual one?
Jang: I think it is a good medium, given the circumstances. The gallery sent me rendered samples of my photos, but this demonstrated how difficult it is to show off resin's unique properties in digital photography. It's a reflective material that's transparent, translucent and opaque all at once. It's the reason why I deal in craftwork and not industrial design, which is that digital media can often fail to do the material justice. The screen of a computer or smartphone is not enough to convey the richness of the colours used.
Choi: Whereas your other works centre on resin, the Loess series mixes loess with straw and jesmonite. You created this series with LAB.CRETE.
Jang: We planned the project together—I focused on the design and oversaw the implementation of details, while LAB.CRETE took care of the production and technique. My main responsibilities vary with each work. I am a designer, planner and producer, with each facet suited to different occasions.
Choi: One common thread that runs throughout your work has been that you combine a mixture of materials, and cast them in a mould. What does material mean to Fict Studio?
Jang: In most cases, the material that I select determines the beginning of the project. Moreover, I find that my interest often gravitates toward media that's rarely used in furniture or objects. I have to figure out the properties of something, then consider how it may be turned into a marketable product, which can take some time. And of course, I aim to constantly improve upon my previous work, so that leaves me focused on one material for what can be a two to three year period. I don't wish to be associated exclusively with any one substance or process, even though that can be a boon when establishing one's artistic name. I think that would limit the range of my work. So I try to experiment, and am always dipping my toes in new matter.
Choi: A single series can span a wide range work, such as small objects to large works of furniture. Is there a reason that you focus on varying the size while maintaining the same methods and materials?​
Jang: People around me advise me to concentrate on furniture, to create products that will lower the price tag on my more substantial furniture pieces. But I like to expand. Working with designs for objects small and large gives me the ability to work in spheres that are that much more varied. It lowers the barrier to purchase, and when dealing with interior design this gives me the freedom to create and consider the smallest of objects to the overall interior finishing that will fill a space. Plus, when I am trying to explain my ideas to others, a sample material chip is much more effective than a rendered image, so naturally, to start with I create smaller objects. Sometimes the sample chip is turned into a product itself. I see myself continuing in this vein in future, in order to vary the scale of my work.​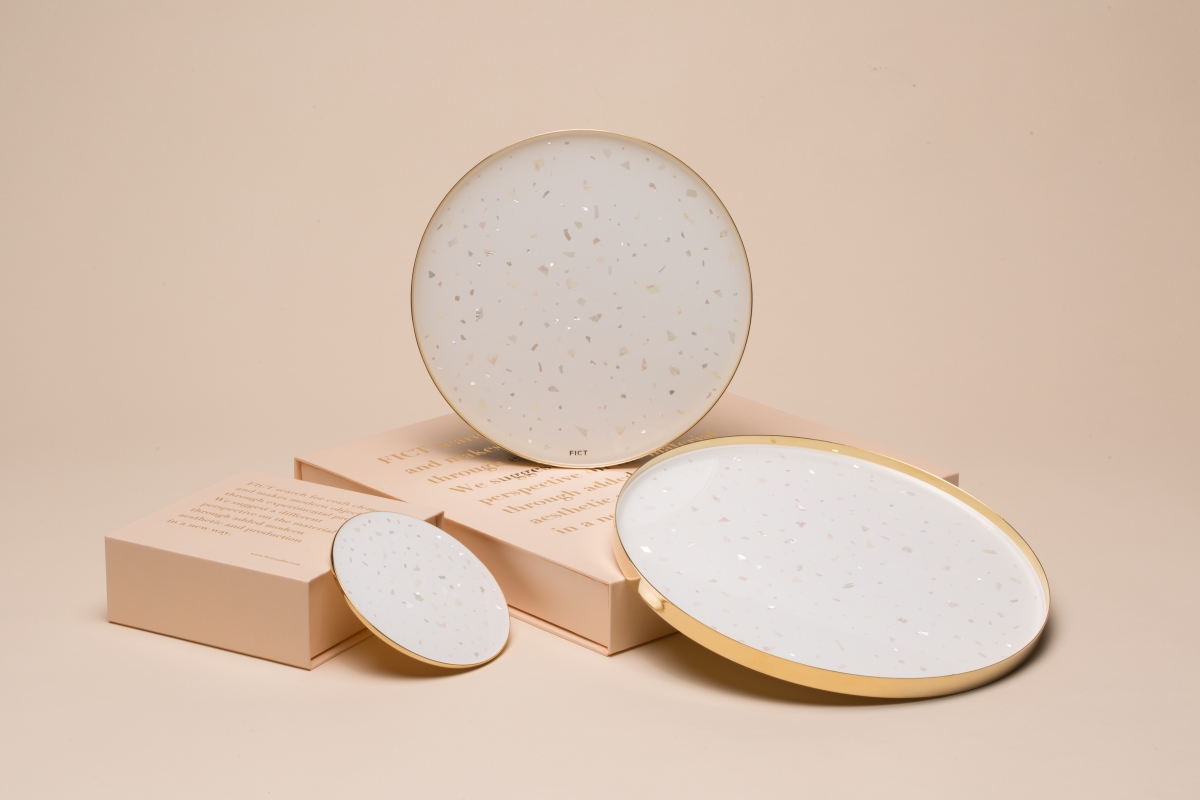 Fict Studio, Nacre series, Nacre, crystal resin, stainless steel, 21k gold coated, Various size, 2017 (ⓒPark Yoon)​​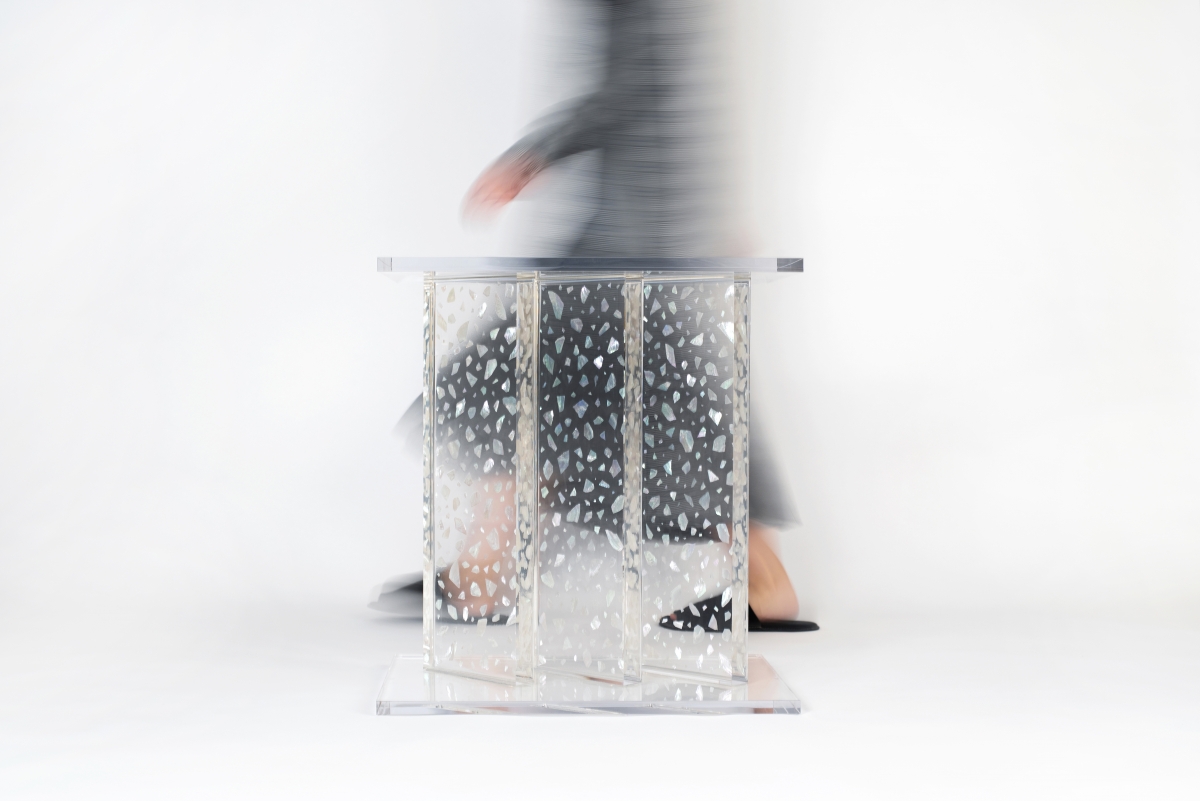 Fict Studio, Nacre series, Nacre, crystal resin, acrylic, 400×600×640, 2018 (ⓒHea Kyoung Jang)​​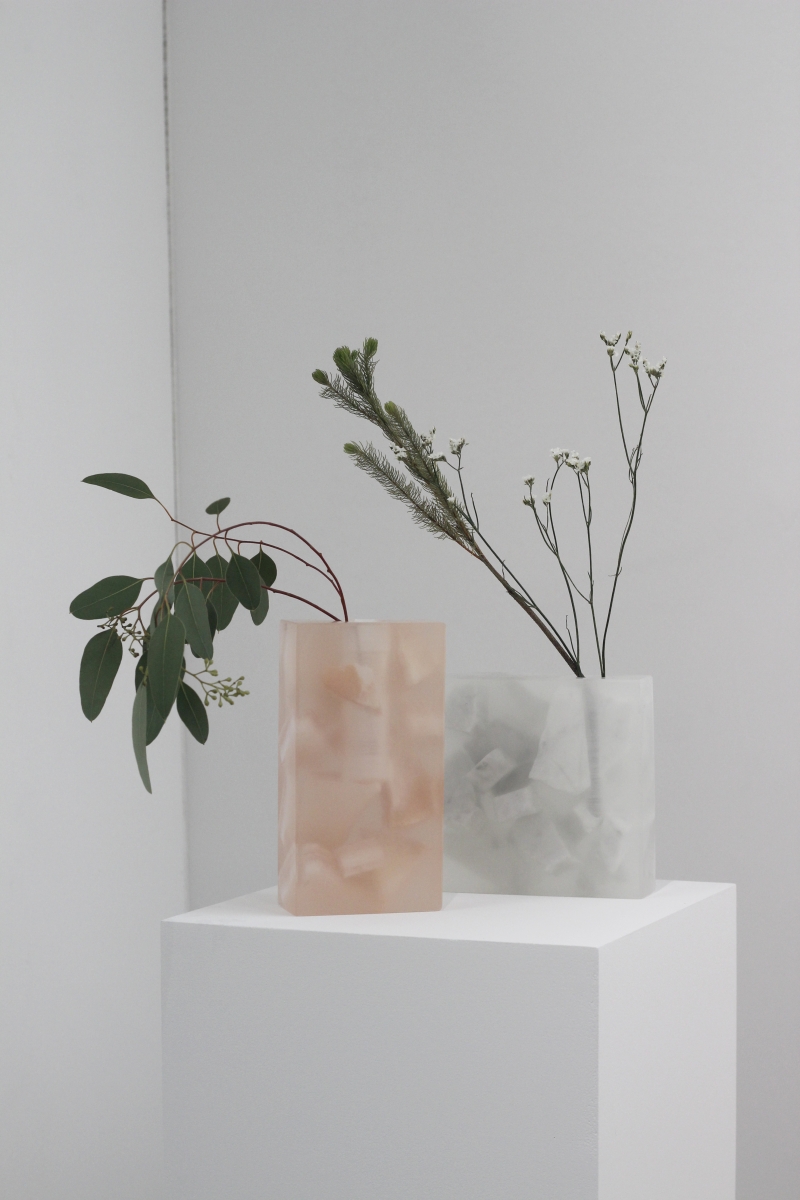 Fict Studio, Fragment series, Marble, crystal Resin, Various size, 2019 (ⓒHea Kyoung Jang)​​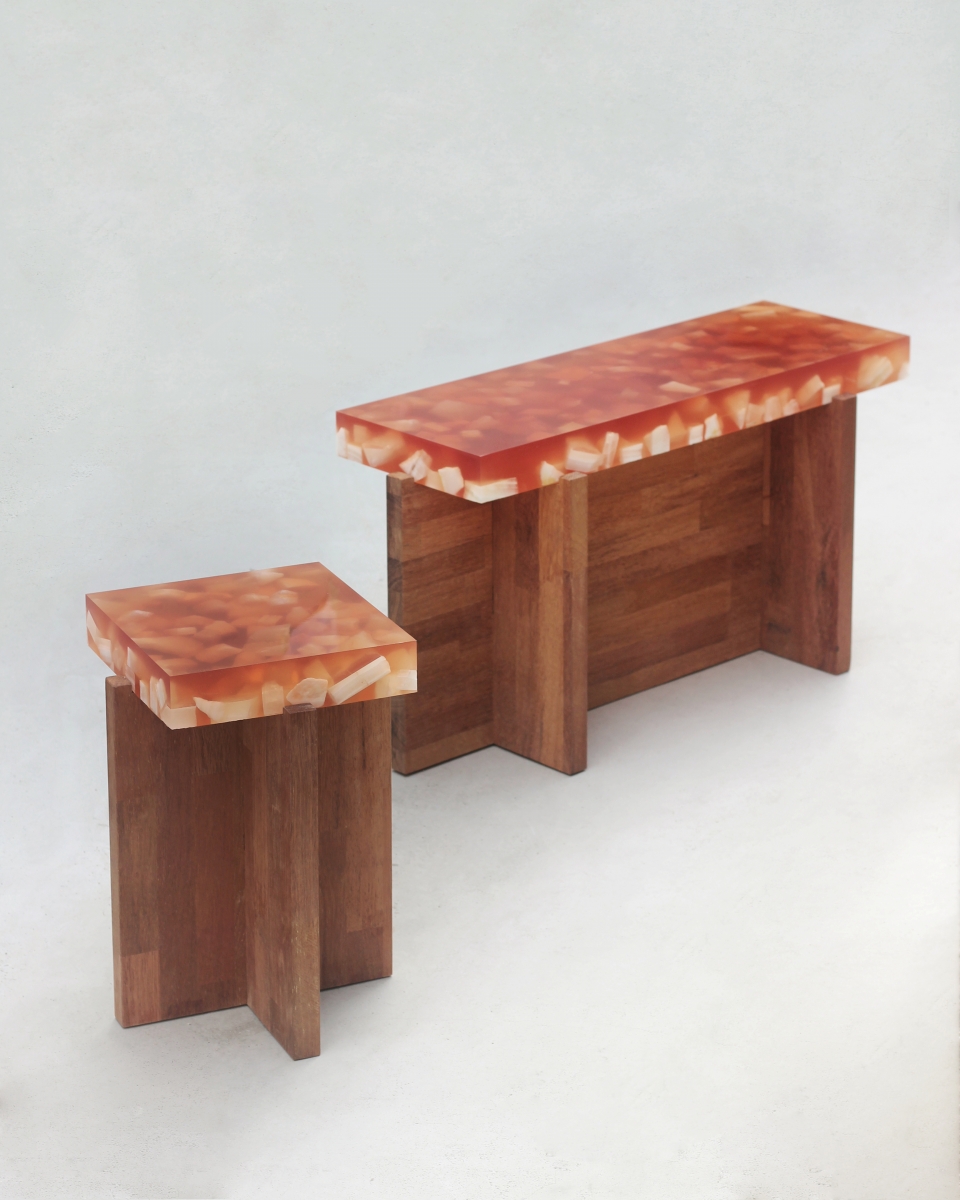 Fict Studio, Fragment series, Marble, crystal resin, wood, 430×330×480 (stool), 630×330×630 (table), 2019 (ⓒHea Kyoung Jang)​​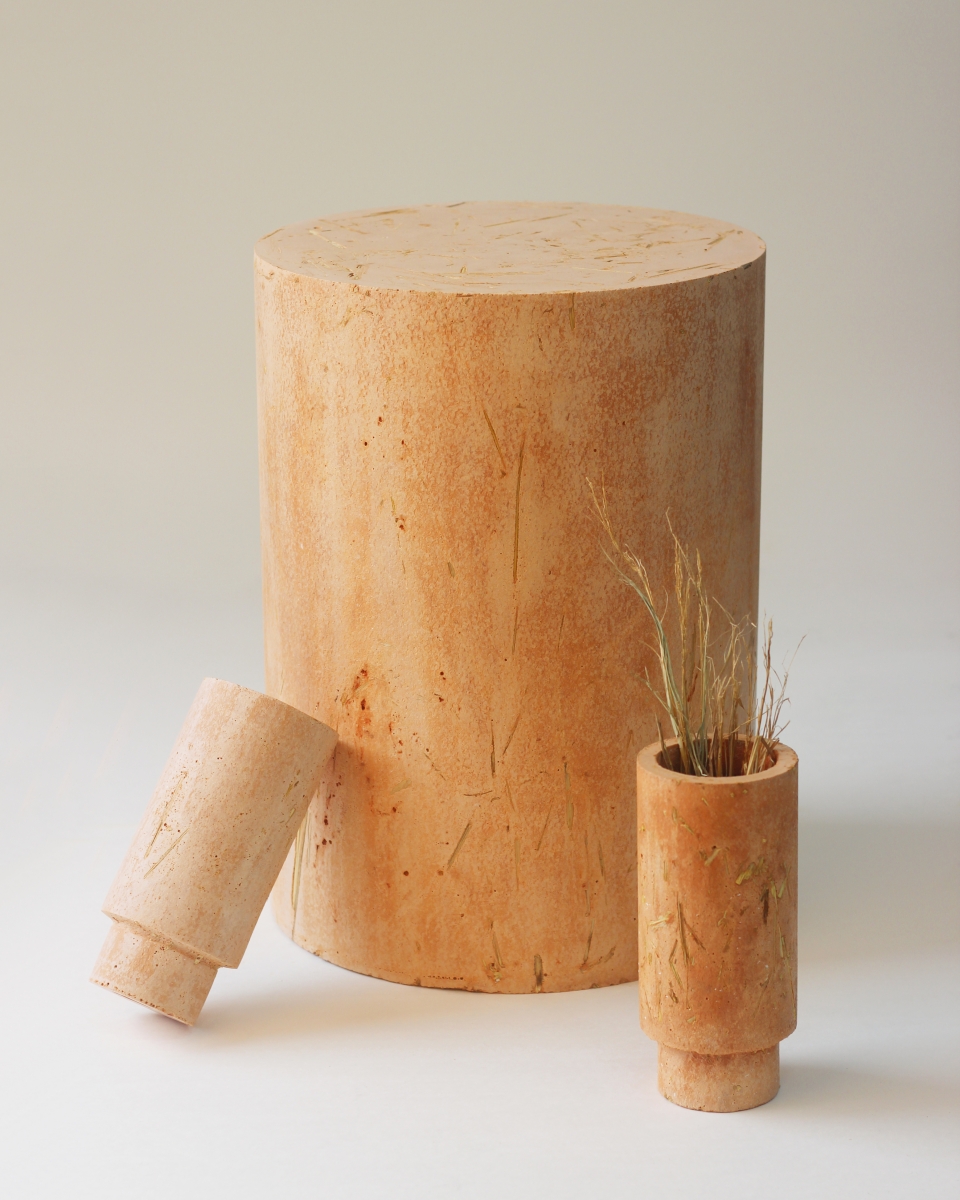 Fict Studio & LAB.CRETE, Loess series, Loess, jesmonite, Ø320×440, 2019 (ⓒHea Kyoung Jang)​​
---
Fict Studio which stands for 'From Craft to Industry' is an independent design studio founded by Hea Kyoung Jang based in Seoul, Korea. Jang searches for craft elements and makes modern objects and furniture through an experimental design process. Jang approaches objects with a curious mind and gestures towards different perspectives through her own aesthetic.