About 420m2 of the site, long from east to west, looked spacious in outlook.
For the building's orientation, 'a linear box' type that has advantage of daylight was selected, based on the clients preferences. The master bedroom, living room, dining room, and kitchen are located in the front; guest rooms, a foyer, and garage in the rear.
The floor plan might look simple, but it was planned in consideration of the spatial experience. An 'empty axis' that leads to the living room and the madang (yard) is to induce movement and link the 'refreshingly open living room and the bright madang'. The house is designed in the hope that it will be remembered by the entry sequence and the experience, not by a single aspect of the scenery. The living room is designed to remind people of daecheong, the main hall in hanok. Columns, purlins, and rafters were replaced by modern wooden structures. Inside the living room, the system window is concealed behind the structure so that only three columns and beams are visible, and the upper window is glazed with transparent material. We tried to capture a transparent sense of space and place the composure which represents the time of our own into the living room.
The exterior dealt with 'composure' without adding to the extra design: the eaves were removed on the northern side and only walls and windows were formed to make the image of the house clear; the southern side has eaves, allowing them to control the ray of light and use the space beneath the eaves.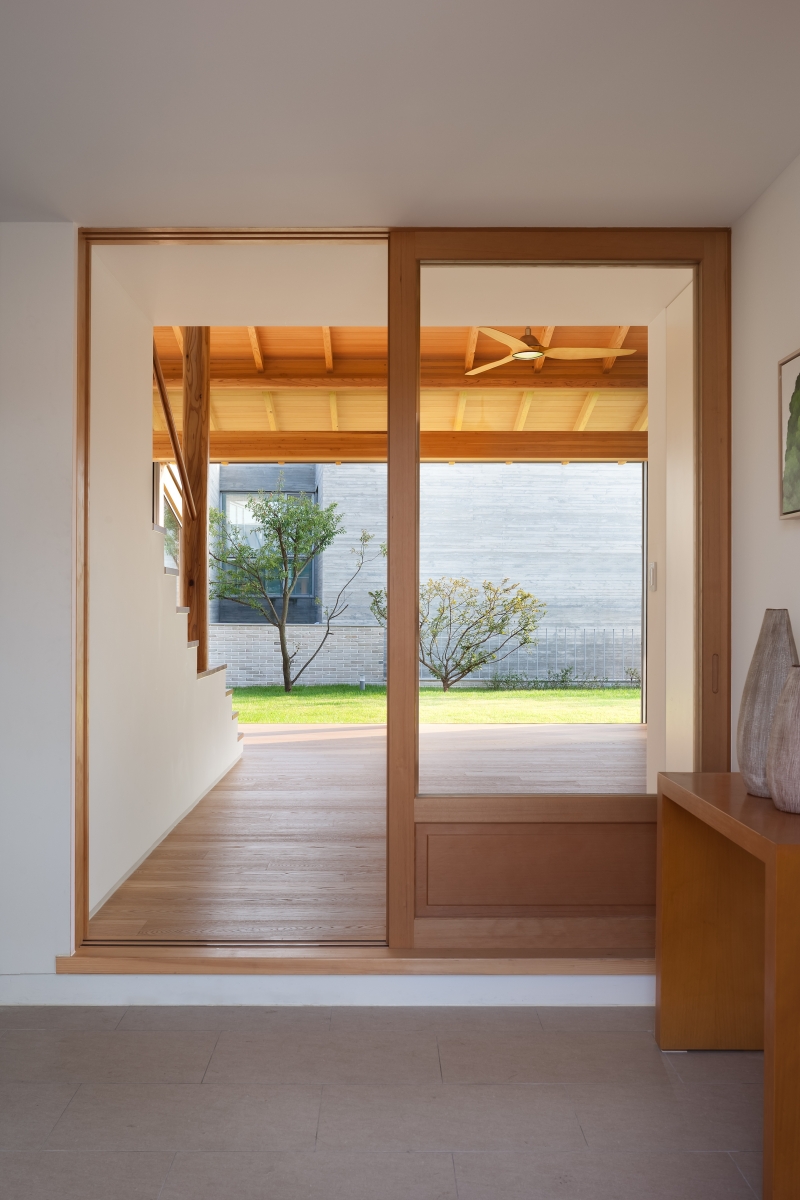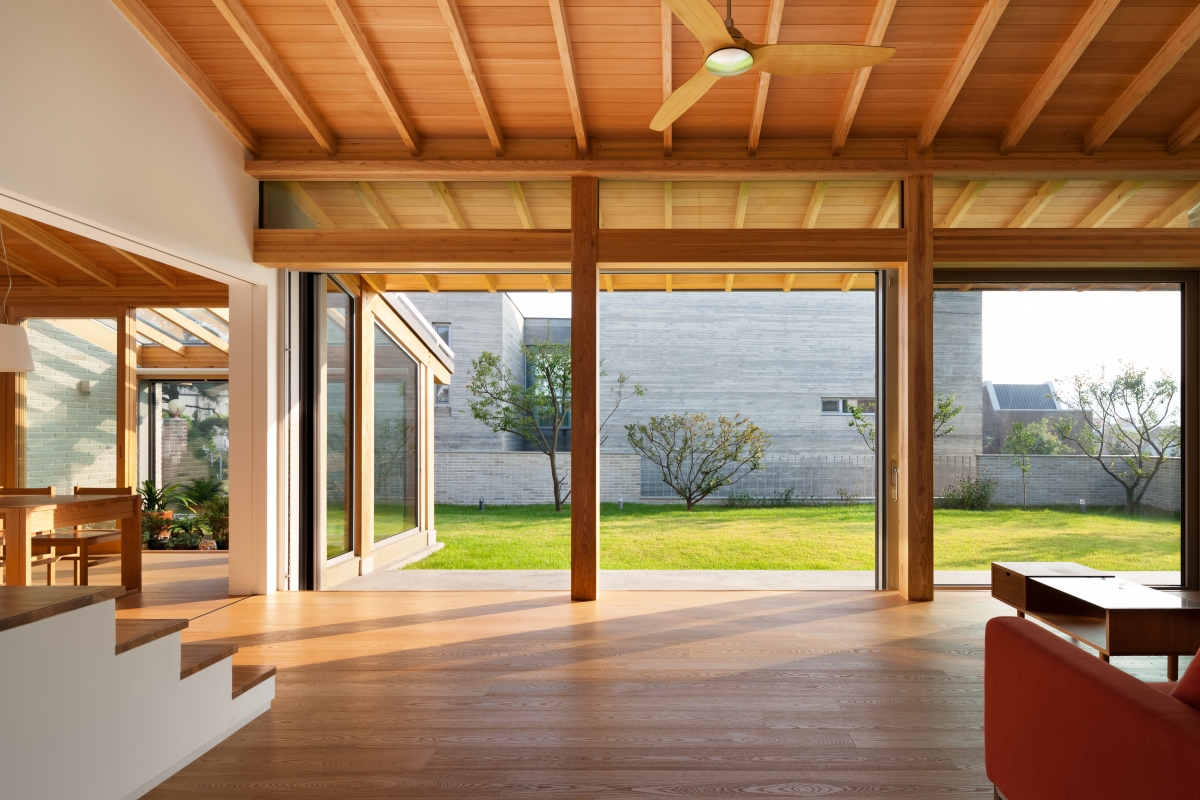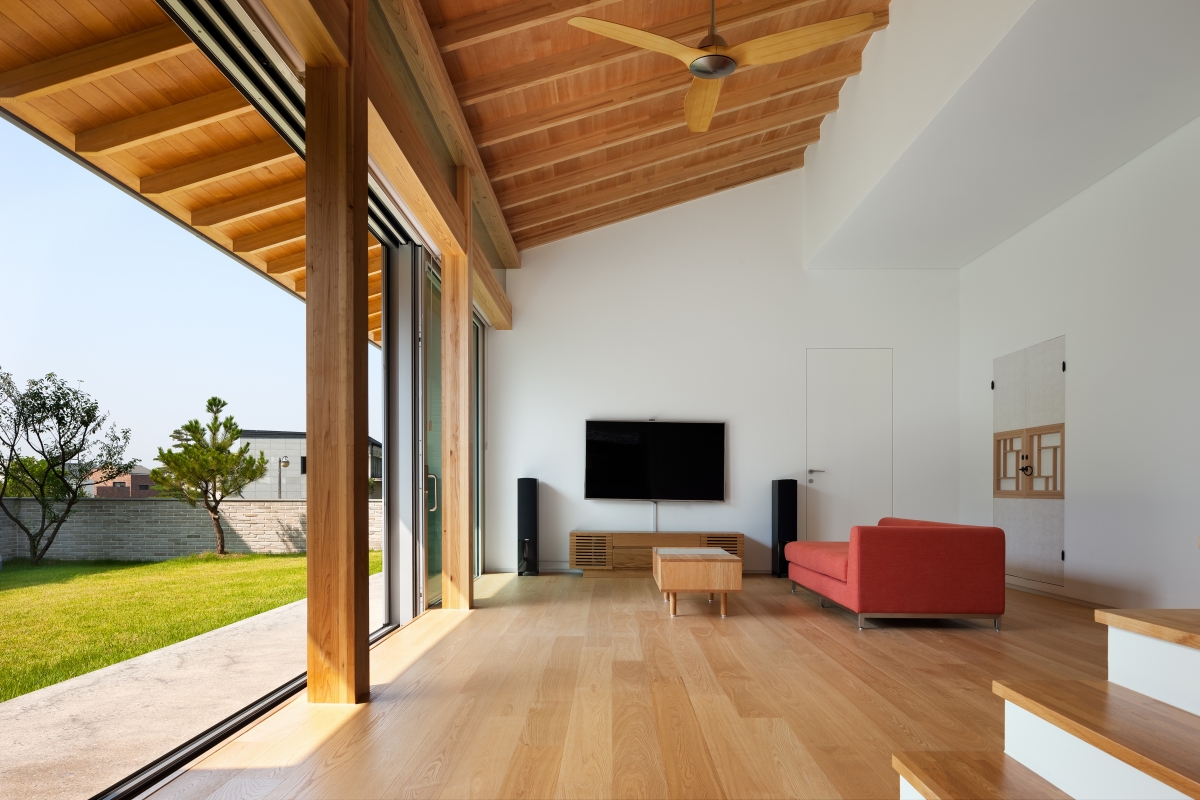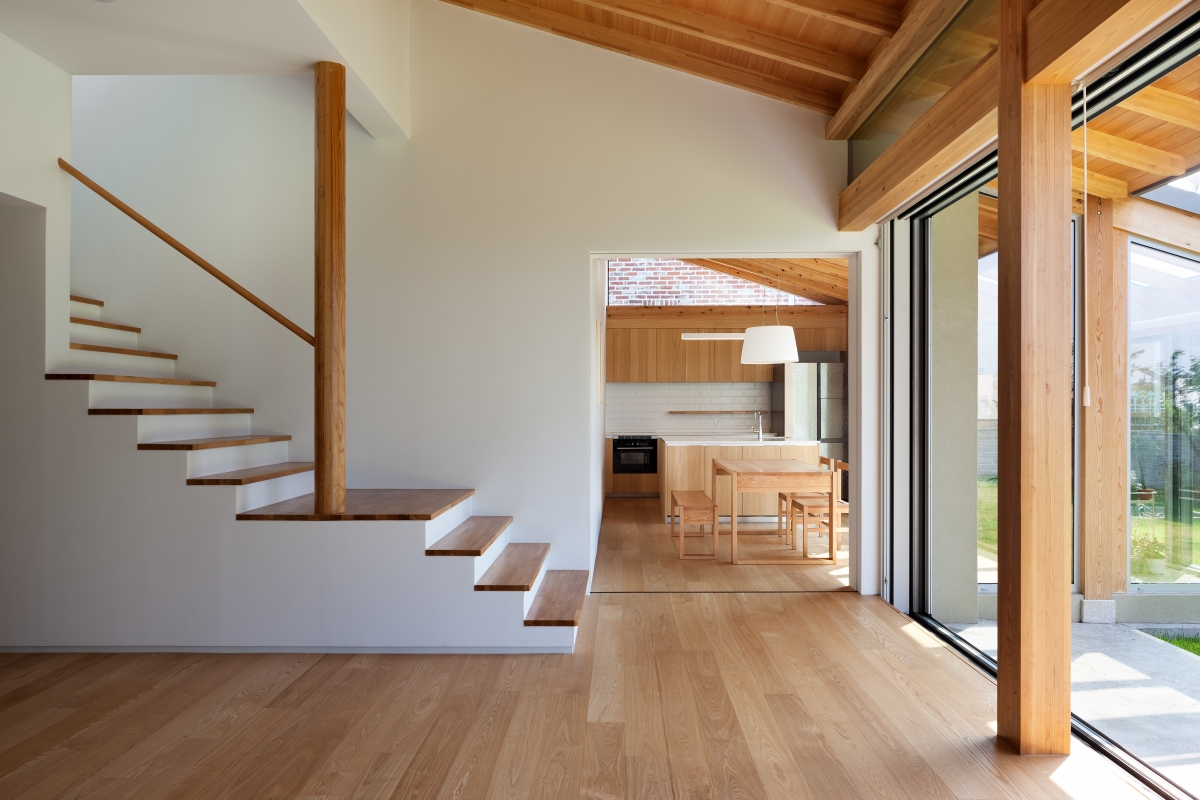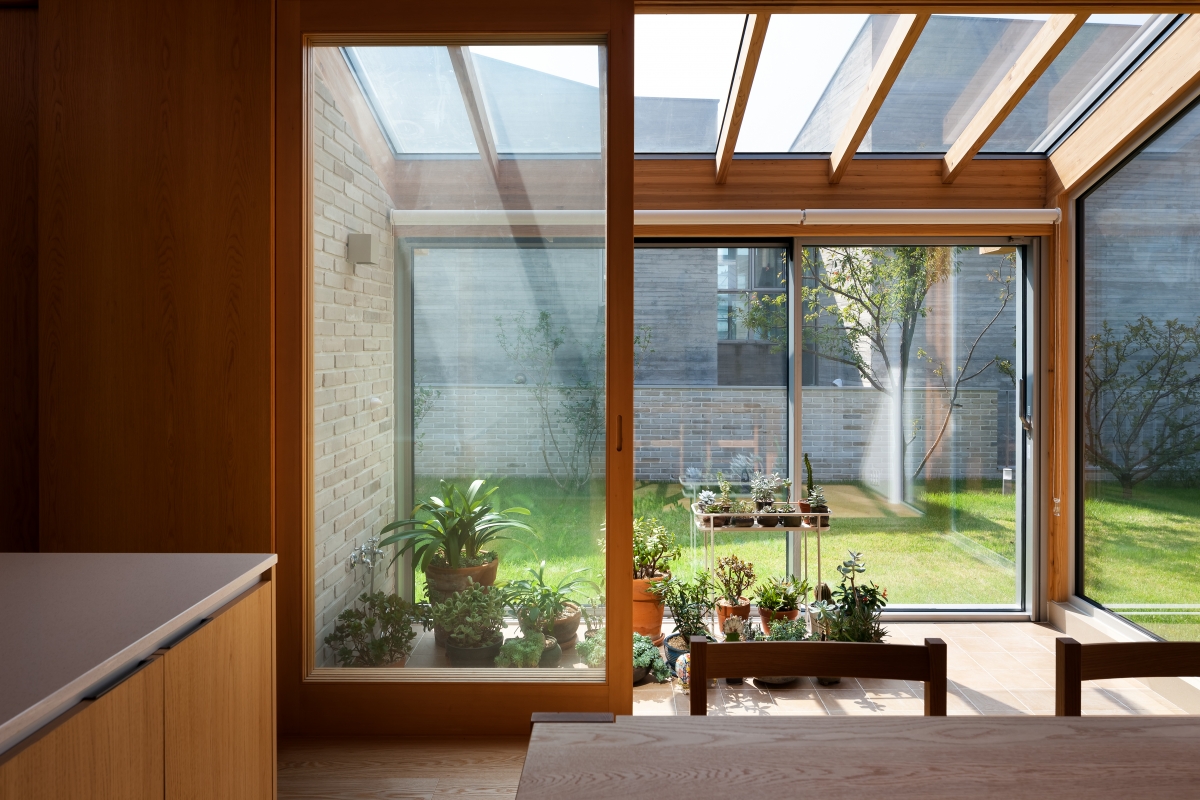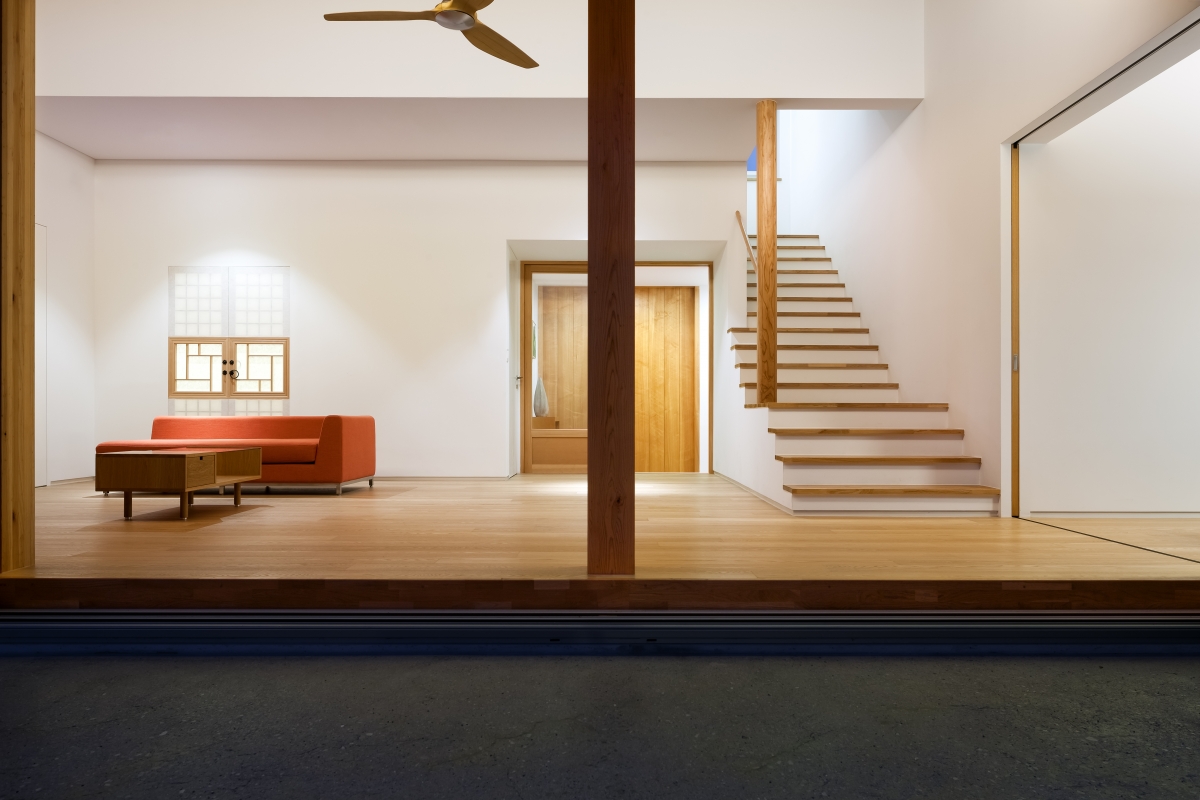 Architect
guga urban architecture (Cho Junggoo)
Design team
Jo Jiyeong, Hwang Boram, Jung Youjin
Location
Dongpae-dong, Paju-si, Gyeonggi-do, Korea
Gross floor area
217.84m2
Building to land ratio
39.1%
Structure
heavy timber framing, light wood framing
Exterior finishing
brick, stuc-o-flex, titanium zinc
Interior finishing
water paint, oil stain on spruce louver
Structural engineer
Winus BDG
Mechanical engineer
JUNGIN Engineering Co. LTD
Electrical engineer
Jisung Consultant Co. LTD
Construction
Jayeongwauri
Design period
Sep. 2017 ― Sep. 2018
Construction period
Oct. 2018 ― May 2019
Client
Kim Dongkyum, Park Eunsuk
---
Cho Junggoo was born and raised in Bogwang-dong, Seoul in 1966. He graduated from the Department of Architecture at Seoul National University. In 2000, he founded guga urban architecture and continued to explore design along the theme of a 'universal architecture that is close to our life'. Over the course of 20 years of suyo-dapsa (Wednesday Site Visits), the architect has observed and recorded the lives of neighbourhoods and people in Seoul and continued to discover a housing of our time based on the various forms of life which encountered in his research.