A Public Space that Became an Island
The National Theater of Korea is nestled on the Namsan Mountain; the Seoul Arts Center was set up on the Umyeonsan Mountain; and the National Museum of Modern and Contemporary Art (MMCA) was raised in the suburbs of Cheonggyesan Mountain, having been pushed out of the capital following a convoluted sequence of events that made public facilities hard for the public to access. To explain, at the risk of further misunderstanding, the citizen class had lost its chance to recover those spaces and places dominated by the old powers in the transition from a dynasty to a republic in the colonial period and the subsequent military dictatorship. This loss of momentum is still quite influential even now, despite the fact that a significant amount of time has passed since the introduction of a progressive democracy and the recovery of a local autonomous system. It is no simple task to create a new public space in the midst of Seoul, a city driven by extreme market forces. It is no longer possible unless one chooses to renovate an industrial-age structure, as in the case of Seoullo 7017 or Dongdaemun Design Plaza (DDP), or by demolishing an already existing building. This is the reason why the theatre, known as Nodeul Island, has been placed in the middle of the Han River.
It is a representational role for a public building, especially for a cultural facility, to invite debate regarding its construction. Even if situated at the bottom of a mountain - i.e., even if the accessibility to a large proportion of the population is significantly low - a cultural facility is called upon to go beyond its given function. While it should go without saying that a cultural facility that represents a nation must also embody certain symbolic meanings, the things that art museums, history museums, and theatres of the last decades were obliged to deliver were excessively straightforward and one-dimensional: The National Theater of Korea and the Sejong Center were imbued with an explicit Koreanness; the Seoul Arts Center with a mixture of Korean and western bourgeois culture; and the DDP with an ecstatic optimism to fulfill the aim to becoming pure spectacle. Recently, there has been a repeated emphasis upon the landscape and a neutral geometry that seems to have no relation to all of these.
The creation of cultural facilities in Korea is determined by a number of contingent conditions – location, symbolic meaning, and political ideology that all follow the logic of political parties – all of which repress architecture but find it hard to deny it outright. What is important here is not the lack of external variables but the possibility and finish of an architecture that will not only satisfy these conditions but go beyond it. The present Nodeul Island begins with the abandonment of the original project, or to be precise, its annulment. Seoul Metropolitan Government (SMG) announced the construction plan for an opera house on Nodeul Island in 2005, putting forward improvements as a part of the previous mayor's Han River Renaissance project. This was an ambitious plan centred around building a mega-size cultural facility —which had not been achieved in the 20 years since the past president Chun Doohwan's proposed a project for Seoul Arts Center in the 80s (the opera house opened in 1993). In spite of differences, such as the former built along a river in the middle of the city (and not by a mountain in the outskirts of the city), the two projects retain some similarity in that both occupy sites located in a place remote from urban life. In fact, they could not be different. Still, however, the role demanded from the building had changed significantly. The building did not have to be associated with tiled roofs or satgats, the Korean hat of the Joseon period, but it had to be a building that would resemble a brilliant piece of sculpture shooting into the sky from the middle of a major river of an international city. The sculpture had to set the stage for high art. As the selected design from the competition reveals, the building visualized the fantasy of a 21st century cultural facility as a spectacle. Later, however, there was a new mayor, the world economy was unstable, and it became difficult to continue maintaining the elegant lines of this fantasy.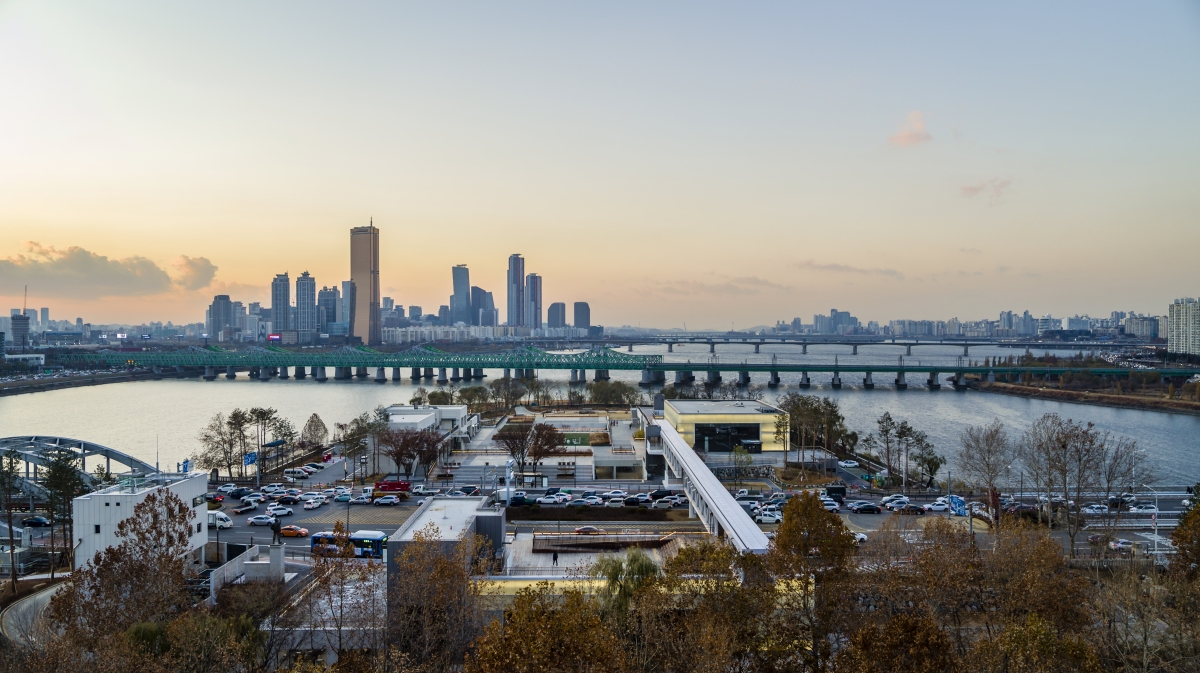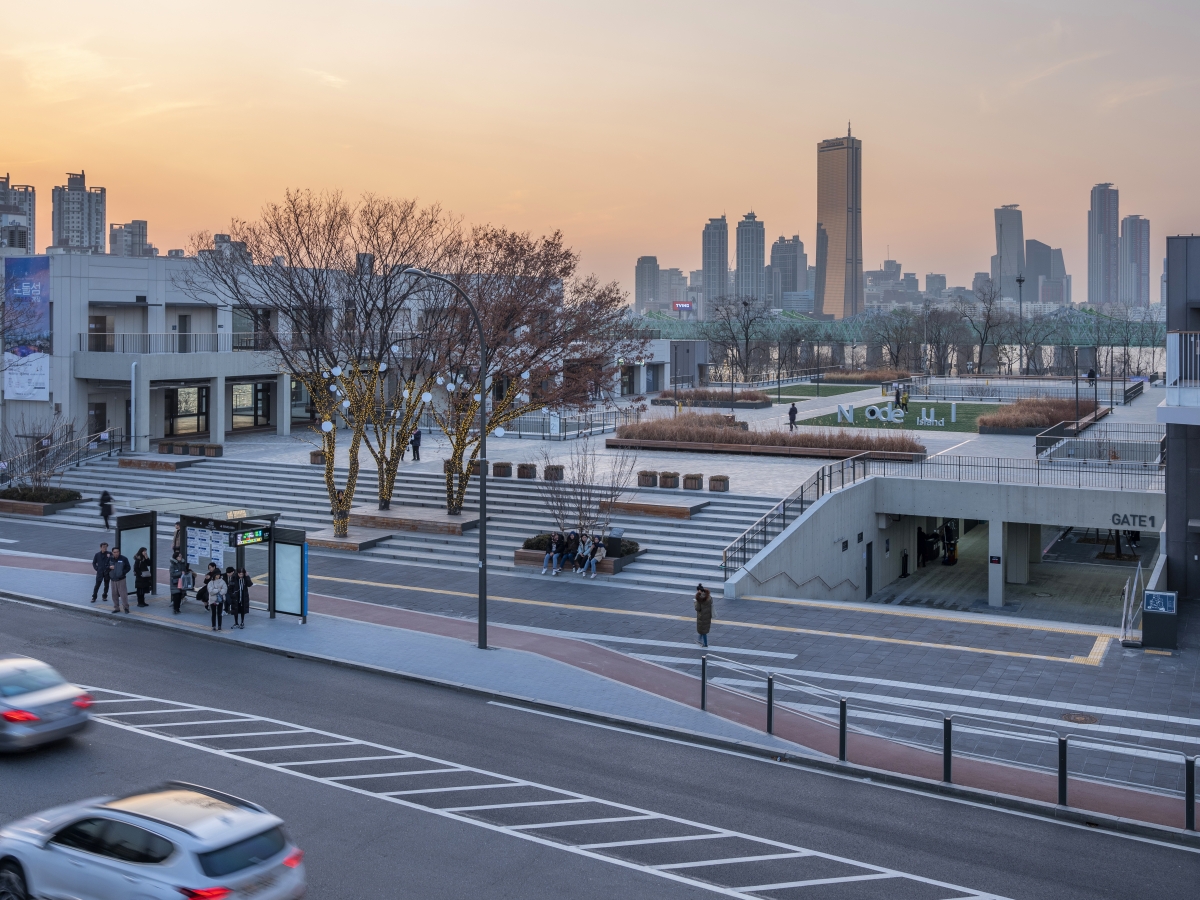 No one was able to answer what form the building should take, or why the capital needed a new opera house. As often happens with empty construction sites in Korea, Nodeul Island was developed into an agricultural garden for a few years. The new Nodeul Island, however, pursues a completely different set of values. Values such as capital, luxury, opera, and landmark were replaced with words such as participation, masses, landscape, and eco-friendliness. An architecture that is not consumed as an image but as a stage for action – such architecture must make sure to not visualize anything specific. This is because what is important is not aesthetics but the ethical standpoint. The consecutive Operation Concept Competition and the Operation Planning & Facility Concept Competition not only privileged the practice of participation but also strategies to invite more active participation. However, there was no one who knew how or with what programmes or functions should one operate this island located in the middle of a river, which is rarely visited or even accessible except by public transport. As an operation plan to use it as a music-focused cultural platform, where various fields such as music, cultural arts, ecosystem/environment, new media, and development models could be integrated and a multi-cultural complex would welcome all, it is probable that no one believed then that this plan would actually realize those fanciful rhetorics. This seemed to be the case as the operation plan was constantly being modified even during the design phase. The most significant design modification in the early plans was the abandonment of the approximately 50㎡-sized module that was placed as a guideline in the design competition. This module was a spatial unit that allows people to directly operate and intervene in the planning and construction phase. The architects of mmkplus proposed this module as a combination of 5mx10m prefabrication. As the operation plan changed into a mid to large-sized facility, as with the present Nodeul Bookstore, this module – which was designed to cater to various activities on smaller scales - could no longer work. Along with this, the spatial composition developed by mmkplus and the opportunity to test the production, transportation, and installation via prefabrication was also lost as well.
Design modifications followed the stranded operation plan, but what mmkplus continuously held onto was its interpretation of the terrain. Instead of building a new structure on Nodeul Island, the architects chose the strategy of 'reconfiguring' the land. Instead of placing out various programmes within a big and singular envelope, it followed the land level and segmented the smaller units into external spaces and rooms intersect with each other. The simple cubic performance hall and multi-purpose hall were placed on each side. The approach was to have the diagram of the functioning programmes take on the form of an orderly geometrical shape and not to overstate its presence. The modular system may have disappeared, but its size remains and continues to control a sense of order and rhythm to the entire island. By forming its structure through the juxtaposition of its interior and exterior spaces, Nodeul Island identifies itself, in small part, with Cheongju National Museum and largely with MMCA Seoul. Rather than stating the autonomy of architectural form, the priority is placed on forming an accord with the land's shape and the surrounding context. Considering its high-level biotope status as the habitat of endangered narrow-mouthed toads, this strategy - although it may be exaggerating to call it its only strategy - is nevertheless the most appropriate one. It is difficult to say that a certain potential that goes beyond the guidelines and operation plans was displayed despite the flexible responses from the architects.
Instead of fancy, eye-catching, and large buildings, the present SMG prefers public architecture to take the form of a community of simple, inconspicuous, and small buildings. Ironically, however, it judges the success of public architecture by how many people visit there. To borrow an expression from the government of Seoul, it depends on whether it has been 'activated' or not. While one hopes citizens will bring themselves to create activities that are not part of the original programme and plans, architecture with overt and eye-catching forms tend to be avoided. Aesthetic experience is shunned, and an ethical stance is prioritized. However, these two must not be understood as mutually exclusive. One must remember that the goal of modern aesthetics was to complement ethics. The picture painted by Donuimun Museum Village or Nodeul Island (previously called Nodeul Village) captures a moment on a busy market day. They dream of an empty place that will be thrumming with the activities of their visitors. However, can Nodeul Island prompt the spontaneous desire to get off the bus when passing by Hangang Bridge? Can Nodeul Island, while it is difficult to imagine its connection to the neighbouring streets, bring about a sense of contingency on its own? Will the scenery of the Han River, viewed from its middle, make people bring their journeys to a halt? While it would be too early to appreciate its accomplishments at this point, when it has just entered its winter season after opening, all of these aspects will prove challenging. To hope for the development of a spontaneous event in a place that it is hard to access by chance, and to expect it to lead to the expansions of programmes and additional structures would merely be another kind of fantasy. What is required of an isolated public space is a more specific function and programme, not an empty yard waiting for its market day.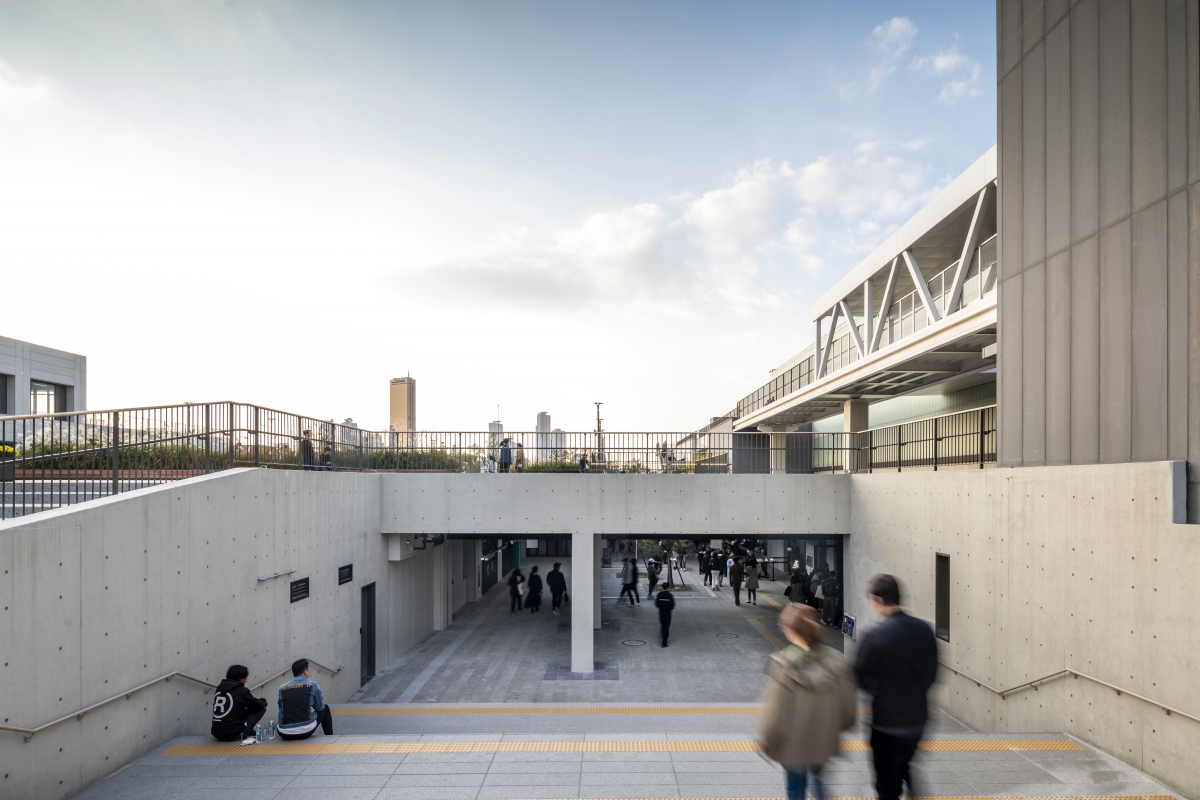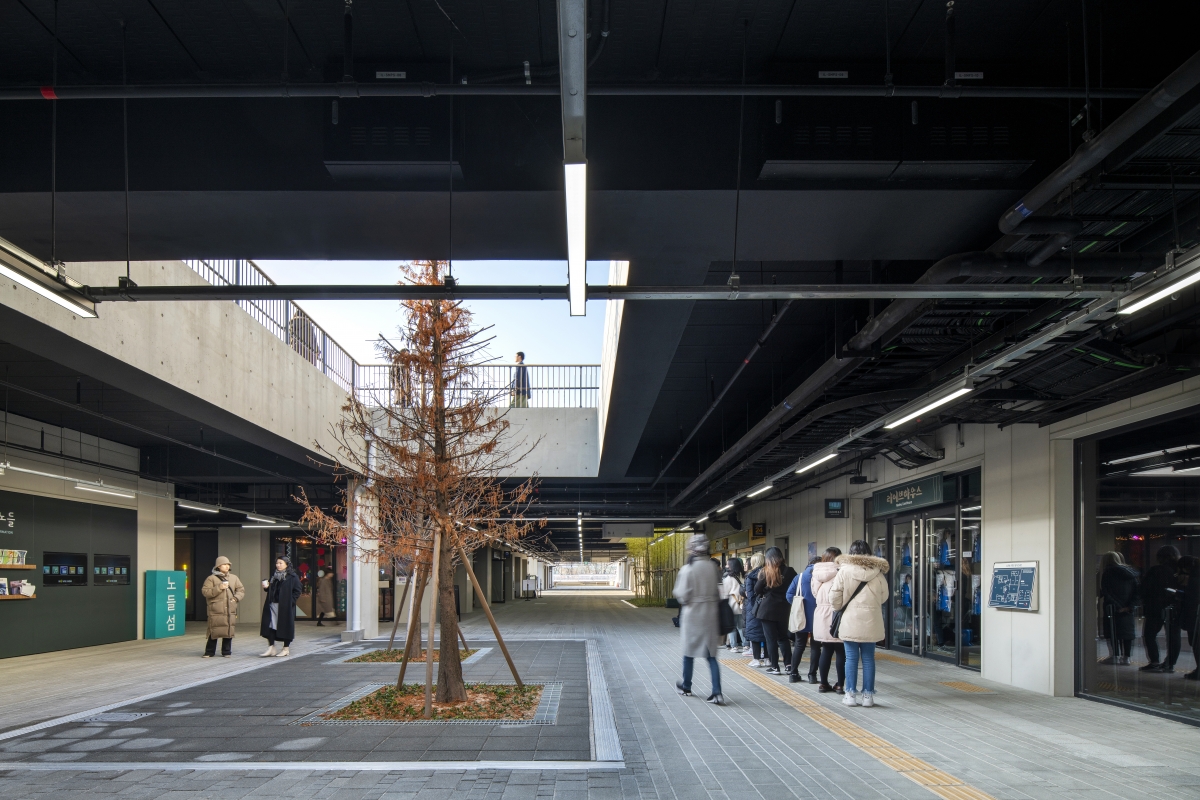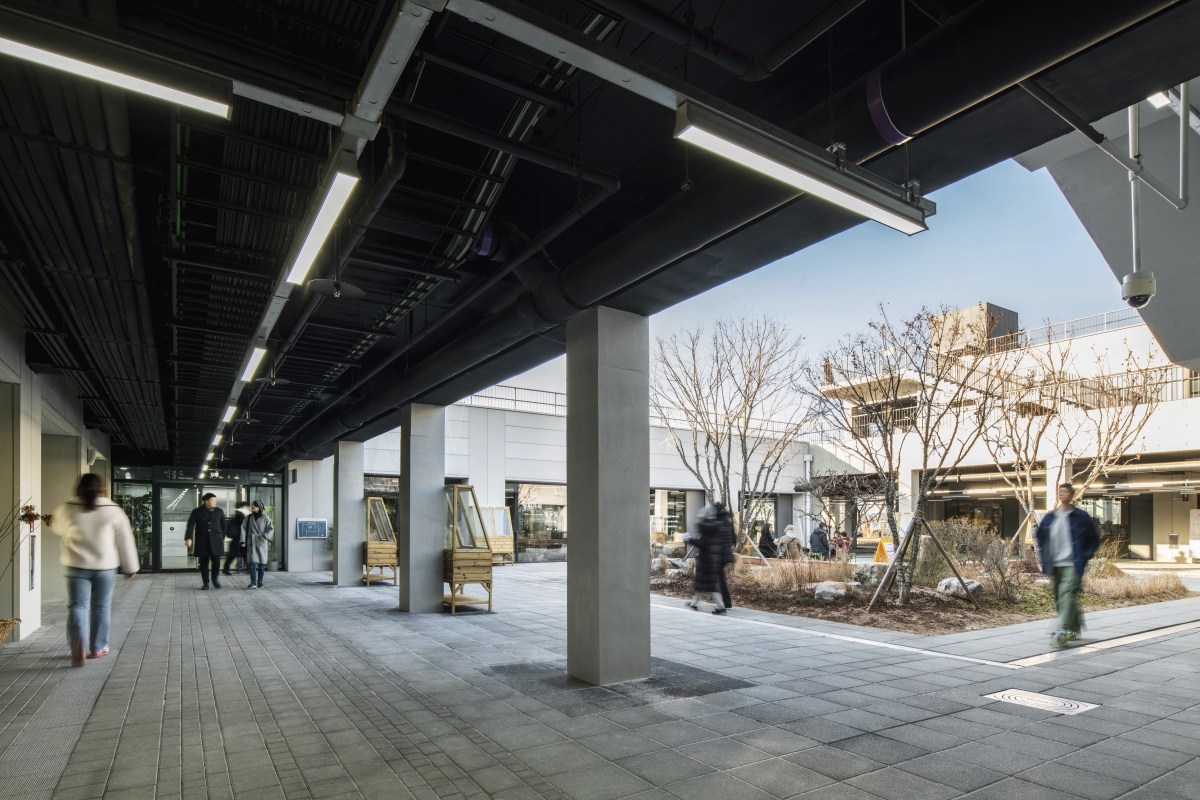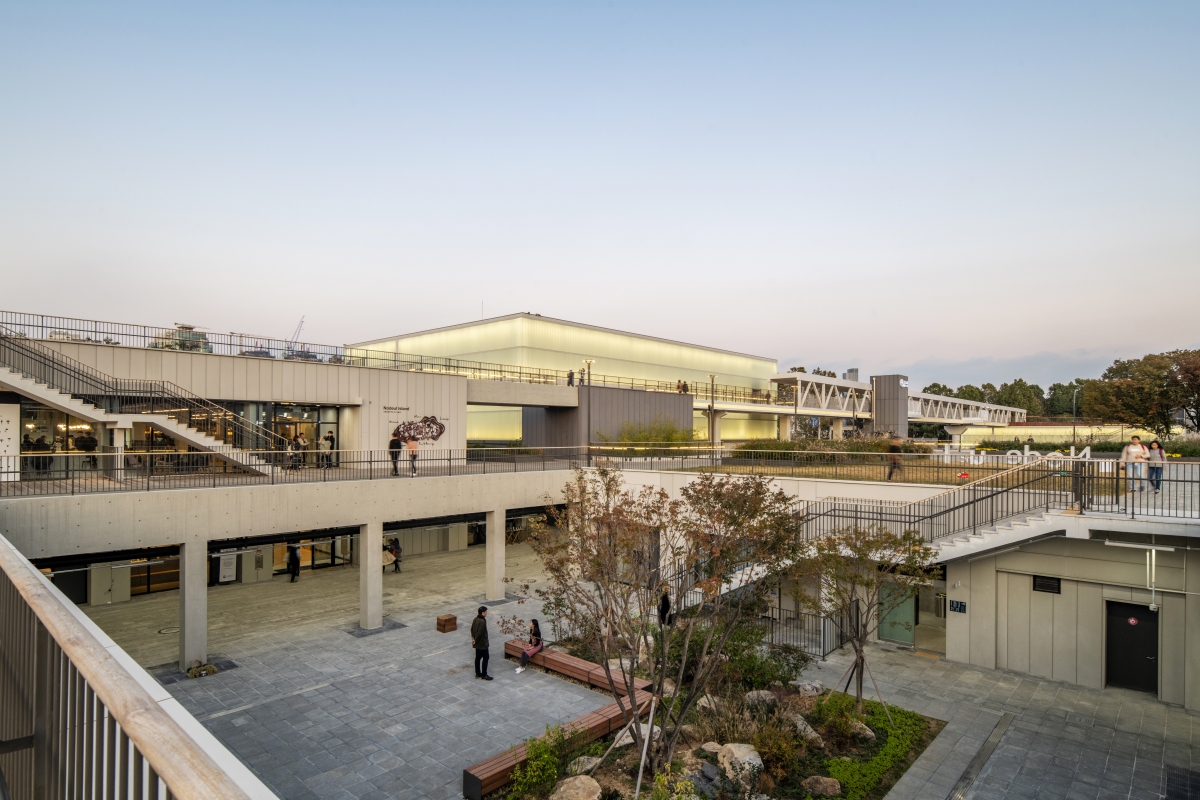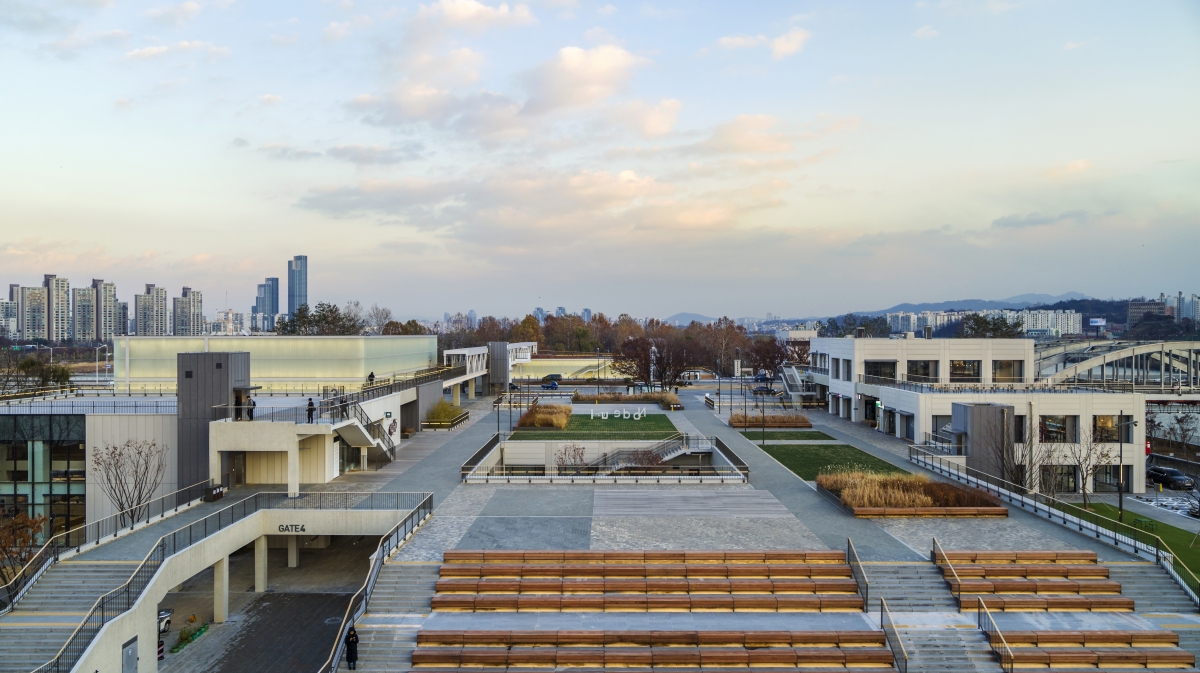 -
Architect mmkplus Inc. (Maing Pilsoo, Kim Jihoon, Moon Donghwan) + Topos design Group Inc. (Park Namkyu) + Dongsimwon Landscape Architects Inc (Park Gyoungtak )
Design team mmkplus – Lim Harin, Han Songe, Lee Jihye, Jang Soojung / Topos design Group – Kim Wonyoung, Lee Jonghee, Eum Seonhee, Ryu Jinho / Dongsimwon Landscape Architects – Lee Namjin, Cho Yoohyun, Kim Gun, Park Sungjoon, Paik Gyuri​
International Design Competition Maing Pilsoo, Kim Jihoon, Moon Donghwan, Park Taehyung​
Location
445, Yangnyeong-ro, Yongsan-gu, Seoul, Korea
Programme
cultural, commercial, neighborhood living FACS.
Parking
99 (5 for disabled people)
Building to land ratio
18.17%
Structure
RC, steel structure
Exterior finishing
cement panel, exposed CONC, U type & Low-E glass
Structural engineer
Saechang Structural Design
Mechanical engineer
DE-Tech Building Energy & Environment Design
Electrical engineer
Space Engineering Co.,Ltd
Construction
Keosun Construction, Shinsung Construction
Design period
2016 ‒ 2017 & Aug. 2018 ‒ Apr. 2019
Construction period
Oct. 27, 2017 ‒ Nov. 30, 2019
Client
Seoul Metropolitan Government
Operator
Urban Transformer Inc., Flax&co
Lighting engineer
Design Studio Lighn
---
Maing Pilsoo is a co-principal of mmkplus and an assistant professor at Hongik University School of Architecture. He is a registered architect of New York State and serves as a public architect in Seoul. He received B.S and M.S in Architecture from Seoul National University, and Master of Architecture in Urban Design from the Harvard Graduate School of Design. Prior to Establishment of mmkplus in 2016, he had professional experience at Space Group in Seoul and Perkins Eastman Architecture in New York.


Moon Donghwan holds a Bachelor of Architecture at Syracuse University and a Master of Architecture in Urban Design from Harvard University (GSD). After working at renowned design offices, including Foster and Partners and Kohn Pedersen Fox in New York, he is now practicing as a co-principal of mmkplus and also teaching at the School of Architecture and Design, New York Institute of Technology.


Kim Jihoon is a registered architect in Korea and New York, and a co-principal of mmkplus. After studying architecture in Konkuk University and Harvard University, he had participated a wide range of work at Skidmore, Owings & Merrill, Herzog & de Meuron, and Beyer Blinder Belle Architects. He is also teaching design studio at Konkuk University Graduate School of Architecture.
Park Namkyu had participated in a variety of works as an architect at Space Group for 14 years after studying architecture in Hanyang University. He co-founded TOPOS Design Group in 2013 after graduating from Bartlett (UCL) and has worked on many projects. He is also teaching architectural design studio at Sejong University.

Park Gyoungtak, a registered landscape architect in California, is a principal of Dongsimwon Landscape Architects Inc. He received his Bachelor of Landscape Architecture from University of Seoul and his Master of Landscape Architecture from Harvard University's Graduate School of Design. Before joining Dongsimwon, he had his professional experience at Minwoo Architects, 03SCOPE and SWA San Francisco. With his mission statement of 'Thinking and Making are Inseparable', he has worked on a broad range of landscape design projects in the United States, China, India and South Korea for the past 15 years.​