The daycare centre is the first social space that children encounter as they begin to experience life outside of the home.
What is a daycare centre? A daycare centre is a nursery school. If a kindergarten is considered to be similar to a school, in that it is an educational facility, a daycare centre is more of an alternative home for children. What is a good daycare centre? It needs to be protected from the outside, as cosy and secure as a home, and it should be able to encourage a family-like intimacy between its members. It is the first social space experienced by children as they begin to build lives outside of the home, and it requires a rich spatial composition. The Gunja-dong Daycare Centre was planned according to these basic principles. As an open space that can be shared between everyone in the town, there is a general expectation that it will set a positive influence on the local community in motion, while maintaining the unique spatial characteristics of the daycare centre by respecting local conditions along with unique urban organisation and relating in a flexible way to these surroundings.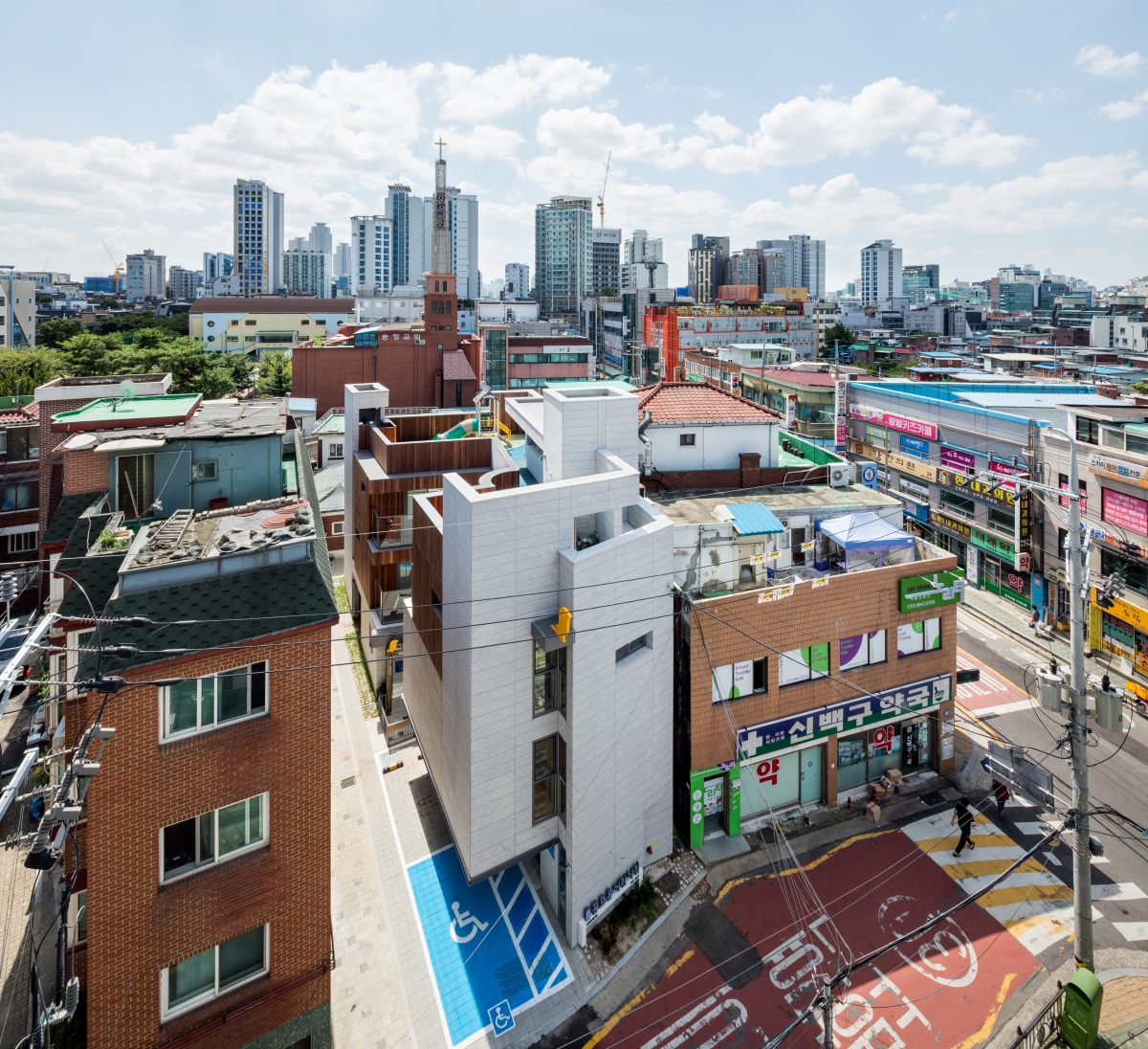 ​
This is an area in which small-scale buildings are particularly concentrated. Two multi-family houses used to be located on the existing site, and they were accessed through the alleyway on the eastern side of the site. For the houses located in the south of the site, this alleyway, which runs north and south, is the only means of connection to the outside. Fences are installed on both sides of the 3m-wide road, adding a narrower and more closed ambiance.
The project began by contemplating this alleyway. Although it was created in light of an inevitable need and has been in use for a long time, when considering the urban organisation of this town it became apparent this narrow alley was a positive factor that opened the site up and allowed it to breathe. Since suggesting that this alley should be used as a path for children on their way to the daycare centre, it became a safe and more intimate route. The volume on the north side of the site was designed to float, so that it would open to the town and alleyway, and welcome the children. A courtyard (entry yard) was devised in the middle of the site, narrowly stretching north and south and letting it run adjacent to the alleyway. In this way, the previous narrow and straight alleyway has become a richer space of three-dimensional depth. Each room in the daycare centre is open to this courtyard so that activities inside the nursing room can be seen, and children can enter the daycare centre in anticipation of being greeted by their friends. Nursing rooms face each other across the courtyard. Open and lively interior spaces are created, promoting daily interaction through varied activities.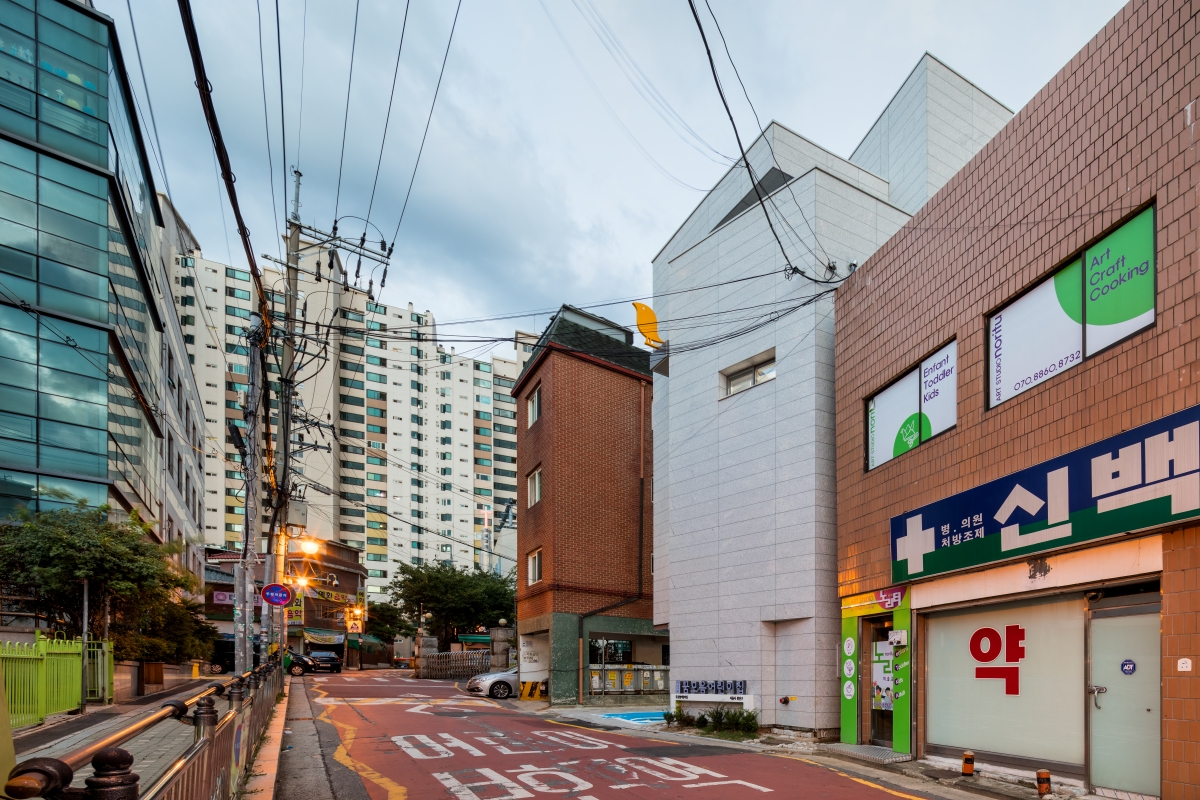 ​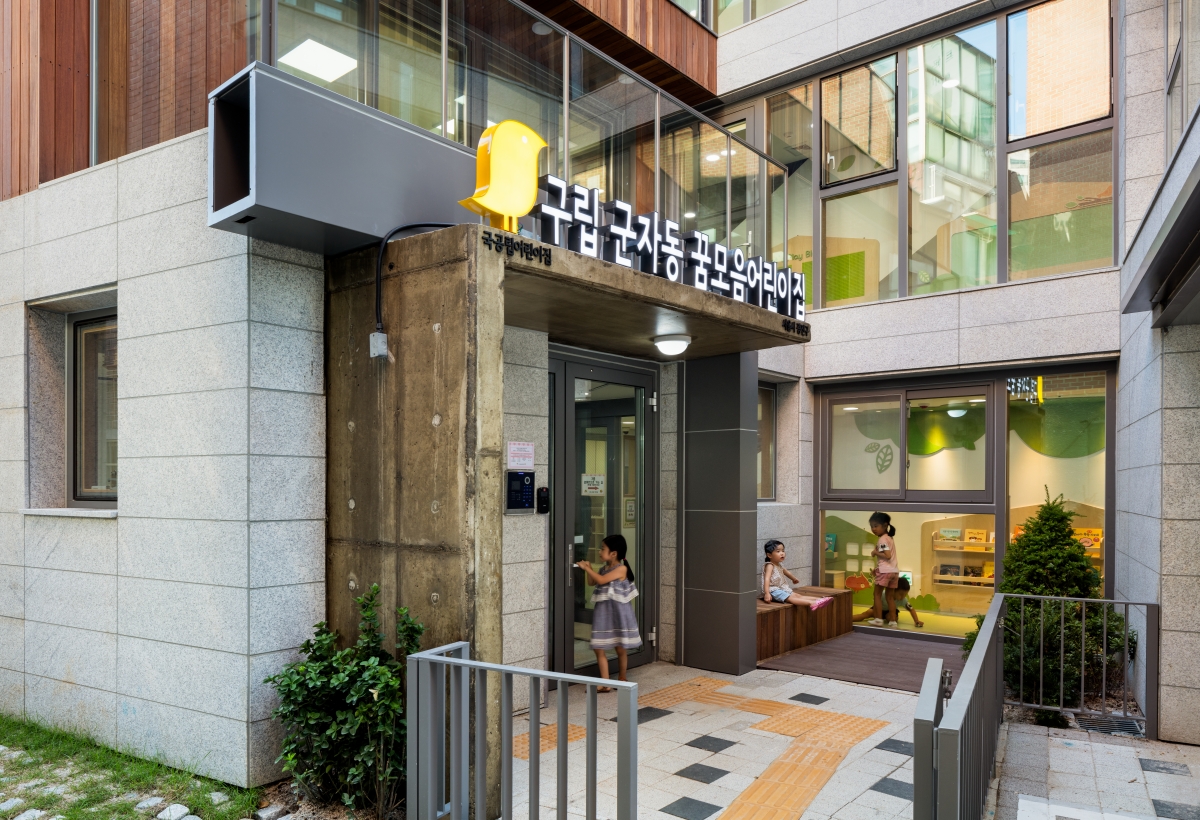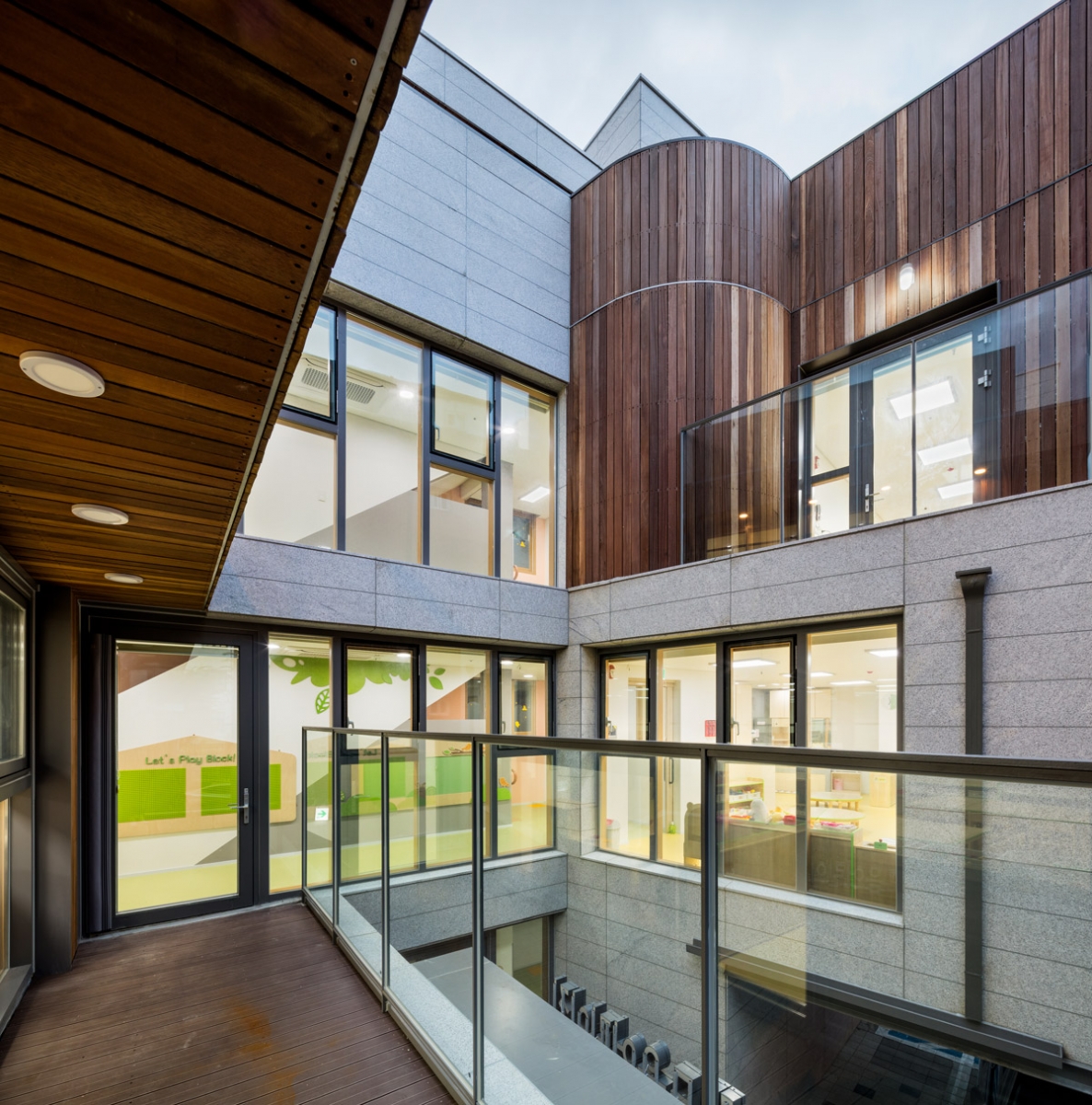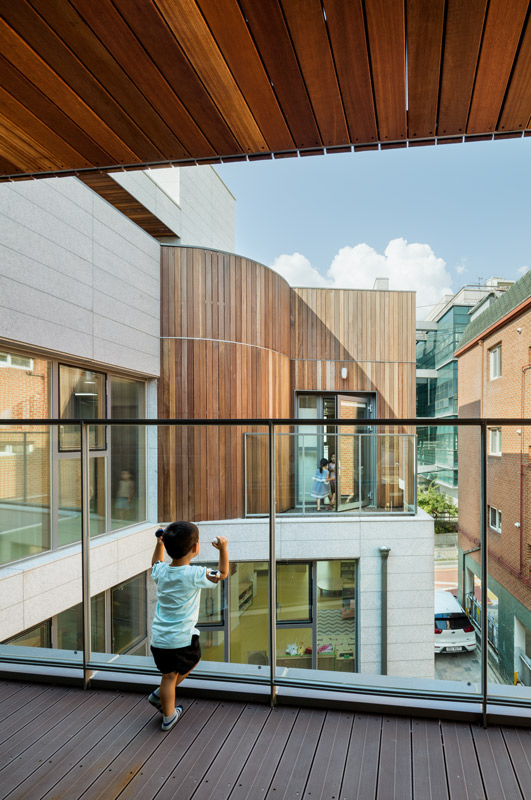 The nursing room is the main living space for children, and it is designed to be safe, protected from potential threats, and to respond flexibly to a wide range of activities. A terrace that is easily accessible from the nursing room has also been introduced, allowing children to experience how nature changes over time. They can always play simple outdoor activities here, and expanded on the games taking place inside.
Children learn a great deal by spending time with friends of their own age. Nowadays, children commonly have a fewer siblings than in the past, and daycare centres can facilitate for this discrepancy. The daycare centre, where children can hang out with classmates but also get to know older and younger brothers and sisters; it forms the starting point in a life of social interaction. It is a space in which they can learn about the varied nature of social relations, and how relationships extend from individual families through living. The entrance, corridors, and playgrounds around the courtyard are not just circulation spaces that connect each room but are also designed as spaces for interaction, where children can meet and get to know each other. Lighting and the town's surroundings are invited into the interior of the building, serving as the backdrop to these activities. In virtue of the layout of the nursing rooms facing each other, with the courtyard at the centre, the overall design achieves an open configuration, where children inside a nursing room can observe activities taking place in other nursing rooms beyond the courtyard, allowing them to naturally interact and empathise with other children of different ages.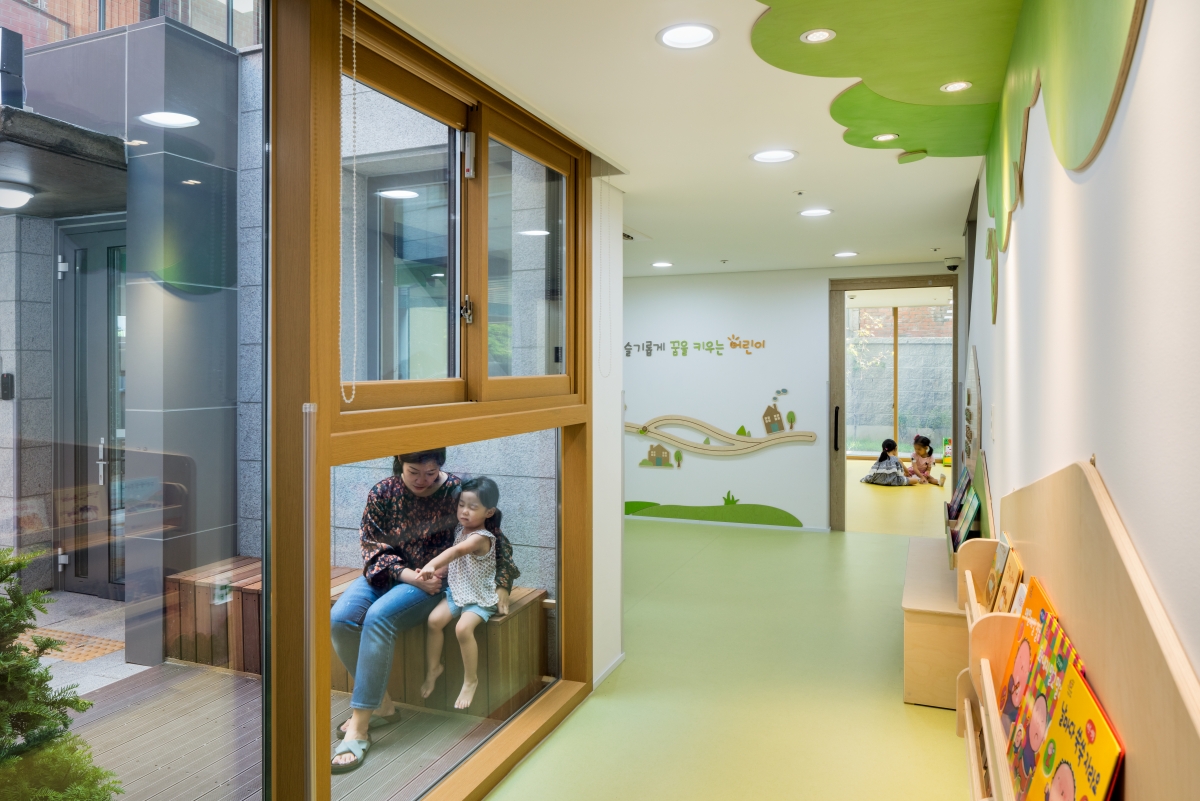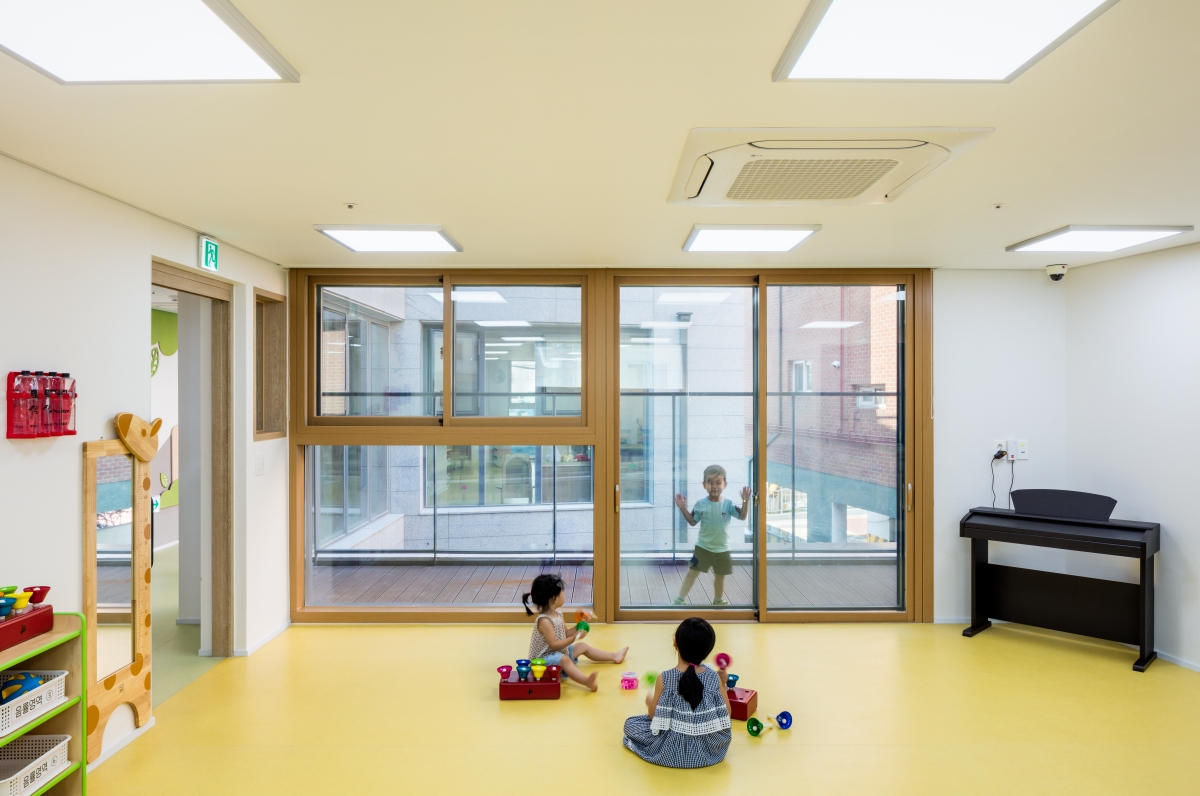 ​
Along the alleyway, the members of the daycare centre and town people work together to create a new urban scenery. The children's nest, embracing the alleyway, was planned not simply as nursery facility dedicated to children, but imagined as a place in which to share good memories and exchange positive influences. I envisage this place becoming a place in which aspects of people's unseen daily lives will accumulate as time goes by, rather than being a design expressed in the building. A lot of care and attention will be required for the daycare centre to settle and flourish in this neighborhood.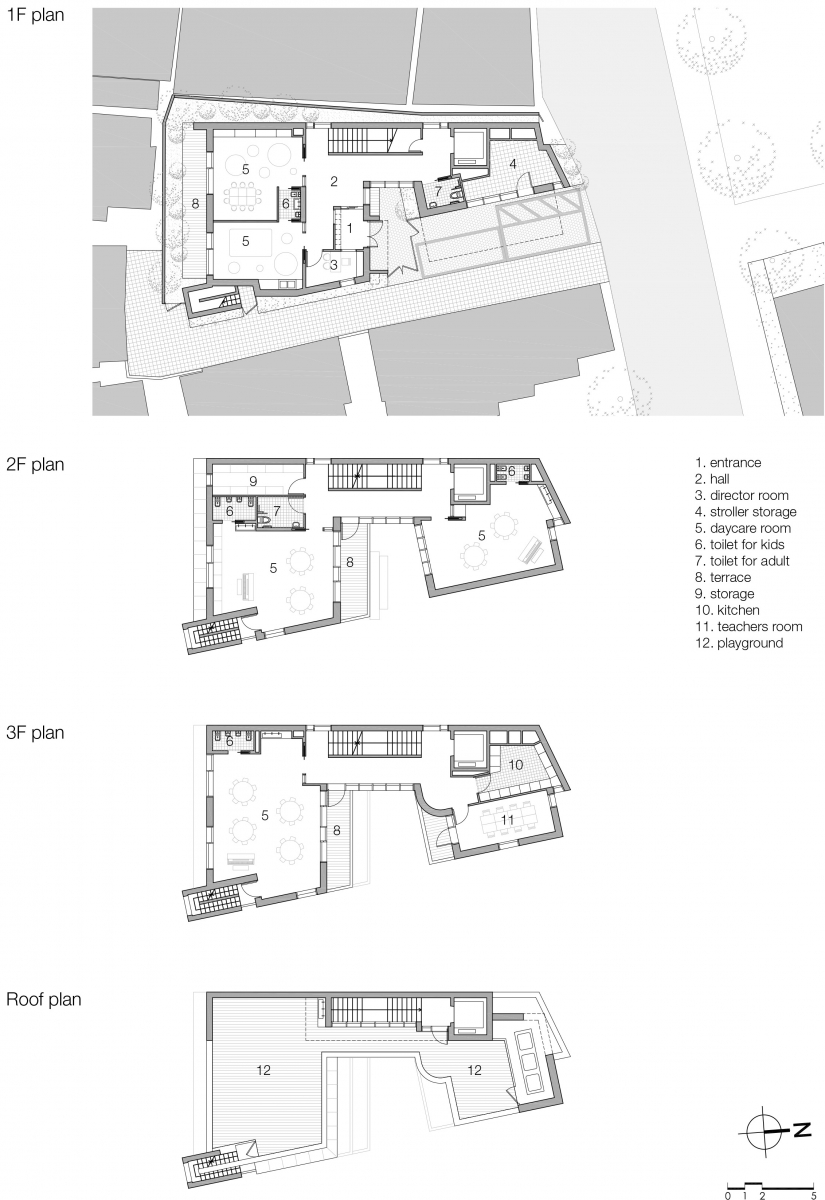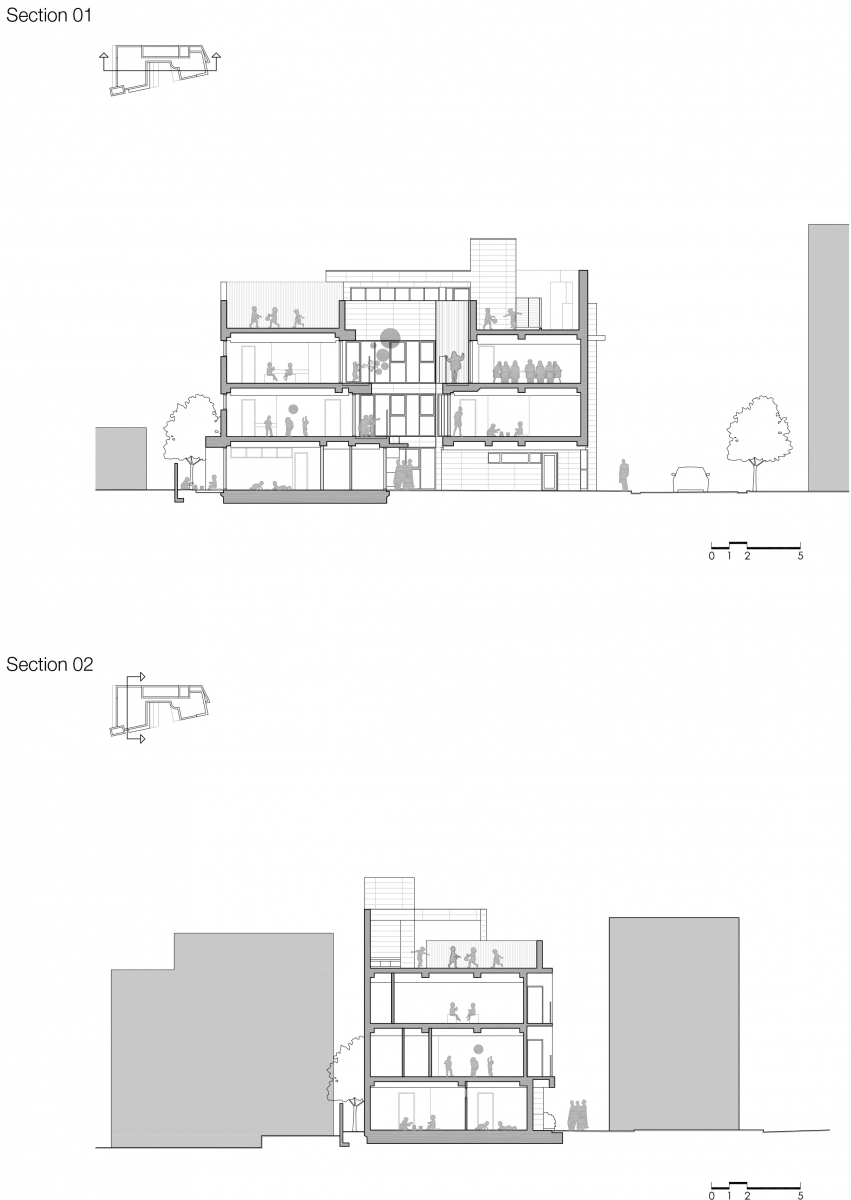 Architect
HOGA Architecture
Design team
Seok Jeong ho, Lee Sun young
Location
363-28, Gunja-dong, Gwangjin-gu, Seoul
Building to land ratio
59.8%
Exterior finishing
Granite, Bangkirai
Interior finishing
paint on the gypsum board
Structural engineer
JEON AND PATNERS
Mechanical engineer
Bowoo Eng
Electrical engineer
Jinwon Eng
Construction
Kabul Industry & Development Co., Ltd.
Design period
Jan. – Sep. 2017
Construction period
Oct. 2017 – Aug. 2018
Client
Gwangjin-gu Office
---
Seok Jeong ho received his bachelor's degree from Kyungpook National University, and graduated École nationale supérieure d'architecture de Paris-Belville (ENSAPB). He practiced at Jacques FERRIER Architecture and Pablo KATZ Architecture in Paris. After the establishment of HOGA Architecture in 2014, he is a public architect at the Seoul Metropolitan Government and an adjunct professor at Kyung Hee University.
Lee Sun young received his bachelor's degree from Sookmyung Women's University, and graduated École nationale supérieure d'architecture de Paris-Belville (ENSAPB). She practiced at Catherine FERMAND Architecture, Atelier SALOMON Architecture in Paris. After the establishment of HOGA Architecture in 2014, she is a public architect at the Incheon Metropolitan City and an adjunct professor at Hongik University.