As a fashion designer having her showroom in the back street of Hannam-dong for past 8 years, the clilent envisioned a space that can function as both residential and studio in the same area. Hannam-dong, today, has been undergoing a heated expectation for redevelopment. Design consideration initiat-ed at a 99m² site within an old urban fabric with abandoned buildings waiting to be rebuilt, massive buildings with maximum FAR, and low rise old houses. At the same time, disarrayed textures of neigh-boring buildings surrounded all sides of the site, while little light from the South made its way through their varying heights. The main design strategy took place through a treatment of openings as a device to protect privacy yet open up for local views and transfer light, as a response. EUM 155.3 is a building that can nurture newly emerging fancy single lifestyle on the top floor, and will work as a local cultural hub with the rentable spaces on the lower floors, which now are occupied by a gallery, a wine bar, and a design studio.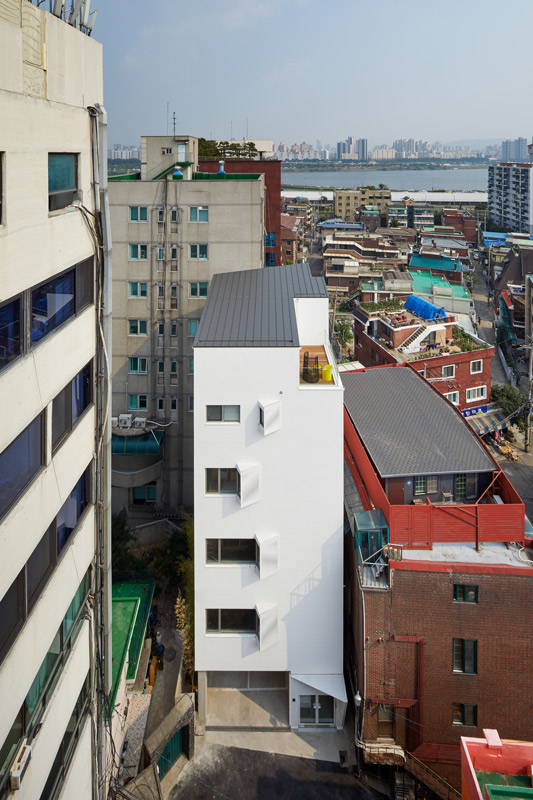 Verticality
The first step of design is heightening the presence of the building over the background by max-imizing its verticality. Conventional 3-meter ceiling height is increased to 4 meters, raising the entire building height by 5 meters including the attics. Its interior spaces subsequently allow a sense of open-ness despite the limited floor area. In a similar sense, the building envelope is finished with a planar white sto, through which its bright, simple volume can stand out amongst the deeply saturated and intri-cate surfaces of the area. As a result, the slender, vertical volume radiates to the neighborhood while al-lowing the adjacent buildings to create constantly changing shadows onto its surface. The notion of ver-ticality expressed on the exterior persists in the stairwell. Double rails of stainless steel pipes grow out all the way up to the top ceiling. The steel rails and their shadows dramatically unfold on the exposed con-crete walls to draw an image of infinite linearity, which makes the stairwell become a space of dynamic senses rather than a simply functional space.
Perspectives from Oblique Angles
Located at a dead end of an alley and due to the upfront faces of close-off buildings, Eum 155.3 makes obliquely protruding windows to enable larger angles of viewing otherwise limited visual experience from the interior. Outlook from the oblique perspectives is diverse fragments of sceneries - Hannam Bridge and the highway on its East, Han river on the South, and high-rise to low-rise villas of Itaewon on the other two sides.
Light Permeating Facade
Meanwhile, perforated steel panels are designed as a device for protecting the privacy from the large oblique openings. Fixed to the side of triangular platforms – small extensions from the slabs and window sills, they not only offer dynamics to facades but also act as effective screens for unpleasant part of scenes. Gradation of each pattern varies according to its relationship to the street, close buildings, and possible views, but generally forms large perforations at an eye level. During night time, on the con-trary, the perforations send light to the exterior and backlit panels stand on the ground level. The design language of upper floors continues on street level yet with more extensive patterns, welcoming the visi-tors and the passerbys.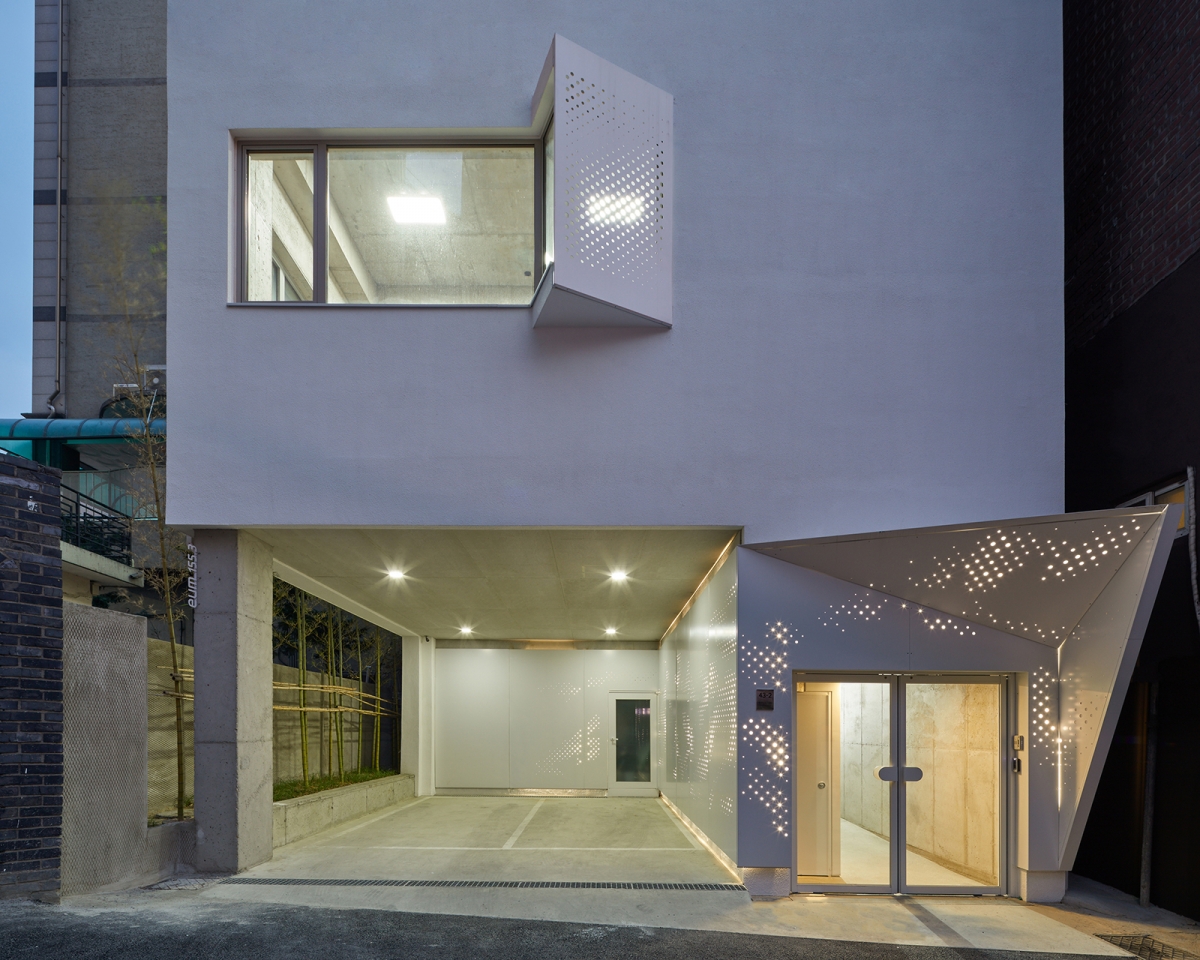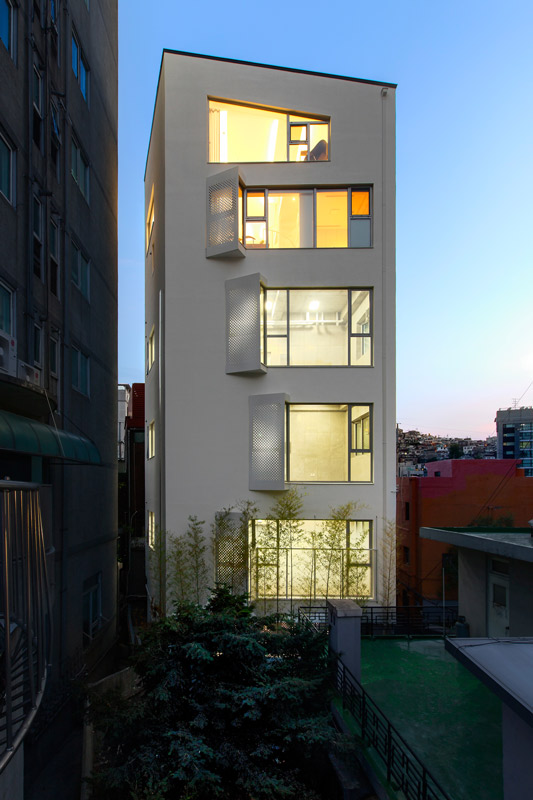 ⓒJeonghyun Kim​​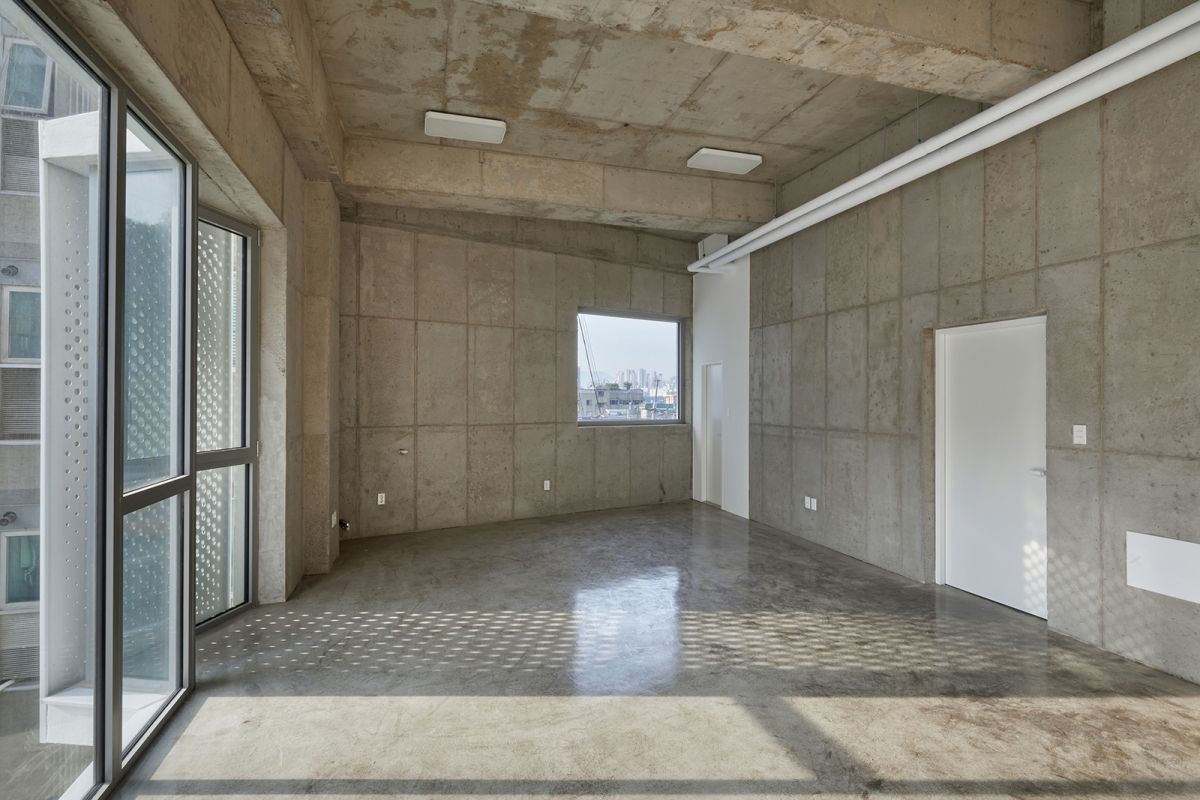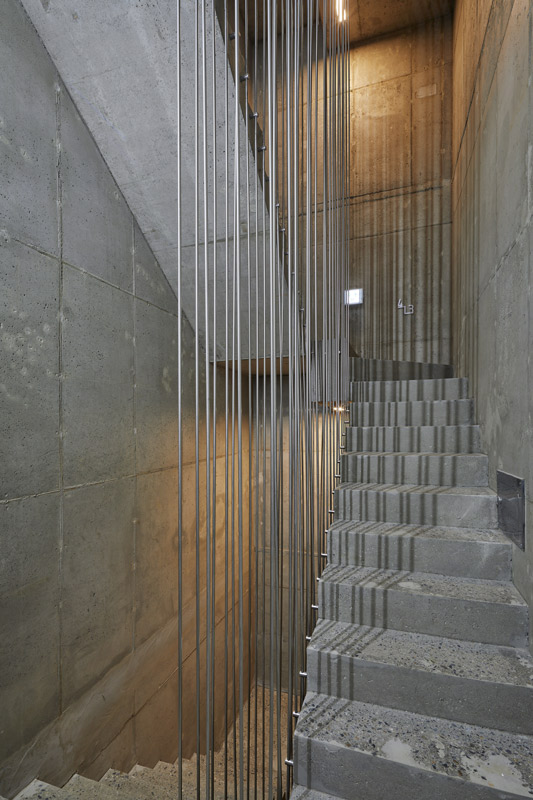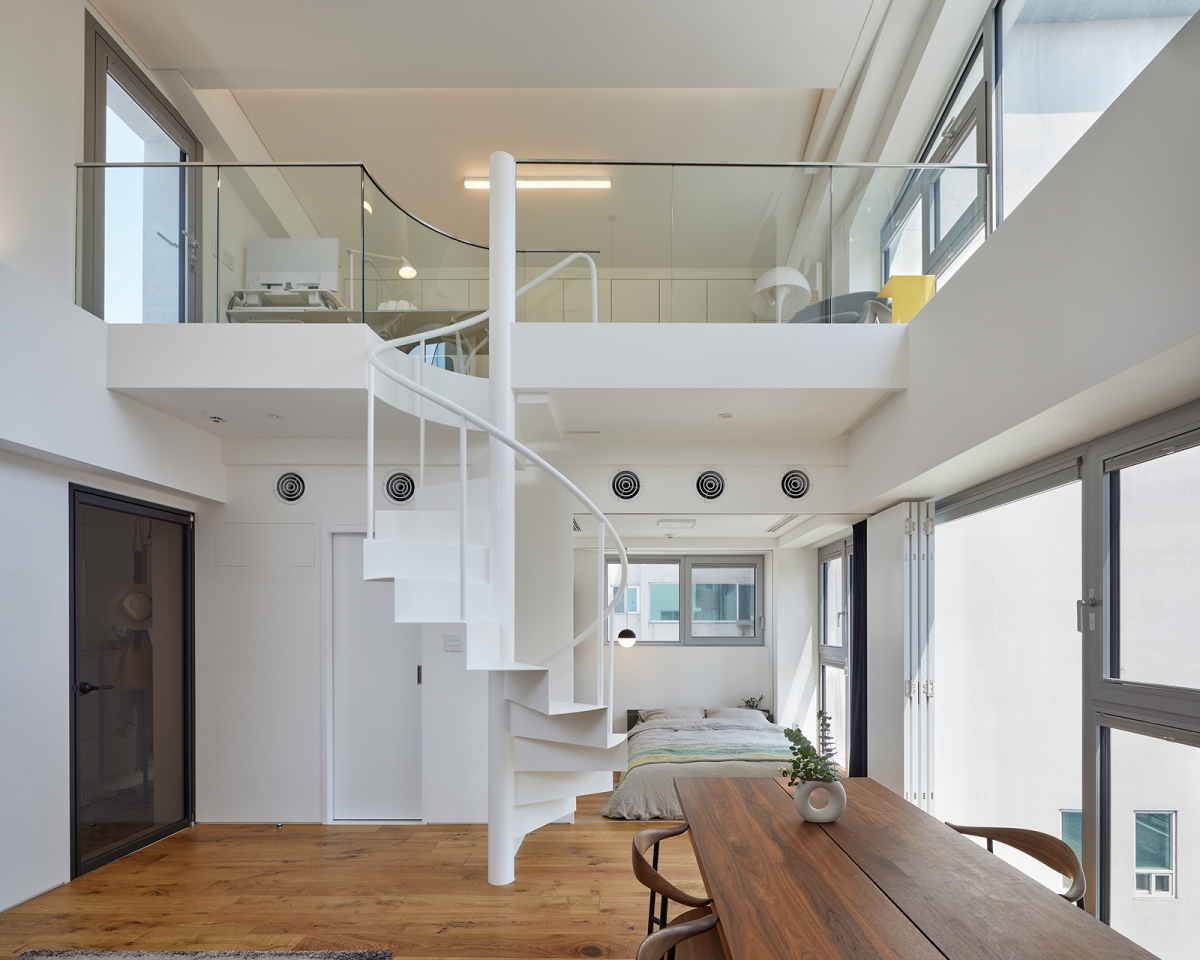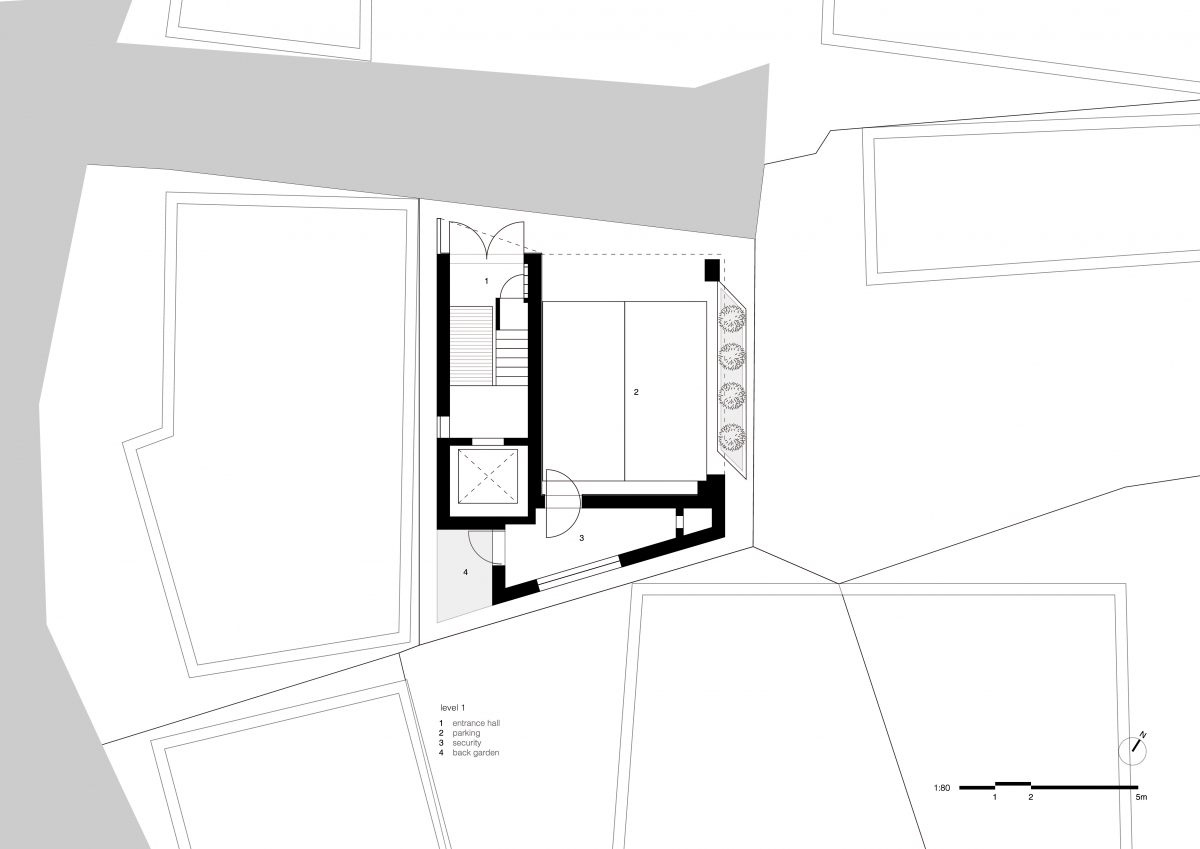 ​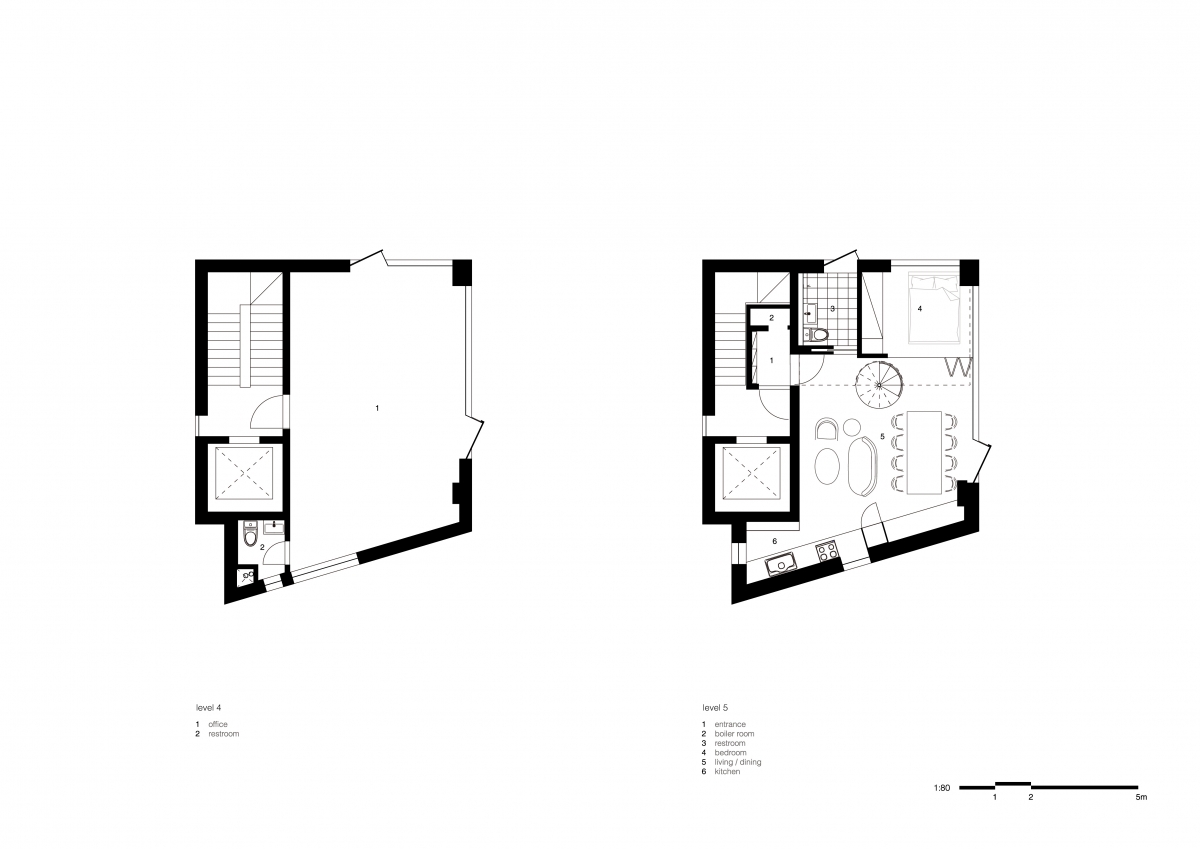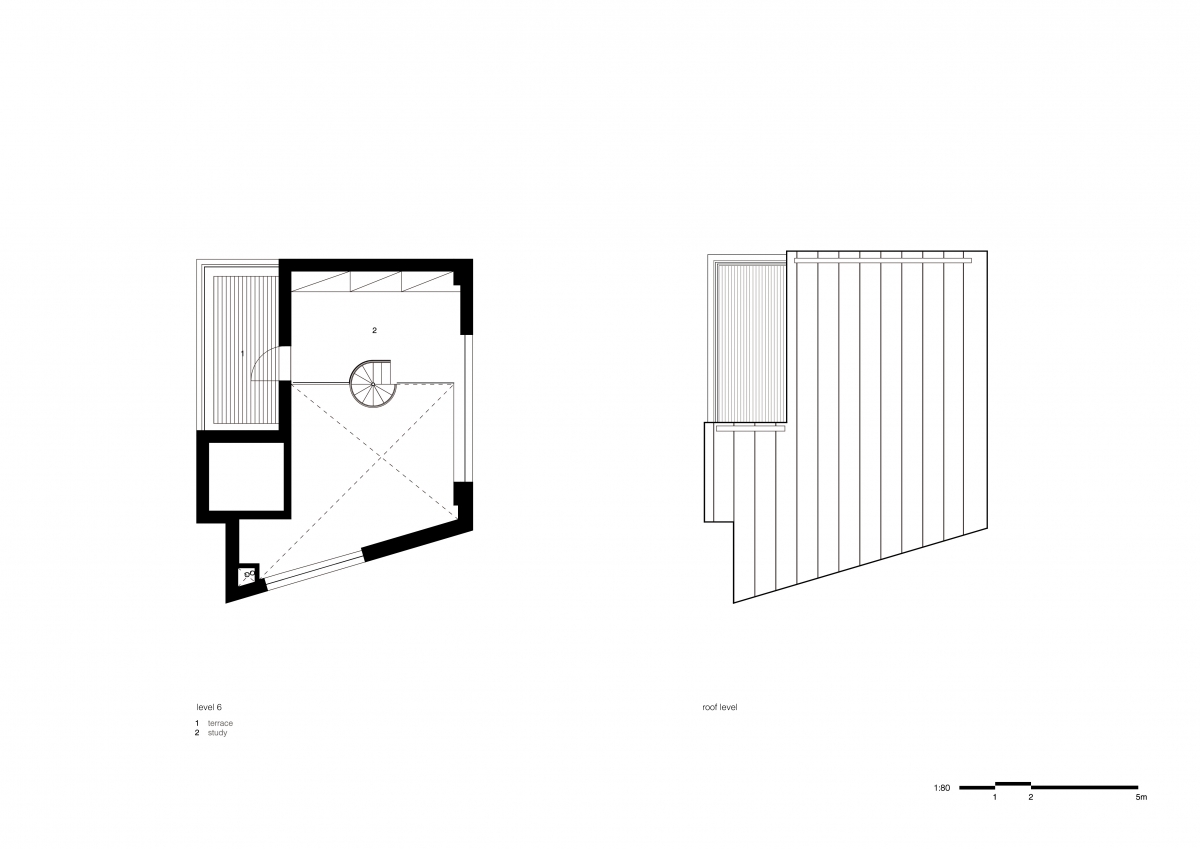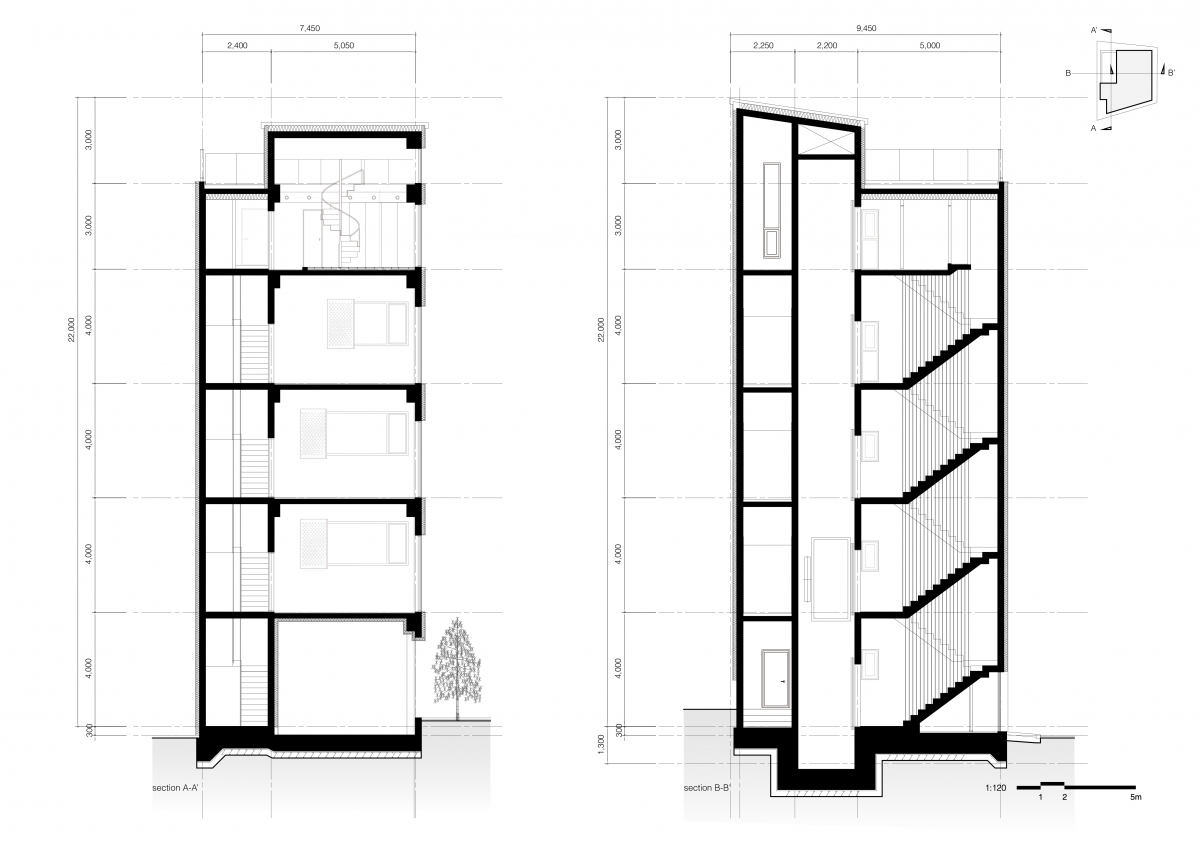 ​
​
Design team
So Young Park, Hanuel Oh, Seyong Jang
Location
Hannamdong 155-3, Yongsangu, Seoul
Programme
Office, Residential
Gross floor area
252.67m2
Building to land ratio
59.79%
Structure
reinforced concrete
Exterior finishing
Sto, aluminum perforated panel
Interior finishing
exposed concrete, paint on gypsum board
Structural engineer
Quantum Engineering
Mechanical and electrical engineer
Yousung Total Engineering
Construction
Moowon Construction
Design period
May – Sep. 2018
Construction period
Sep. 2018 - May 2019
---
So Young Park is a founding partner of The Project. She received her Master degree in Architecture from Columbia University. She gained experience as a principal at Mesh Architectures in New York and continued her career actively in both New York and Seoul. The Project's design expands from public art, interior design to architecture. Her major work includes Mirae Asset Venture Investment Tower, DMCC JTBC Office Building, and Gimhae Clayarch Museum Art Shelter. She is currently teaching architectural design studio at Korea University.