"Two-Story Modern House, with large garden and indoor fire pit, with the ability to have a little shop or cafe in the ground floor of the building ㅡ that has interior features with a heavy and unique silhouette. Allowing you to be free from noise of the city and enjoy privacy, it looks very peaceful from outside but its inside interior has a bright and pleasant atmosphere."
It's the house that my clients have been wanting to have.
The site located in Suji-gu, a city district in Yong-in City is classified into the new development zone, and there are many houses made of different building materials but almost identical in form and structure. At first glance, those houses gave me the image of a 'townhouse on the hillside'.
The four sides of the building have different surroundings and conditions, so the interior and exterior had to be different as well. Clients wanted to see both a beautiful green landscape and a small village from their house. They also wanted to have a small studio where they can give others a small class about plants and flowers, while at the same time it has to be separate from the private living space for the family.​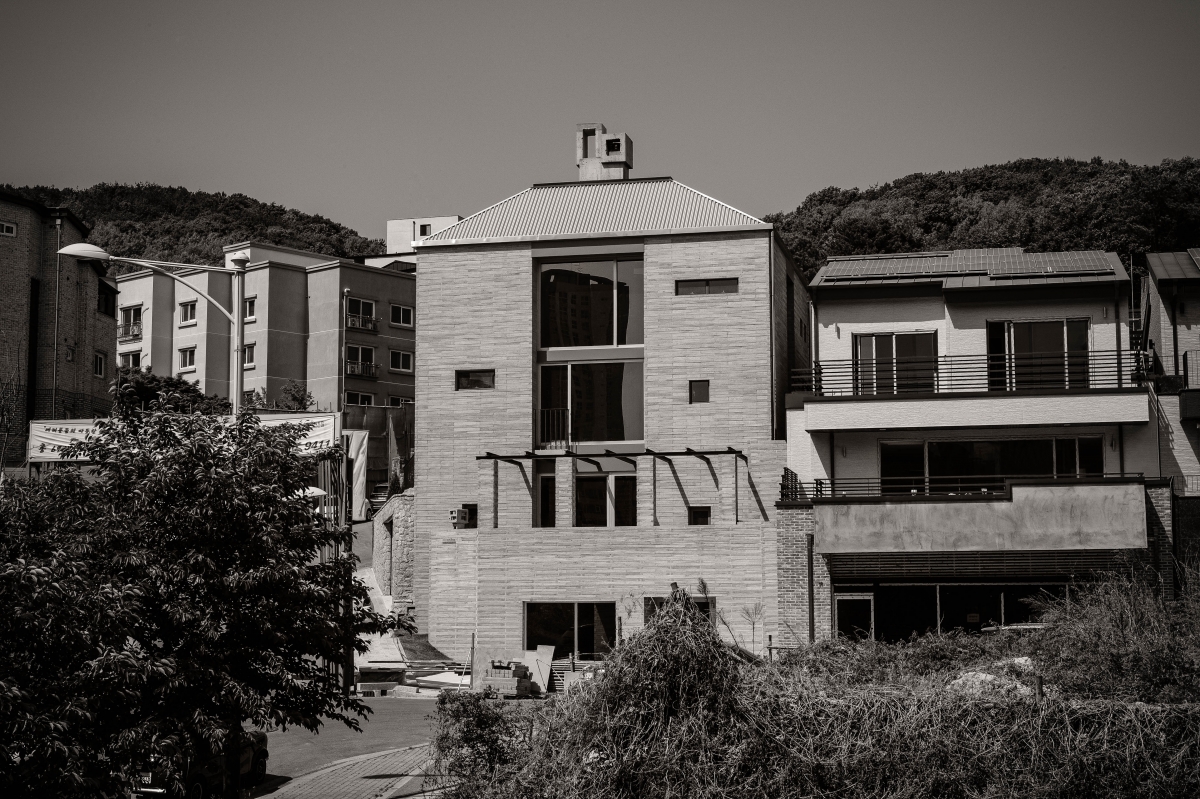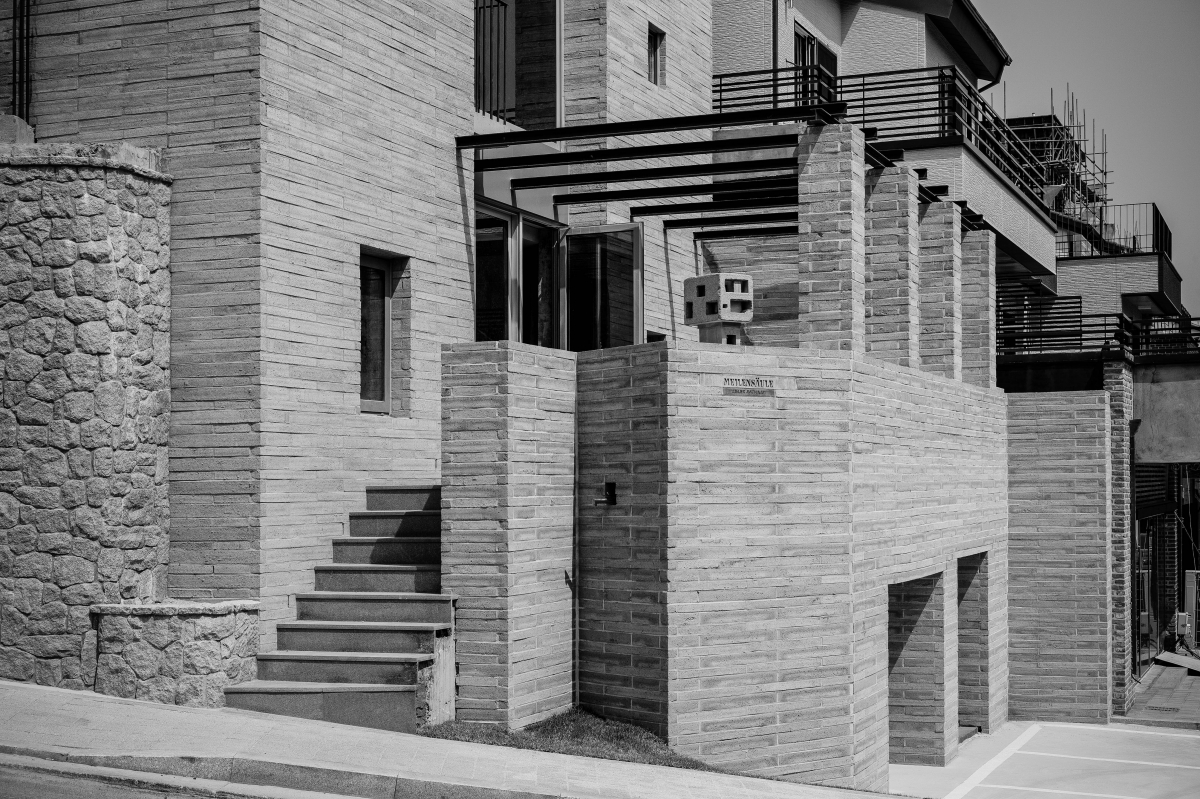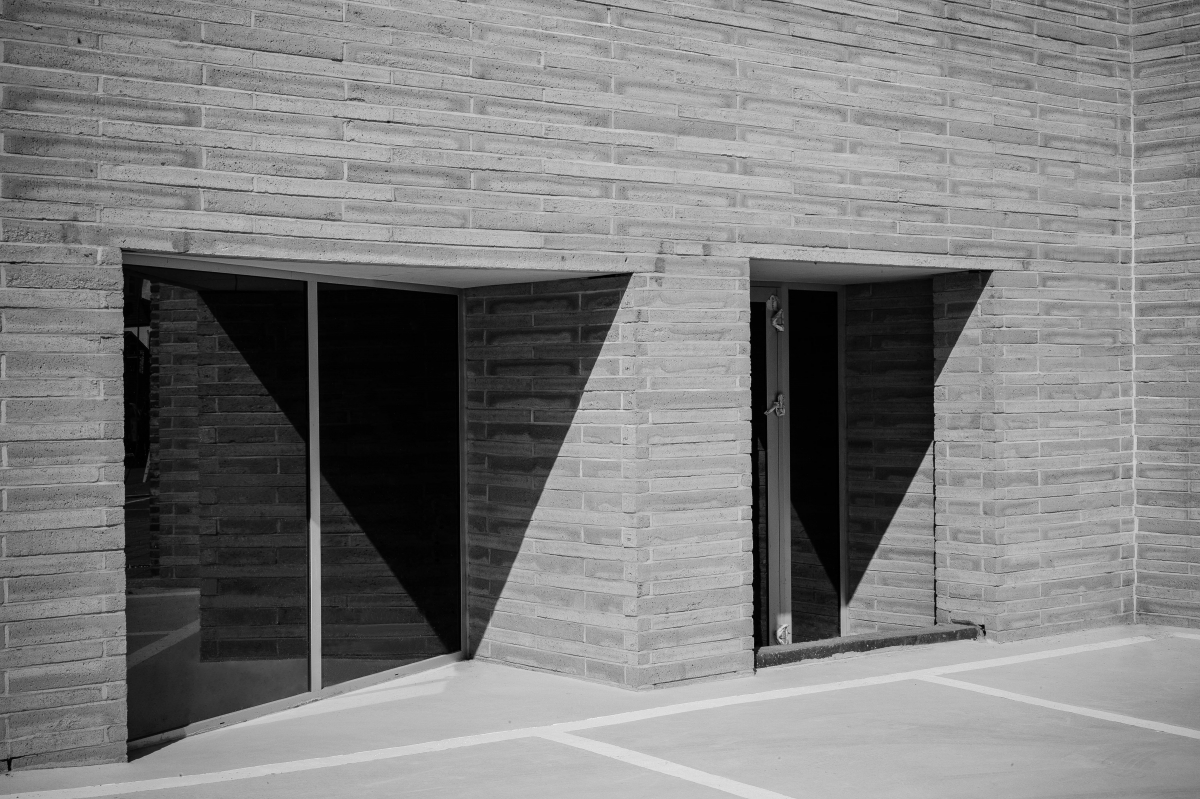 It was my responsibility to make several different spaces harmonize with different atmospheres in the building. As an architect it led me to think about how to harmonize the landscape with the surrounding houses of different materials and architecture forms for 'rhythm'.
In order to make a house look good with its surroundings, what needs to be considered is how to harmonize them rather than simply to make them look similar. This site, located at the end of the city and the center of a new neighborhood, made me think of the locational characteristics of Borthwick Castle in Scotland and lead to another idea for the building material which is a hard stone as shell of the building. That's because I thought relatively solid silhouette could be a solution for uniqueness in a small area.
This simple idea was very useful to create and develop an atmosphere that matches the surroundings of the house. I created spaces for each room in the entire stone building and organized different use of spaces in it. It was based on my experiences of walking between rooms, in small castles with a flat construction in Scotland and England. This building, which has a different atmosphere from other buildings in the neighborhood, will give a new experience to the neighbors.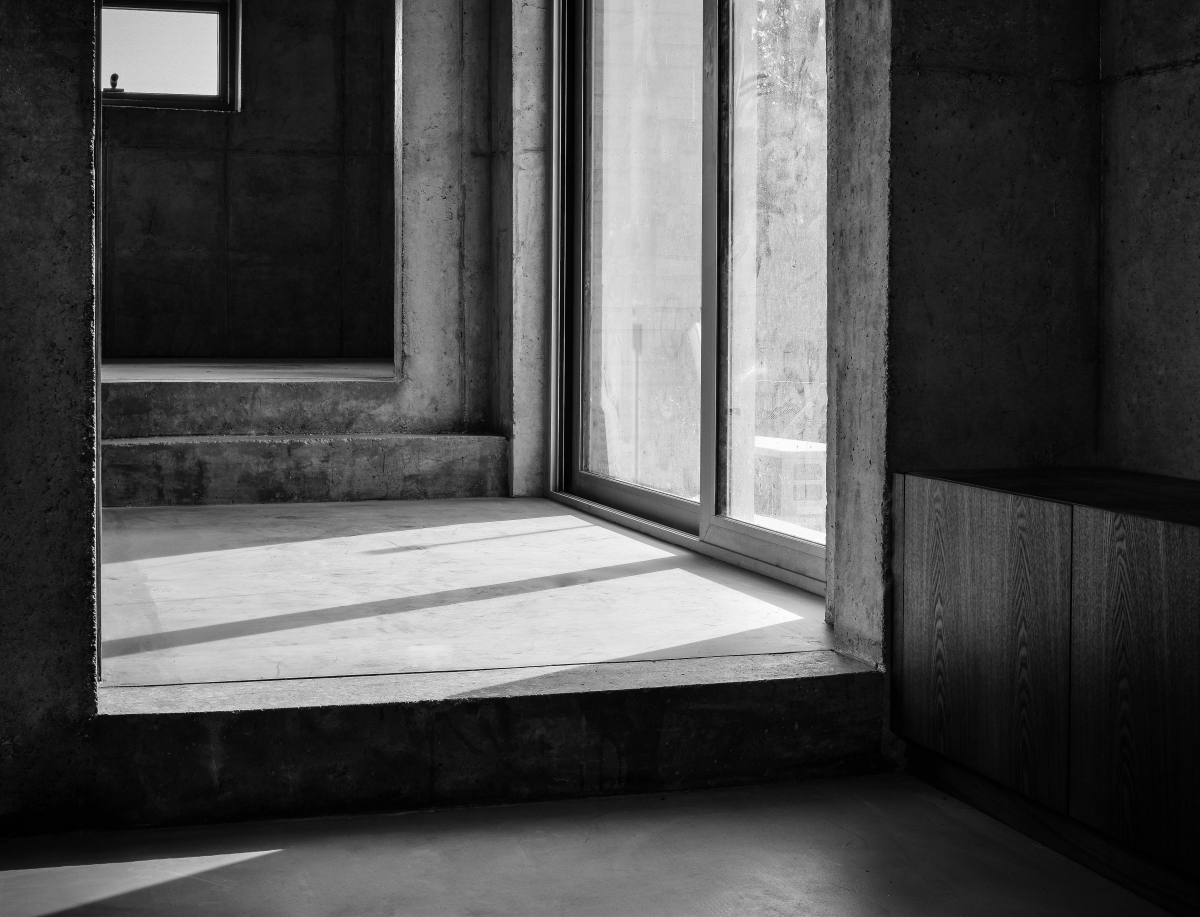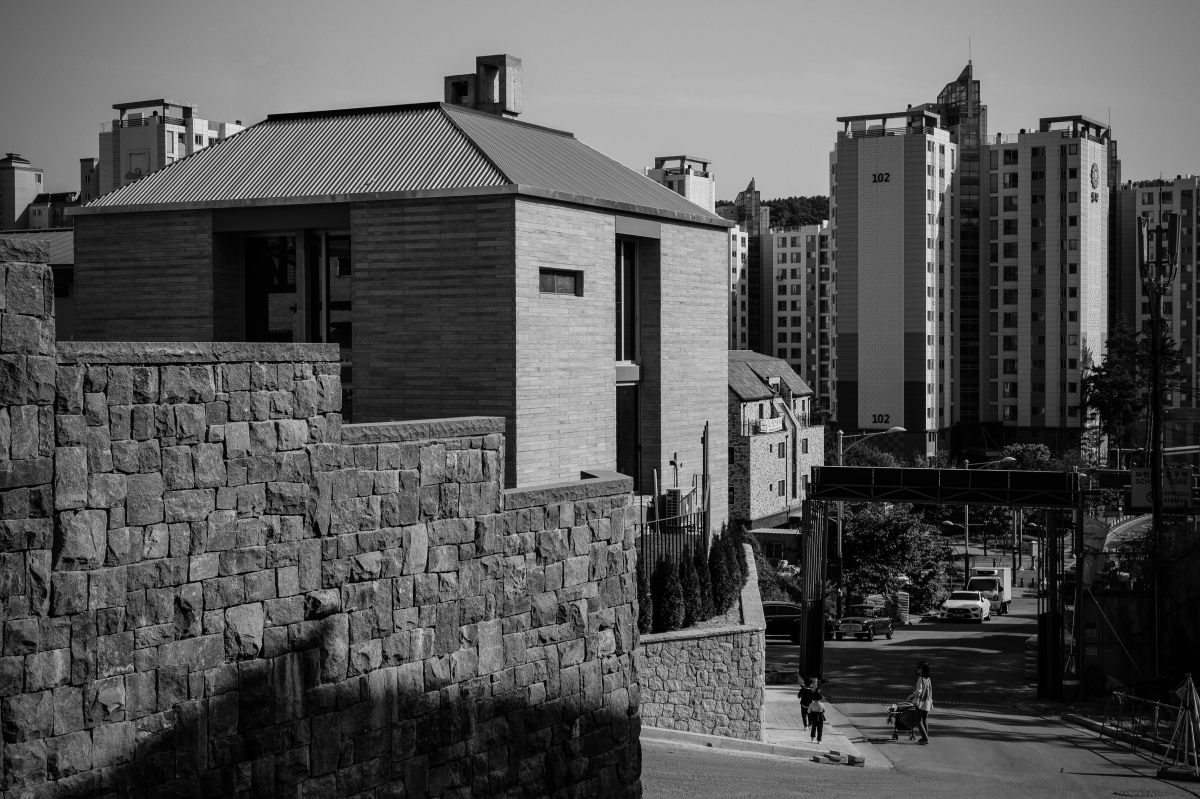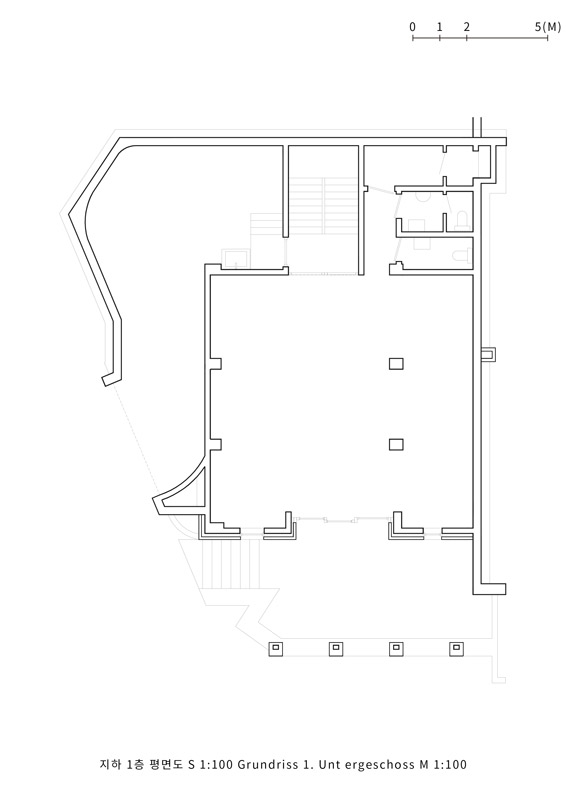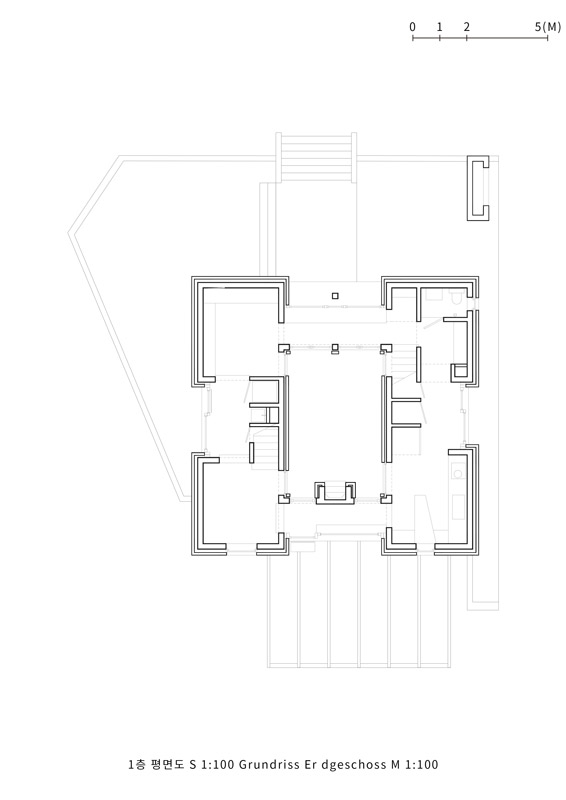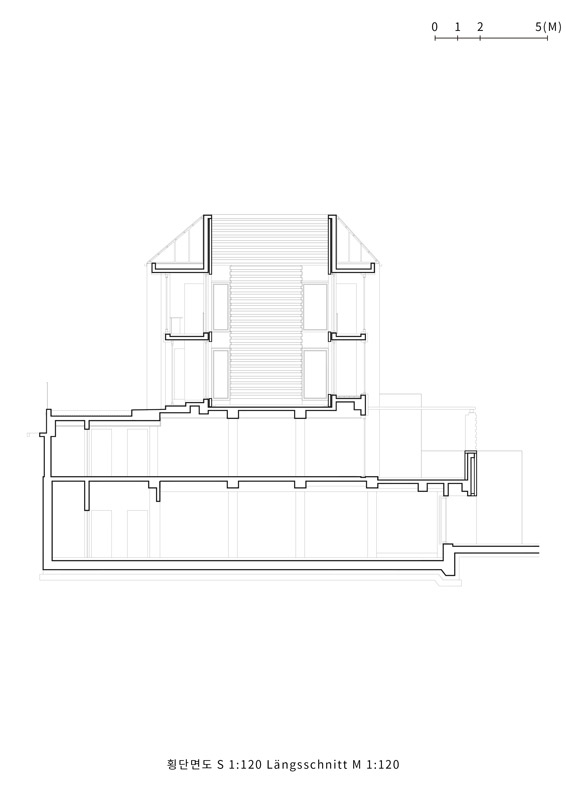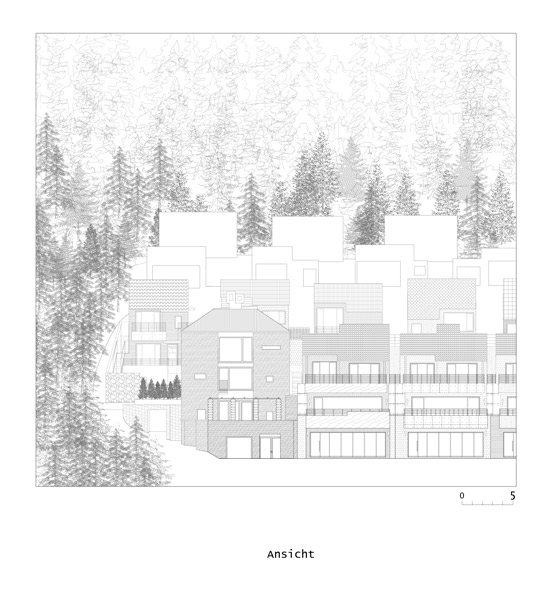 Location
94-46, Sinbong 2-ro, Suji-gu, Yongin-si, Gyeonggi-
Programme
neighbourhood living facility, single house
Gross floor area
545.32㎡,
Building to land ratio
19.9%
Exterior finishing
concrete brick
Interior finishing
exposed concrete
Structural engineer
CENTUM ENGINEERING
Mechanical and electrical engineer
JEAWON ENGINEERING
Construction
SANGWOO ENGINEERING
Design period
Nov. 2017 – Sep. 2018
Construction period
Sep. 2018 – July 2019
---
Nam Jiwon studied architecture at Hongik University and gained work experience at Kunwon architects. He also studied at the Swiss Federal Institute of Technology Zurich(ETHz) and received a master's degree at the USI (Università della Svizzera italiana) Accademia di Architettura di Mendrisio. Then he was awarded a diplom by Quintus Miller in 2015, Switzerland. He founded Atelier Nam in 2015, and since then he has been working on various projects. He lectured at Korea University and Namseoul University and is currently an adjunct professor at Hongik University.