An Intricate Twist of Tension and Vitality
IDR Architects (hereinafter IDR) has designed two multipurpose auditoriums for Eonbuk Middle School and Apgujong Elementary School after winning a design competition. The competition was held at a time when larger architectural firms had expressed their distaste for participating in initiatives for such small and troublesome projects, while smaller firms felt that there was nothing more entertaining in the world. IDR's joy at winning the competition, and their excitement in anticipation of completing the project did not last long. As novices, the architects of IDR, were destined to face challenges in the field of public school architecture: the red tape of the Office of Education, the unreasonable demands of the school principal, their desire for cost-conscious approaches compromising the quality of architecture for the student; all resulting in the architects' commitment and conviction often ending up buried. In the surmounting of such difficulties, the multipurpose auditorium of Eonbuk Middle School accomplished a sophisticated style and high level of completion that surpasses the standards of everyday school architecture.
IDR claimed that they 'attempted to highlight the more refined and mellow nature of select conclusive materials, rather than using colourful primary tones or cute decoration in a hapless attempt to nurture children's creativity', adding that they wished 'to create a building in which children could run free as the protagonist of the space, against the backdrop of a space filled with calming and simple tones permeated by natural light'. In fact, the method of overlaying design on architecture, by drawing upon primary colours and curving motives, resulted from parents' desires to segregate their children from the world of adults, the wishes of public officials to accomplish more than has been invested, and the offhandedness of the construction firms who wished to take it easy on construction. The architectural values reflecting on the architect's beliefs or his interpretations of contemporary issues should not be set aside simply because it is a building to be used by children; rather, these efforts should be promoted as a decisive means of showing respect for the children.
In spite of their insistence at 'not being confined to a particular formal language', IDR's projects clearly reveal a consistent tendency. They select 'what they wish to explain' from the framework of 'what must be explained', preferring to bypass what does not need to be or cannot be explained. For example, the firm has created a lively sense of space by proposing a 'novel structural system' as a solution to the task of establishing a 'long-span, large-scale space'. Rather than adding something unnecessary for no perceivable reason, they have boldly folded, cut and layered the walls to overcome the burden imposed by the project's scale, drawing upon the fragmented mass, which arises from such a design process, as an important cue to choreograph the internal space.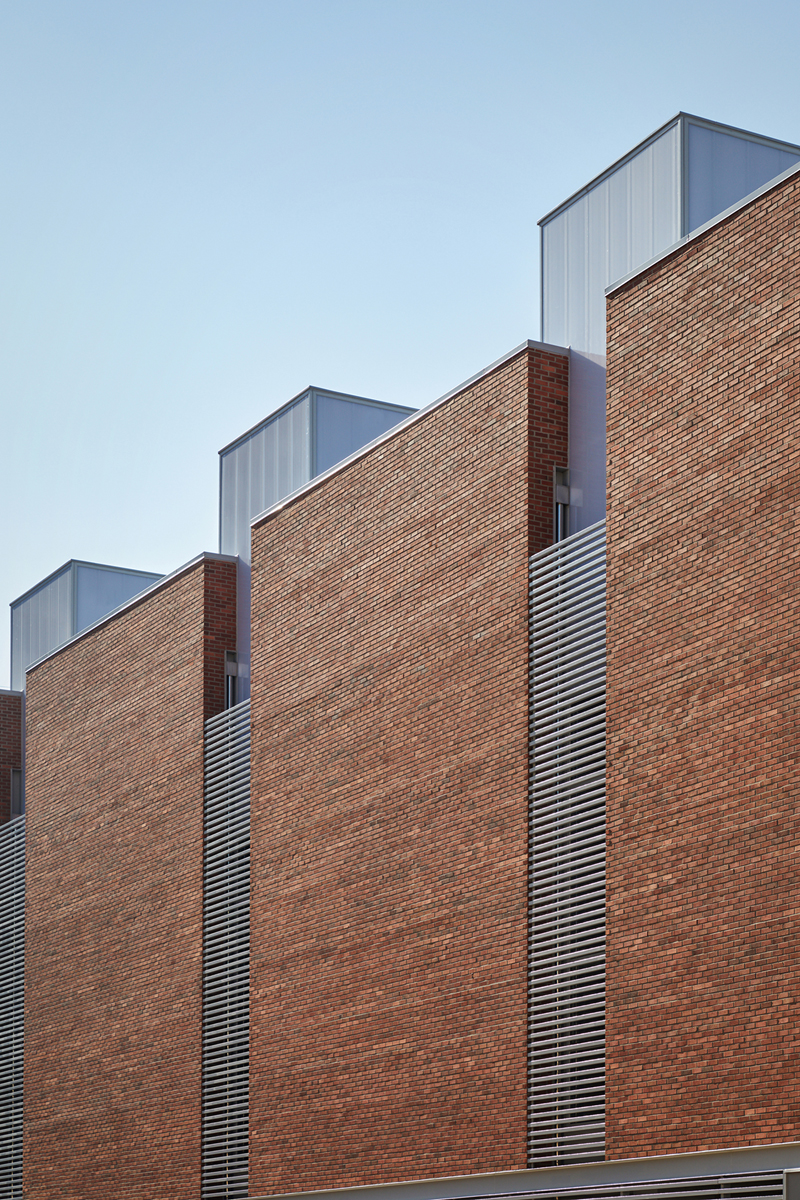 Several long rectangularly-shaped trusses were applied to the Eonbuk Middle School Multipurpose Auditorium. They serve both as a core structure providing support to the broad roof, and as a device to draw natural light into the dark hall's interior. These 'boxes of light' both appropriately partition and intricately tie together the extensive and blunt brick mass. These boxes of light protrude like cogs over the auditorium's roof, choreographing a monumental and resolute skyline in contrast to gabled or vaulted roofs. Inside, the sense of space extends through these fractured gaps, establishing an intricate balance between tension and vitality, as if the framework of this expanse is wavering.
The multipurpose auditorium is based upon a piloti structure, with the school cafeteria set to move into the current parking lot on the first floor. Densely packed louvers descend from the base of the boxes of light to ground level, as they stylishly resolve the sense of disparity between the shining boxes of light and the shaded pilotis.
The building is not without its flaws. There seems to be little space left to accommodate the existing context within the framework of the 'architectural values' pursued by the architects. The architects asserted that it was impossible to find any architectural values in the existing school building. This means that during the design process of the new multipurpose auditorium, the architects had found nothing to refer to from the modules, patterns, architectural language or materials of the old school building. This was regrettable to hear as a critic who believes that architectural values exist in the 'perspective' of the observer, rather than in the 'building' itself. Of course, such a response can be thought of as reasonable from a strict modernist, and one might even think that what has been accomplished is thanks to the resolution to break through widespread bureaucracy and hence the rigid norms of school architecture. I look forward to seeing the projects accomplished by IDR once they acquire the eye to discover values in the lousy-looking every day. As someone living the same epoch, working in the same field, I hope to observe their work, to learn from them and to grow with them for many years to come.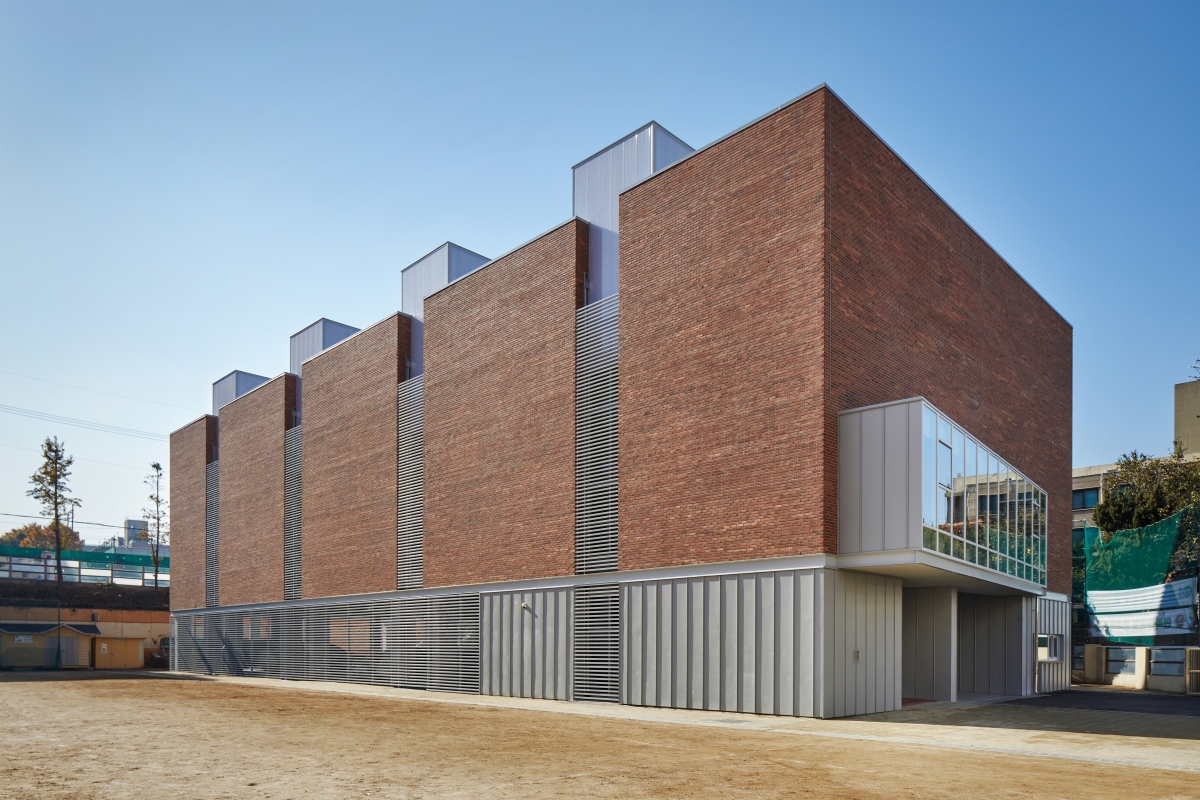 ​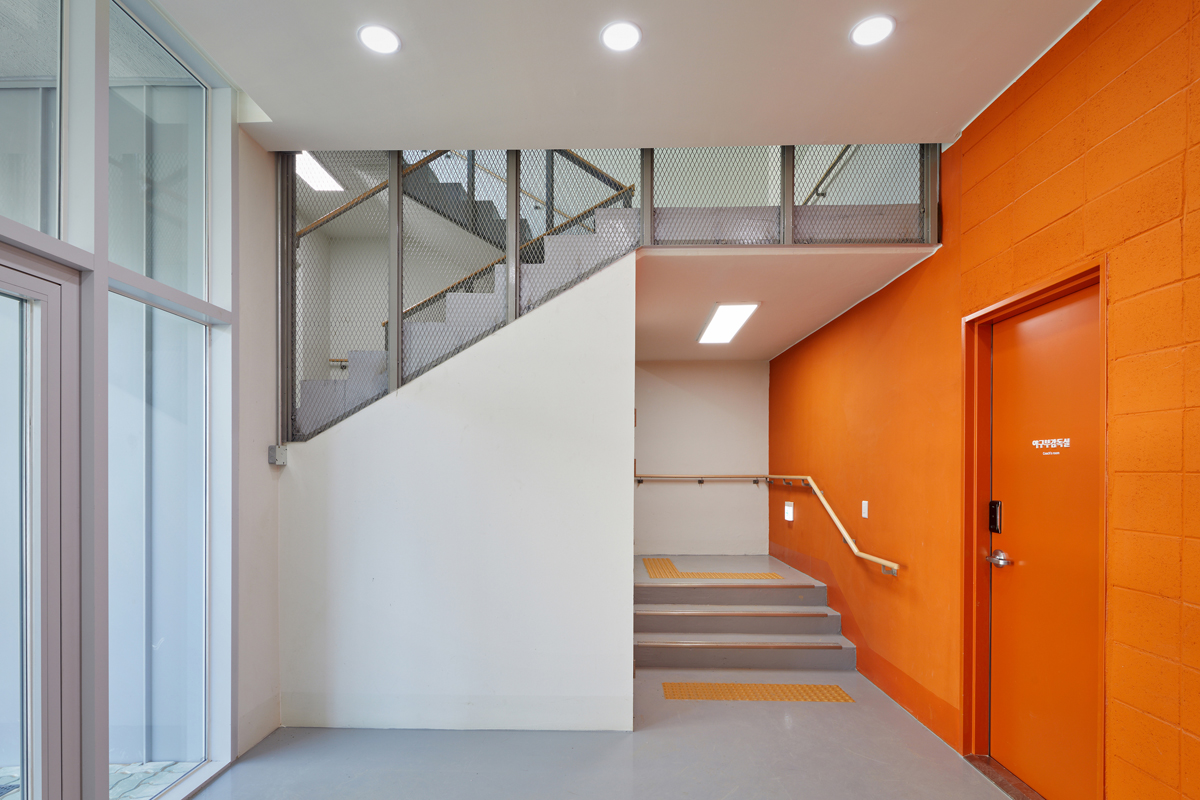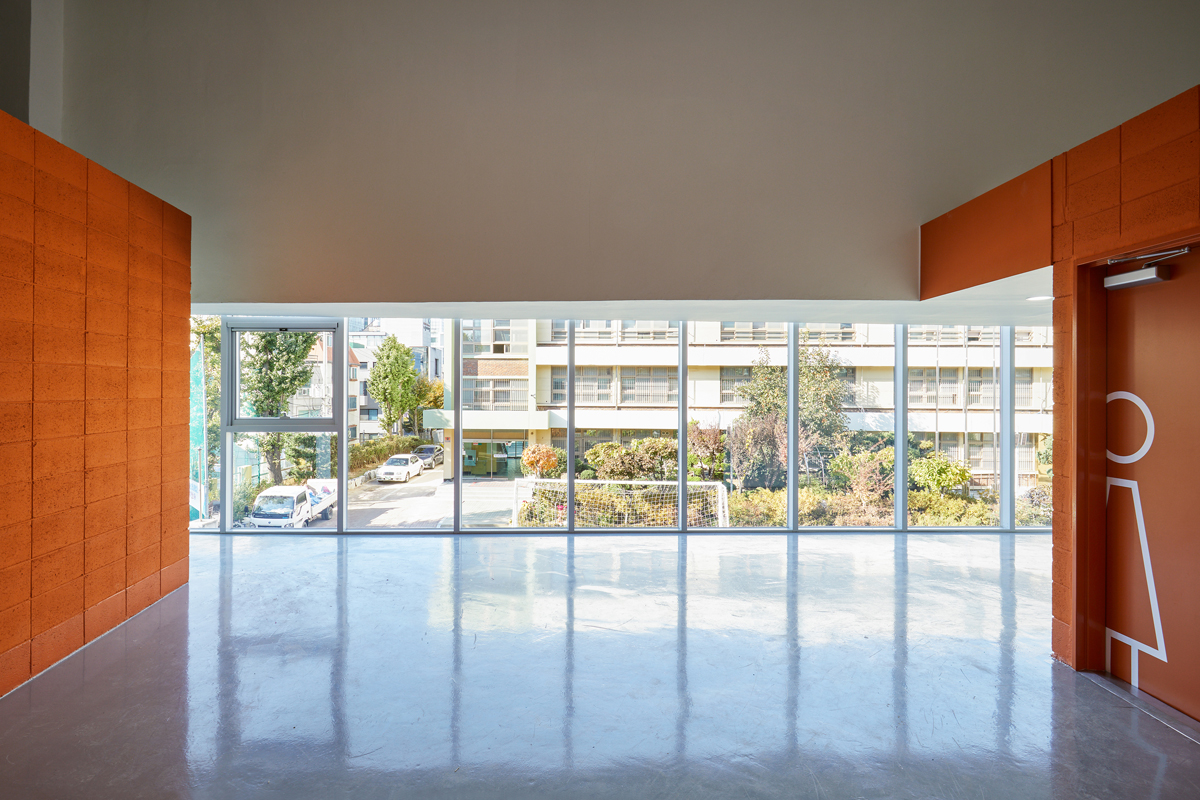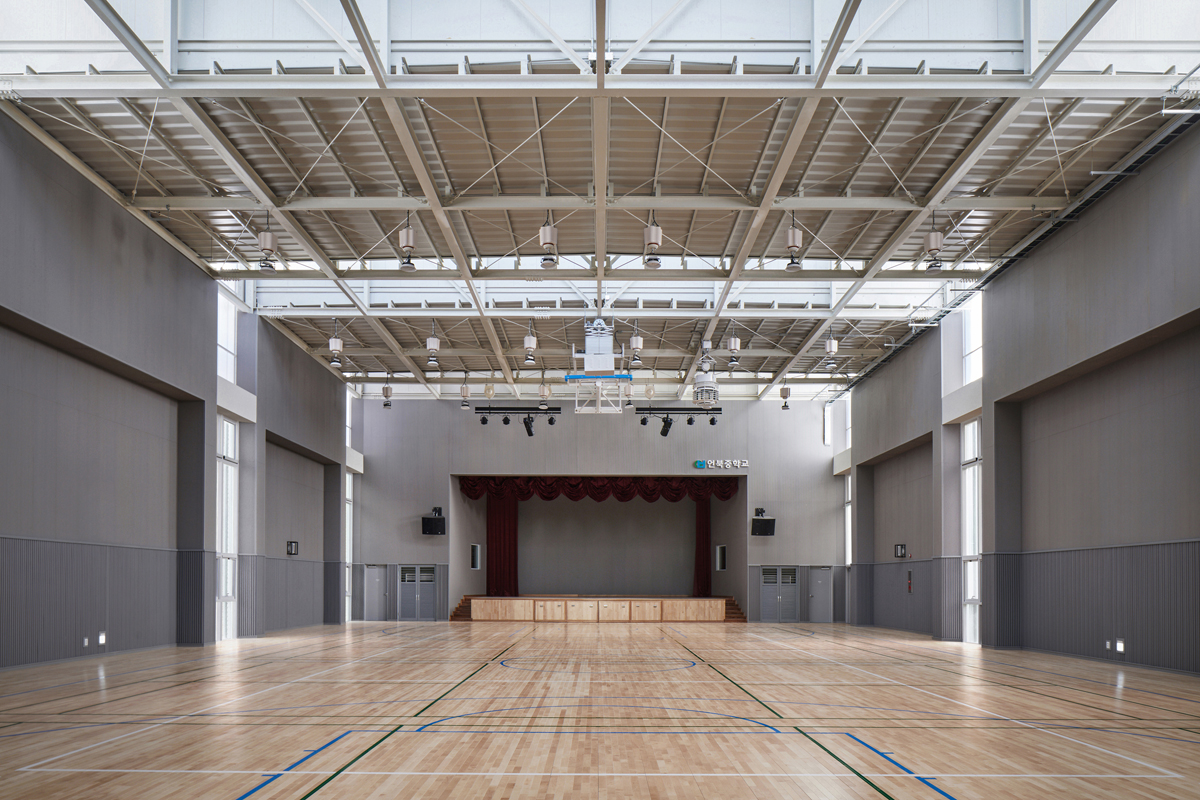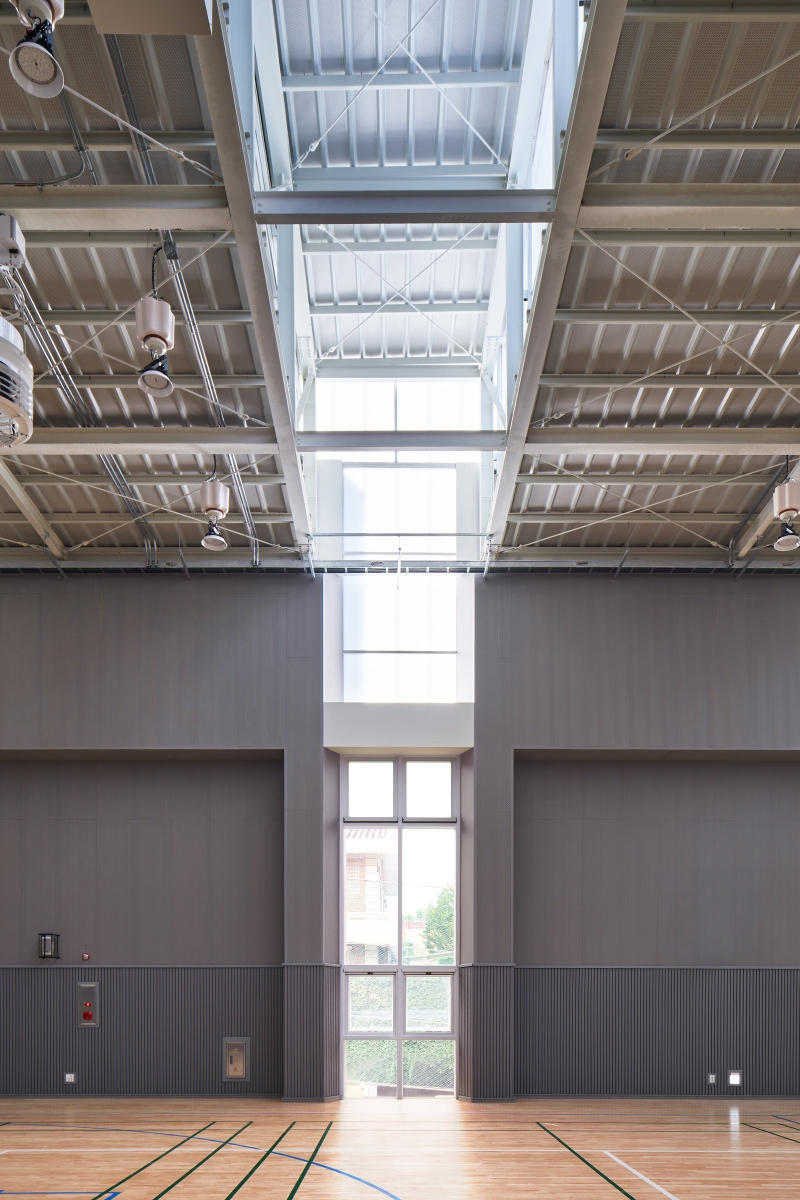 ​
Architect
IDR Architects (Jun Borim, Lee Seunghwan)
Design team
Choi Jeongseok, Kim Hyeyeon
Location
27 Dosandaero 38-gil, Gangnam-gu, Seoul, Korea
Programme
educational facility
Building area
879.61m2 (extended area)
Gross floor area
993.41m2 (extended area)
Building to land ratio
25.35% (total)
Floor area ratio
74.77% (total)
Structure
RC, steel frame
Exterior finishing
red brick, polycarbonate panel, color coated steel
Interior finishing
water based paint on concrete, water based paint o
Structural engineer
Poeun Structure
Mechanical and electrical engineer
Hana Consulting Engineers
Construction
Keunbok Construction
Design period
Jan. – Apr. 2017
Construction period
Oct. 2017 – Oct. 2018
---
Jun Borim and Lee Seunghwan studied architecture at Seoul National University and started their training at small practices. After moving to United Kingdom and receiving MA degrees at London Metropolitan University, they returned to Korea in 2014 and founded IDR Architects. They received several awards for Maegok Library in 2017, which include Korean Rising Architect Award, Korean Architecture Awards, Public Buidling Awards of Korea and Ulsan Architecture Award. They have been writing about public architecture and struggles of young architects on their blog, and respectively teaching at Seoul National University and Korea National University of Arts.