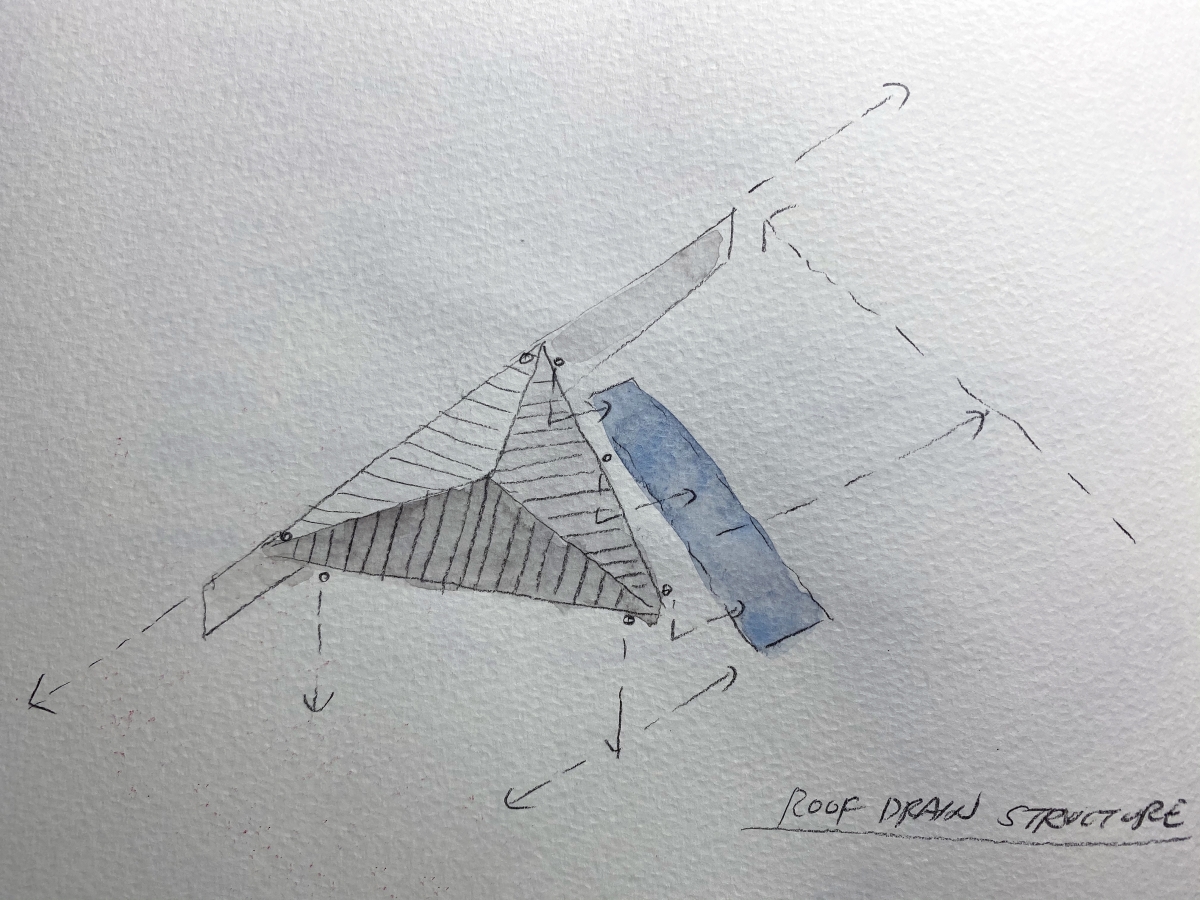 SPACE May 2022 (No. 654)​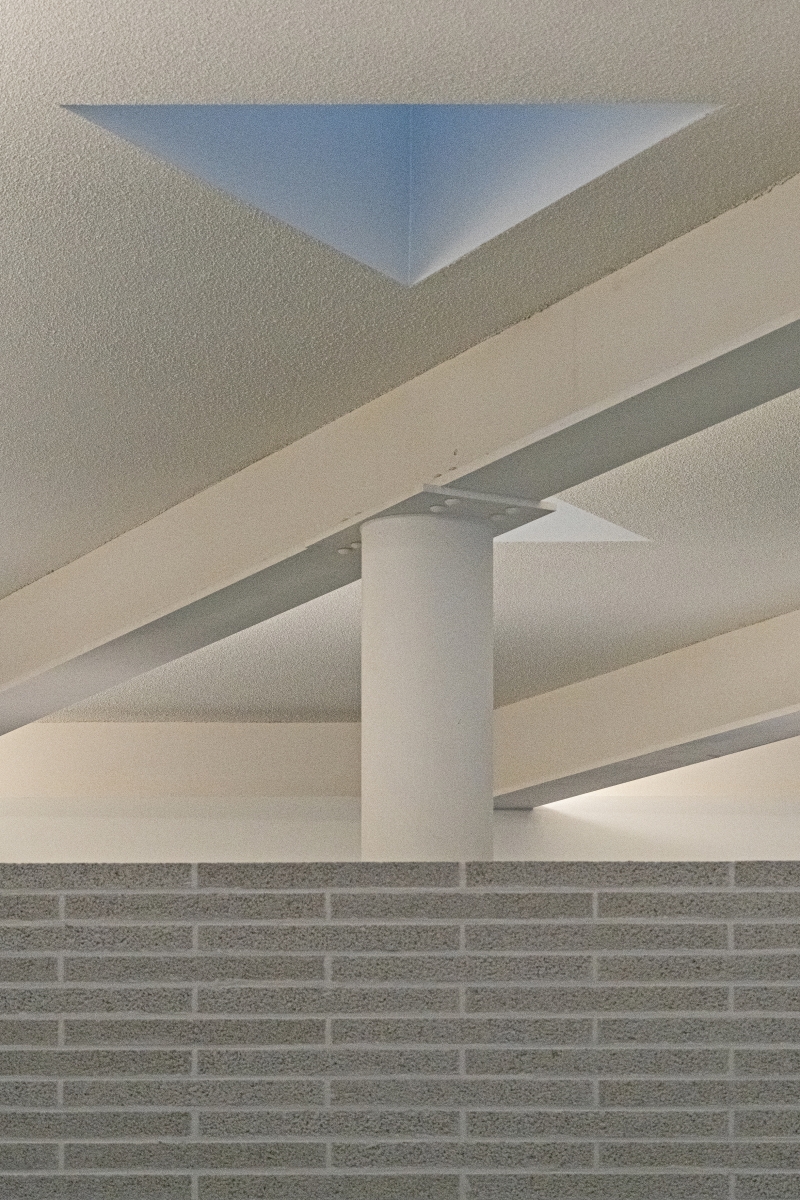 The triangular site adjacent to Yeongdong Expressway gave off a desolate impression. Other than the rapidly passing cars and huge semi-trailers going in and out of a nearby warehouse, there were not many elements to be taken from the surrounding context to inspire our design. To become a commercial facility that would attract customers, it was important that members of the public would be able to recognise this location from the expressway. In a fast-moving car, it is difficult to identify any form or material in particular, and so we thought that it would be more effective instead to introduce a floating white wall that would frame the vision of people drinking coffee beneath. On the site's longest side, a floating wall of 4m in height and 50m in length has been built with a floor plane that corresponds to the triangular site. The interior framework is an open space divided by a single wall. People can drink coffee either facing the traffic-laden expressway scene towards the north or the pond and desert garden towards the south. Between the two zones, there is a 'floating wall' of 15m in length. This structure is empty inside and bisects the long corridor by sending in light from the skylight above. The visitor might take this at first as artificial lighting, but soon realises that it is natural light by the changing light texture and directions. The detail that best highlights the bold and simple structure and form was used diversely across the two buildings (café building and residence building). The thinning slab, the 20m inclined slope, the light and cheerful T-bar columns, the rod bar and exterior columns that act as wind pressure supports and places to hang tents play important roles as both structure and ornament. The café name Bahariya is a rocky desert in Egypt. The desert-like landscape barren of plant life meets and merges with the bold and simple building to create a unique atmosphere.​​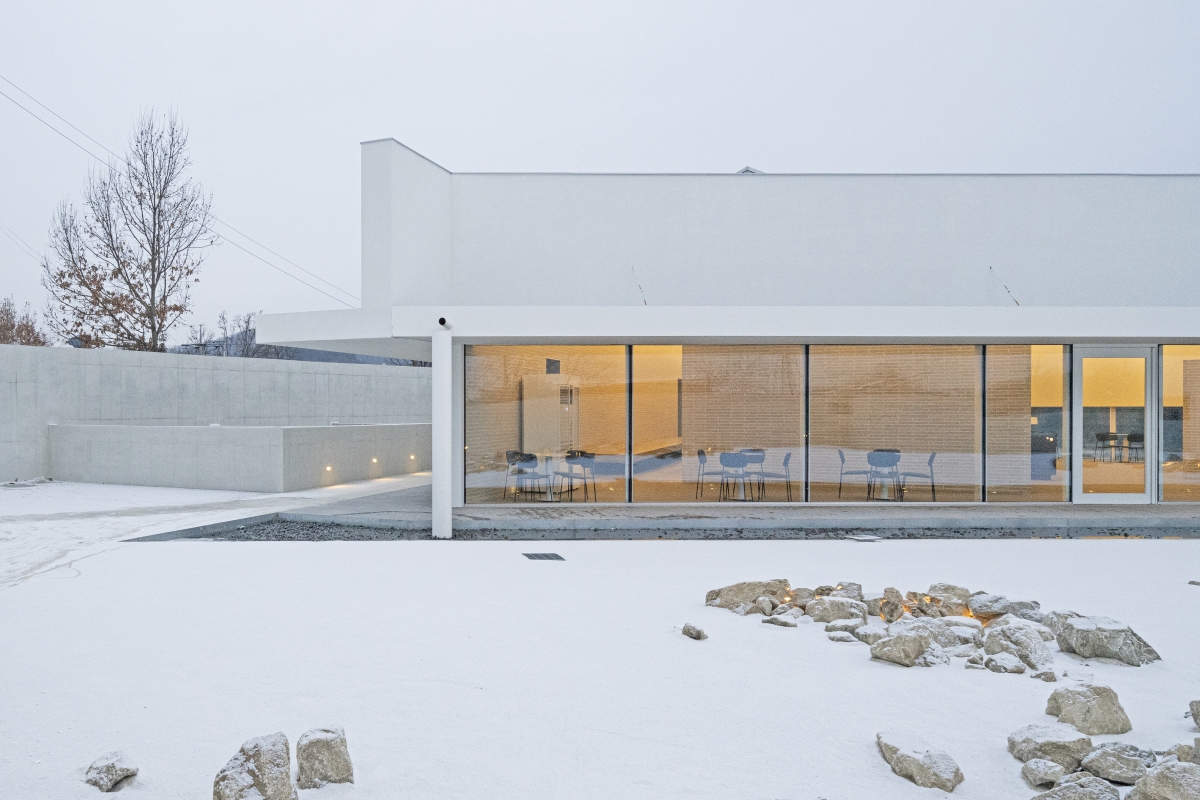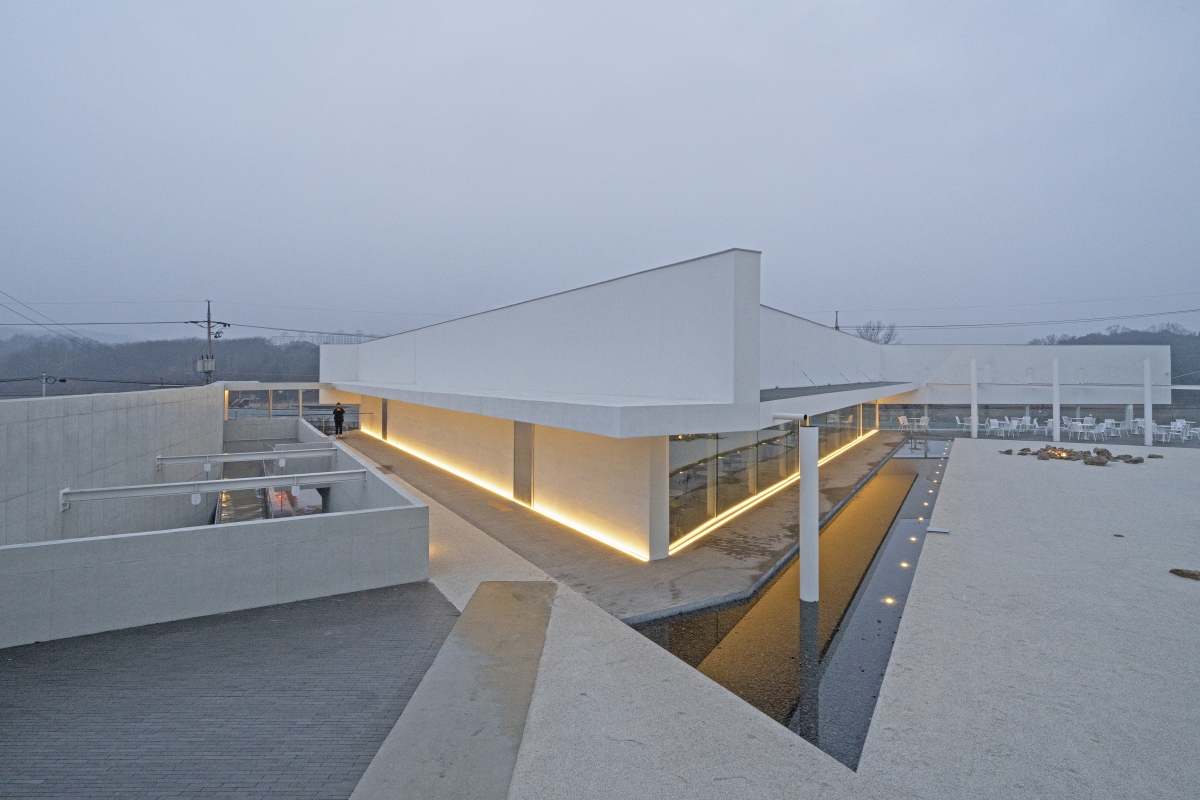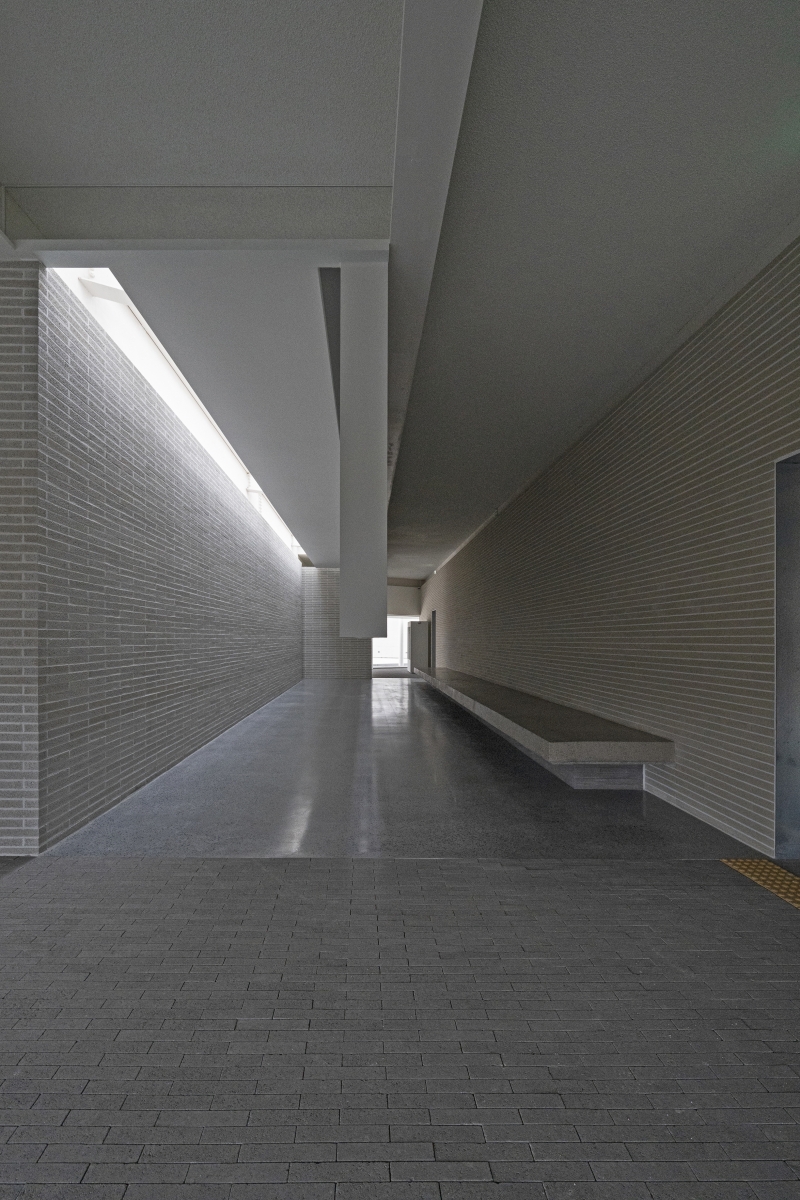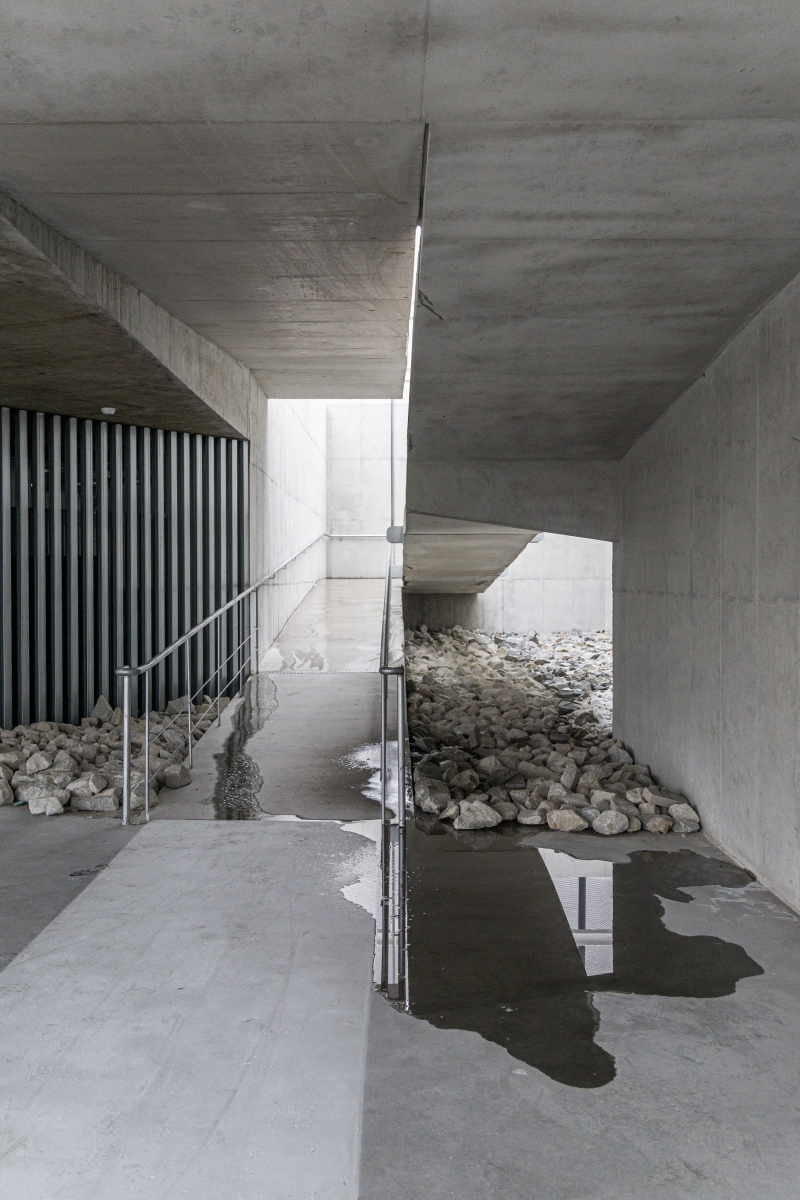 ©​Min Workshop
Architect
Min Workshop (Min Wusik)
Design team
Lee Hyemi, Lee Hyungjoo, Kim Suhwan, Jung Gyeom
Location
43, Jumbong-gil, Yeoju, Korea
Building to land ratio
32.2%
Exterior finishing
stucco, exposed concrete
Interior finishing
concrete brick, terrazzo, paint
Structural engineer
Eungujo Engineering
Mechanical and electrical engineer
PCM, Inc.
Construction
Jium CM, Inc.
Design period
May 2020 – Feb. 2021
Construction period
Mar. 2021 – Jan. 2022
---
Min Wusik, after receiving his MArch at Cranbrook Academy of Art in the US and gaining work experience for about a decade, opened his studio named Min Workshop in 2011 at Seochon, Seoul. Instead of following cutting-edge technology and trends, the focus of Min's work lies in small architecture where he seeks to strike a balance between intuition and universal solution. Of his key works, one notes the Vault House (2017), Café TONN (2019), Diagonal House (2019), Ariji Building (2020), Bahariya (2022), and Durastack Headquarters (2018) for which he was awarded the KIA Award in 2019.