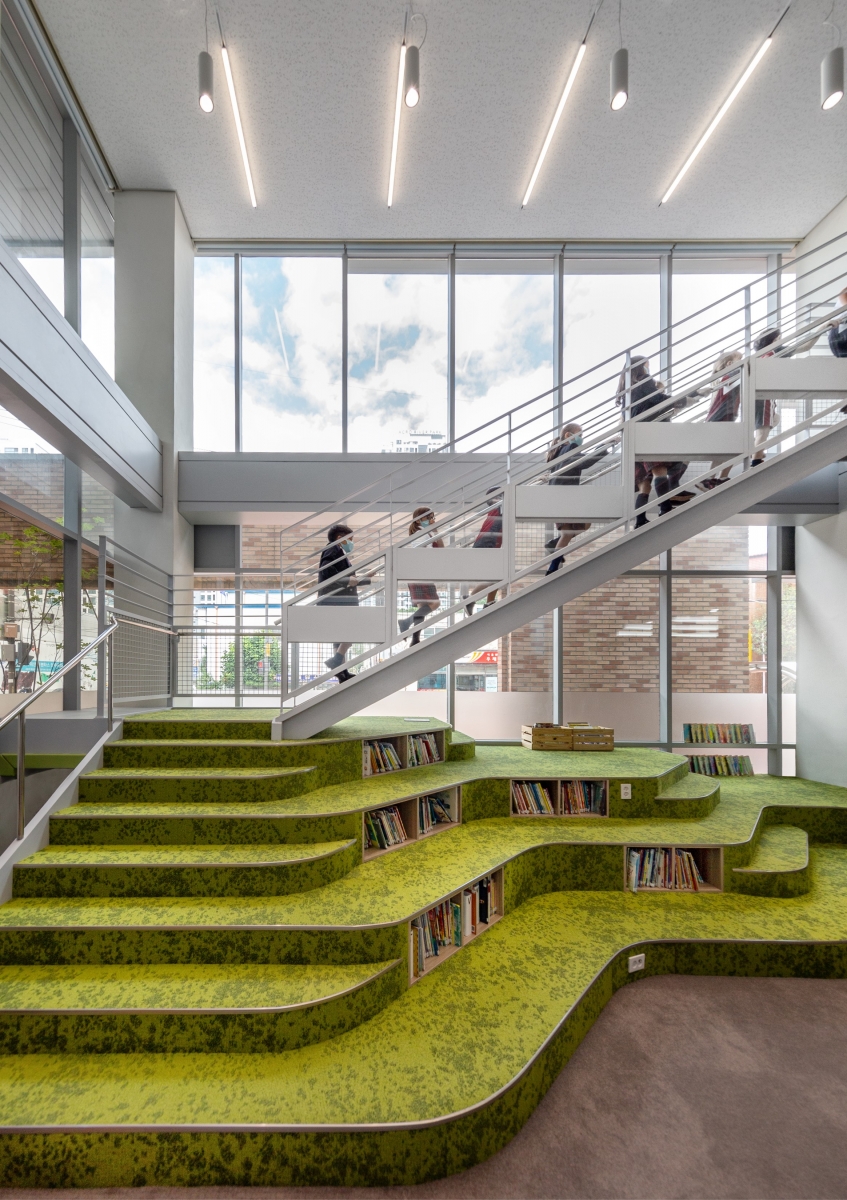 ​
INTERIOR CITY-MAKING
Because of their long history of differentiations, the terms 'interior' and 'city' seem on the surface to contradict each other. To paint the clearest dichotomy, interiors are roofed over and artificially lit and the city is open to the sky and elements. Despite these polarities, many grey areas exist: unconditioned building cores, canopied plazas, and subterranean urban zones are just a few of the spatial settings that blur the boundary between city and interior. How then should we describe these oftenconverging architectural domains? We could turn to the term 'Interior Urbanism', but it has emerged as an 'ism', synonymous with expansive interiors: The late John Portman is often cited as the concept's grandfather and his oeuvre of vast hotel atriums from the 1960s and 70s are recently re-read as 'urban' spaces.▼1 This too-quick alliance between 'large-scale' and 'urban' therefore limits Interior Urbanism to shopping malls and hotel lobbies instead of the condition of nested relationships across scales. To shift the discussion away from these preconceptions, 'Interior City-Making' seems more apt in connecting the relational principles of city and interior architectures. Particularly when the scale is for young children, such as in the Dulwich College Seoul Inquiry Hub Library (hereinafter Inquiry Hub), the definition of what is 'large' and 'small' loses relevance over relational concepts of how spaces interconnect, support diversity, and present memorable architectural form.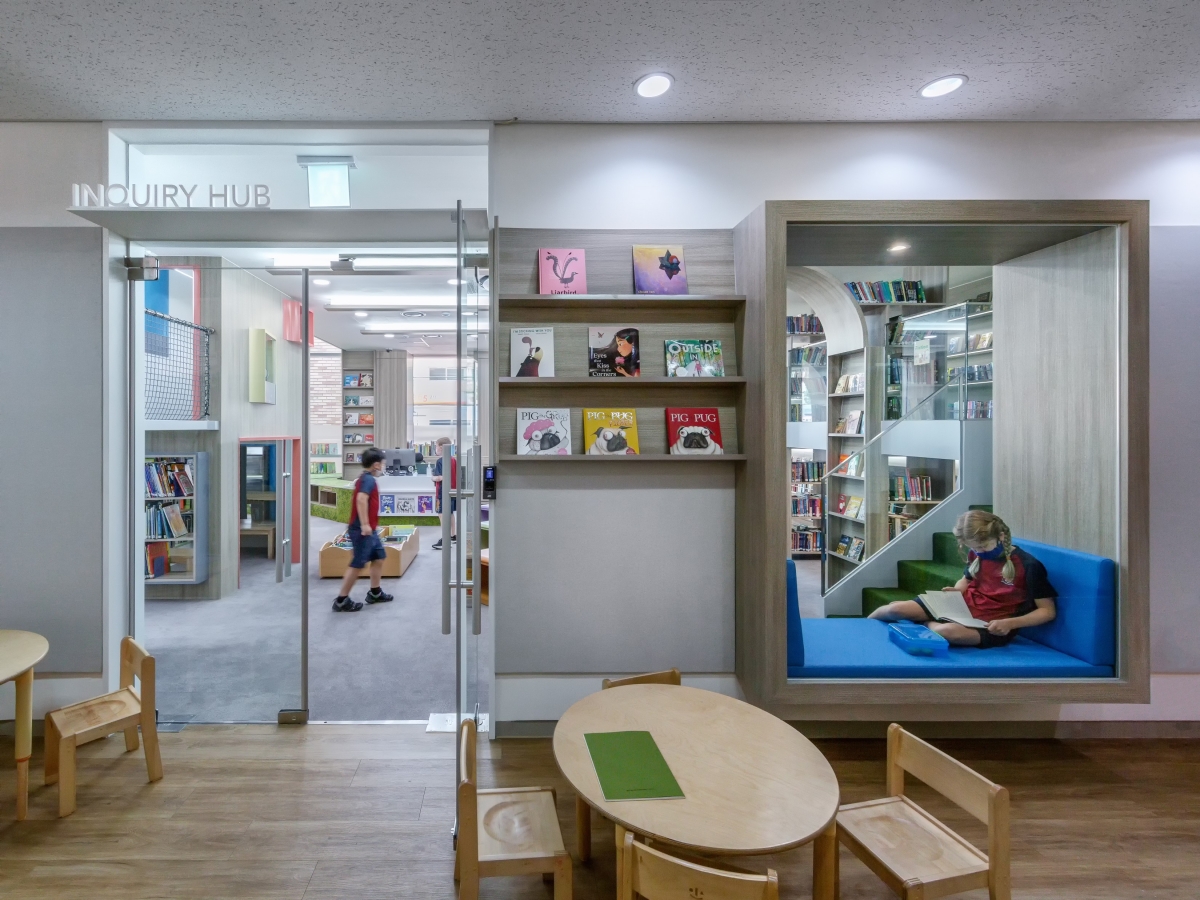 ​
​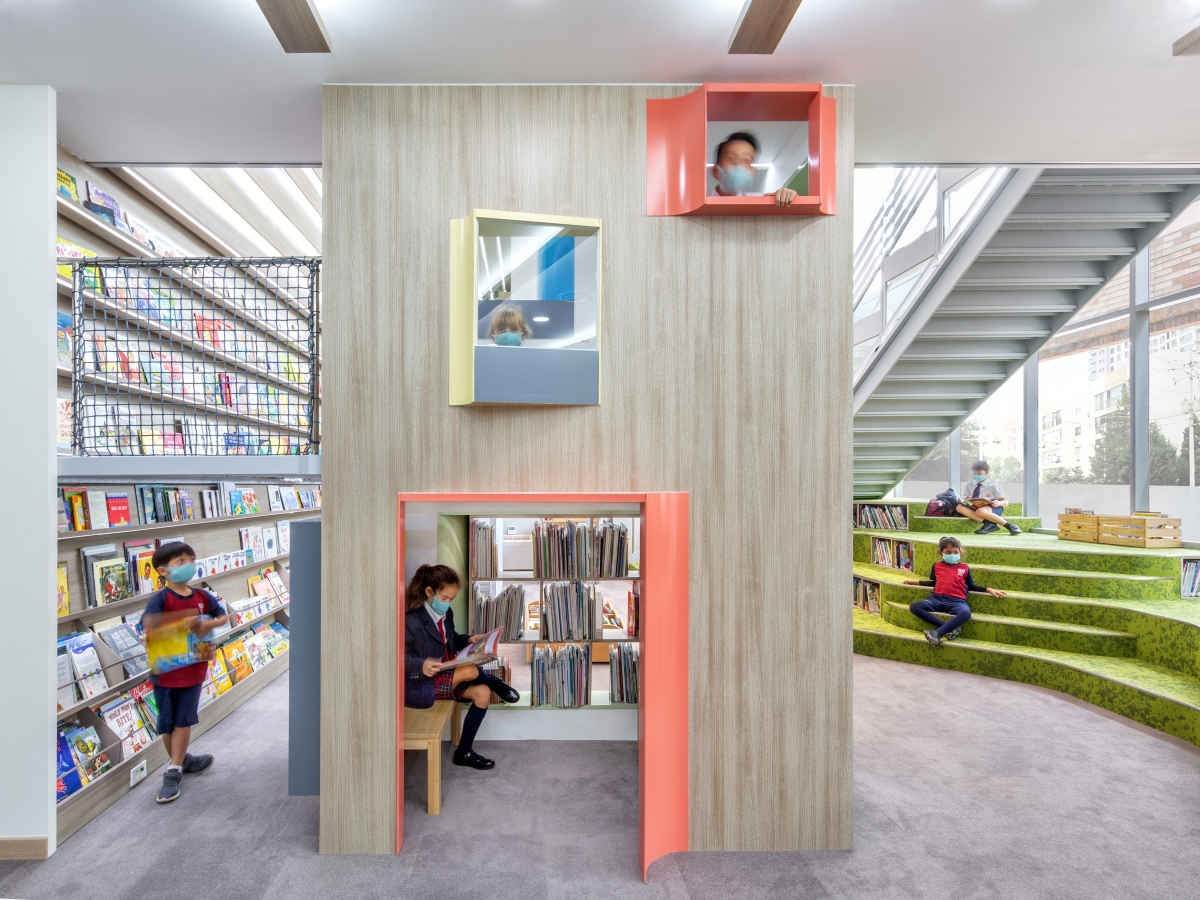 Individual Agency
Michel de Certeau in his essay, 'Walking in the City', states, 'The act of walking … is a spatial acting-out of the place … it implies relations among differentiated positions. Walking affirms, suspects, tries out, transgresses, respects, the trajectories it speaks …'▼2 If we follow de Certeau in describing the experience of the city is an individual creative act, when and how do we acquire this independency? For obvious safety reasons, children are led by their guardians when encountering the city. However, this does not mean that the essential creativity that comes with individual exploration is unimportant at a young age. In fact, recent research indicates that to develop a sense of personal freedom and thus selfesteem, children should have experiences that give them a sense of self-efficacy.▼3 Where the previous children's library at Dulwich College Seoul was built to a standard where teachers guided children, our renovation immerses them in an interior cityscape that allows them to invent diverse ways of interaction.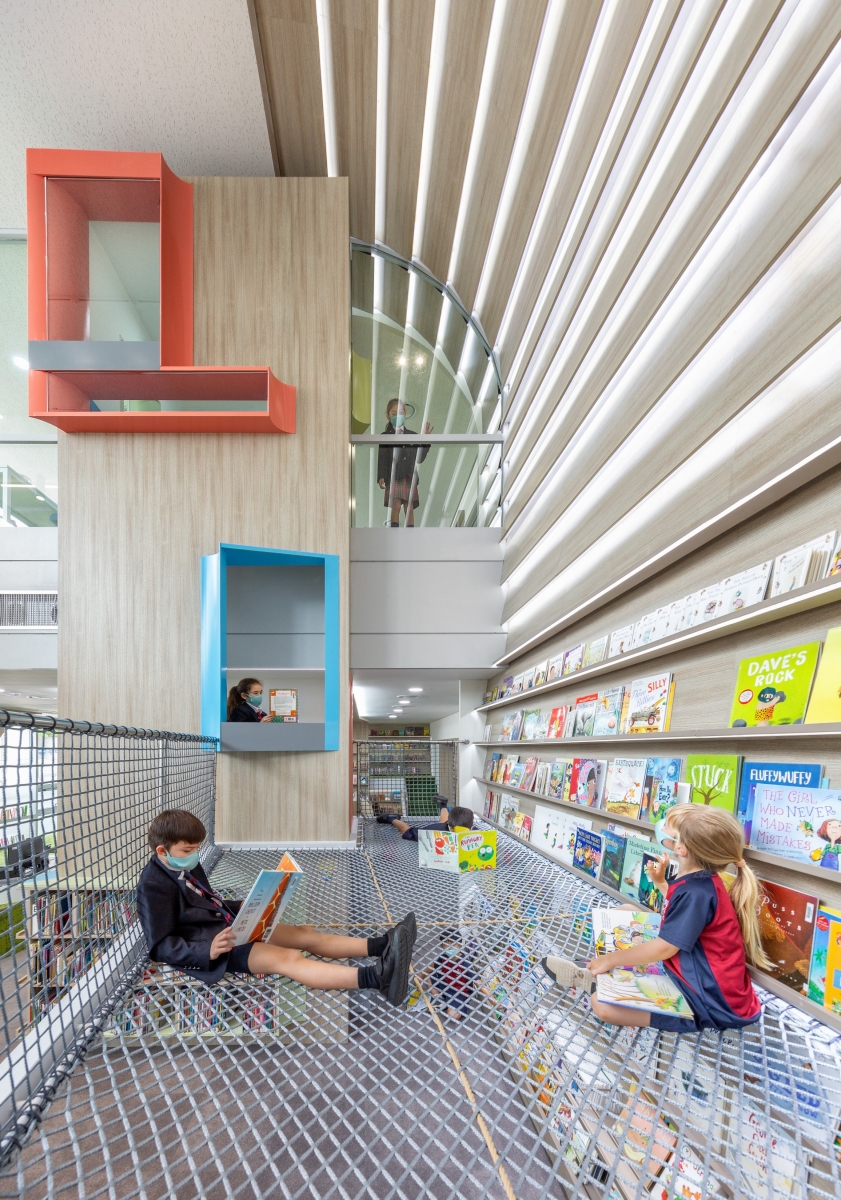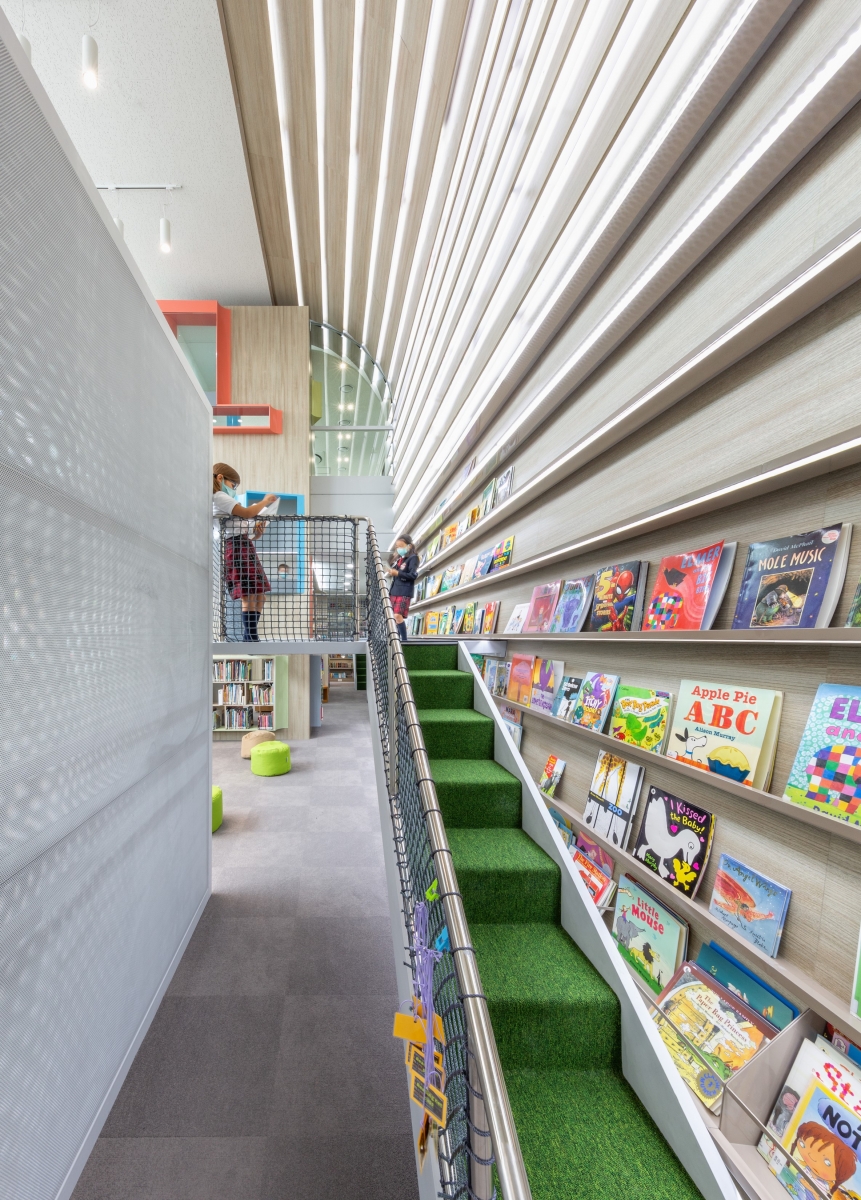 ​​
City Relationships
How then is City-Making produced at the Inquiry Hub? Just as a city is an aggregation of architectural elements and open spaces, we abstract urban typologies and redeploy them at the children's scale. Upon entering the library, a series of book-stacks with gabled 'roofs' echoes a dense streetscape of townhouses. From the 'alley-ways' between them, children can glimpse an arcaded mezzanine that spans across a continuous backdrop of books. Progressing deeper into the space, additional city-like elements compose a vertical learning and play experience: The library's central orienting figure is two-story 'tower' with apertures directed at various surrounding nodes. A hammock mesh is suspended from its midpoint to create a public 'terrace' above and a canopied 'porch' below. Opposite the hammock, a stepped 'landscape' book-stair defines the boundaries of a central 'plaza', the Inquiry Hub's main gathering and learning commons.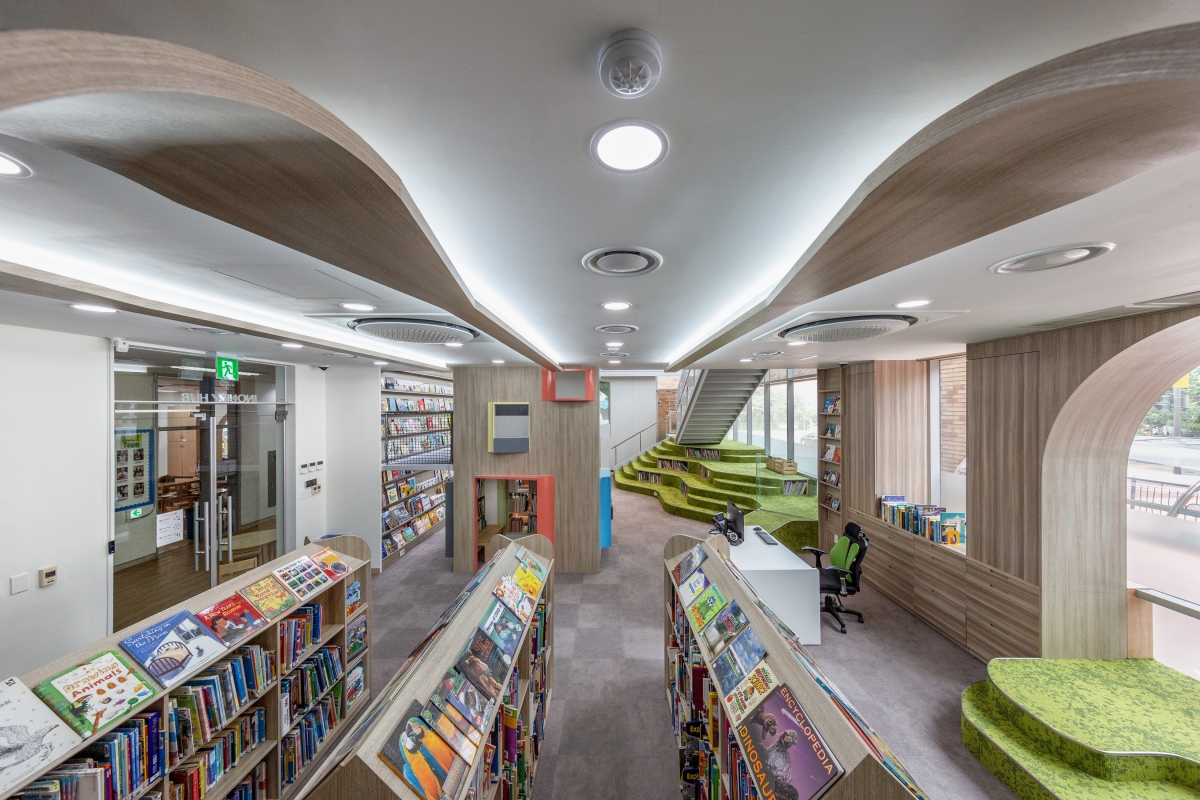 ​Redefining Hierarchy
If the city inspires individual agency, how are hierarchical relationships redefined? The typical learning environment imposes a socio-spatial hierarchy because adults stand over children and thus speak down to them. The city-like section of the Inquiry Hub forms a 'synapse' between children and teachers where they can converse eye-toeye. This subtle, but powerful shift offers more conversational, interactive, and liberating communication. The hierarchy between children and learning materials is also reestablished. Standard library shelving only displays the spines of books, presenting a challenge to children just gaining literacy. Instead, the library's mezzanine levels allow books to be displayed in a more immersive and tactile front-facing format within the same floor area. This is especially important in the era of the 'visual internet' where children learn synthetically through text and images. Furthermore, traditional furniture that limits children's postures to sitting at a desk is eliminated to blur the boundary between learning and play. Children lounge on the hammock, gather inside the tower, or sit on the terraced steps to invent their own way to read and socialize.
Future Memories
If a city can evoke vivid memories that teach us how to interact with it, what of young children who have yet to collect these memories? The Inquiry Hub is designed around the concept of future memories, or memories in reverse. In other words, its city-like forms are configured so that in the future, children may recall their embedded relational principles. For example, the half-arched wall-ceiling in the main double-height space recalls the typology of vaulted gathering spaces. Specifically, a fragment of the grand reading room at the Bibliothèque Sainte-Geneviève in Paris with its striated ceiling, book stack mezzanine, and arched windows, inspired the design. The use of fragments is also a key pedagogical framework in creating future memories because their incomplete state invites inquisitive, contingent thinking. Like a piece of a building façade, the window seat at the Inquiry Hub's entryways push into the existing corridor similar to the way a bay window overlooks a streetscape. Children re-imagine the corridor as an urban street that connects their library to the larger academic community. This thickened window also frames a view through the interior to the actual exterior and city beyond. Rather than an isolated room of follies therefore, the Inquiry Hub acts as a city within a city. The concept of future memories gives children the tools to later understand, critique, then enact change, instead of just accept their city as a given. (written by John Hong / edited by Kim Jeoungeun)
-------
1 Charles Rice, Interior Urbanism: Architecture, John Portman, and Downtown America, Bloombury publishing, 2016.
2 Michel de Certeau, The Practice of Everyday Life, University of California Press, 1984.
3 Sevtap Gurda and Emma Sorbring, 'Children's agency in Prent-Child, Teacher-Pupil and Peer Relationship Contexts', International Journal of Qualitative Studies in Health and Well-Being, Taylor and Francis, 2019.
Architect
Project : Architecture (John Hong)
Design team
Lee Hoseung (team leader), Sim Yeongshin, Suh Euns
Location
Dulwich College Seoul, 6 Sinbanpo-ro 15-gil, Seoch
Interior finishing
paint, LPM, carpet tile
Structural engineer
YEWOON ID&C
Mechanical engineer
YEWOON ID&C
Electrical engineer
YEWOON ID&C
Design period
Jan. – May 2021
Construction period
July – Sep. 2021
Client
Dulwich College Seoul
---
John Hong AIA, LEED AP is an architect and professor at Seoul National University and the director of Project : Architecture. His work bridges the scales of architecture and urbanism and converges the mediums of drawings, material, theory, and computation. He was associate professor in practice at the Harvard University GSD and has held visiting professorships at other major universities including the University of Pennsylvania.