Are there any building materials that do no harm to the environment and are advantageous to our residential life? The architect Kathryn Larsen found her answer to this question in the sea. She saw a house fronted with bundles of seaweed on Læsø island, a little off mainland Denmark, and began to study 'seaweed architecture'. The aquatic plant that she is researching with greatest intensity is eelgrass. This perennial aquatic plant is strong enough to inhabit most of the northern hemisphere, except the polar regions, and grows in colonies in slow-flowing rivers or shallow ponds. The stem is long, and the fine roots are clustered at the tip, but when it withers, the tip curls into a hook shape, increasing cohesion. This strong eelgrass is more likely to thrive when it is installed on the exterior of a building. The ecological characteristics of growing in water means it can adapt well to changing weather conditions, controlled insulation, and it is even flame-retardant, by repeating the possession and the emission of moisture and heat. In addition, it has the advantage of not generating waste because it can be used as a fertilizer if it becomes older and less durable. This harmless building material has been used for many years. There is a record of plastering work from the Joseon Dynasty which ground down seaweed and kneaded it with lime. Moreover, in Shandong, China, there are private houses with roofs similar to those Catherine Larsen witnessed in Denmark. In Northern Europe, including Denmark, many homes were built with seaweed, even 100 years ago. But in the early 1930s, an epidemic caused by labyrinthula near the Atlantic Ocean led to a sharp decline in the seaweed populations and consequently the decrease of construction using seaweed.
Larsen has been attempting to discover new possibilities posited by eco-friendly architecture, locating her interest in the seaweed architecture of the past that disappeared so rapidly. 'Seaweed Thatch Reimagined', built in Denmark's Nørrebro area, is a project that replaces the roofs of old houses with new materials. It seems more appropriate to consider this project as a series of experiments with building materials rather than as a single work, as this project is on a continuum of architectural experimentation that makes modules from the same materials and complements its construction techniques. Eelgrass panels, frequently applied to Larsen's seaweed construction projects, are made using a manufacturing process that is as simple as its shape. After making 16 square holes in a 100×100mm wooden frame and then planting eelgrass across the surface applied with casein and gelatine glue, one panel of a seaweed construction is complete. Casein is a protein precipitate obtained by dropping an acid into milk, and gelatine is a semi-solid protein obtained by boiling animal hides and bones. Recently, Larsen has been developing a new seaweed building material based on this model. Kirsten Lynge and Tobias Gumstrup, who produce insulation foam and sound-absorbing panels from seaweed, are also participating in the research. They intend to create a seaweed building material that can be easily installed in wood prefabricated construction and remodelling projects, reducing the construction labour costs and creating a commercial model that will meet current energy performance standards. (written by Kim Yeram)​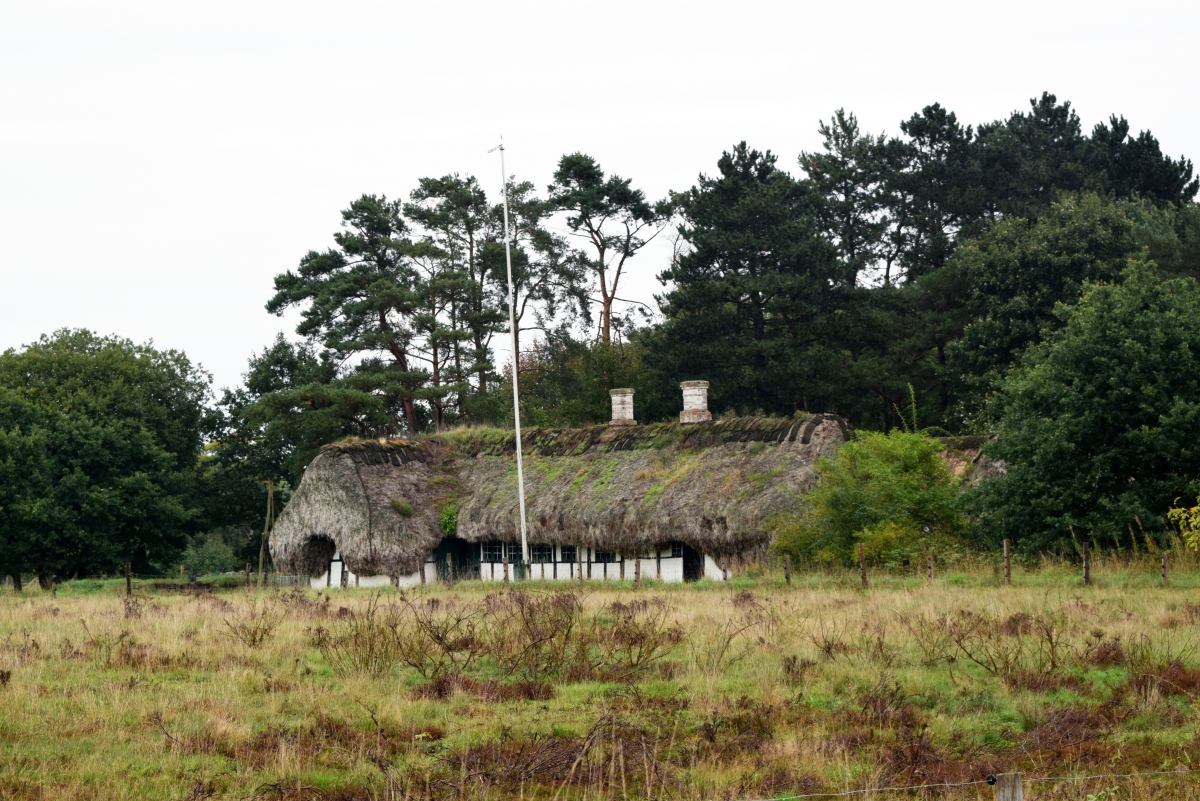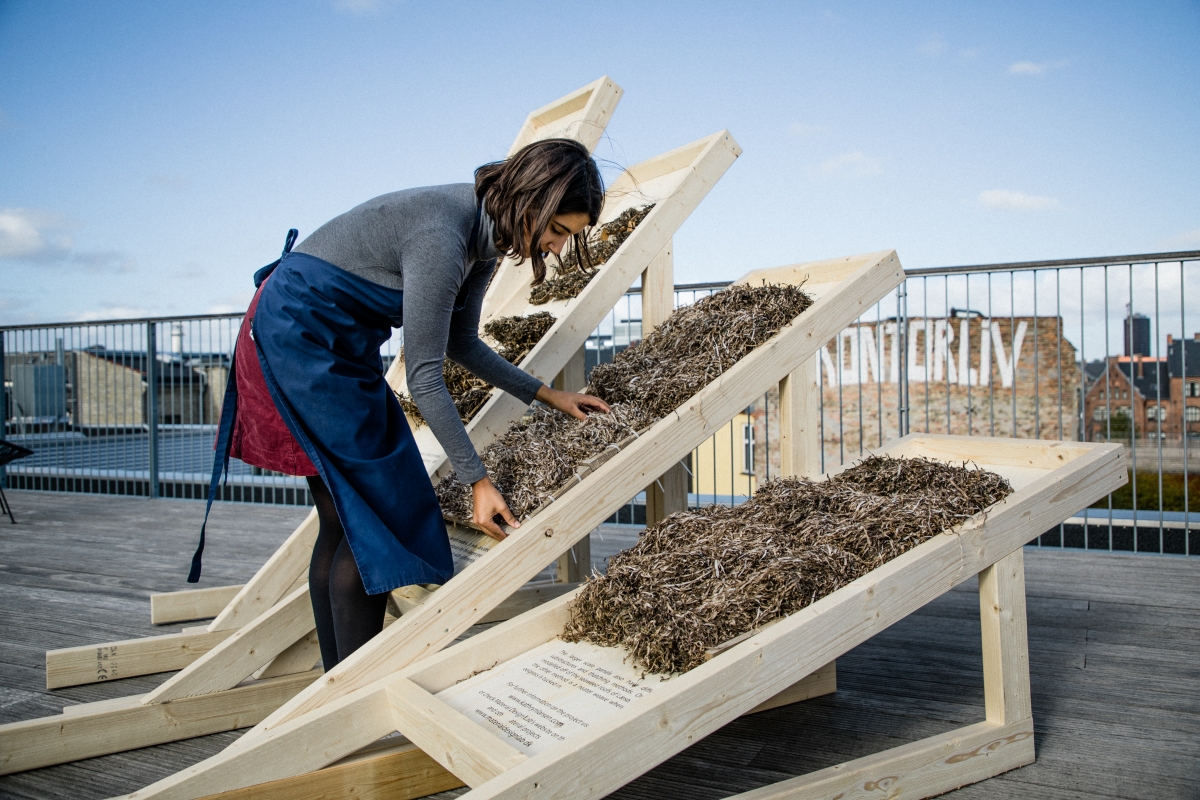 ⓒAnders Lorentzen​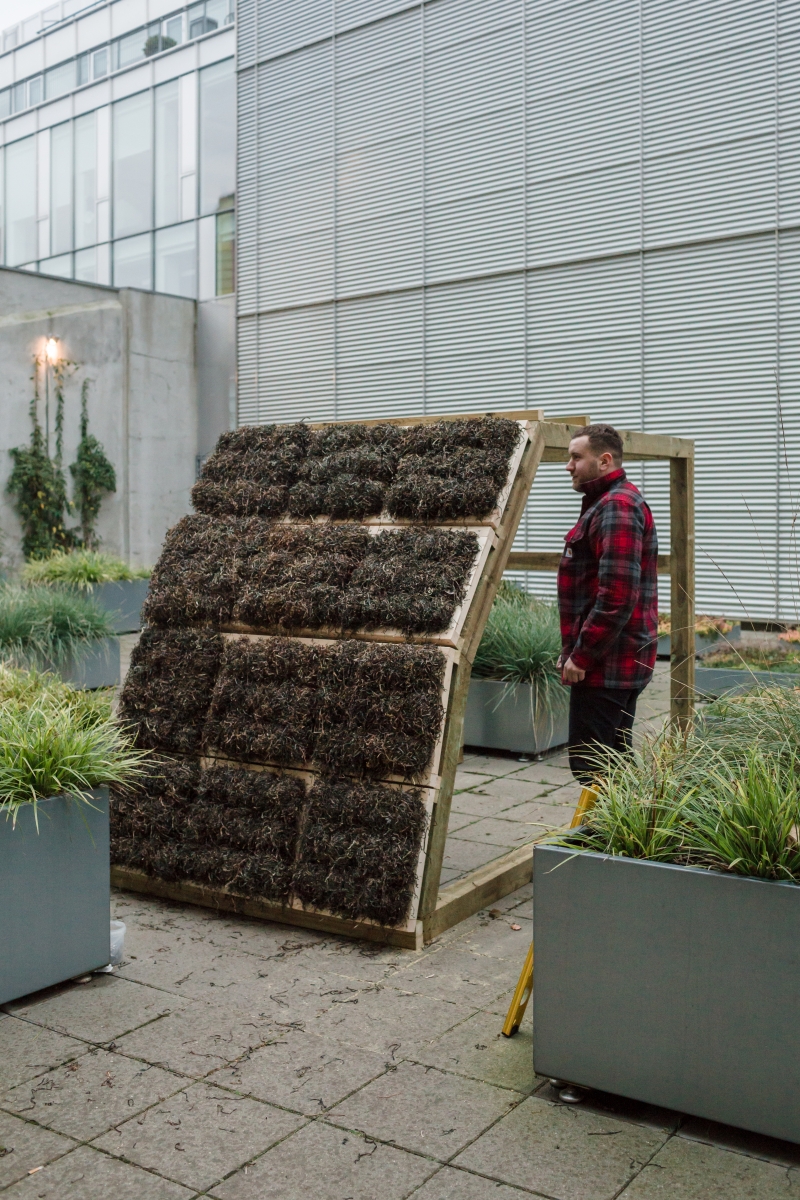 ⓒKelley Hudson
Architect
Studio Kathryn Larsen
Location
Nørrebro, Denmark
Structural engineer
Kathryn Larsen, Monika Jakaityte
Construction
Gabriel Pantoja, Andrejs Mocalovs, James Birkensha
Construction period
2018 – in progress
Supervision
Mette Marko Hansen, Anke Pasold
Biomaterial producer
Kathryn Larsen
---
Studio Kathryn Larsen is the architectural studio based on Netherlands and Denmark. The founder, Kathryn Larsen combines her practical architectural technologist education with a tactile design process, that involves sketching, drawing by hand, and material experimentation.