THE (ARCHITECT AND SOCIETY'S) PROCESS FOR THE NEW MEMORIES
A Young Architect's First Project
In 2013, I founded my architect office in Euljiro with my university senior and colleague who were to become the co-founder sitting across a second-hand dining table of about 500 × 1,000mm in size. Back then, we gratefully took even unpaid jobs just for the sake of working as an architect. It was a time when more time had to be spent on the explanation process in response to the unreasonable social demands than on the actual design itself. This was how my first engagement with society as an architect was established. Any first experience is significant. One shows a high degree of responsiveness to one's first experience, which is then stored as a formless memory-material that pervades the entire body. This formless and yet deeply engraved inscription acts unconsciously, like an attitude that applies certain regulated criteria to the ways in which one is to converse with the world. An architect's first professional role establishes this criteria by which the architect is to conduct their relationship with the world. SPACE IN BLACKSTONE is the first actual architectural work that Choi Jaeseok has completed since opening his office. There have been several remodeling projects, but this still counts as the first full project because it was the first in which he not only had to build from scratch but also for which he had to receive a permit. Situated between a wide street towards the northwest and an adjacent site facing towards the northeast, the building experiences a radical change in the architectural slant line to increase the provision of daylight from the site's centre outwards. In order to apply this progressive approach to the building itself, and in consideration of the good surrounding view of this rental apartment building, the young architect explained that he decided to add a range of terraces in the hope that the tenants would not restrict themselves to enjoying the space solely from the interior. The approval process for the building permit was tedious. Because the location was remote and at a distance from the commercial zone, and in light of a concern that the two-floor building designed as neighbourhood living facility would later be repurposed into housing or other uses, the building inspector rejected his permit application. The young architect was puzzled at why his application — what with the absence of anything legally problematic — was returned, and so he stubbornly attempted in various ways to realise this building project in place of the client. In order to gain the permit for this small-scale building, the architect had to go through landscape screening and earthwork consultation. When I heard that Choi went to the client all smiles asking for a hug after finally receiving his building permit, at the end of such an exhausting process, I could sympathised with how he must have felt. For this architect, getting this building permit — something which others nonchalantly procure by simply following a well-trodden path — was an important moment in his life.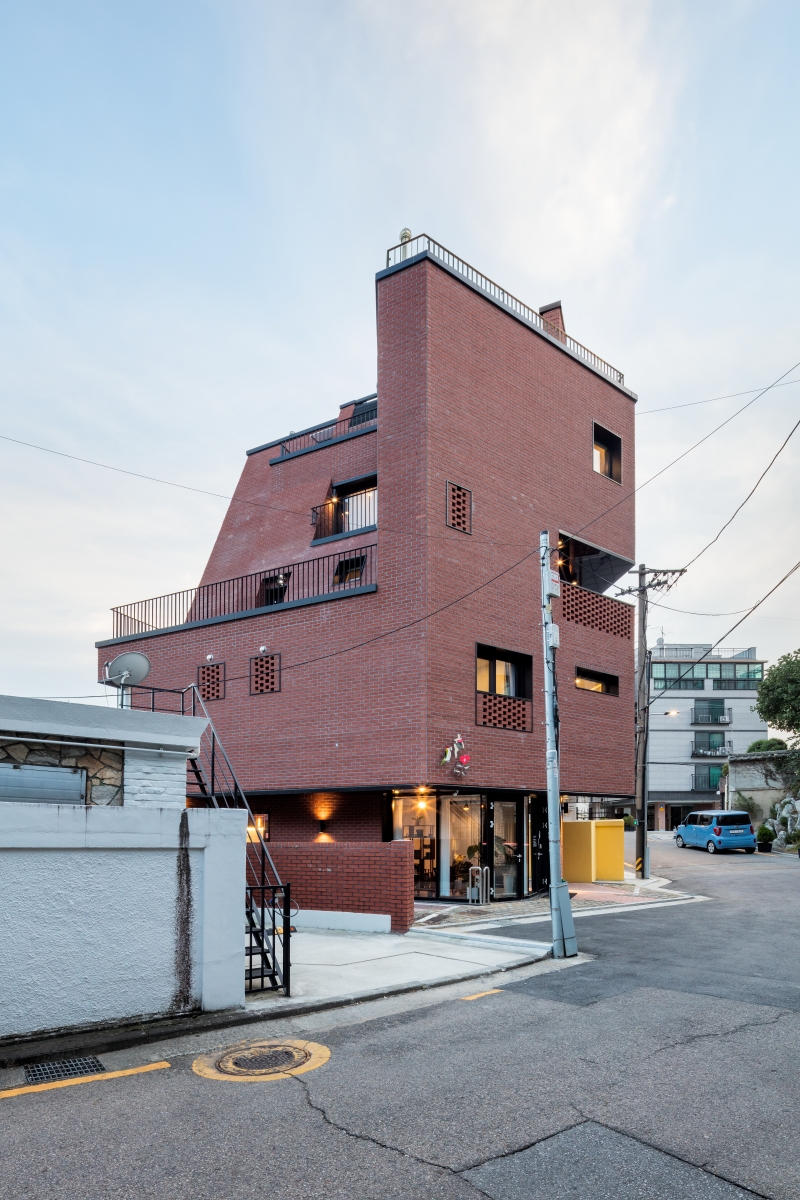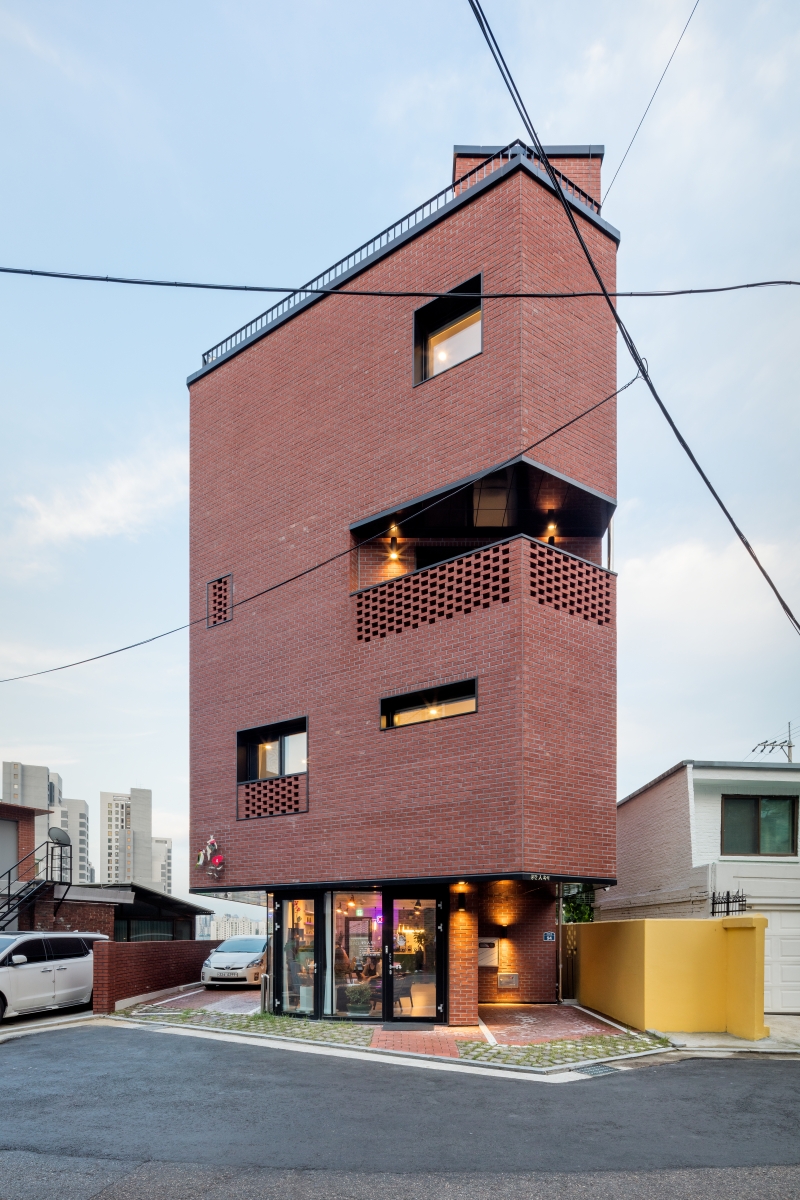 The Young Client's Second Project
The client said that Choi must have exhausted himself. I asked the client how he came to choose this young architect with close to nothing to his name. The client's first building was built across from SPACE IN BLACKSTONE, and during that time, he heard countless reports from the architect's office that this project was impossible. The office's reasoning was so tight and well-structured that the client could not but end up building something conventional. However, Choi of Objectum Architects was different. Even when the client presented a difficult request, Choi always gave a positive answer. But this was not merely because he was a fearless young architect who had not yet experienced the resistance of social convention and custom; rather, over the course of questions and feedback in dialogue with the architect, the client felt like he and the project could flourish. The architect confessed that he found design competitions difficult because there was no immediate feedback on his ideas. Perhaps, this is because the architect is as yet too inexperienced to conduct self- critique and provide feedback to his own work. However, while he might not yet have found his own individual colour, I could nonetheless observe in his eyes his determination to discover it, whatever it may be.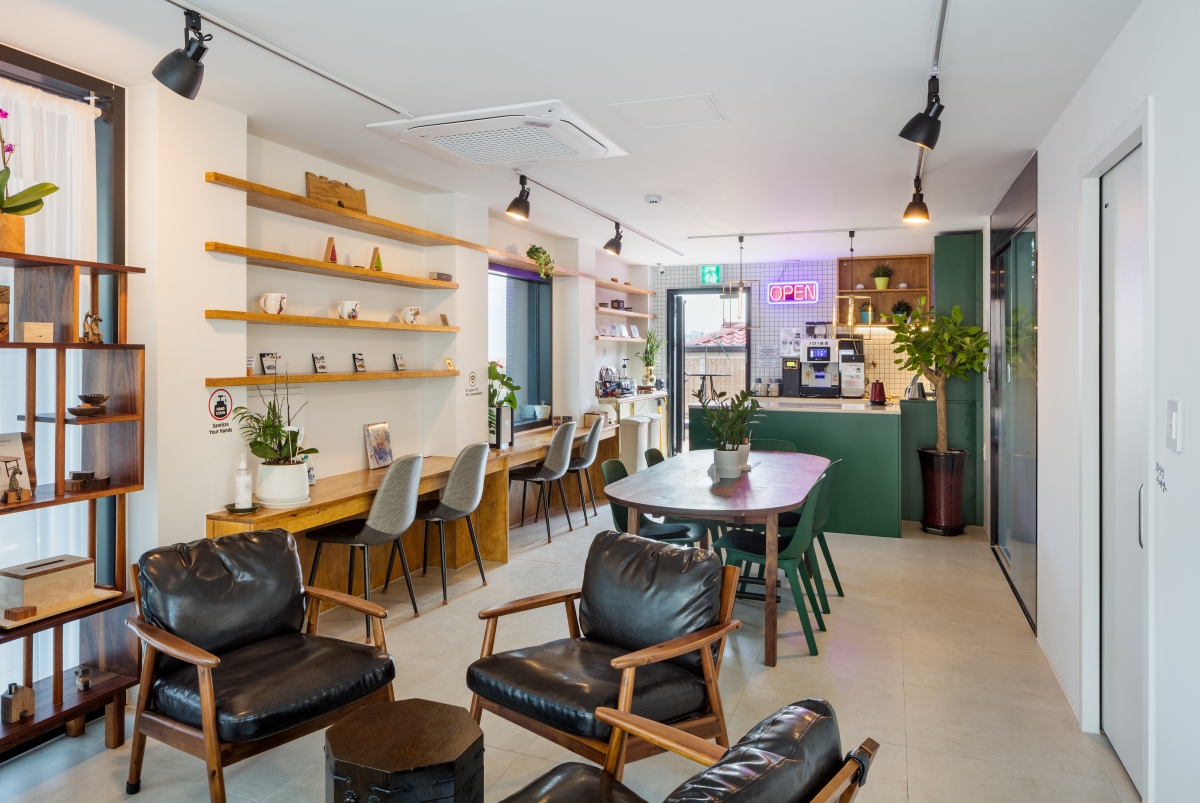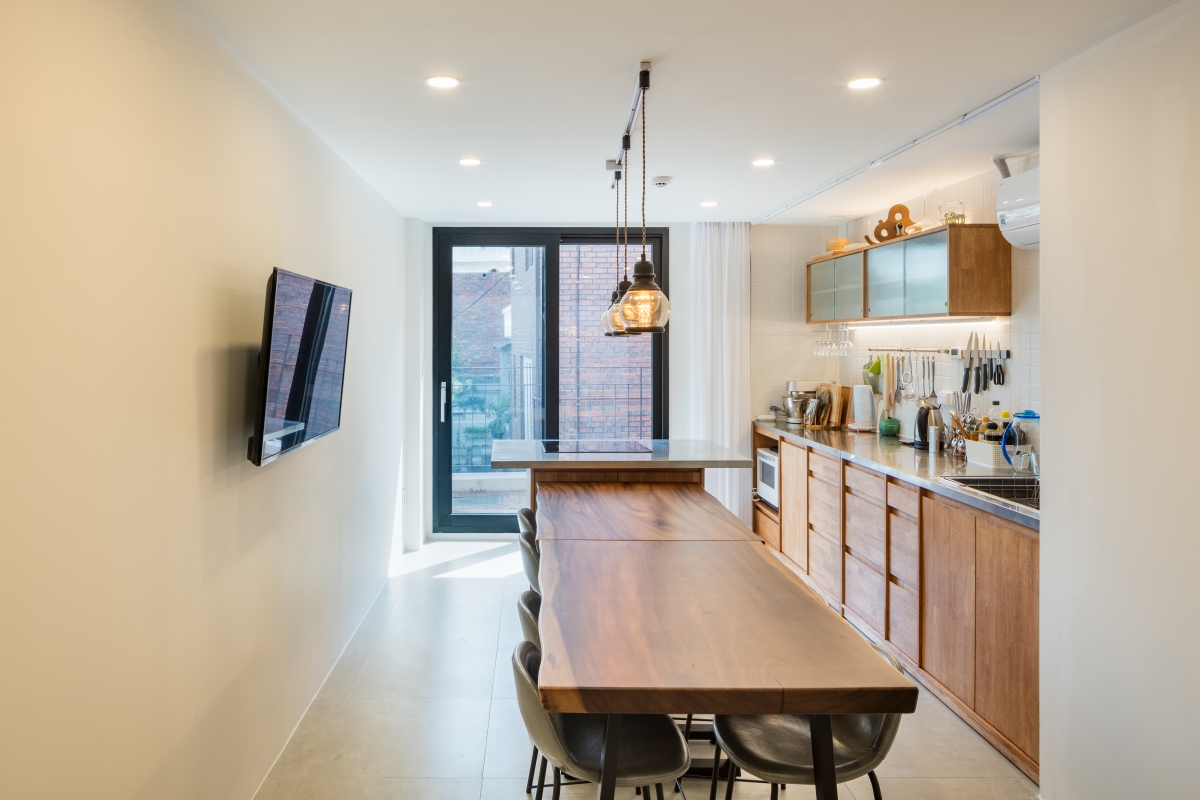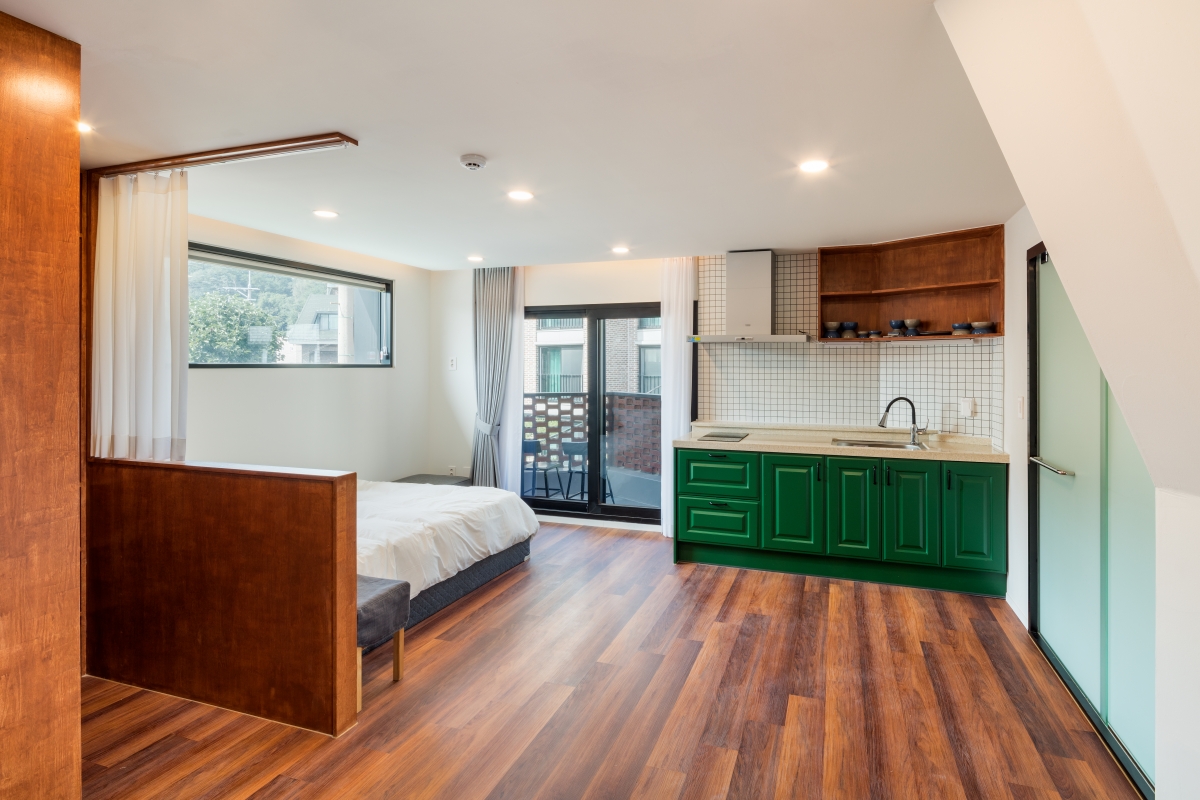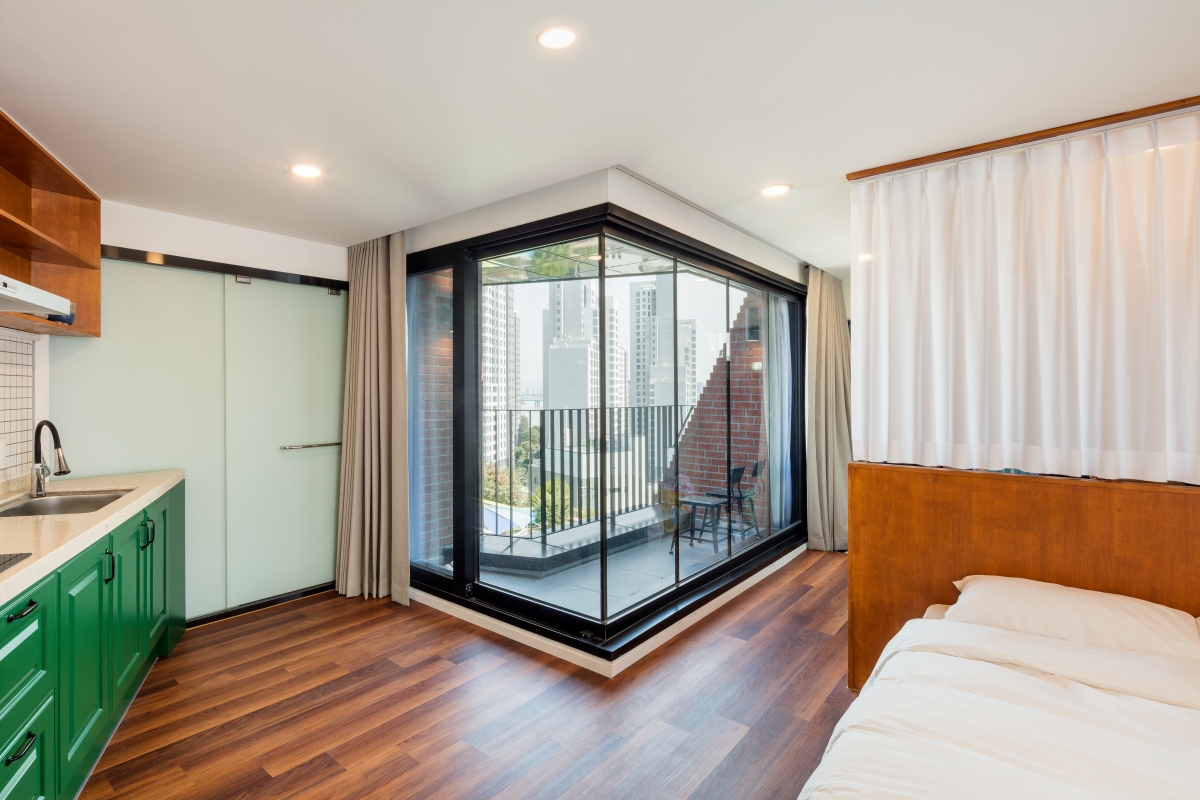 New Memories
The question from the building inspector regarding what other than housing would be occupying the lower levels of SPACE IN BLACKSTONE was resolved by giving the building inspector an hour-long lecture on the sharing economy. After hearing the lecture, the building inspector asked the architect why wasn't this mentioned earlier, to which the architect retorted by saying that it is not necessary that the architect know the client's business plan in all its details. It sounds like a smart response, but I disagree. Architects must be fully aware of the client's business plan. As much as the client, the architect must have been aware how this neighbourhood living facility is to function in this residential area and what kind of new influence it could exert―and he must have related this information to the building inspector, for this is what our society demands of the architect. The architect is an individual who converses with society via architecture. If the conversation partner does not understand, a mature architect offers to explain rather than criticise. In this way, architects gradually grow into mature members of society. Architects often express dissatisfaction with the social conventions that restrict their creativity. However, if social conventions are like the memories of the past that regulate the entire body, like a deeply entrenched set of criteria, then we must use that as our shared base of knowledge to explain what has changed since then. And so the architect must instill within society new and improved memories, and by doing so, guide society to develop new regulations and a better way of thinking. The reason why we architects have to do this is because in reality we build that which is requested of us with social capital. Moreover, architecture is not merely about the finished building itself but about the process of building and the experience of growing with it. (written by Chung Isak / edited by Kim Yeram)​​​
Architect
Objectum Architects (Jeon Hyejin, Choi Jaeseok)
Design team
Jeon Hyejin, Choi Jaeseok
Location
94, Heukseok-ro 5-gil, Dongjak-gu, Seoul, Korea
Programme
multi-family housing, neighbourhood living facilit
Building to land ratio
39.71%
Exterior finishing
red brick
Interior finishing
paint on gypsum board, tile
Structural engineer
TEOKUJO
Mechanical and electrical engineer
SUN ENG
Design period
Nov. 2018 – Sep. 2019
Construction period
Oct. 2019 – Aug. 2020
---
Jeon Hyejin, Choi Jaeseok
Jeon Hyejin graduated architecture school of Korea University in 2010. She practiced architecture and interior in aandd architecture studio. In 2015, she was qualified as a certified architect of Korea and is currently the principal of Objectum Architects.
Choi Jaeseok graduated architecture school of Korea University in 2011. Working in Lifethings, he has worked with various scales of architecture and programs. He was honored the 2018 T.S. Kim Architectural Traveling Fellowship Award and is currently the architect in Objectum Architects.
Chung Isak opened a.co.lab architects in 2013 and has worked as a professor at Dongyang University since 2017. While carrying out social architecture projects and collaborative research projects, he has also participated as a designer or artist in architecture and contemporary art exhibitions. His representative works include Yeonpyeong Island Library, Yeonnam Red Brick House, and Yellow Flat Bench, and he has also participated in exhibitions such as the 2016 Venice Biennale (as curator and artist in the Korean Pavilion) and 'CAMP 2020' (as director). He is also the co-author of the book The Seoul, City Microhistory (2016).