Located in Hongcheon, Gangwon-do, SAGEWOOD Hongcheon is located at an altitude of 700m above sea level in a pleasant and eco-friendly environment. Along with its connection with a world-class golf course in nature surrounded by beautiful mountains on all sides, it has a total floor area of 43,140.26m2 (about 13,000 pyeong) and consists of a membership exclusive luxury hotel with 128 rooms and a corporate educational facility equipped with various auxiliary programmes.
The hotel rooms are composed of 5 floor types uniquely designed to accommodate a variety of client groups, and are equipped with additional facilities such as a restaurant, outdoor and indoor swimming pool, sauna, fitness center, and indoor golf practicing rooms. Educational facilities include a terraced auditorium, cafeteria, banquet room, group discussion room, library, and outdoor amphitheater that can host professional educational activities.
In order to create an eco-friendly complex that harmonizes with the mountains and topography and allows visitors to experience the natural scenery, multiple low-rise terrace-type buildings are finished with a canopy-shaped roof and are delicately placed on the north of the site. It gives the impression that the complex is naturally nested on the ground. In addition, a large landscaping space is secured between the building and the road, blocking vehicle noise and creating visual privacy through the 6m level difference.
The forest-park surrounding the golf course located in the south is connected through the arriving courtyard and the ground level is naturally formed using the sloped topography, and a variety of large educational facilities and parking lots are efficiently planned in the underground space. The auditorium, banquet hall, and cafeteria on the basement 3rd floor interact with the natural outdoor space including an outdoor amphitheater, ponds, lawns and forests, undermining the feeling of being underground.
The spacious and cozy lobby comfortably connects the main entrance and plaza level, where the outdoor swimming pool and restaurant on the first floor are located, with an open elevator and stairs. The lobby, main dining room, swimming pool, and large units use a glulam wood structure to give a feeling of architecture in nature and a secure connection with the existing clubhouse in the complex. For the interior and exterior finishing materials, eco-friendly and naturally textured materials that harmonise with nature were used.
The spacious, square terrace not only allows smooth ventilation throughout the room, but also becomes a place where the visitor can enjoy the beautiful scenery of both south and north sides, the broad view of the golf course and the layered Korean mountain ranges. The large skylight through which the light falls softly connects the indoor swimming pool with the sky, giving the feeling of being afloat, and the use of warm wood provides the sensation of swimming in a secluded forest. (written by Ken Sungjin Min / edited by Park Semi / translated by Kim Danyoung, Caroline Min)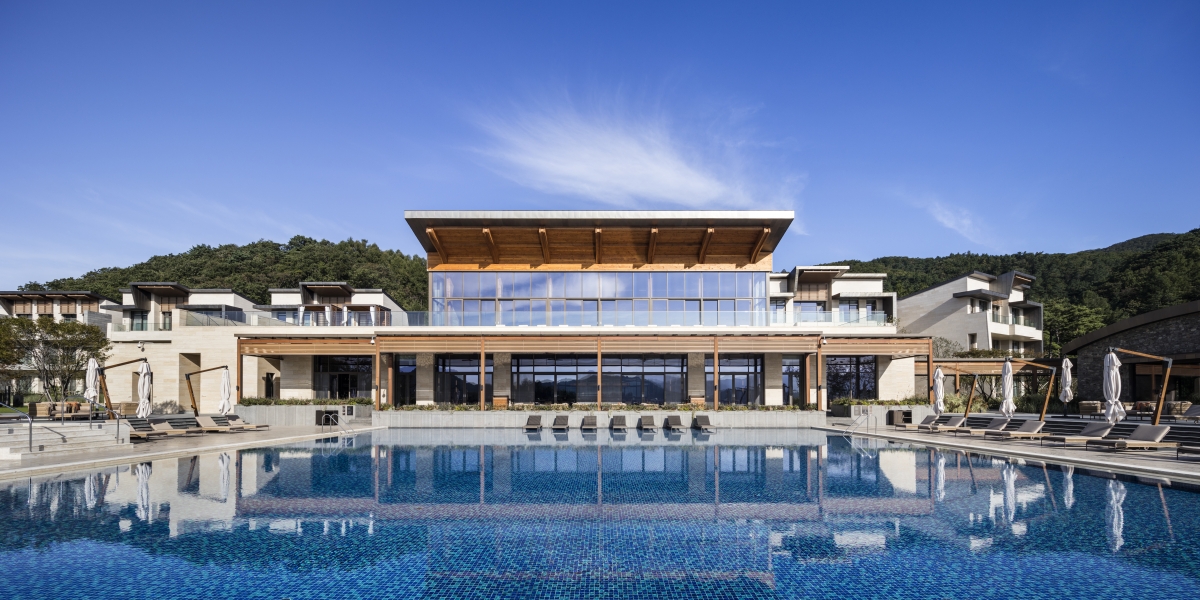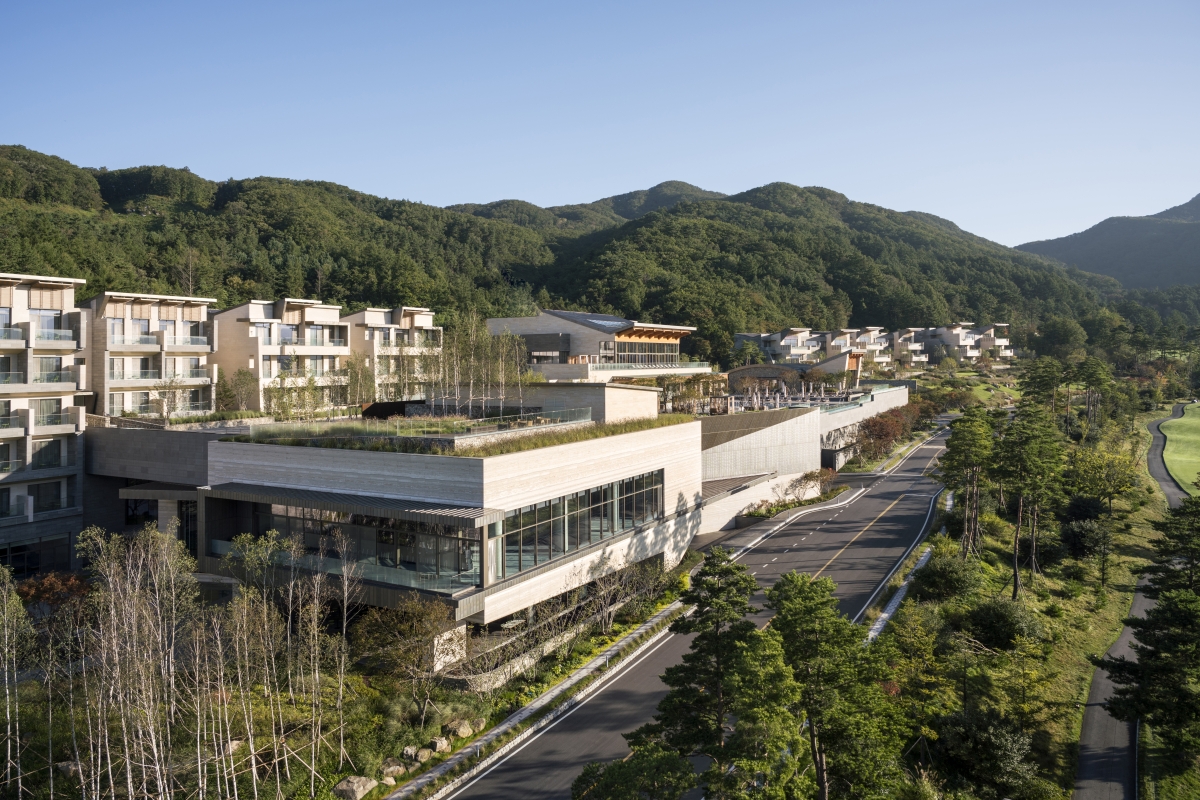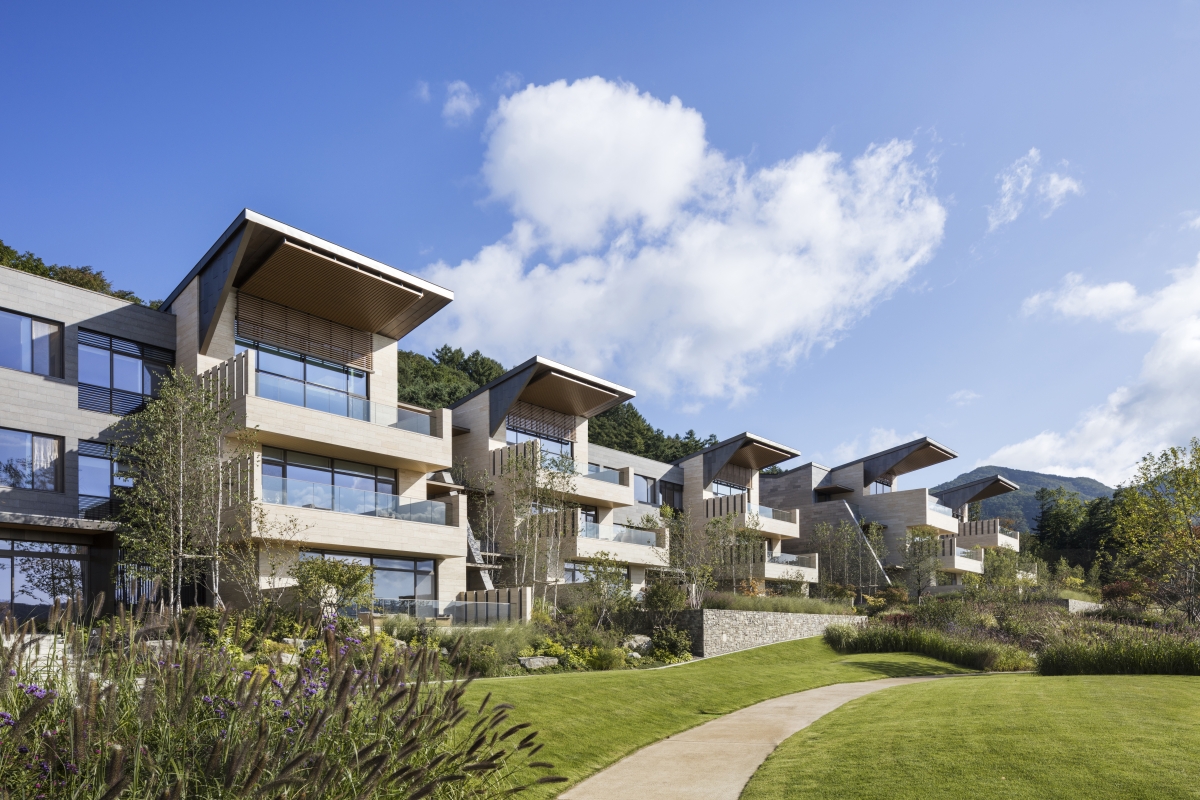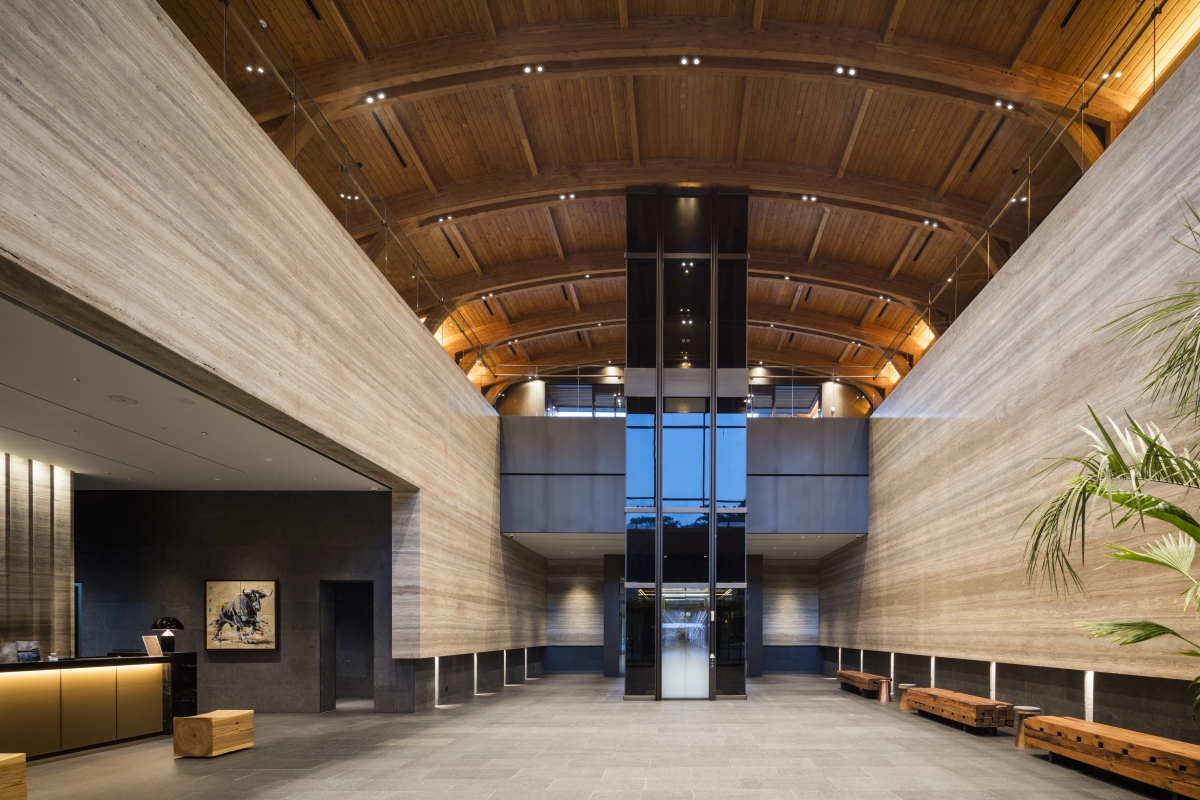 ​
Architect
SKM Architects (Ken Sungjin Min)
Design team
Cho Pyungjae, Han Hyunsoo, Ko Eunhye, Kim Seungwoo
Location
898-87, Gwangseok-ro, Duchon-myeon, Hongcheon-gun,
Programme
condominium, educational research facilities
Gross floor area
43,140.26m2
Building to land ratio
14.76 %
Exterior finishing
natural stone, travertine, pietra vicenza, VM ZINC
Interior finishing
floor ‒ wood flooring, stone / wall ‒
Structural engineer
AJU STRUCTURE ENG.
Mechanical engineer
JU-SUNG ENG.
Electrical engineer
NARA ENG.
Construction
HYUNDAI DEVELOPMENT COMPANY
Design period
Nov. 2013 – June 2019
Construction period
Mar. 2016 – June 2019
Client
MIRAE ASSET Global Investments
---
Ken Sungjin Min is constantly pursuing to expand architecture as a universal solution for our society and environment, as well as humanity and civilization. This raises fundamental questions about the standardized way of life and its familiar practices, and discovers and builds new perspectives. With the belief that architecture can bring about positive change in culture and life, he is constantly exploring new possibilities and potentials. He has been leading SKM Architects in Seoul for 26 years since 1995.