A Working Space for a New System
interview
Yoon Hanjin co-principal, FHHH FRIENDS,
Kim Sejoong, Han Joowon co-principals, COM
× Park Semi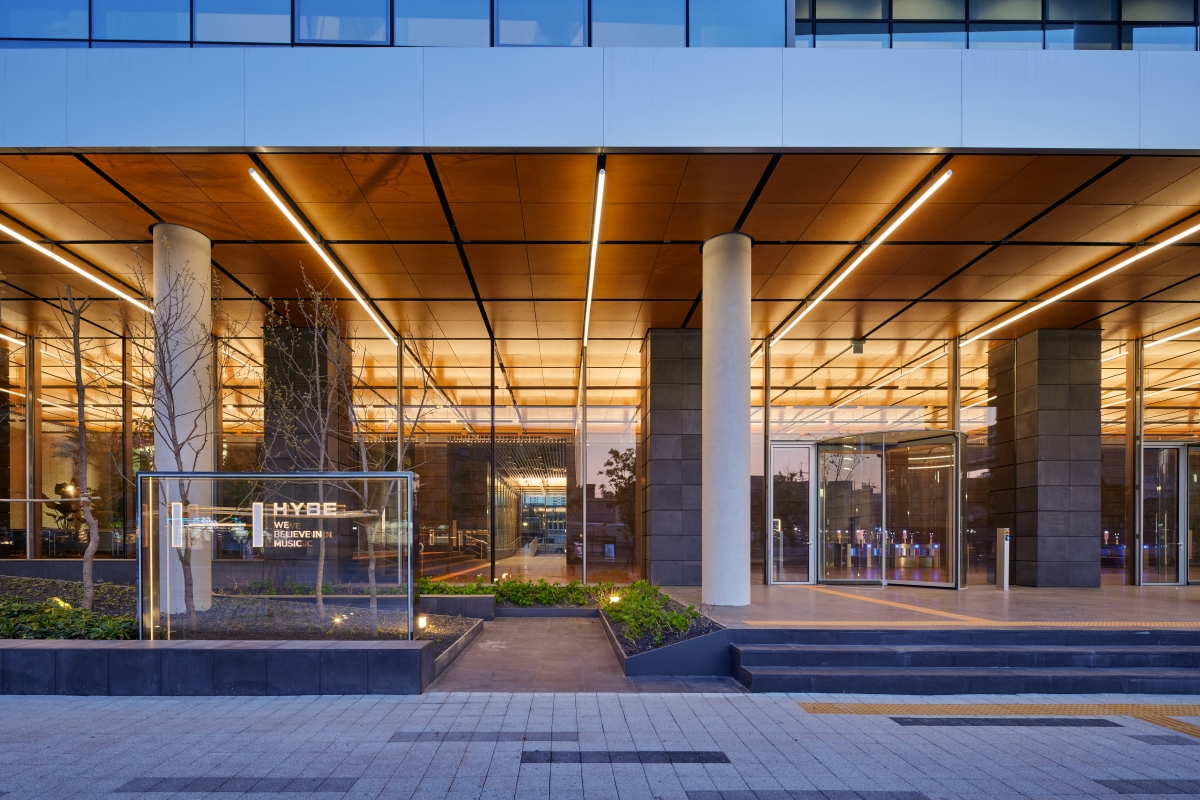 Park Semi (Park): HYBE is a remodeling project that transforms the rental office located at Hangangdaero into a company office building. What were the conditions presented by the original building?
Yoon Hanjin (Yoon): Located in the centre of Yongsanm in an area that is either already redeveloped or facing redevelopment, the Yongsan Trade Center, which is now remodeled as the new HYBE office, used to be a typical for-profit rental office building. The lower levels were intended for use as a wedding hall while the rest were intended as rental office spaces. As the conditions did not permit a large space, the core was placed at the building's centre and all of the spaces were consequently made of equal area. The central core was limited, as it did not display a clear directionality, and the first floor was merely a functional passageway as opposed to a lobby. As we began to contemplate how best to turn this for-profit rental building into a company office, we thought we should first try to understand the building's essential properties and chart our course from there.​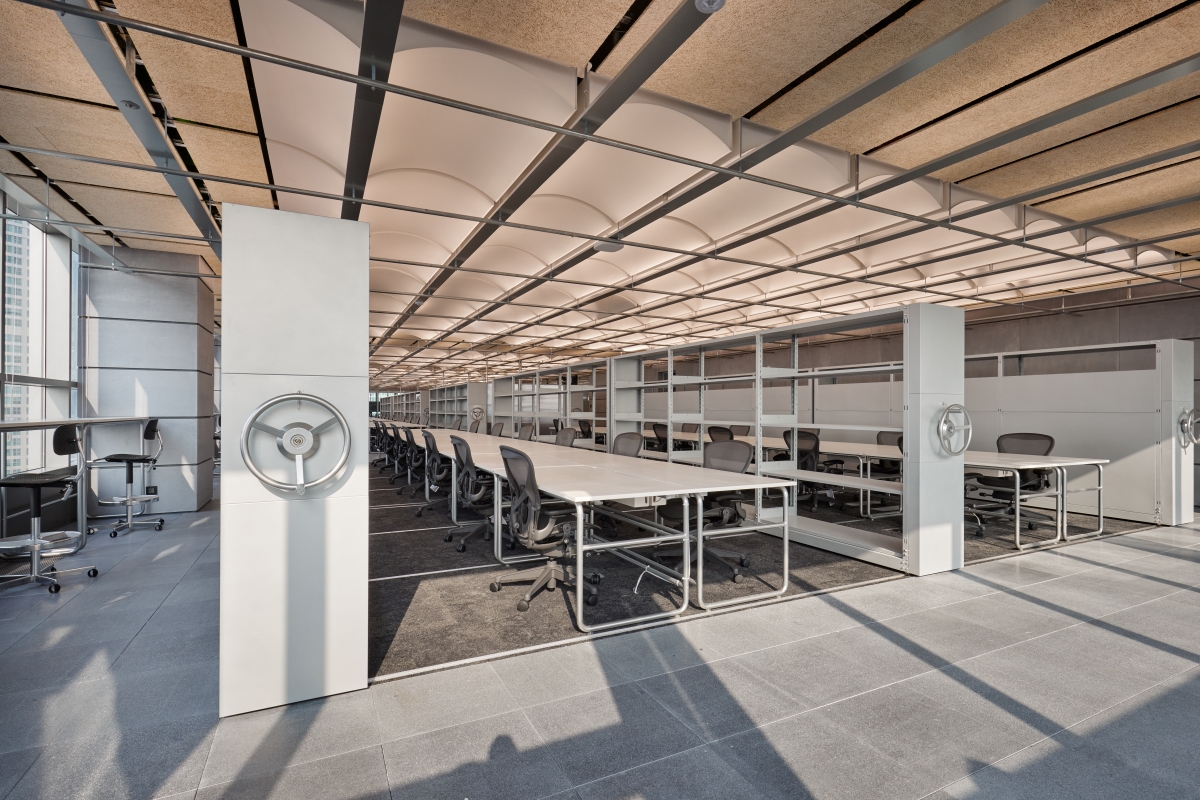 Park: Aside from understanding the physical properties of the original building, I imagine that it was also important to grasp the characteristics of HYBE Entertainment as a company. Considering that this office was a part of Big Hit Entertainment's major rebranding project as HYBE, what were the governing requirements?
Yoon: The number of members constituting Big Hit Entertainment grew exponentially over two years, and it is still growing along with the development in its infrastructure. To cater to such changes, it required a new office that would embody HYBE in its new brand identity and system. I think it is no longer the case that one designs and solves problems presented by the client. Nowadays, the design is conducted from start to finish through closer collaboration between the user and the designer.
Kim Sejoong (Kim): This kind of project was new to me. FHHH Friends (hereafter FHHH), COM, and the CBO from HYBE (principal, Min Heejin) formed the Spatial Experience Design Group and began work on a historical survey of the office. We talked about how the current office had developed to this point and where it should hope to go next.
Yoon: Instead of simply making decisions as the coordinator of HYBE's rebranding project, Min Heejin wanted to engage in a more hands-on work way. She did not want a comfortable and problem-free office but a space with a strong message.
Park: You noted that you wanted to adopt an architectural gesture instead of merely providing functional solutions as demanded by the company. I think that this project is unique in that this architectural gesture is not something ornamental but is the installation of a system. Could you describe the general spatial composition and system in this office?
Yoon: With a total floor area size of 20,000 pyeong, the 19 floors of HYBE are largely divided into five blocks. Basement 2 to level 1 hold the shared facilities, levels 2 to 3 hold the large-scale special facilities an programmes, levels 4 to 6 hold the small-scale special facilities, levels 7 to 16 hold office spaces including the archiving room, and levels 17 to 19 hold the welfare facilities. In terms of the planes, and considering the core as the centre, a module system was created by dividing the area into 15 spaces across all floors to a total of 300 spatial units that are held together under a flexible and dynamic grid system. For special facilities that required a certain fixed amount of space, spaces were integrated cross-sectionally. We also established five principles (plane composition, build, material usage, removal of ornaments, and environmental interaction) so as to introduce an overarching consistency across all floors despite the minor differences that might occur.
Kim: The reason why we established these principles was because we did not want to simply reiterate what one might expect of a generic office interior. We did not want to use things like carpets and building partitions. Principles such as the choices of materials to reveal their natural authentic properties (principle of material usage) or sticking to sizes and weights that are easily adjustable while avoiding the practice of adding finishing materials (principle of build) were our tentative guidelines throughout the interior and exterior.
Han Joowon (Han): We wanted to make a system, not a design.​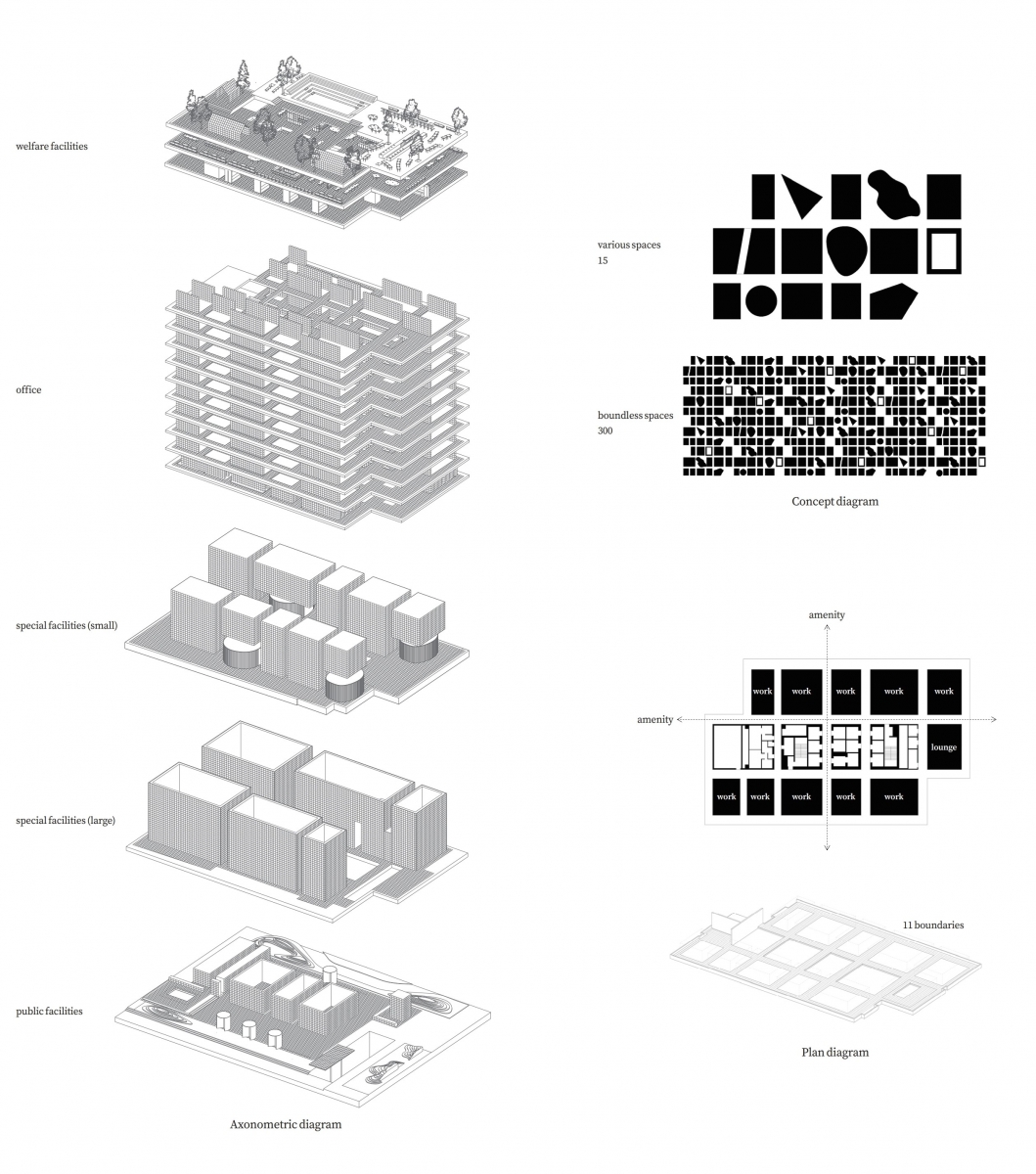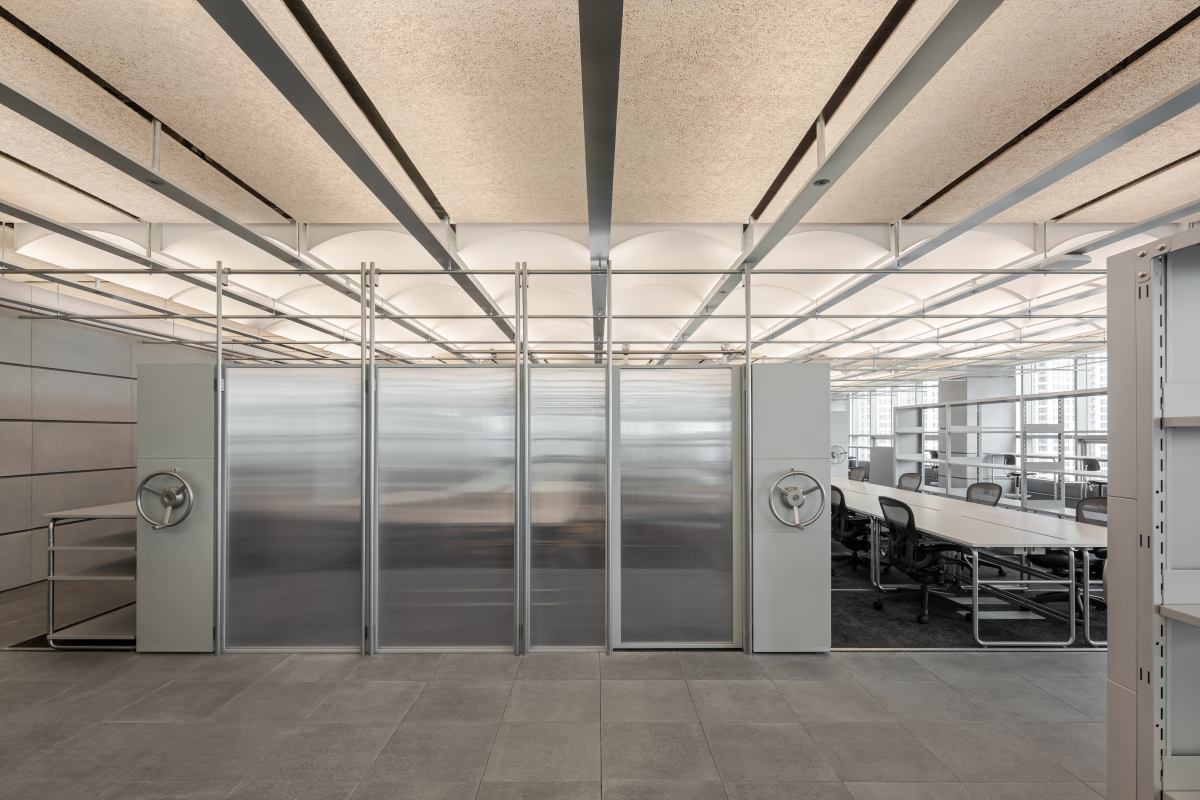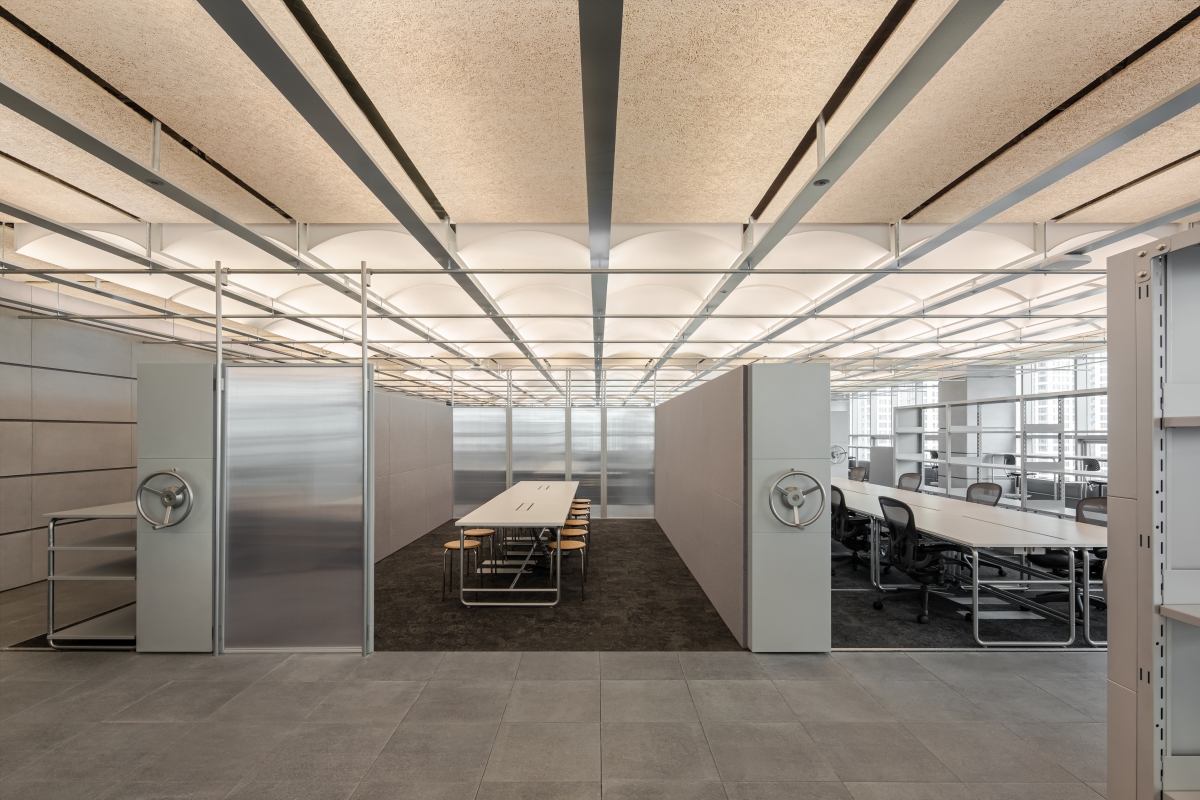 ​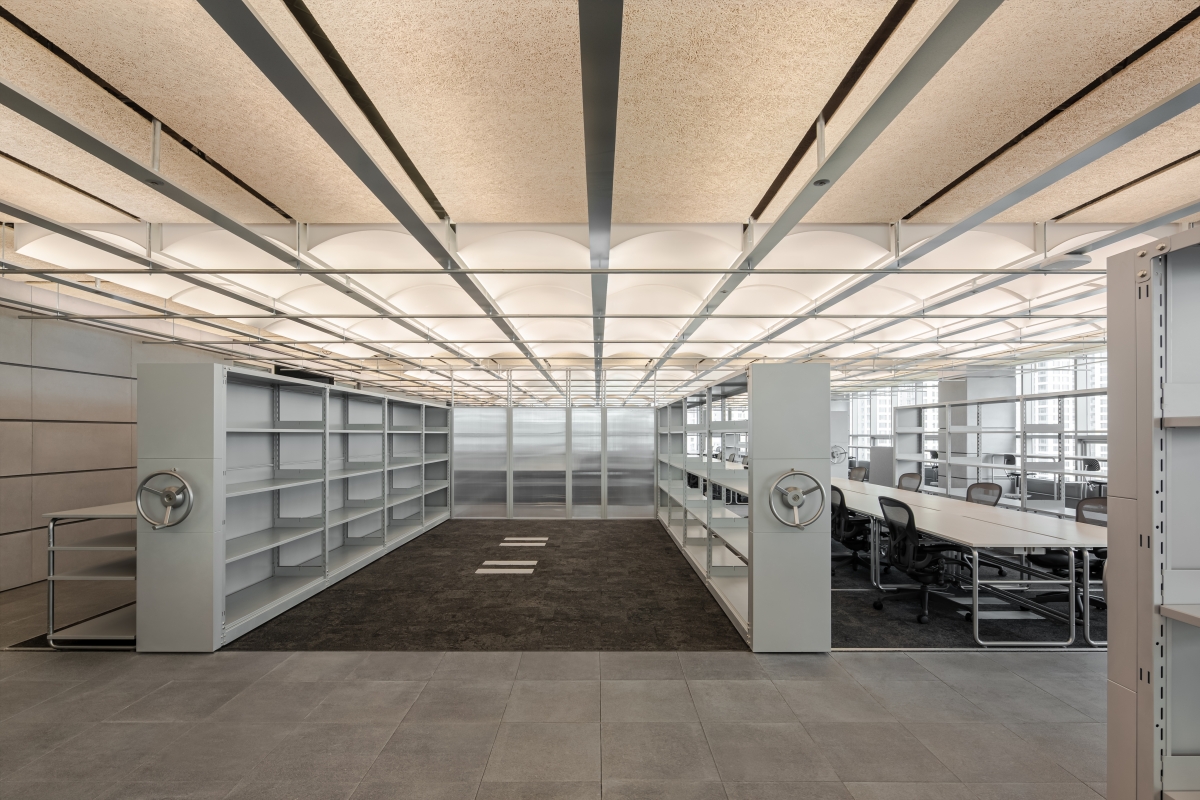 ​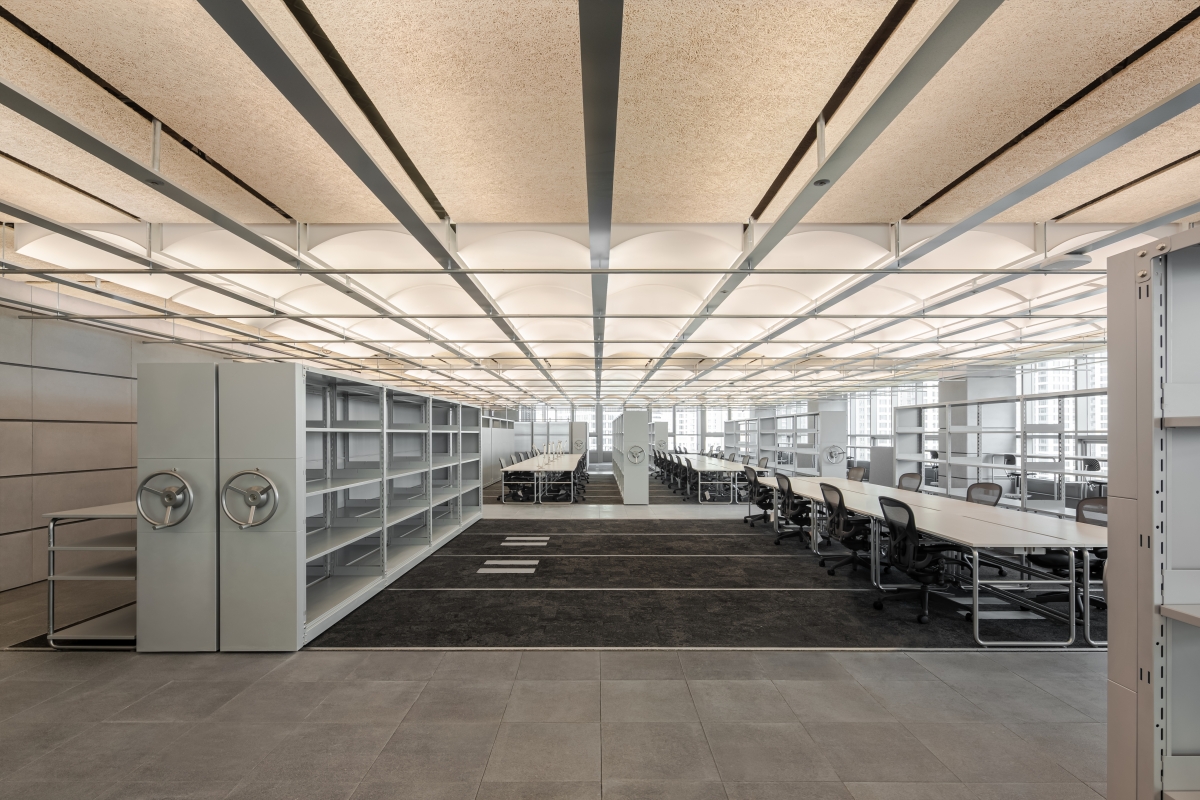 Park: The grid module system is based not on the floor area but on the ceiling. You have introduced a method of spatial management by building a ceiling system.
Yoon: Exactly. During our discussions with the client and between ourselves, we talked most often about the ceiling. The reason why we focused on the ceiling was because of the hanging system. Not only did the original building have a floating floor structure, but, as it was not an overstatement to say that all its equipment were placed below, it was only natural that we would turn towards the ceiling. By making the basic office-relevant infrastructures accessible by pulling them down from the ceiling, autonomous planning became possible. Instead of partitions, mobile-racks have been used to divide spaces.
Kim: The role of the ceiling was crucial in creating a sense of cosiness between each grid block. In workspaces dedicated to specific tasks, for example, we created reflective lighting by installing indirect lights on both sides of the arch-shaped ceiling, while noise-absorbant materials were used in the corridor ceilings to reduce noise caused by movement. In a way, a united structural body that binds together the connecting structure of finishing materials, the lighting tray, and fire protection system was created. This structural body was designed inside the ceiling to reduce gaps between the finishing materials while eliminating the low-rise and suffocating feeling that was present in the original office.​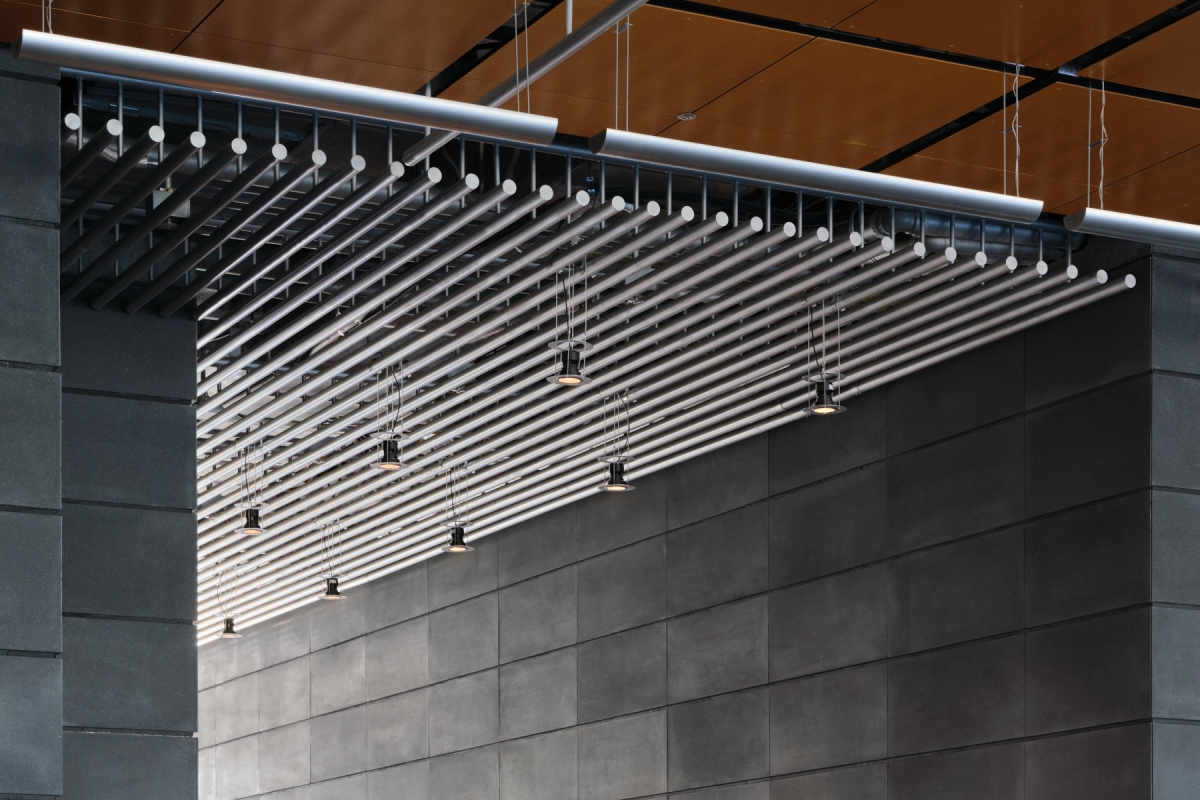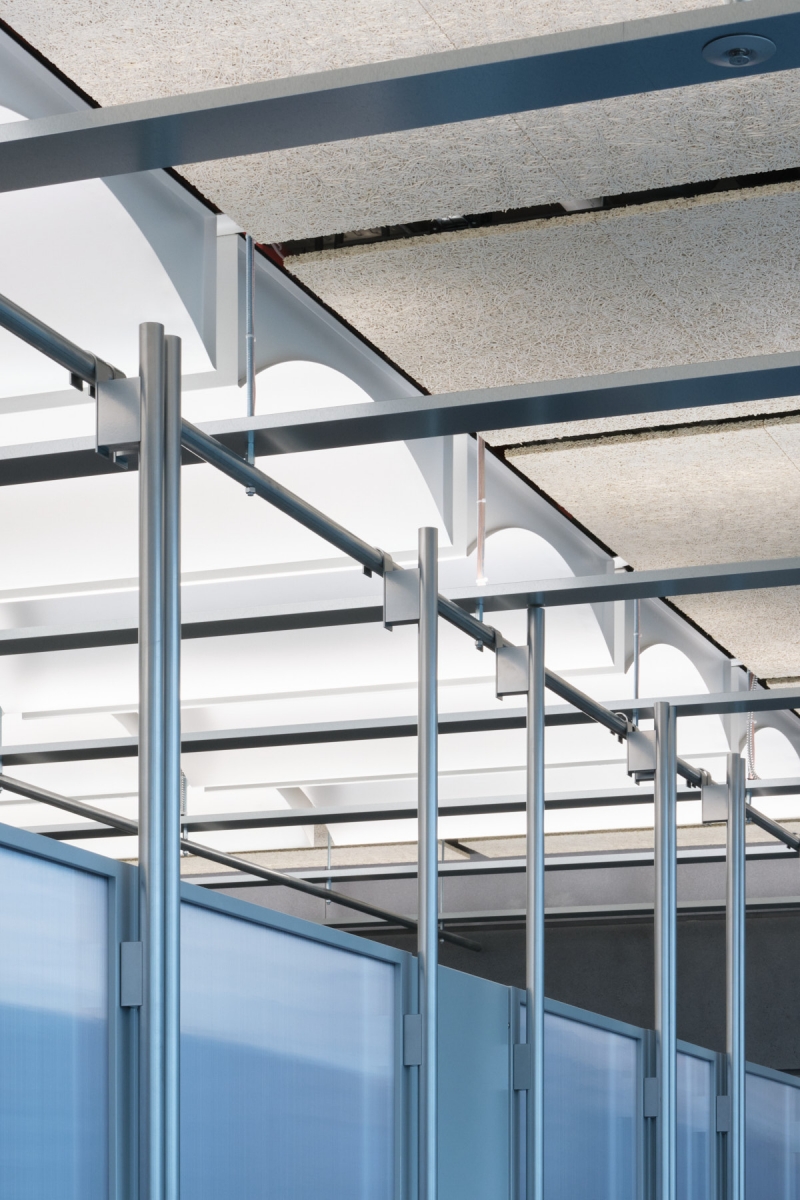 ​
Park: The furniture was also designed to match the grid system. What did you consider? What was the reason behind placing custom orders with the furniture company FURSYS?
Han: Basically, we needed a furniture system that could be applied across all spaces within the 500x500cm grid system. We did the custom design work for the first three to four months until we realised that it would be a problem time and cost-wise to do this for 1500 to 2000 people. As such, we reflected on customisation with the help of an existing furniture industrial system and made necessary adjustments to the design. Because our concept was about connecting the wall, floor, and ceiling, we also reflected this design through the furniture by using a bent pipe as the support for all its elements.
Kim: The leg structure, where the pipe is bent at a fixed value and has been assembled via nuts and bolts, has been applied to all furniture including the tables, sofas, and desk chairs.
Yoon: We also needed help from the furniture industrial system in terms of after-sales support. For the furniture of this scale to function well, we wanted to be able to rely on the system and infrastructure of a professional furniture company. Of course, for production purposes, we could not go for a completely new design but had to base it on an existing one. We resolved the design with the basic elements such as the pipe and bolts. This was not a compromise but results from our interpretation of the industrial system and experimentation with the extent to which the given conditions could be challenged. The decision was not taken by us alone but also by the CBO. We believed that this approach would provide new inspiration to the users of this furniture in the company.
Park: The workspace of HYBE is compact, variable, and anonymous. Compared to the 1800mm-wide table with drawers below on both sides, easily recognisable as mine due to its cluttered state, this workspace feels almost alienating.
Yoon: A mobile-rack is a kind of equipment developed to maximise storage and document collection. In consideration of the amount of area occupied by each person in the HYBE, we knew efficient storage, compact table size, and mobile-racks were all of utmost importance. The greatest feature of them all is that they can all be moved within the same system. When we talk about the workspaces of the future, the word 'nomad' often appears. For example, we can imagine a world in which an individual with his or her laptop can pick and choose between any of the 15 workspaces of respectively different concepts However, we thought this nomad concept was extremely ornamental and experience-focused. Instead, we thought about the nature of a more active and systematic nomad. From this point, we decided that mobile-racks, which can be adjusted in spatial size, and tables, which can be assembled according to personal needs, were mandatory.
Kim: Generally, most would prefer a larger table, but if we look closely, due to the drawer below the table, the space in which one can move about is extremely limited. Moreover, quite a lot of this space is occupied by the desktop computer and its paraphernalia; by allowing the user to fix the monitor at a preferable height, to adjust the lighting, and to store things in the mobile-rack behind, we created a table that is small but is not cramped.
Han: In terms of design, we spent a lot of time thinking about the 'Action Office' concept. When it comes to workspace design, people generally choose Apple, Facebook, or playground-like offices as key examples. However, we wanted to avoid such examples. We also spent a great deal of time thinking about designing the corridor as an 'Amenity Track'. We wanted it to function not merely as a subordinate office programme but as a space for social interaction. We tried to create many elements that would encourage social encounter.​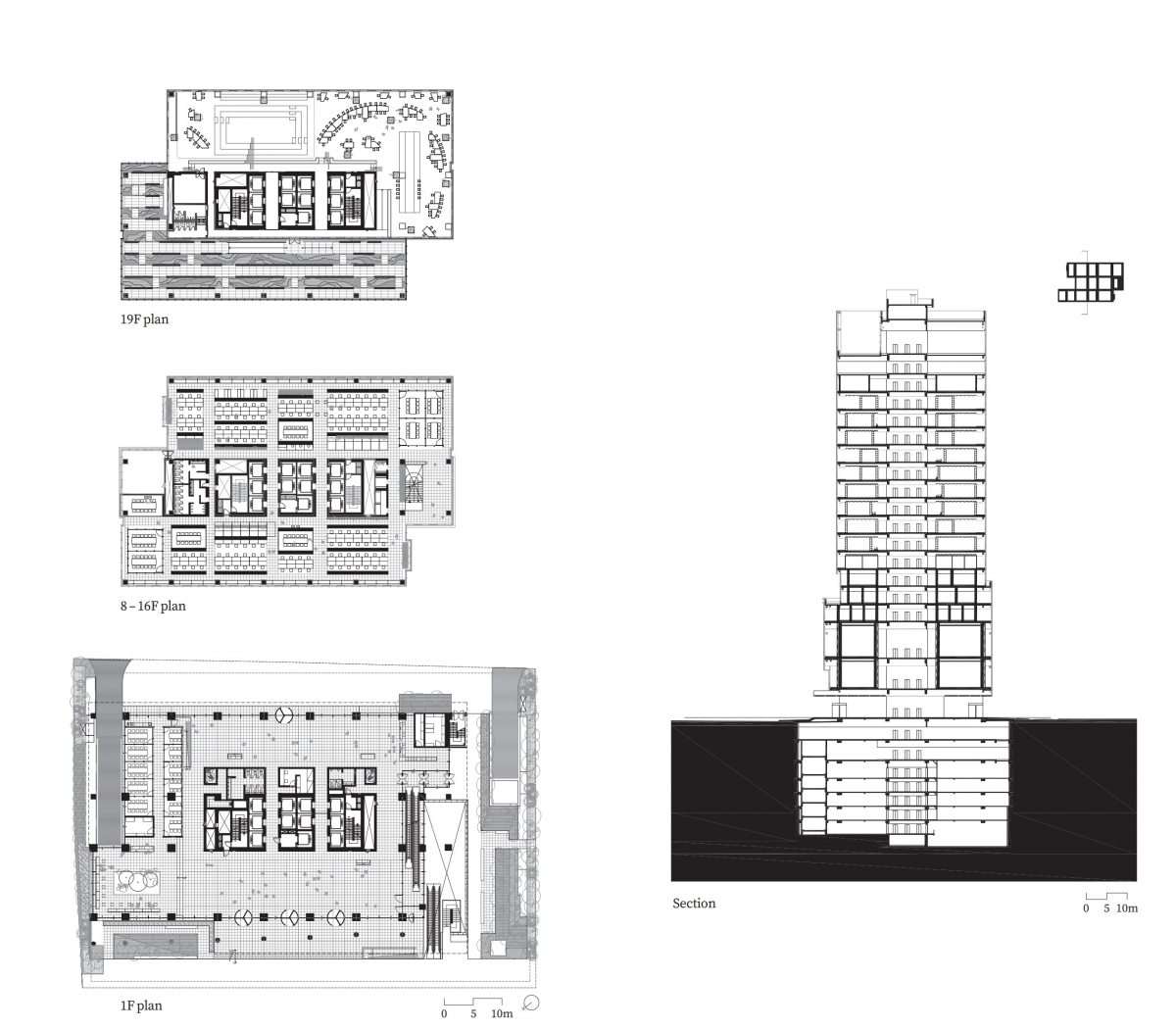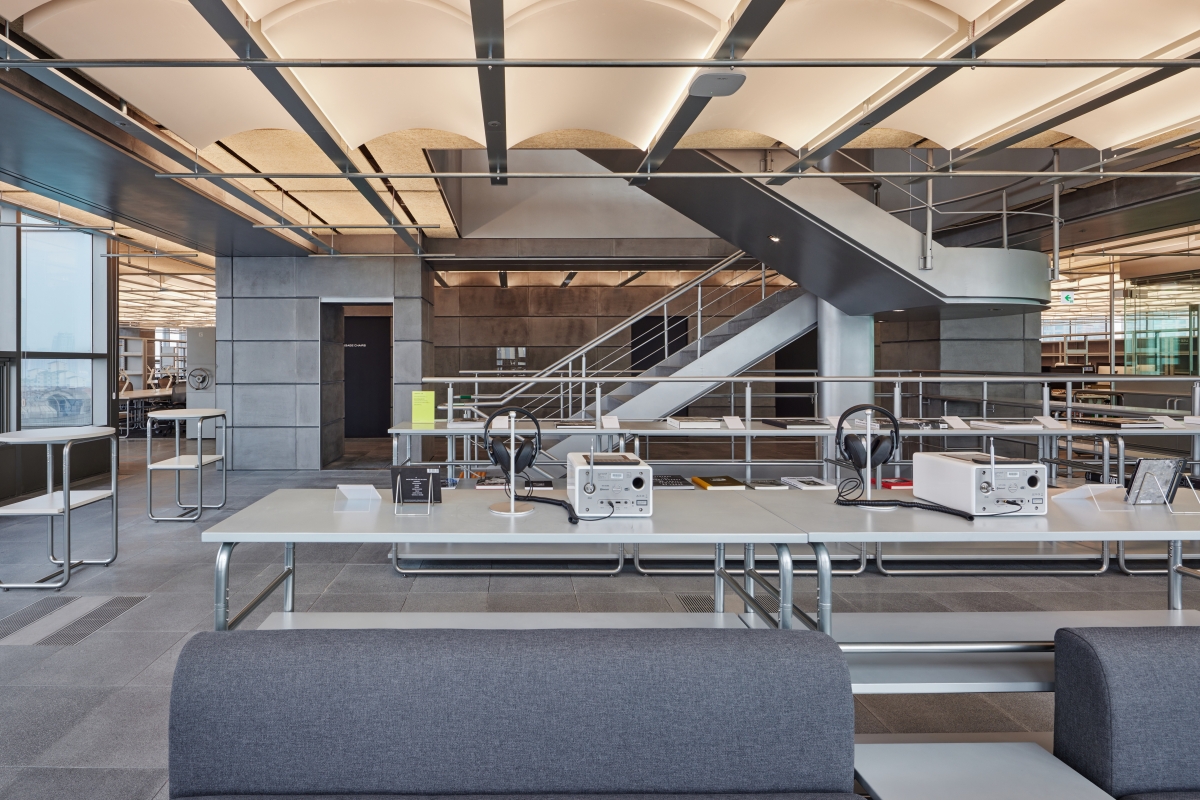 ​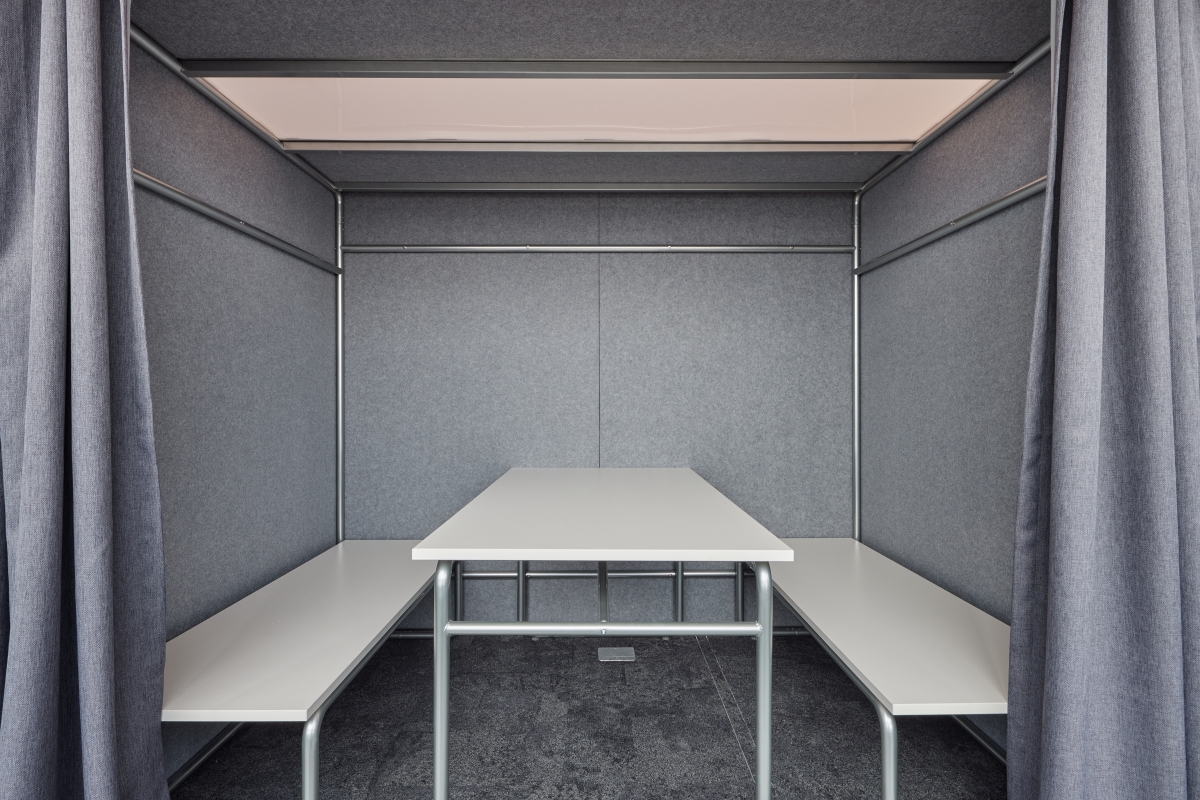 Park: As a joke, you mentioned that you formed the team 'FCHOHMH' (FHHH + COM). Please tell me how and where your individual characters were preserved in this partnership, and why the project had to be carried out as under this single team.
Yoon: I have never thought of COM as a furniture or space designer, rather, I think of it simply as COM. The COM that I know is a group that engages with everything cleverly and in great detail. It reveals an extraordinary attention and meticulousness in terms of creating a spatial atmosphere. FHHH focused on things such as legal regulations, installations, structures, and zoning, all of which required architectural solutions and dealt with internal politics and countless negotiations. A normal procedure would begin with the architecture and a furniture design that matches the spatial frame would have followed after — but we did not take that route. While FHHH began working at the macro-level, COM began with the bolt, and we agreed to meet in the middle. We think that this was a brilliant approach. For example, the ceiling structural body is very intricately detailed, appearing like that of textile weaving. If FHHH led the design, the structural body would have turned out to be something extremely bold and more functionally-inclined. Instead, the ceiling that we have now cultivates a certain aesthetic created by the layering inherent to the structure. This was possible only because of COM's attention to the most minute of details, like the lines of the nut, and that they were responsible for the design.
Han: During meetings, things regarding legal reviews, zoning, and even the guiding aesthetic tend to be brought up simultaneously. Whenever that happens, under the general direction proposed by Yoon Hanjin, we focus our designs towards function and form and prioritise discussion of these elements.
Kim: If one could classify the product design, furniture, space, and architecture according to design scale, then COM would lie somewhere between furniture and space while FHHH would belong to architecture. In that sense, the architect is like a film director. The architect assembles the acting and staff members, gathers investors, persuades the clients, and oversees production so that the film does not go off script. When COM fixates on the small things, Yoon Hanjin reminds the team of the bigger picture. The architect is in charge of the spatial structure at the macro-level.
Yoon: Since architecture is responsible for the structure, it is important to know exactly how far a space can be altered, especially in remodeling projects like this.​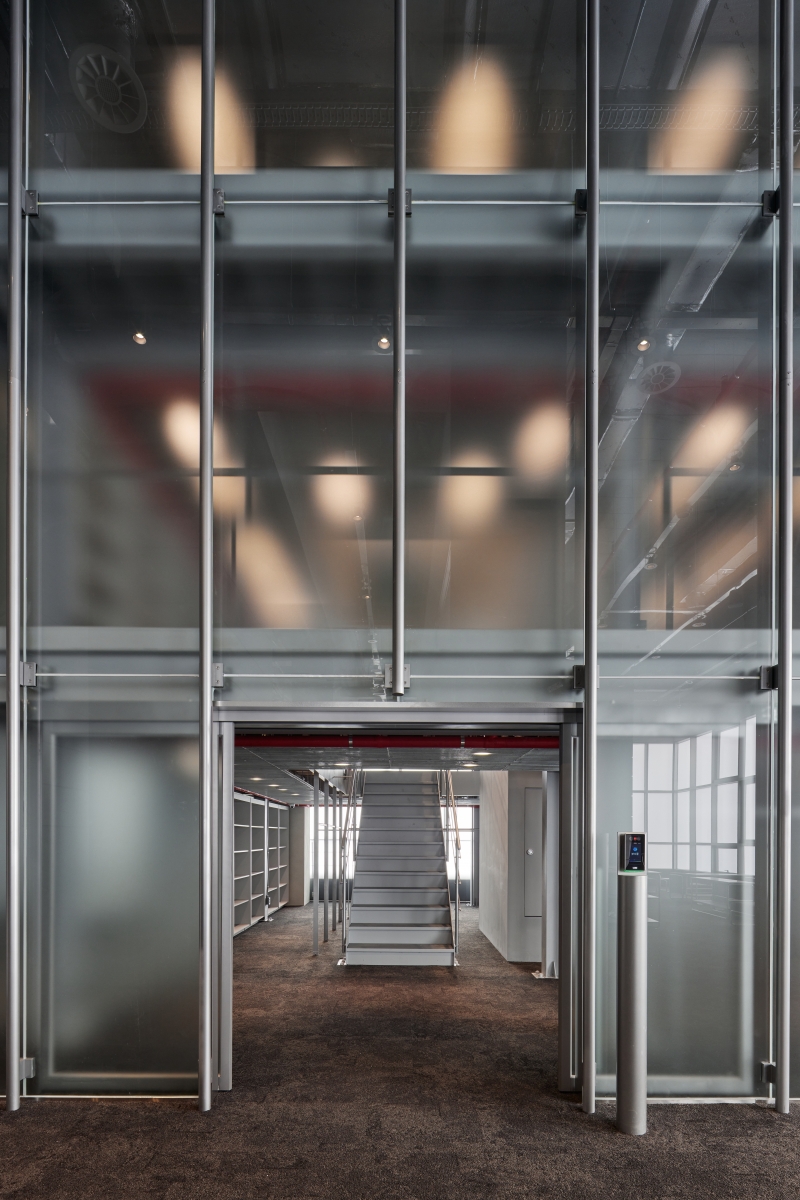 ​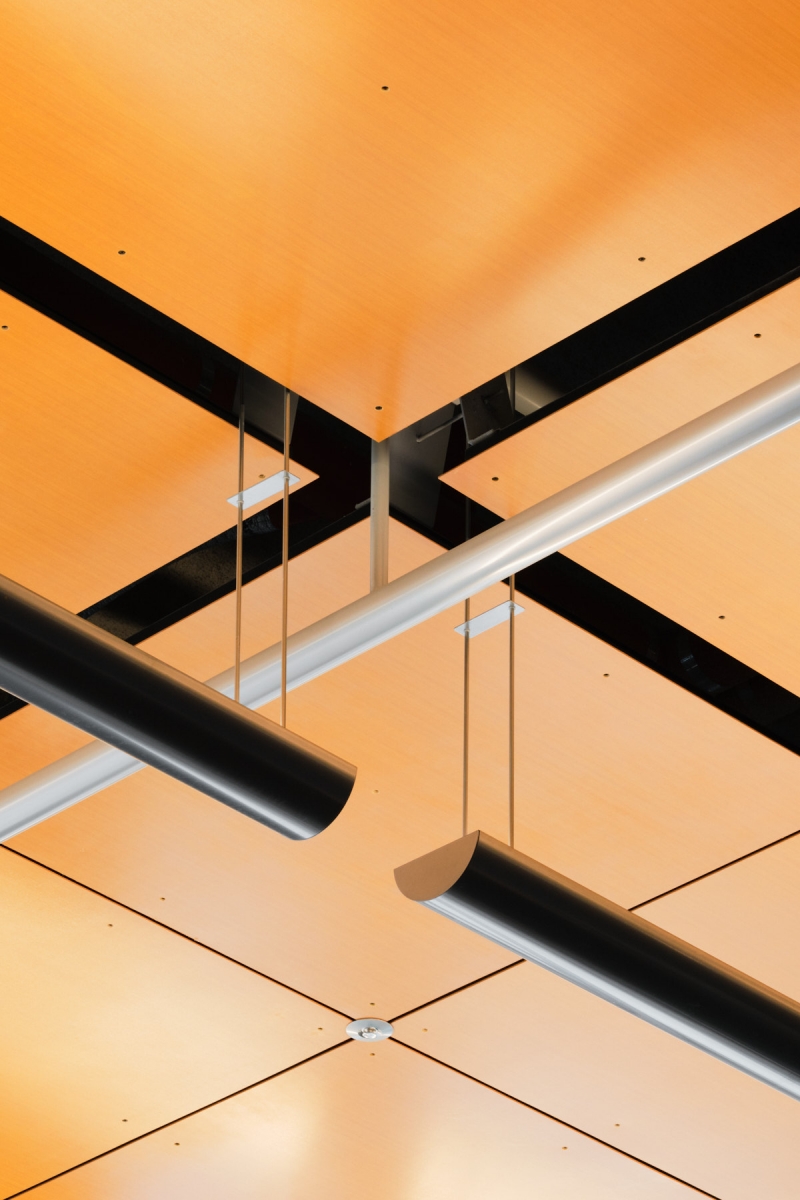 ​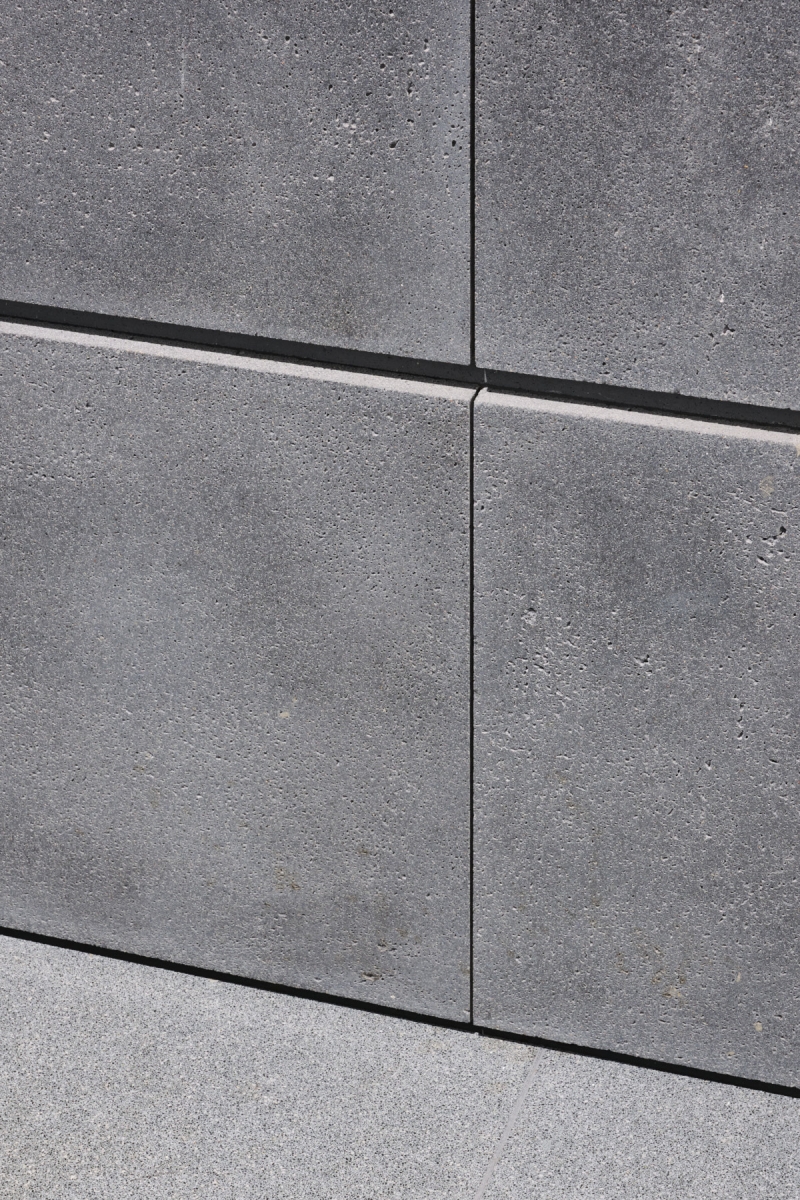 ​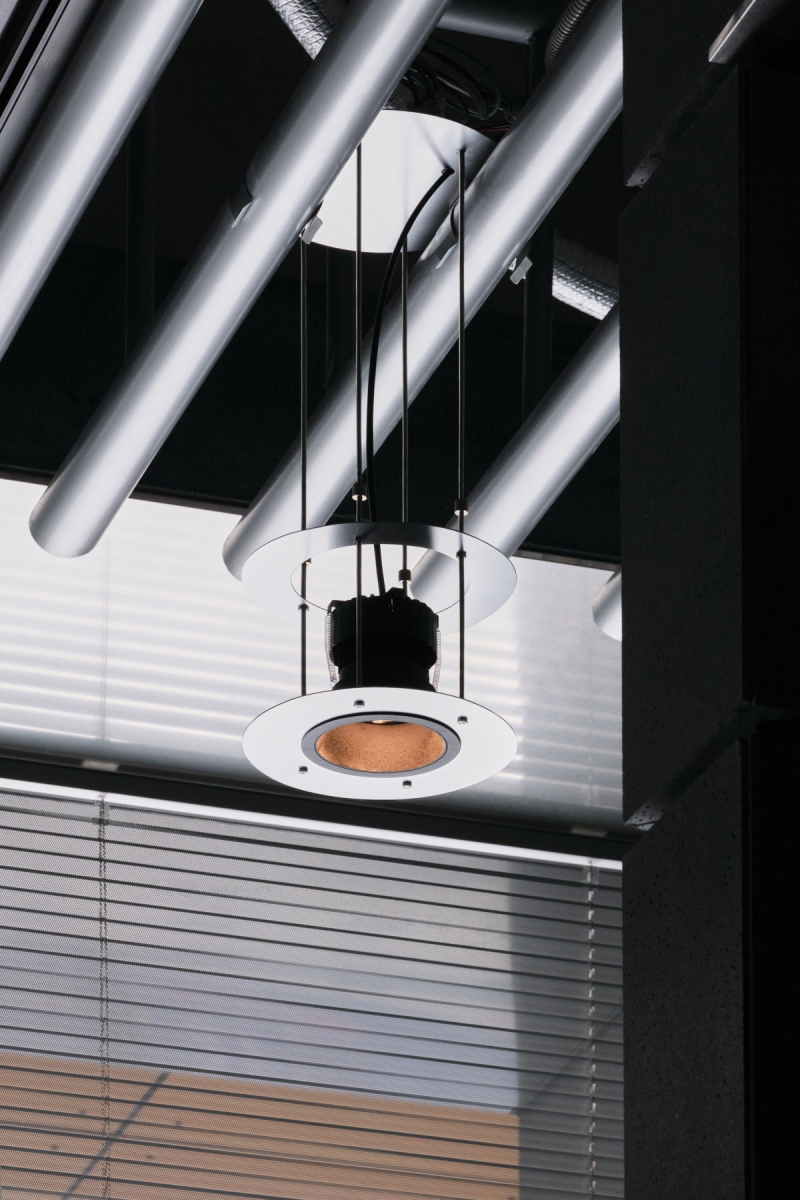 ​
Park: Following this project, have your opinions regarding workspaces changed? You said that the system of furniture is linked to the system of architecture and even to that of the city. What do you think were the gains made in this project?
Yoon: We imagined amongst ourselves the practice of waking up in the morning, going to work, and returning home. The question arises: to what extent is the workspace a part of our lives? This might then lead us to the question how much our lives would change if our workspace was to change. Traditionally, the primary value in office space design was work efficiency. However, the notion of working hard at work and resting at home is now fading. The recent COVID-19 phenomenon has also played some part in an acceleration of this attitude. Now, working five days a week does not feel special. Once our task was about remodeling and interior design, we began to think about how we could expand its connection to everyday life. In that context, I am ever more convinced that space must be divided. When space becomes divided to a size that I can manage, it means nothing to me whether the building is 20,000 or 30,000 pyeong in size. When I spoke about the connection between furniture, building, and city, I did not mean only in a physical sense. For example, it might become possible in the future to find the furniture designed here installed in the homes of the company members or at an external location for a TF team. I have no idea how far HYBE will expand, but when it does, I think that this system will grow with it.
Han: I think that COM has been rather conventional in its designs. HYBE was the first of a kind for us in terms of project scale and type, and I was amazed at how we managed to push ourselves with the same work attitude and motivation. I now feel more self-assured regarding COM's work attitude and direction. While this was not our first time working collaboratively with FHHH, I feel like we can look back on ourselves through this project. I think that a collaborative structure is not only limited to small-scale collaborations but that it can be more general, and that there is much positive synergy in it.
Yoon: Before we started, HYBE had to estimate our capabilities, and so they asked us if we have experience designing multi-purpose buildings of such scale. Of course, our answer was no. But we also said that architecture is not something that can be evaluated by scale.
Kim: We joked amongst ourselves that our project approach resembled that of design projects at the international level. I am not trying to self-praise in terms of design; rather, I am referring to the collaborative relationship that we had with the client as we worked closely together with a shared sense of responsibility throughout the process. It felt as though the client was treating our design like something made by an international celebrity architect. It is encouraging that the things that we experimented with and proposed were realised in a positive way.
Yoon: I agree. The result is our biggest gain.​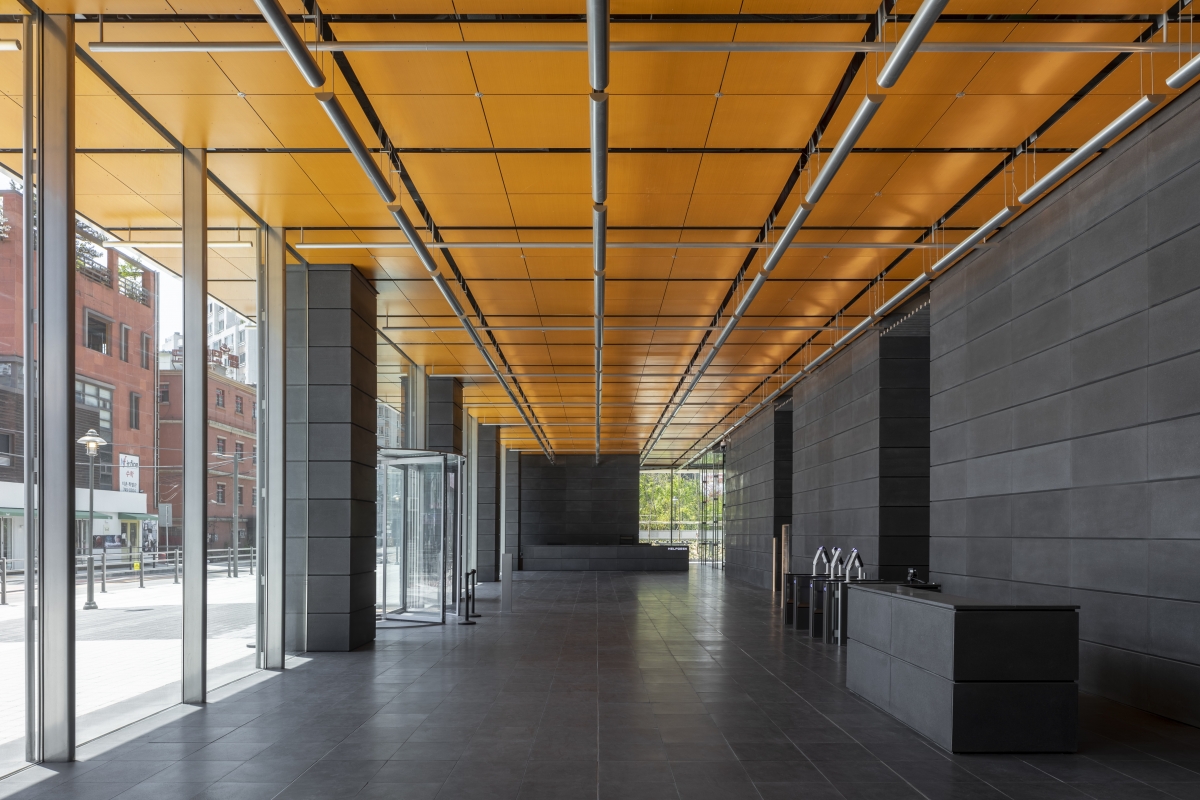 ​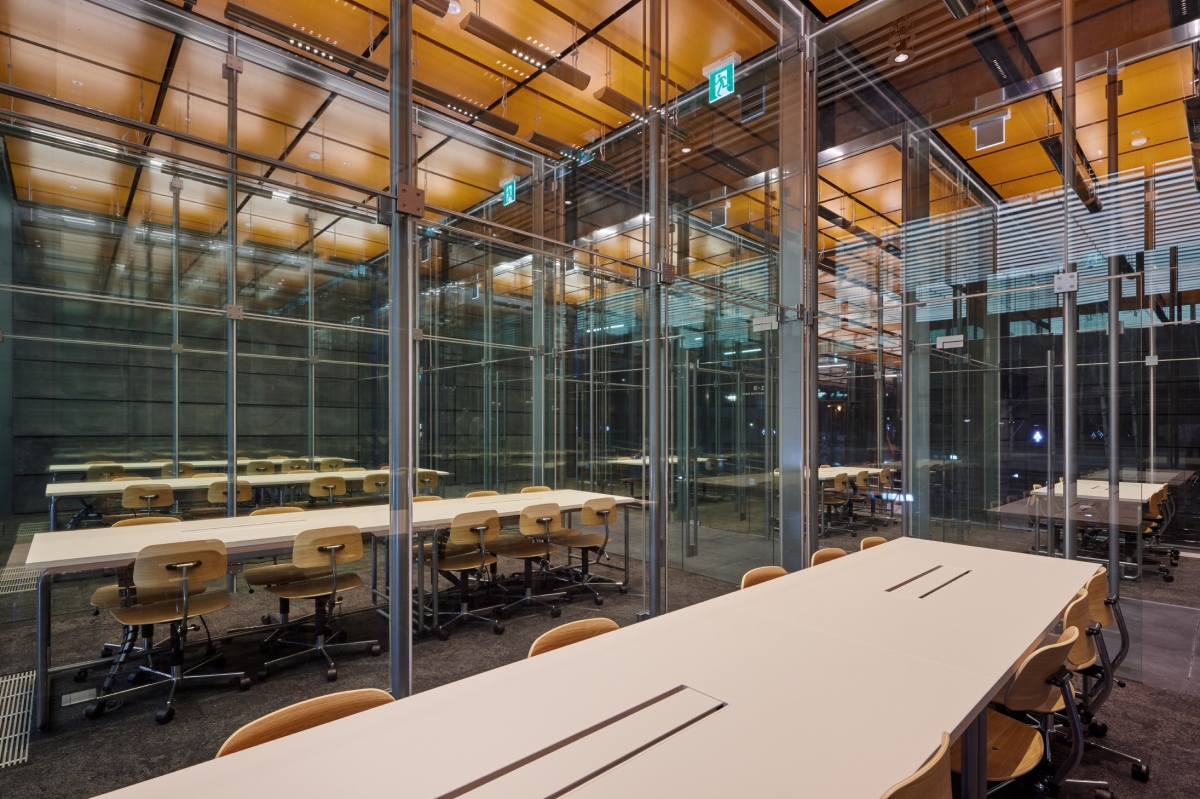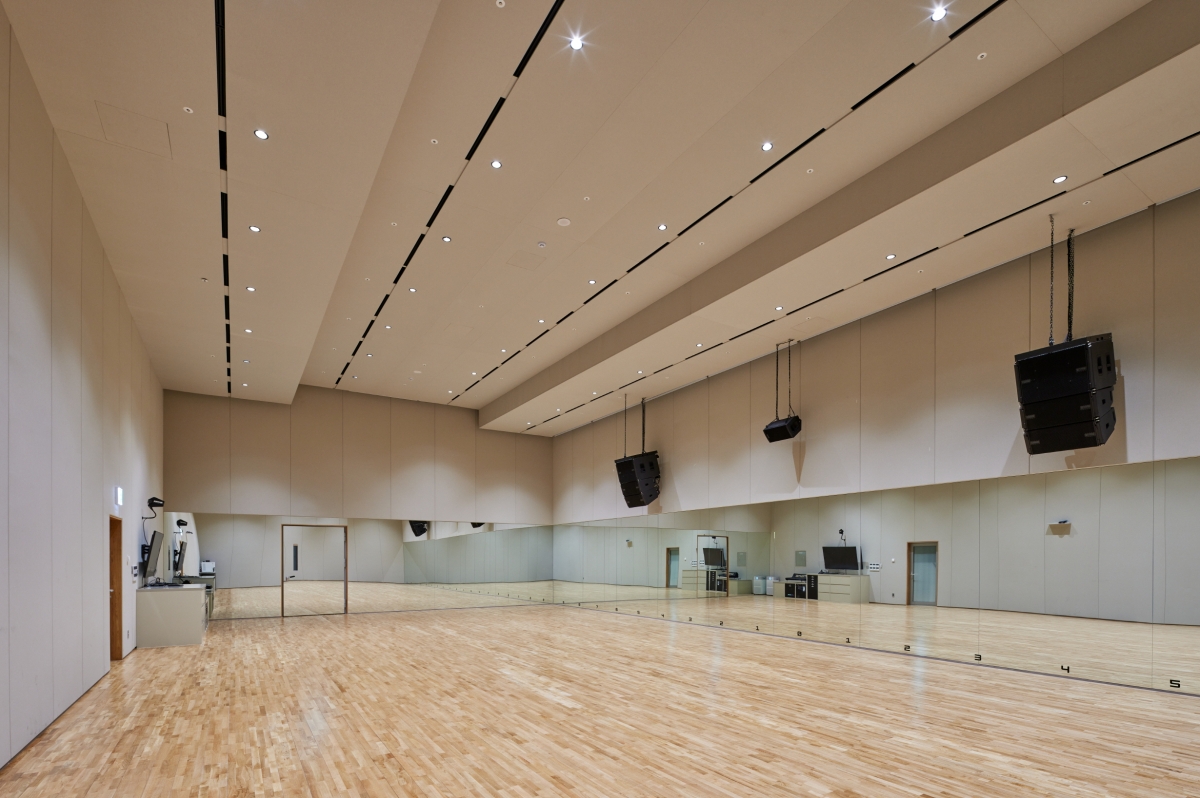 ​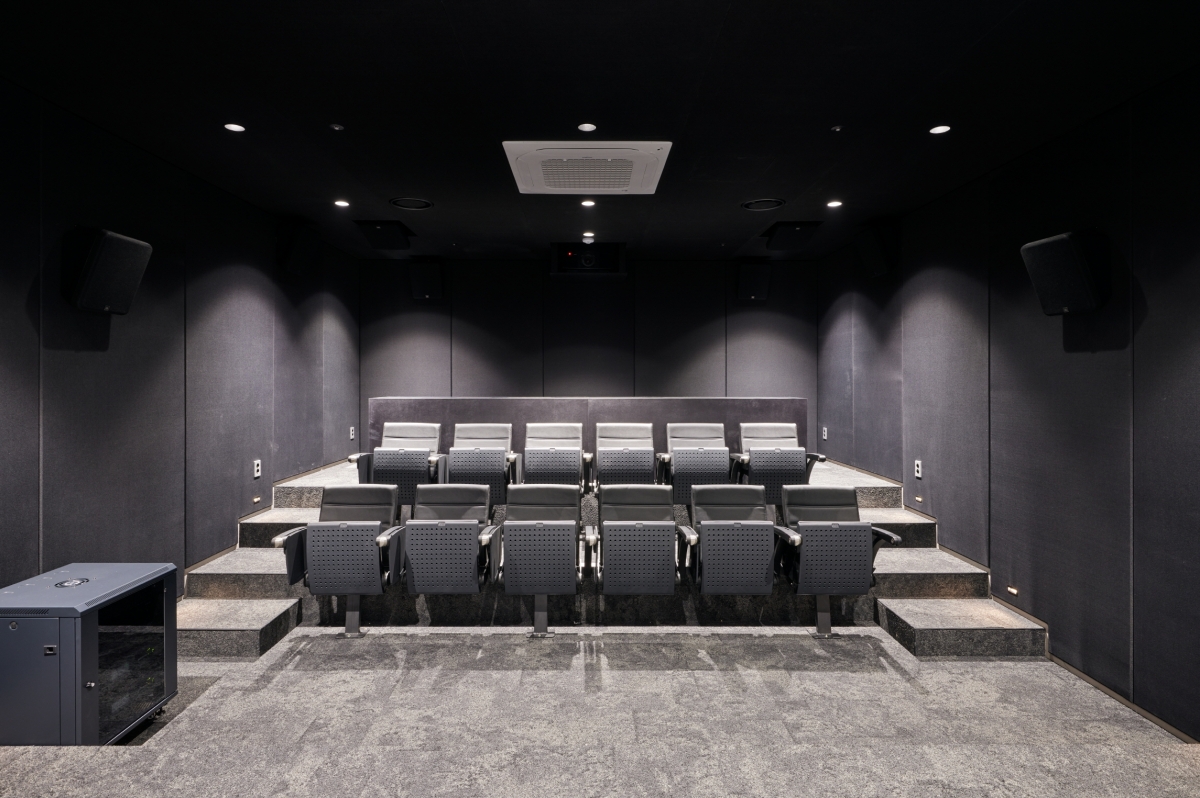 ​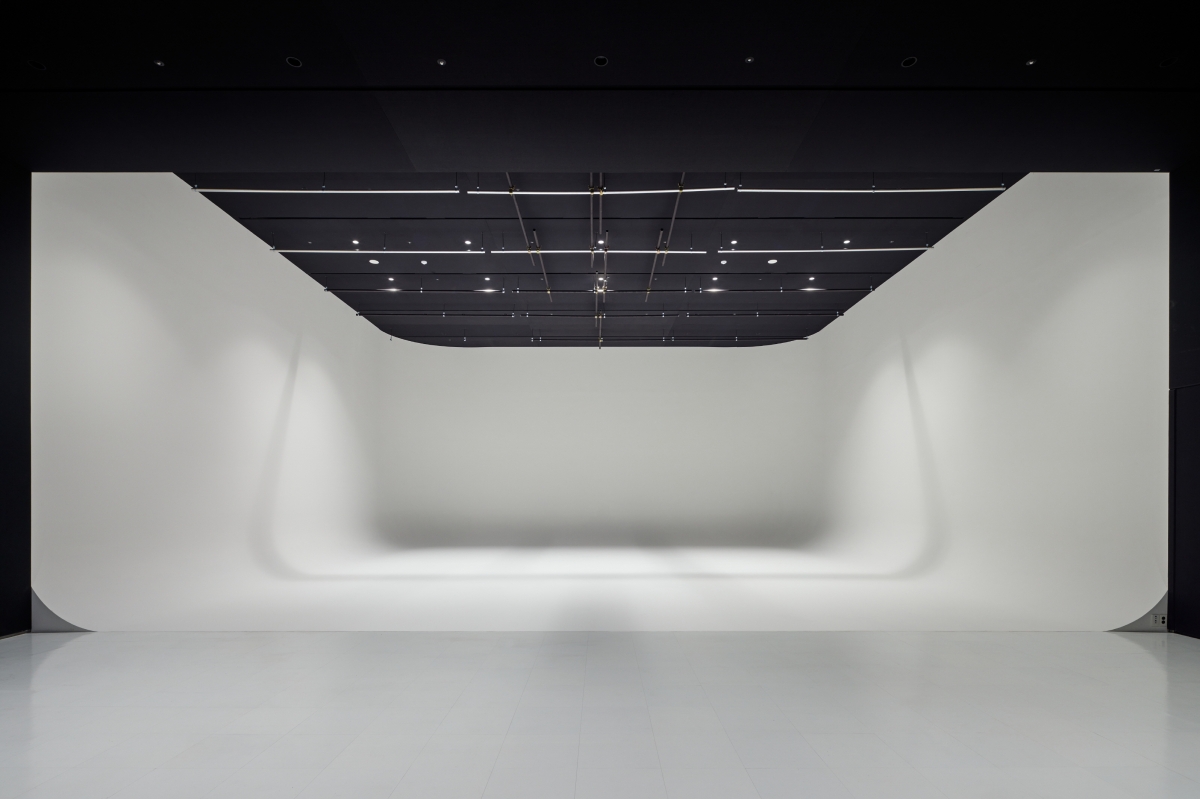 ​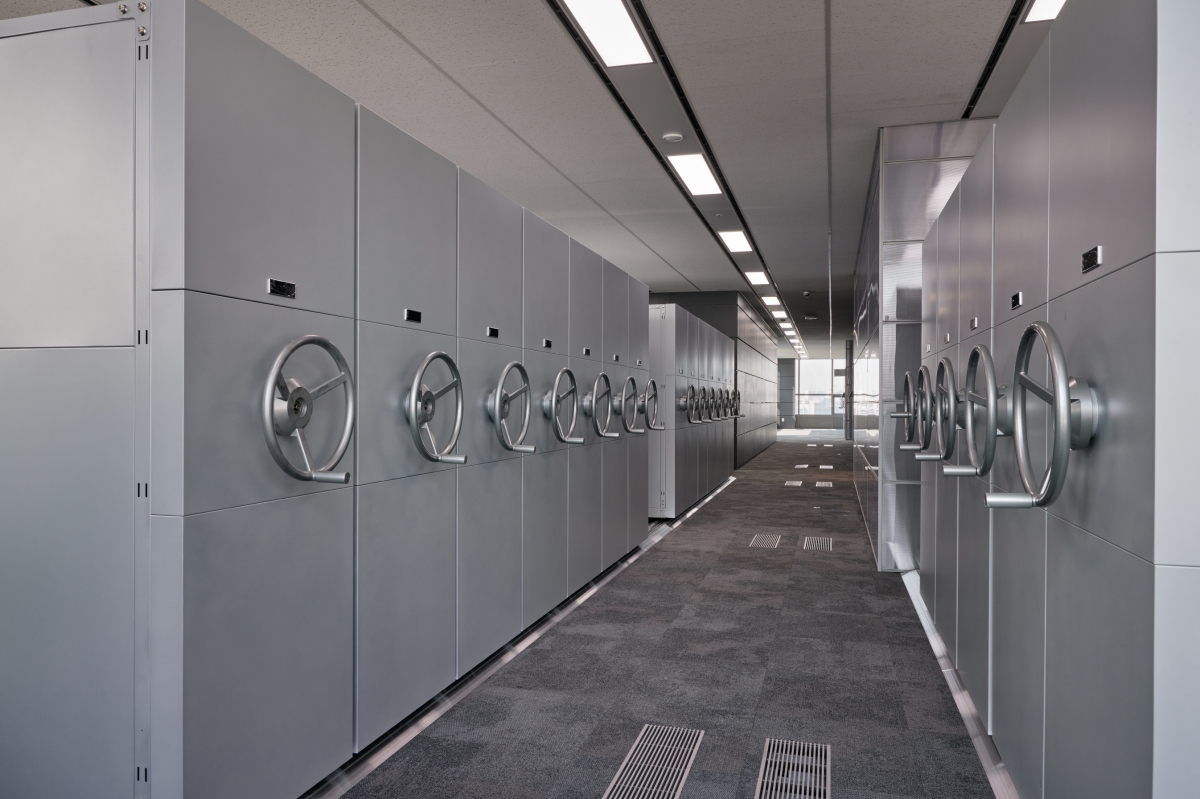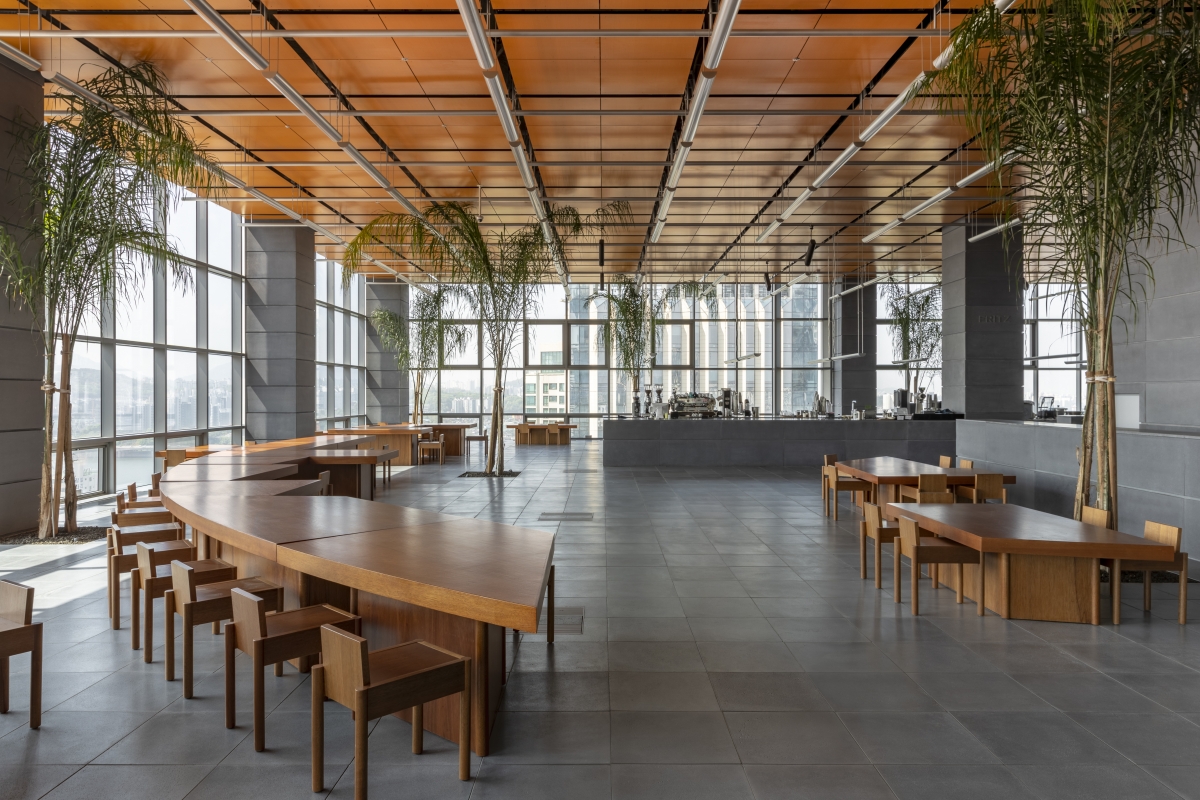 ​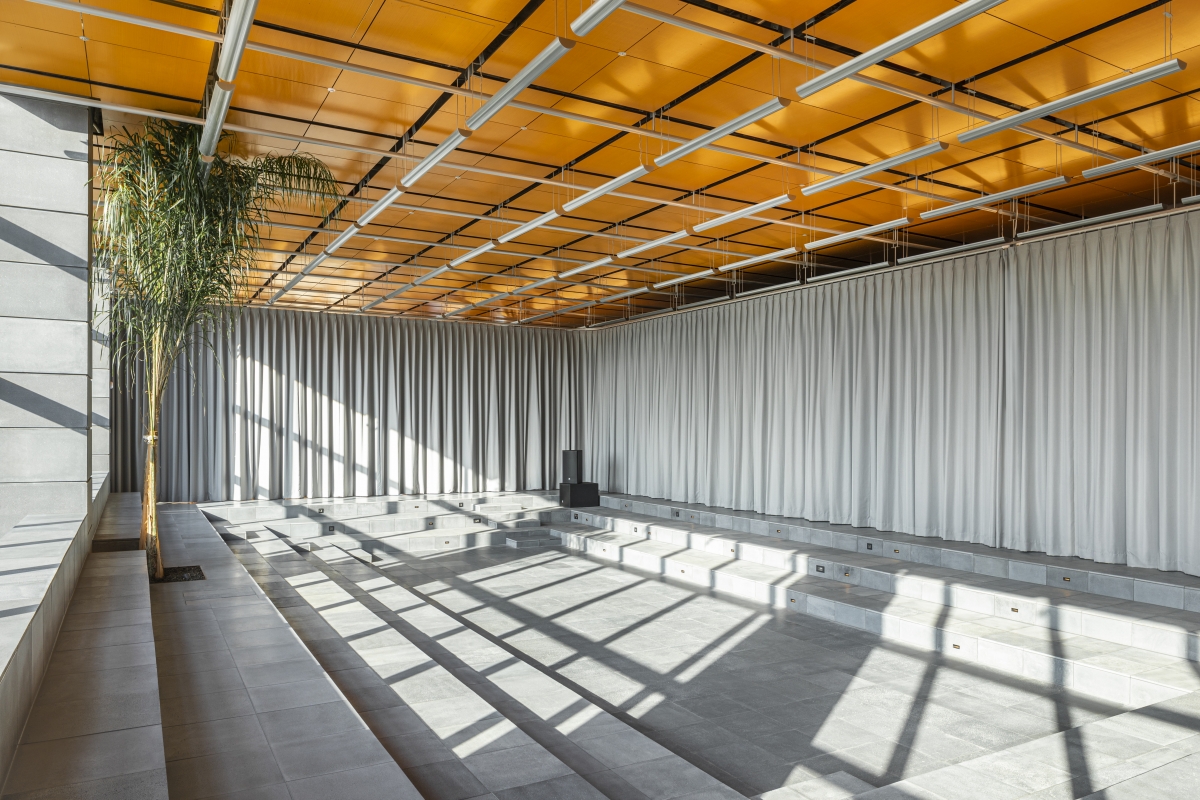 ​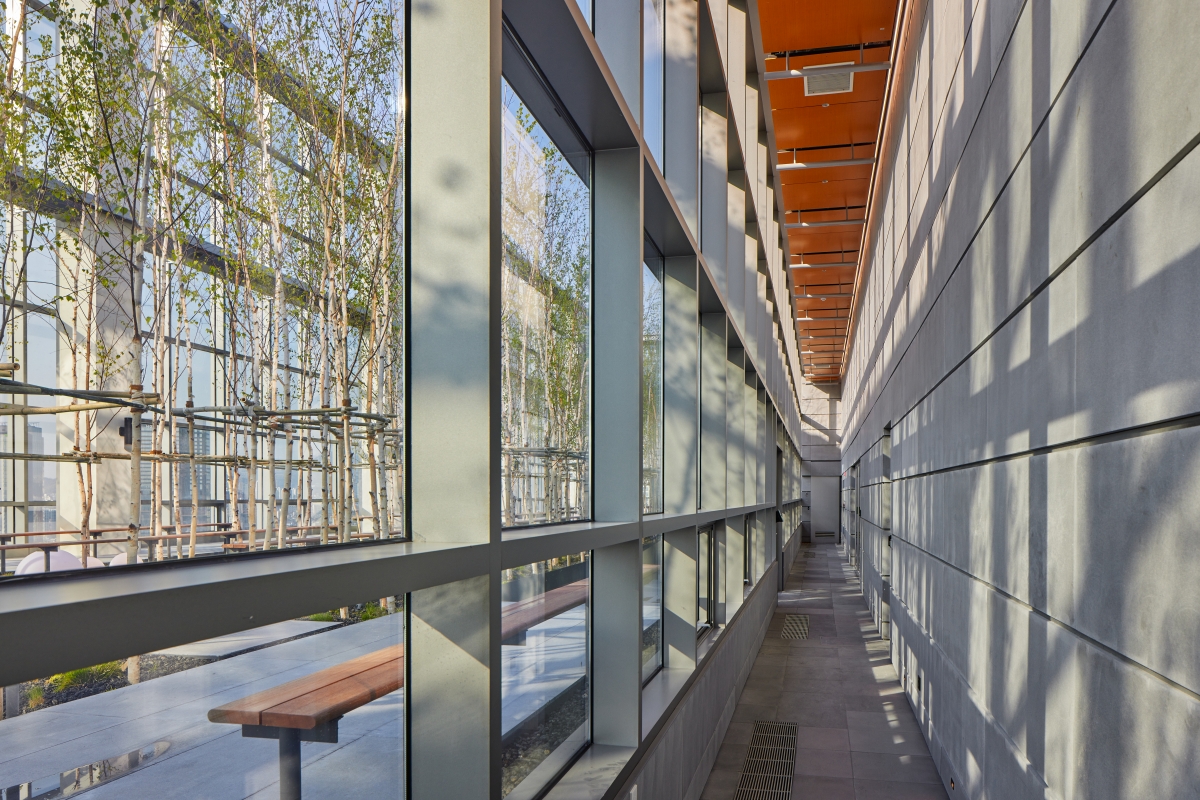 ​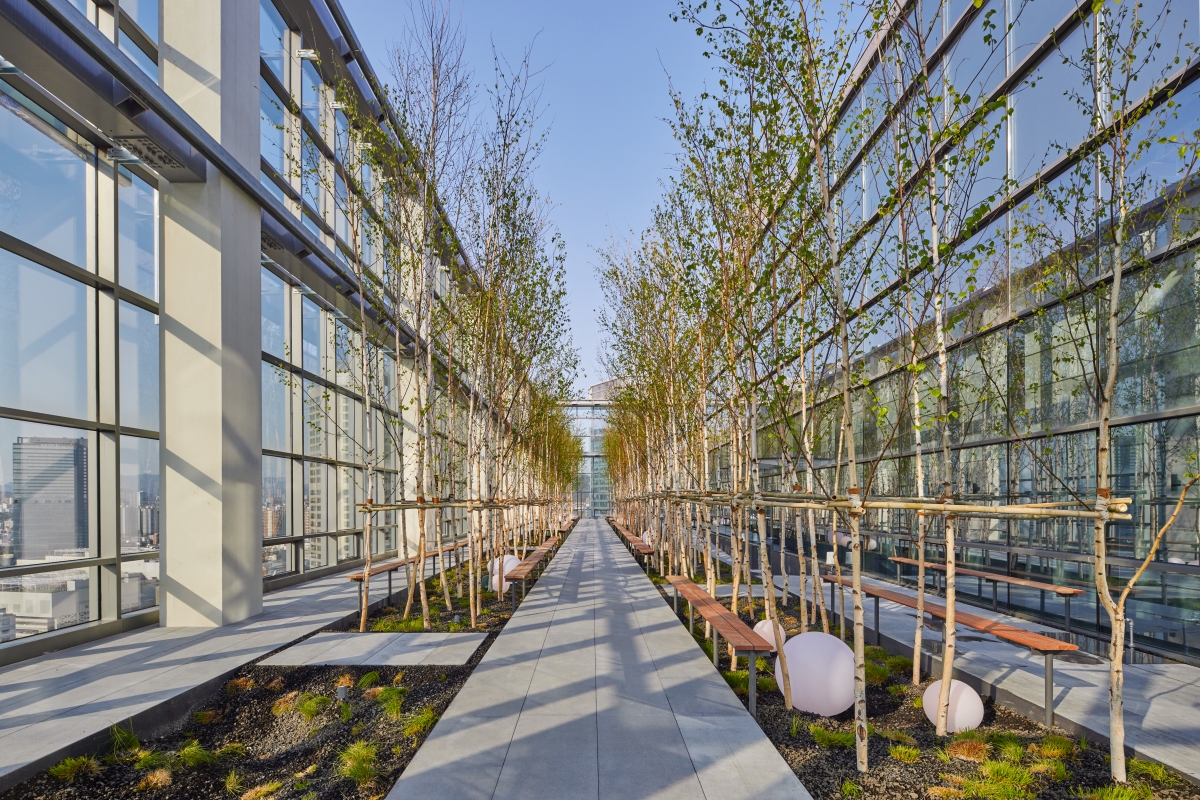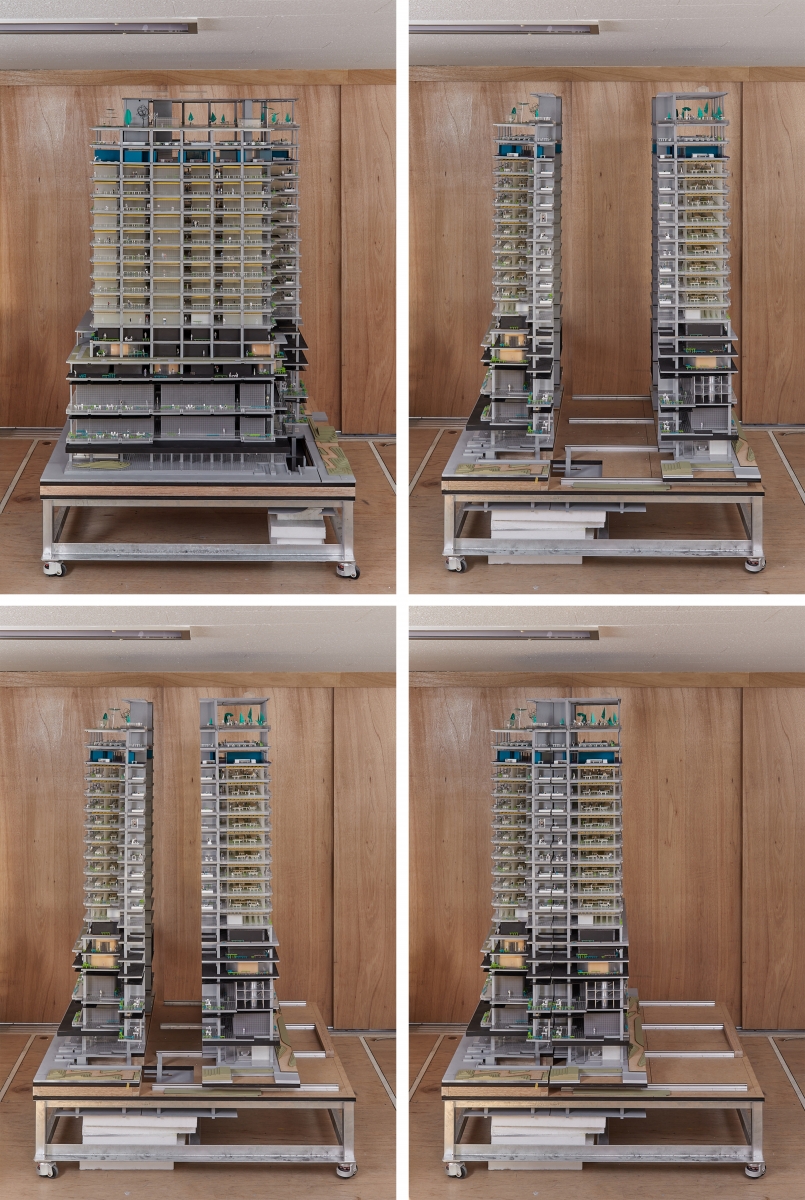 Architect FHHH FRIENDS (Yoon Hanjin, Han Seungjae, Han Yangkyu) + COM (Kim Sejoong, Han Joowon)
Chief Brand Officer
Min Heejin (HYBE)
Assistant director
Shin Donghoon (HYBE)
Design team Choi Yunju, Choe Eunjee, Shin Yoomi, Lim Jaenam, Hong Hyunseok, Cho Youngho, Park Hyesang
Spatial Experience Design Group Yoon Hanjin, Kim Sejoong, Han Joowon, Min Heejin, Shin Donghoon
Location
42, Hangang-daero, Yongsan-gu, Seoul
Gross floor area 62,783.45m2 (design scope : 36,756.42m2)
Building scope
B7, 19F (design scope : 1 ‒ 19F)
Building to land ratio
59.99%
Landscape architect atree landscape design & construction studio
Construction documents
KESSON
Mechanical and electrical engineer HANA Consulting Engineers CO.,LTD
Structure
SEN Structural Engineers Co., Ltd
Lighting design
Huel design
Furniture
FURSYS, YEDI Gallery
Architectural acoustic
Archisound Co.,Ltd.
Signage
HYBE CBO office / CRAFIK & Leepublic
Exterior finishing
concrete panel, low-e glass
Interior finishing
concrete panel, laminated glass, steel pipe
Construction management
Cushman&Wakefield
Design period
Aug. 2019 – Aug. 2020
Construction period
Aug. 2020 – Mar. 2021
Chief operating officer
Lee Jinhyeong
---
Yoon Hanjin, Han Seungjae, and Han Yanggyu have established FHHH FRIENDS in 2013 and are engaged in various architectural activities.

COM is a design studio co-founded by Kim Sejoong and Han Joowon in 2015. They have worked on various projects in relation to interior space.