Small-scale Apartments, a better solution for tomorrow
As in any residential area, Suyu-dong is packed with multi-family house built on gridded lots. One of the only detached houses was left standing on a gentle slope there. After demolishing this building in order to construct a new one, I couldn't leave the emptied lot for quite some time. It had been an age since this town had possessed such an open space. Once the old house had been removed, the sun and breeze entered this space and an unexpected playground was formed. It was a gift granted by a void temporarily generated in this high-density multi-family housing area, where buildings of the same functions present a certain monotony. Destined to be occupied by another building, this place was like a puzzle with one missing piece. The effort to find the meaning of this final piece led to the questions of how this lot should be filled, and with what, for a community crowded with almost indistinguishable multi-family houses.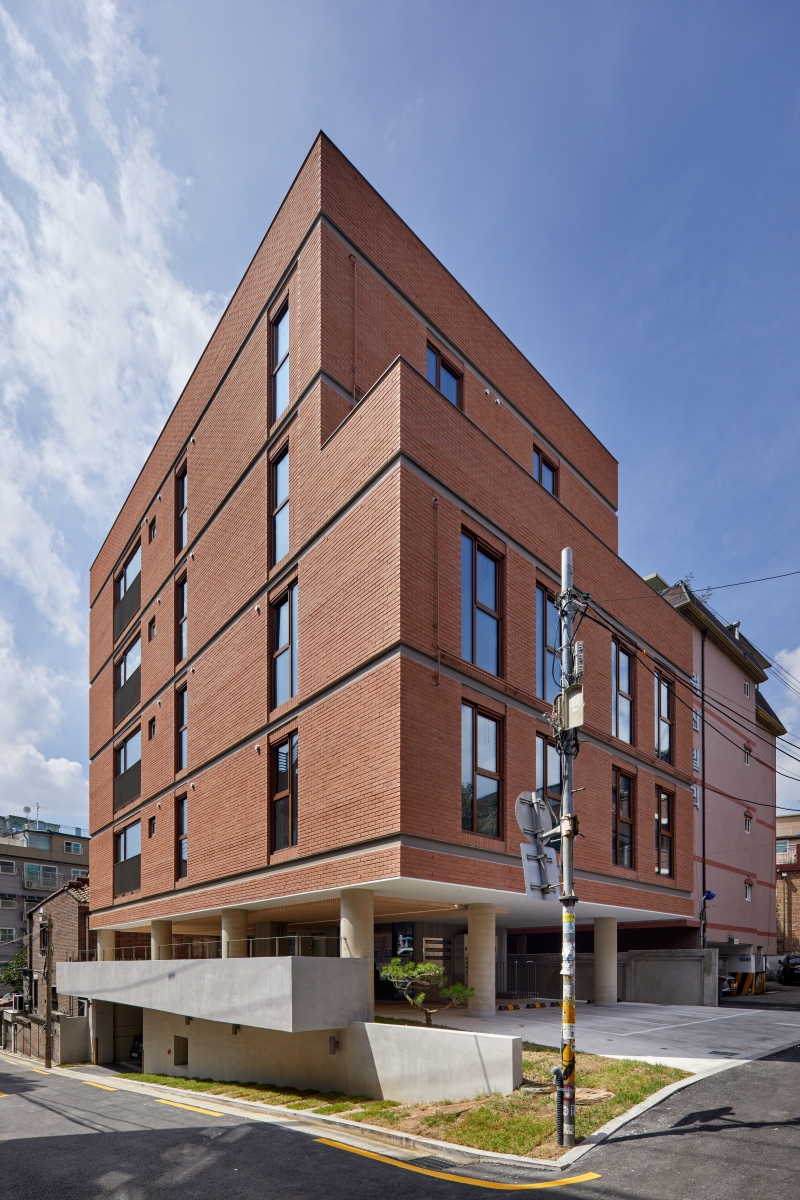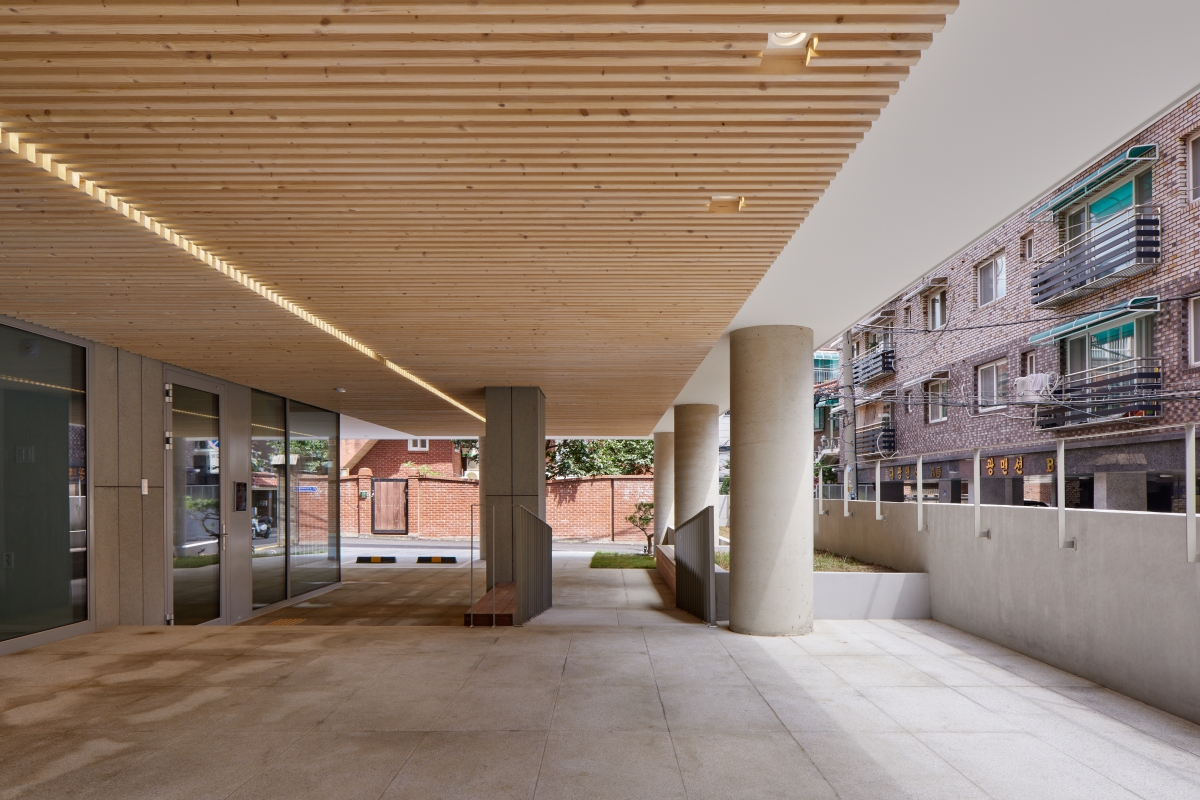 Community Building for All
Woodwall House was designed to encourage greater interaction between local people and to embrace an urban lifestyle. The podium facing the sloped street creates harmony with its environment through the warm, welcoming café and garden, becoming an urban background that adds vitality to the daily lives of the community. The area located around a multi-family home is often used as a place to park one's car, but here, it serves as an open space for everyone. As the construction began, kids from the neighborhood came to see the site out of curiosity. They observed every nook and cranny, romping around as if they were at home. Street cleaners can take a rest on the garden bench in the middle of their tasks. This small open space has become not 'your space' nor 'my space' but 'our space' for the community.
An Expandable Living Space
In Woodwall House, there are four units on each floor from the second to the fifth floor, and each floor's public space shared by these four units is simple yet spacious. Its unoccupied spaces that have as yet no particular function will be filled with the stories of local people. Unlike that of the areas of an ordinary multi-family house that force residents to go straight up the stairs or into an elevator as they leave through their door, it becomes another living space shared with their neighbours. The mobility of seniors and the disabled can be improved, and the space for daily use is expanded encouraging people to interact with each other in various ways.
A Wooden Wall
This place was developed as part of the Seoul Metropolitan Government Social Housing project. It is a long-term rental home which the government-supported private owner has put on the market at an affordable price. It has to meet social and public requirements while upholding a certain profitability for the owner. Considering the nature of long-term rental housing, it has to take into account changes in those in residence and the necessity of maintenance from a long-term perspective. Wooden walls can prove to be a proper choice for such a non-loadbearing wall structure. The insulation fills the space between the light lumber so there are many advantages; it can ensure workability and shorter construction periods for a poor small apartment housing construction environment, greater flexibility to accommodate the needs of residents and changes in the market, and sufficient thermal performance and sustainability. Wood is the right material for small-scale apartment housing as it is capable of constructing a lightweight and flexible home.
Universal Design
When designing the Woodwall House, the aim was to develop a sense of 'universal design'. The dimensions of every element, including the access path from the town and the living area within each unit, have been determined to ensure accessibility for wheelchair users. Increased effort was particularly focused upon resolving any potential inconvenience due to a raised floor in the house. Raised floors in our living space have become part of our daily routine. As if telling you where to take off your shoes, these raised areas in the balcony's wet area, or marking the area for a heating system enter into our lives in an understated manner and make us experience a subtle difference in height. Substituting the function of a raised floor with something else is a task that requires a deeper understanding and consensus upon lifestyle. A raised floor-free space may feel strange to someone, but it could also provide a comfortable place without impassable barriers for another.
Multi-family housing units are one of the most common urban housing types in Korea. It has become all too common to see the demolition of an elaborately built detached home and its replacement quickly installed in the form of a bland, profit-oriented multi-family house. Woodwall House is developed under the same circumstances. A small difference, however, has made it distinct from that of other multi-family homes. Brick is a common exterior material in housing construction, and red brick was carefully chosen as part of a search for a colour that would blend well with the wider neighbourhood. They have been laid in different manners and patterns at certain points to make the house appear more expressive. As for the windows, ordinary PVC frames are clothed with a film that matches the red brick and resembles wood. If we pay a little bit more attention to an everyday thing and add some discrete improvements, it will become something more authentic. In the same context, one of the walls in a spacious common area on each floor has been painted in a different colour; the act of going beyond the given circumstances can add new life to a building. Furthermore, this can lead more broadly to the transformation of our cities and communities.
(written by Yun Jongwon / edited by Choi Eunhwa)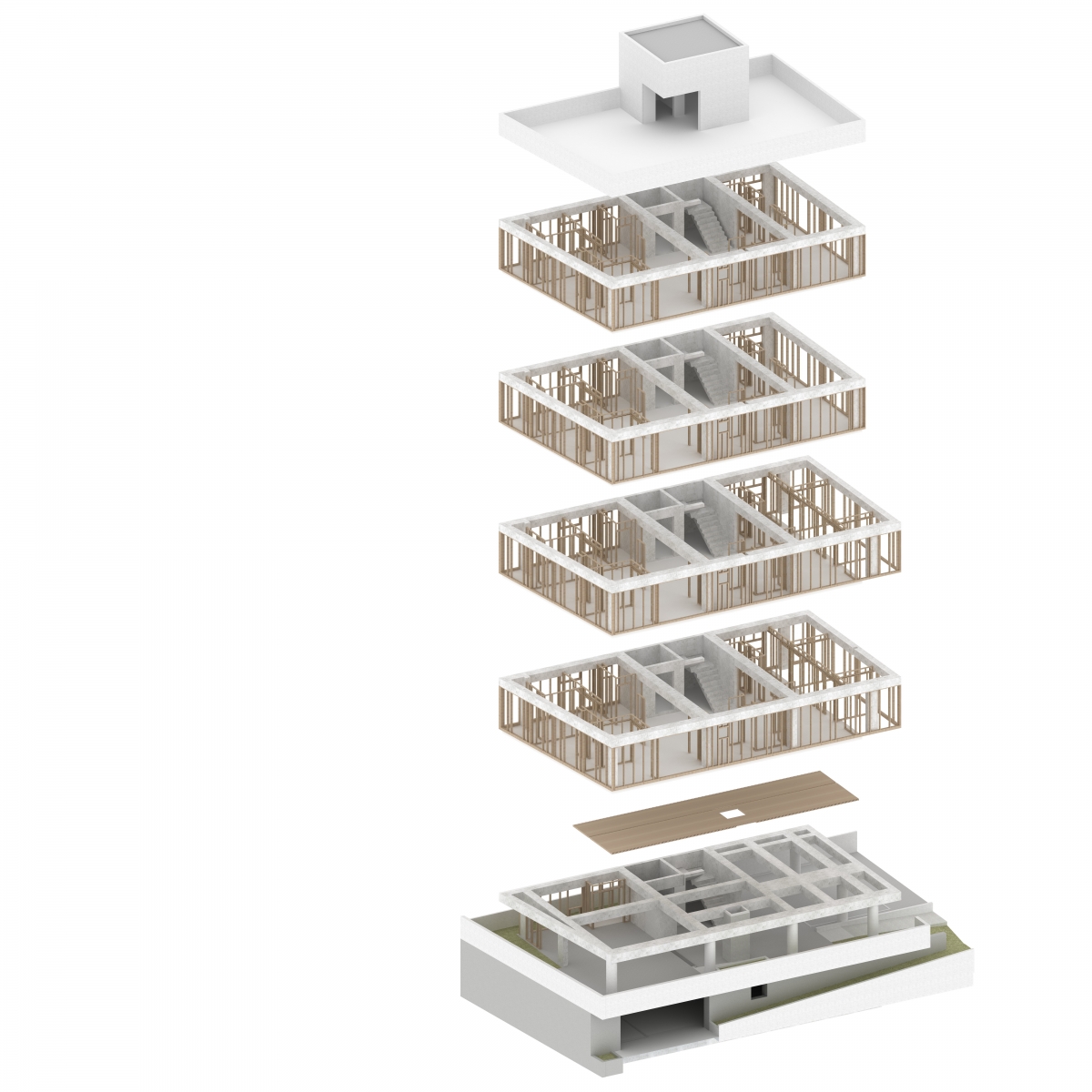 ​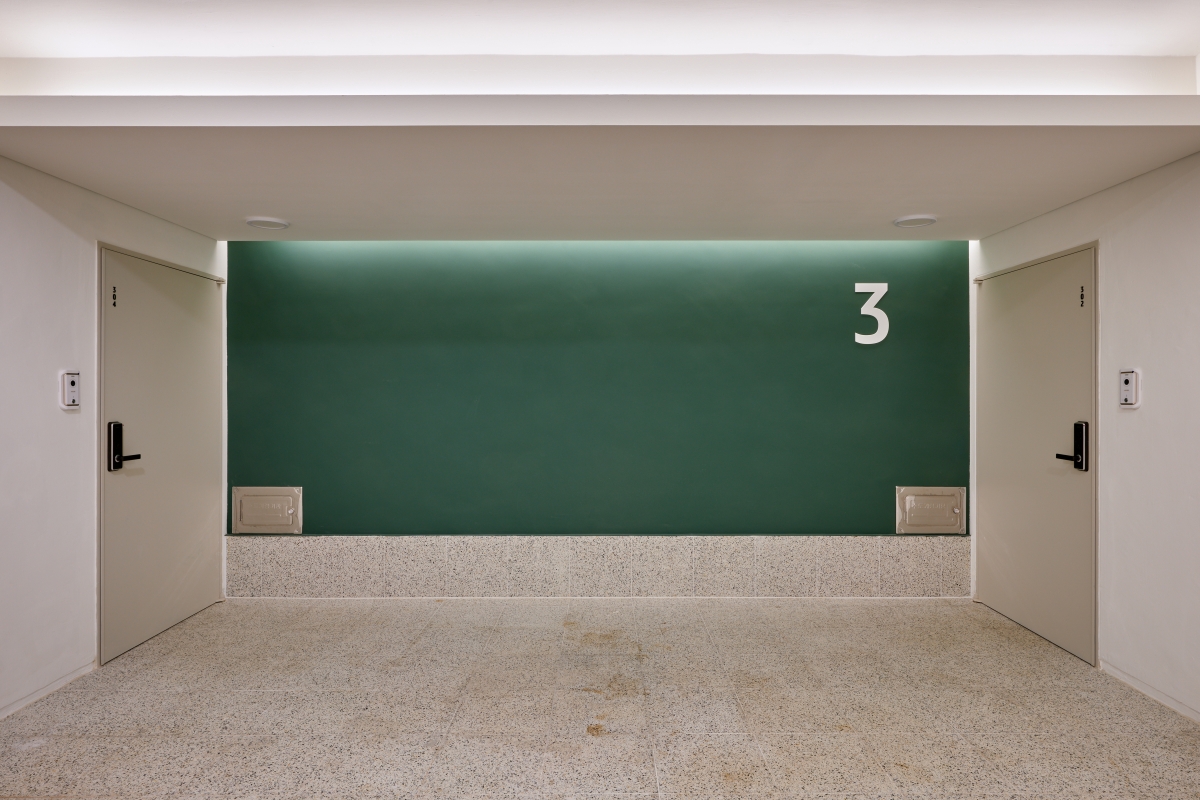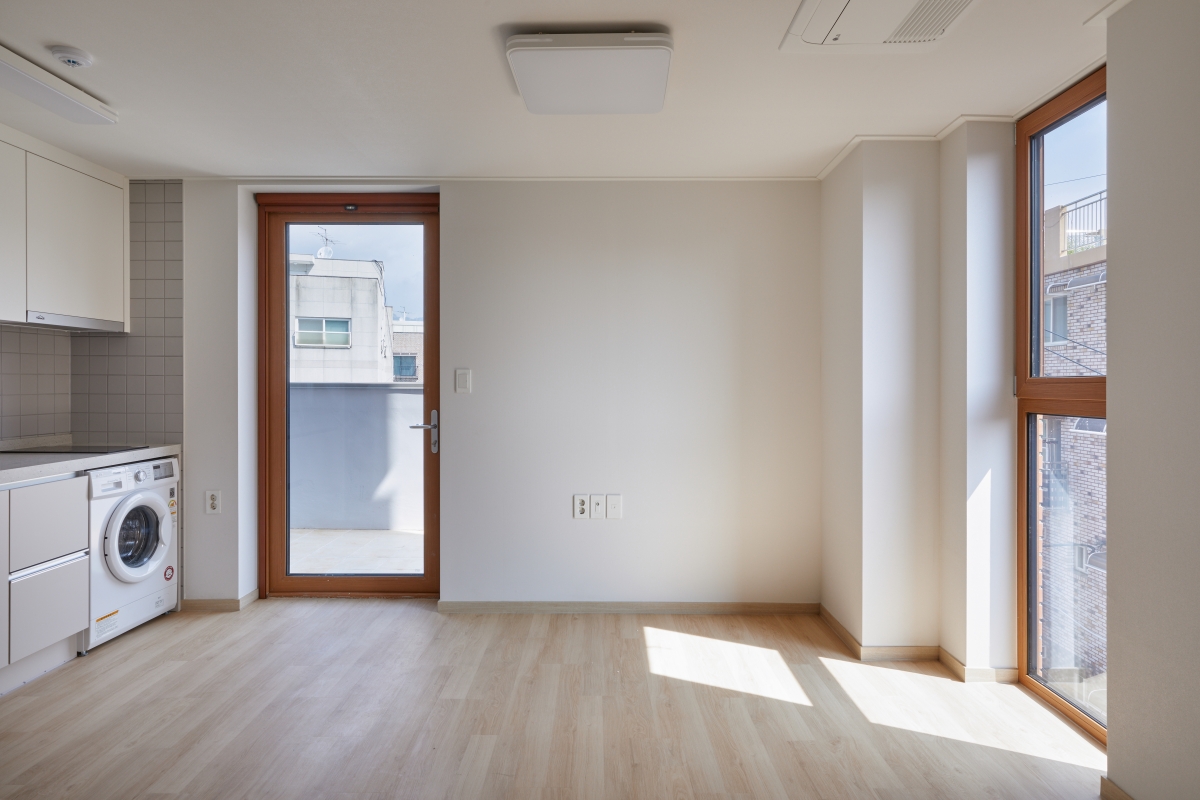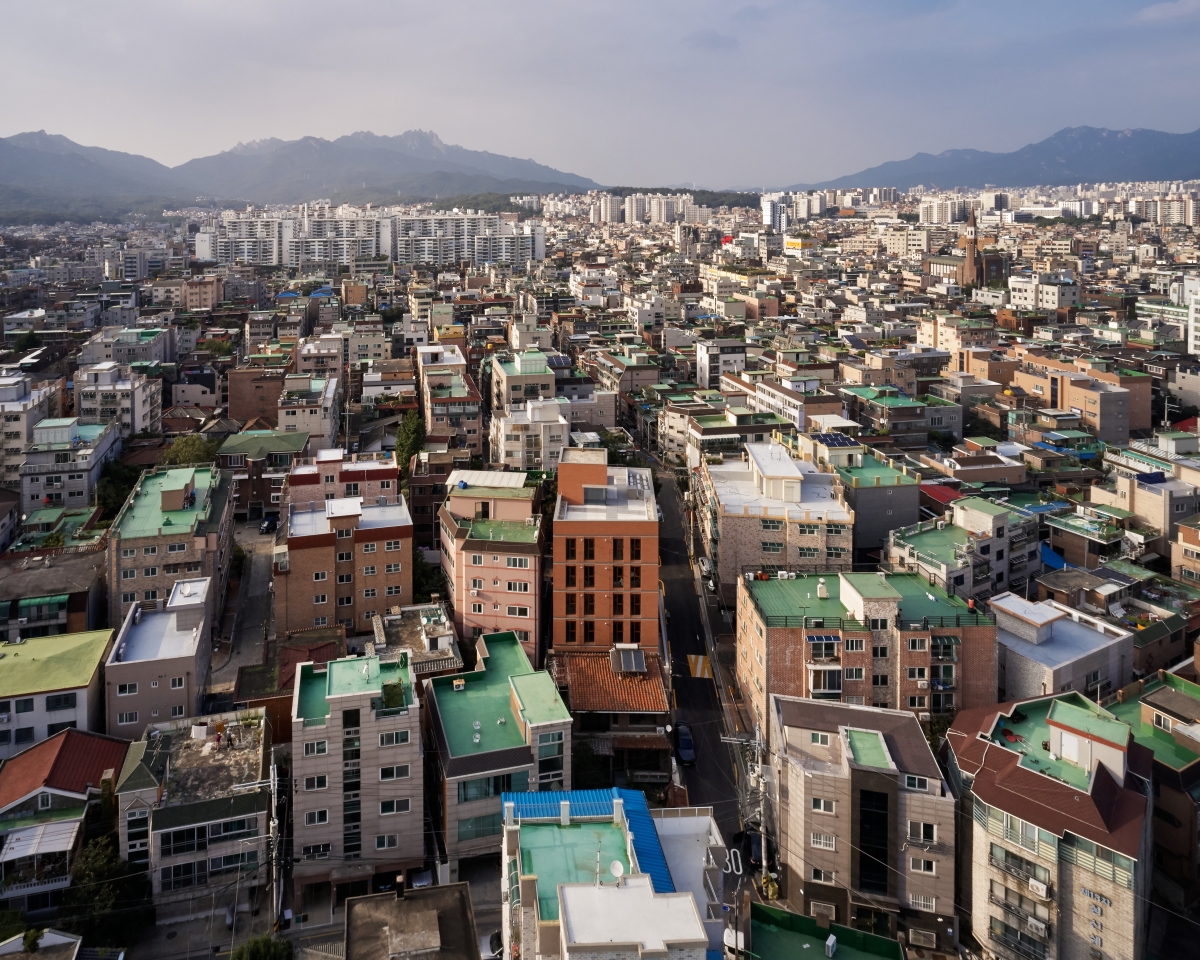 Architect
sosol architects (Wang Sunghan, Yun Jongwon)
Location
84, Samgaksan-ro 28-gil, Gangbuk-gu, Seoul, Korea
Programme
multi-family housing, neighbourhood living facilit
Building to land ratio
57.75%
Exterior finishing
red brick, stone
Interior finishing
painting , wallpaper
Structural engineer
Eun Structure
Design period
Nov. 2018 – Apr. 2019
Construction period
Oct. 2019 – Aug. 2020
Client
UNIVERSAL HOUSING Coop.
---
Yun Jongwon studied architecture and urban planning at Kyung Hee University and Sungkyunkwan University. Since founding sosol architects in 2016, he has discovered the value of ordinary things and devised distinctive solutions. Currently, as town architect for the Seoul Metropolitan Government, he is trying to work on the architecture that reflects the everyday lives of the community.