A Tale of the City, its Gardens, and Walls
A Village Scene
A cluster of houses surrounded by walls was once a familiar scene in our urban residential areas. A wall was the simplest architectural structure able to separate a private area from a public one, and a garden surrounded by a wall was a common sight in residential districts in Korea. This feature differentiates cities in Korea from those in other countries or continents like Europe whose apartment blocks with inner courtyards intersect with neighbouring streets. Since the 1990s, when modernisation reached an inflection point, the residential typology changed as detached houses were gradually replaced by multi-household houses, multiplex housing and apartments, and the long-term interrelationship between architectural elements, such as gardens and walls, seems to have now lost its integrity.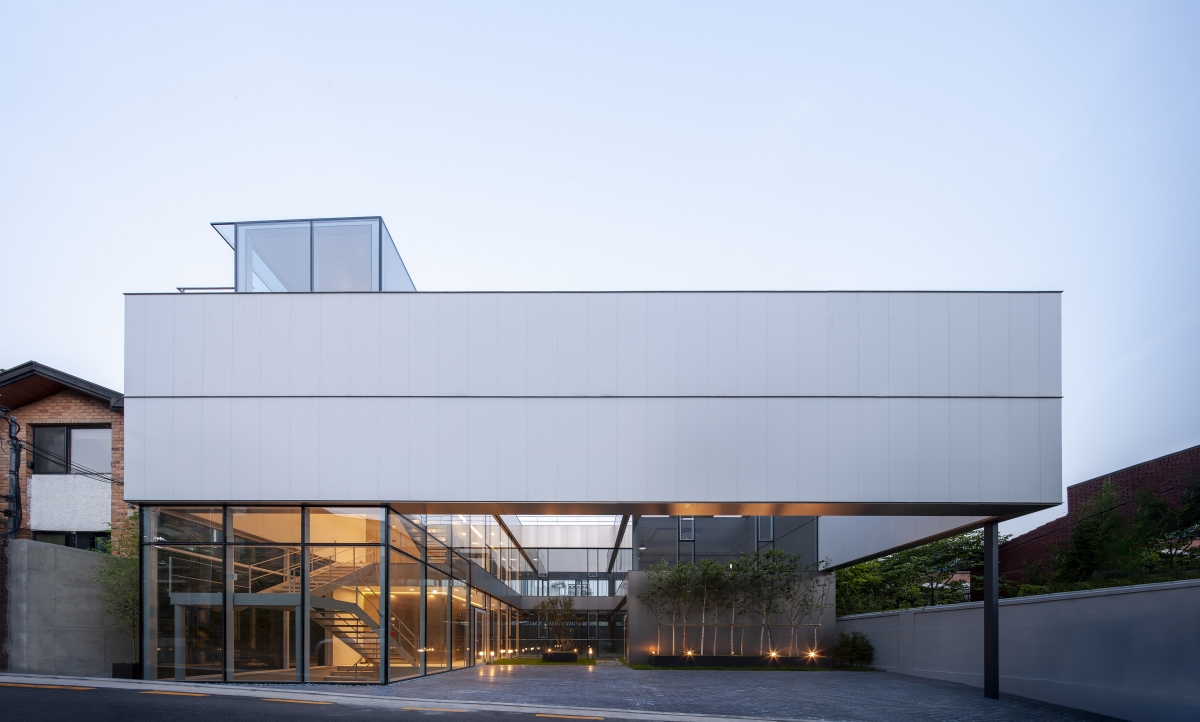 ​
In Seoul, high-end residential areas such as Pyeongchang-dong, Seongbuk-dong, and Hannam-dong in northern Seoul, and Yeoksam-dong hill around Kukkiwon near Gangnam Station are still considered Class I Exclusive Residential Areas. Maintaining their status as traditional residential districts, these three areas of northern Seoul retain a unique townscape characterised by high walls and tree branches that hangover walls blending into the large detached houses. On the other hand, as their purpose changed into that of hinterlands which could support the areas of Gangnam-daero and Teheran-ro, the Yeoksam-dong area adjacent to Gangnam Station lost its status as typical residential area due to the shift in the townscape from detached homes to neighbourhood living facilities.
Thanks to the rapidly changing function and landscape in our city, we are so accustomed to the situation that we often accept change without properly taking note of it. Here, I wanted to find a way of creating a sense of coexistence with the past and the future by leaving a warm memory of the village in our minds contiguous with the changing scenery of our city. I wanted to capture a memory of the village such as a tree in the garden by draping its branches over the wall to bloom and bear fruit, delivering a sense of the four seasons, instead of enhacing the commercial buildings covered with signboards and facades facing the street, and parking lots that occupy the street in front of the set back buildings.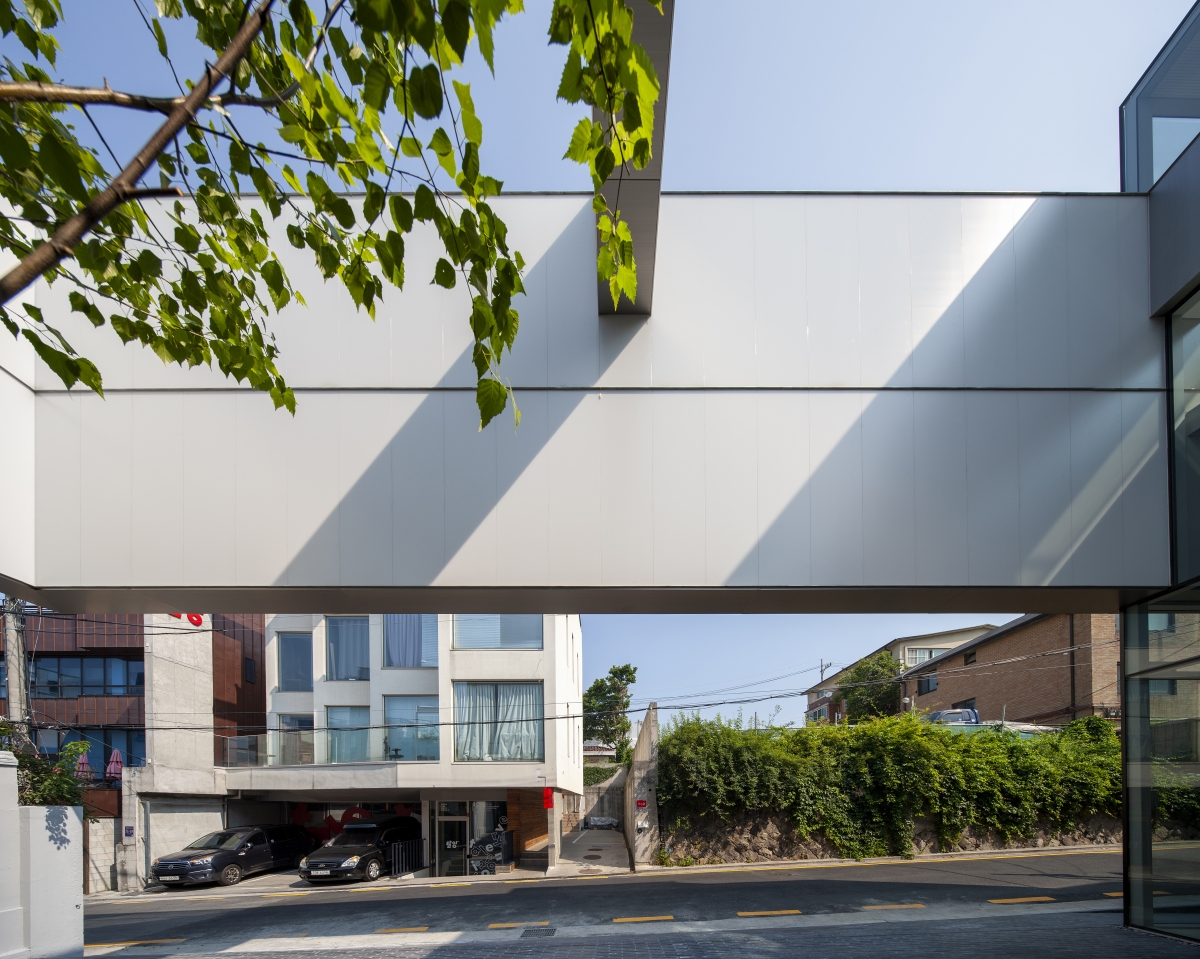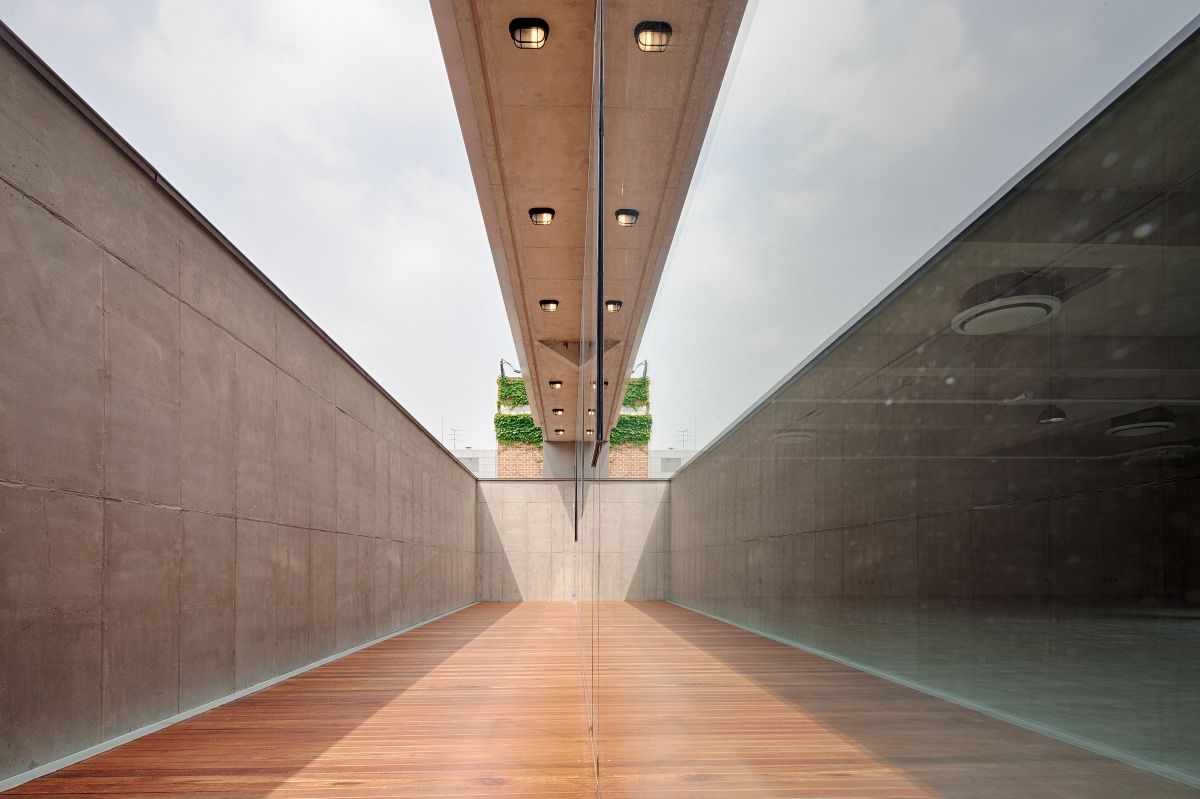 On Walls
The site of the Yeoksamdong SAI. 01 project stands on a quiet hill between Gangnam Station and Kukkiwon, World Taekwondo Headquarters. It is on a slope with opposite sides facing the streets, and both sides of its six-metre-wide main street has been filled with neighbourhood living facilities, while a four-metre-wide road is lined by multi-family houses.
I decided upon a planning direction that would transform the form of enclosed walls facing the existing street into a level of raised open walls. These raised walls would maximise the connection between the interior courtyard and the adjacent streets, while simultaneously preserving local memory and an openness to the past.
The wall functions as a natural facade in the Yeoksamdong SAI. 01 project, and, as it is naturally connected to the garden and interior space, it creates the dynamic impression of an urban street. In addition, the wall viewed from the inside provides a visual and spatial experience by playing the role of a physical boundary between inside and outside, while also offering an intriguing architectural element that reveals the shifting trajectories of natural light over the course of a day or a year. Resituating the boundary between the public and private realms depends upon its connection to the garden, the wall also serves to direct one's eyes from the inner space to the city, and transforms the boundary between architectural spaces by drawing one's eyes inward.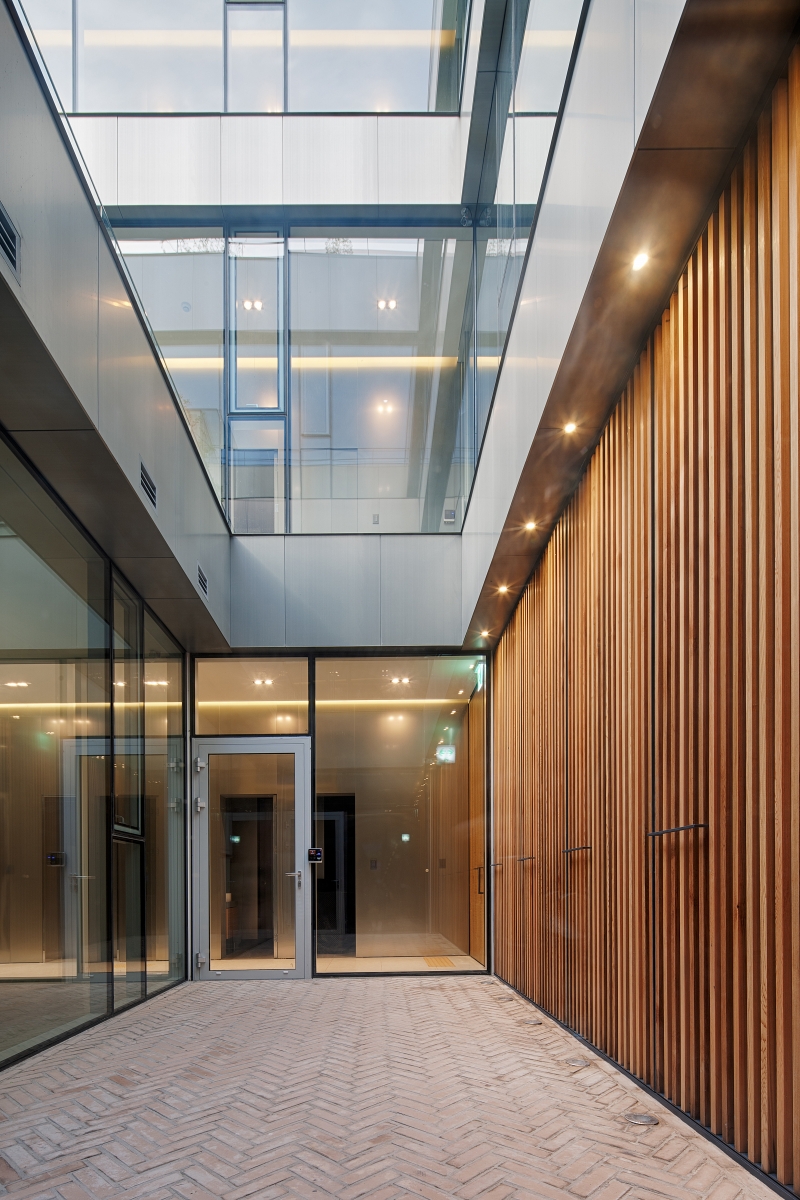 ​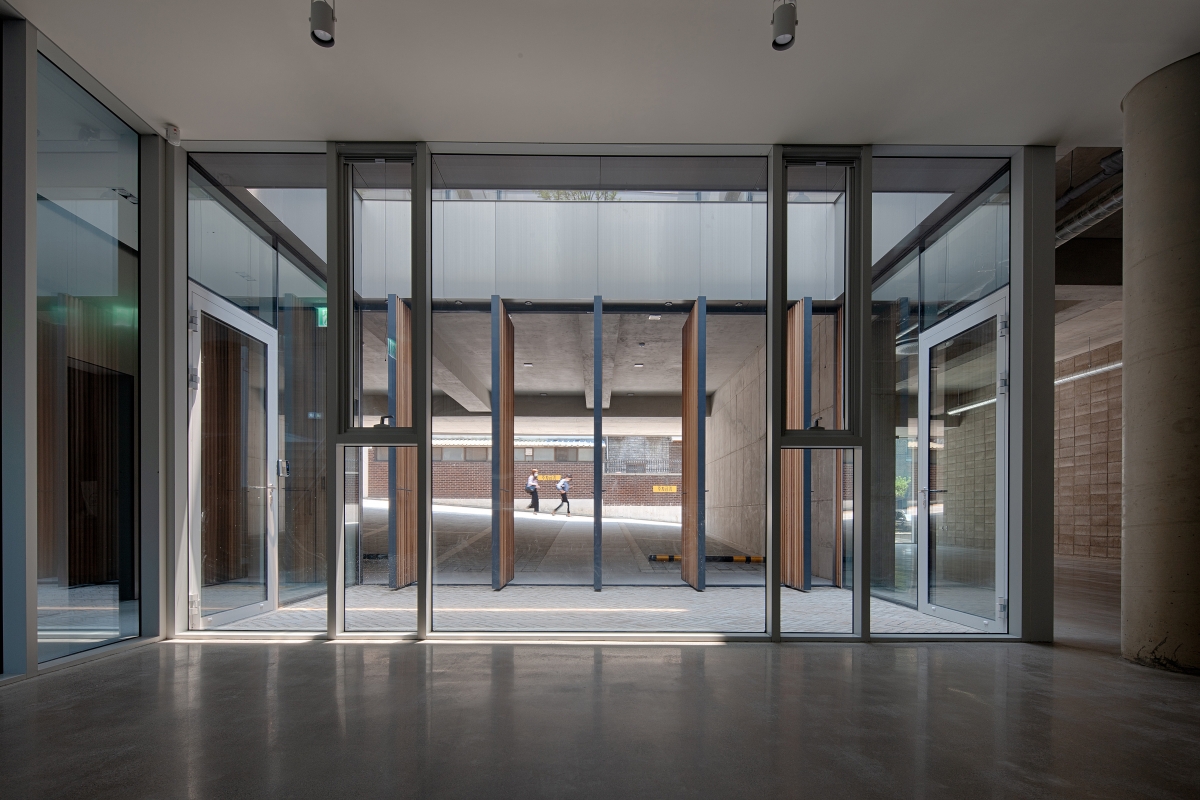 In the Garden
The Class I Exclusive Residential Area may primarily be about creating the optimum interior space out of half of a plot, but it can also be turned into a story about creating exterior space out of half of a plot. The external spaces of Yeoksamdong SAI. 01 consist of three types of courtyard. Facing the six-metre-wide street, the 'outer garden' is open to the urban street with a wall along the northern border. Standing out against the building, the birch and arrow trees create an elegant streetscape that reinforces the image of an open garden. In addition, this courtyard serves as the central space in this project, which can be experienced from various angles and heights from the staircase, corridor, and indoor spaces, along with the northern wall.
Elevated alongside a four-metre-wide street, the 'courtyard' is surrounded by a southern wall to protect residents' privacy from their neighbours in this residential area, and serves as an inner garden for users as routinely found in detached houses. The extroverted outer courtyard and the introverted courtyard together create the most impactful spatial features in this project. Vertically connected to the outer courtyard on the first floor, the 'middle yard' becomes a central space that directs natural light deep into the building, and acts as a link connecting both sides in a three-dimensional manner by extending one's gaze to the other side of the four-metre-wide road.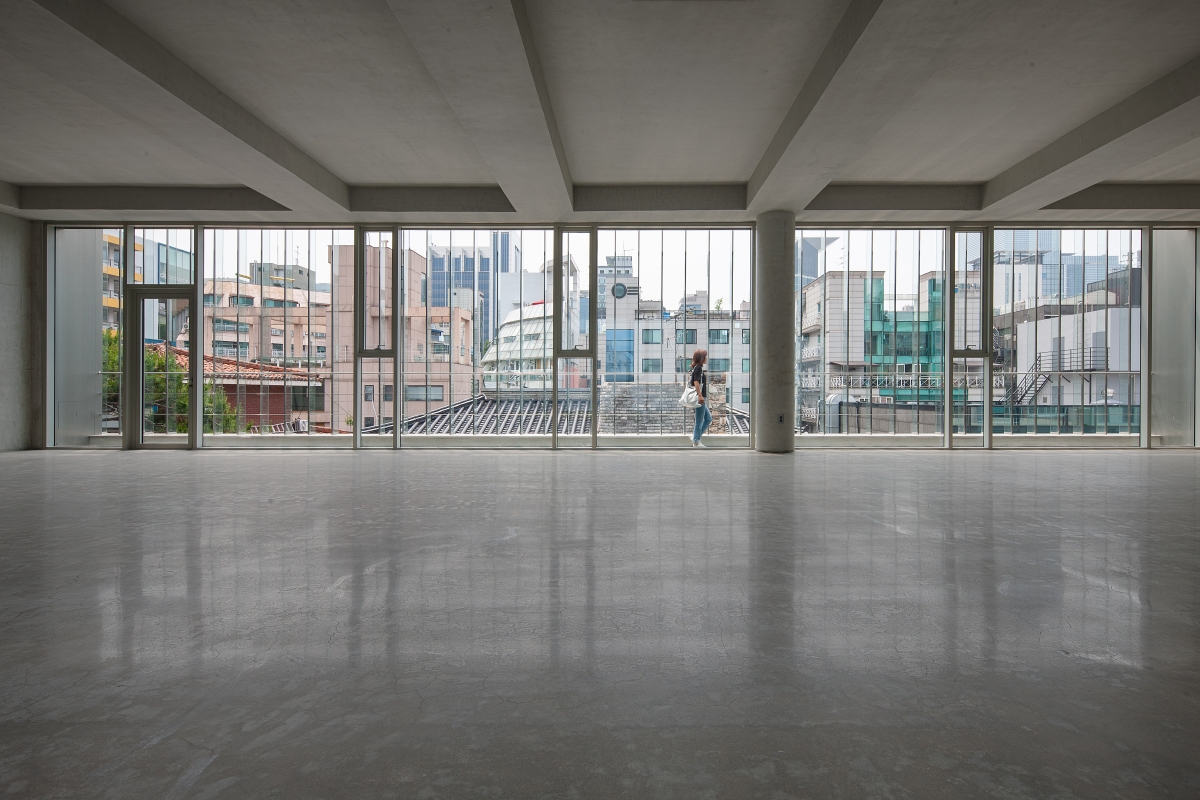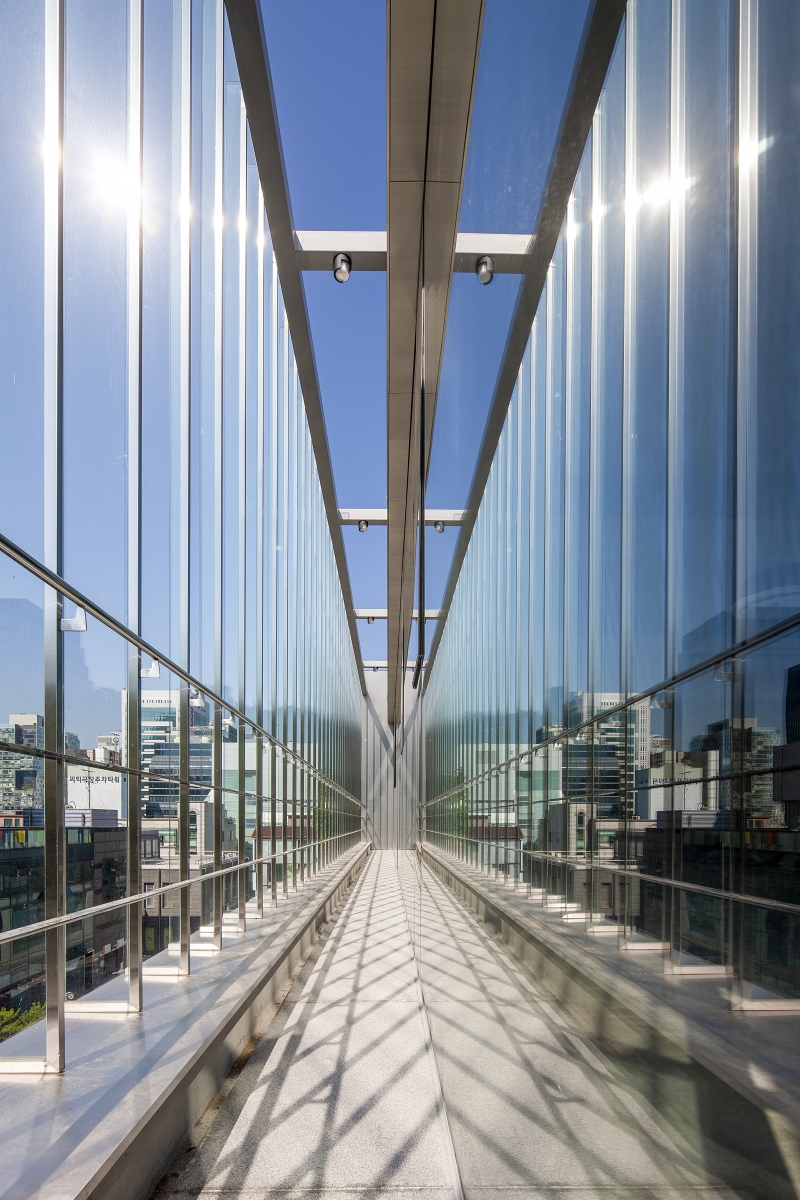 The Sense of an Ending
Walls and gardens, so often symbolic in Korean residential spaces, have long created the archetypal village landscape. In today's Seoul, even modern urban structures are slowly being dismantled. To claim that change must be rejected could be considered too cliche; however, I think that a contemporary reinterpretation of the elements that made our past landscape would be more meaningful. I hope that Yeoksamdong SAI. 01 will perform its proper function by creating a landscape that develops a sense of continuity with the surrounding area and protects the unique urban identity of the area by capturing the memories of the residential area and preserving them as physical traces.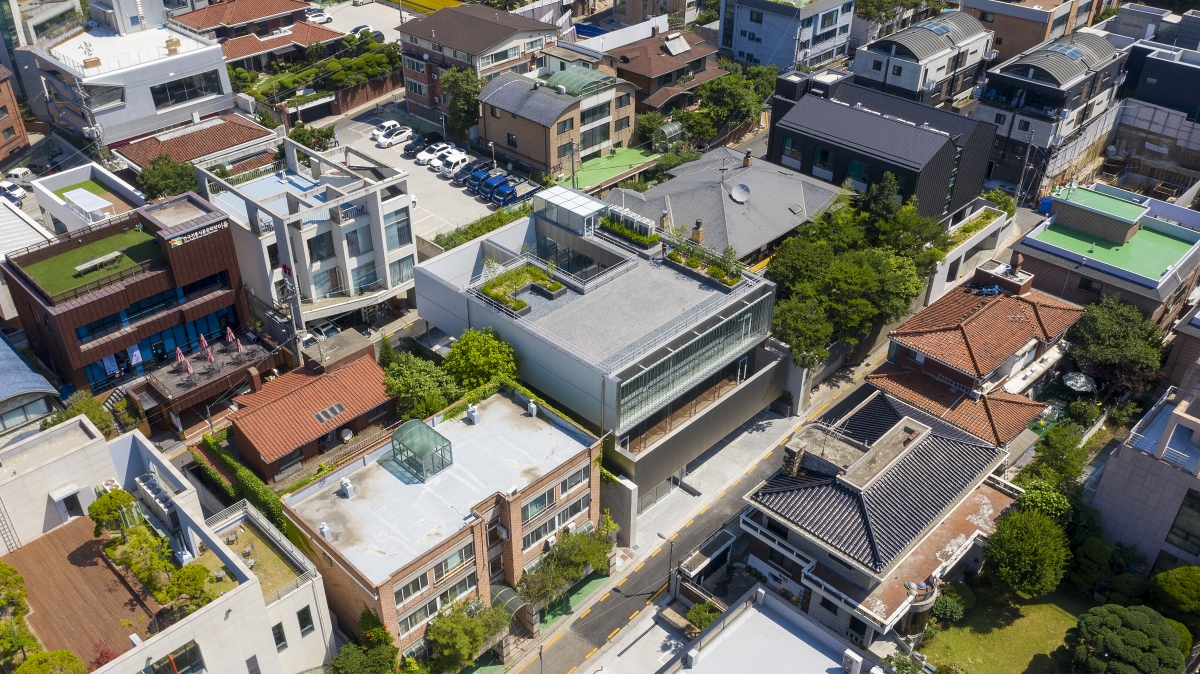 ​
Architect
Spaceyeon Architects (Lee Sangdae)
Design team
Yeon woonghi, Kim Seunghyun, Cha Junyoun
Location
620-6, Yuksamdong, Kangnam-gu, Seoul, Korea
Programme
Neighborhood living facility
Building to land ratio
49.74%
Exterior finishing
aluminum panel, colored eching glass
Interior finishing
marble, stainless steel
Structural engineer
Harmony Structure
Mechanical engineer
Sungsin Machine
Electrical engineer
Cheonil ENC
Design period
Apr. 2018 - June 2019
Construction period
July 2019 - June 2020
Client
Yang Sooyoung, Yang Hyejin, Yang Seohee
---
Lee Sangdae studied architecture at Yonsei University and the Ecole d'Architecture Paris Belleville. While he practices architecture as the principal at Spaceyeon Architects, he also serves as a Seoul Metropolitan government public architect and lectures on architectural design at Yonsei University. His work explores subtle contexts found either in urban or rural environments, where he tries to open up spaces with a gentle touch attentive to texture and light. He has been awarded for his work in the field, with honours including the Korean Architecture Award, Seoul Architecture Prize, as well as the Remodelling Association Award and Korean Rural Architecture Competition. ​