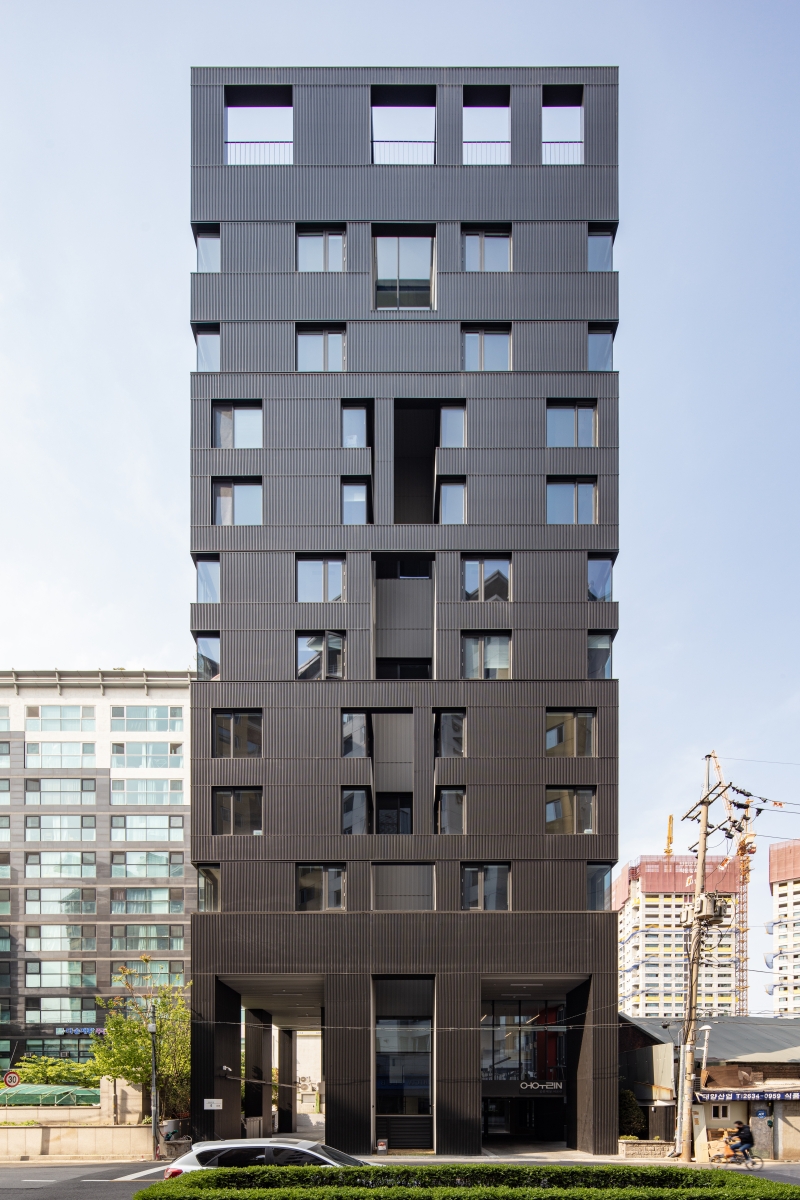 ​
From a Bunch of Houses to a Society of Rooms​
"Eeoulin" is located approximately 400 meters away from Yangpyeong station on Line 5, and popular among white-collar workers living on their own. In its initial planning, around a tenth of the building's units were set to become shared housing, but this changed with the perspective that people wouldn't want to share their homes so much as seek their own rooms and expand their living space from there onwards. Thus, each room became independent units, with the necessary furnishing and facilities for private activities self-contained therein. A typical apartment is comprised of separate bedrooms and a bathroom; this officetel would be composed of a toilet and a bed. An ordinary house is made up of individual rooms; here, there would be areas with distinct possibilities. In a standard home, one can push open a door into different rooms; at Eeoulin, such an entryway would lead into the greater city. These approaches drove the decision to form not just ten percent, but all of the building's apartments as co-living spaces.
After a series of discussions, the final layout was determined to be a shared living arrangement that would include two independent rooms, each complete with a desk, a low wooden bench that could double as a bed, and washroom. The building would be composed of 36 such officetel units, in addition to a dedicated study café and a shared areas that would thread through the entire complex from below ground to the rooftop and lend it a dynamic spaciousness. The 36 officetels have been designed to be rentable as 72 discrete rooms, with special care to adjoin distinct private and public living spaces that inspires a feeling of home-within-home and a sense of connection to the city at large. In the immediate aftermath of its completion, the rooms were rented out as independent units, until COVID-19 forced the decision to lease only at the level of officetels. The second floor has been transformed into a study café that is owned and operated directly by the apartment's owners, and is being offered as amenities at a discounted rate to its residents.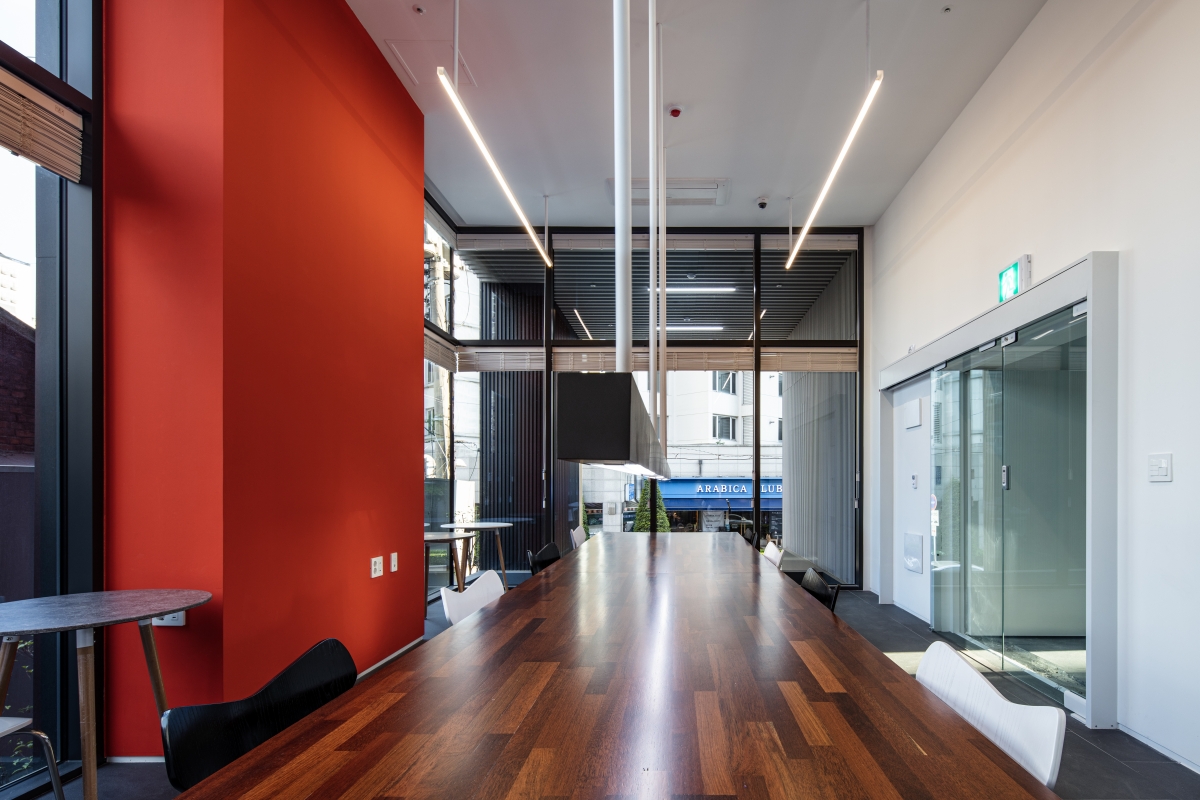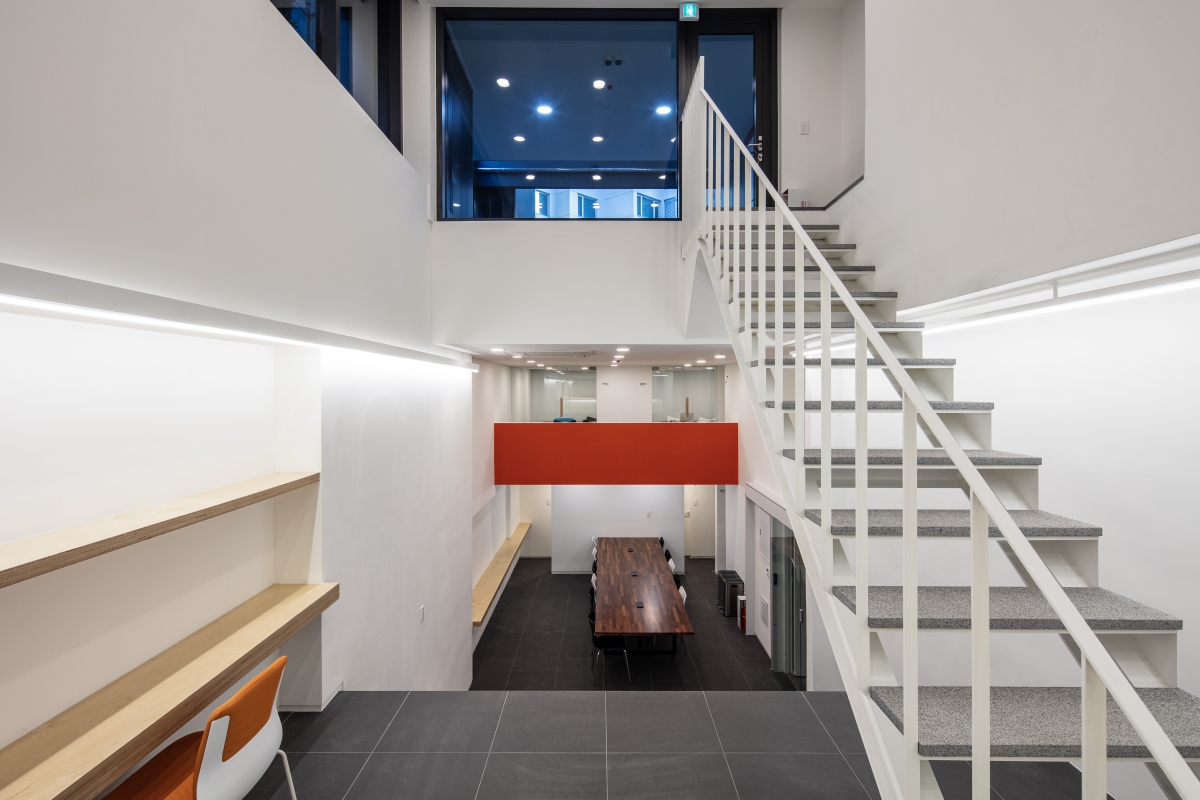 All the shared areas, which include two wheelchair-accessible elevators, comply with and exceed legal space requirements, and are in close proximity to the stairway to allow for easy access. They are also furnished with windows that overlook the city, and give those on the outside a glimpse into the shared activities that occur indoors. Importantly, what informed the design of common areas was the awareness that that this extra space should give leeway and serve as a practical catalyst for residents to engage in various activities. Thus, instead of calling them multi-purpose rooms or community facilities as they are generically known, they were designed to be "shared library," "shared mirrors," "shared balcony," "shared laundry lounge," "shared office," "shared lounge," and "shared rooftop," in order to meet residents' specific needs and dynamically facilitate their meeting throughout the building's vertical street.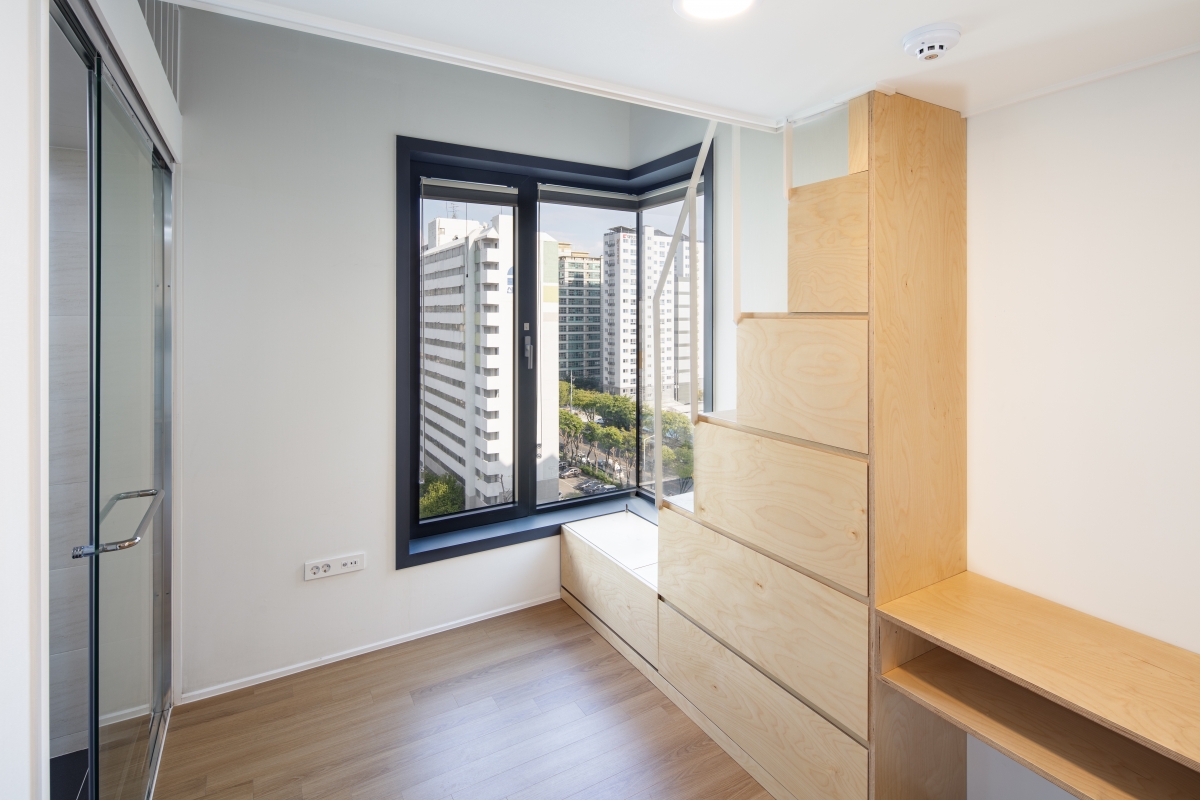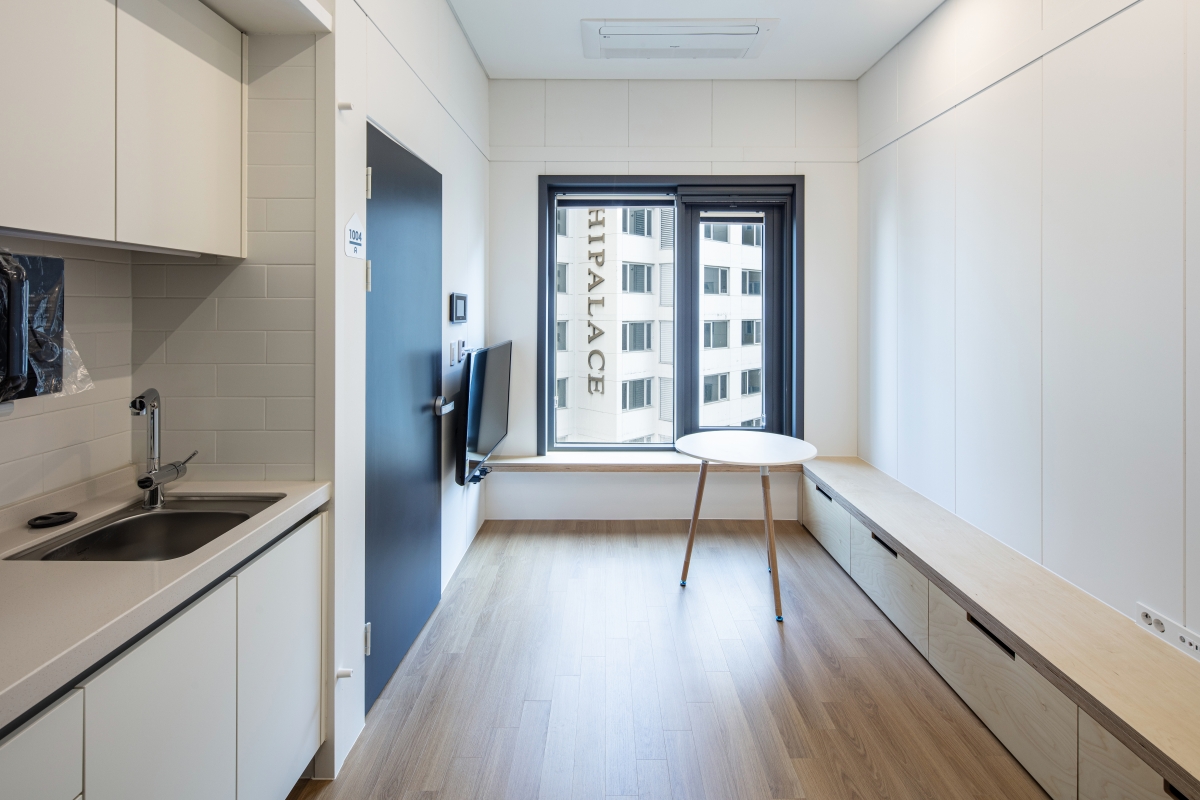 ​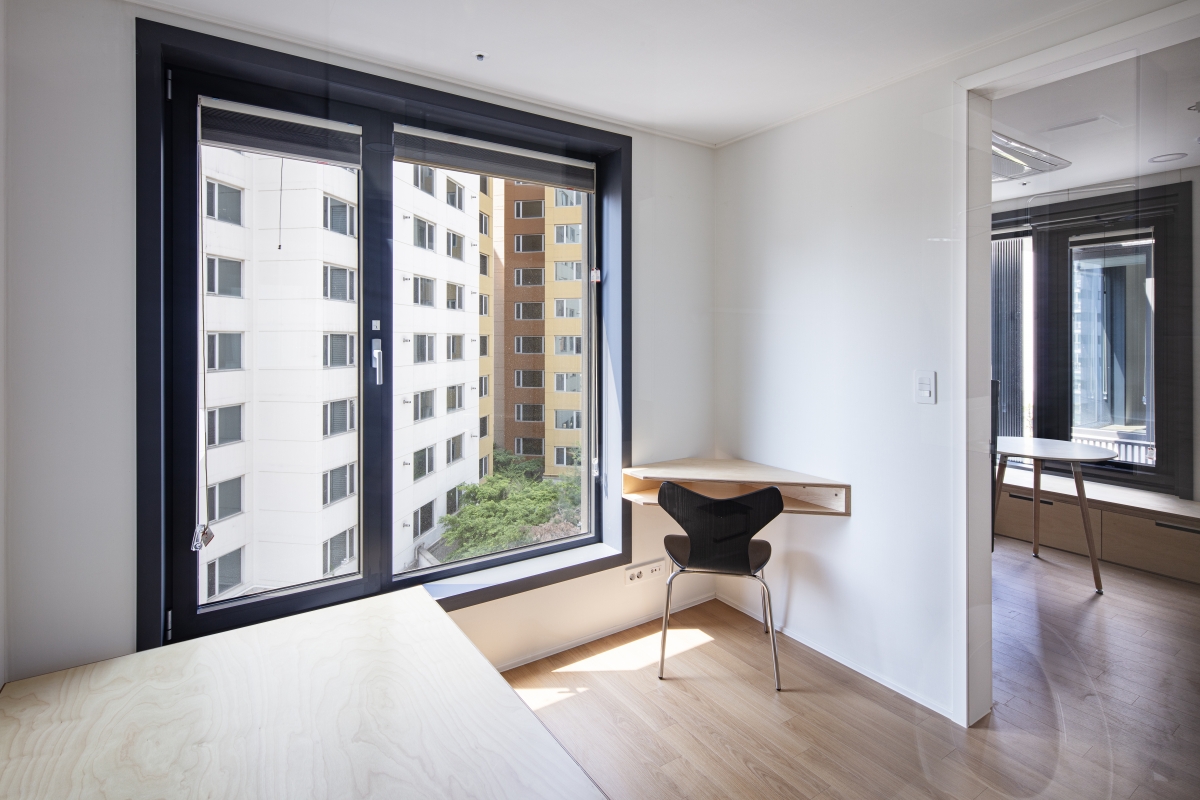 ​
Profound Connection and Connected Emptiness
As the Korean slogan goes, "what is to be shared must be beautiful."In order for a shared space to be utilized to its fullest, it must have an edge over a private room or house. With that in mind, the common areas of Eeoulin were created to serve not just extra functions, but also be attractive and fun. The lower floors were divided into three layers, themed "daily platform," "communal platform," and" sharing platform." The communal platform, which includes the stairway room and elevator room, forms the center stage to the different shared activities that may occur against the backdrop of the city. In particular, the sharing platform, located to the east of the building's main entrance, includes the shared office, which extends from the ground floor to the basement, and the shared lounge (a study café), which spans an area that reaches from the communal platform into the daily platform. On the rooftop, the three aforementioned separate layers come together as a bright place of relaxation, one that gives a view of the surrounding cityscape and simultaneously conjures a sense of profound connection and connected emptiness that conveys the spatial depth and breadth of the activities contained in the structure.
In Korean, Eeoulin denotes neighbors who live close to each other, or a state of blending or amalgamation. I intended for the complex to be true to its name: as a loosely joined, panoramic vision of activities; a backdrop for action; a concourse of movement; and a playground for diverse platforms. This wish is framed by the black façade, manifested as the floor-to-ceiling windows reflecting the affairs occurring inside.I continue to hope that Eeoulin will operate as a space of sharing, not based on the math of division, but on multiplication, that amplifies creative ingenuity and serendipity through the meetings it facilitates.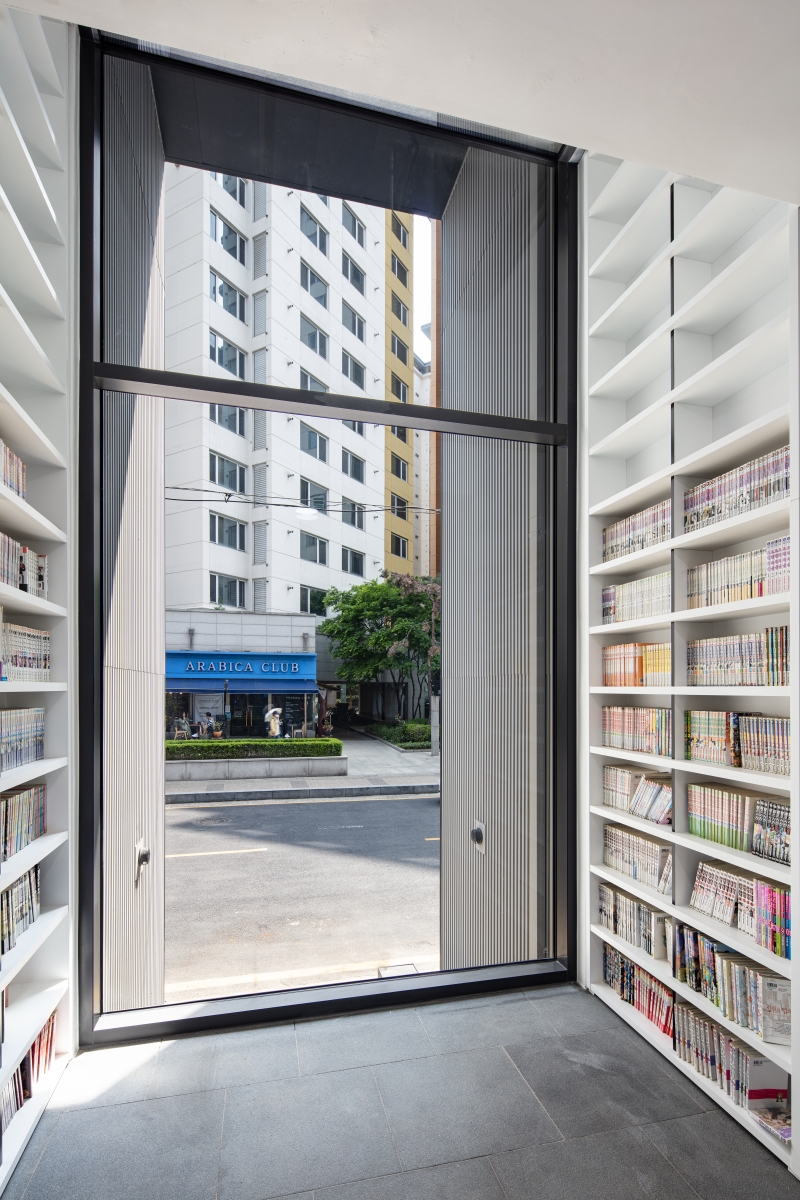 ​
Design team
Yoon Mirim, Lee Jihwan, Song Hyunah
Location
4, Seonyuseo-ro 21gil, Yeongdeungpo-gu, Seoul, Kor
Programme
business facility (officetel)
Gross floor area
1,852.93㎡
Building to land ratio
60.57%
Exterior finishing
corrugated color steel sheet
Interior finishing
porcelain-tile, prefinished-hardwood floor
Construction
Urban Engineering and Construction Co.
Design period
Apr. – Aug. 2018
Construction period
Oct. 2018 - Dec. 2019
Interior design
TheWorkshop
Interior construction
Cooperation urbantrust
---
Shin Seungsoo having received B.S. and M.S. from Seoul National University, Master of Architecture from the Berlage Institute (Rotterdam, the Netherlands), and Ph.D. degree with the theme of "multi-layered publicness," Shin Seungsoo has been exploring new types of spatial and institutional organization of architecture as a principal architect of Design Group OZ, a master planner for Guryong Urban Development Project, a chief planner for Incheon Metropolitan City 10,000 housing units project and is working as an urban architecture management director of Yeongju. While, he has been awarded many times, such as Korean Young Architect Award (2008), Korea Young Artist Award (2010), and Korean Architecture Award (2013), and wrote many books: Super Library, The ways of being together, The Museum Entrance, and Design Public are some of them.