Gyejodang, where the crown prince of the Joseon Dynasty once lived, is about to undergo restoration. Beginning with the construction of Gyejodang, the Royal Palaces and Tombs Center (hereinafter RPTC) of the Cultural Heritage Administration (CHA) announced its plans to restore the Donggung area to its original layout by 2022. The Gyejodang was founded in 1868 when Emperor Gojong rebuilt the Gyeongbokgung Palace for the Crown Prince to perform state affairs and hold royal banquets. The Donggung area (the Crown Prince's Palace) in the east of Gyeongbokgung Palace, where the building is located, was equipped with outer palaces and penetralia, symbolising the succession of the monarchy.
Gyejodang was rebuilt in 1891, but in the 1910s, under Japanese colonial rule, the Japanese Government-General of Korea demolished the building to erase the visible authority of the Joseon Dynasty. Here, the two-storey hall used for the Joseon Local Products Exhibition promotes the legitimacy of colonisation, was constructed. At the same time, several buildings in Donggung, including the Gyejodang, have been demolished. At present, only the Jaseondang Building, the residence of the Crown Prince and the Crown Princess, and the Bihyeongak Hall, the Crown Prince's office, which were built by under the 1999 restoration project, now remain. In the new restoration project, which will resume efforts after 21 years, the Korean wooden structure of the Gyejodang and Haenggak (aisle) is built in a traditional way. The Gyejodang in the 5 x 3 column style has Ikkong, a part of the architectural structure that supports the roof, and a gambrel roof, and the Haenggak in the 1 x 25 column style features pointed beams and a gable roof.
The RPTC has prepared a plan to use the Gyeongbokgung Donggung area, including Gyejodang, as an exhibition space for visitors and a traditional cultural education space. They plan to open the construction site to the public through a prior application from May. The restoration work will begin in March and be completed in late Jan. 2023.​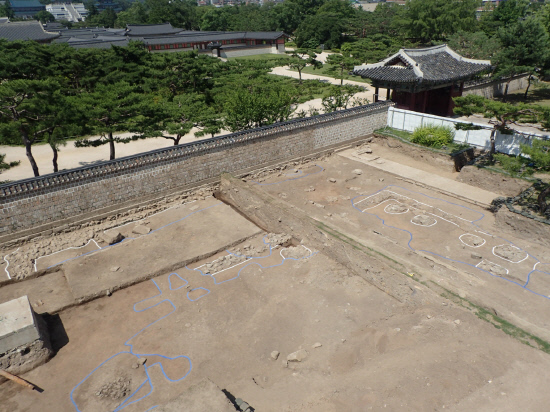 Restoration site of Gyeongbok Palace Gyejodang / ​Image courtesy of CHA​​