The first forum of 'Topography of Contemporary Chinese Architecture' hosted by SPACE was held on Feb. 11 at EAGON HAUS. With two consecutive lectures by Jung In-ha (professor, Hanyang University), the event was designed to explore the formation and development process of contemporary Chinese architecture. 'In a sense, I felt the need to expand our understanding of urbanism and architecture of Asia from the magazine publisher's standpoint on the periphery of world architecture' Kim Jeoungeun (editor-in-chief, SPACE) explained the background of the forum, 'At first, we planned to hold special lectures by invited experts at the internal level of the editorial department, but we changed it as open lecture with the intention of sharing and discussing the issue with more people'.
'I have been studying East Asian architecture for about 13 years' said Jung, a historian of Korean contemporary architecture, 'Studying Japanese and Chinese and carrying out research and exchange by visiting major universities in Japan and China every vacation, I have a plan to publish books about the issue soon'. He started his first lecture with the theme of 'Before 1995: state-owned institutions turned large design offices'. As implied by the title of the lecture, the year 1995 is the important starting point to divide Chinese contemporary architecture into periods. The period before 1995 was a kind of transition from the planned economy to the market economy, which was led by researchers of large state-run Architecture Design & Research Group established before the opening up of China, but architects of new generation emerged since 1995 when opening private architectural design firm was allowed.
In this lecture, the background and characteristics of China Architecture Design & Research Group, works of architects born in around the 1900s (Zhang Bo, Zhang Kaiji), architects born in around the 1930s (Feng Jizhong, Qi Kang), and four major architectural universities in China were introduced. Jung explained, "All the systems about architecture changed after the communist takeover of China in 1949, and the role of architects in socialist countries is defined in a completely different way from that of capitalist states." While architectural design firms in capitalist states was money-making business groups, architectural works in the socialist states were thoroughly collective product. The state-run China Architecture Design & Research Group followed the Soviet model, and design universities were established to train architectural experts who were insufficient. He also emphasized the fact that some of the leading architects emerged as the universities opened independent design studios of their own as needed. At the end of the lecture, he mentioned exploration of the locality of Chinese architecture by architects who have worked in different directions distinguished from the collective works.
The second lecture is scheduled to be held at EAGON HAUS on Feb. 25 at 7pm under the theme of 'After 1995: Architects out of Collectivism.' This will give a glimpse into the new direction of contemporary Chinese architecture, focusing on architectural works of Yung Ho Chang, Liu Jiakun, and Wang Shu.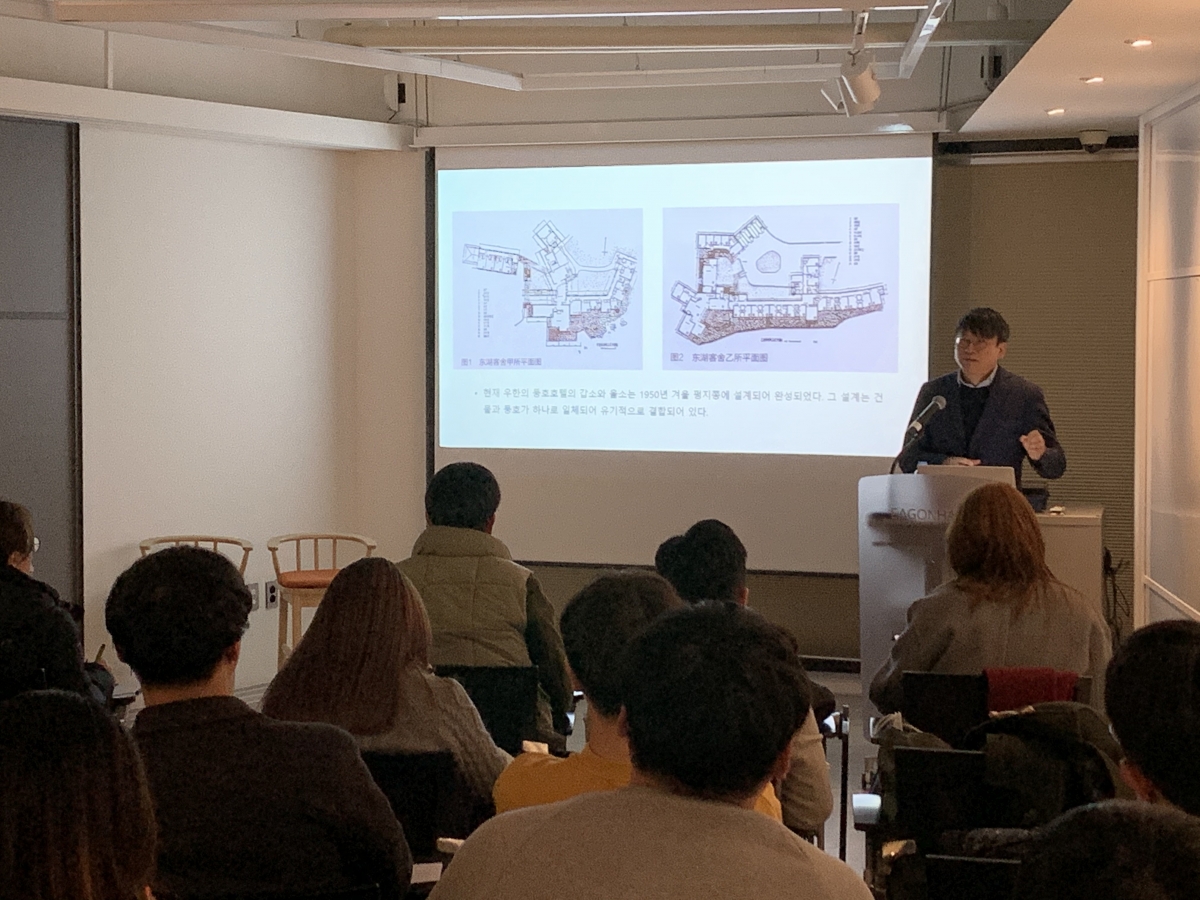 Forum view of 'Topography of Contemporary Chinese Architecture'
ⓒKim Yeram
​
​