The Korea Institute of Civil Engineering and Building Technology (KICT) had secured the original sound diagnosis technology to determine the safety of concrete facilities. This technology is a sound-emitting technology that measures and analyses seismic waves via a sensor, and it was co-developed by its affiliated Sustainable Infrastructure Research Center and sound-emission analysis system company Rectuson Co., Ltd.
As a type of wave that is produced when a physical thing deforms or breaks, seismic waves are produced when the tendon in a pre-stressed concrete facility is fractured. By analysing the seismic waves in the monitoring stage, one can determine the fractured state of the tendon within the concrete although obstructed from view. Also, by monitoring through sound-emitting technology, concrete facilities can be maintained efficiently even in cases where steel wires or the rebar within have broken due to corrosion.
While there were numerous cases of regular remote monitoring of concrete facilities via sound-emitting technology overseas, there were almost no such cases locally because the original technology had not been localised. Cases where sound-emitting technology was used in the safety maintenance of concrete facilities were very rare.
Seo Dongwoo (head researcher, KICT) stated that 'through development and localisation of the original technology related to sound-emission, efficient maintenance and safety management of various concrete facilities such as bridges will become possible', explaining how the sound-emission technology will affect the management of aging local infrastructure. Meanwhile, Seoul Metropolitan Government and Seoul Metropolitan Facilities Management Corporation are reviewing the application of sound-emission based monitoring system to urban concrete facilities.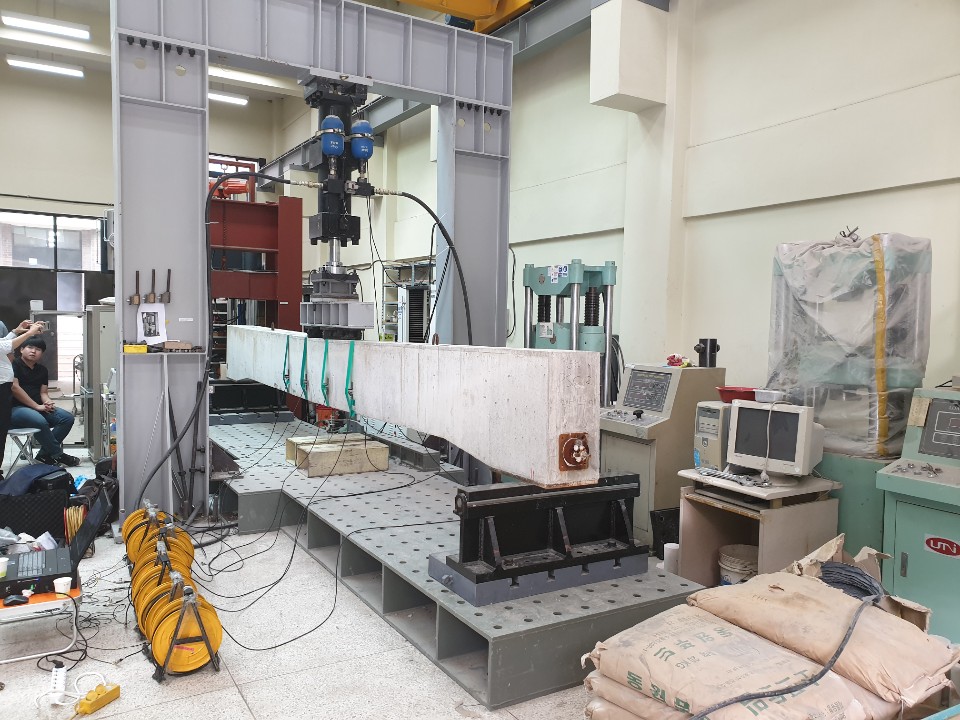 ​View of Structure Experiment using Acoustic Emission technology.​ / Image courtesy of KICT​