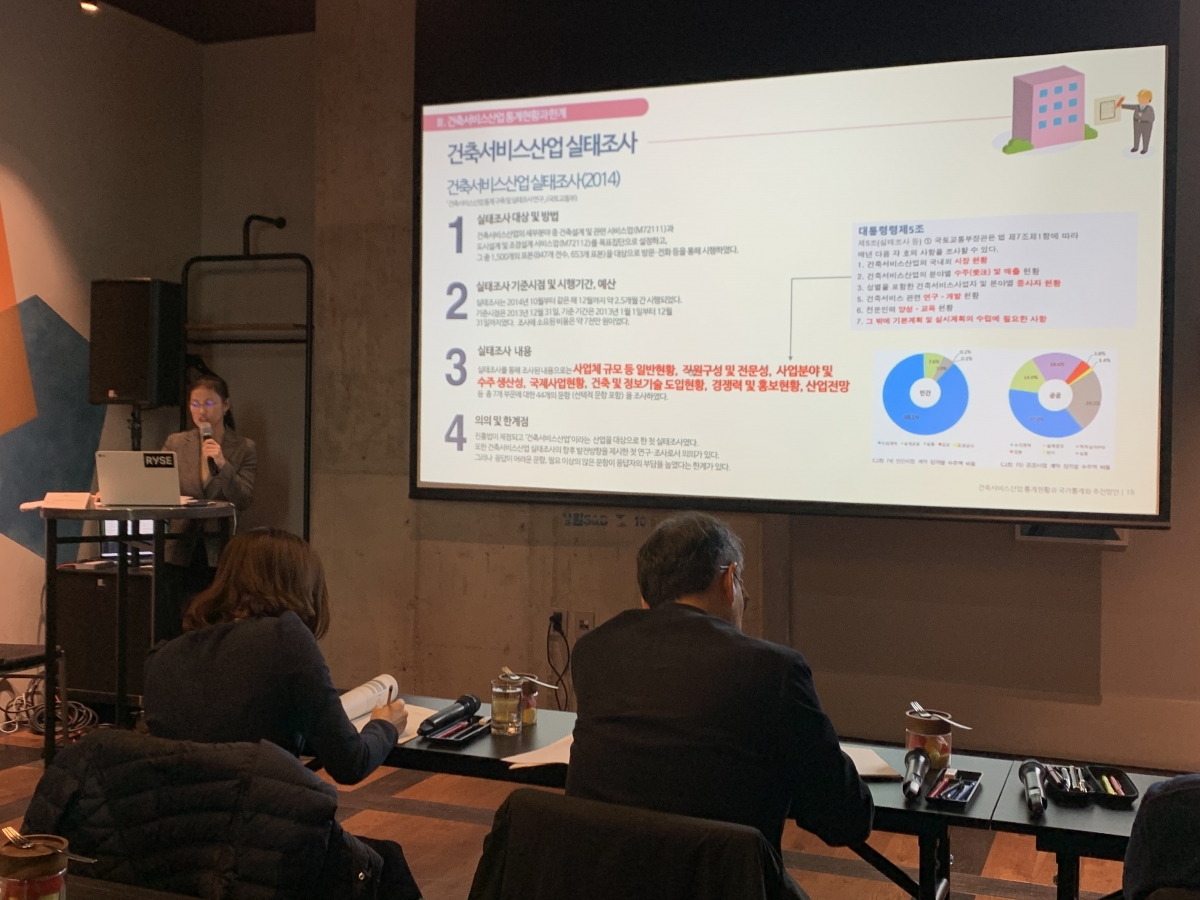 View of '2019 Building Service Industry Discussion: Directions and Strategies to Establish a Statistical System for the Building Service Industry' ⓒKim Yeram​​​
For the purpose of sharing concerns and information over the crucial role played by statistics in the Building Service Industry, and the outcomes offered by statistics in similar industries, the '2019 Building Service Industry Discussion: Directions and Strategies to Establish a Statistical System for the Building Service Industry' was held on 26 Nov. 2019. Under the Architecture & Urban Research Institute (AURI), this session was organised to discuss improvements to the statistical system used by the Building Service Industry.
Kim Eunhee (researcher, AURI) opened the discussion by presenting a paper on the current statistical system used by industries related to architecture. She pointed out the lack of an immediate statistical data for the Building Service Industry despite the presence of the census and the Service Industry Survey. Although the e-Architectural Information System (e-AIS), the current architectural information system, is currently employed by some industry officials, the base statistical data needs to be reprocessed to produce a meaningful index for policymaking. Moreover, even if cost and time were invested for reprocessing, that data would not accurately reflect the unique context and market situation of the Building Services Industry. Jang Pyoungyol (researcher, Science and Technology Policy Institute) proposed a statistical model that would be inclusive of building services that apply the spatial environment to the statistics of building services that are bound to design. This is to say that the rising trend of region-specific Social Overhead Capital (SOC) and business models that are less and less specific (in terms of legal review, financing, post-management, and so on) should also be reflected in the process of creating statistics. Choi Eunjeong (assistant researcher, Construction and Economy Research Institute of Korea) argued that the organisations creating statistics need to cooperate and share sporadic data in order to enhance the legitimacy of new policies through highly reliable statistical data. By using the current situation of workers at the construction site as an example, she noted that 'accurate information regarding functional manpower and illegal foreign workers on construction sites is required in order to build a policy relevant to our present aging working population and employment evasion among young adults', ultimately emphasising the need for unified statistical data.
In the second discussion session, professionals shared their thoughts on building a statistical system for the Building Service Industry. Park Inseok (Professor, Myeongji University), Kim Taekyung (section chief, Ministry of Land, Infrastructure and Transport), Lee Kwanghwan (principal, HAEAHN Architecture, Inc.), and Kang Jooseok (Director, Korea Institute of Registered Architects) participated as panelists, sharing their opinions with the presenters. Replying to the previous presentation by Choi Eunjeong, Kang Jooseok criticized the poor communication of data sets between various sources (e-AIS, Building Energy Management System, and Building Life Cycle Management System). A lively discussion regarding the production of statistical data then followed. Park Inseok argued that a statistical system for middle-class industries that do not fit easily into the present Korean Standard Industry Code (KSIC) needs to be put in place to ensure the relevancy of policies for the Building Services Industry. This was in line with Kim Taekyung's opinion, which was that relevant organisations and institutes have to produce data that can bring about a reliable statistical system. Also, there were voices that argued for the need to establish a platform to which producers of the original data would have easy access. Lee Kwanghwan advocated for a universal program, which would carry out work and accrue data simultaneously - like the Enterprise Resource Planning System (ERP System) commonly used in large architecture offices - is made widely available to small-scale architecture offices via support.