The winners of architectural competitions hosted by central and local governments were recently announced. The Korea Tourism Organisation selected the Oceano Resort Hotel in Haenam for the design co-submitted by Apparat-C and todo architects, while the Seoul Metropolitan Government's International Invited Design Competition for an Ecological and Leisure-Cultural Waterfront Space in Seoul International District (SID) chose the work of NOW Architects, and Seongju-gun decided upon Hyunjoon Yoo Architects as winner of its Simsan cultural theme park.
The Oceano Resort Hotel in Haenam is part of a plan to reinvigorate the regional economy by developing the infrastructure for tourism in the southwest part of Jeollanam-do. Apparat-C and todo architects's joint creation was reviewed by the committee of judges as 'a design that respects Haenam's natural environment by assimilating itself into the topography'. While the majority opinion praised the individual rooms for their meticulous floor plans, others suggested the rooms could be more loosely connected. The Oceano Resort Hotel, which will comprise 100 rooms, is set to open in June 2022.
Gyeongsangbuk-do is also seeking to revitalise its economy with the construction of a theme park. The design competition for the Simsan cultural theme park required submissions to include facilities for tourism and conventions as well as accommodation for visitors. The winning design was that of Hyunjoon Yoo Architects. Its proposal was commended for its dynamic interpretation of the brief, including a memorial exhibition for the independence activist, Kim Changsook, and a plum blossom exhibit within the grounds of the theme park. Seongju-gun intends construction of the theme park to be completed by Dec. 2022, and for it to function in conjunction with neighbouring tourism resources as a landmark attraction for longer-stay tourists.
The International Invited Design Competition for Ecological and Leisure-Cultural Waterfront Space in SID sought to restore the natural environment at the confluence of Tancheon Stream and the Hangang River and to create a footbridge between the east and west currently separated by Tancheon Stream. The international competition winner was 'The Weave' by NOW Architects, which was designed jointly by MVRDV, Seoahn Total Landscape Architecture, Saman Corp., and Hanmac Engineering Co., Ltd. The team aimed to establish the design location as a major public space within the SID by seamlessly integrating the waterfront and urban space through a network of walkways. Of particular note are the pathways on the embankments of either side of Tancheon Stream, which are conceived at multiple levels to join the nearby Jamsil Sports Complex and the Hyundai Global Business Center in a cluster.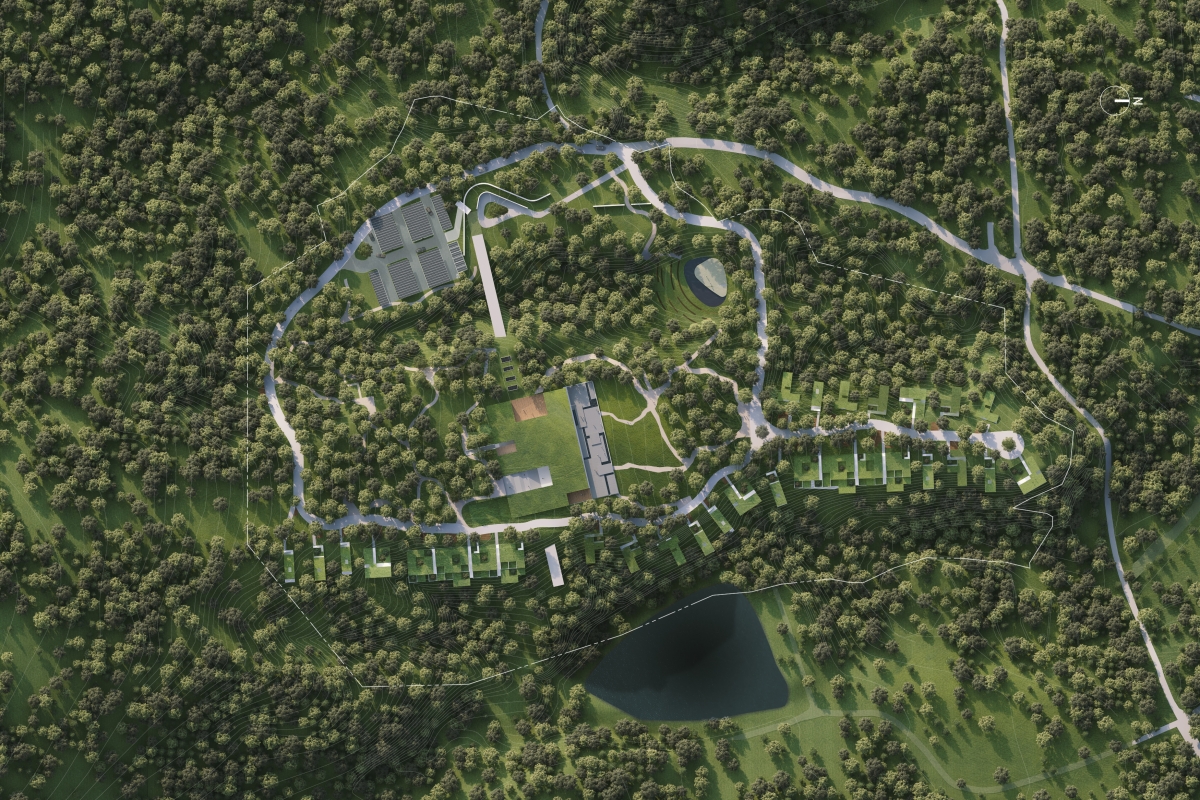 Winning Proposal of Simsan Cultural Theme Park / Image courtesy of Hyunjoon Yoo Architects​