This April, the Seoul Metropolitan Government announced a policy paradigm in relation to its transition towards a 'disability rights city'. Going one step further from its original position towards reducing discrimination against the disabled, a policy that aims at equal treatment for both disabled and not disabled has been formed. By emphasising the right to cultural enjoyment for the disabled within this policy, cultural facilities that reflect the cultural experiences of the disabled are becoming more common in Seoul. With plans to open in 2020, the Seoul Craft Museum intends to be a 'museum for everyone'. In order to provide an exhibition environment that will create a rich experience for all members of society, including the disabled, and to address these issues, the Seoul Craft Museum held a roundtable talk between professionals on 11 November.
Hirose Kojiro (Professor at National Museum of Ethnology in Osaka), Rico Chan (Principle at Hong Kong Beyond Vision Projects), Julia Cassim (Professor at KYOTO Design Lab), Marie-Clarte O'Neill (Professor at Paris Ecole du Louvre) participated in the talk as representatives of various approaches towards an exhibition environment for the visually disabled. Noting the non-visualisation of art museums, Hirose Kojiro discussed the need to prepare a manual for a tactile exhibition, and Rico Chan stressed the need to install a 'Tactile-Audio Interaction System (TAIS)' as an educational programme that would combine and use the senses of touch and hearing. Citing Abigail Housen's five-step research findings on visual perception, Julia Kassim divided the visual comprehension of the visually impaired into multiple levels, and posited that these should be reflected in the exhibition environment. Marie-Clarte O'Neill proposed that storytelling in exhibitions should be included to activate non-visual exhibition content.
In the panel discussion, there was a debate over the need to improve energy-cost efficiency for disabled people in their understanding the exhibition. Julia Kassim suggested that the exhibition design should accommodate an exhibition culture that is light and casual. By pointing to the current stance of museums towards exhibition content for the visually disabled, Cho Jundong (Professor at Sungkyunkwan University)?who joined the discussion as a panelist?added that a non-visual exhibition, which the non-disabled can also enjoy, is required to aid in the establishment of such exhibition contents for the visually disabled.
Various ideas and examples were proposed during the roundtable discussion for the development of an exhibition catered to the visually disabled, but unfortunately, there were no discussions regarding the exhibition space itself and on how such things should be physically practiced. The guidelines for the design competition at Seoul Craft Museum (conducted in October 2016) merely listed amenities for the disabled without mentioning how the consideration for the disabled would also be reflected in the exhibition facilities. For the Seoul Craft Museum to become a 'universal museum', it will need to create an exhibition environment that has greater sensitivity to the particular needs of the disabled.
<by Kim Yeram​​>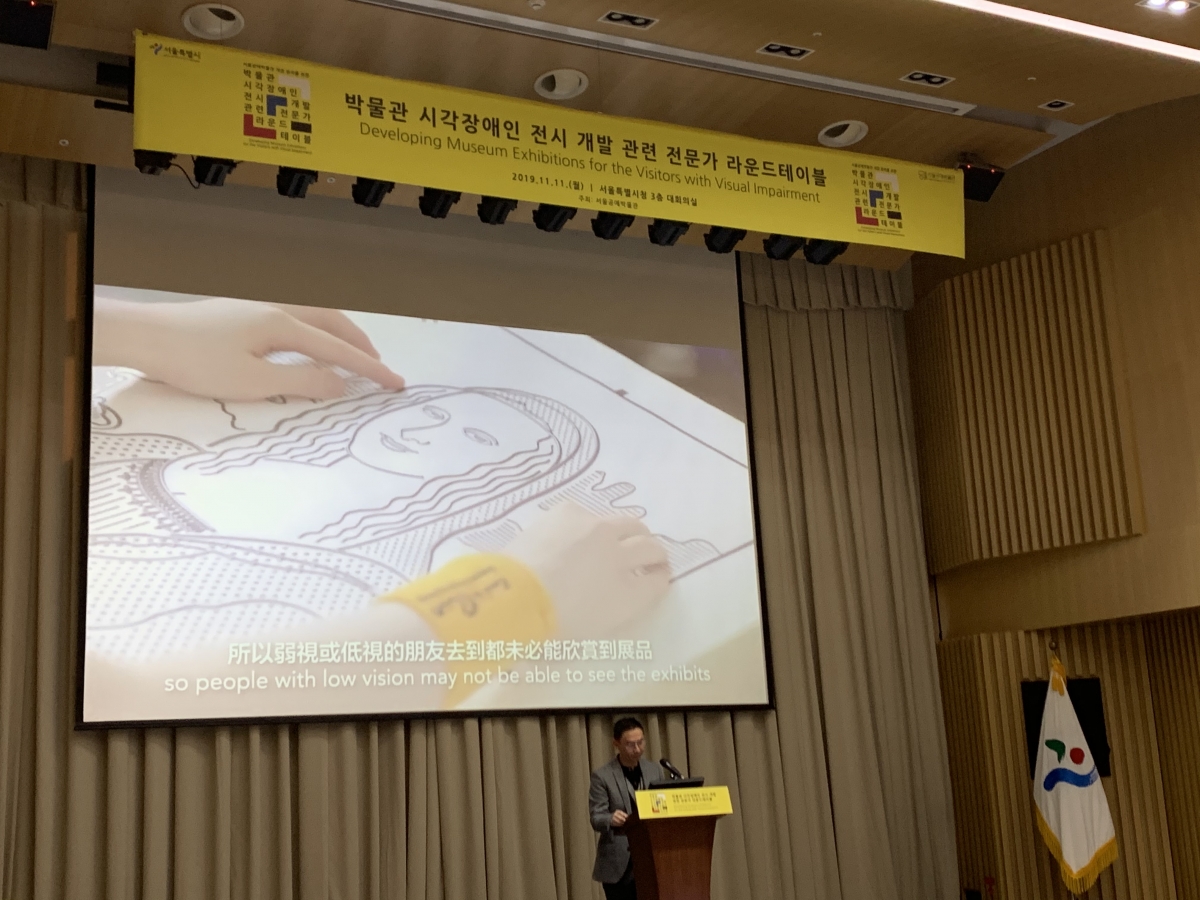 Image courtesy of Korea Urban Regeneration Association