An academic symposium 'Kim Joungsu: A Pioneer of Korean Modernism', was held at the Seoul Museum of History on Oct. 12. The symposium, held in the year marking the 100th anniversary of the birth of architect Kim Joungsu, was designed to recount his architectural legacy. Song Inho, the director of the Seoul Museum of History, said, 'I pay tribute to the one who played various roles, such as an architect, educator and scholar', and added, 'I will actively use his legacy as exhibition and research resources'.
The presentation was given in the first part of the event. First, Kim's grandson, Lee Sungwon, screened the documentary film of Kim Joungsu on his impact on Korean architecture after experiencing modernist practices in Minnesota, the U.S. Kim Joungsu was the first person in Korea to experiment with precast concrete panel methods and has been highly interested in the construction methods he invented for artificial stone materials. In fact, he applied the technique to the Donggyo-dong building (1965) where he lives, and developed it to complete Student Union Building of Yonsei University (1967).
Ahn Changmo, a Professor at Kyonggi University, presented the social architecture of Kim Joungsu and considered its position between an internationalist style and Korean characters, referring to the cases of the former Myeong-dong St. Mary's Hospital (1958) and The National Assembly of the Republic of Korea (1969). Park Dongmin, a researcher at Seoul National University, then lectured on the group of elite architects in Korea who were dispatched abroad as part of a large-scale overseas training programme for postwar reconstruction. In order to satisfy the urban needs of the time, he argued that a group of Korean-educated architects in the 1950s sought to build function-oriented buildings, and elaborated Kim's architectural background, who focused more heavily on function.
Following the presentations, the discussion was hosted by Song Seogki, a Professor at Kunsan National University. Lee Pilhoon, a principal of T.E.D Architects, stressed the need to reconsider his value for the latest building trend. Choi Wonjoon, a Professor at Soongsil University, explained Kim Joungsu's approach to integrating function with beauty, saying, 'In order for an expanded discussion, research on modern architecture firms and design methodology must be conducted together'. Finally, Ahn Changmo talked about the phenomenon of recognising modern architecture as cultural heritage, saying, 'With the recent issue of urban renewal, discussions are taking place over how to preserve and utilize old buildings'. 'However, in the '50s and '60s, architecture is not much different from current materials and methodologies, so designs that do not have much appeal are falling behind the priorities', he said, expressing concern over biased interest in some buildings.​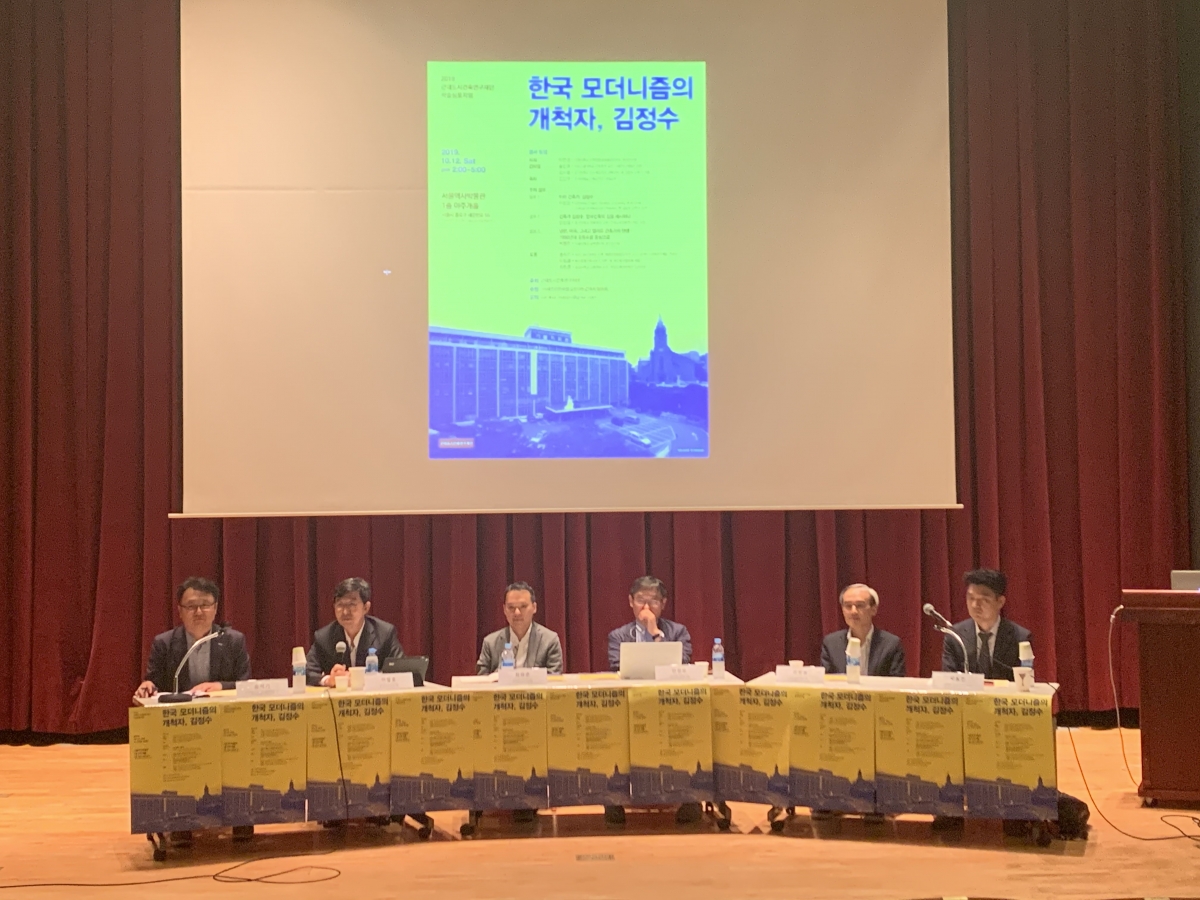 Views of Academic Symposium 'Kim Joungsu: A Pioneer of Korean Modernism' ​ⓒKim Yeram​​