The population, capital and the authorities are increasingly concentrated in cities worldwide. Seoul Metropolitan Government and the Seoul Design Foundation established the Human City Design Awards 2019 this year to seek a more sustainable urban life. The judges had established their criteria with the designers' role in the fourth industrial revolution in mind, where existing systems and values are no longer valid, as well as by concentrating on the international universality of ideas. Of the 75 projects submitted from 25 countries, 12 teams of candidates were selected, and the awards and conferences were held at Dongdaemun Design Plaza on Sep. 26.
The grand prize was awarded to South Africa's "Dunoon Learning and Innovation Project." The site of the project, is a mass-residential area of post-apartheid, and is facing a lack of facilities to handle the surging population. The authorities have laid out a plan to public facilities with used containers, setting up a base for the community. It also empowered residents to operate facilities, encouraging them to have a sense of ownership while boosting employment and the local economy. 'The development plan has strengthened the connection between everyday life and the community', the jury stated, explaining their reason for the selection.
Following the awards, the conference was held, the first part of which consisted of lectures sharing design directions for the city, while the second part consisted of overviews of 12 award-winning works. Mariana Amatullo, the president of Cumulus, stressed the importance of a reciprocal economy by reasonable cycles, while Lou Yongqi, the Dean of the Tongji University, lectured on the experiment of reshaping the architecture-oriented academic system into design innovation curriculums and the establishment of a part of college campus within the local community. Hyunjoon Yoo, a Professor at Hongik University, mentioned the phenomenon of private capital substituting the insufficient publicity of the Korea. When asked by an audience member about the most pressing social issue in five years, he replied, 'The most important keyword right now is jealousy'. 'An attempt to build up the walls to claim each countries profit first, and a tendency to exclusively listen to what they want to hear, we increasingly have less space to meet each other offline', he explained, linking social phenomena with cities.
In the second part of the lecture, the urban design pursued by the city office and the direction of urban administrations was demonstrated in discussion of the winning projects. It followed an introduction of other projects such as 'Big Shelf' which turned the centraler barrier of New York 'City Park Avenue into a pedestrian-friendly space; 'Wake spaces up- ECO Balcony' responding to Hanoi's harmful air quality with the facade; and 'Floating Salawaku', mediating religion conflicts with spaces; 'AERO-SEINE' which uses non-drinking water resources in Paris, to mitigate the heat island phenomenon.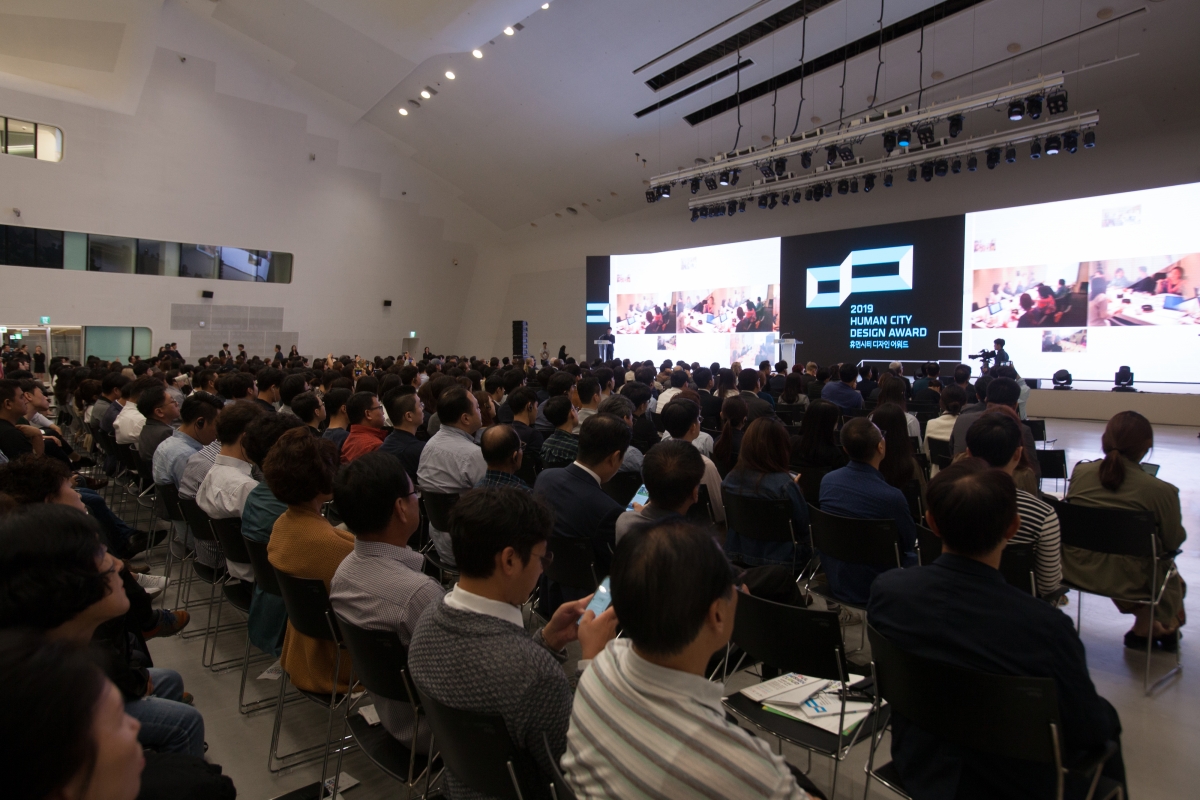 View of 'Human City Design Awards 2019'​ / ​Images courtesy of Seoul Design Foundation​​